These Smoked Chipotle Chicken Fajitas combine a tasty and slightly spicy garlic chipotle marinade for chicken, and are perfect for fajitas.
Making a marinade for chicken is a great use for leftover (or excess) chipotle in adobo sauce. Find out how to use that sauce in a delicious chicken marinade.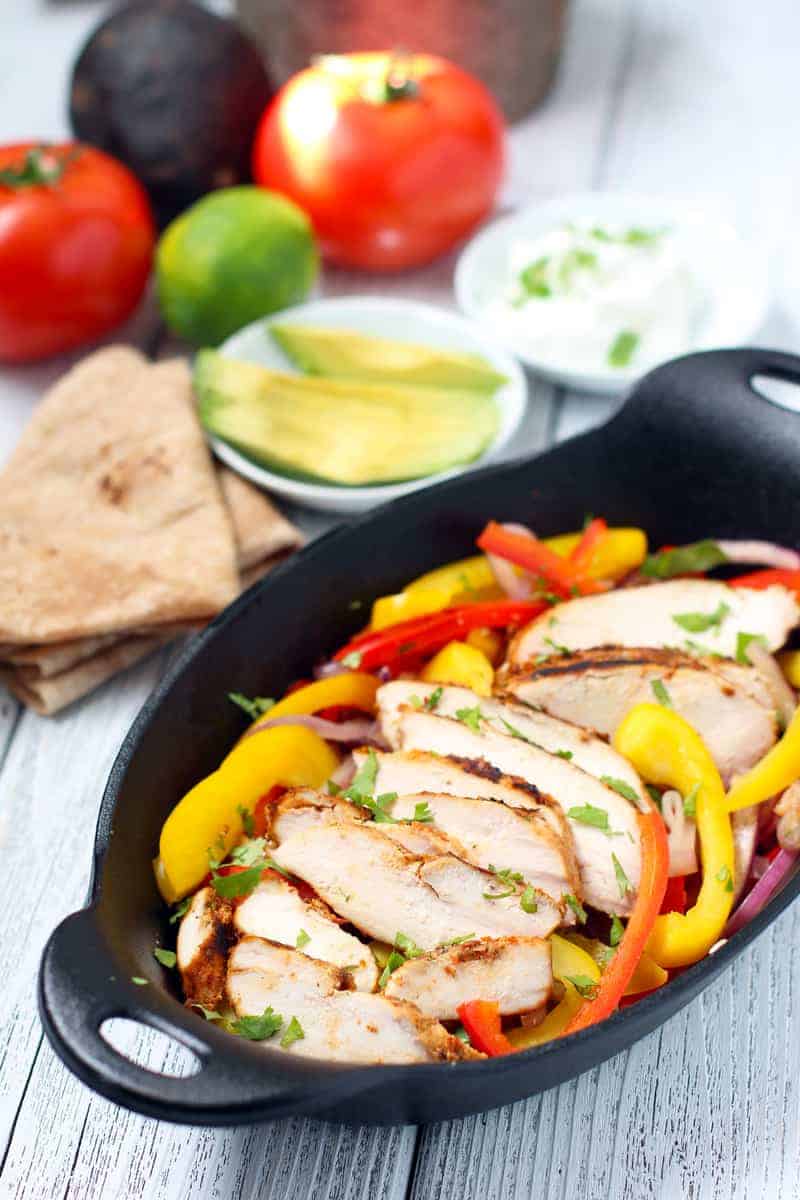 My mom is the queen of salsa. I've mentioned this before. The range is quite unique. This post actually highlights a few of her favorite signature salsas. One such salsa has inherited the name "Revenge Salsa," and if you look at the ingredients it's not hard to understand why. There's a full bulb of garlic mixed with a full can of chipotle peppers in adobo sauce. Super garlicky. Spicy. Intense. And super irresistible!
But outside of eating it as a salsa, it actually makes for an incredible marinade for chicken. I've adjusted the actual salsa ingredients to make it more marinade-friendly and lowered the amount of garlic significantly (your friends will thank you). When used as a marinade the chicken takes on some of those rich smoky flavors from the chipotle, but it is not very spicy once grilled or smoked.
Using Leftover Chipotle in Adobo
Chipotle Peppers in Adobo Sauce is one of those ingredients you see from time to time used in very small quantities, yet it usually comes in a 7oz can leaving you with a bunch left over. What's a gal to do with all that chipotle?
Case in point, those Smoked Burgers with Mexican Chorizo and Chipotle Aioli. While trying to figure out what to do with the leftover chipotle we used for the aioli in that recipe, I decided it was finally time to share this tasty recipe here.
Use it as a marinade for chicken!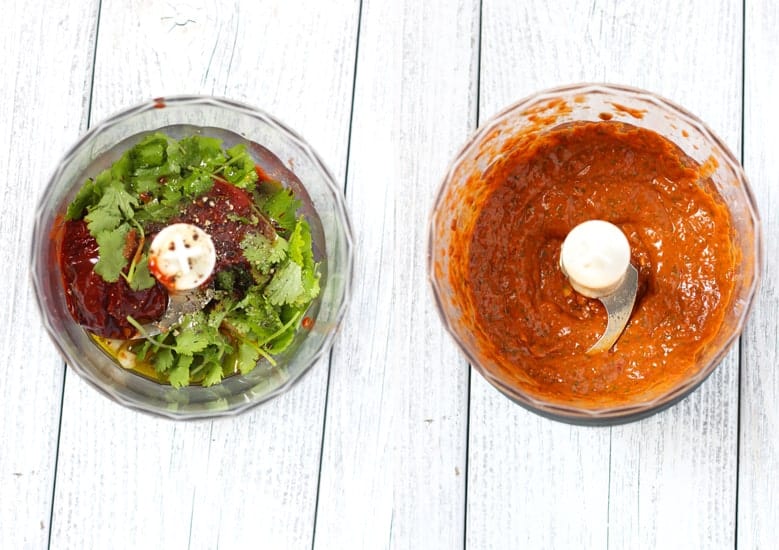 How to Make Garlic Chipotle Marinade
It's quite simple.
Just throw the chipotle peppers and some of the sauce into the food processor, then add some garlic, cilantro, tomato sauce, olive oil, agave (or honey), some salt and pepper, and some fresh lime juice to brighten things up, and then pulse away.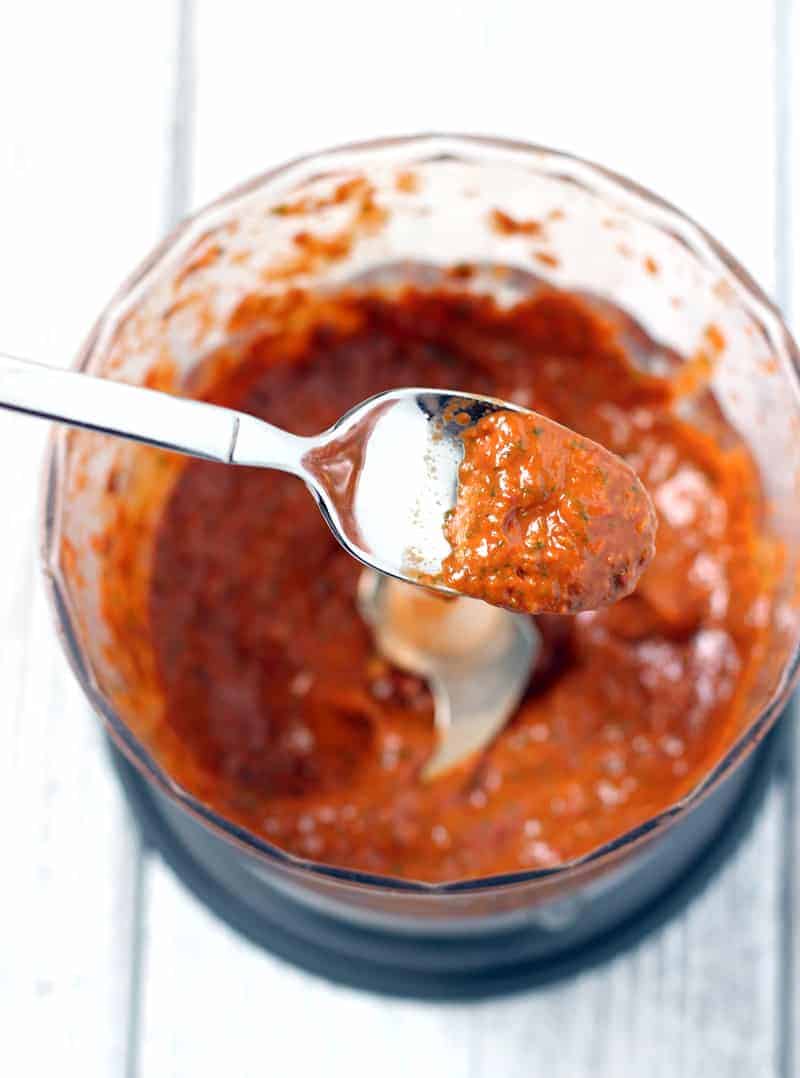 Marinating & Grilling Fajita Chicken
Marinate your chicken in the sauce for a few hours, or as long as overnight.
Smoke the meat on the smoker for added smoky love (but of course you can easily grill your chicken too if you don't have a smoker).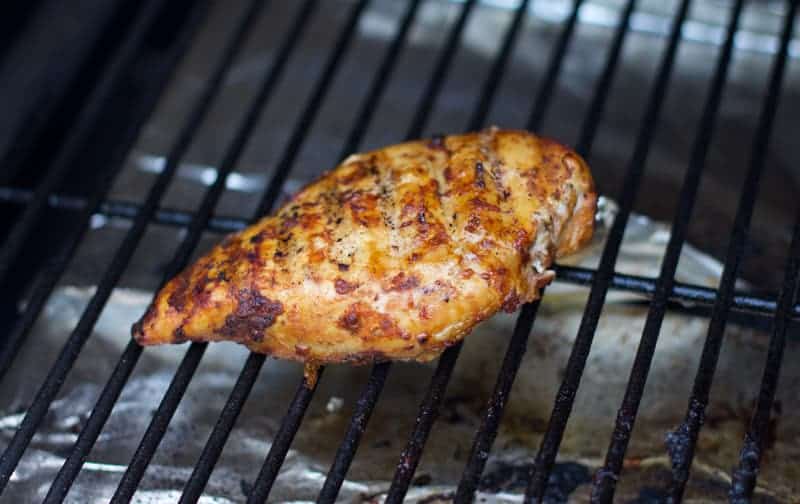 Temperature to cook marinated grilled chicken
Regardless of whether you smoke or grill your chicken, just make sure you cook the chicken to an internal temperature of 165 degrees to get that perfect balance of moisture and flavor, without overcooking it.
We've said it before, and we'll say it over and over, a good thermometer (like this one) is essential to creating amazing smoked and grilled meats! Never undercook or overcook your meat again, my friends! Boom.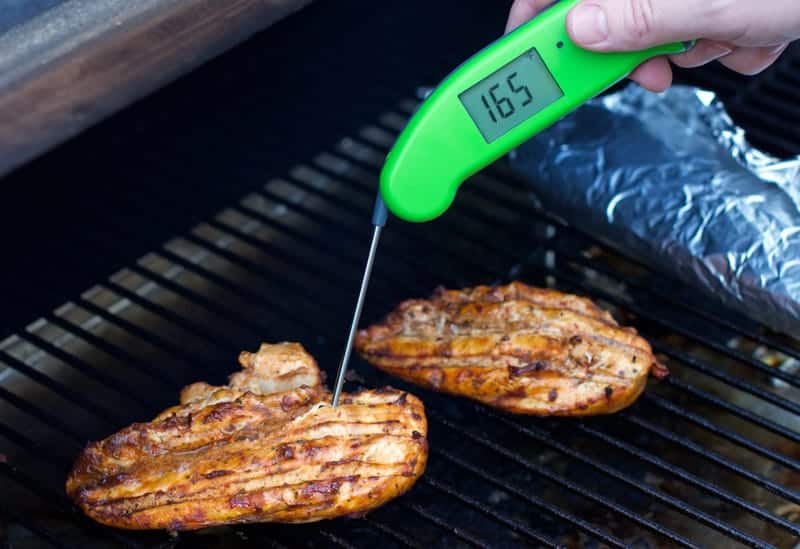 Once the chicken is cooked, feel free to use it for tacos, salads (if you're feeling all healthy), or (our favorite) — fajitas!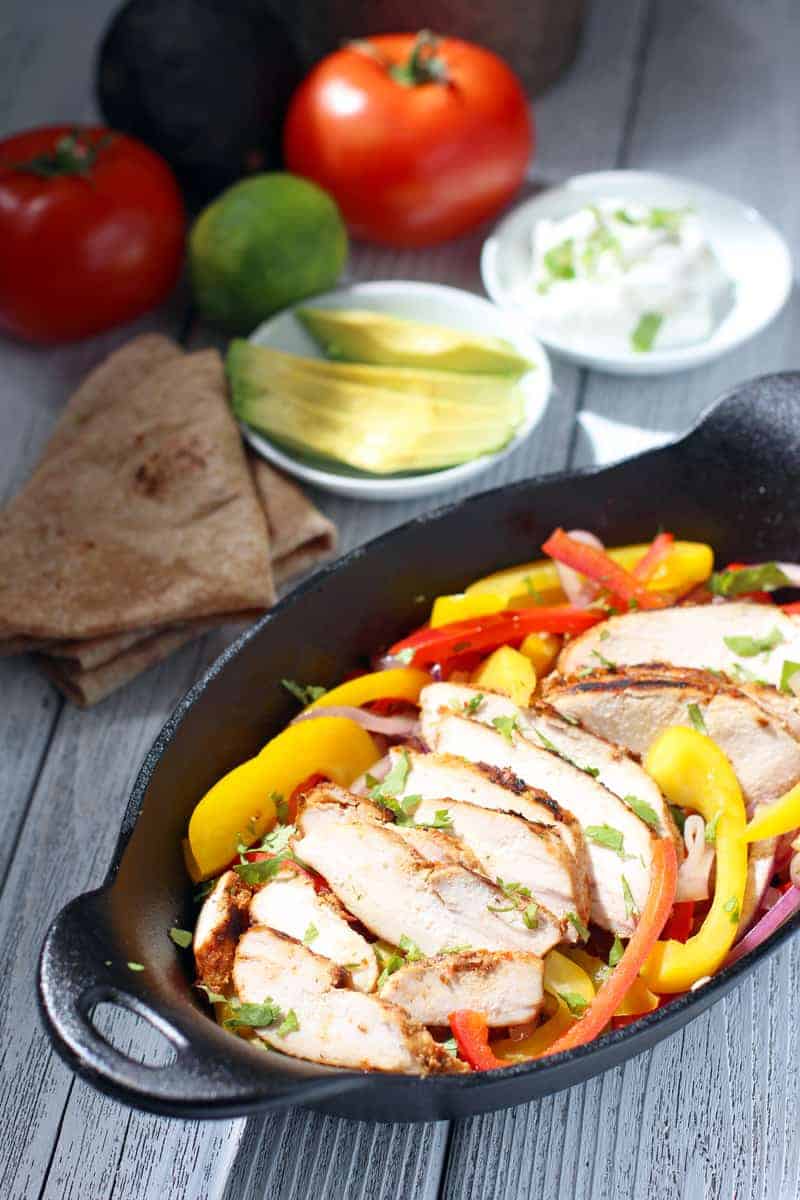 Smoked Chipotle Chicken Fajitas Recipe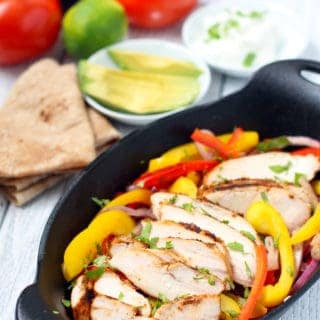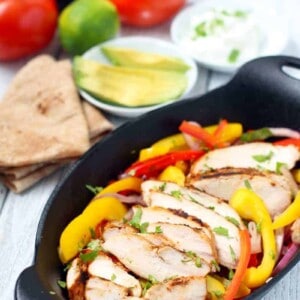 Smoked Chipotle Chicken Fajitas
A tasty and slightly spicy garlic chipotle marinade for chicken, and how to use it for smoked chipotle chicken fajitas.
Print
Rate
Ingredients
For the Chipotle Garlic Marinade:
4

cloves

of garlic, smashed

¼

cup

cilantro, roughly chopped (about 1 handful)

¼

cup

Chipotle Peppers in Adobo Sauce

about 4 peppers and some of the sauce, recommended brand Embasa (comes in a 7 oz can)

¼

cup

tomato sauce

Juice of ½ lime

1

teaspoon

agave, or honey

2

tablespoons

olive oil

1

teaspoon

salt

½

teaspoon

fresh ground pepper
For the Smoked Chicken:
2

boneless skinless chicken breasts
For the Fajitas:
1

yellow pepper sliced

1

orange or red pepper sliced

1/2

red onion sliced

4-8

small flour tortillas

Optional Toppings: avocado slices, guacamole, sour cream, salsa, shredded cheese, diced tomatoes
Instructions
For the Chipotle Garlic Marinade:
Place all marinade ingredients into the food processor and pulse until everything has broken up and there are no more chunks.

Place in a large plastic baggie add the chicken and let marinate from 5 hours, up to overnight. *Reserve 1/4 cup for fajitas as a topping or as a final brush on the grill.
For the Smoked Chicken:
Preheat smoker to 250 degrees Fahrenheit.

Remove chicken from the marinade and let start coming up to room temperature while the smoker is preheating.

Place chicken breasts on smoker and cook for roughly 90 minutes, or until internal temperature of the meat is at 165 degrees Fahrenheit.

Remove from smoker and let rest 10 minutes.

Slice the chicken and use for fajitas, tacos, or in a salad with your favorite filling. We love sautéed peppers and onions.
For the Fajitas:
Warm up a large pan over medium heat. Coat it with oil, then sauté your peppers and onions for 5-10 minutes, until softened.

Warm up your tortillas, and serve them with the pepper and onion mixture, sliced smoked chipotle chicken, and your favorite toppings.
Wine Pairing for Smoked Chicken Fajitas
If you're serving these fajita-style I'm a fan of a crisp fruity rosé for this. I know I know I sound like a broken record with my undying love of rosé, but it really is a great option for the combination of the mild spicy chipotle flavors, and grilled veggies. Alternatively, these particular fajitas also go quite well with Malbec, a fruity Grenache, fruity Beaujolais (or Beaujolais-style), or even Zinfandel.
---
This post may contain affiliate links. This means if you click on the link, we may receive a small commission if you purchase through the link. We partner with brands we know and love and use and it helps keep the blog going!
---
If you like this recipe we'd truly appreciate it if you would give this recipe a star review! And if you share any of your pics on Instagram use the hashtag #vindulge. We LOVE to see it when you cook our recipes.
---