Smoked Coq au Vin has to be one of my all time favorite winter comfort foods inspired by the classic French dish. This post will show you how to add smoked flavor to a traditional Coq au Vin.
Many years ago we found ourselves with no family for Christmas. It was just the four of us that year. No family. No traveling. Just us. Typically we go big and smoke a prime rib or brisket, or something equally grand. But this year we swayed from tradition. We still wanted something smoked, and something warm and comforting, easy to make, yet still elegant and festive. We decided on our twist on classic Coq au Vin (chicken in wine).
Jump to:
What is Coq au Vin
A traditional Coq au Vin is a classic French stew consisting of chicken slowly braised in red wine and brandy (and also bacon and vegetables).
It's usually made by pan searing the chicken to get it started, then cooking everything in a large pot in the oven. We wanted to see if we could smoke the dish for the smoky flavor and then finish the recipe with the traditional braise.
So we decided to adapt my favorite Coq au Vin recipe, from my shero herself, Ina Garten, and add our own smoked touches.
The Chicken
Chicken – In this recipe we are smoking an a whole roaster chicken and then cutting it up into smaller pieces. Alternatively you can smoke a quartered chicken in pieces and just remove them at your desired temperature.
Seasoning – For the chicken we season simply with kosher salt and coarse ground pepper. For additional flavor you can also use our chicken seasoning.
Coq Au Vin Ingredients
Once the chicken is smoked we add to a rich wine braise. While it may seem like a lot of ingredients many of these just get tossed together at the same time. Full portions are in the recipe card.
Bacon – Toss bacon bits into the pan to crisp up and use some of the fat to soften the vegetables.
Vegetables – For the wine braise we use carrots, onion, garlic, pearl onions, and cremini mushrooms.
Liquids – The braise needs a liquid base to reduce. We use a combination of bourbon, red wine (specifically a Pinot Noir or red Burgundy), and chicken stock.
Herbs – Fresh thyme brings fragrant aroma and flavor. Add kosher salt and coarse black pepper to taste.
At the very end of the braise we add flour and butter as a thickening agent. While not a classic roux, the technique is taking room temperature butter and mixing with the flour. Then it will melt in the warm braise and help thicken slightly.
Preparation Tips
Wrap the thyme bundle with butchers or kitchen string. Leave a long string so you can drape over the side of the Dutch oven and remove it easily when done.
For the best mushroom texture (browned), sauté them in a separate pan while the initial braise is simmering. Don't crowd them or they will steam versus brown.
You want a large enough Dutch oven so the braise won't spill over once adding the chicken. We recommend at least a 5-quart oven.
How to Smoke a Chicken for Smoked Coq au Vin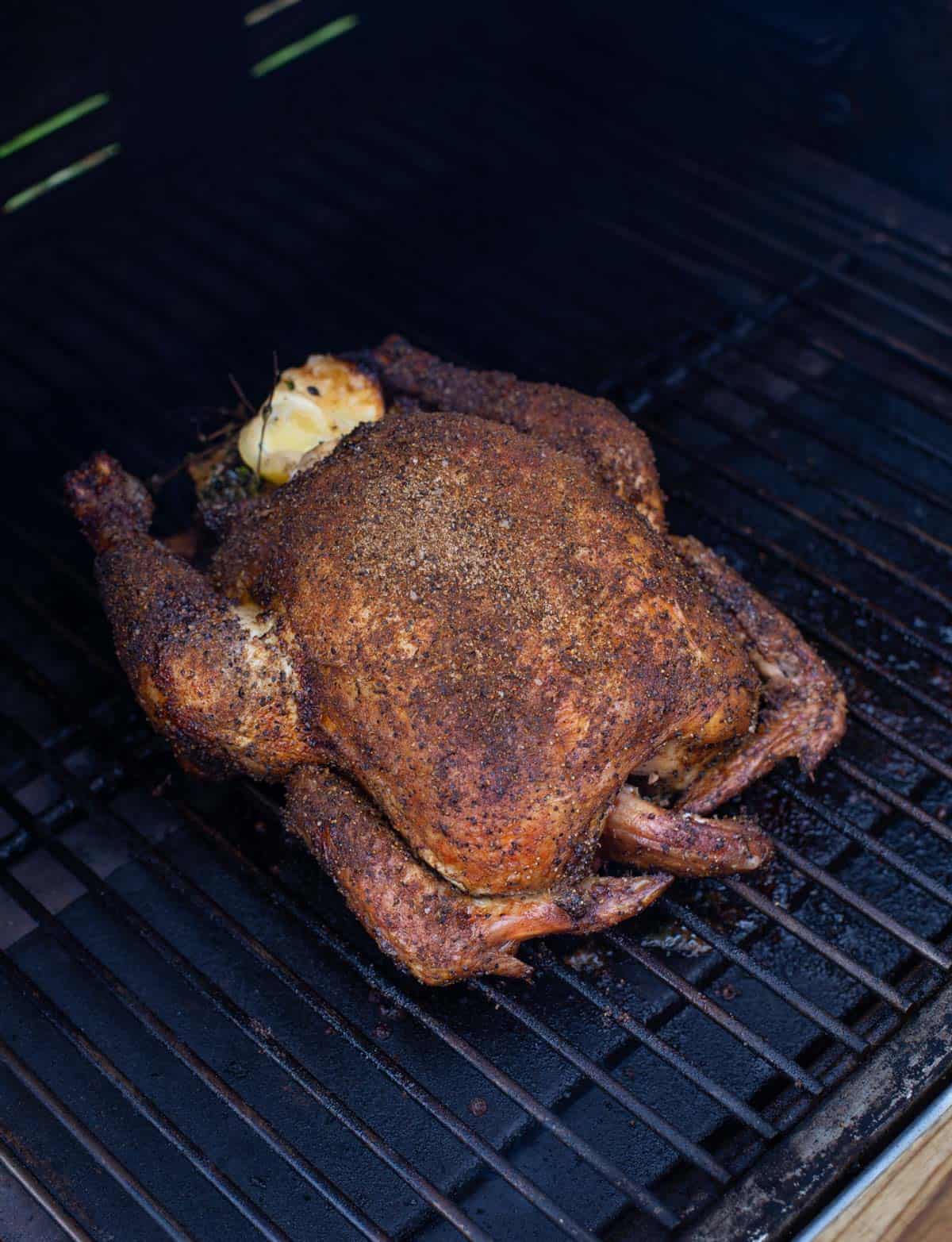 We started by smoking the seasoned chicken.
Cook the chicken to 160 degrees with a good instant read thermometer like the Thermoworks Thermapen One. This should take roughly two hours, but always cook to the proper temperature, not time. Then let the bird sit under foil for 30 minutes to allow the juices to redistribute and settle.
While the chicken is resting you can start on the rest of your dish.
Once the chicken has rested, quarter the bird into two breasts and then the two thigh/leg combos. Go ahead and throw the wings in there for fun and flavor.
Related Article: When is chicken done?
Making Coq au Vin
Sauté – In a large Dutch oven over medium heat add olive oil and cook the bacon pieces until crispy. Then remove the bacon (set aside) and most of the bacon fat (leaving about 2 tablespoons) and then add the onions and carrots. Soften for about 8 minutes and then add the garlic. Continue to stir over medium heat for one minute.
Liquids – Add your liquids (Bourbon, wine, and stock) and bring to a simmer. Then place the quartered chicken pieces into the braise. Add your bundle of thyme and pearl onions. Cover, and continue to simmer for 30 minutes.
Mushrooms – While the coq au vin has just started simmering, sauté mushrooms in a separate sauté pan. Once they are done add them into the braise.
Thicken – After the braise has simmered for 30 minutes, in a small bowl mash together one tablespoon butter and the flour. Mix into the stew and then add the bacon. Continue simmering the dish on the stovetop for an additional 10 minutes. It should thicken as it simmers.
Serve: Just before serving, pull out the thyme leaves wrapped in the string and season with a little salt and pepper to taste. Plate a piece of chicken in a bowl with a generous ladel of the braising liquid and veggies. Serve with toasted bread.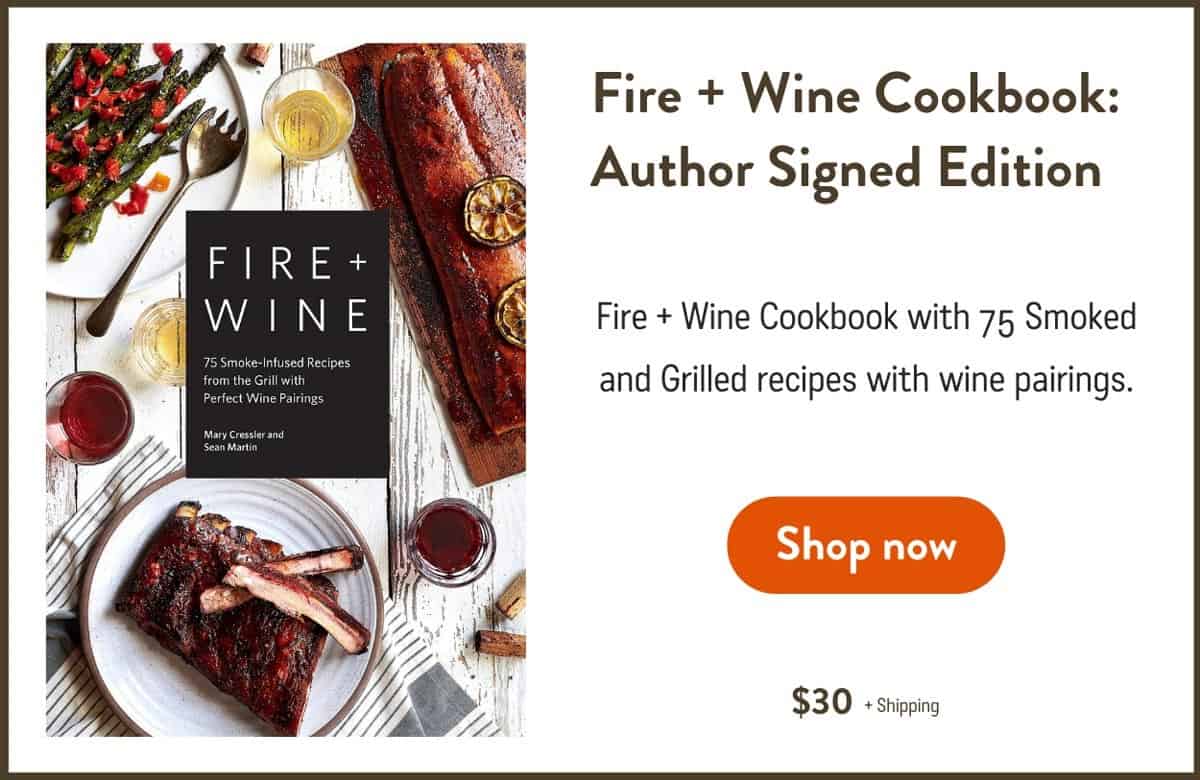 Wine Pairing For Smoked Coq au Vin
This classic French dish is traditionally served with red Burgundy (Pinot Noir), or another light to medium bodied red with high acidity. It's an earthy rustic dish, and goes fantastic with a rustic or earthy wine.
So that's usually our go-to. And we almost always use a decent quality Pinot Noir to cook the dish with. It doesn't have to be anything fancy, just something that you would happily drink. The easiest bet is to use the same wine to drink as you are cooking with. Alternatively we've also enjoyed this dish with Châteauneuf-du-Pape and it's outstanding!
Mary (a certified sommelier and recipe developer) and Sean (backyard pitmaster) are co-authors of the critically acclaimed cookbook, Fire + Wine, and have been creating content for the IACP nominated website Vindulge since 2009. They live in Oregon on a farm just outside Portland.
*This post contains an affiliate link for the Thermapen Mk4 digital read thermometer. We only recommend products we use and love! And you can't smoke meat to the perfect temperature without one! You can always be certain if you have good thermometer and this one is awesome.
If you like this recipe we'd truly appreciate it if you would give this recipe a star review! And if you share any of your pics on Instagram use the hashtag #vindulge. We LOVE to see it when you cook our recipes.