How to cook the perfect Smoked Prime Rib Roast every time. Plus a recipe and video tutorial on smoking prime rib.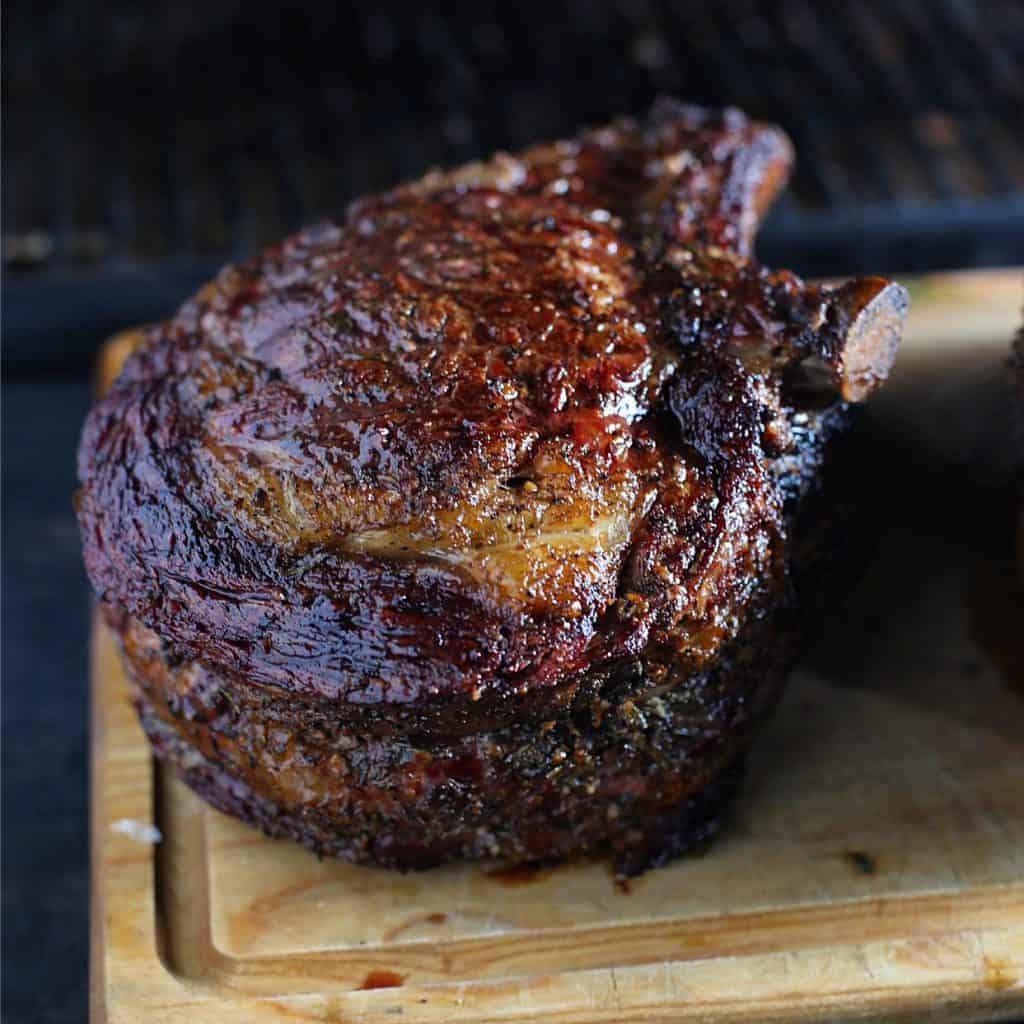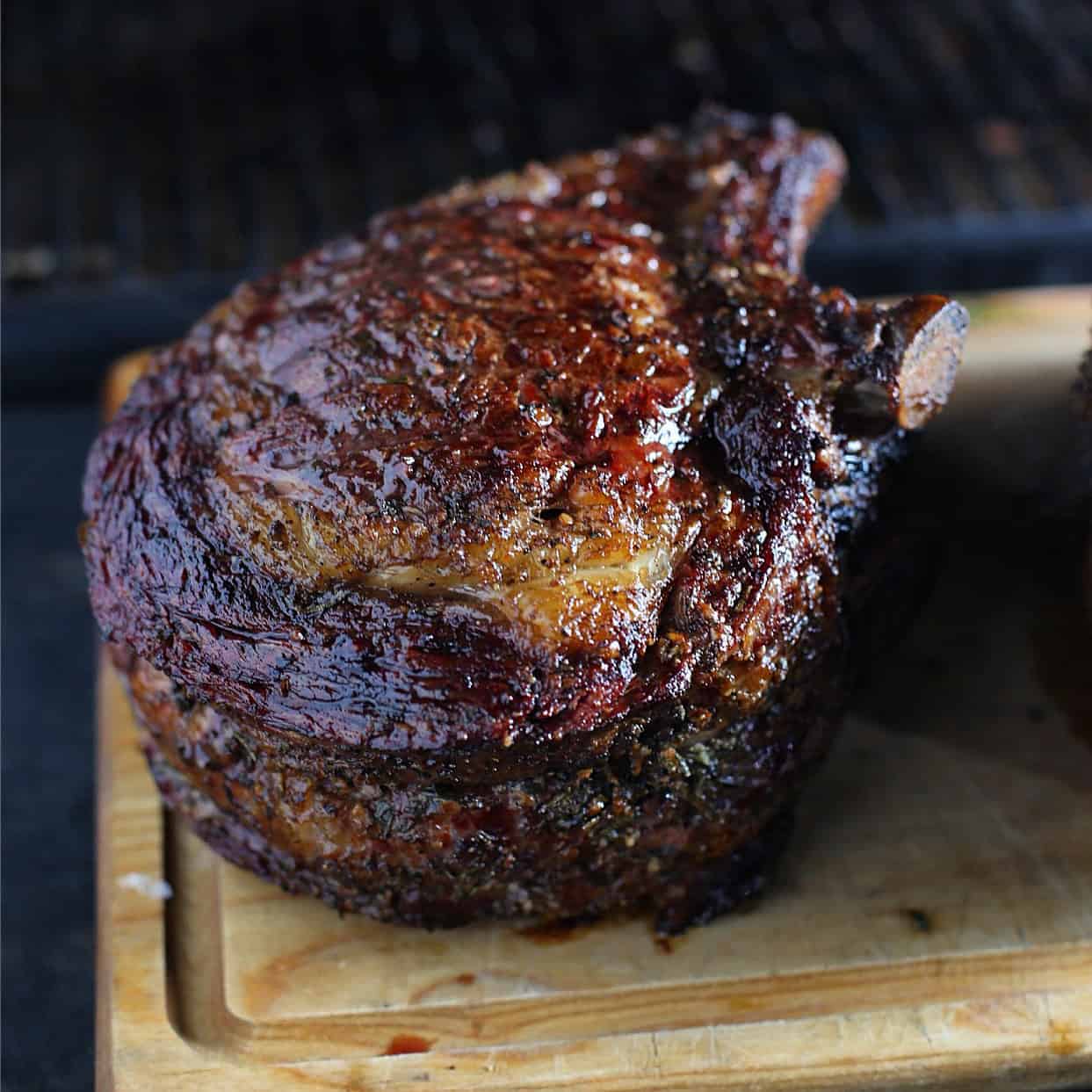 Prime rib is a big holiday favorite. It's dramatic. It's big. It's delicious. Let's be honest, it's also incredibly expensive! So when we decided to post our recipe and technique for Smoked Prime Rib we had to be detailed. If someone is going to commit to cooking this epic dish for family or friends this holiday season they need to be confident they can pull it off, right?
So below you'll find a (rather lengthy) primer on all you need to know to smoke your Prime Rib this holiday season, including a video tutorial. This way you'll have everything you need to master this dish, the recipe and video! Oh yeah, and wine pairing too!
*scroll to bottom for the video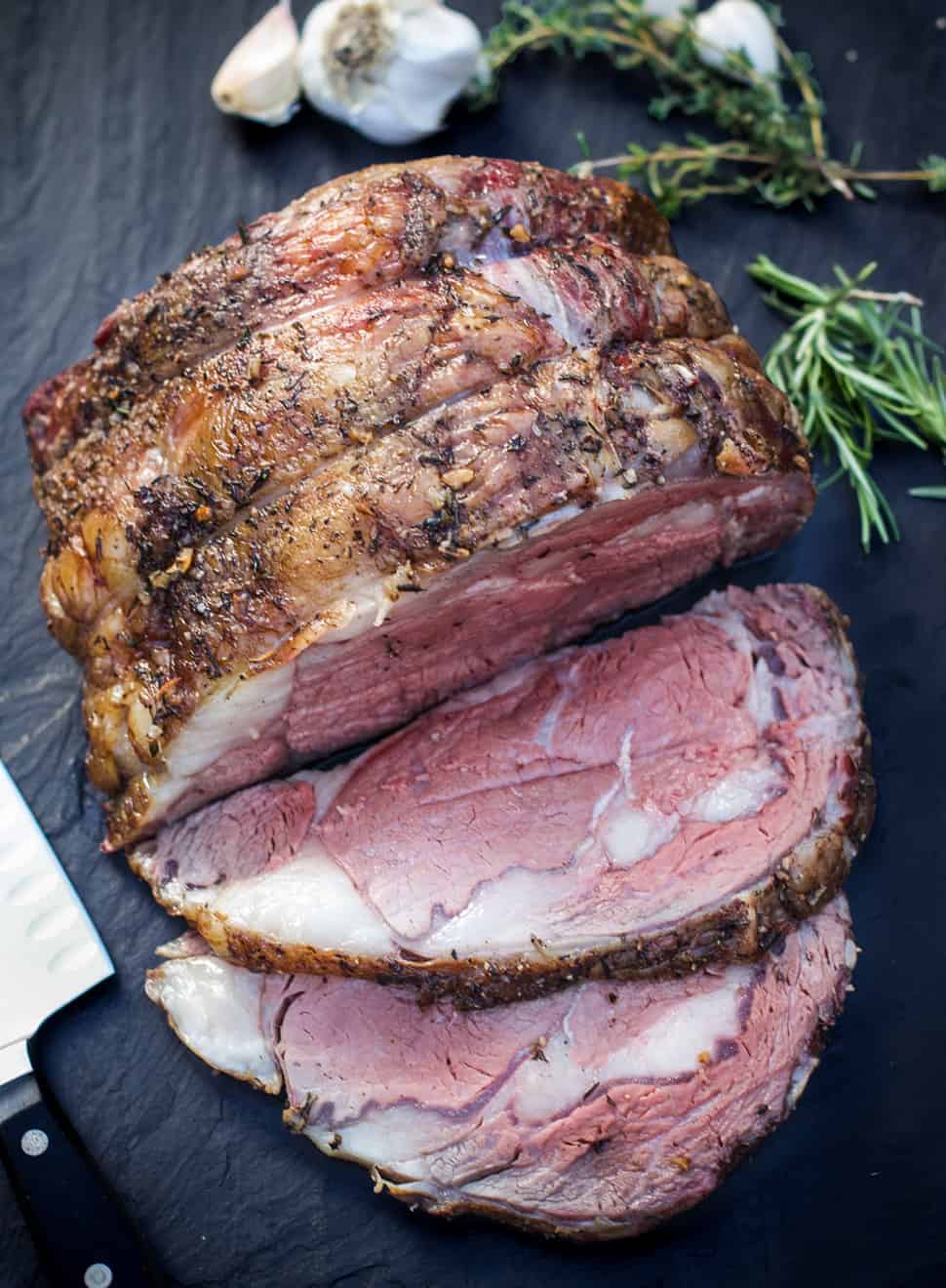 Smoked Prime Rib
The process for smoked prime rib is pretty simple. We rub it with an herb paste, then smoke it low and slow until our desired temperature, which for us is medium rare.
First, let's clarify something. And this is important. Smoking meat is low and slow — low heat and a slow cooking process. So when I say "smoking" that is what I am referring to. Smoking is synonymous with barbecue, but I like to be specific in the technique. Grilling is a high heat cooking method and not to be confused with low and slow. Each has its time and place, but for me holidays are all about low and slow.
One of my favorite cuts of meat during a special occasion is prime rib. And when I make a prime rib I always smoke it. If you haven't had smoked prime rib you're in for something very special. The flavor you achieve is out of this world.
What is Prime Rib?
So technically I am talking about a rib roast even when most refer to this particular cut as Prime Rib. Prime, as it refers to the rib roast, is a reference to the primal cuts versus the USDA rating system. Primal cuts are some of the key cuts after initial butchering.
Prime quality, as defined by the USDA, is the marbling quality of beef, which in turn also impacts tenderness and flavor.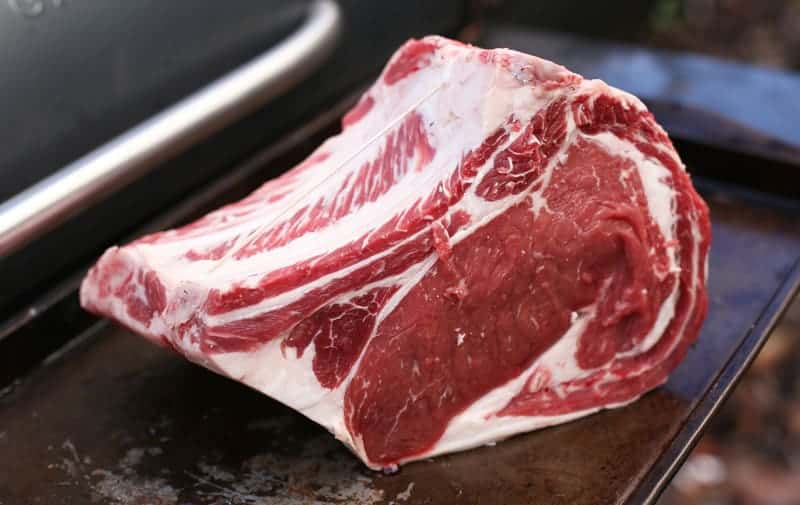 When talking to friends and family I can't help but notice that some of the meat they are purchasing is not in fact "Prime". So first, let us discuss the finer points of the rib roast so it's easier to understand what you are buying and how much you are buying it for.
In order of beef quality per USDA you have Prime, Choice and then Select.
While Prime is certainly the highest quality, Choice also has tremendous flavor and is definitely not an "inferior" meat. It just didn't rise to the occasion of marbling and quality as the Prime. When you get to select, you begin to see a difference in the meat, the fat content and other factors. Still worthy of smoking, but I would be sure if going down this route, consider at least a choice cut.
You can also buy American Wagyu, specifically from Snake River Farms. The marbling for American Wagyu is beyond Prime and, being based like us in the Pacific Northwest, we love supporting our local ranchers and farmers.
At some stores you may see labels outlining the rancher, or the type of feed (grass, grain, etc). Don't hesitate to ask if the beef is rated, and if it isn't, at least discuss with the butcher that you are looking for a Choice or Prime quality cut or its equivalent. Grain finishing adds marbling. Strictly grass fed beef will tend to be leaner and less marbling.
Finally, look closely at the labeling. In the end it may say "Prime Rib of Beef" or "Standing Beef Rib Roast for Prime Rib" according to the USDA but not have to be derived from prime grade beef. So when in doubt ask the butcher.
How to Select a Prime Rib
So the first thing I would offer when you choose the meat, start with your budget and how many people you are feeding. Why? Prime Rib is one of the most expensive cuts on the market. If you are feeding 10 people you may realize that a Choice cut of meat is a better option. The loss of flavor can be there, but let's be real; a rib roast can go from $14.00 – $18.00 per pound, so that adds up fast.
After budget, then I look at the cut quality. Am I buying Prime every time? The reality is, finding Prime is not always easy and Choice is a good quality cut. Remember that the core difference in the ratings is marbling. So you'll see less marbling in a Choice cut versus the Prime. But, if you can find Prime and fits your budget then I say go the distance.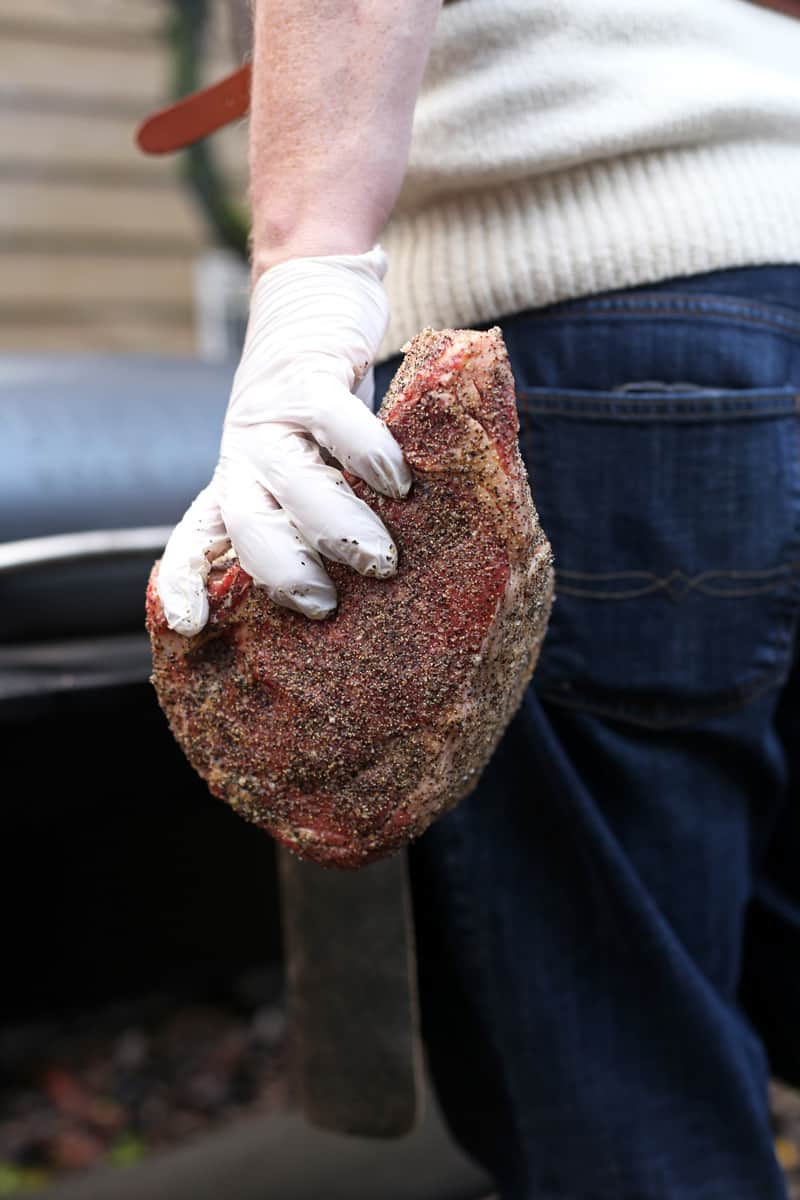 Finally, you need to decide to go bone-in or boneless. And when you call in an order or are there in person, don't be surprised if the butcher expects you to order by number of ribs. With bone-in, I like to order three or four ribs, which when smoking will give enough time for the smoke to penetrate. So don't be shy to specify and say, "I'd like a three bone rib roast please." They will know what you're talking about.
There is no flavor difference between bone-in or boneless (so don't let anyone tell you there is). The difference comes in presentation. Bone-in certainly offers a much more dramatic presentation. Plus the bones are pretty fun to chew on (but you're not going to see an actual flavor difference). The flavor differences are going to be more obvious when you look at quality of meat and marbling, vs whether or not your roast is boneless or bone-in.
Ordering prime rib online also makes it easy so it is delivered right to you in time for your meal.
How to Prepare a Prime Rib for Smoking
After coming home from the butcher I start right away trimming the excess fat off the outer roast if it is hanging or loose. After removing the fat I rinse under cold water and pat dry. It's not uncommon for the butcher to have trimmed off the bones already from the roast (and thus it is tied together with string). Be sure when you rinse and clean, you include this area as well. Once dry, the seasoning begins.
Best Seasoning or Dry Rub for Prime Rib
Start with a coat of olive oil and then finish with salt and pepper. Sound simple? It is, and this is due to the amazing flavor you get from the fat rendering as you slowly cook the meat. Want to add another layer of flavor? Consider a flavorful herb paste of olive oil, crushed garlic, thyme, sage, and rosemary.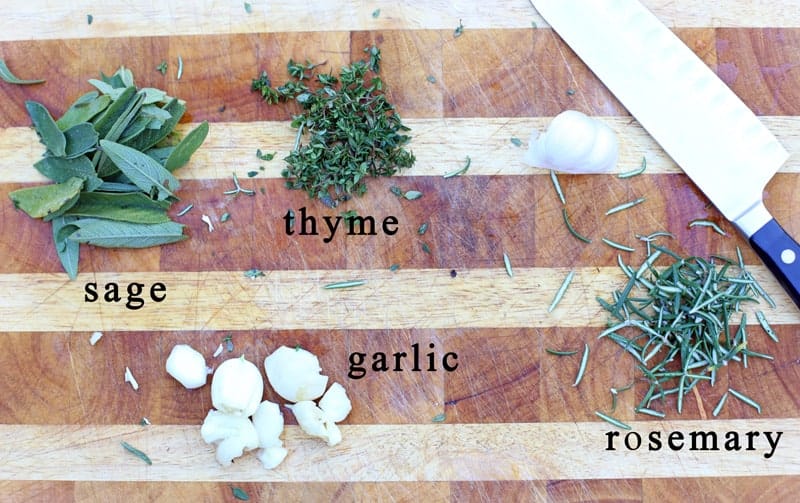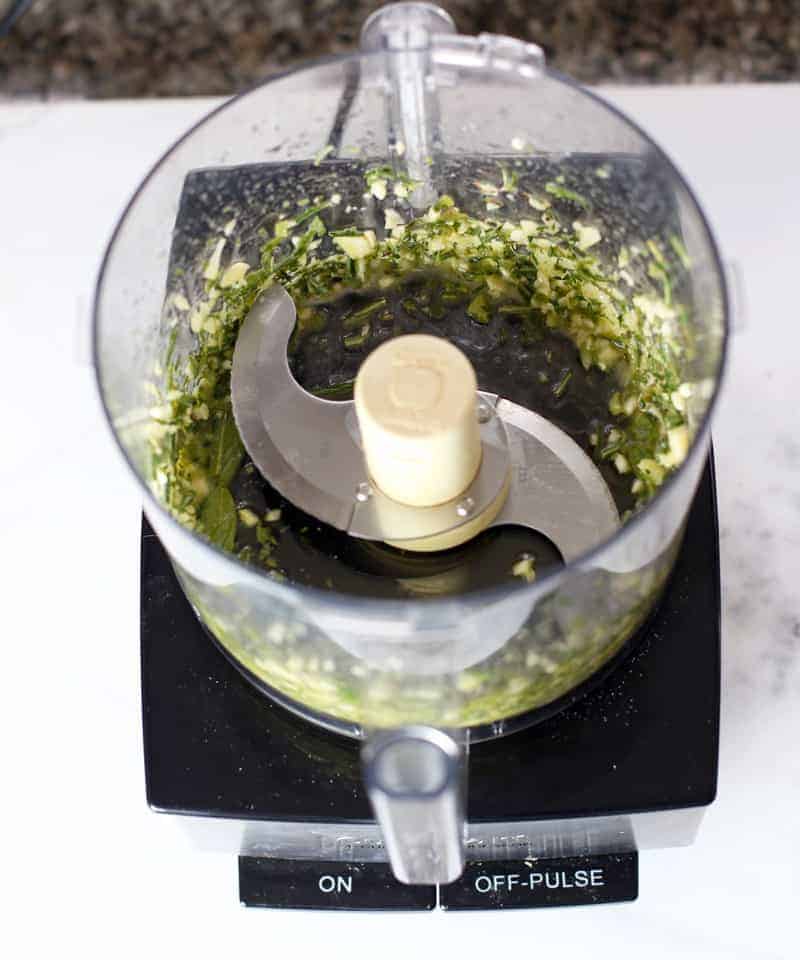 A paste is simply a wet rub. Just blend all of the ingredients together in a food processor. It sticks easier to the meat, and when using smoke, liquid helps the flavor adhere to the meat.
Remember to also season within that area of the bone that was removed by the butcher, coat everywhere. Seriously, be LIBERAL with your paste and seasonings! You can season the roast the day you will cook it or prep the day before.
Side note: I don't have the bone removed prior to cooking, instead I cut it out after it's done cooking. This is just my preference.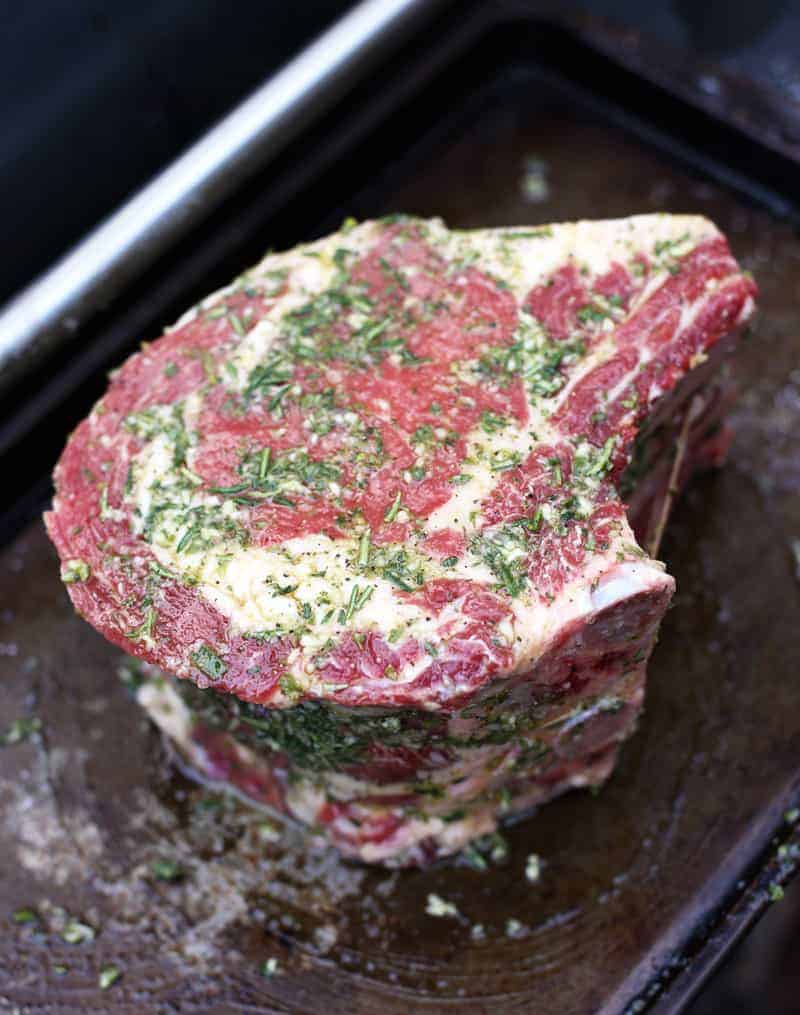 How to Smoke a Prime Rib
You can easily put the roast in an oven and it will be tasty, but smoking will add an incredible flavor dimension that oven roasting won't. Rib roasts don't take long to cook either, so you can easily do this without blowing an entire day with a cut like brisket.
Whether you use a pellet, electric, or a wood and coal based smoker, the technique for the meat is the same for smoked prime rib.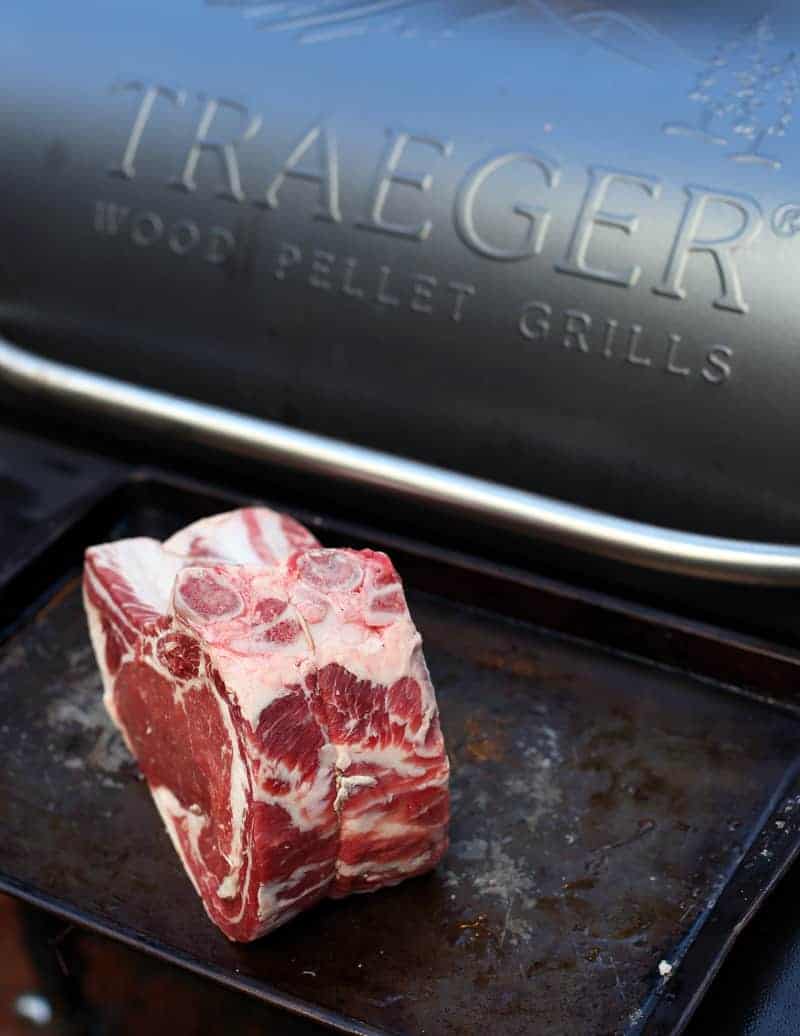 The key is to keep the temperature consistent and to impart the fragrant woodiness to the meat. Use apple or other fruit wood for a brighter flavor, or a mesquite or hickory for a flavor closer to that of a campfire.
Also, plan ahead. When looking at times on various recipes for cooking length, look for "smoking" recipes, not "roasting", as it can be up to 45 minutes or more per pound when smoking vs. roasting in the oven. You are NOT cooking at 425 degrees Fahrenheit.
* Remember, when cooking in a smoker or grill, you always cook to temperature and not time. 🙂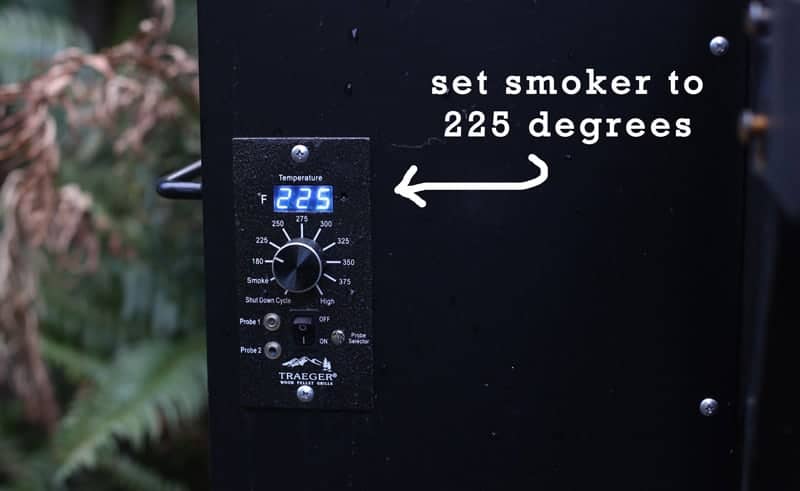 1. Prepare your fire in your smoker. The key is keeping the temperature in the cooking chamber at 225 – 250 degrees throughout the cooking process.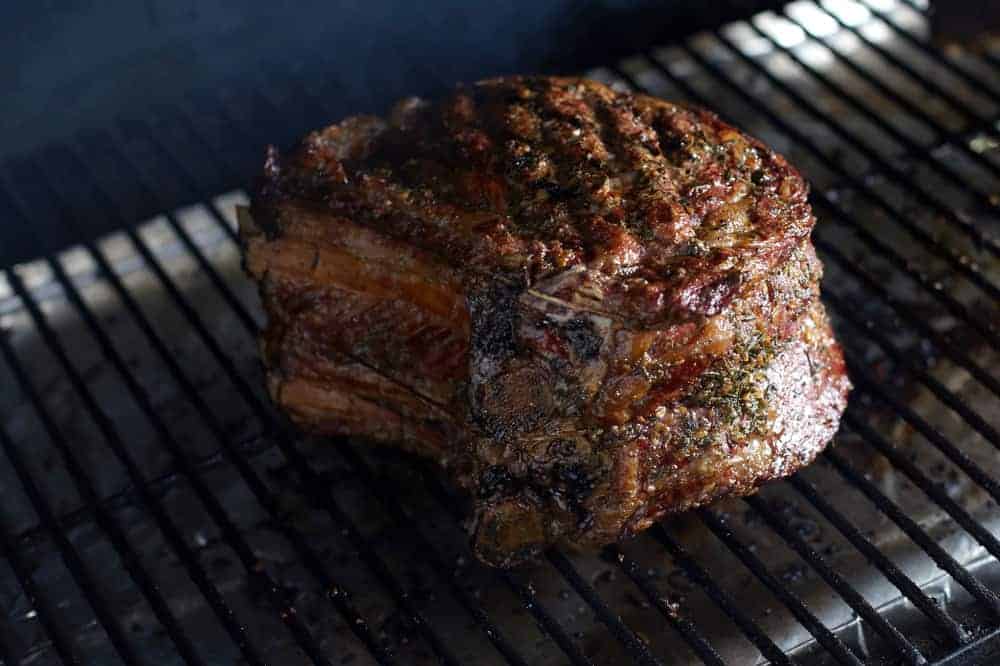 2. Place the prime rib roast onto the smoker when it comes to temperature. I do this straight from the fridge. When smoking, the cooler meat will warm as it cooks and the colder temperature actually will infuse more smoke flavor than a roast that has been standing a while at room temperature. The reason is that it sweats as it goes from cold to warm, and that liquid helps with the smoke flavor.
3. Smoke the roast until the internal temperature of the meat, when measured at the center, is at your desired level; I like 120 – 125 degrees for a rare and 130 – 135 for medium rare.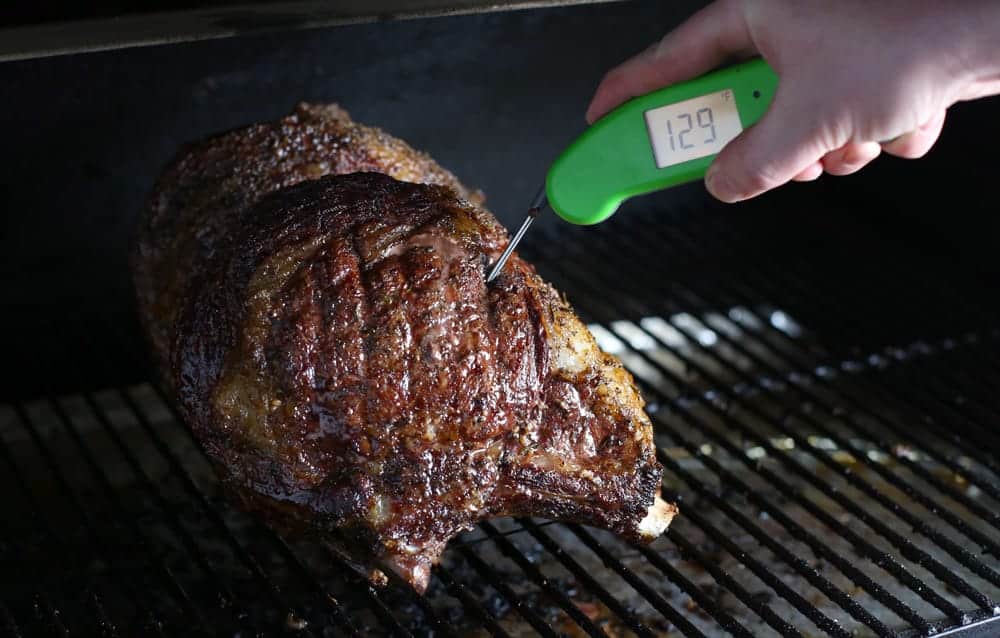 Always use a good thermometer for a cut like this for a proper read. We love the Thermapen Mk4 for its quick and accurate read.
4. Once you pull the smoked prime rib roast from the smoker, wrap the roast in aluminum foil and allow time to sit for 20 – 30 minutes. The temperature will continue to rise another 5 degrees or so. Then prepare to carve.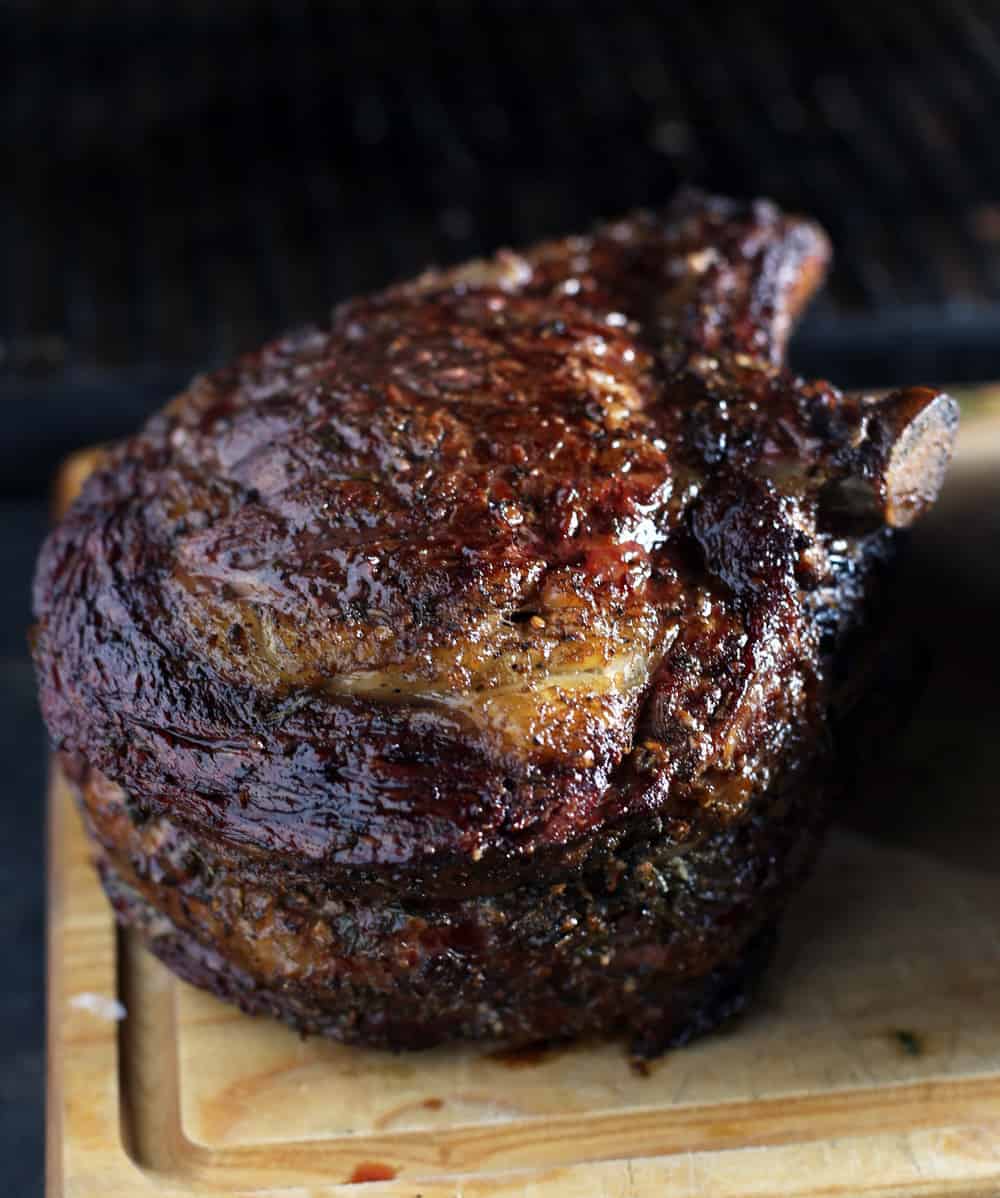 How to Slice a Prime Rib
Remove the foil and then remove the strings (if you wrapped your roast). Next, remove the bones from the prime rib roast (see video for how we do this). As much as I love the bone, I find a much more elegant presentation without the bone. Place the roast on a cutting board and slice into desired thickness. Plate and serve with your favorite sides.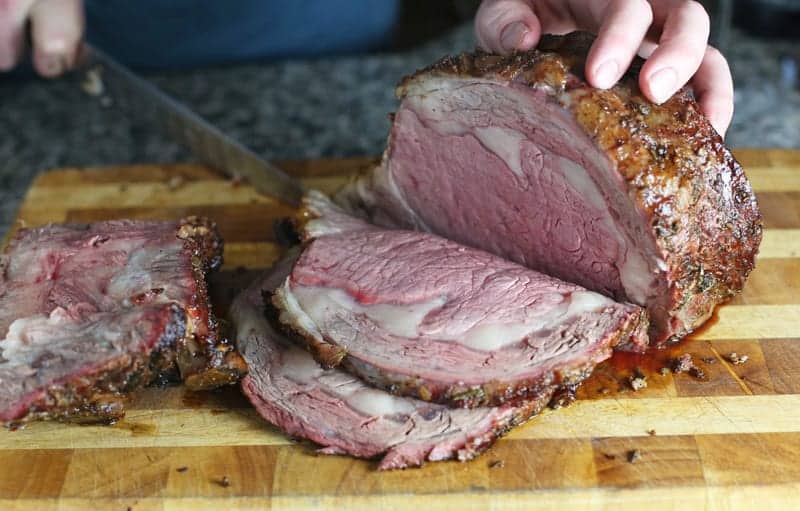 The great part of a Prime Rib Roast is the ability to cook the outer edges to medium while the center can be rare. So you can please a wide audience without over cooking the entire roast.
There is something else about the experience of smoking for a crowd, like a holiday. It's an opportunity to stand around the smoker, talking not only about what you are about to eat, but a chance to move at the pace of the smoker, not the other way around. You can enjoy great conversation and anticipation for the amazing food coming your way. And maybe it's just a chance convincing others to try your new tradition of cooking some Prime Rib, on a smoker. Sorry holiday ham… sometimes you just need to change things up.
Smoked Prime Rib Recipe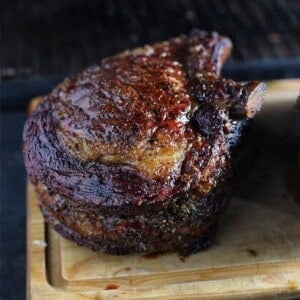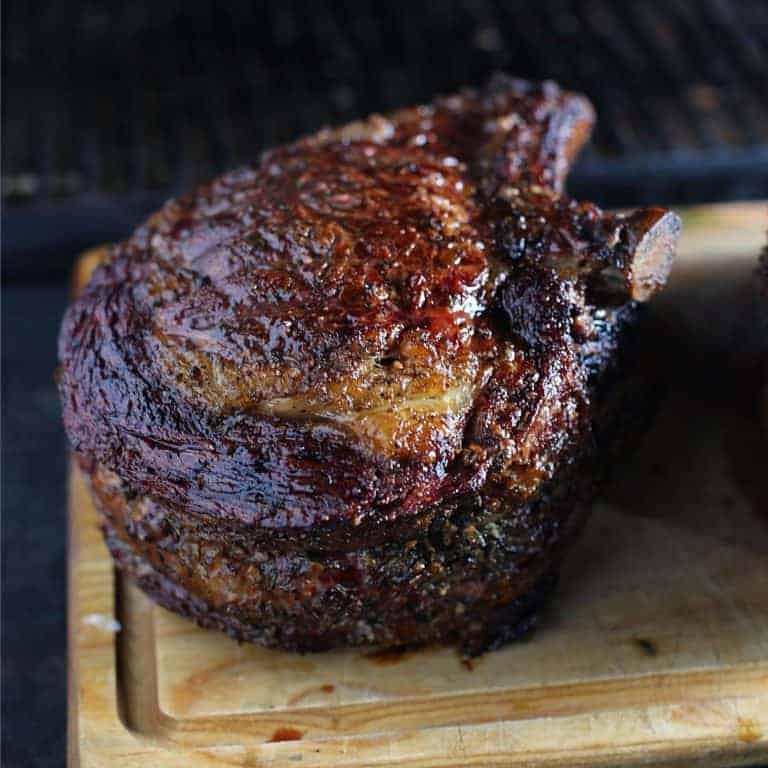 Smoked Prime Rib (recipe and video)
How to cook a prime rib on a smoker. Including recipe and video tutorial on smoking the perfect prime rib on any kind of smoker, including pellet smokers. Comes with wine pairing recommendations.
Print
Rate
Ingredients
For the Prime Rib:
5

lbs

Prime Rib or rib roast

1/4

cup

extra virgin olive oil

2

tablespoons

coarse ground pepper

2

tablespoons

kosher salt
For the Herb Paste:
3

cloves

of garlic

1

tablespoon

fresh rosemary

1

tablespoon

fresh thyme

1

tablespoon

fresh sage

1/4

cup

extra virgin olive oil
Instructions
For the Herb Paste
Place everything into a food processor and pulse a few times until combined into a chunky paste.
For the Smoked Prime Rib:
Preheat Smoker to 225 degrees.

Trim excess fat off of meat, rinse with cold water and pat dry.

Apply olive oil, and salt and pepper generously to the rib roast. Then apply the paste.

Place the rib roast on the smoker bone side down (acts as heat shield).

Check temperature in the center of the meat to desired doneness. I like 125 degrees. (This should take roughly 3-4 hours for a 5 lb prime rib). Always use a good thermometer to check the meat for doneness.

Remove from smoker and let sit for 20 – 30 minutes.

Slice and serve.
Notes
See post for detailed instructions.
A 5-pound prime rib should safely serve 6-8 people. 
The Video
Watch the video tutorial of how to smoke a prime rib here.
And if you are having trouble playing the video, click here to view it on YouTube.
Wine Pairing for Smoked Prime Rib
Serve this with a big red such as a Cabernet Sauvignon, Bordeaux, Merlot, or Malbec, and you're good to go!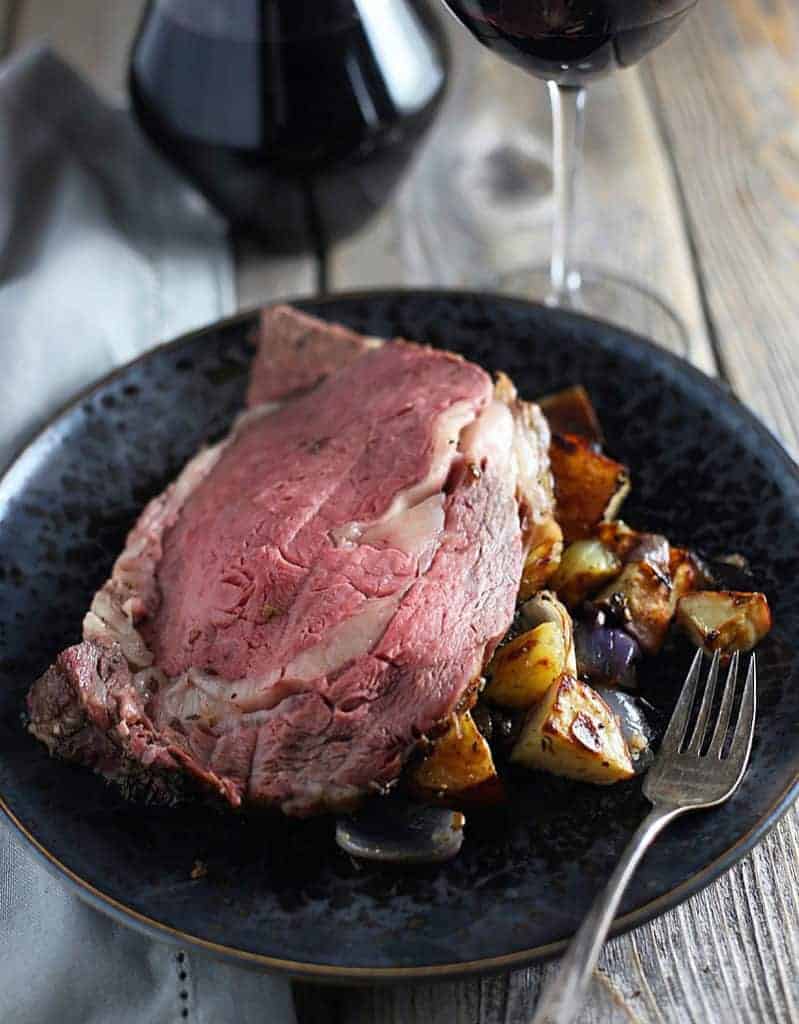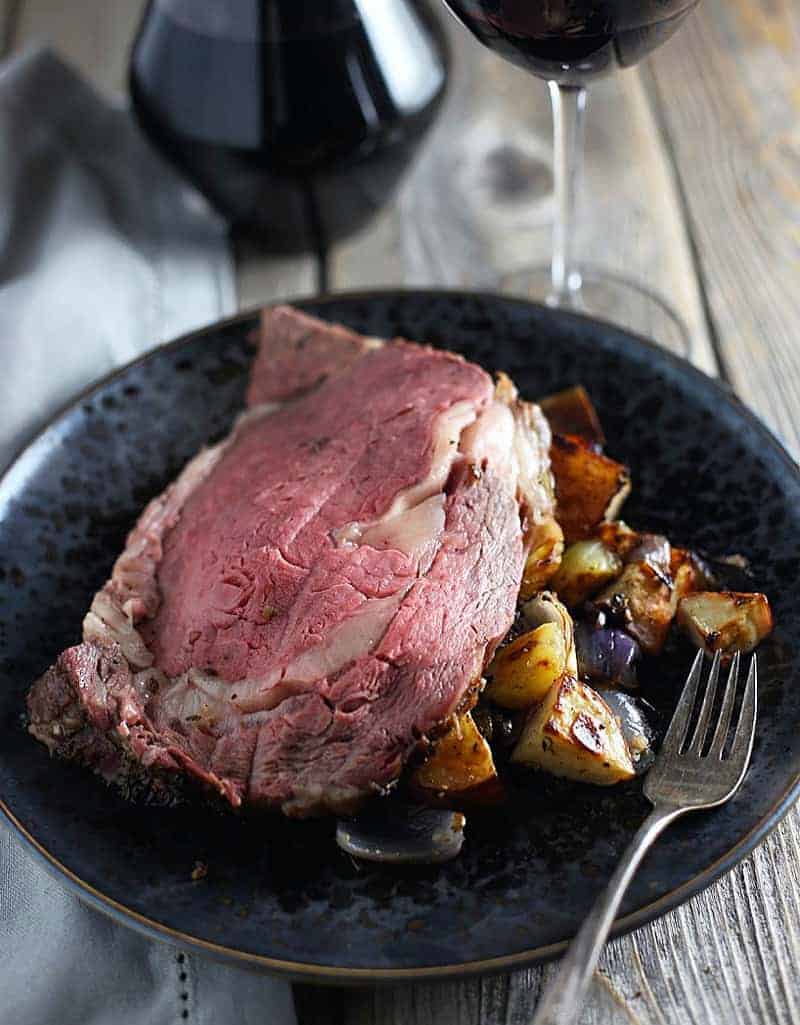 What about YOU? Do you go BIG for the holidays? What do you like to cook?
---
*This post contains an affiliate link for the Thermapen Mk4 digital read thermometer and Snake River Farms. We only recommend products we use and love! And you can't smoke meat to the perfect temperature without one! Seriously, the folks who cook to touch? No! You can always be certain if you have good thermometer and this one is awesome.
---
If you like this recipe we'd truly appreciate it if you would give this recipe a star review! And if you share any of your pics on Instagram use the hashtag #vindulge. We LOVE to see it when you cook our recipes.
---