Smoked Deviled Eggs make for an amazing appetizer and pack a mouthful of flavor. Make hard (or soft) boiled eggs in advance and finish on the smoker for an amazing smoky twist on a classic recipe.
For this recipe we have a variety of options to garnish your smoked deviled eggs with that are sure to impress your BBQ loving guests.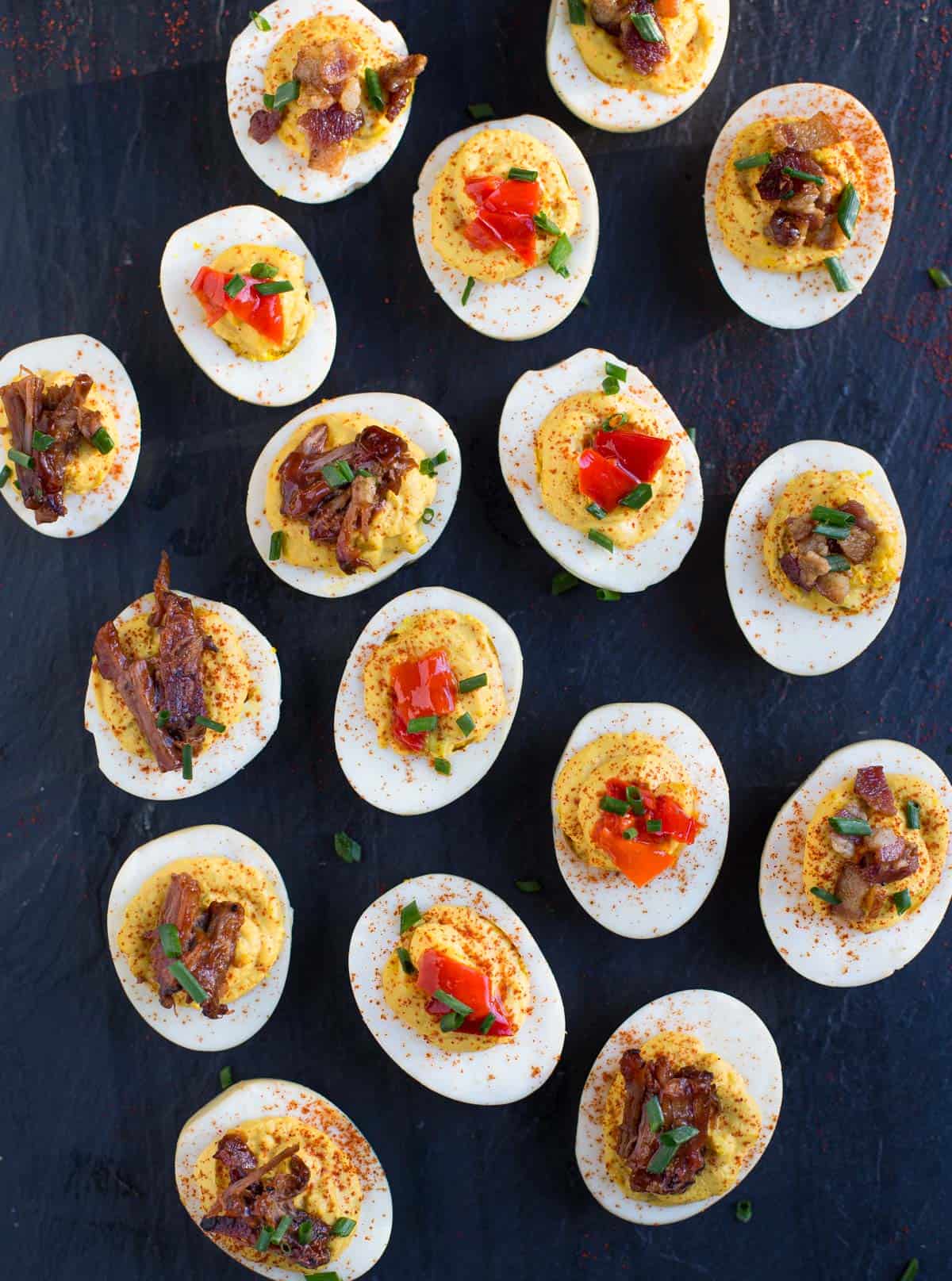 When looking for an easy appetizer to make in advance of any holiday party or gathering, we have found that smoked deviled eggs is always a crowd favorite. Not only can they be prepared in advance, but the reaction received from those enjoying this treat is always a wow. And there are a few classic flavor profiles we enjoy in our deviled eggs.
Something Pickled – We just love getting some type of pickled element (both in the filling and topping). And in this recipe we are using pepperoncini and its juice for a crisp flavor and topping with a red spicy pickled pepper.
Something with Crunch – Instead of celery or shallots, we are adding crunch with bacon. That may seem obvious, but we add the bacon as a topping.
Texture – To avoid overly runny filling, we balance the use of some mayonnaise and other ingredients (such as mustard) to keep the filling both dense and creamy without a dominant mayo flavor.
Jump to: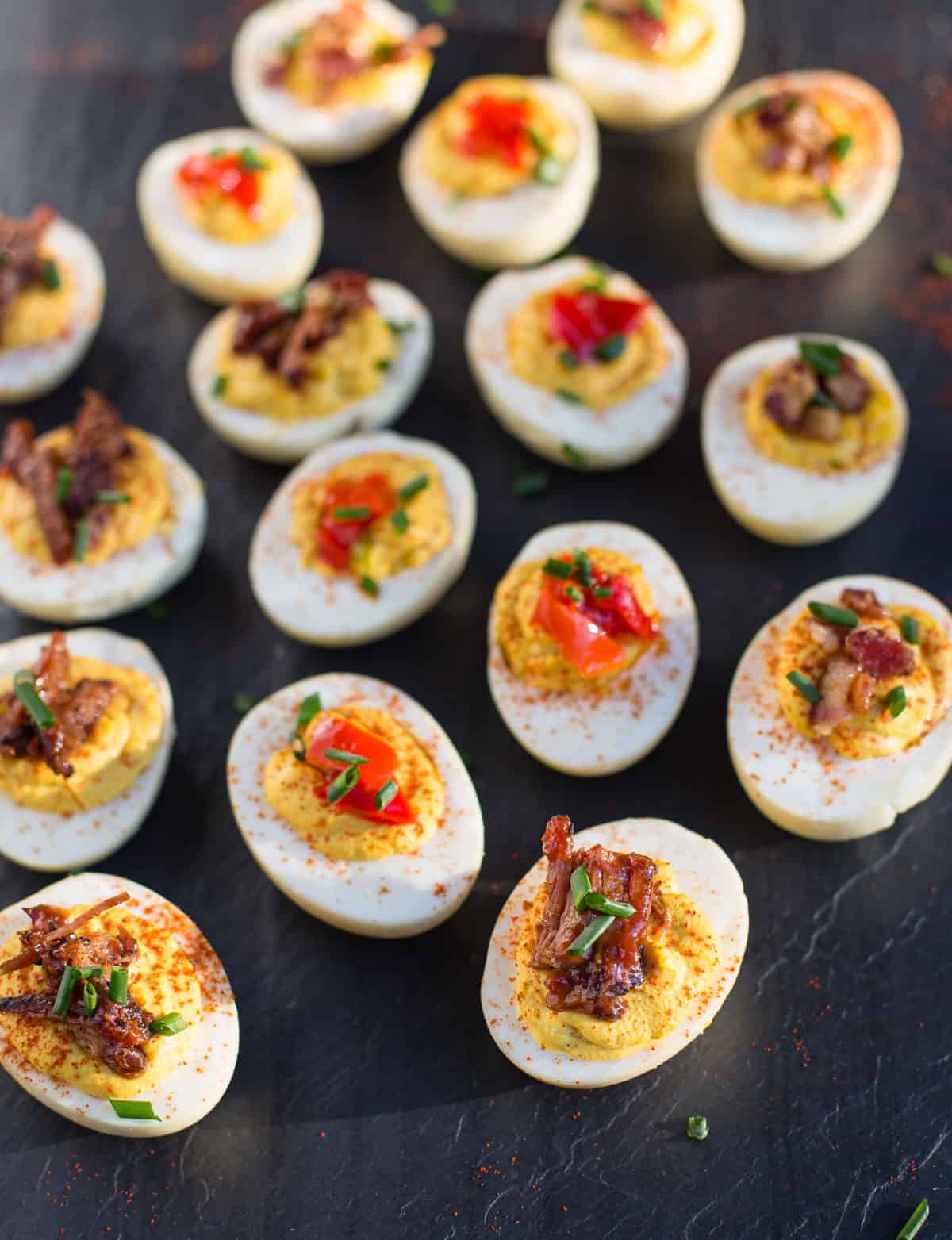 Ingredients
Here is what to grab for these smoked deviled eggs. This combination of flavor is acidic, with the texture and bite you want.
Eggs – Large eggs work the best. We are fortunate to use farm fresh eggs from our chickens. But the thing to understand with farm fresh eggs is that they can be tough to peel the shells. It's best to use older eggs if you want that smooth easy peel.
Mayo – Yes, we do have some mayo in this recipe, but it's meant for the binding agent, versus being a predominant flavor.
Dijon Mustard – A little extra Dijon gives more of a creamy feel but with the flavor and bite we like.
Yellow Mustard – Yellow mustard helps with more of the acidic flavor we like and again takes the place of too much mayo.
Chipotle in Adobo – The sauce of chipotle is a great way to add heat and a slightly earthy and smoky flavor. You can also use your favorite hot sauce or sriracha.
Pepperoncini – To get more flavor and crunch we use finely diced pepperoncini and some of the pickling juice. This also adds a touch of heat.
Seasoning – We add salt, but any of your favorite grilling seasonings are great too.
Toppings – We love to add a few different toppings so we have a variety to choose from. Crispy bacon is our go to fast followed by pickled hot peppers. If you have leftover brisket, brisket burnt ends, or pork belly, they also make the perfect addition.
Preparation
The most important part of a successful smoked deviled eggs recipe is making sure the eggs are boiled first and then smoked with the shells removed. Just make sure to not overcook them, as they will continue cooking in the smoker.
If you try to smoke the eggs still in the shell, they won't get very smoky. The shells act as a protective agent, preventing much smoke from getting into the actual egg. We find trying to smoke or grill the eggs is not not worth while. It's easier to make some soft (or hard) boiled eggs indoors (using your favorite method), then remove the shells for the next step.
So to reiterate, we're making hard boiled eggs the classic way, then finishing them on the smoker after removing the shells. The two methods we use for hard boiled eggs are as follows:
How to Make Smoked Deviled Eggs
Preheat Smoker: Preheat the smoker to the lowest temperature. Target 160 – 170 degrees Fahrenheit with your favorite fruit wood. Heavier woods like mesquite will make these very smoky. We are using our MAK Two-Star General which gets great range from low to high temperature.
Remove the shells carefully from the hard boiled eggs and compost or discard the shells.
Smoked Eggs: Smoke whole de-shelled eggs for 30 minutes. This will slowly continue to harden the yolk for the filling. Remove and let eggs come down in temperature.
Prep Eggs: Using a sharp slicing knife, cut the eggs in half and gently remove the yolks from the egg halves with a small fork or spoon and place into the mixing bowl.
Make the Filling: Using a fork or whisk, combine the yolk with the remaining filling ingredients and mix to combine.
Fill Eggs: Add the filling into a large piping bag (a large baggie works too), cut a small hole and then pipe the filling back into the egg halves (about ½ a tablespoon filling per egg half). If no piping bag, then simply spoon the filling into each egg half.
Garnish Eggs: Top with your favorite toppings and garnishes and serve.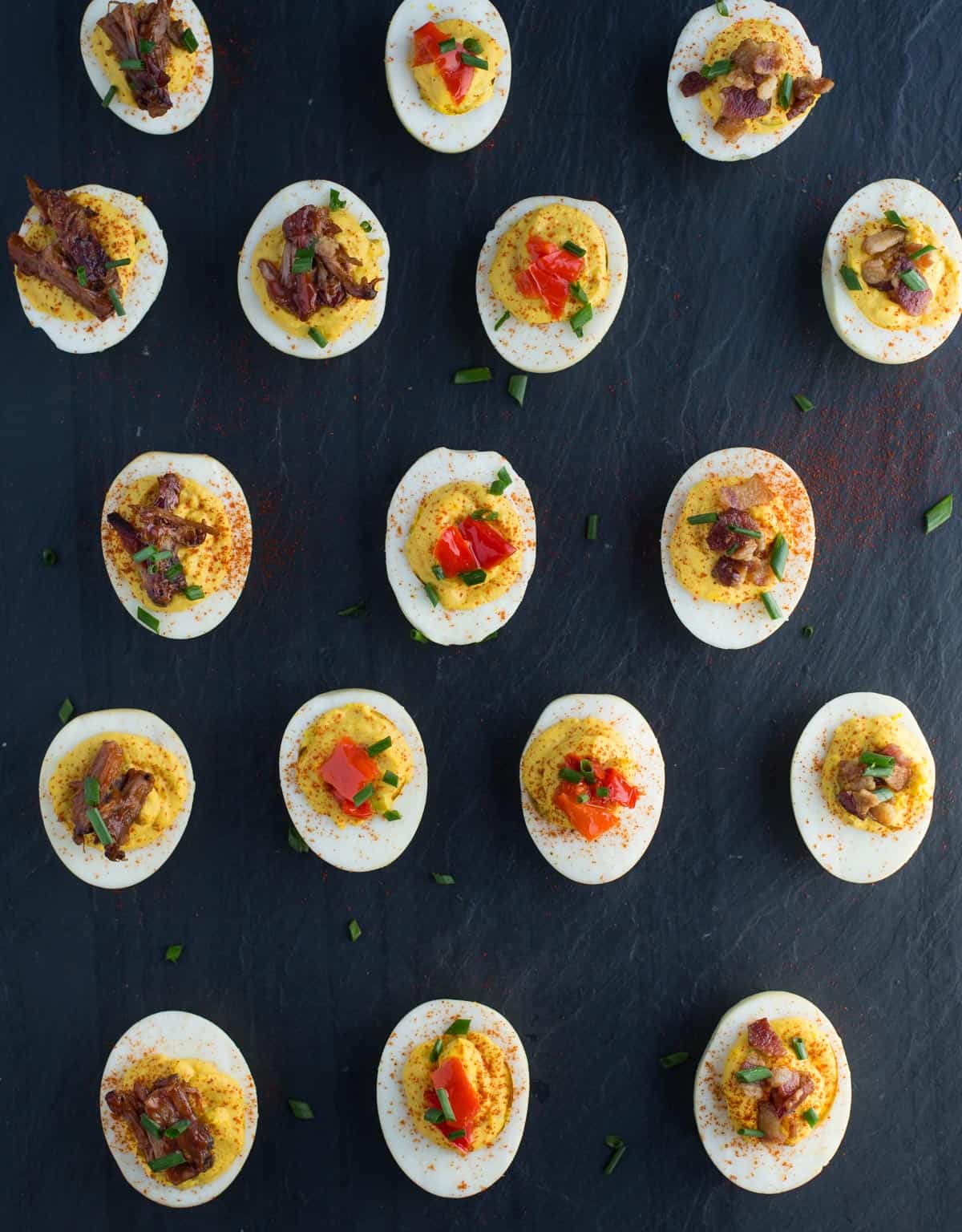 How long to Smoke Eggs
We find 30 minutes is the sweet spot. If you are using a cold smoker you can go up to an hour. But smoking at 160-170 degrees F for 30 minutes, you still get a nice tender bite, with just enough smoke flavor. Any more than 60 minutes tends to result in rubbery egg whites (not a pleasant experience).
Note the smoked eggs will turn a mild yellow color from the smoker.
Toppings for Smoked Deviled Eggs
To make this a show stopping appetizer, add some of your favorite leftover smoked or grilled meats to the topping/garnish. If you have a group of people over, add three or four different variations of the toppings for their own appetizer plate.
Our favorite toppings include:
Crispy Bacon
Something Pickled: We use pickled red peppers (we love Mama Lil's)
Pulled Pork (topped with some BBQ sauce)
Egg Roe (or trout eggs)
Smoked Salmon
The examples below are topped with smoked brisket, red pickled peppers, and crispy bacon.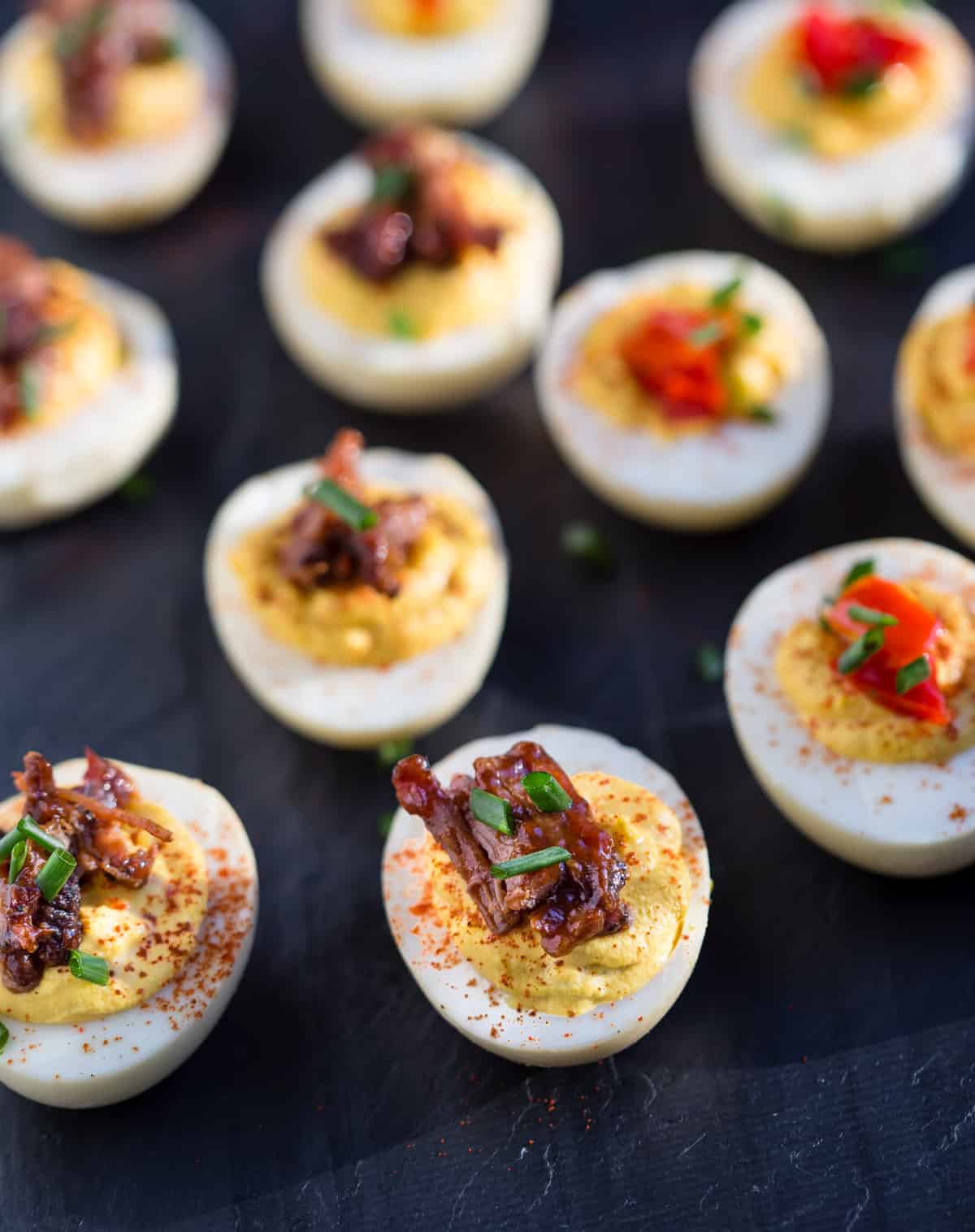 The variations are endless and can be very fun if you are plating these on a slate board. And don't forget to garnish with some smoked paprika for color and flavor and some fresh chives.
Making Ahead
These can easily be made the day prior to any holiday or meal and stored in a large container. The day prior to eating, smoke the eggs, and make the filling and then store in a large plastic container or container made for devilled eggs. Then add the toppings the next day. We find these taste best eaten within 24 hours of being made.
Other Appetizer Ideas
This post may contain affiliate links. This means if you click on the link, we may receive a small commission if you purchase through the link. We partner with brands we know and love and use and it helps keep the blog going!