This smoked pork ribs recipe is seasoned with Chinese Five Spice and sugar, cooked in the 3-2-1 method of smoked pork ribs, and then finished with a Thai Sweet Chili Sauce. These Asian ribs are packed with flavor.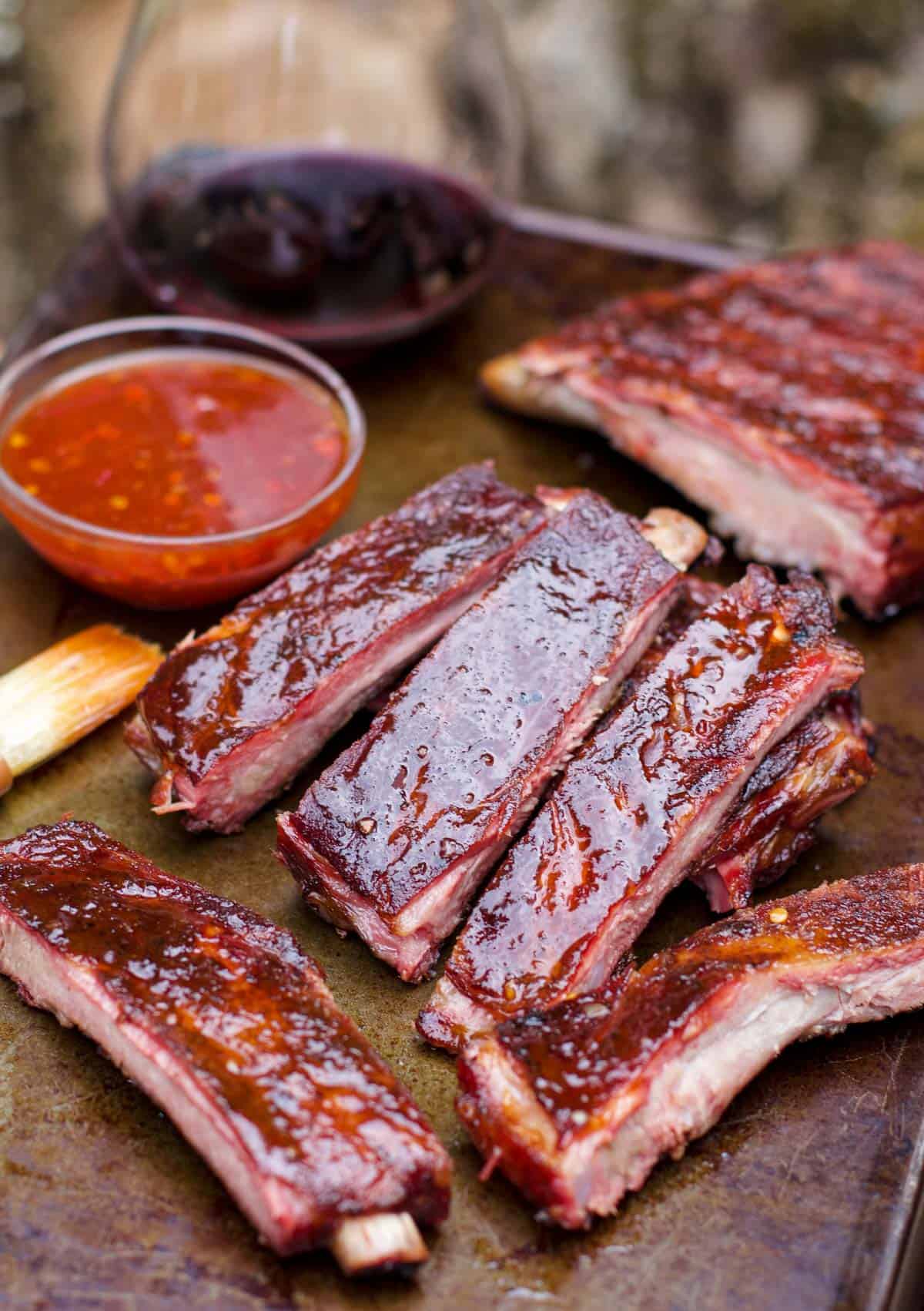 Barbecue can be a very subjective experience, especially if your lens for barbecue is heavily influenced by one of the classical regions like the Carolinas, Memphis, or Texas. That said, the technique for getting tender meat and smoky flavor can be an incredible canvas when looking for flavor inspiration from around the world.
For these Smoked Pork Ribs with Asian Spice we were inspired by a combination of Chinese five spice and a Thai sweet red chili sauce to create some delicious sticky ribs. We piled on sweet and savory flavors to the rub and sauce for a delicious, if not messy, flavor to go along with the rich, smoky and tender ribs.
Which Ribs Should I Use?
We use St. Louis style spare ribs which are a full spare rib rack, trimmed down removing riblets and excess cartilage. They are meaty and can handle the long cooking time.
You can substitute baby backs, but they will cook in about 4 hours versus 5 – 6.
Preparation
For any pork rib recipe, it's important to start by removing the silver skin (or membrane) that is on the bone side of the ribs. Leaving it on makes for an unpleasant paper like texture when it cooks.
Using a sharp knife, gently pull off a small corner of the silver skin on one end of the ribs. Use a paper towel to then pull and remove the silver skin. The paper towel gives more hold so it doesn't slip out of your hands.
Chinese Five Spice Seasoning
Five spice powder typically has cinnamon, fennel seeds, Sichuan peppercorn, cloves, and star anise. We balance that with sugar, salt, ginger powder, garlic, pepper, and dry mustard to give a very savory mouthwatering flavor. It smells amazing and can be used for a pork butt too. Make a large batch to use down the road and store in a mason jar.
For seasoning the ribs:
Coat the trimmed ribs with mustard. This will allow the dry rub to stick.
Liberally apply the rub to both sides of the ribs.
Smoked Pork Ribs
We follow the 3-2-1 method of smoked pork ribs and you can check out the details there. It's three stages to smoked ribs that is a great and easy way for tender ribs.
Smoke – This is where the sugar and caramelization happens with the ribs. We also spritz, which is adding moisture to get more smoke flavor into the ribs. This takes about 3 hours.
Wrap – After smoking and spritzing, wrap the ribs with honey and butter to allow the ribs to baste as it continues cooking. This takes about 2 hours.
Unwrap – The final step is removing the wrap and allowing the ribs to firm up. This takes anywhere from 30 minutes to an hour.
Thai Barbecue Sauce
The sauce is served as a glaze as the ribs come off the smoker. To prepare the sauce, combine all of the ingredients in a bowl and stir to incorporate. As the ribs come off the smoker, glaze both sides of the ribs with a brush.
Reserve some of the sauce in case anyone wants to dip.
To add heat just add a ¼ teaspoon of cayenne.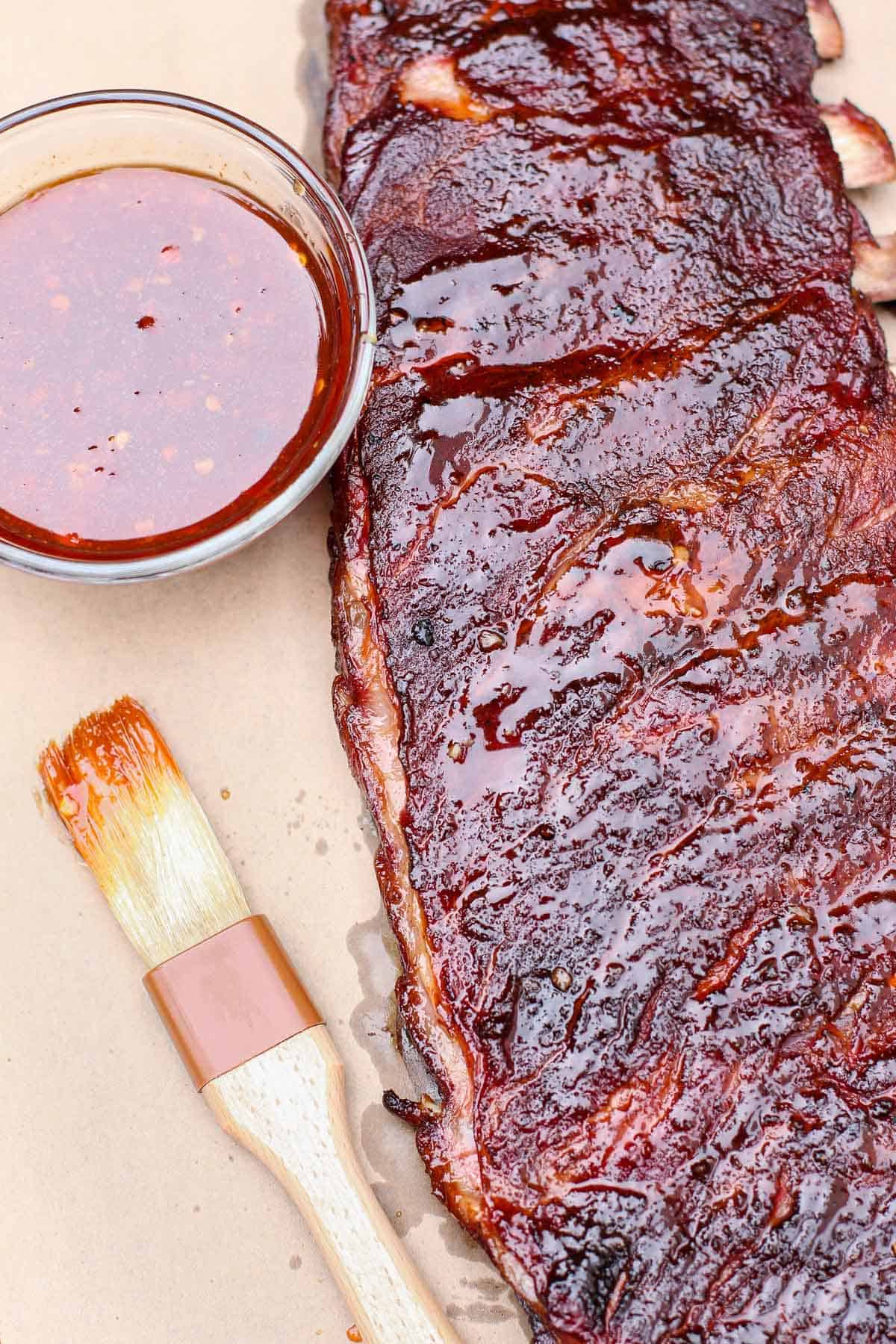 More Smoked Rib Recipes
Other Rib Glazes and Variations
Wine Pairing
Juicy, bold, red wines that are fairly low in tannins work best.
Syrah from Washington State is our preferred recommendation
Zinfandel from California
Malbec from South America
You want a fruity wine that's strong enough to stand up to the bold flavors of the sauce, but you don't want strong tannins since most the fat in the ribs have rendered. The flavor is tender meat with a mix of smoke, sweet, savory, and mildly spicy flavors.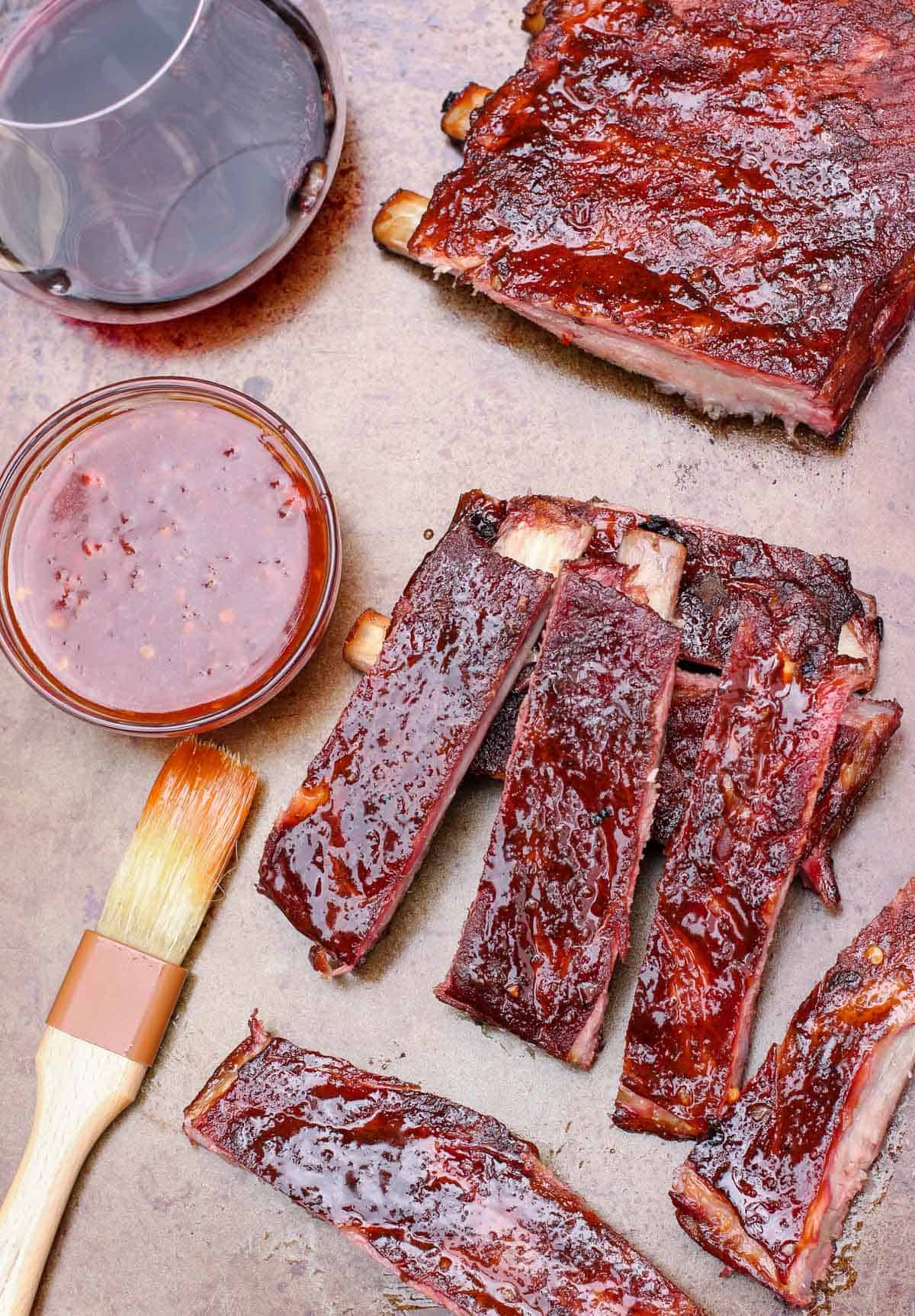 If you like this recipe we'd truly appreciate it if you would give this recipe a star review! And if you share any of your pics on Instagram use the hashtag #vindulge. We LOVE to see it when you cook our recipes.
---
**This post was originally published in 2015, and edited in November of 2020 with updated process photos and recipe details.
This post may contain affiliate links. This means if you click on the link, we may receive a small commission if you purchase through the link. We partner with brands we know and love and use and it helps keep the blog going!
---