Inspired by a variety of Asian flavors, these Smoked Pork Ribs with Asian Spice Rub and Sauce are absolutely incredible!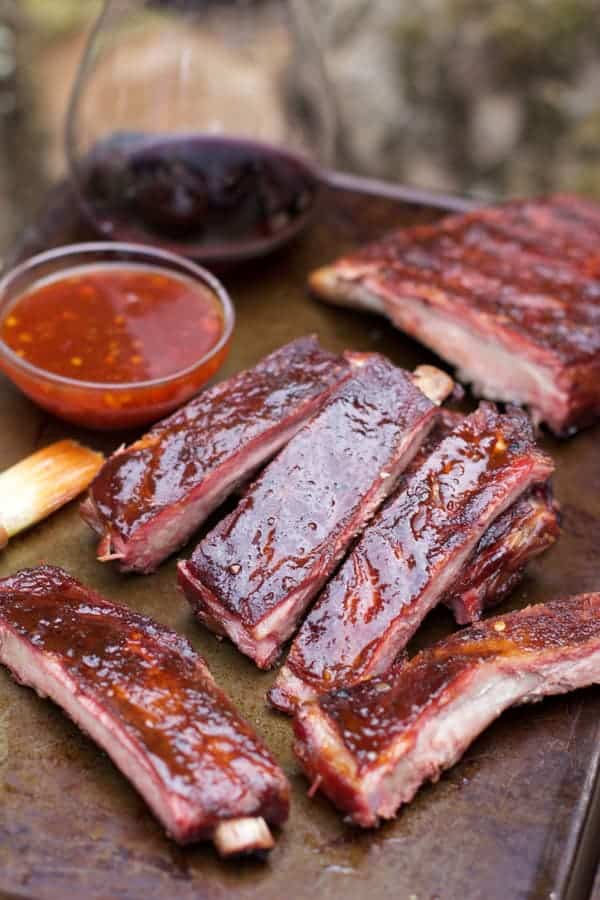 Barbecue can be a very subjective experience, especially if your lens for barbecue style foods is heavily influenced by one of the BBQ classical regions like the Carolinas, Memphis, or Texas.  That said, the technique for getting tender meat and smoky flavor can be an incredible canvas when looking for flavor inspiration from around the world. For these Smoked Pork Ribs with Asian Spice we were inspired by a combination of Chinese five spice and a Thai sweet red chili sauce to create some delicious sticky ribs. We piled on sweet and savory flavors to the rub and sauce for a delicious, if not messy, flavor to go along with the rich, smokey and tender ribs. 
Get inspired and cook 'em up!  Or even modify based upon your own inspiration and if you do let us know what you did.
Smoked Pork Ribs with Asian Spice
The rundown is quite simple.
3-2-1 Method
I've used a rough 3-2-1 method for these ribs.
The key is knowing when to identify the right time to move through the stages.  What is the 3-2-1 method?  It's three hours of smoke, two hours wrapped, and one hour smoked again after removing the wrap. Read this article for more on making perfect ribs every time.
Start by trimming your meat then applying the rub. Instead of using our traditional rub, we went went with this sweet and savory rub with dominant flavors of Chinese five spice.

After about two hours on the smoker start spritzing for the next hour every 15 minutes.  This liquid will add flavor and moisture.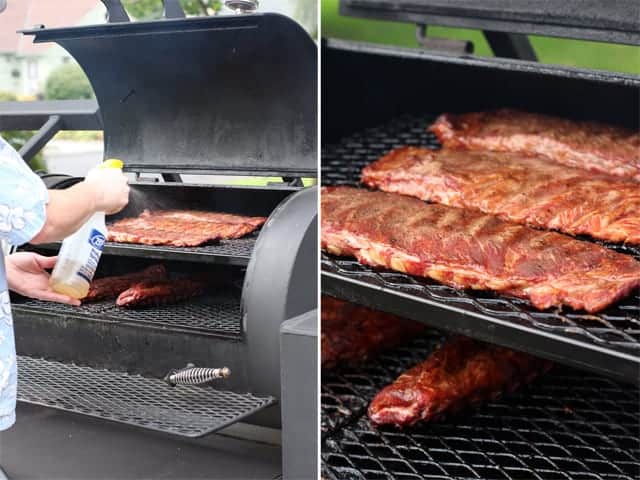 Next, wrap your ribs. For added flavor and moisture I added some honey and butter to let that soak up while the ribs were wrapped.  This is done at roughly the three hour mark as the bones are starting to show.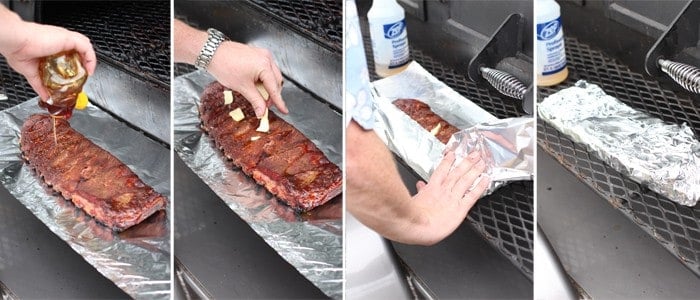 After about 90 minutes in the wrap start checking for doneness. Once your ribs are tender, remove from the foil and apply your sauce just before serving.  I like using a knife or toothpick, if it easily goes in it's ready.
The sauce is loaded with incredible flavor from Thai red chili sauce, soy, red curry paste, chili flakes, lime, and more.
You can add back to the smoker for another 30 minutes to an hour to let that sauce tack up if it needs more time, or just rest and then eat.  Like I said, it's roughly the 3-2-1 method, the key is when it's ready in the stages.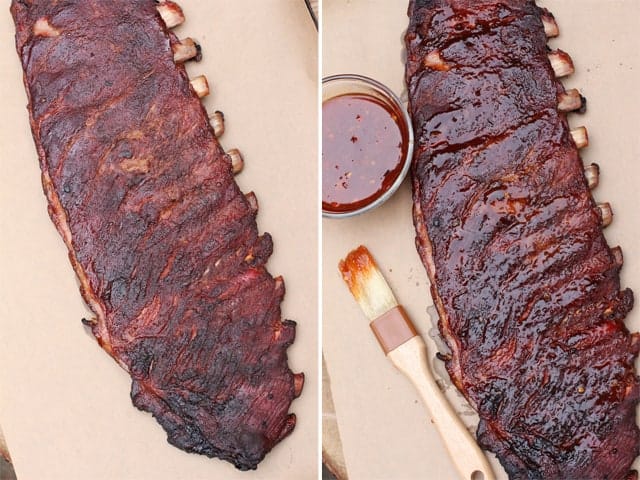 Hello beautiful.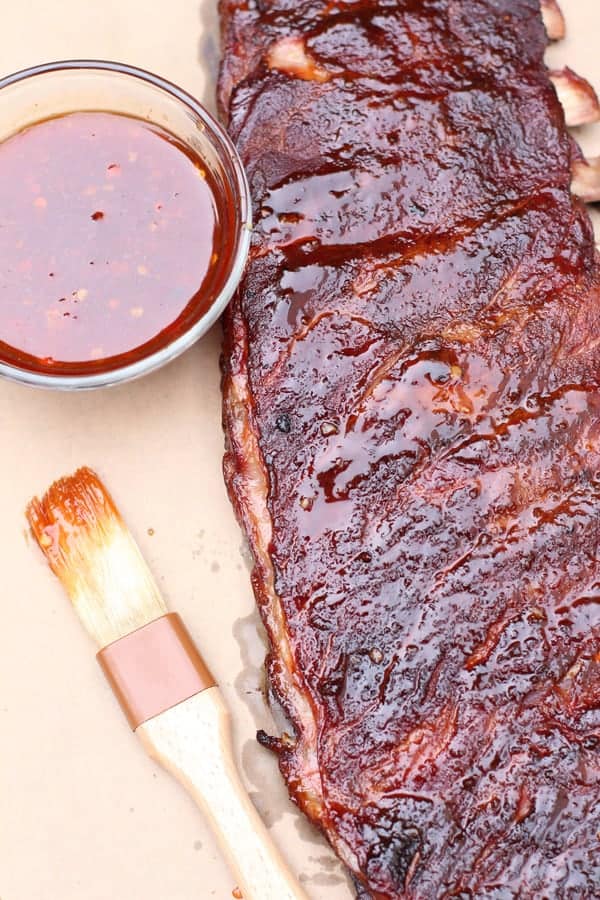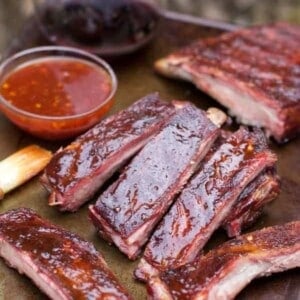 Smoked Pork Ribs with Asian Spice Rub
Get inspired by regions outside the U.S. for a unique smoky experience. In this recipe we are inspired by an Asian spice rub to add incredible flavor to smoked ribs.
Print
Rate
Ingredients
For the Pork Ribs
2

racks St. Louis style pork ribs

2

tablespoons

Dijon mustard

4

tablespoons

dry rub

see below

4

tablespoons

butter

2

tablespoons

honey

2

cups

spritz

see below

1

cup

sauce

see below
For the Dry Rub
1

cup

cane sugar

¼

cup

Chinese five spice

¼

cup

sea salt or kosher salt

1

tablespoon

dry ground ginger

1

tablespoon

garlic powder

1

tablespoon

freshly ground pepper

1

tablespoon

dry mustard
For the Spritz
1

cup

water

1

cup

apple juice

1

cup

apple cider vinegar
For the Sauce
6.57

oz

bottle of sweet red chili

¼

cup

soy sauce

low sodium

1

teaspoon

red curry paste

adds heat

½

teaspoon

sesame oil

½

teaspoon

roasted red chili paste

3

drops fish sauce

go light, this stuff is potent!

½

lime juiced
Instructions
For the Ribs -- I've used a rough 3-2-1 method for the ribs. The key is knowing when to identify the right time to move through the stages. What is the 3-2-1 method? It's three hours of smoke, two hours wrapped, and one hour smoked again after removing the wrap.
Preheat smoker to 250 degrees, for pork I like using a fruit wood.

Prep the ribs by trimming excess fat and removing the silver skin on the bone side of the ribs. Use a sharp knife to separate the silver skin and a dry paper towel to get a good hold and pull off.

Rinse with cold water and pat dry.

Apply the mustard to the ribs as the base coating for dry rub, and then liberally apply your rub to the ribs on both sides.

Place the ribs in the smoker. After 90 minutes begin spritzing the ribs every 15 minutes.

Around the 2 ½ hour mark start looking for the bone to start poking through the rib meat. When you have roughly ¼ inch of bone showing, that is a good time to wrap the meat.

Place each rib rack in its own aluminum foil wrap. Before enclosing, place 2 tablespoons of butter and 1 tablespoon of honey on each rack and then tightly seal the foil.

After 90 minutes gently open the foil (caution – it'll be hot, use oven gloves), use a toothpick or slender sharp knife to poke at the meat, you're looking for it to go in like butter or to gently move the bones around, but not come out. If the meat is still not tender, re-wrap and check every 30 minutes. If tender, then open the foil completely and let cook for another 30 – 60 minutes to let the rich moisture evaporate some and set the ribs.

Remove and then apply the sauce to both sides of the ribs, while reserving some to add as desired. Slice and serve (with a lot of napkins).
For the Dry Rub
Combine all ingredients, store in an airtight container, like a mason jar. Will last a few months.
For the Spritz
In a clean, food safe spray bottle (IE: Don't use one that had cleaning solution!) combine all the ingredients.
For the Sauce
Combine all ingredients and stir. For heat, add cayenne.
The Video
Wine Pairing Recommendations for Pork Ribs with Asian Spice Rub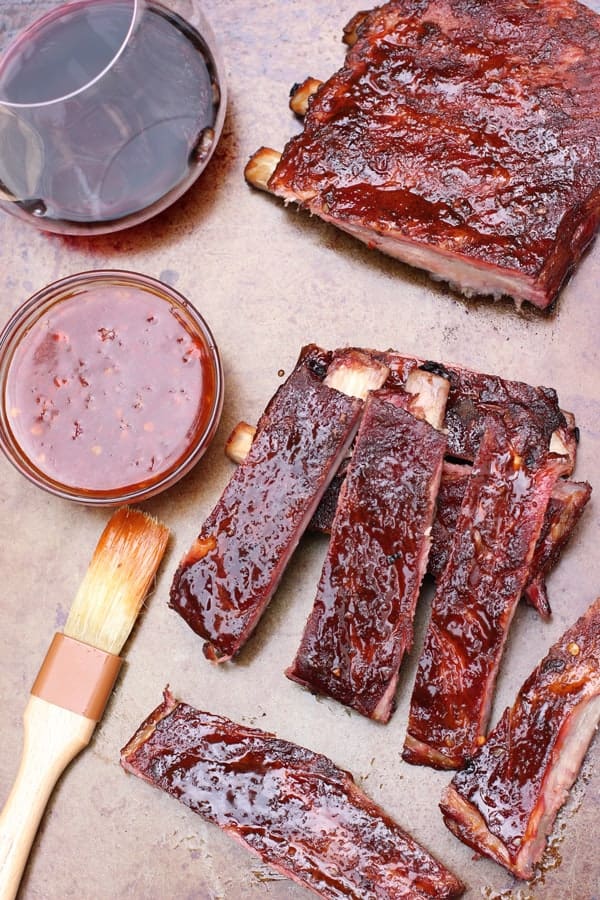 My number one recommendation if you plan to pair these ribs with wine is to go easy on the sweet and spicy sauce. The sauce is meant to be lightly brushed on the ribs at the end to give it  a finishing touch. Most wines will be overpowered if you douse too much sauce on your ribs. Plus, if you went through the effort to make perfectly smoked and tender ribs, why drown them in a sauce? Remember, the sauce should play a minor role, not the lead act.
That being said, if you promise to be responsible in your sauce application (pinky swear!) there are several wines that will be a rock star pairing. Juicy, bold, red wines that are fairly low in tannins work best. You want a fruity wine that's strong enough to stand up to the bold flavors of the sauce, but you don't want strong tannins since most the fat in the ribs have rendered. What you're left with is tender meat with a mix of smoke, sweet, savory, and mildly spicy flavors. A jammy Zinfandel could work well. So can Malbec. But I prefer Syrah. If you look to Washington State you'll find lots of excellent examples that fit the bill, with smokey, fruity, and powerful flavors with enough acidity to round everything out. We've paired our ribs with wines from over the globe, and I continue to gravitate towards WA reds. What can I say? They rock with ribs.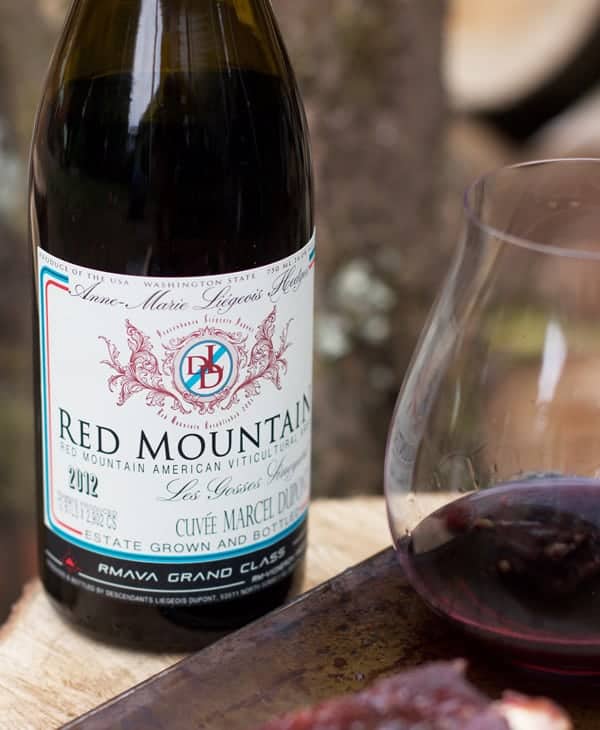 The pairing worked just as we hoped. The smoky tender meat and bold flavors of the wine were a great match with the ribs actually mellowing out some of those concentrated fruit flavors from the wine. Delish.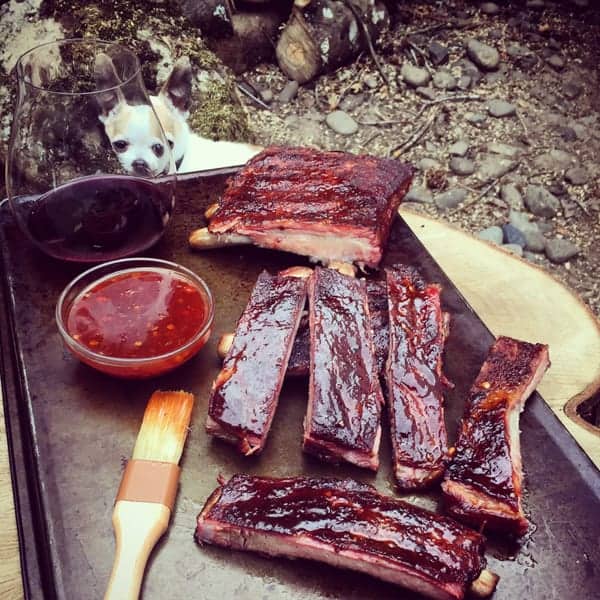 No dogs were harmed in the making of these ribs. Although one sly Chihuahua did pull off the perfect photobomb. 
Want more Smoked Rib Recipes?
---
If you like this recipe we'd truly appreciate it if you would give this recipe a star review! And if you share any of your pics on Instagram use the hashtag #vindulge. We LOVE to see it when you cook our recipes. 
---
**This post was originally published in 2015, and edited in July of 2018.