Hot honey pizza is a game changer, and this recipe is going to knock your socks off. This hot honey pizza combines the salty flavor of cured meat with the spicy sweet flavors of homemade hot honey and creamy ricotta. Whether cooking outdoors or in your oven this may be your new favorite Friday night pizza idea.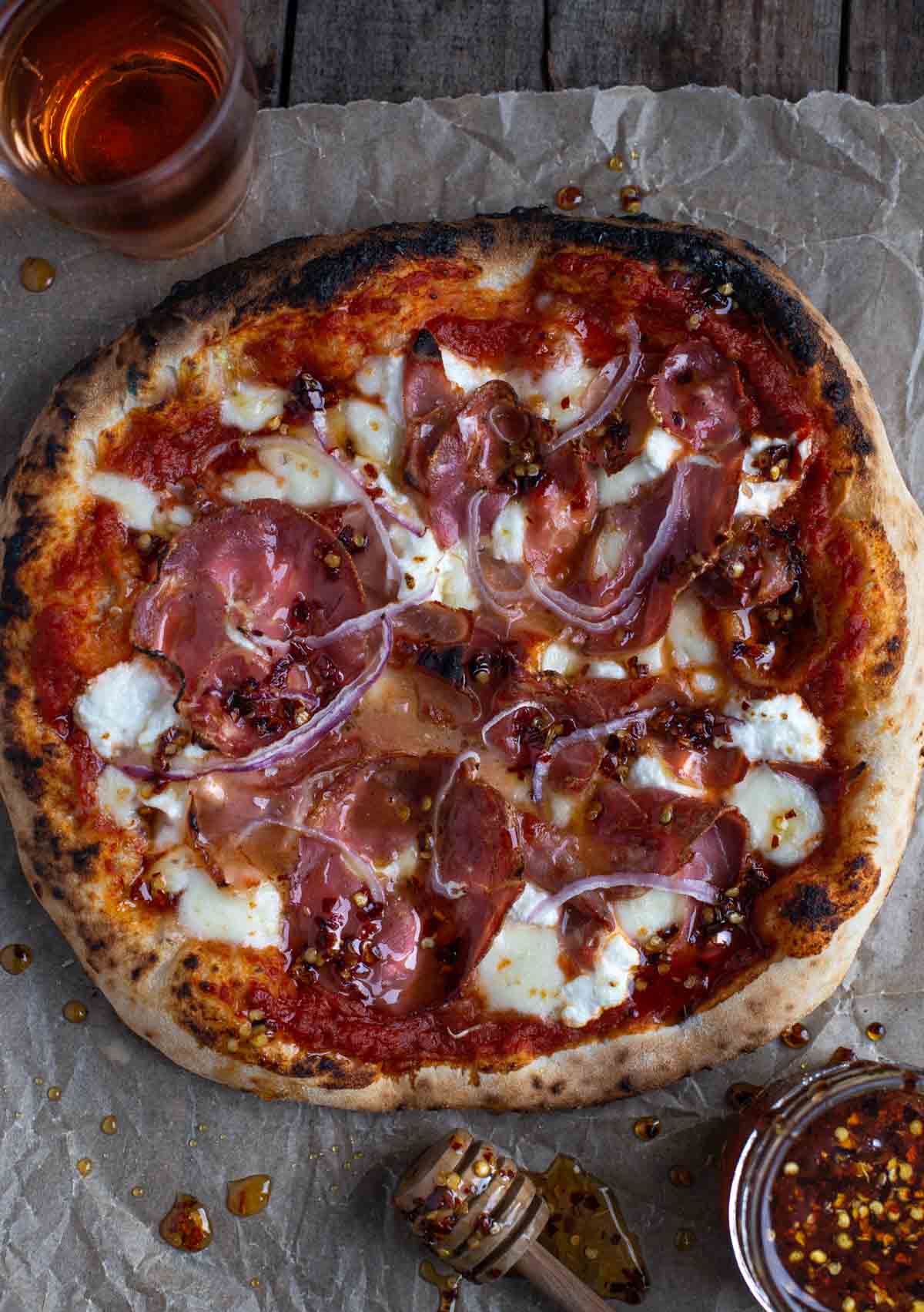 Hot Honey Pizza Highlights
This pizza can be made with homemade hot honey or your favorite store bought brand like Mike's Hot Honey.
We use a combination of mozzarella and creamy ricotta to make the pizza cheesy.
A simple drizzle of hot honey when the pizza is done adds the perfect amount of sweet heat to the savory pizza.
Jump to:
Ingredients for Hot Honey Pizza
Pizza Dough – We use our homemade pizza dough, which is a Neapolitan style dough versus a New York (drier dough). Making your own pizza dough is easy and the best way to achieve amazing flavor. You can also buy a dough from your local pizzeria for around $5, or simply use a store-bought pizza dough.
Homemade Pizza Sauce
Mozzarella Cheese
Ricotta Cheese – Adds additional creaminess and a touch of sweet.
Coppa Salami – You can use a savory pepperoni or any combination of cured meats.
Prosciutto – We like the texture and slightly salty flavor.
Thinly Sliced Red Onions (optional but awesome for crunch)
Hot Honey – We use our own hot honey recipe with honey, apple cider vinegar, and red pepper flakes.
Tools
Read our article for essential pizza tools for a full list of recommended equipment for making your own pizzas.
Pizza Stone or Outdoor Pizza Oven – We prefer stone over a baking steel.
Pizza Peel
Turning Peel
Sauce
We are using a tomato sauce base with our no-bake pizza sauce, which is a simple pizza sauce using ingredients you likely already have in your pantry. We have tried this with a white pizza sauce, in the style of a white pizza, and the red sauce combination with the cured meats and medium heat of the hot honey was the winner!
Alternatively, you can use a store-bought pizza sauce in pinch. Be sure the sauce is thick, and not too wet, to avoid a sticky dough.
Preparation
To avoid the pizza from sticking to your pizza peel a few key steps are important when preparing and making your hot honey pizza.
Dough should be room temperature. We pull our dough out of refrigerator at least one hour prior to cooking.
Be sure the pizza oven is pre-heated. In this recipe we are using the Solo Stove Pi Pizza oven, with the pizza stone at 700 degrees Fahrenheit. See below for modification in your oven.
Be sure your pizza peel is well floured. A lightly floured surface prevents the pizza from sticking to the peel when trying to slide onto the hot pizza stone. We prefer making the pizza on a wooden pizza peel as it stays cooler longer than a metal one.
How to Make Hot Honey Pizza
Prepare Oven: Prepare your pizza oven to the appropriate temperature. We are using a Neapolitan dough and targeting the pizza stone at 700 degrees in an outdoor pizza oven. See notes if using your kitchen oven or different style of dough.
Make Pizza: Dust a small amount of flour on a wooden pizza peel. Gently form your dough into a 11 to 13-inch width. Add the following ingredients in this layer: start with the pizza sauce and gently even out with a spoon. Next add the mozzarella and ricotta cheese. Then finish with the prosciutto, coppa, and red onion slices.
Bake: Make sure the dough still slides on the peel. If it doesn't then gently lift each side and add a dusting of more flour until it does slide. Then place into your pre-heated pizza oven. Gently turn the pizza using your turning peel every 15 seconds or when you see the crust near the flame bubble. Remove from pizza oven after it's been turned 360 degrees and the crust and bottom of pizza are done.
Finish: Drizzle the hot honey over the pizza and (optional) add some finishing salt. Cut with a pizza cutter and enjoy.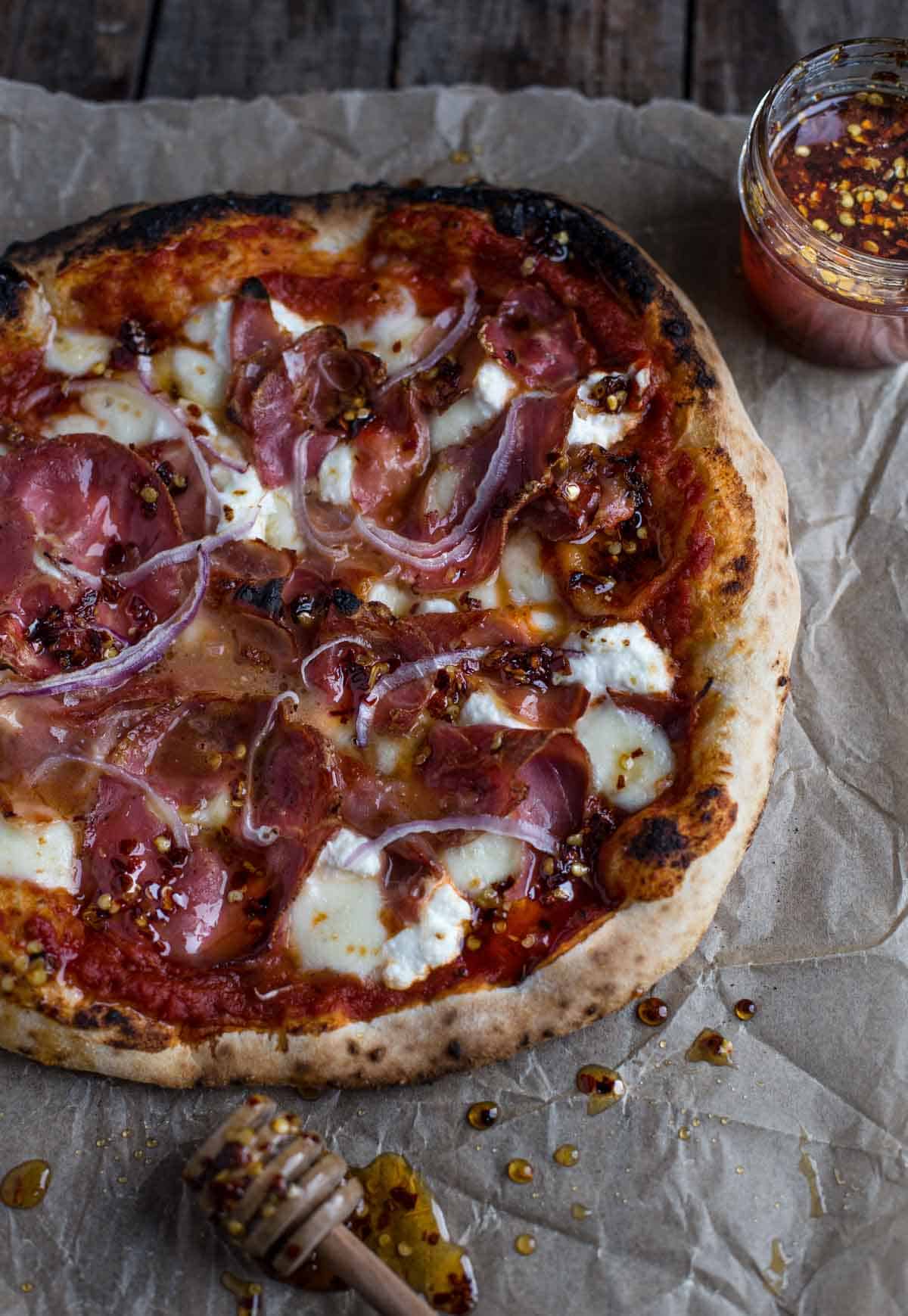 ---
Related Article: Learn how to make pizza on an outdoor pizza oven.
---
Modification for an Oven
Total time in a traditional oven 8-10 minutes.
Place a large pizza stone on the middle rack and set the oven at 550 degrees. Let preheat and warm for at least 20 minutes to get the stone up to temperature. Place the pizza on the center of the stone and bake for 5 minutes. Then using a pizza turning peel, rotate the pizza 180 degrees (most ovens the back is hotter). Bake for another 5 minutes until the crust is golden and the cheese is melted.
More Pizza Recipes
We have many amazing pizza recipes, but here are some that complement this hot honey pizza recipe.
Tried this recipe? Give us a star rating and we would love to see! Mention @vindulge or use the hashtag #vindulge on all the social media handles. And consider subscribing to our newsletter where we drop all our favorite ideas and inspirations every week.
This post may contain affiliate links. This means if you click on the link, we may receive a small commission if you purchase through the link. We partner with brands we know and love and use and it helps keep the blog going!
---