If you think you're tired of pumpkin recipes this fall stop right there! Pumpkin doesn't have to just go onto sweet things (though I am a sucker for pumpkin pancakes and pumpkin muffins). We've had some delicious meals this fall by simply roasting up pumpkins on the smoker.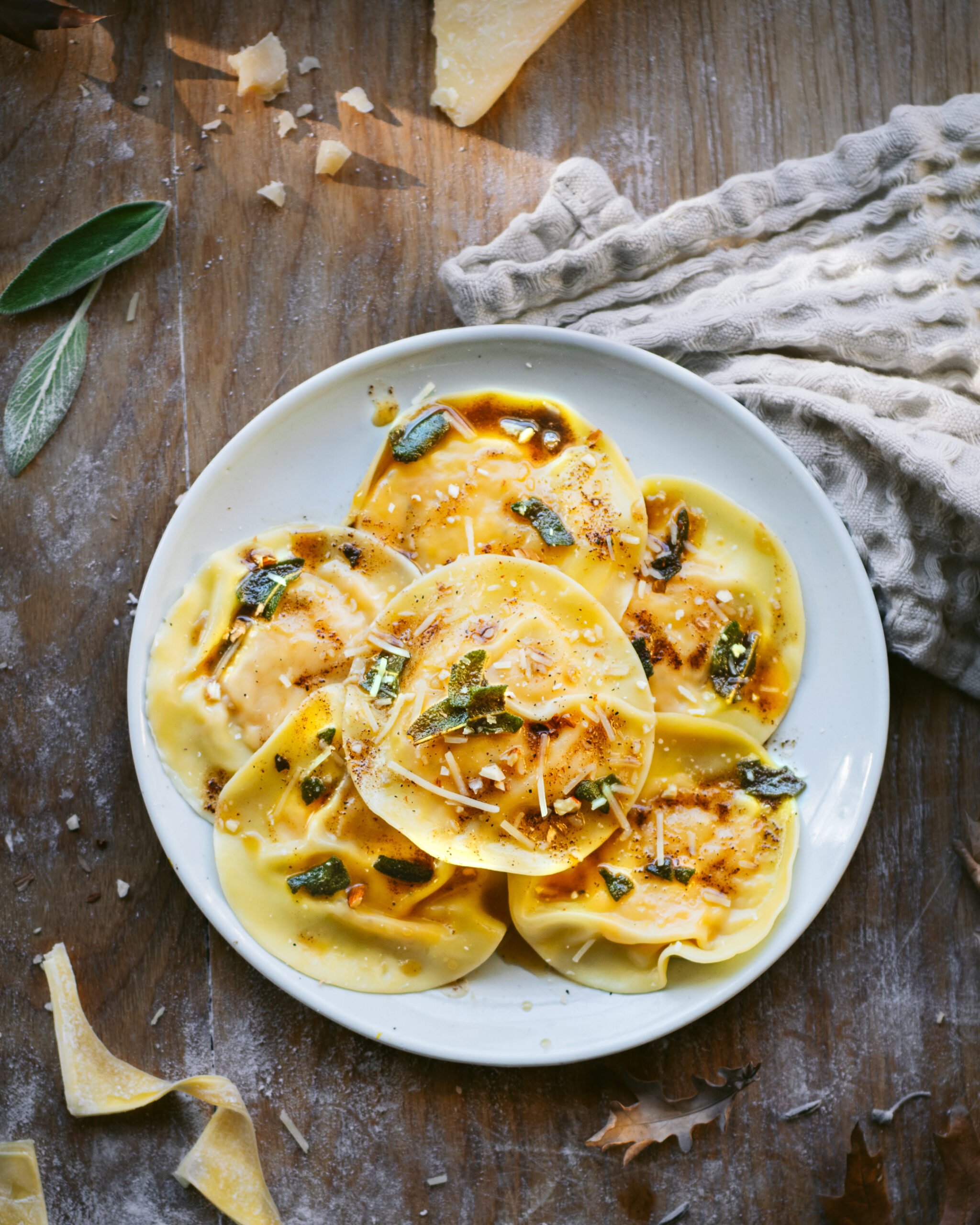 The things you can do with a pumpkin and a smoker are just glorious. They work similar to how you would roast any fall or winter squash in the oven. You can cut it up into halves or quarters, or you can cube them, and then roast them in the smoker vs. oven on a lower heat to let it slowly infuse with incredible smoky flavor.
Jump to:
How to Smoke Pumpkin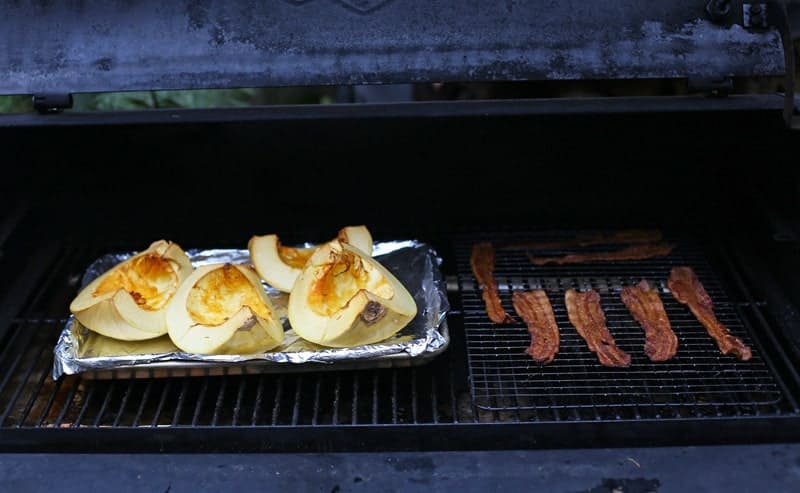 When the pumpkin is fork tender remove from the smoker then mash with a fork or puree in your food processor for an even creamier texture. Then instead of turning your cooked deliciousness into something sweet, use it to make something savory, like the filling for ravioli.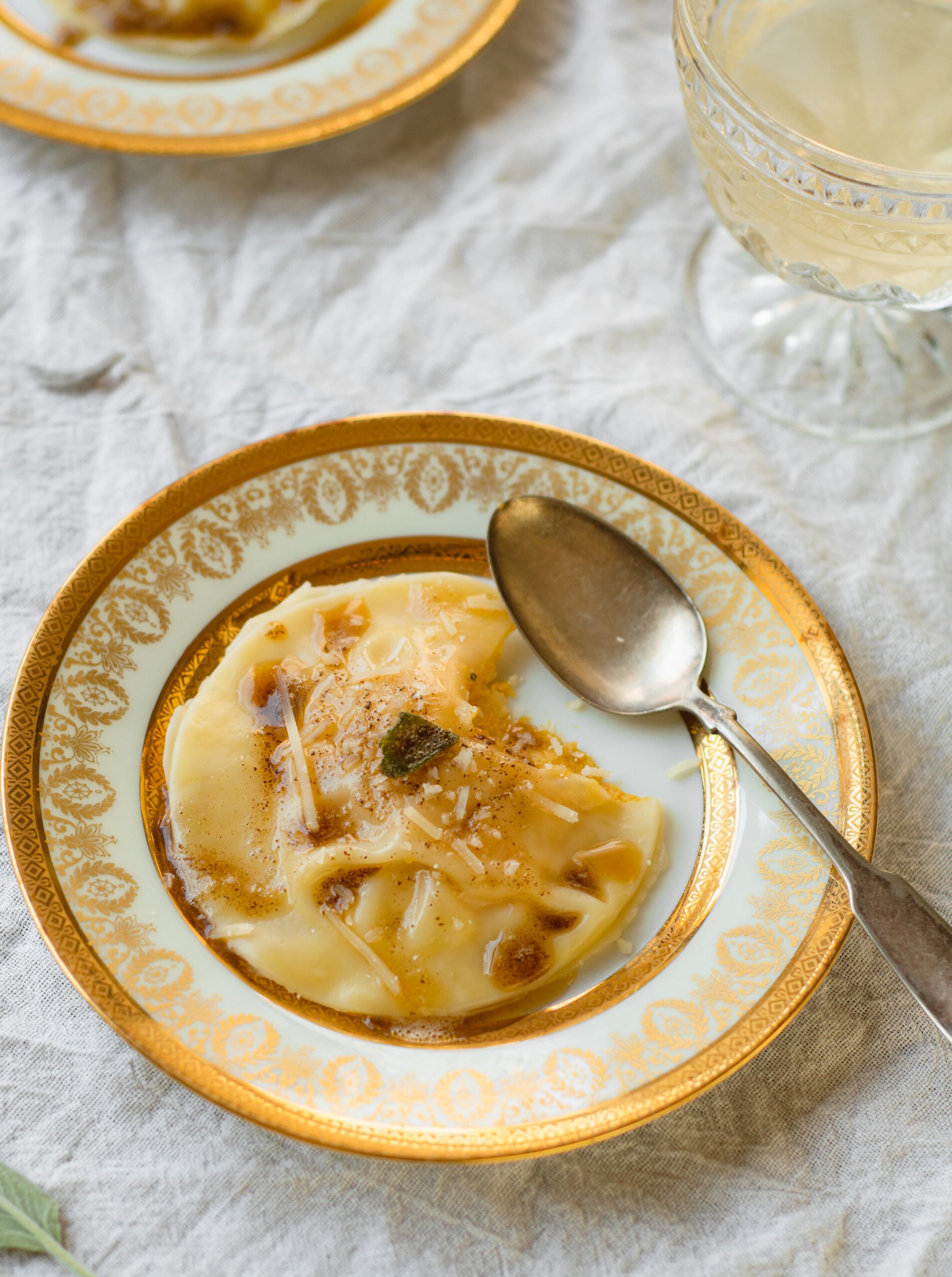 How to Make Pumpkin Ravioli
I usually think to make these fairly last minute and don't have the time or patience to make my own pasta. If you do make your own pasta more power to you! But we usually cheat by using wonton wrappers. They work fantastic in a pinch.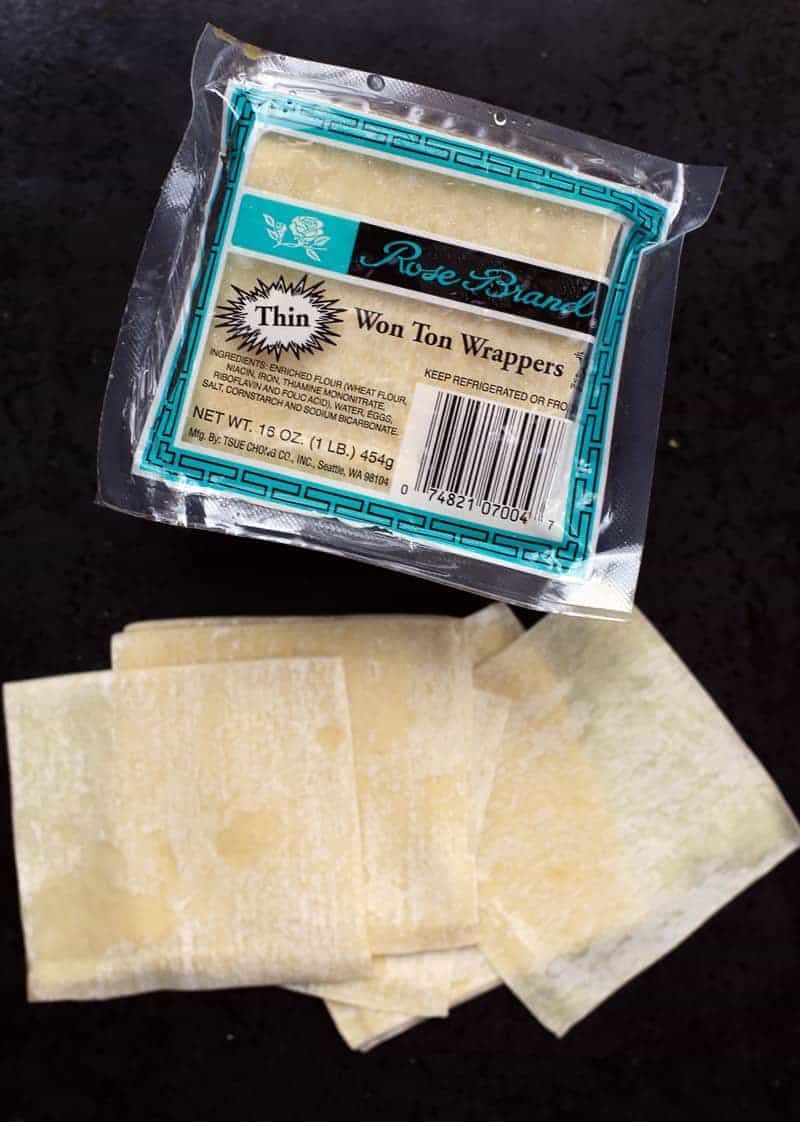 Let's be honest though, they are no true substitute for the texture and flavor of real homemade pasta. But they're cheap and quick and provide a comforting pillow for your ravioli filling.
Just take your smoked pumpkin puree and place in a bowl. Then add some ricotta for more creaminess and some fun spices like fresh ginger, nutmeg, cinnamon, salt and pepper, and mix together. Lay out a few wonton wrappers and place about 1 heaping teaspoon of the filling in the center of the wrapper. Using your finger or paintbrush place some egg wash on the outline of the wrappers, then place another empty wrapper over the top.
You can leave them like this, in a square shape, or you can take a cookie cutter to shape into a circle. I like this method to remove any excess wrappers. You can also use one wrapper and fold across to make a triangle if you're in a hurry and don't want to use a cookie cutter. But I just like the cookie cutters because it's something the kiddos can help out with.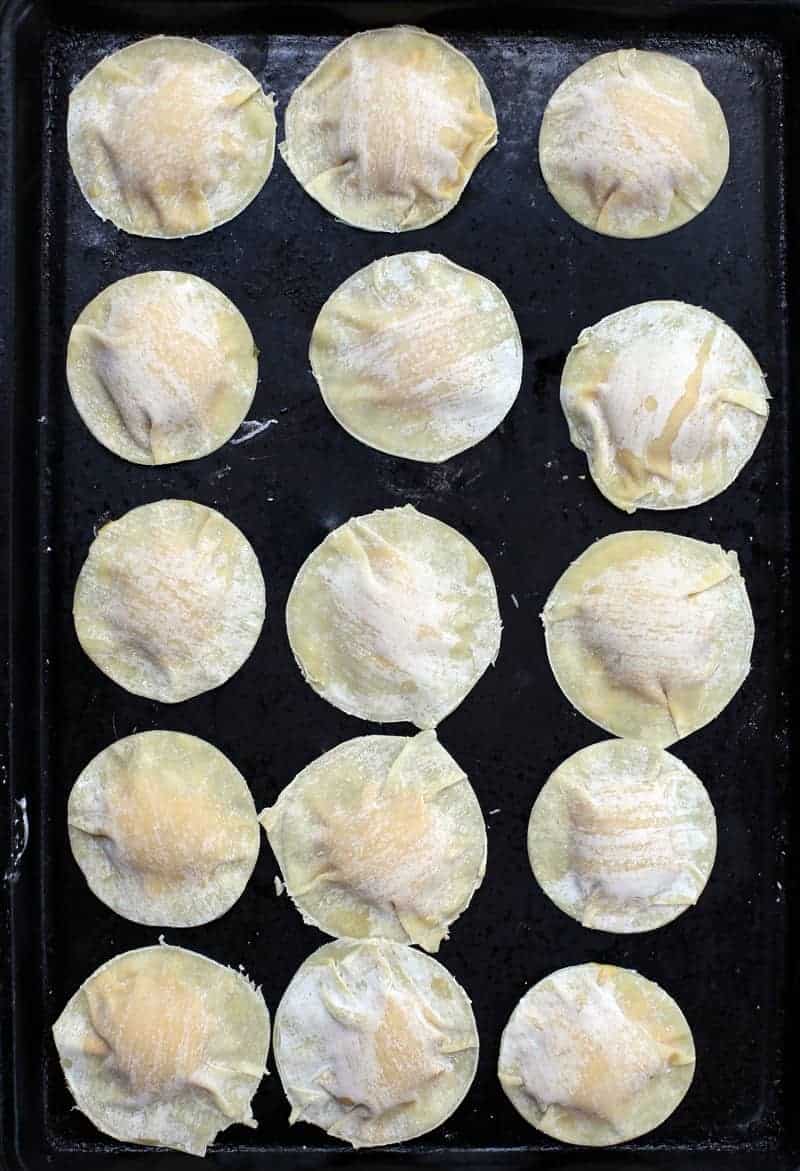 When they're all good to go just add the raviolis, a few at a time, to boiling water for around 3-5 minutes. The time will depend on what kind of wonton wrappers you use. If you use the ultra thin ones this should take about 3-4 minutes, but if you use the thicker ones (and I recommend the thicker ones) then they can take around 4-5 minutes in the boiling water. Remove from the boiling water with a slotted spoon and dab on a paper towel to remove any excess water, then place directly on your serving plate.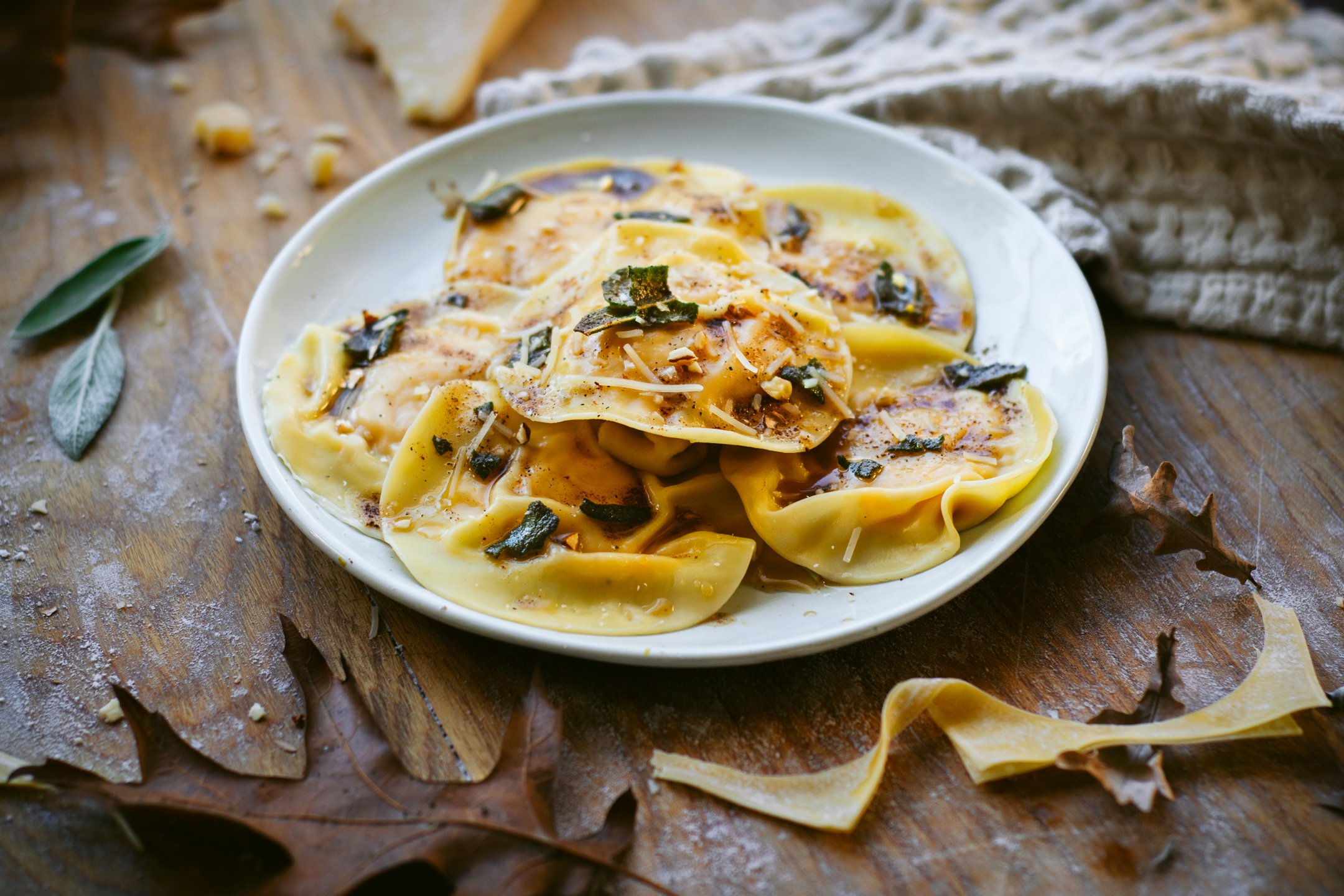 Serve with some sage butter sauce and garnish with fried sage and chopped up smoked almonds.
Wine Pairing
I really love pairing sparkling wine, like Prosecco, with a rich and creamy dish like ravioli. The creaminess of the dish is a nice contrast to the brightness of the bubbly and the bubbles work well to cut through the richness of the filling. Plus the bright fruitiness of the wine works great with the baking spices in the filling.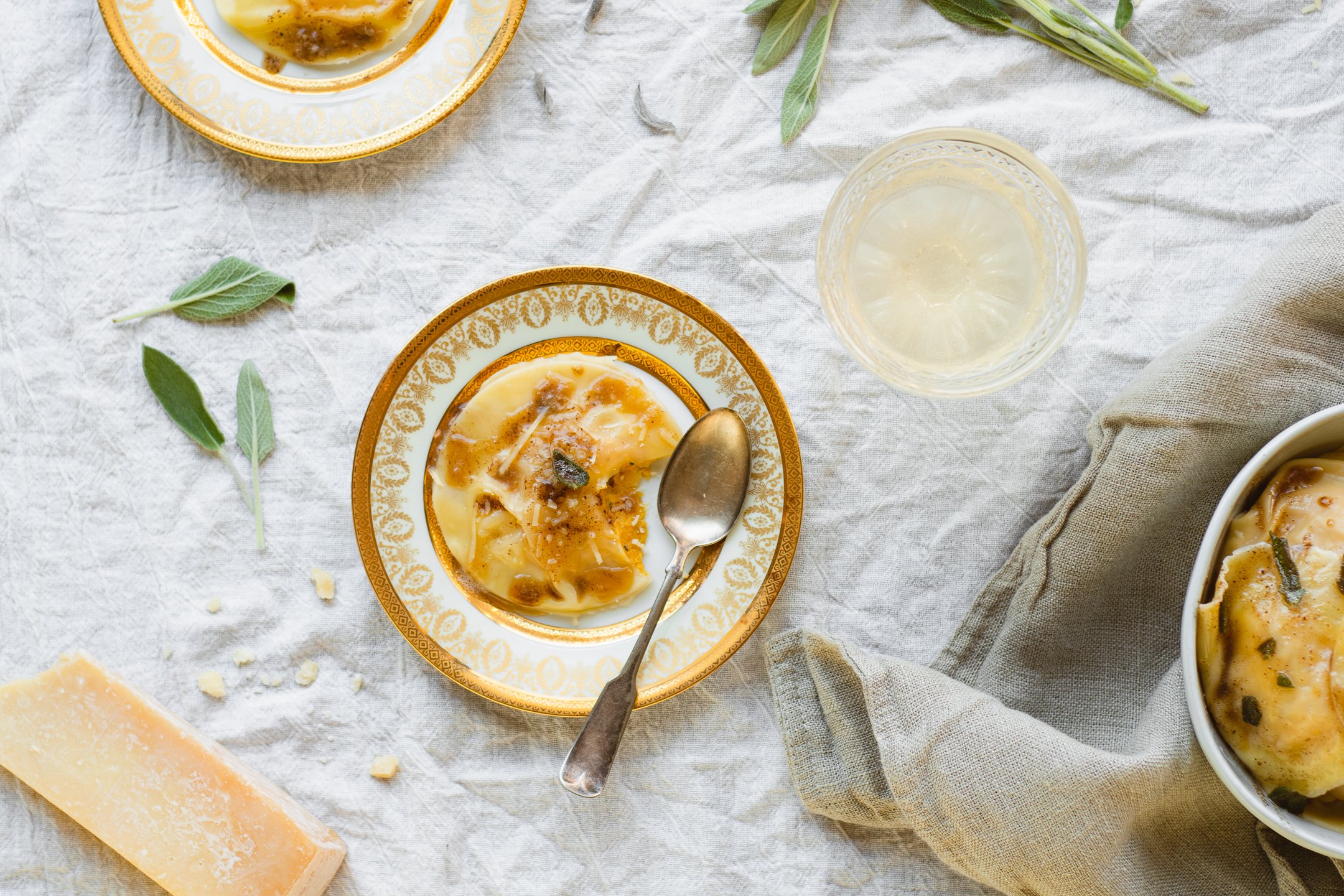 Bisol Prosecco di Valdobbiadene Cartizze DOCG (Veneto, Italy)
Nice balance of fruity and floral aromas, and intriguingly creamy in the mouth. Very different than your typical bargain Prosecco, this one is fuller bodied with lots of creamy textures along with some surprising baking spices (dried ginger and nutmeg) and some tea-like flavors (reminded me a bit of chamomile tea). This is a high quality Prosecco from one of the highest regarded production areas in the Veneto region of Italy.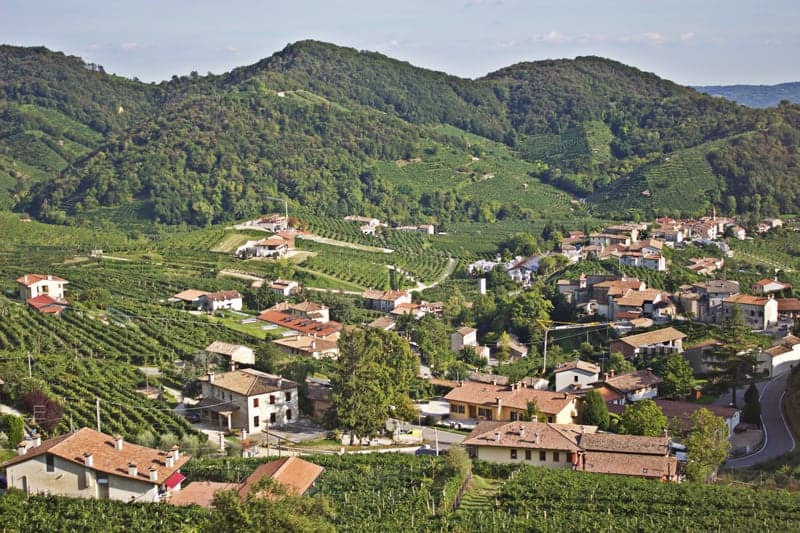 This isn't overly fruity, but instead very well balanced with lingering acidity that worked to cut through the creamy filling of the ravioli. 11.5% abv | $50 (media sample)
---
This post was originally posted November, 2016 and updated November 2021 for added clarity.
---
Thank you for being part of our community. If you make any of our dishes we'd love to see them on social media using the hashtag #vindulge and give it a 5 star review.
This post may contain affiliate links. This means if you click on the link, we may receive a small commission if you purchase through the link. We partner with brands we know and love and use and it helps keep the blog going!
---