This is a sponsored post written by me on behalf of Albertsons. All opinions are 100% mine.
Grilled Pumpkin Pie makes for a delicious and smoky option for a fall or holiday desert idea. Simply make a standard pie filling, grill indirect for up to an hour, and then serve with a dollop of smoked whipped cream and candied pecans.
This pie can easily be made Gluten Free and all of holiday ingredients can be found at a one stop location.
Pumpkin Pie is a must for Thanksgiving. It wouldn't be the holidays without this classic dish. And we have tested several ways to make pies, from classic baking in the oven, to smoking and grilling (and grilling is hands down our favorite). One of the challenges with smoked pie (like pumpkin pie) is the inability to get the right amount of heat that will set the custard filling and make for a flaky crust. So we add smoky flavor by grilling pumpkin pie at a moderate heat and cooking over indirect heat and then using lump charcoal to infuse the flavor. And Albertsons Companies' exclusive brands have all you need for the holidays this year, from surprise and delight seasonal finds, to essentials for holiday meals and baking at a value.
And with pumpkin pie there are two things that are important to us, aside from using quality ingredients: making sure the spice flavor is balanced, and having the pie filling set for the right texture.
PUMPKIN PIE SPICE
If you buy a pre mixed spice, what you'll find is basically a ratio of cinnamon, nutmeg, and cloves. We like to make our own, so that we control the balance of flavors. So we simply follow the same base flavors, but also add ground ginger and kosher salt to round it all out.
PUMPKIN PIE FILLING
This starts with a standard pumpkin pie filling, plus a few elements that add additional flavor and texture for this grilled version.
Pumpkin Puree – This is the base of the whole thing. Buy a good quality canned pumpkin puree (NOT pumpkin pie filling), and make sure to look at the ingredients. Some may not contain 100% pumpkin, so make sure to look. When using canned pumpkin, I love O Organics® brand for it's flavor and pure pumpkin ingredients. You can also roast your own pie pumpkin on the smoker for great added flavor. Use the same instructions and use the filling in place of a puree if you're going the smoked pumpkin route.
Sugar – We like dark brown sugar for its flavor.
Egg – Egg is one of the key ingredients for the custard filling, and helping it avoid the splitting as it cools.
Milk – The milk helps with the viscosity and the stability. We use heavy cream as our milk variation because of the flavor and density.
Spice – Pumpkin pie spices to make sure that the aroma and flavor have that sweet and spicy combination. I love a bold spice flavor, so we tend to go a wee bit heavier on our spices in this recipe. We also add a touch of vanilla extract because we love the added flavor.
Salt – Don't forget a touch of salt. A little goes a long way to help balance the sweet and spice.
To make the filling combine the ingredients. We find starting with the egg and sugar creates a nice paste. From there we layer in the additional wet ingredients and then the spices.
Note that the filling will be very runny. Do not be alarmed. It will set as it cooks. If you have a little extra filling after putting into the crust, then simply make a few cupcakes with it.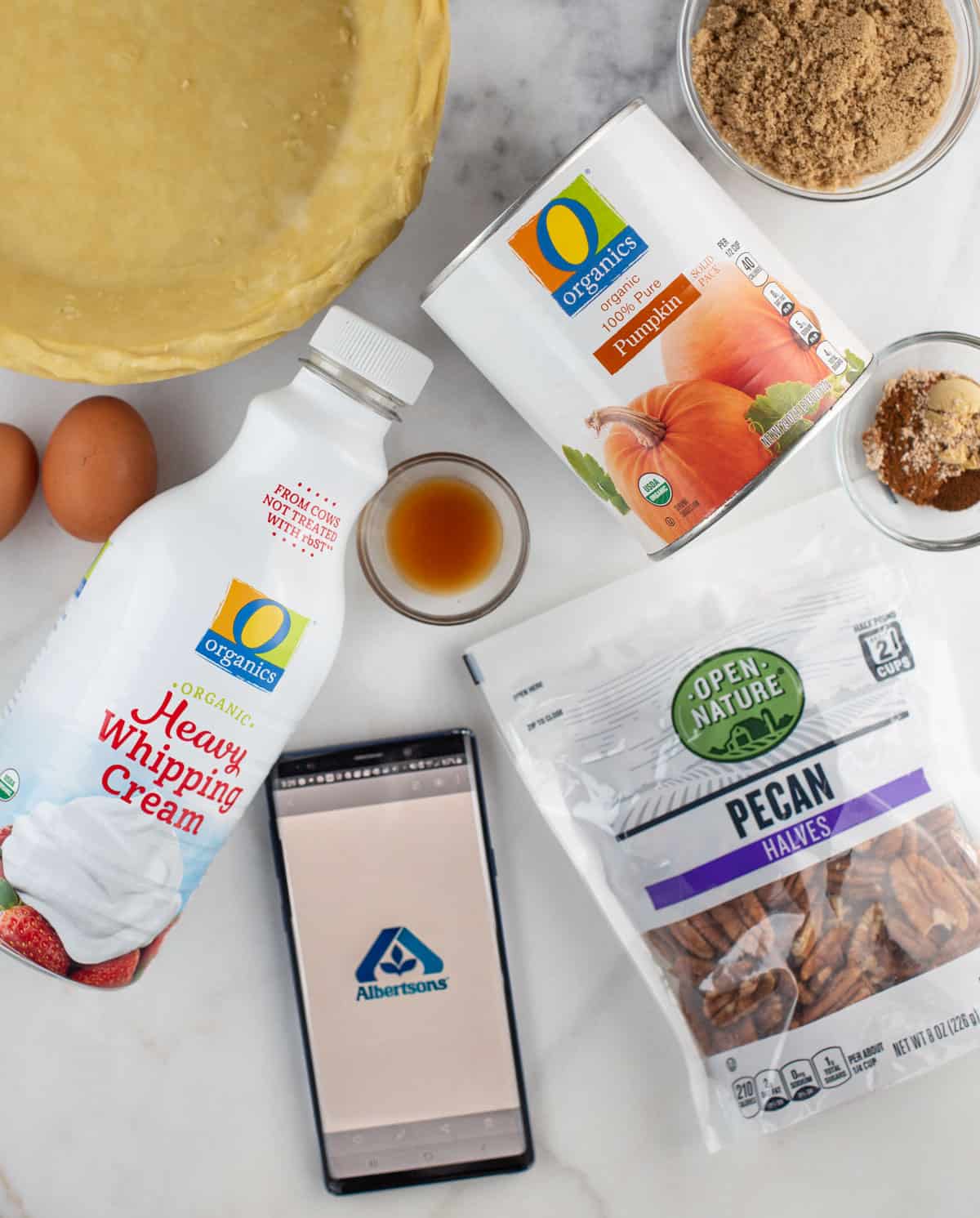 For grilled pumpkin pie, ingredients matter. Look for the best possible ingredients you can find. You can find fun, exciting, seasonal products and ingredients as well as holiday baking and cooking essentials exclusively at your local Albertsons store.
O Organics® offers high quality USDA-certified organic holiday essentials available at a value in the Portland metro area. I shopped at Albertsons Barrows in my local area, but you can also find everything you need for pumpkin pie exclusively at the Albertsons Companies family of stores, including Albertsons Safeway, ACME Markets, Jewel-Osco, Vons, Randalls, Shaw's Supermarket, Star Market, and Tom Thumb.
The best part is that I can save time by ordering online for store pickup. Albertsons offers Grocery Delivery and Drive Up & Go™ for convenient ways to shop! This saves me so much time, which is pretty vital during the busy holiday season.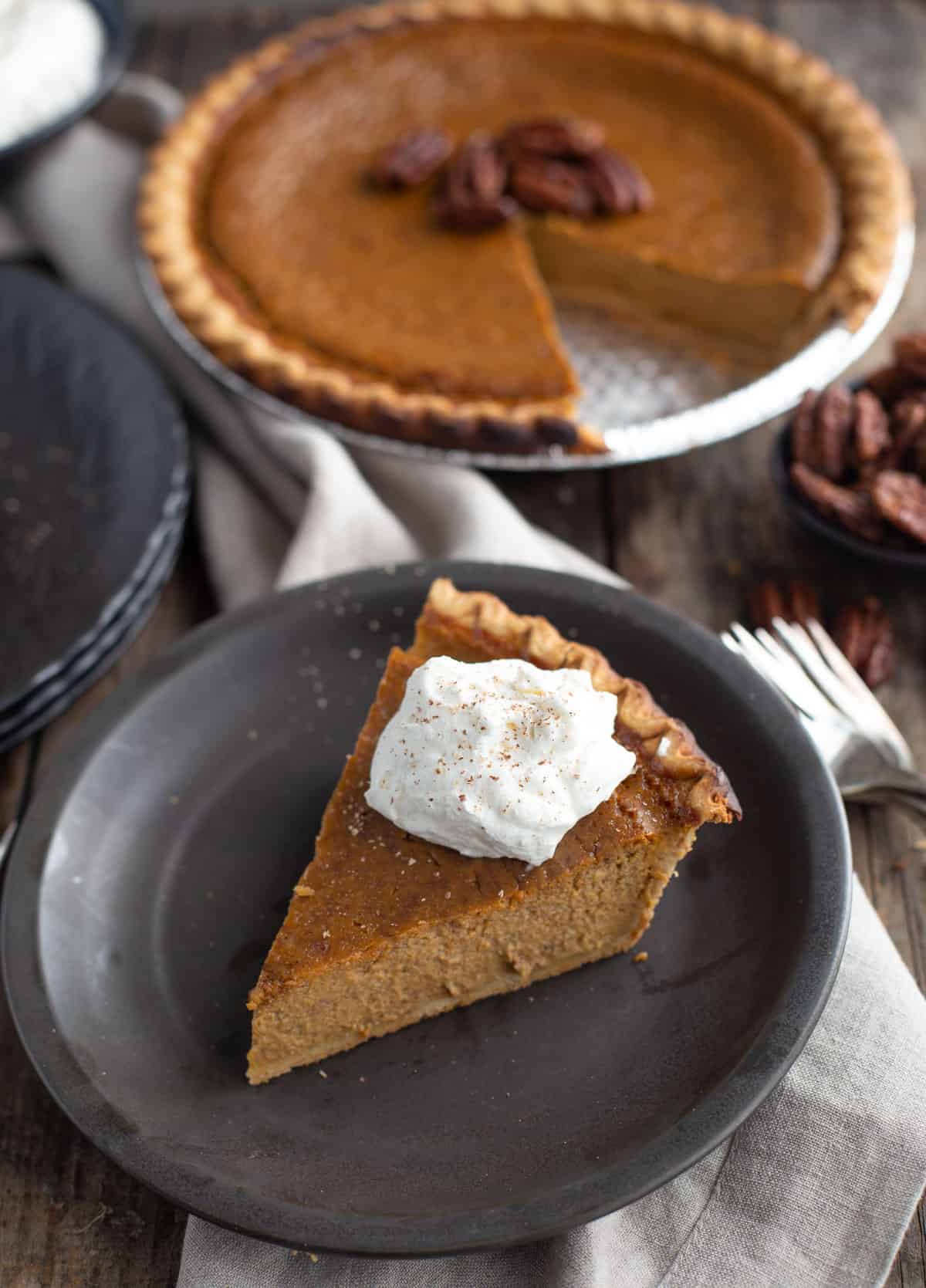 CRUST
People have strong opinions when it comes to crust. To top if off, our kids are gluten free, which means we would be making two different types of crust from scratch. And let's be honest, grilling is our thing, not scratch baking. There are plenty of tasty pre-made crusts on the market. So we buy pre-made crust. We have tried this recipe two ways, both blind-baking the crust before adding the filling, and also by just pouring filling in and grilling.
When we blind-bake the crust, the result was an overcooked and crispy crust. This may be more useful when making a dough from scratch, but if you're buying any kind of store-bought dough, we found this is not necessary. We found the best results in simply pouring the filling into the crust and grilling all at once.
HOW TO GRILL PUMPKIN PIE
To grill a pumpkin pie you need to first start it at a high heat, for up to 15 minutes. This will help allow the custard to set. Then reduce the heat for the remaining time to cook through.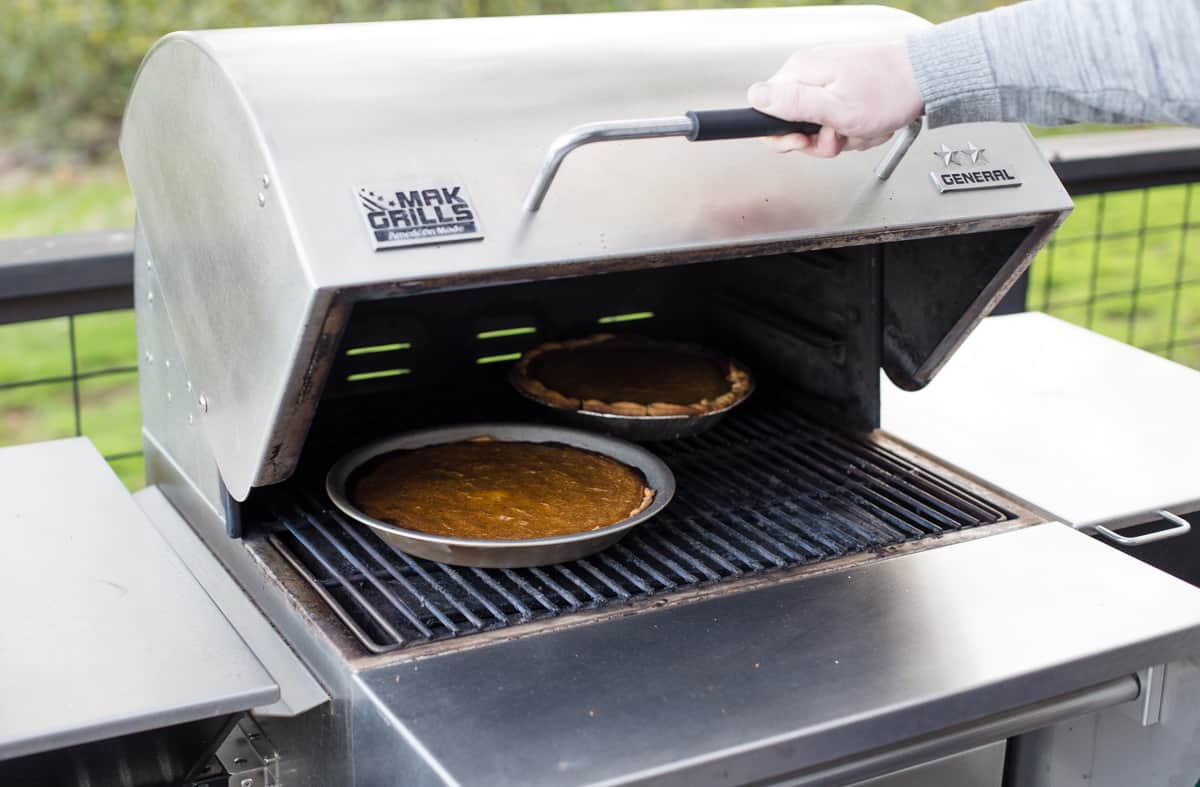 Prepare grill for indirect cooking targeting 425 degrees Fahrenheit to start.
Place the pie on the grill at 425 degrees F for 15 minutes, then immediately lower the temperature on the grill to 350 degrees F. Grill temperatures will fluctuate, so ideally keep it between 350 and no higher than 375. Continue cooking for 35-45 minutes then remove and allow the pie to sit at room temperature to slowly come down in temperature. You can also insert a digital thermometer into the pie, targeting 175 degrees internal temperature of the pie.
RESTING
Don't just serve the pie warm, it will fall apart. Let the pie slowly come to room temperature, and cool down for at least two hours. After it's cooled to room temperature you can place in the refrigerator. This lets the pie slowly cool and not split apart if you go from hot to cold too quickly.
HOW TO CANDY PECANS
We love topping our grilled pumpkin pie with a special touch, like candied pecans and homemade whipped cream. Pecans add the right sweet and bite when they have been candied.
Add butter and brown sugar to a sauté pan over medium heat and stir. When it just combines, add the pecans.
Stir the pecans, and adjust the heat down if they start to scorch. This stirring will combine and coat the pecans with the sugar and butter combination and toast the pecans.
After 8 – 10 minutes, turn off heat and then transfer to a dish or bowl for serving on top of the pie.
We do this while the pie is baking or even resting. Heck, you can even do this the day before.
DON'T FORGET THE WHIPPED CREAM!

Making homemade whipped cream is ridiculously easy. I'll forgive you for buying a store-bought crust (guilty as charged), but don't skip the homemade whipped cream! It makes a huge difference. All you need to do is pour heavy whipping cream into a cold bowl (you can also add some vanilla and powdered sugar for flavor and sweetness), then whip away until you get that consistency you like. We love our smoked whipped cream. But even if you don't smoke your cream, homemade is so much better than store-bought whipped cream!
STORING PUMPKIN PIE
Also think twice before storing the pie at room temperature for too long. The FDA mentions that egg products should be cooled within two hours to avoid any food borne illness. We store our pie in the refrigerator after it cools and it's ready to eat. Eat the pie within 3 days.
MORE CLASSIC HOLIDAY RECIPES ON THE GRILL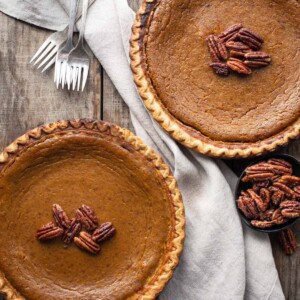 Grilled Pumpkin Pie Recipe
Grilled pumpkin pie with traditional spice flavor and topped with candied pecans.
Print
Rate
Ingredients
For The Pumpkin Pie
2

large

eggs

¾

cup

dark brown sugar

1

15-ounce can

O Organics Pumpkin Puree

1 ¼

cup

O Organics Heavy Whipping Cream

1

teaspoon

vanilla extract

1 ½

teaspoons

ground cinnamon

½

teaspoon

ground ginger

½

teaspoon

ground nutmeg

½

teaspoon

kosher salt

¼

teaspoon

ground cloves

1

9-inch

pie crust (homemade or store-bought)
Candied Pecans
2

tablespoon

unsalted butter

2

tablespoon

dark brown sugar

1

cup

pecans
Instructions
Grilled Pumpkin Pie
Prepare grill for indirect cooking targeting 425 degrees Fahrenheit to start.

In a large bowl, whisk eggs and brown sugar until it forms a paste.

Add pumpkin puree, heavy cream, and vanilla extract. Continue to stir to combine.

Add remaining spices and stir. Expect the pie filling to be very liquidy. Pour the filling into the pre made pie crust. Be sure not to overflow over the edge of crust.

Gently lift and drop the pie so the air bubbles come out of the filling. Be careful not to crack the crust while doing this.

Place on the grill for 15 minutes, then immediatly lower the temperature to 350 degrees Fahrenheit (trying to keep the temperature of the grill between 350-375). Cook an additional 35-45 minutes (or until the center is firm). Place a toothpick into the center to be sure that no filling is stuck to the side or the temperature is 175 degrees in the center using a digital thermometer. Total cooking time should be around 60 minutes.

Gently remove from the grill and place the pie onto a pie rack and let sit for two hours. This will set the pie and slowly bring it down in temperature. Store in the refrigerator if eating the next day.

Serve with smoked whipped cream and a few candied pecans.
Candied Pecans
In a small sauté pan over medium heat melt butter and sugar. Add the pecans and stir consistently. If you smell burning, turn down the heat in small increments.

Continue to stir the pecans until they are coated and soft, but not burned. About 8 – 10 minutes they should be done. Remove, let cook, and serve with the pumpkin pie.
Notes
For Gluten Free: just replace the crust with a pre-made gluten free crust (or your own homemade gluten free crust). We use this exact method for gluten free (and regular doughs) and the results are the same (and the gluten free kids are happy as a whistle!). 
Find the perfect wine pairing at the Vindulge Wine Shop
Nutrition
Calories:
619
kcal
|
Carbohydrates:
52
g
|
Protein:
7
g
|
Fat:
44
g
|
Saturated Fat:
18
g
|
Cholesterol:
140
mg
|
Sodium:
382
mg
|
Potassium:
197
mg
|
Fiber:
3
g
|
Sugar:
31
g
|
Vitamin A:
971
IU
|
Vitamin C:
1
mg
|
Calcium:
91
mg
|
Iron:
2
mg