Add a touch of smoke flavor to your Sloppy Joe recipe. Cook ground beef on a smoker or kettle grill with wood chunks to wow your guests and take your Sloppy Joe recipe to the next level.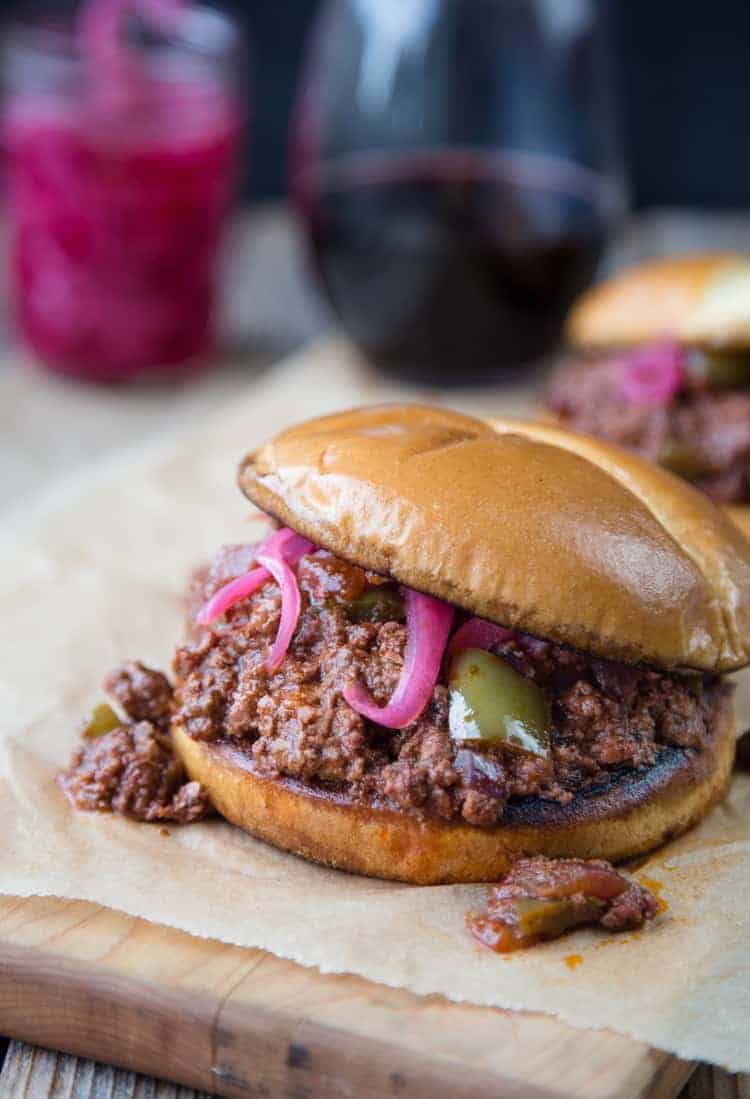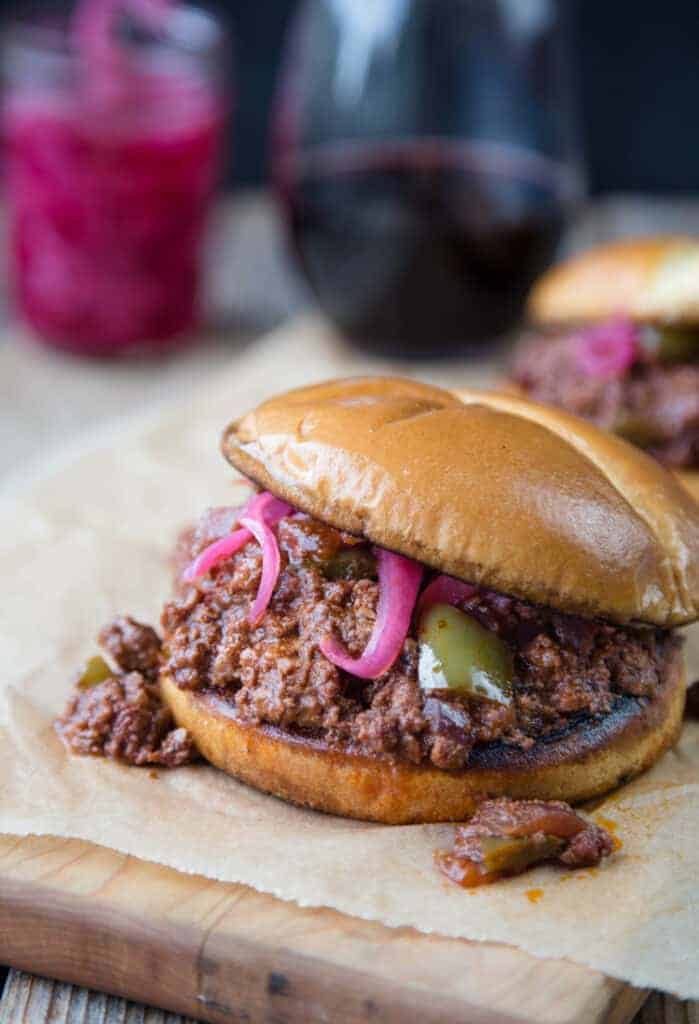 To really blow peoples minds, we add wine to richen to the sauce mix. Yep. Wine.
The thought of a sloppy joe will no doubt conjure up memories of school lunch (you know, back when they actually cooked hot lunches in school) or the memorable Adam Sandler & Chris Farley SNL Lunch Lady Land skit (how could we ever forget that?). But instead of yesterday's meatloaf, we're taking high quality ground beef, cooking it on the smoker, and incorporating it into a rich and indulgent sauce with the oh-so-super ingredient (wine!).
This is comfort food at its finest, my friends!
What is a Sloppy Joe?
Sloppy Joes are ground beef (or chicken, pork, turkey) mixed with spices and a tomato based sauce served with bread (most commonly a burger bun). The common ingredients of a Sloppy Joe are typically:
Ground Beef
Onion and Green Pepper
Ketchup
Tomato Sauce or Paste
Sugar
Chili Powder and Other Dried Spices
Where did Sloppy Joes come from?
Depending on what sources you review, the Original Sloppy Joe potentially came from a few different sources. From Sioux City Iowa, to Cuba. Check out this article from Chowhound for a nice run down of the history. One thing we are fairly certain about, is the chef was likely named… Joe.
How To Make Sloppy Joes From Scratch
We are all about making these from scratch. We start by smoking seasoned ground beef for about an hour. While it is smoking, we make our tomato/season base in a large cast iron pan.
You can make the tomato sauce on the stovetop, or if you have room you can cook it on the smoker to give it added smoke. Our preference is to smoke the ground beef, then add it to the mix, and let it thicken and incorporate on the grill. If this isn't an option, then on the stovetop is just fine!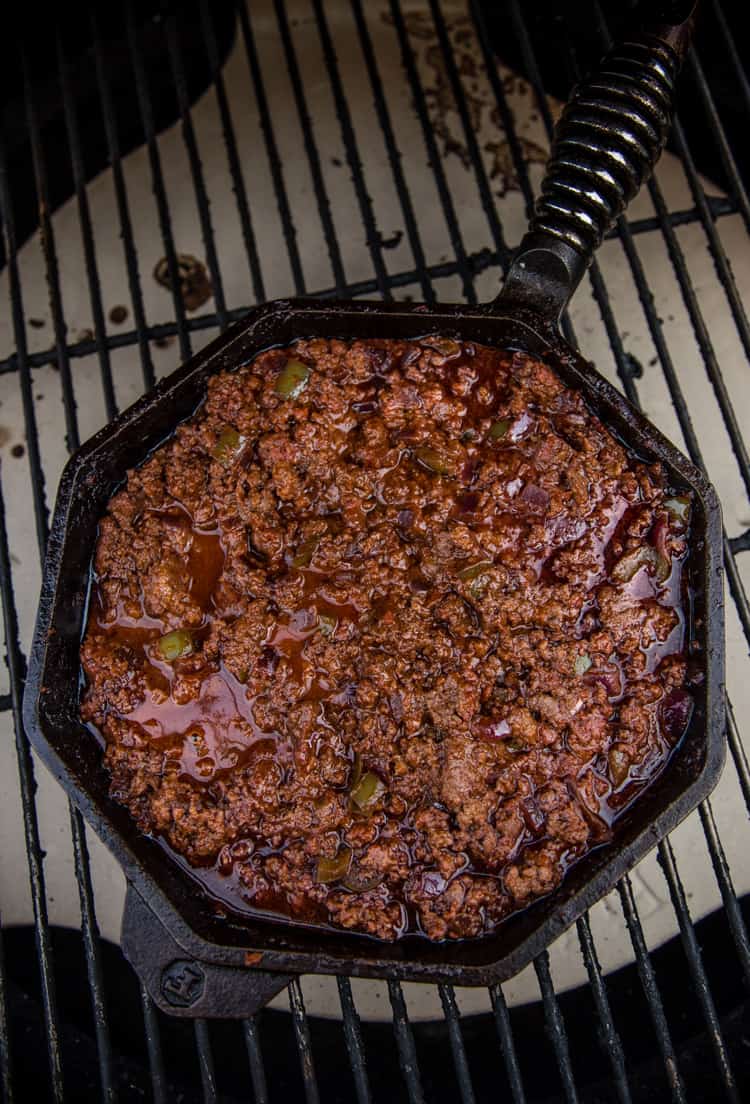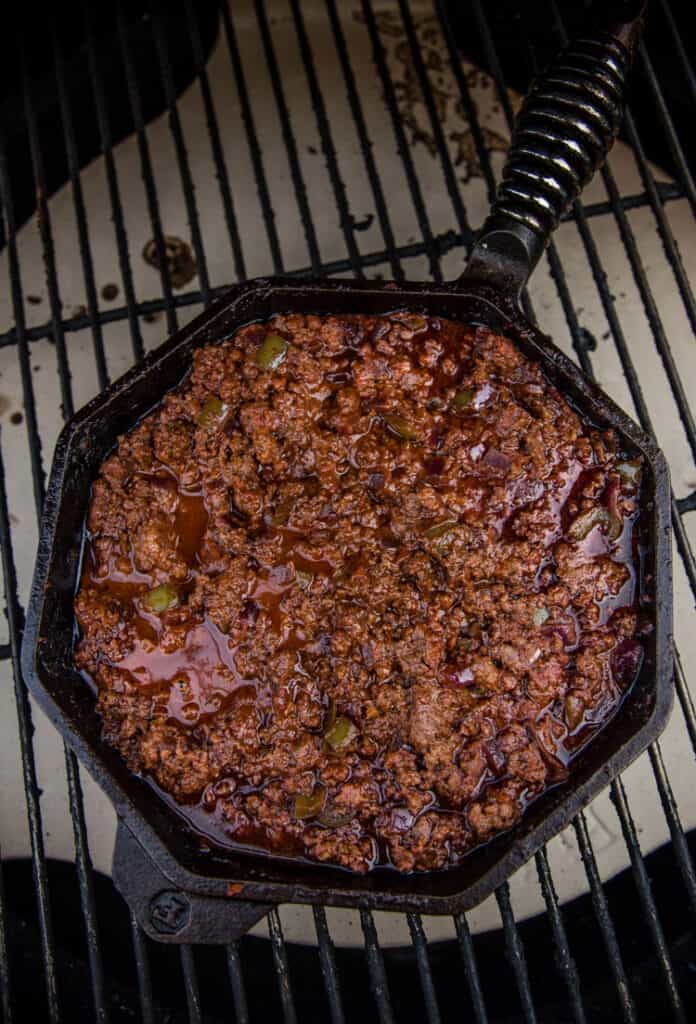 When the beef has developed a nice smoky flavor, we combine them together and let simmer to incorporate that smoke into the sauce and serve with a Brioche bun and something pickled over the top. We love our smoked pickled onions.
Pro Tip: What makes our recipe stand out? Well, it's the wine. We add wine to the sauce. Yep. We did that. What wine you may ask? A fruit forward wine like a new world Syrah (we like those from Washington or Australia). You can also use a Zinfandel or Malbec for the sauce.
Smoking the Ground Beef For Sloppy Joes
Use a fruit wood and set the smoker for 225 – 250 degrees Fahrenheit. Season the ground beef with your favorite rub, and spread out the ground beef on a sheet tray. Smoke for about an hour or until the internal temperature of larger clumps of the beef is 160 degrees F.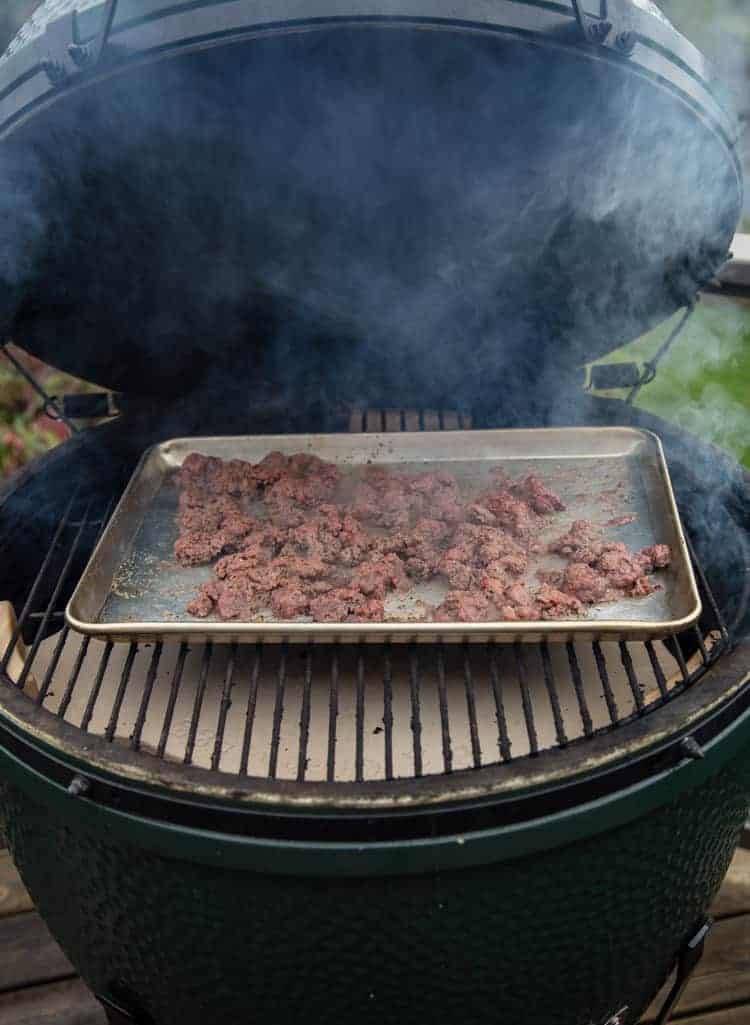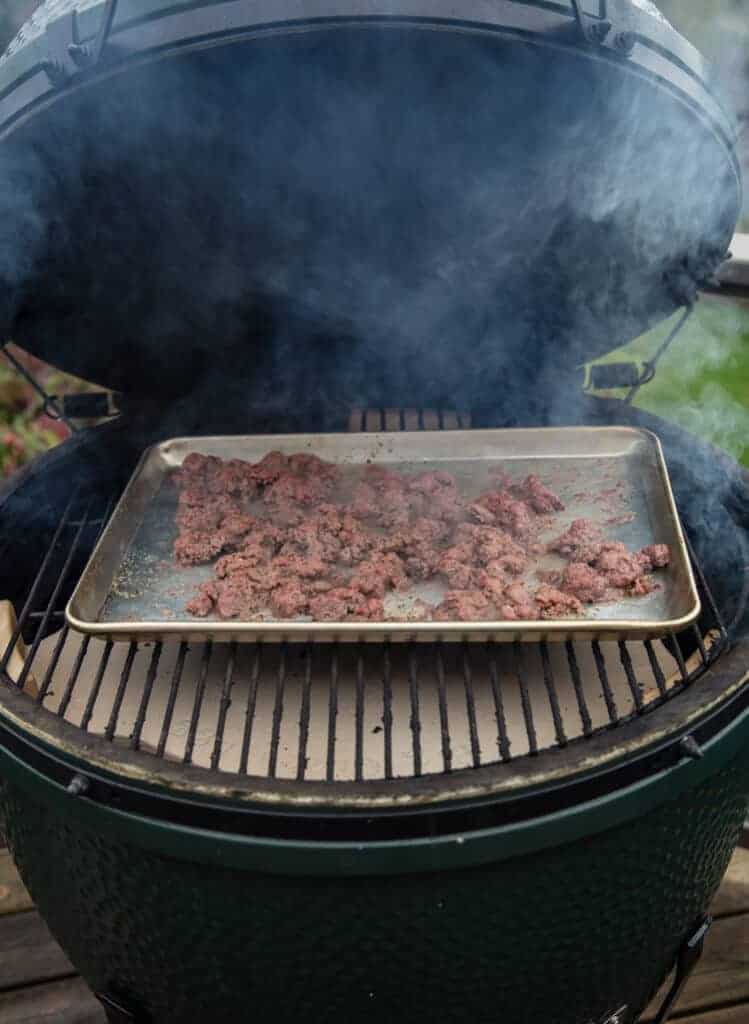 The fat will collect while it cooks, so stir up the beef about 20 minutes into the cook. Drain the fat before you add the ground beef to the tomato sauce mix.
What Type of Ground Beef Should I use for Sloppy Joes?
80/20 ground beef (80% lean, 20% fat) or up to 90/10 is perfect. The flavor and texture tend to get lost when using really lean ground beef. Yes, you can substitute ground chicken, pork, or turkey as well.
We prefer to select really good quality ground beef. Ours comes from Snake River Farms. I would go out of your way to buy a local high quality beef or grab a few pounds from Snake River. These American Wagyu ground beef packs have a ton of flavor. And no, the flavor does not get lost in the sauce. It makes it even better!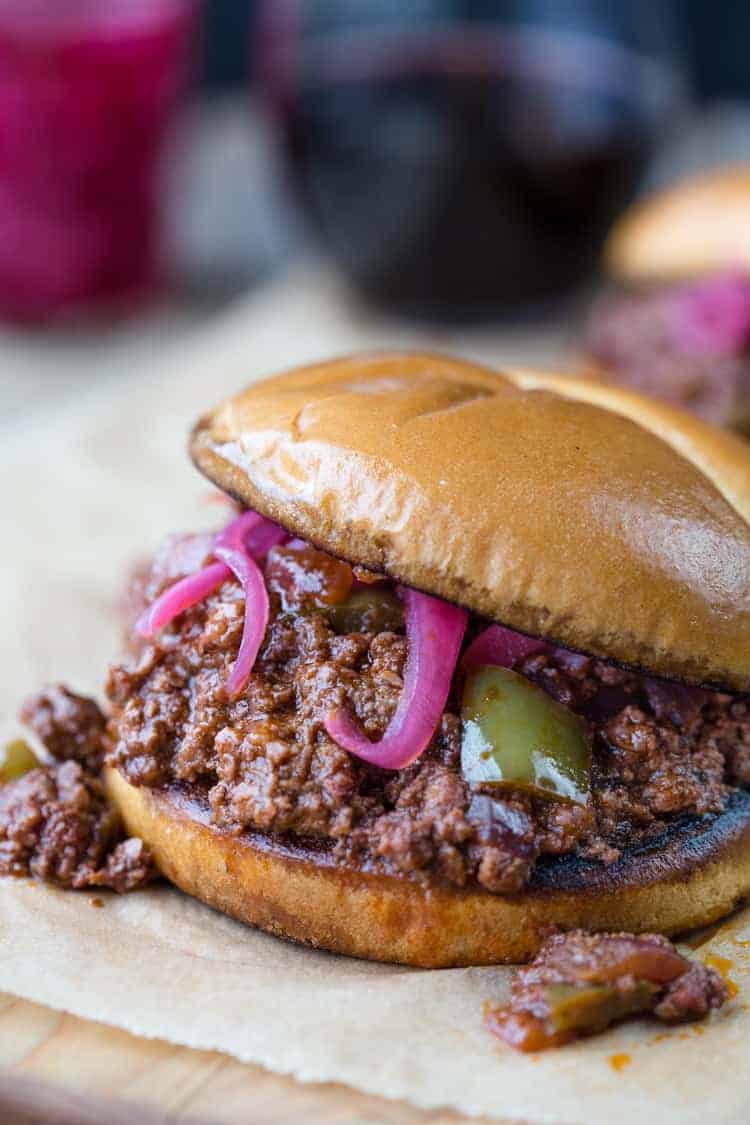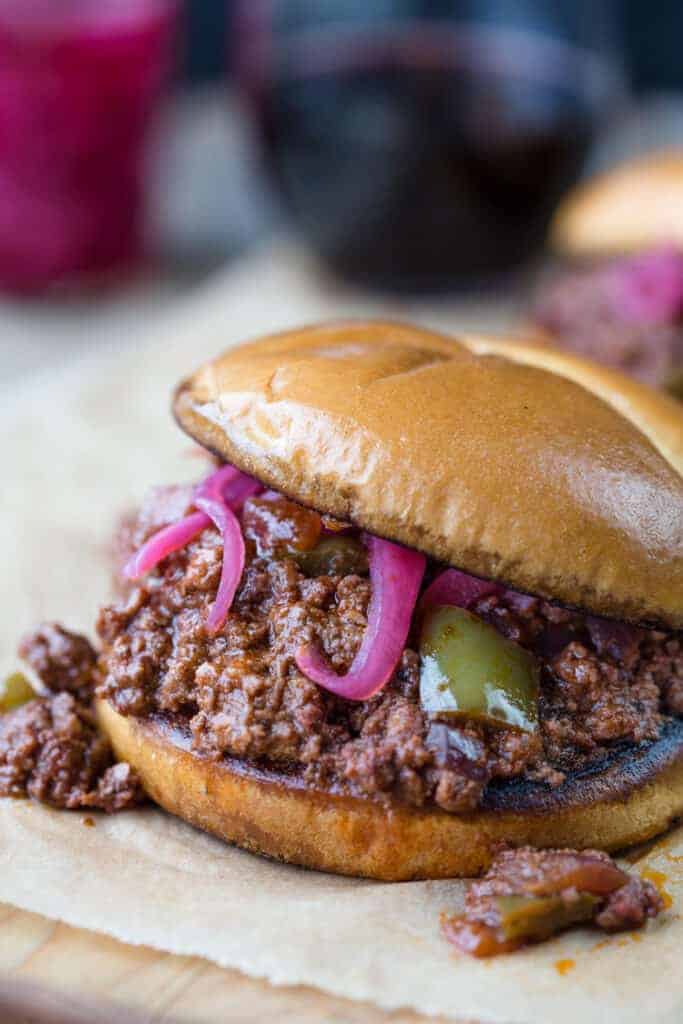 How Do You Thicken Sloppy Joe Sauce
High heat and a simmer will help reduce and thicken any sauce for this recipe. Also consider adding more tomato paste, ketchup or a combination of both. If the sauce is too thick, add chicken stock, Worcestershire, or more wine, and continue cooking until you like the consistency.
How To Serve Sloppy Joes
Classic sandwich
Sliders, for smaller portions
Served over eggs and roasted potatoes for a breakfast take
Go bun-free and top a bed of greens with a scoop of the mixture, or with butter lettuce or endive as lettuce cups
2 am microwave reheat after an evening of IPAs
What Sides Go With Sloppy Joe's?
Chips, plus a dill pickle for that lovely salt and acid combo. That's it. Not into that? Try some of these recipes:
Is Manwich and Sloppy Joes the Same Thing?
Yep. Basically Manwich is the seasoning or sauce (or both) for the quick and easy version. Ours is arguably better.
Sloppy Joe Recipe made with Smoked Beef