Grilled Carrots finished with a Honey Brown Sugar Glaze are a perfect side dish to any holiday meal or Sunday supper. These grilled and glazed carrots are sure to win your guests over (and your kids too! True story!). The secret is all in the technique.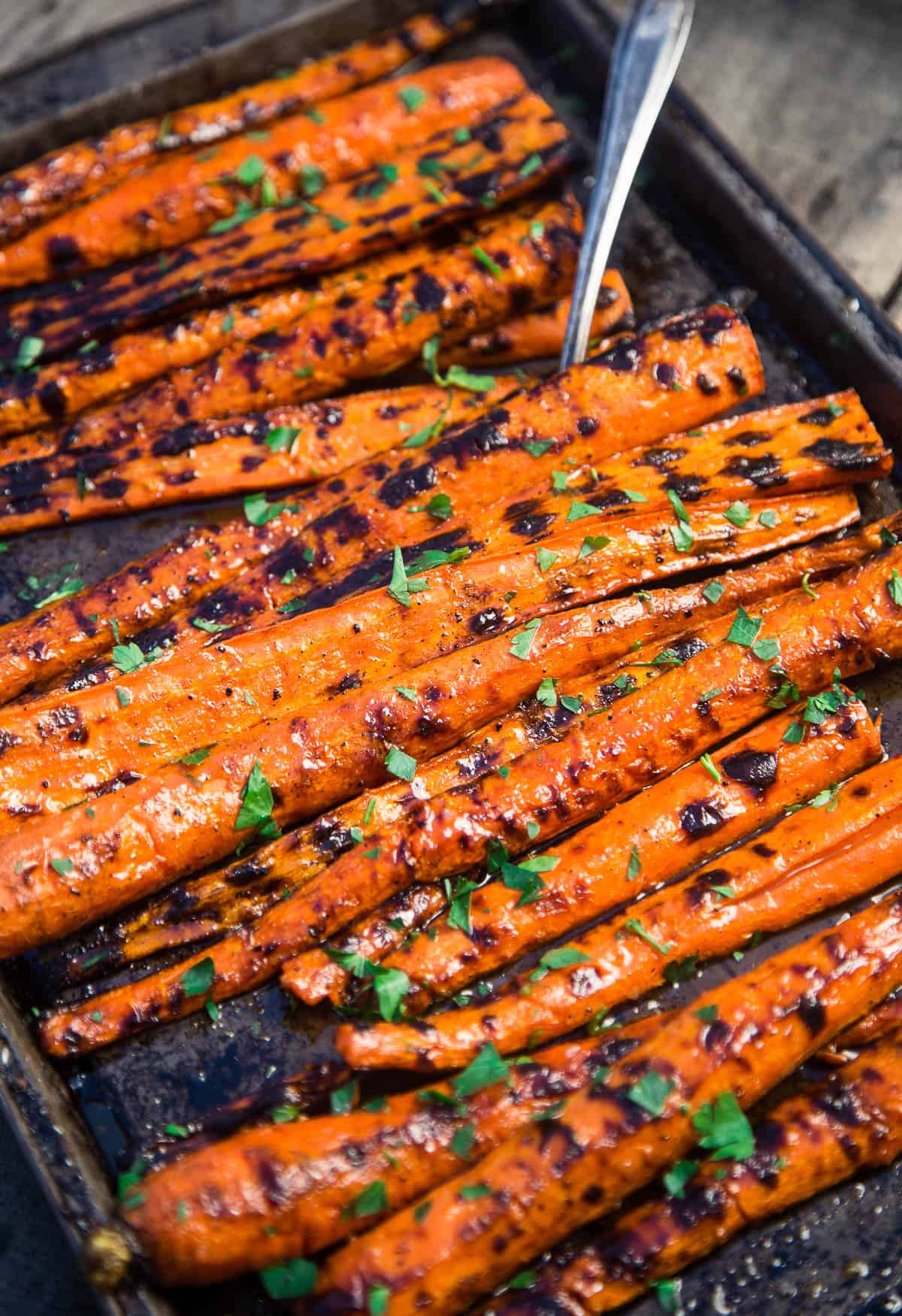 If it wasn't for me, my husband and kids would live on bread and grilled meat alone. I'm the stickler in the family always keeping a close eye on those boys to make sure they're getting enough vegetables. Our favorite way is to grill carrots is to cook them on a hot grill and finish them with a sweet glaze. The texture is soft and chewy, a slight smoky flavor, and a sweet finish. Everyone loves it!
Jump to:
I also love sharing side dishes you can cook on the smoker or grill, especially grilled vegetables, because too many people get stuck in the rut of only cooking proteins on the grill. My motto is anything you can cook inside, on your stovetop or oven, you can cook on your grill, and it's so much better (not to mention more fun). Even veggies and side dishes!
As we prepare for the holidays this year, these grilled and glazed carrots will definitely please any picky eaters who may be sitting around the table.
Ingredients + Substitutions
There are just a handful of ingredients that make this grilled carrots recipe approachable and easy to find at the grocery store.
Carrots – When picking carrots for the grill you want larger whole carrots that won't fall through the grill grates. Ideally similar size larger carrots so they cook evenly. Stay away from baby carrots or small carrots for this recipe. If all you can find is medium sized carrots then consider grilling them peeled and whole (vs sliced in half, lenghwise).
Glaze – Our simple glaze is brown sugar (you can use dark or light), honey, kosher salt, orange juice, and ground cinnamon. Easy and delicious!
Finishing Sauce – If you'd like, you can also finish the grilled carrots with an aged balsamic vinegar or nice finishing salt after you've pulled them from the grill. Totally optional!
Carrot Buying Tip: Carrots should be fresh and snap if you crack them in half. If the fresh produce aisle has carrots that are soft and bend, try to find alternative carrots.
Preparation for Grilled Carrots
Rinse and dry carrots with paper towel. Peel the skins. Depending on the size of your carrots you can prepare them two ways: cut them in half lengthwise, or grill them whole. Thinner carrots do not need to be sliced down the middle and can be grilled whole.
The carrots seen in these photo were organic carrots purchased from Costco, and they were huge! Thick carrots will need to be sliced down the middle, lengthwise, before grilling, otherwise you run the risk of burning the thin ends while the thicker portion cooks through.
There is no need to blanch the carrots prior to grilling.
Seasoning
In a rimmed baking sheet toss carrots in olive oil. The oil is all we are using to allow the heat and charcoal flavor the carrots and then allow the glaze to shine. If you are using a veggie seasoning, this is the time to apply the dry rub.
Best Glaze for Grilled Carrots
Prepare your glaze before grilling carrots. We're keeping it super simple with a combination butter, brown sugar, honey, and a pinch of salt. You can sub maple syrup for honey if you prefer that sweeter flavor. Consider adding in any additional flavor elements to this, like orange juice, or your favorite baking spice (cinnamon is great with this!), or cayenne for heat.
Melt all glaze ingredients together in a small saucepan over medium heat until the brown sugar has dissolved and then apply to the carrots per the recipe instructions.
How to Grill Carrots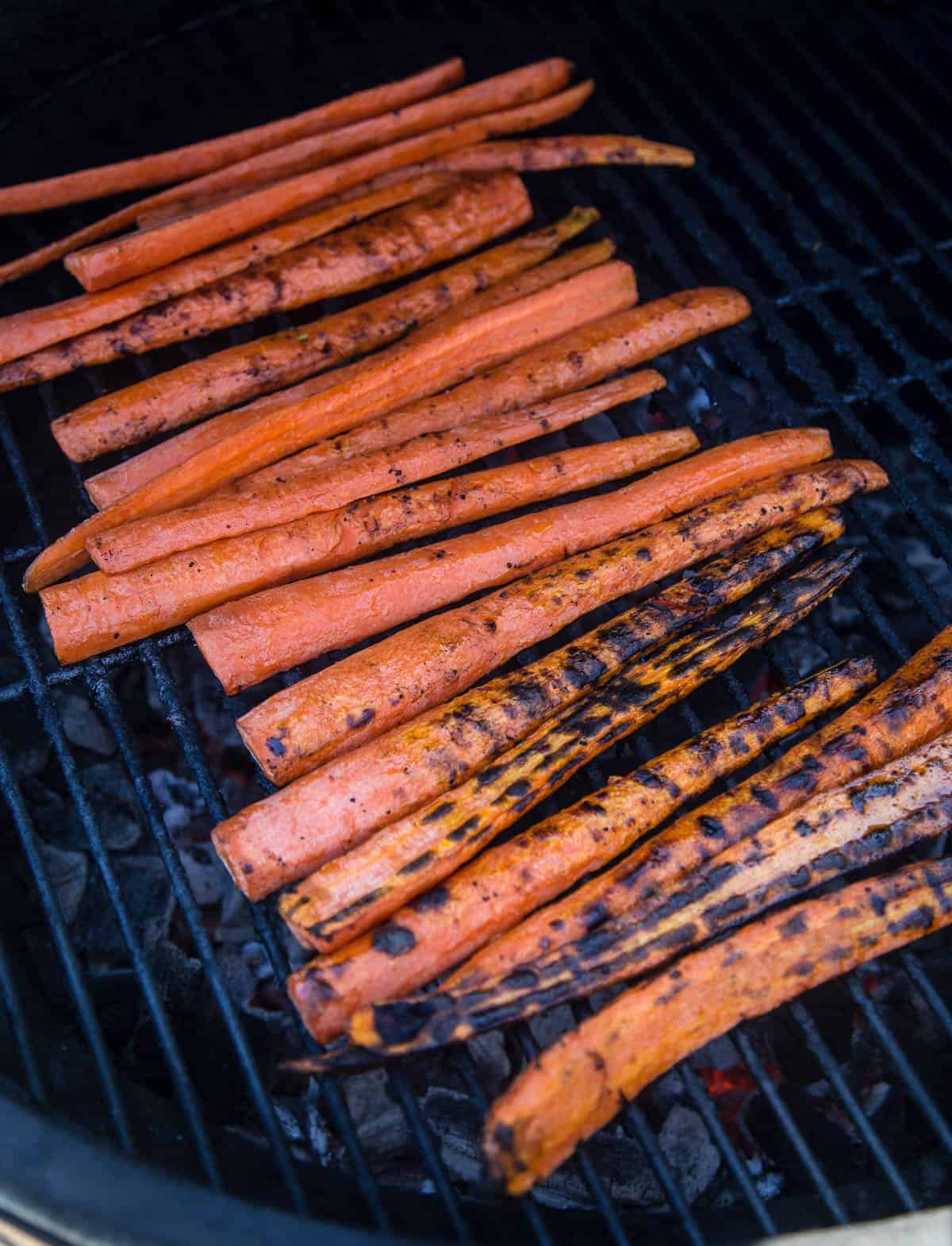 Prep Grill: Set up your grill for two-zone (or indirect) grilling on a charcoal grill. Target an internal temperature of the grill at 450 degrees Fahrenheit using lump charcoal.
Grill Direct: Place carrots on grill grates over direct heat and begin grilling. The side over hot charcoal will be running at least 50 degrees hotter than the dome temperature. Do not walk away from the grill. Turn carrots often to get all sides slightly charred.
Rotate: If they are cooking too fast (getting charred before they are fork tender), move them to indirect heat to finish cooking. This process should take about 12-15 minutes, depending on the thickness of your carrots and how hot your grill is. The carrots should be fork tender before removing with a nice char. Note the thinner tips of the carrots will cook faster.
Glaze: When carrots are soft use a silicone brus and glaze them over indirect heat. Close lid and let roast for 1 minute. Remove and serve warm. Glaze any sooner and they run the risk of caramelizing and burning over the flame.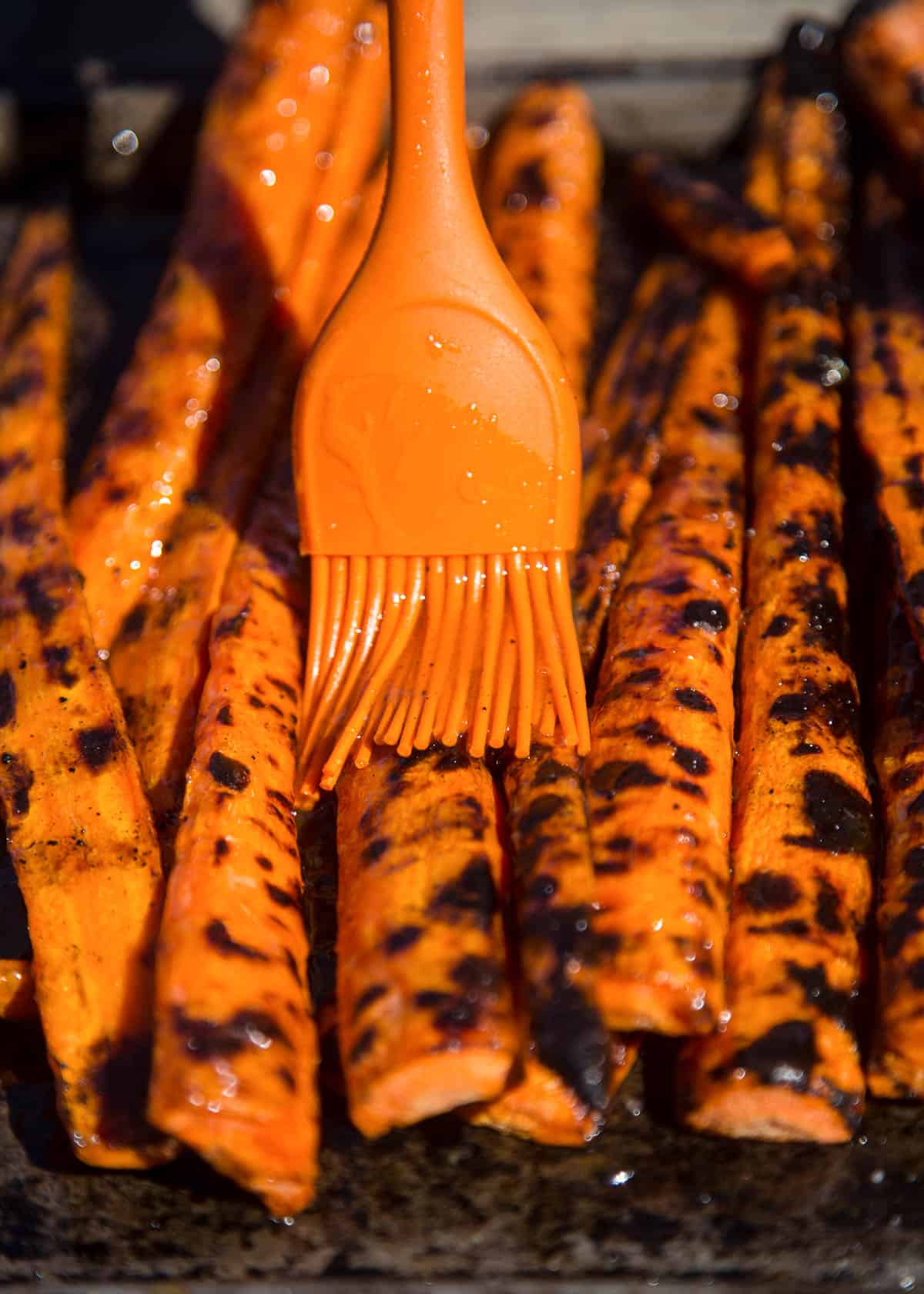 Main Course Ideas with Grilled Carrots
There is nothing more classic than grilled carrots with roast chicken in the pellet grill or smoked chicken. Or explore all of our dinner recipe ideas here. It also makes for a crowd pleasing side dish for your Thanksgiving or holiday dinner.
More Vegetable Side Dishes for the Grill
Check out all of our vegetable recipes or explore some of our favorites.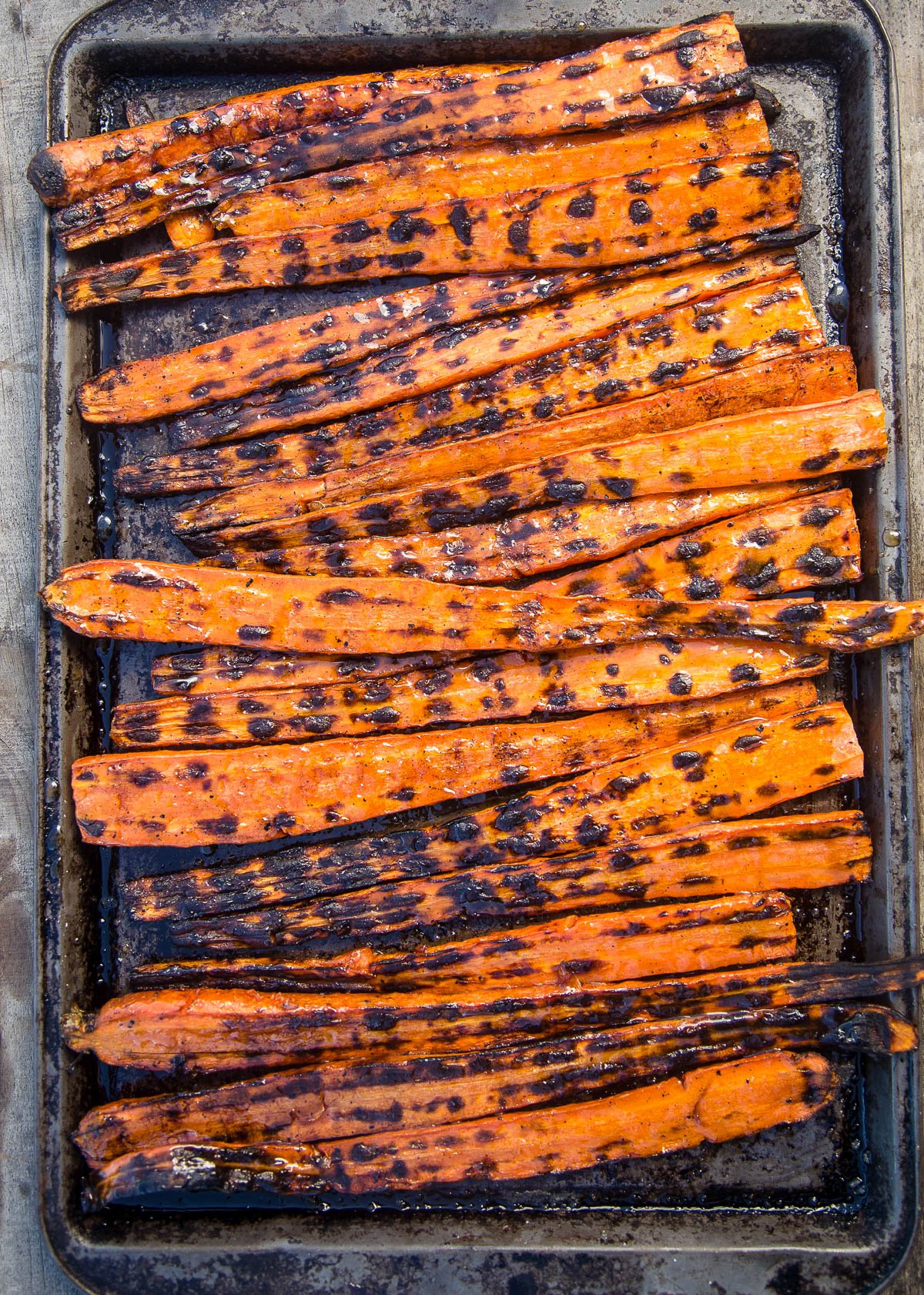 ---
This recipe was originally published in April 2019, and updated in November 2023 with updated information and details. The original recipe remains the same.
Mary (a certified sommelier and recipe developer) and Sean (backyard pitmaster) are co-authors of the critically acclaimed cookbook, Fire + Wine, and have been creating content for the IACP nominated website Vindulge since 2009. They live in Oregon on a farm just outside Portland.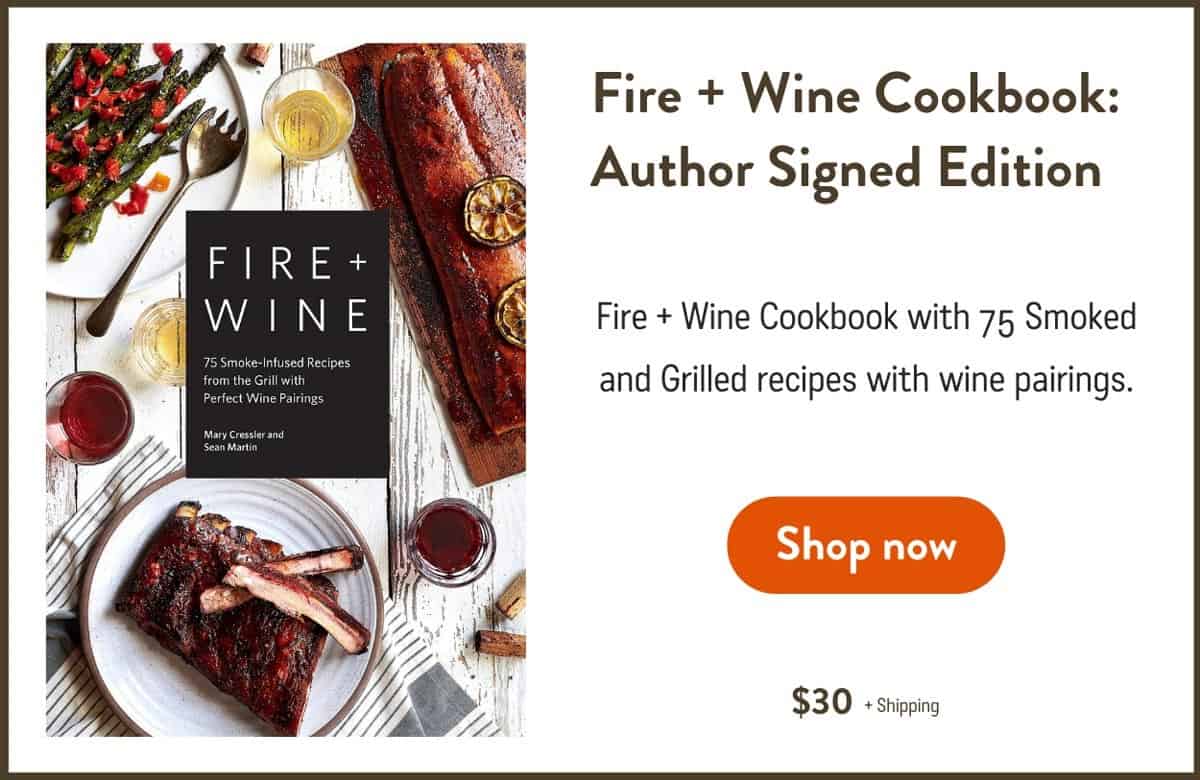 If you like this recipe we'd truly appreciate it if you would give this recipe a star review! And if you share any of your pics on Instagram use the hashtag #vindulge. We LOVE to see it when you cook our recipes.