Petite Sirah is a wine known for its dark color and deep aromas, with rich fruit characteristics and bold tannins. These are wines of high quality and ability to pair with foods (especially grilled foods!). This is a French wine with California roots.
Let's explore this under the radar wine, and find the best foods to pair with it.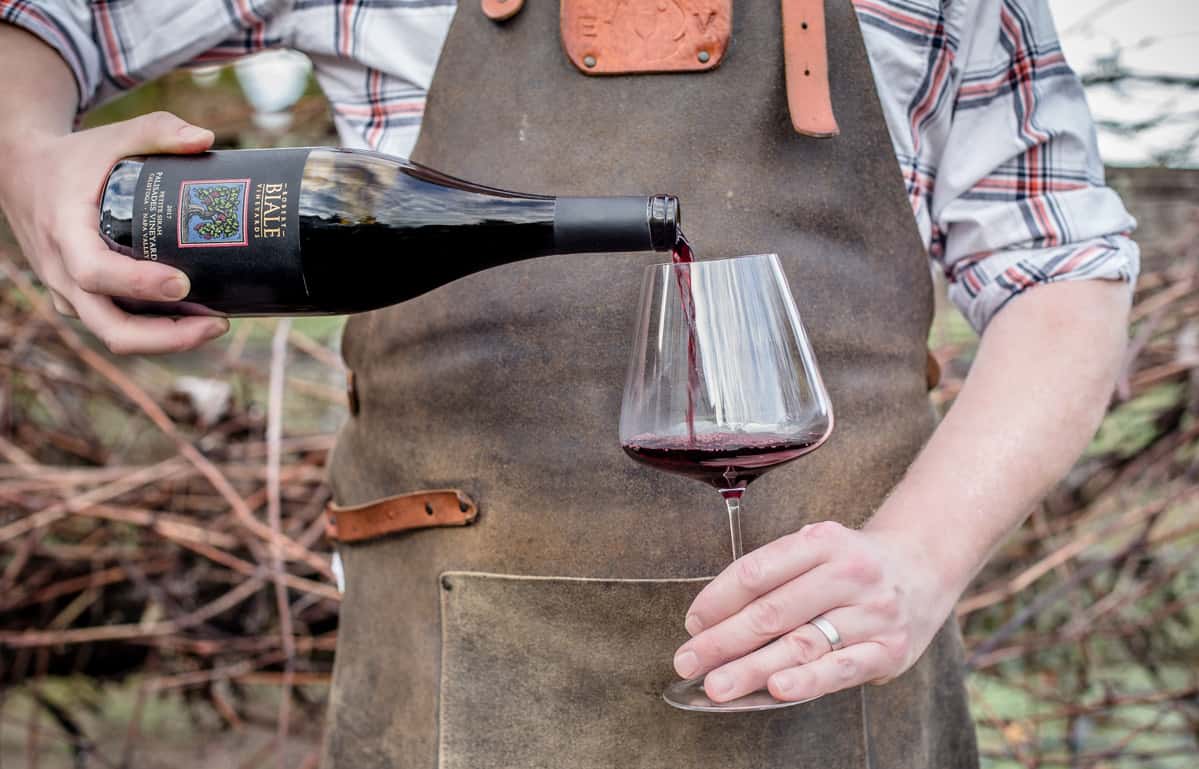 Jump to:
What Is Petite Sirah
Petite Sirah (also known as Durif) is a red grape variety discovered by French botanist, Dr. Francois Durif in 1880 in southwest France (originally named Durif, after the man who discovered it). It made its way to California at the end of the 1800s. This wine is known for its deep dark color and flavors of plums, dark berries (blueberries, blackberries), and spicy and earthy characteristics. This rare grape is planted in roughly 10,000 acres throughout the world, and mostly in California where it thrives.
While these wines once had the stereotype of being intense, deeply dark, and overly tannic, there are some absolutely gorgeous examples of it out there to discover. My once preconceived notions (influenced by this stereotype) have been washed away by some that I've recently tried.
And thanks to the organization, P.S. I Love You (an advocacy group of California wine producers), you can now find excellent examples of this under the radar wine to try yourself. Their mission is to "promote, educate, and legitimize, Petite Sirah as a noble wine grape variety, with a special emphasis on its terroir uniqueness."
Note: this wine is not the same as Syrah. These are two entirely different grape varieties. Petite Sirah is a cross between Syrah and (the ultra rare grape) Peloursin, with Petite Sirah being darker and more tannic than Syrah.
What Does Petite Sirah Taste Like
Petite Sirah is known for its full body, deep color, and high tannins. Flavors on the nose and in the glass include:
Plums
Blueberries
Blackberries
Plum
Chocolate and Cocoa
Espresso
Black pepper
Baking Spice
Where Does It Grow
While its origins are in France with some production today, the majority of Petite Sirah is found in California. It's primarily in Sonoma's Dry Creek Valley, Lodi, Mendocino, Lake County, and small amounts in Napa Valley.
You can also find small amounts grown in Australia, Israel, and South America.
The grape is commonly used as a blending grape, though you can find great examples of it as a stand-alone wine in California.
What Foods Pair Best with Petite Sirah
With its dark flavors, and often bold tannins, it's important to keep in mind finding foods with some fat or richness, to tame some of those bold tannins. For that reason Petite Sirah is a fantastic wine for grilled and stewed meats, especially beef. But they're not all super tannic, and can often pair with so much more than that. Try it with braised lamb, roasted pork, mole, paella, burgers, or meats topped with a wine reduction sauce.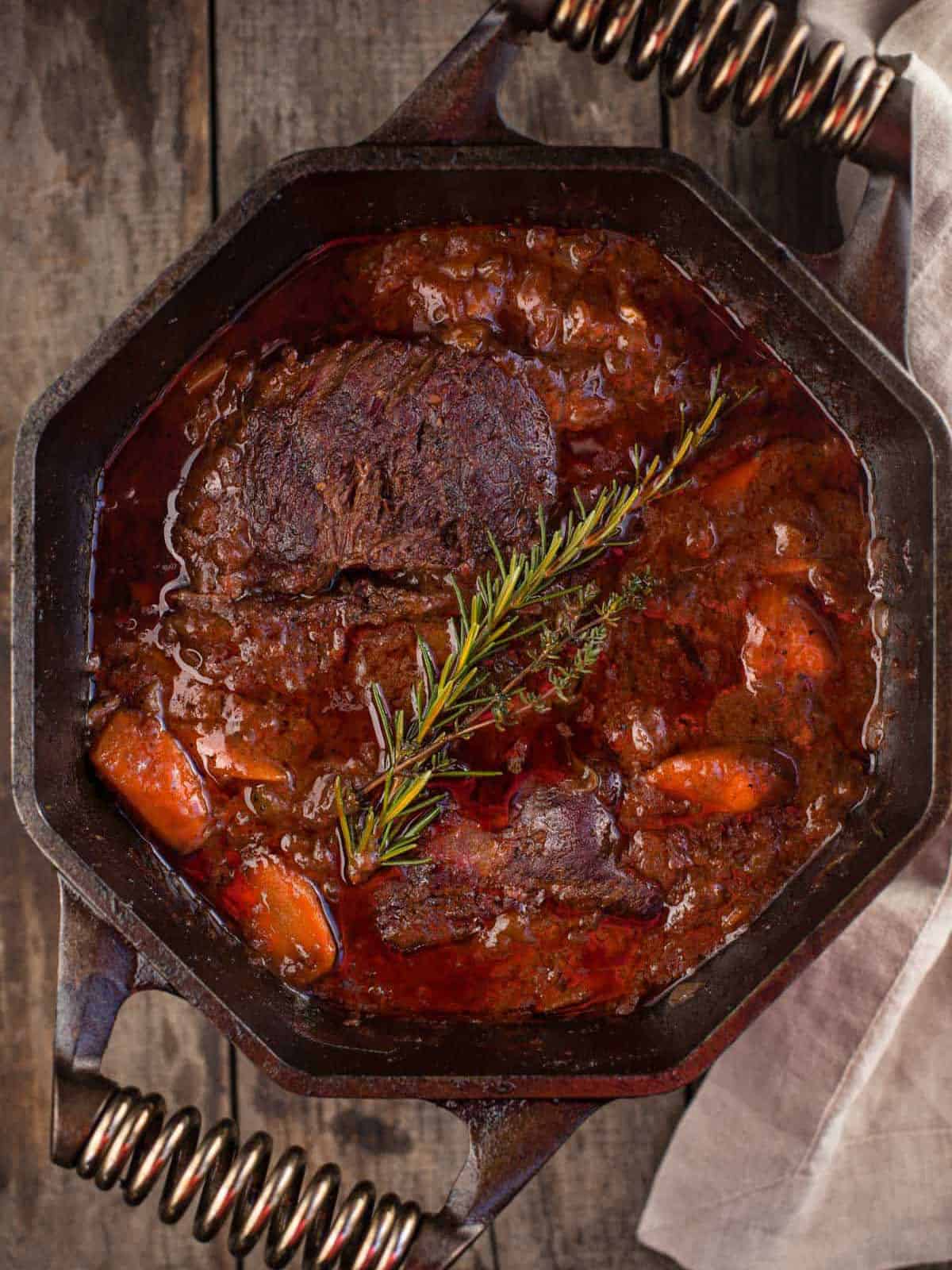 Recipes to Pair with Petite Sirah
Wines to Seek Out
2017 Stags' Leap Winery Napa Valley Petite Sirah (Napa Valley, California)
This wine is composed of 85% Petit Sirah with small amounts of Syrah (6%), Grenache (6%), and mixed Rhone grapes (3%). Beautiful blueberry and black cherry fruit fill the glass with some herbal notes. Lush and velvety in texture, with a peppery finish. This is smooth, balanced, and lovely wine worthy of your favorite grilled steak. 14.1% abv | $47
2017 Berryessa Gap Vineyard Petite Sirah (Yolo County, California)
Yum! I really dig this one. The nose is intoxicatingly aromatic bursting with berry flavors (raspberries, cherries), sweet red and blue fruit with bright acid. It's a much lighter version than most Petit Sirahs and is almost frighteningly easy to drink (i.e. it's delicious and goes down easy!). This would be a really fun one to pair with pork chops. It's very versatile (and did I mention delicious?). 14.8% abv | $28
2017 Ragtag Wine Co. Petit Sirah (Paso Robles, California)
Lots of bright high-toned (and almost tart) red fruit on this one, along with some blueberries and blackberries. Brighter than most, with a fresher feel to it. Try this one with grilled tri tip with a red wine reduction sauce. 14.3% abv | $44
2015 Davis Estates Phase V Petit Sirah (Napa Valley, California)
Phase V wines are limited production wines, produced by the Davis Family, and available to members of their Founders Club. This wine is big, rich, and bold, but also chocolaty, velvety and smooth as heck! There's so much rich black cherry fruit I don't even know where to begin. You'll also find some roasted meaty flavors in there, with some tobacco, and vanilla bean. This one will certainly continue to evolve, but it's pretty darn lovely to drink right now too, especially with something like a short rib stew. 14.9% abv | $125
2015 Varozza Vineyards Petite Sirah (St. Helena, Napa Valley, California)
Deep, almost inky, in color, this full-bodied wine is rich with dark red and black berry fruit (blackberries, prunes, black cherries) with some herbal notes, tobacco, and spice. A little grippy at times with bold tannins, it follows with a lengthy fruity finish. 15% abv | $50
2017 Robert Biale Vineyards Petite Sirah, Palisades Vineyard (Calistoga, Napa Valley, California)
Deep in color and deep in aroma, this wine is full of blueberries, coffee beans, and lavender. It's a little chalky at times, and less fruity than many of the others tasted, but still quite a pleasure. A good one to lay down for a few more years. 14.8% abv | $58
---
*abv refers to alcohol by volume, and prices reflect suggested retail as noted by the producers
*Most of these wines were provided as samples for review. You can see my review policy here.
---