Making Smoked Boneless Leg of Lamb is as easy as seasoning the lamb and smoking to the right internal temperature. And with good quality lamb you'll find the flavor amazing and tender.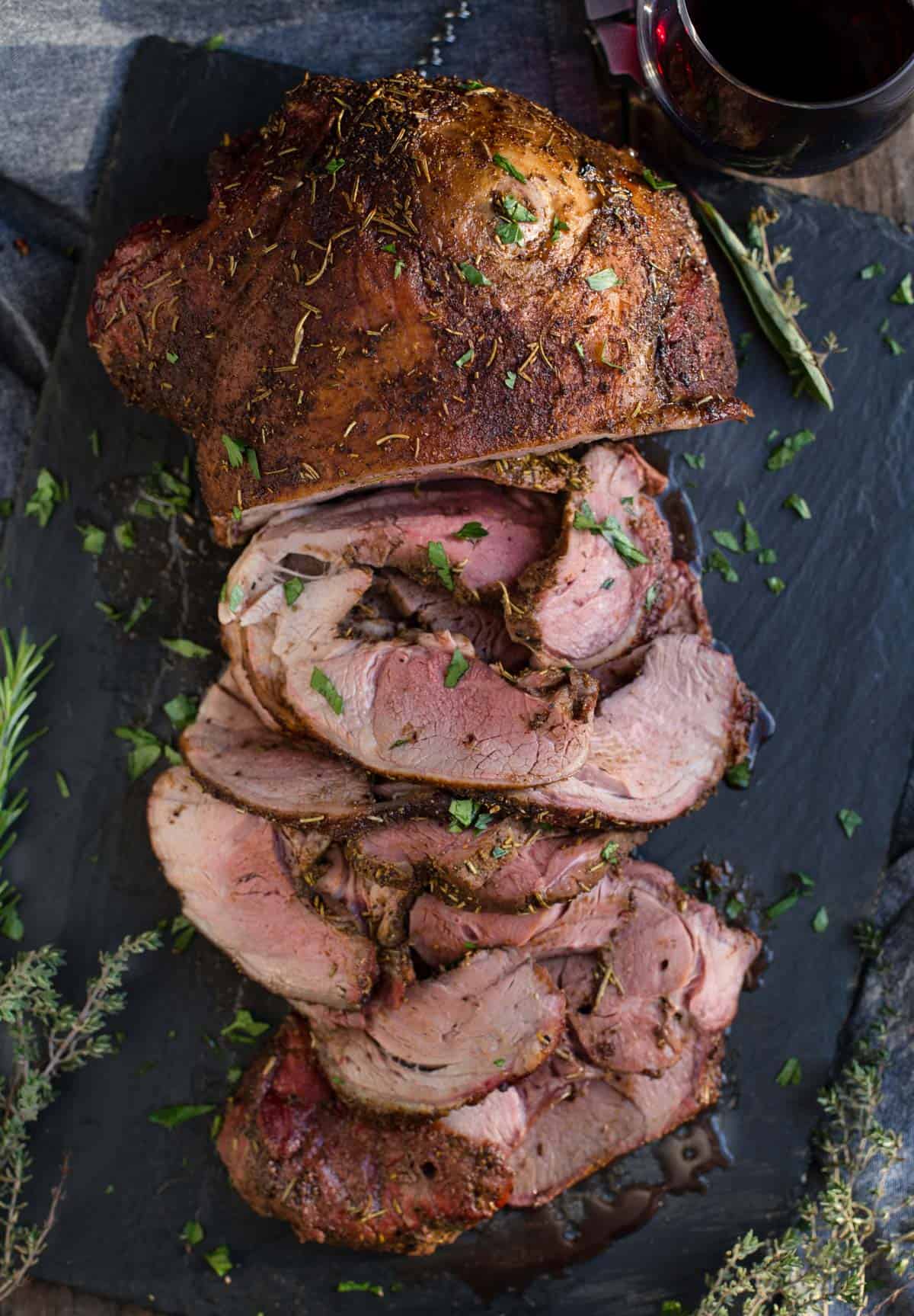 Jump to:
Many of us grew up with some preconceived notions of lamb meat. If you were anything like us, your experience with lamb likely involved some kind of strongly flavored mint sauce to drown the meat in. And that lamb may likely have tasted very gamey and was probably overcooked (which is why it may have benefited from the mint sauce, to mask the flavor). What we have learned is that good lamb is actually quite tender and delicious and rarely has the gamy flavor that we grew up with.
Perhaps it's time to give lamb a second chance!
What is Lamb
If you seek out lamb in the store what you are actually buying is young sheep's meat. As a sheep matures it goes through a few stages, and those stages impact flavor. Lamb is a young sheep, up to 14 months old. When buying lamb it's most commonly 5 – 8 months old with characteristics of lighter colored meat, very tender, and minimal gamy flavors.
What Makes Lamb so Gamey?
The primary "gamey" flavor in lamb comes from the intramuscular fat, and in large part derived from what the lamb eats. Like any animal, the breed of lamb will make a difference in flavor also. Cooks Illustrated has a useful article that goes into much more detail on the biology of the flavor.
Age – As lamb ages and reaches year 2 and beyond, the flavor profile of the lamb tends to get slightly less tender.
Feed – What lamb eats also plays into the flavor profile, regardless of the age. Ranchers that elect strictly grass raised may present a more intense grassy flavor profile than a grain fed diet or mix.
Some lamb may actually go through a voluntary grading process by the USDA, but commonly you won't see anything labeled "Prime lamb" on the shelf (like you would, say, with beef).
All this is to say that seeking out fresh high quality lamb is one of the most important steps in having a good experience when cooking and eating the lamb. A good butcher should be able to speak to the flavor profile and quality of the lamb you are about to purchase. Also consider reaching out to local lamb ranchers and see if they sell direct to consumer. If you purchase lamb at a grocery or box store, you may be getting older lamb or even year two lamb which may not be the flavor you want (so buyer beware!).
The Cut
You can find leg of lamb bone-in and boneless. For this particular recipe we are using a boneless leg of lamb. The leg comes from the hind quarter of the lamb, and is similar to a ham in a pig. The dense intramuscular fat do well with a slower roast to render that fat.
Lamb Seasoning
For a smoked boneless leg of lamb we are focusing on herbal qualities of our seasoning. We add to our basic poultry seasoning additional dried herbs.
We avoid the mint inspired flavors because the mint really was meant to offset gamey lamb, and we're aiming to highlight the flavor of meat (not hide it). Not to say mint can't be a good complement to lamb, but when you find that fresh lamb from a great rancher, you will find that it doesn't have to be "offset" because of the underlying meat flavor.
Instead we're seasoning it simply, and then smoking it for added flavor.
Preparing a Smoked Boneless Leg of Lamb
Remove the netting from the lamb. When you purchase boneless leg of lamb, it will come with netting, which is meant to keep the meat in place. Remove this prior to seasoning it.
Using a sharp boning knife, remove any excess or dense pockets of fat, pat dry the lamb with a paper towel.
Apply a coating of olive oil, which will help the rub stick to the meat.
Liberally apply the dry rub to the outer portion of the lamb, as well as the portion that surrounded the bone.
Roll the lamb back to it's original shape and tie tightly with kitchen string (do not place the netting back on, but instead use kitchen string to do this).


How to Smoke a Boneless Leg of Lamb
We are using fruit wood to add a sweet characteristic to the lamb and just letting the low and slow process do its work.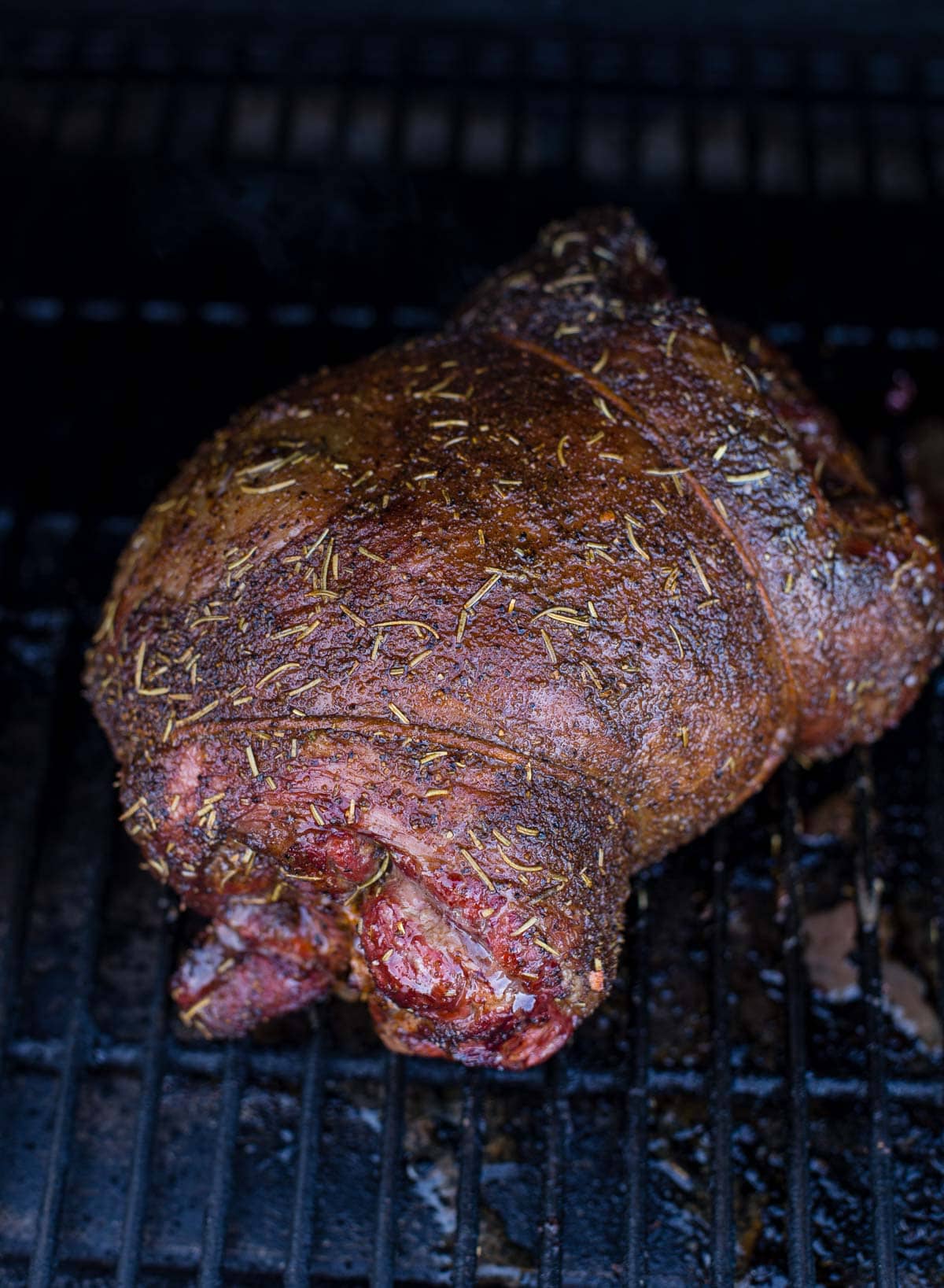 Preheat the smoker targeting 250 degrees Fahrenheit with apple or cherry wood.
Insert a temperature probe, like the Thermoworks Smoke Unit, to monitor the internal temperature of the lamb while it roasts.
Smoke Lamb: Place lamb on the smoker and smoke until the internal temperature reaches 140 degrees Fahrenheit.
Pull the lamb at 140 degrees and let it rest for 15 minutes to allow carry over cooking to occur. After 15 minutes the lamb will have come up to 145 degrees F, and the juices will start to settle.
Slice and enjoy.
What Temperature do I Cook Lamb To?
Lamb is like beef, in that you can cook it to your desired temperature. We like our lamb cooked to a medium rare flavor.
Rare: 120 – 130 degrees Fahrenheit
Medium Rare: 130 – 140 degrees Fahrenheit
Medium: 140 – 150 degrees Fahrenheit | USDA Recommendation
Medium Well: 150 – 160 degrees Fahrenheit | We do not recommend going beyond medium rare for lamb as you will lose precious flavor, tenderness, and dry out the meat.
Well: 160 degrees Fahrenheit plus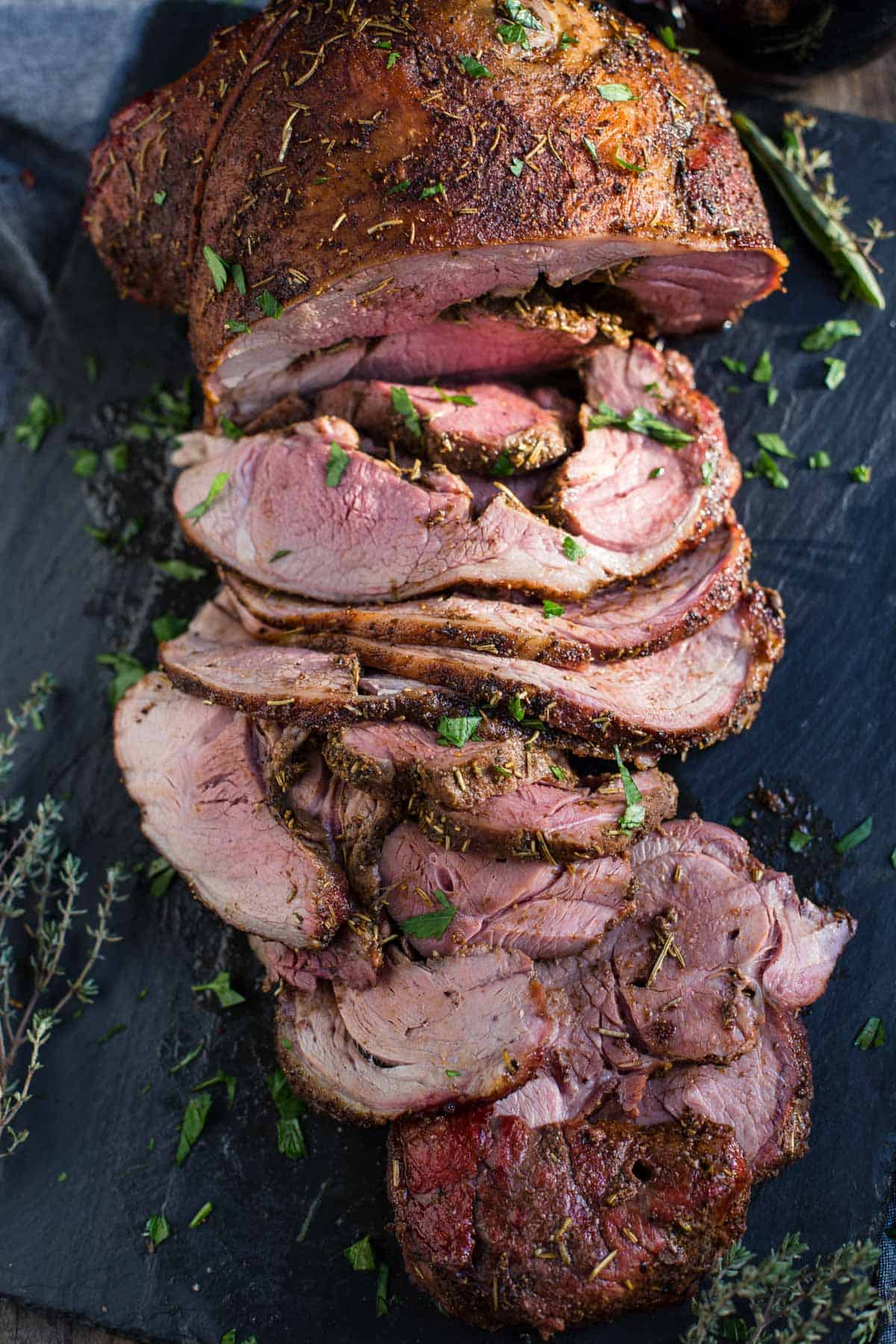 What Wine to Pair with Smoked Boneless Leg of Lamb
Lamb is a very wine friendly meat to play around with. There are lots of options here. Smoked lamb has incredible flavors (earthy, smoky, plus the tender meat). A bolder style Pinot Noir is one of my favorite pairings. Cabernet Franc is also high up there, with its mix of earthy, herbal, and fruit flavors. You can also opt for a Rhône style red blend for this.
Other Lamb Recipe Ideas on the Grill or Smoker
Sides