Guess what? We have another awesome giveaway for you this month! Since the last couple have been so successful we decided to continue giving away things we think may be super useful to you from time to time.
This month we're giving away a Toshiba Chromebook 2 and some super cool accessories.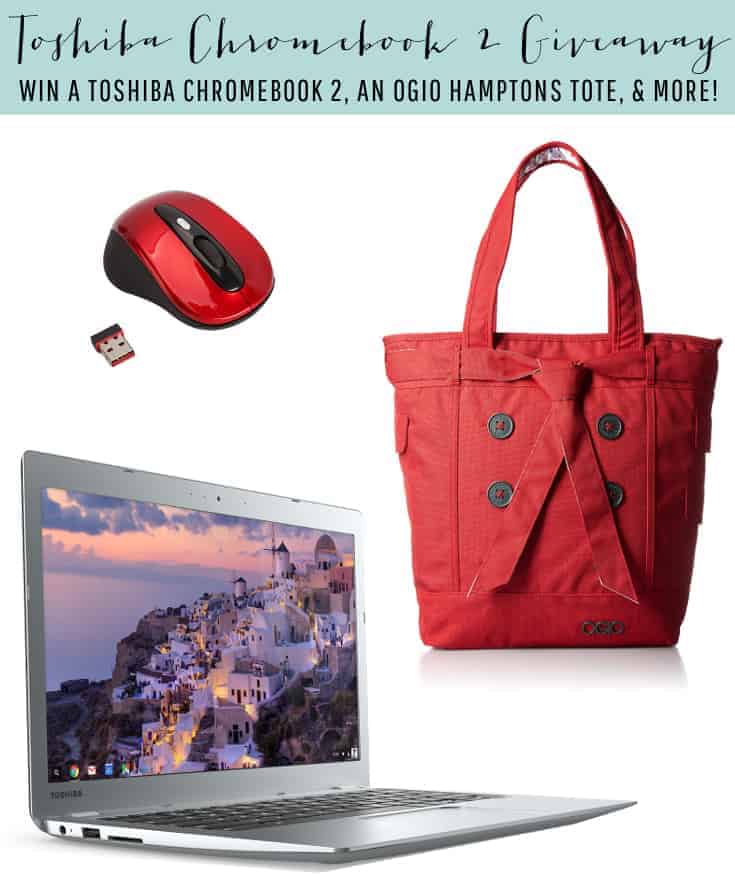 Once again I've joined Angie of My So-Called Chaos and some other cool bloggers to giveaway a Chromebook 2, an OGIO Hamptons Laptop tote, and other laptop accessories to one lucky winner! We're focusing on blog follows this month, so with this baby you'll be able to find some awesome new blogs to follow while playing with your new laptop! Or you know, do whatever else you do on your laptop (killing time with Pinterest anyone???). Take a look at who we teamed up with this month…
(pay close attention to the only one with a wine glass in her hand…)
… er… not sure to be proud of the profile pic Angie selected, or? Never mind. I'm proud of my oversized wine glass!
What do you say? Are you interested in finding some super cool new bloggers to follow with the chance of winning a new laptop?
All you have to do for this giveaway is follow some of the bloggers above (including me! HI!!) via email or rss. It's as easy as just filling out the rafflecopter below and enter as many times as you'd like.
Gooooooood luck!
Enter the Giveaway
One lucky winner will take home a Toshiba Chromebook 2, a Hamptons Tote laptop bag, and a wireless mouse. Giveaway is open worldwide, but international winners will receive $320 cash instead via Paypal due to shipping restrictions. Entering below agrees to all terms and conditions within the Rafflecopter and entries will be verified. Giveaway ends on March 8th at 12AM MST.
*Prize may change subject to availability.
While you're here please feel free to comment with your favorite bloggers. The whole point of this giveaway is to celebrate our favorite bloggers, so we'd LOVE to hear who your favorites are (whatever topic! I'm always looking for new blogs to follow in a wide range of topics).
Cheers
---
You can receive your first entry just by subscribing to our posts!