Smoked Turkey Breast is a great way to bring the delicious flavors of Thanksgiving or any holiday recipe to a smaller crowd. This perfect smoked turkey breast is marinated overnight in a citrus brine giving it loads of flavor and juicy textures. Skip the whole turkey this year and opt for this smoked turkey breast recipe.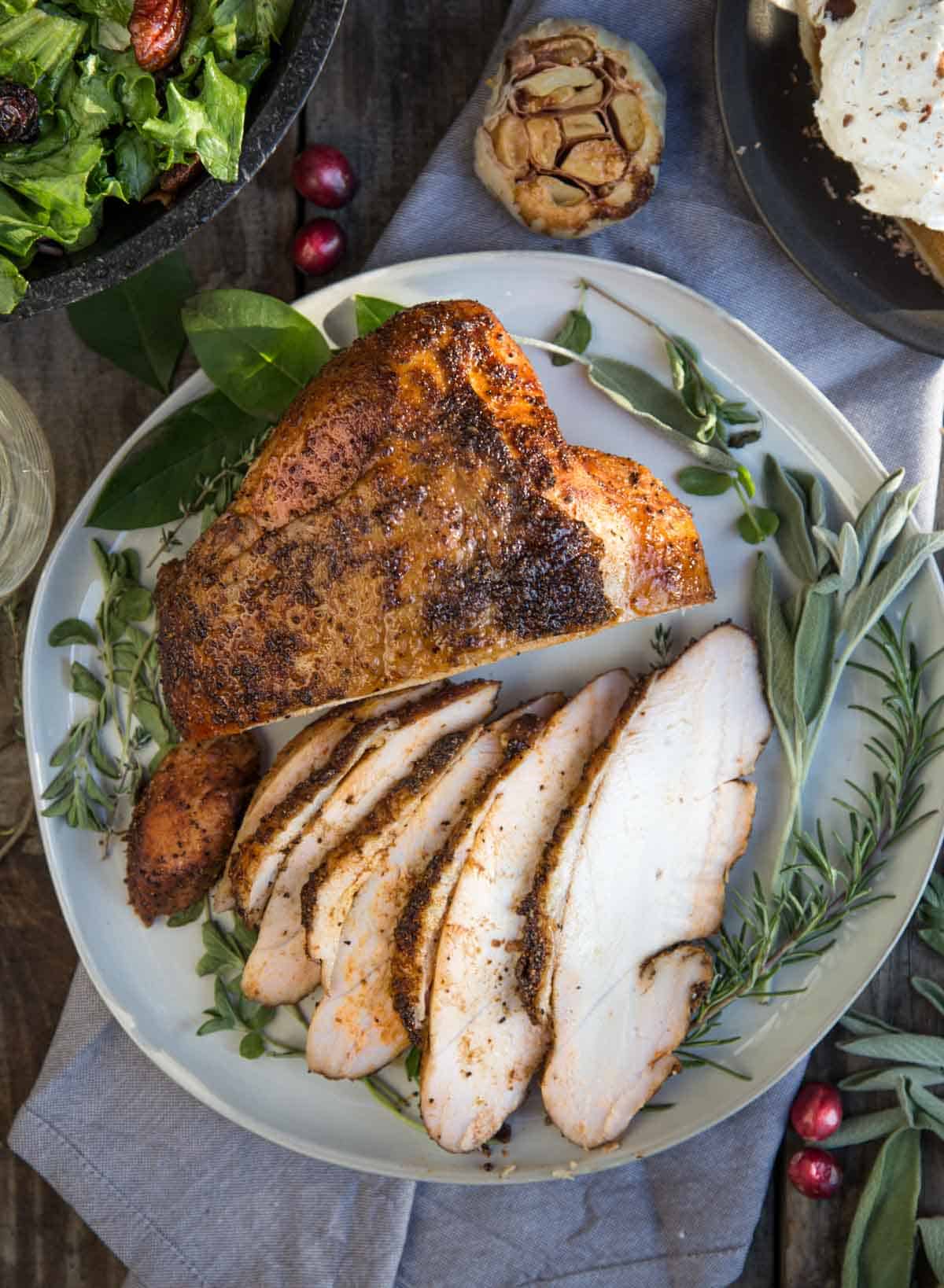 Recipe Highlights
This is a great Thanksgiving recipe for two people and a play on our smoked turkey recipe.
Breast meat is great for sandwiches.
You can also smoke a turkey thigh and leg with the same recipe or make a grilled turkey breast without a brine using Cajun seasoning.
Add some smoked gravy over the top and you have an incredible meal ready to go for the holiday season. Or you can take smoked turkey breast and slice it up for sandwiches!
We don't always have a large crowd over for holiday meals. Sometimes it's just the four of us, but that doesn't mean we have to skip out on the smoked turkey. In those cases a simple smoked turkey breast is the perfect portion for a small family or holiday for two.
Jump to:
Ingredients
Turkey Breast – Boneless and skin on preferred.
Brine Solution – We use a wet brine versus a dry brine. You can use our basic brine recipe or something more like our Bourbon Brine recipe.
Glaze – A mix of orange juice and maple syrup. Simply apply at the end of the cook.
Brining
For a wet brine combine all the brine ingredients in a large stock pot in cold water (one gallon of water is enough or 4 quarts). Place the whole breast in the brine solution for at least four hours ideally 24 hours. When done brining pat dry with paper towels and season the turkey.
Dry Brining – If you prefer not to use a wet brine, then the day prior to cooking liberally a good poultry seasoning (with kosher salt) to the turkey breast. Leave uncovered in the refrigerator until ready to smoke.
Is Boneless or Bone-in Best for Smoking?
Using a boneless turkey breast is the perfect portion for two to four people and it is easy to make. Why boneless? Because smoking is typically done with indirect heat, a boneless turkey breast is easier to slice and doesn't need the bone to protect it from heat like direct cooking.
Will bone-in turkey breast add more flavor? No, a turkey breast bone has little in it that would add "flavor", so opt for a boneless making it easier for slicing when done.
Chefs Tip: Be sure when buying your turkey breast that it is NOT pre-brined or in some type of water solution. Many of them come in a water solution, so make sure to double check what you're purchasing.
How To Smoke a Turkey Breast
Follow a few easy steps to get a perfect and juicy turkey breast every time.
Brine the Turkey – This adds moisture and flavor to the meat. For a turkey breast we brine it overnight in the fridge.
Smoke Turkey Breast at a low temperature – 250 degrees is a good target temperature. For kind of wood chunks, we prefer fruit wood for smoking turkey breast. If using a gas grill use fruit wood chips in a smoker box. Place turkey breast skin side up on the smoker.
Watch the temperature – Measure the internal temperature of the meat and the smoker to make sure you pull the meat off at the right temperature versus the time. For a turkey breast we pull the meat when the internal temperature of the meat reaches 160 degrees using an instant-read thermometer. Plan on 2-3 hours.
Glaze – just before pulling the turkey, brush it with a simple glaze of maple syrup and orange juice. This will add great flavor and shine.
Rest – Let the turkey rest for 15 minutes prior to slicing into thin slices.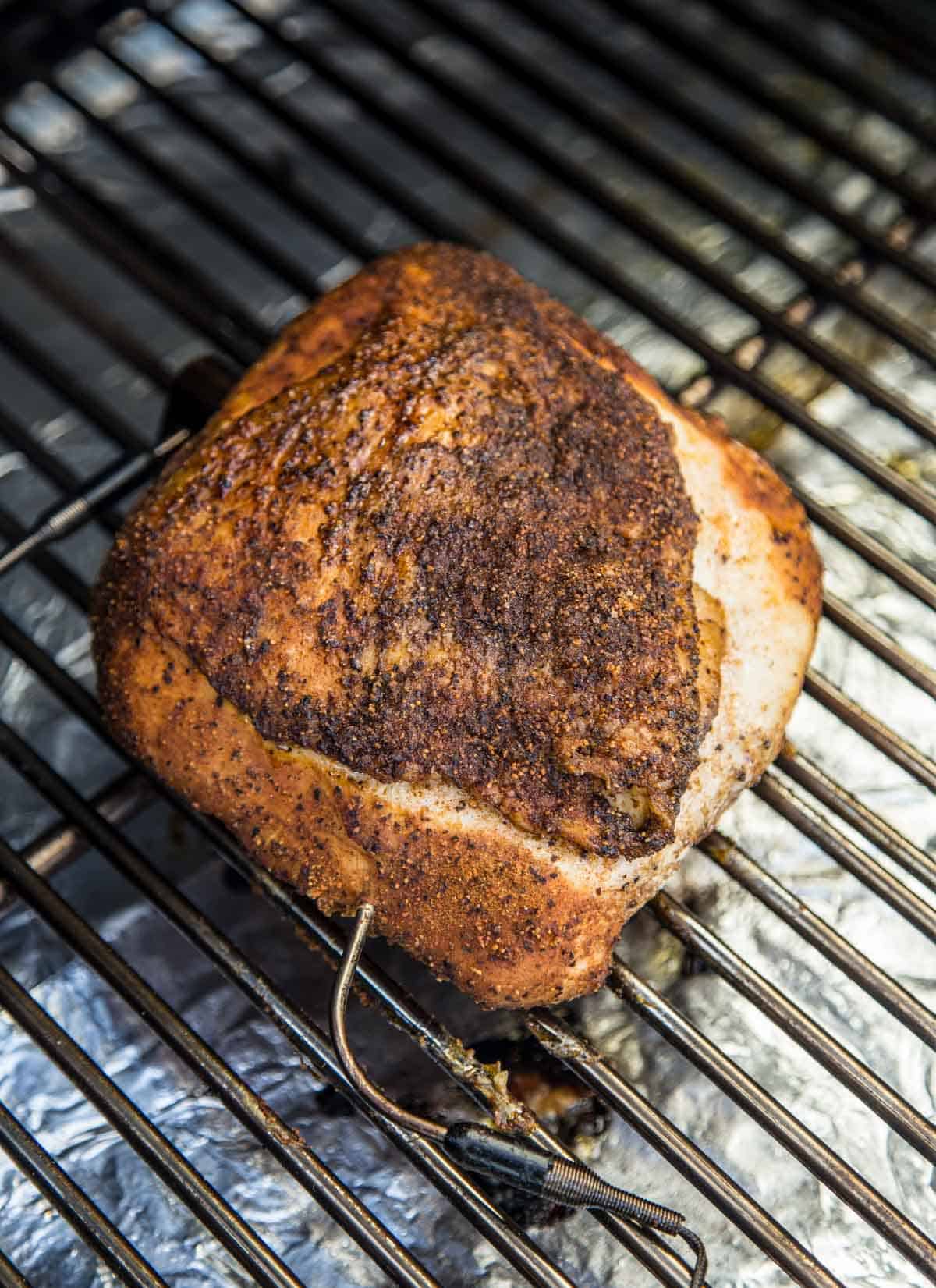 It's that easy!
How Long to Smoke a Turkey Breast
Plan on roughly 60 minutes per pound when smoking a turkey breast at 250 degrees Fahrenheit. The most important factor is pulling the turkey when the internal temperature of the turkey is 160 degrees F using an instant read thermometer.
As the turkey rests, the internal temperature of the turkey will continue to rise another 3 – 5 degrees. We use the Thermoworks Smoke Unit to watch the internal temperature of the smoker and the meat and the Thermapen to check other parts of the turkey to make sure the turkey is done.
If you're serving this for a holiday meal, don't forget to add some smoked gravy!
Use leftover turkey in your favorite sandwiches. The white meat will be super tender and flavorful and worth just making this recipe on its own.
Holiday Side Dishes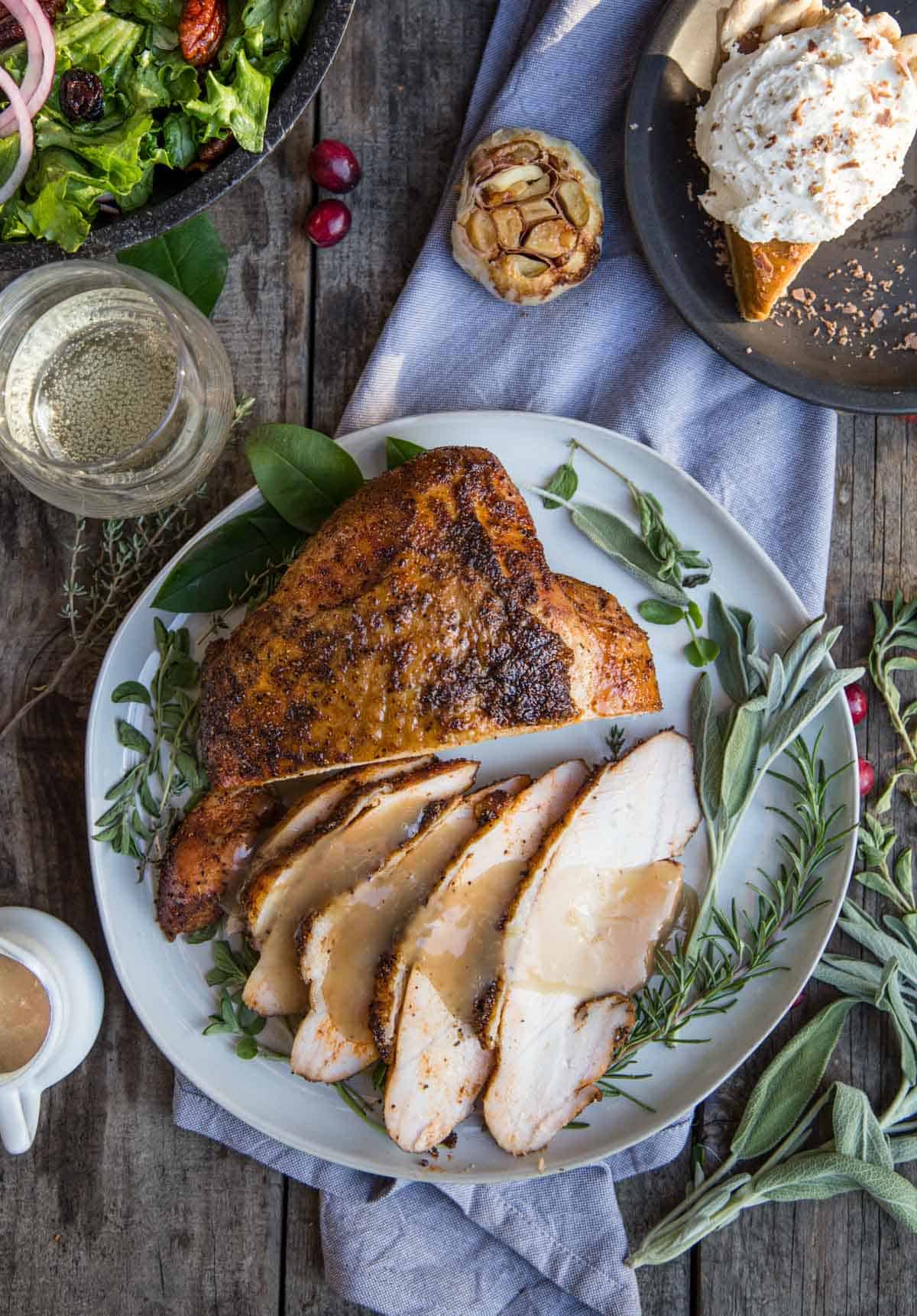 Tried this recipe? Give us a star rating and we would love to see! Mention @vindulge or use the hashtag #vindulge on all the social media handles. And consider subscribing to our newsletter where we drop all our favorite ideas and inspirations every week.
This post may contain affiliate links. That means if you click on the link, we may receive a small commission on the product. We only work with partners we have used and love and it helps to keep the blog going!
---