Grilled Vegetables are an awesome main meal or can even be laid out as a side on a grazing platter. The key to any grilled vegetables recipe is timing each of the vegetables so they come out perfectly cooked. Learn how to cook any vegetable on the grill perfectly every time!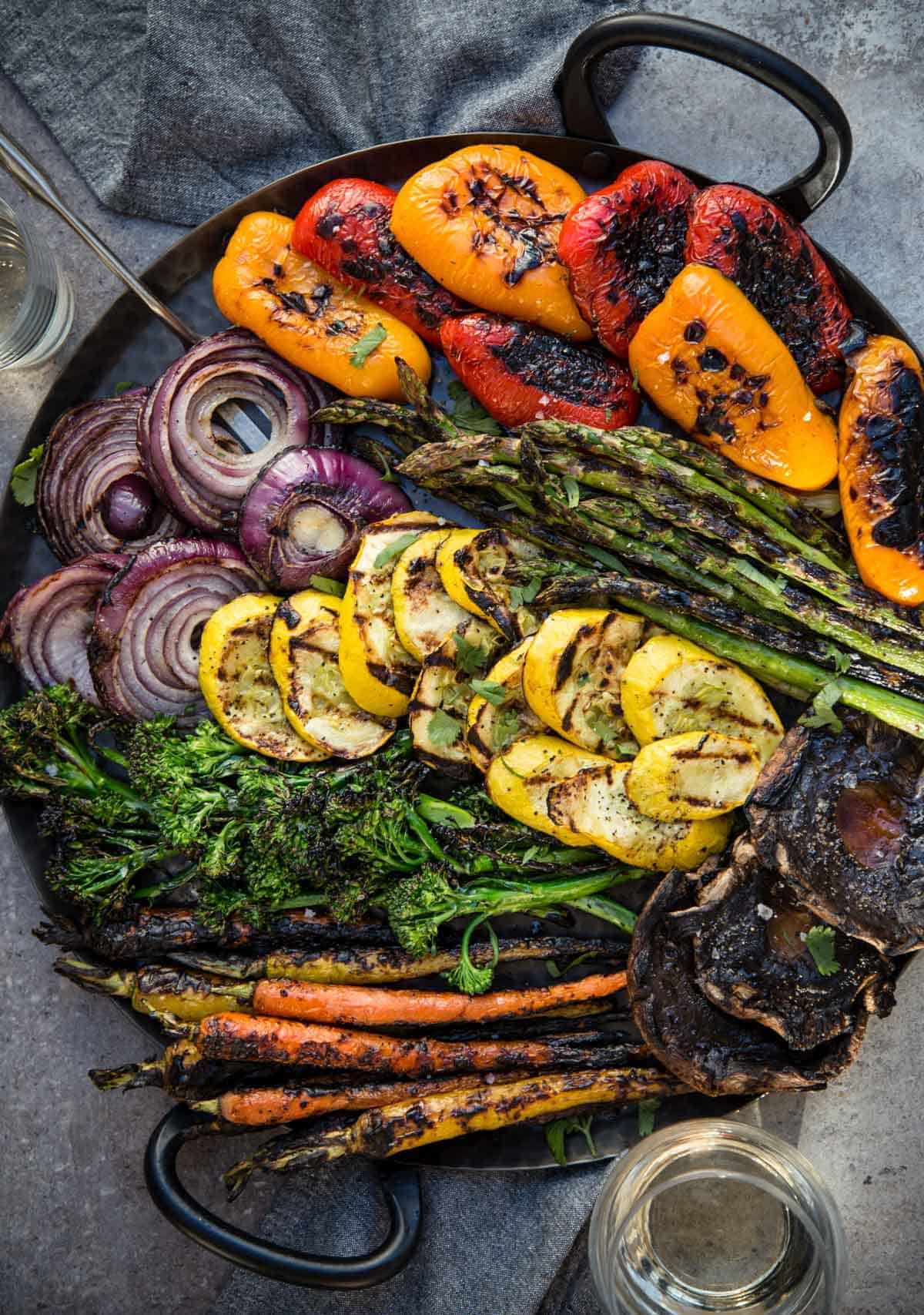 When we want to balance our main meat dishes with something fun and still very flavorful we look to seasonal grilled vegetables. They are great for a crowd, can easily be cut up and grilled alongside any main proteins, or can be the main dish themselves. Any vegetable can be grilled! It's just a matter of learning what each type of vegetable needs.
Temperature Ranges for Grilling Vegetables
High Heat/Direct – 500 – 550 degrees Fahrenheit (F)
Medium Heat/Direct – 400 – 450 degrees F
Low/Direct – 350 – 400 degrees F
Low/Indirect/Smoke – 225 – 275 degrees F
Best Grilled Vegetables
I would say all of them. Like meat, any vegetable is amazing with a touch of grill marks and char. But some grill better than others. We also try to focus on grilling seasonal vegetables. Types of vegetables to grill include:
Alliums (Onion Family) – Red or Sweet Onions are fantastic on a grill, like with this steak skewer. So are leeks and green onions. Grill alliums hot and fast over direct heat. Slice them thick so they can cook through, and not burn.
Mushrooms – Cremini or Portabello are great and very meaty in flavor. These are best marinated in advance, and then grilled over medium heat to slowly caramelize. Keep reading for a great citrus marinade for mushrooms.
Carrots – Grilled Carrots sweeten as they roast over fire and have the best flavor and smell. Grill carrots over medium heat so they soften and caramelize slowly versus hot and fast where they may burn and still be too crunchy on the inside.
Peppers – I can't stress how amazing grilled peppers are. Searing the peppers over high heat so they are almost blackened also helps soften the peppers. Simply remove the blackened skin when done grilling and enjoy the tender peppers.
Asparagus – Fresh grilled asparagus grilled is simply perfect for grilling, especially when the asparagus is harvested right from the garden. With a touch of grill marks, the texture is slightly sweet and soft while having a delicious texture. Grill over medium heat. This is one of the easiest (and also my favorite) vegetables to grill.
Broccoli – Including Broccolini, these are great grilled and only take a few minutes. These are great finished with some fresh lemon juice and a touch of salt.
Brussels Sprouts – We like to steam Brussels sprouts for a few minutes prior to grilling. That way you start to cook the thick interior, then can finish over direct heat for favor and sear.
Corn – Grilled Corn is so good! Add some butter and some cotija cheese for some Mexican Street Corn! These are best grilled over medium heat for a sear and then moved to Low/Indirect to finish off. Corn takes longer than many vegetables, so finishing over low (or indirect) heat is key to keep it from burning.
Beans – Large Grilled Green Beans are amazing, and best grilled hot and fast in a pan to prevent them from falling into the grate.
Other Vegetables for Grilling
Vegetables needing more attention tend to be very high in water content. It's great to grill them, but important to be sure they are well salted and cooked over HOT flame, like 550 degrees hot for a nice sear.
Squash – Especially Zucchini, these can get soft and spongy if not cooked at high heat because of the moisture level. Larger Grilled Winter Squash are more dense and can handle Medium/Direct heat.
Eggplant – Eggplant is technically a fruit, but we all know and associate it as a vegetable. It also has a higher concentration of water so it is best roasted over a high heat, flesh side down to protect the interior. You can find our absolute favorite way to grill eggplant in our upcoming cookbook, Fire and Wine.
Greens – You can grill lettuce, like our grilled romaine, but it requires a very hot flame and standing by the grill to prevent them from charring. These only need a couple minutes over a hot flame!
Seasoning versus Marinade
You can marinade vegetables should you choose too. We love our standard citrus marinade as a grilled vegetable marinade, however for this recipe we keep it very simple using extra virgin olive oil, kosher salt, and pepper.
In addition a great way to add flavor after the vegetables are done are a simple drizzle of aged balsamic vinegar and some finishing salt. It maintains the delicious authentic flavor of the vegetables to stay intact. This is our go to method. We typically only marinade mushrooms.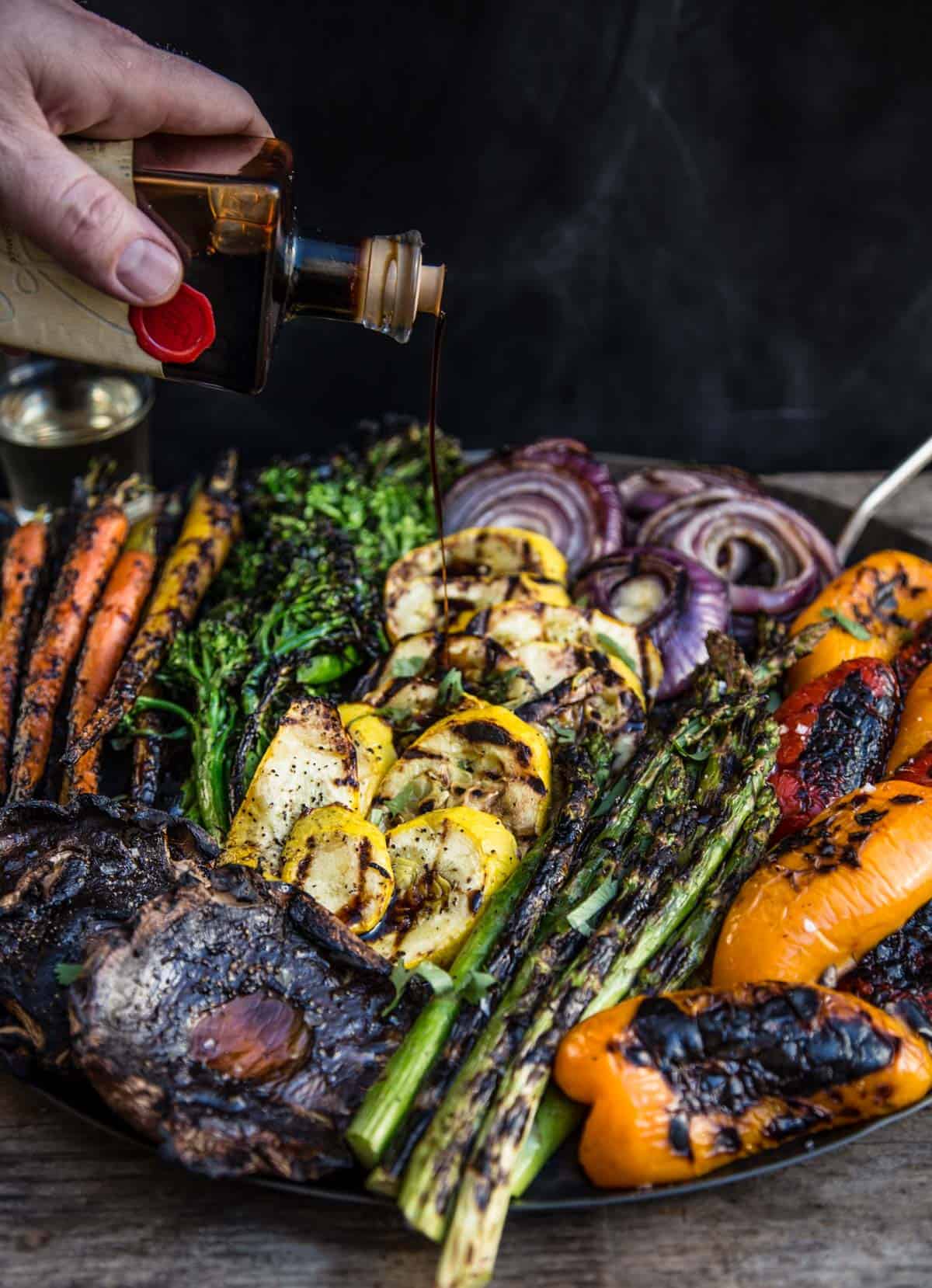 How to Grill Vegetables
How long to grill vegetables will depend on what vegetable you are cooking. The important component to plan for is starting with the vegetables that take the longest and grill those first. We also load up the grill with lump charcoal so one side has the charcoal close to the grate (High/Direct), then it slowly grades down and further away from the grate (gradient method) so we can cook some over very high heat, and others over slightly less hot direct heat (Low/Direct).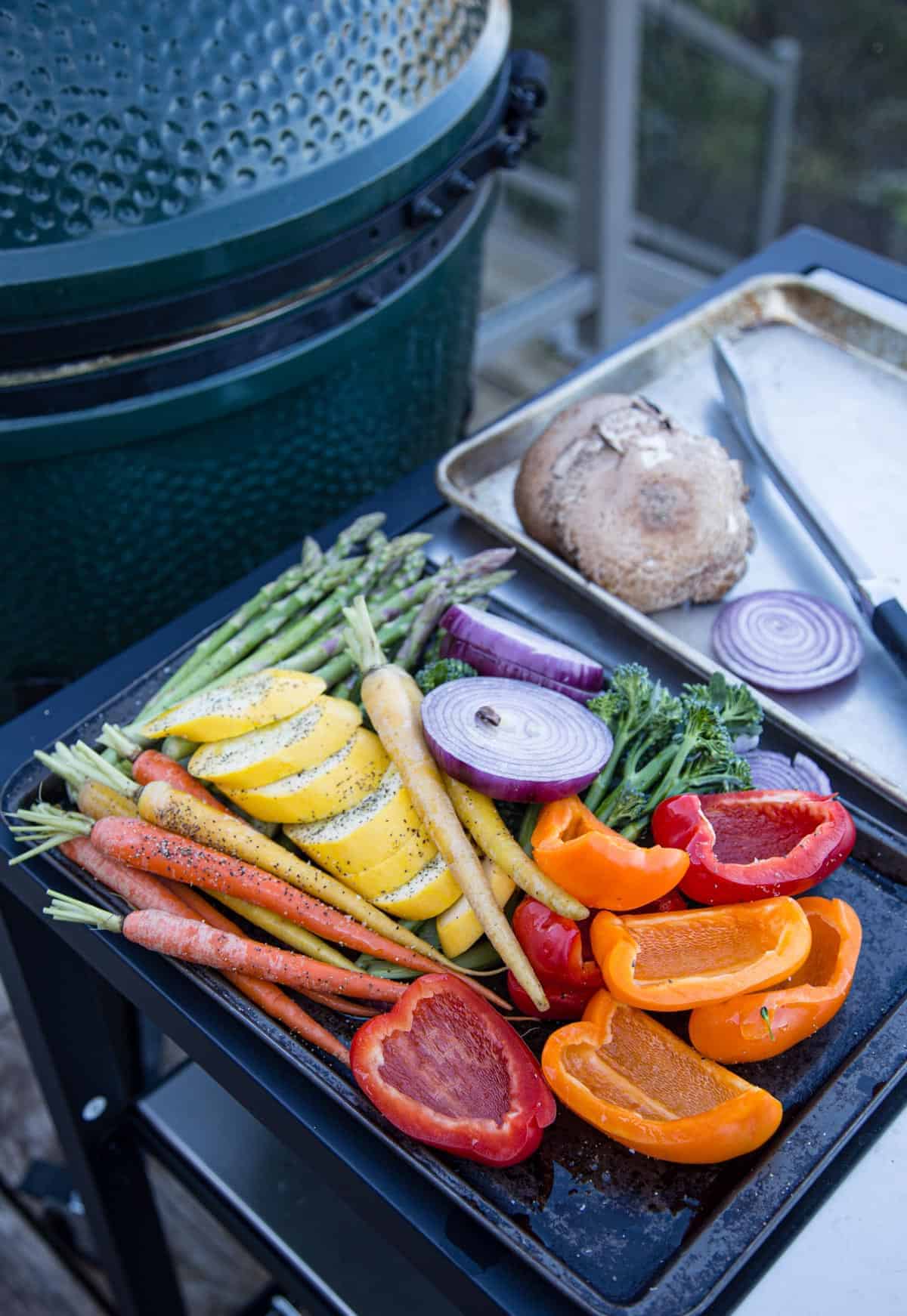 Pre-slice all the vegetables because once they go on over flame, they will cook quickly.
Preheat the grill using the gradient method and lump charcoal. Target the temperature on the hottest side at 550 degrees Fahrenheit while the side with less charcoal is around 375 – 400 degrees F.
Grill. Over the highest heat place the onions, peppers, and squash. Grill for a few minutes per side until you see grill marks and then finish them on the cooler side.
Over the middle of the grate and heat, add the broccoli, asparagus, and similar items.
Leave the cooler side to move veggies to as they need to finish and so they don't burn.
Remove the veggies as they finish. Scrape skin off the peppers (optional) and serve on a large serving platter with tongs.
Drizzle a light coating of aged balsamic and a sprinkle of finishing salt. These are great hot or cold.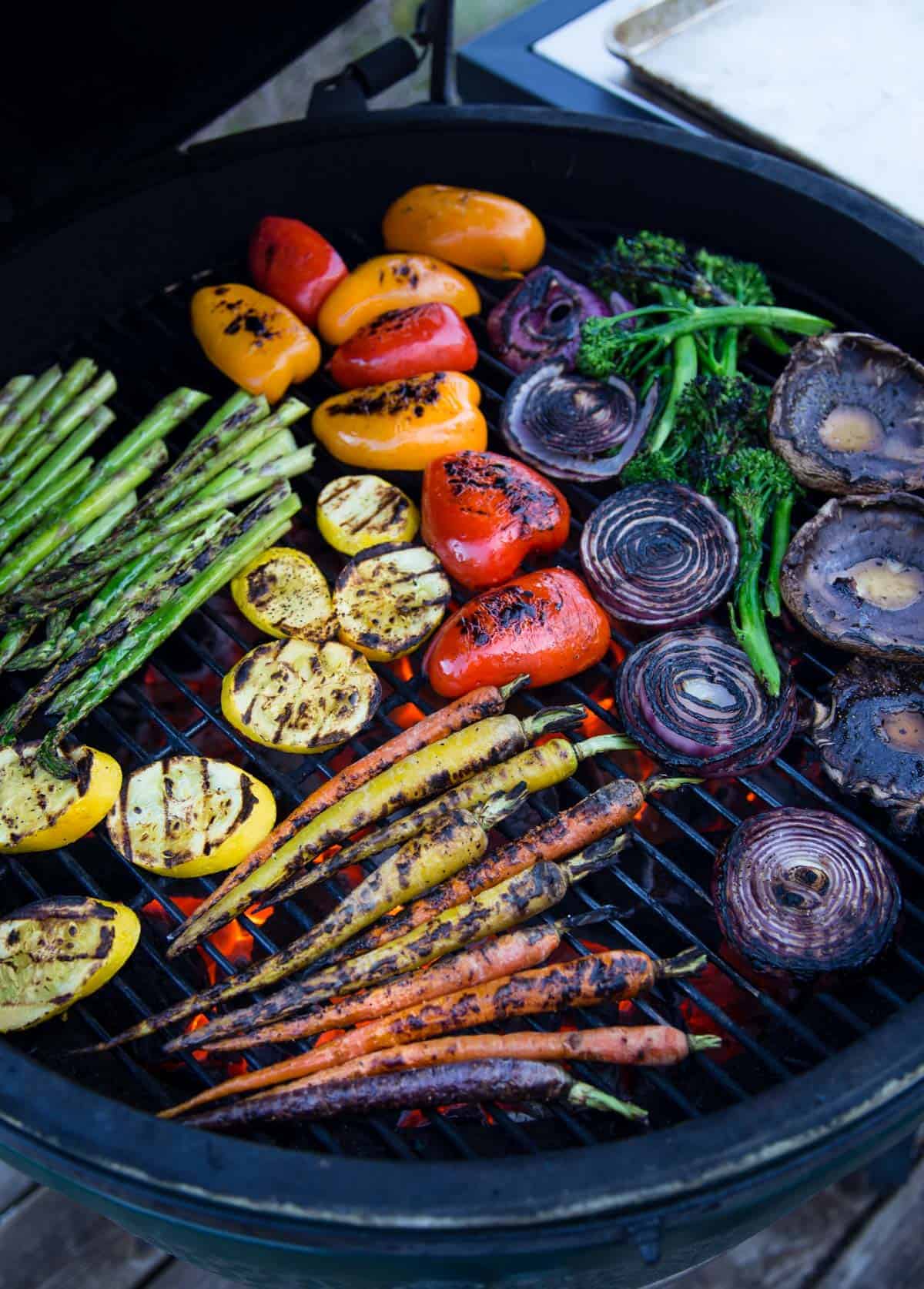 Tools Used
Check out this vegetable grill basket if you are worried about the veggies dropping into the flame. This is great for smaller or thin vegetables too (like small cremini mushrooms, green beans, or thin asparagus).
Long Tongs are critical so you can move the veggies around the grill based upon hot spots and prevent them from burning.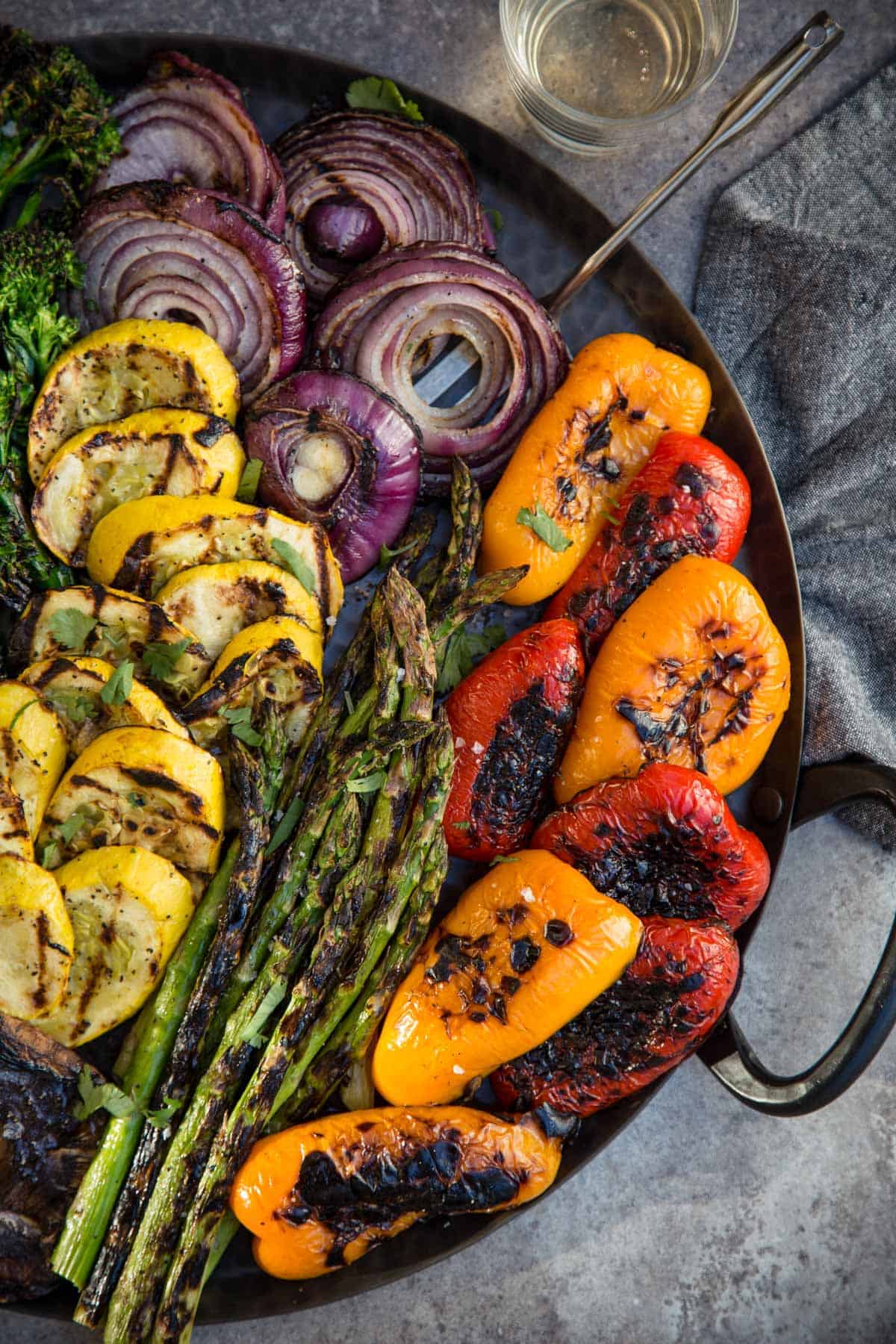 More Grilled Vegetable Recipes
This post may contain affiliate links. This means if you click on the link, we may receive a small commission if you purchase through the link. We partner with brands we know and love and use and it helps keep the blog going!
Grilled Vegetables Recipe