If you are looking for a tender and rich Smoked Leg of Lamb recipe, this one is incredible. A Bone-in leg of lamb, rubbed with dried herbs, smoked low, and topped with a flavorful garlic, wine, and butter sauce over the top. Learn the secrets to how to find the right lamb that will taste absolutely delicious.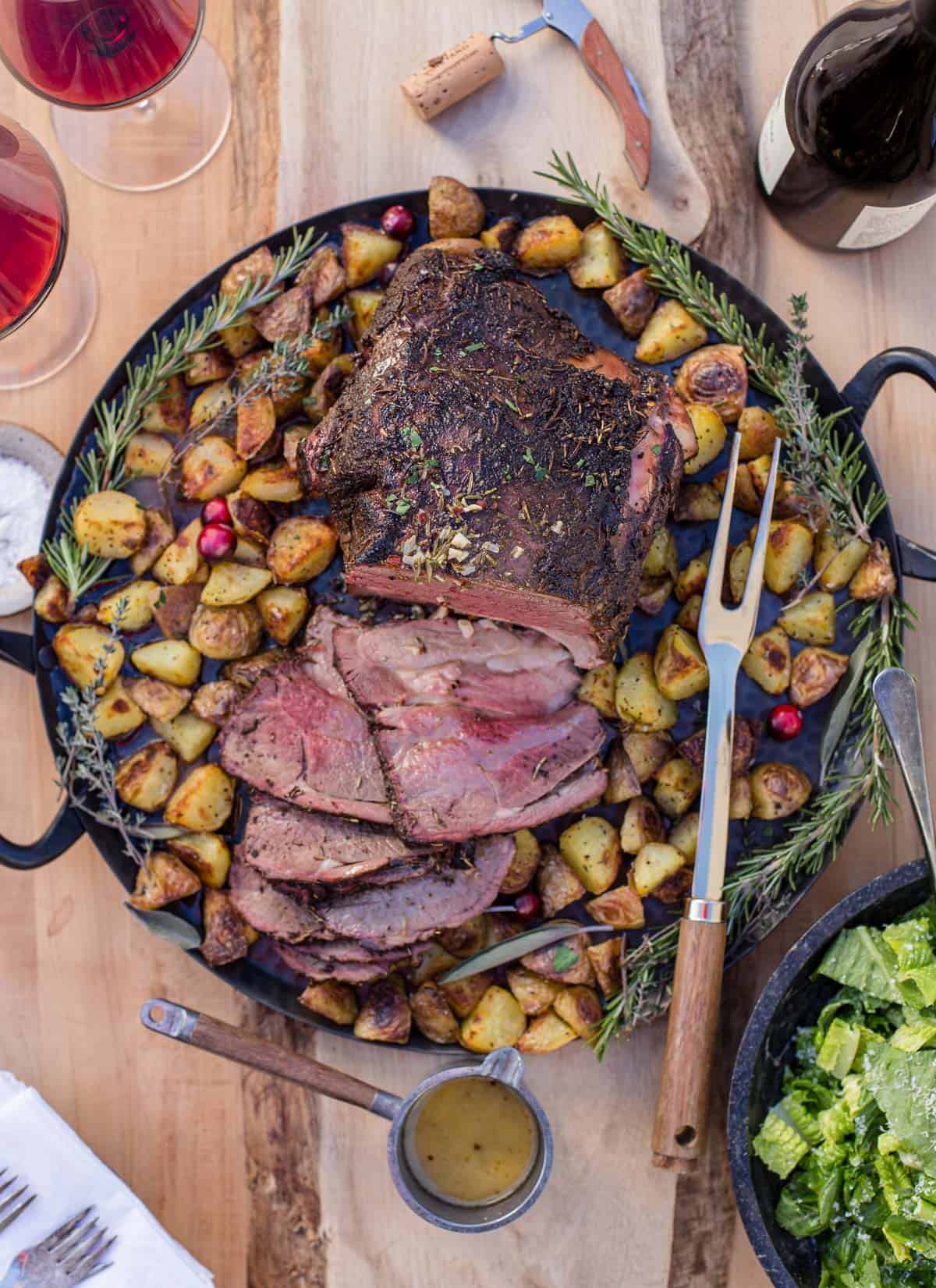 A leg of lamb is one of the most gorgeous centerpieces for any holiday dinner or special occasion. This elegant meal is also one of the most flavorful cuts of meat you can celebrate with. And this show stopper is actually quite easy to make!
The secret to an amazing lamb is to start by sourcing it from a trusted lamb rancher or butcher. Next, just don't overcook it. Instead slowly smoke the lamb to medium rare for a tender and rich flavor. Don't be intimidated, this is very easy and we can walk you through it!
Jump to:
The Cut – Leg of Lamb
We go into a lot more detail on lamb in our boneless leg of lamb recipe. Lamb is the younger version of sheep, with characteristics that are tender with an earthy flavor when bought young and fresh. The leg of lamb is the "ham" or upper portion of the rear leg bone. The fact that this is a motion muscle that gets a lot of work means slow roasting is key to help break down the intramuscular fat.
For a deeper dive into lamb, check out this Cooks Illustrated article.
Buying Lamb
If you are running to a standard grocery store then what you may actually be buying is lamb that is older or even qualifies as mutton (older sheep). When buying lamb for this smoked leg of lamb recipe, it's important to seek out a butcher or rancher that grows and processes lamb when they are the correct age. The more pungent flavored lamb (the kind that throws a lot of people off) comes from older lamb, or mutton, and what they eat. Look for a butcher who can speak to where it came from, and when buying lamb it should smell fresh and not gamey.
Look for bone-in lamb for dramatic presentation, and if possible ask for one with the extended leg bone. As the lamb smokes the meat will retract and the bone will show more. This is fun if you're looking for something dramatic for your dinner centerpiece (though not necessary for flavor).
Preparing Smoked Leg of Lamb
An entire bone-in roast will have some silver skin along the top, resembling fat. It is best to use a sharp boning or filet knife to remove it. The silver skin can be tough after smoking. Also remove any hanging small pieces of meat or fat so the roast is oval and smooth along the sides. Then generously coat the leg of lamb with olive oil and the lamb rub.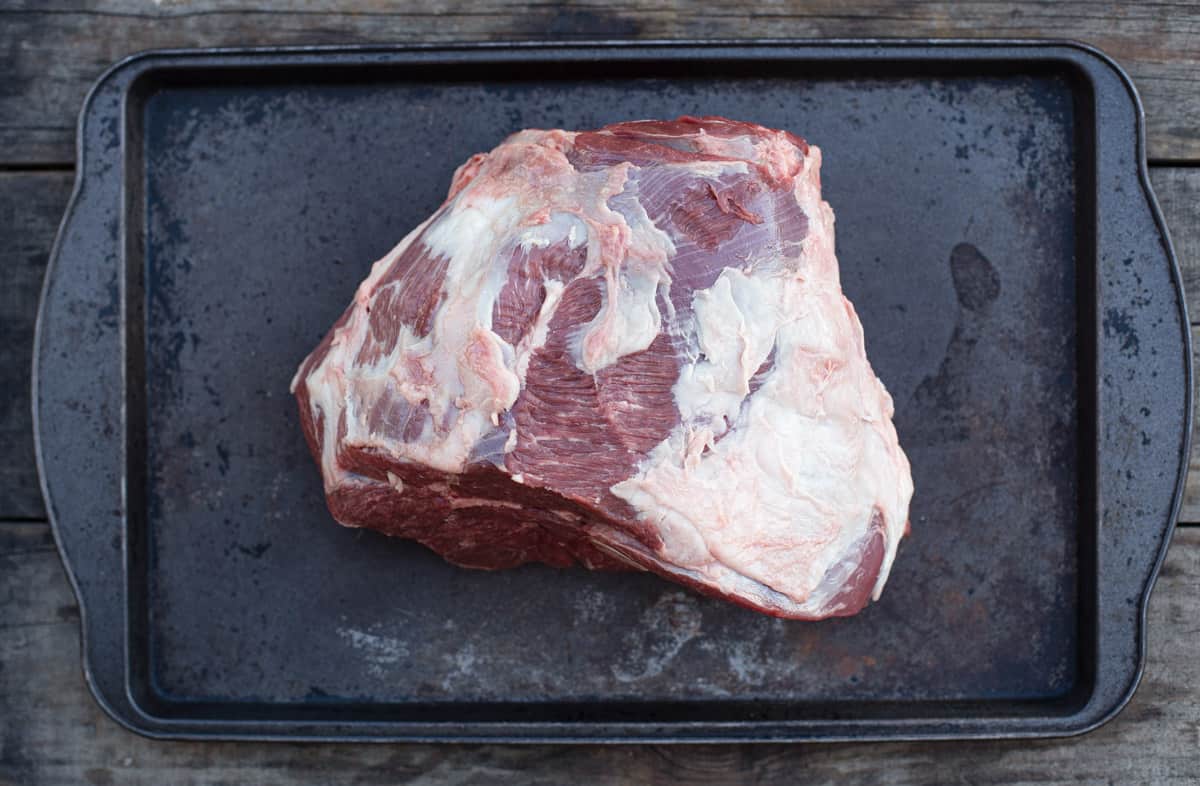 Lamb Rub
For lamb we're looking to showcase the natural flavors of the meat with a savory and herbal based rub. Combine the following ingredients together (note: we use a ¼ cup of rub for a 5 to 6 pound roast).
Kosher Salt
Coarse Black Pepper
Sage (dried)
Rosemary (dried)
Thyme (dried)
Red Chili Pepper Flakes
Granulated Garlic
How to Smoke Leg Of Lamb
We are going to be reverse searing this lamb, which means smoking it first at a low temperature, and then increasing the temperature to finish the roast and get a nice crust in the last few minutes of the cooking process. For more on the reverse sear method, check out this post.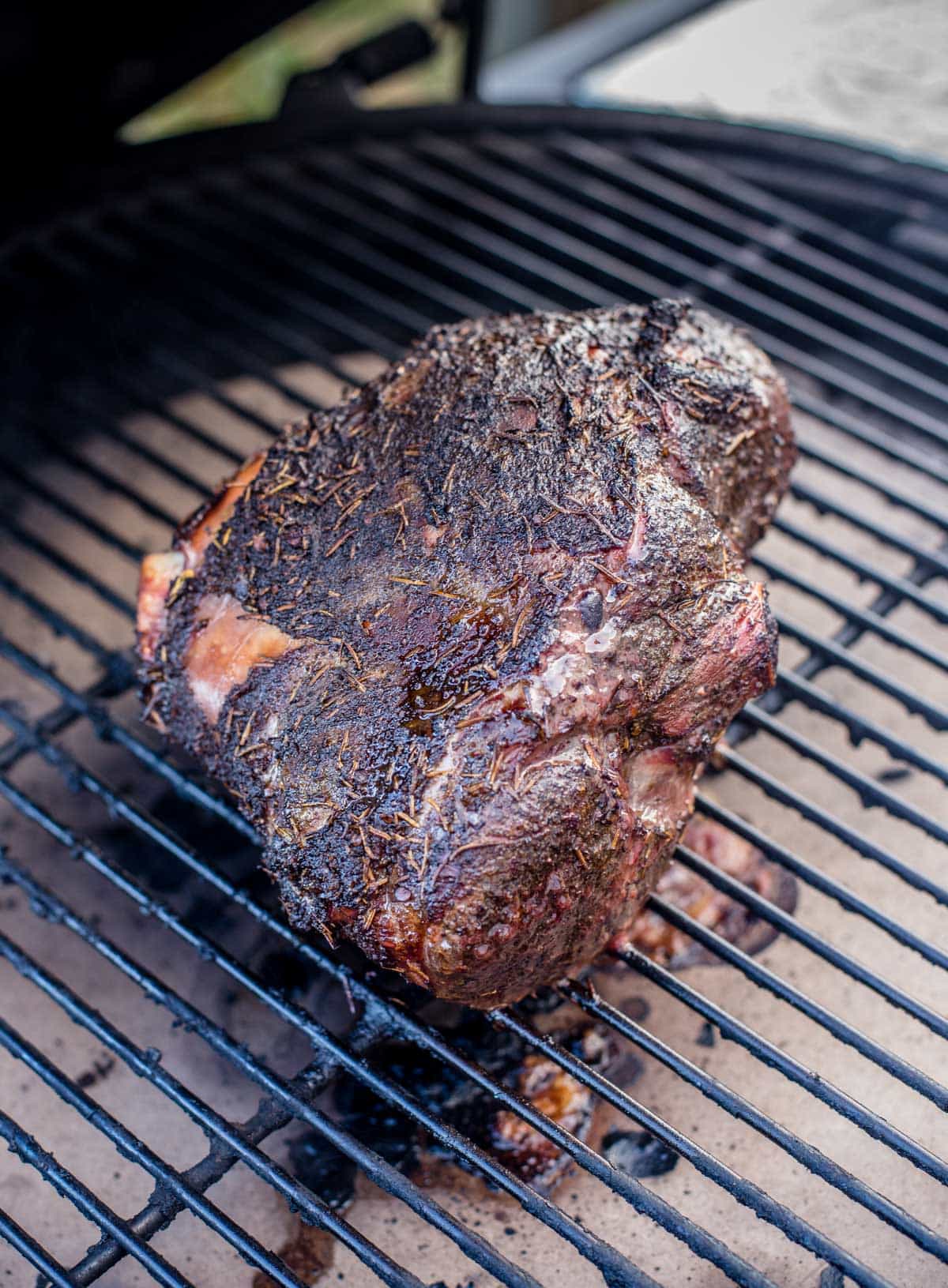 Preheat the smoker to 250 degrees Fahrenheit (F) using fruit wood, like apple or cherry. The sweeter fruit woods complement the lamb well.
Smoke the lamb for up to two hours, or until the internal temperature of the lamb reaches 115 – 120 degrees F. Having a good instant read thermometer is a must, like the Thermoworks Smoke Unit, to properly read the internal temperature of the meat.
When the lamb reaches 115 – 120 degrees internal temperature, increase the heat of the smoker to 400 degrees F. Continue roasting the lamb until the internal temperature of the lamb reaches 135 – 140 degrees F, or medium rare. This should take about 20 additional minutes. During this time at a higher heat the exterior of the lamb will develop a nice crust/sear.
Pull the lamb and let sit loosely tented in foil for 20 minutes. This will allow carry over cooking to occur and allow the juices to settle and be absorbed back into the cells of the roast.
Slice and serve drizzled with the garlic butter sauce.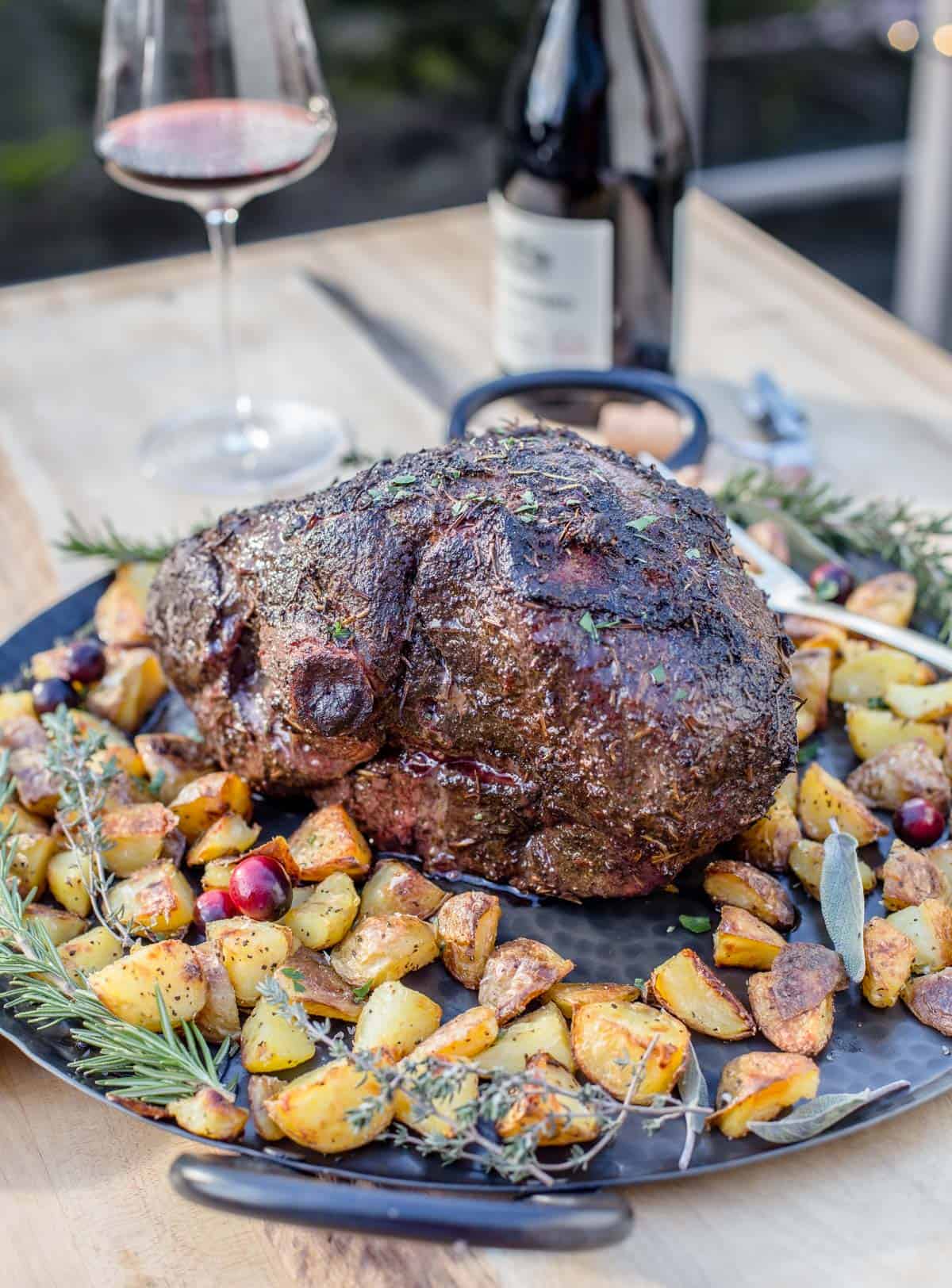 When Is Lamb Done
The USDA recommends the safety zone of 145 degrees F. But lamb has ranges like steak, so we recommend you cook lamb to your desired finishing temperature. If you are sourcing your meat from a quality producer, a larger range is fine just as it is for beef or pork. Remember, quality matters.
Rare: 120 – 130 degrees
Medium Rare (Our Recommendation): 130 – 140 degrees
Medium: 140 – 150
Medium Well (we don't recommend this, or well done, for lamb): greater than 150
Garlic Butter Sauce
Traditionally, a mint sauce was once a common pairing with lamb. This is because lamb used to be much more gamey and off putting, and so the mint was used to offset the unpleasant flavor. However with fresh lamb, there is no need for mint. Instead, opt for a sauce that is rich, buttery and enhanced with fresh herbs. Save the mint for your mojitos!
Start with olive oil and garlic in a sauce pan over low-medium heat. If the pan is too hot it will quickly char the garlic, so start the heat low. The intent is to gently soften the garlic for 2 – 3 minutes.
Next add wine and then slightly increase the heat to bring it to a simmer. As the wine simmers, the alcohol will start to cook off. Add the butter and let it slowly melt and combine with the wine.
Add herbs, salt, and red chili pepper flakes and remove from heat. Stir to combine.
Pour over the sliced lamb while still warm.
The sauce will be thin. The goal is simply to pour over the slices of lamb for added flavor. Double the sauce recipe if you want extra sauce for the guests.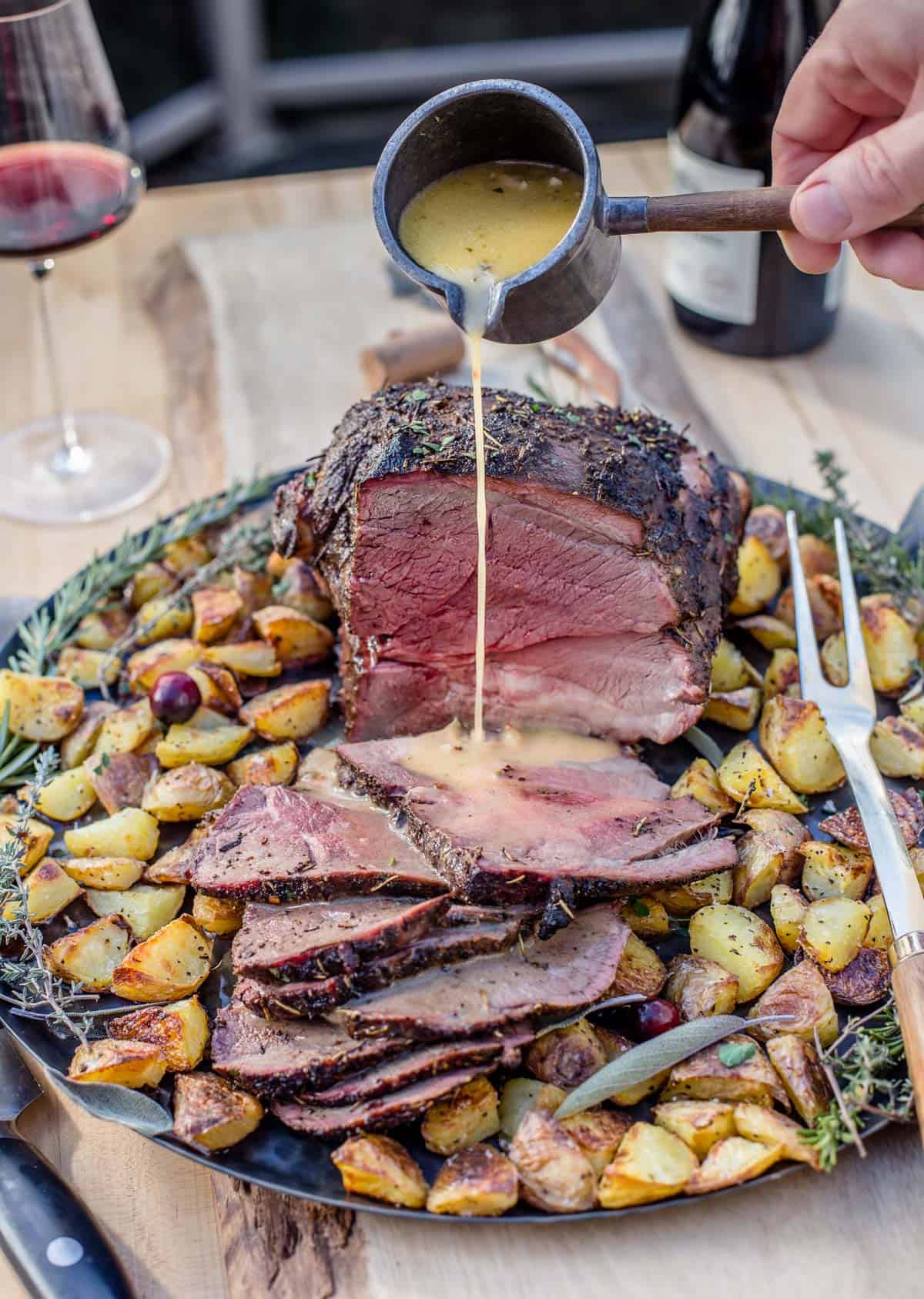 Slicing Leg of Lamb
Like any meat, slice against the grain, or perpendicular to the lines within the meat. We slice at a slight angle that matches the bone to get thin slices. Then as we get closer to the bone, cut larger chunks (those larger chunks make a great snack).
Other Lamb Recipes
What to serve with Lamb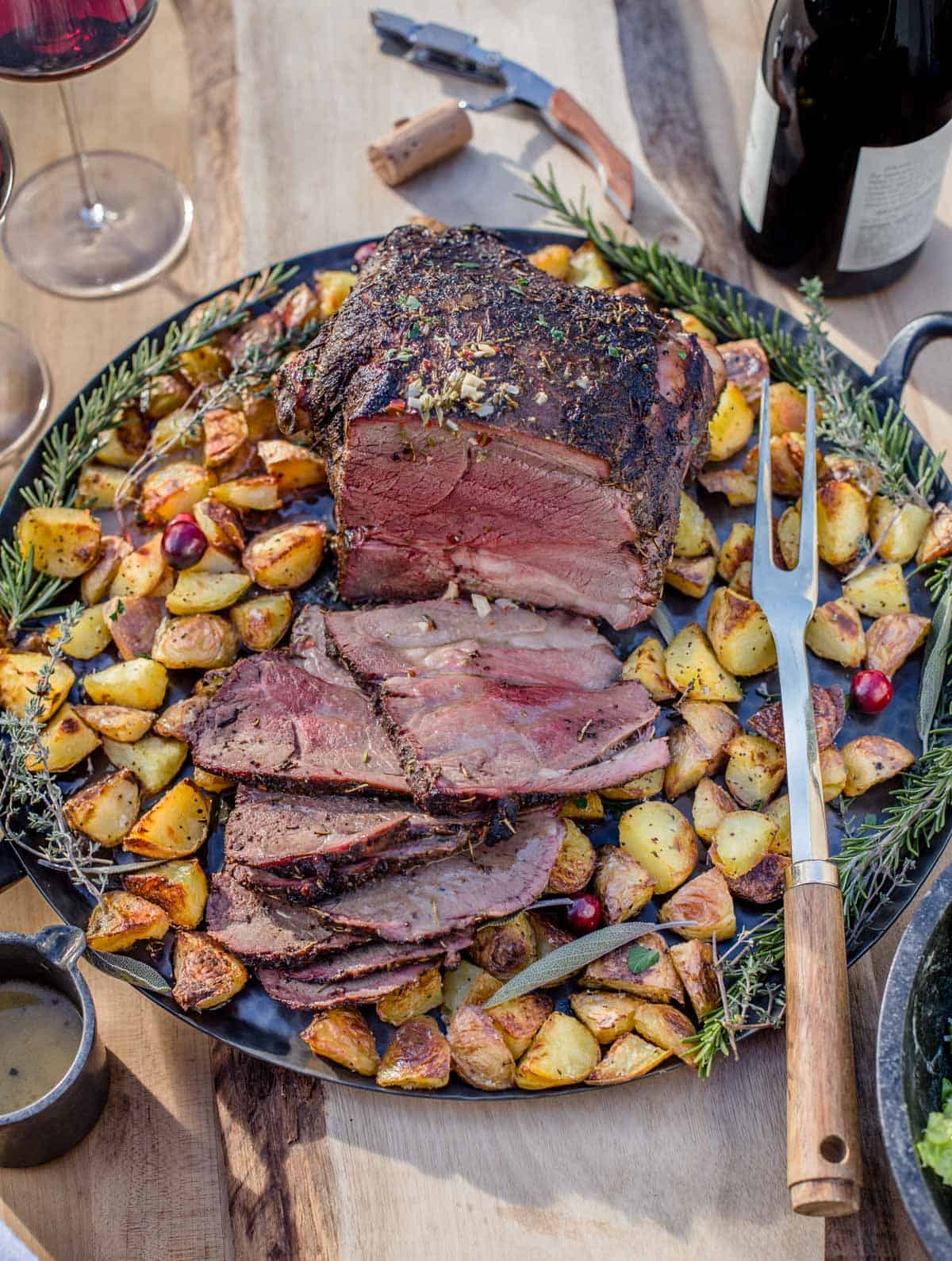 This post may contain affiliate links. This means if you click on the link, we may receive a small commission if you purchase through the link. We partner with brands we know and love and use and it helps keep the blog going!