Double Smoked Ham (or twice smoked ham) is a great way to add wood fire smoke flavor to your favorite cured ham. This Cherry Bourbon Glaze takes a Smoked Ham to the next level giving it that extra wow factor!
Find out how to make an incredible double-smoked ham and impress your guests for your next holiday meal.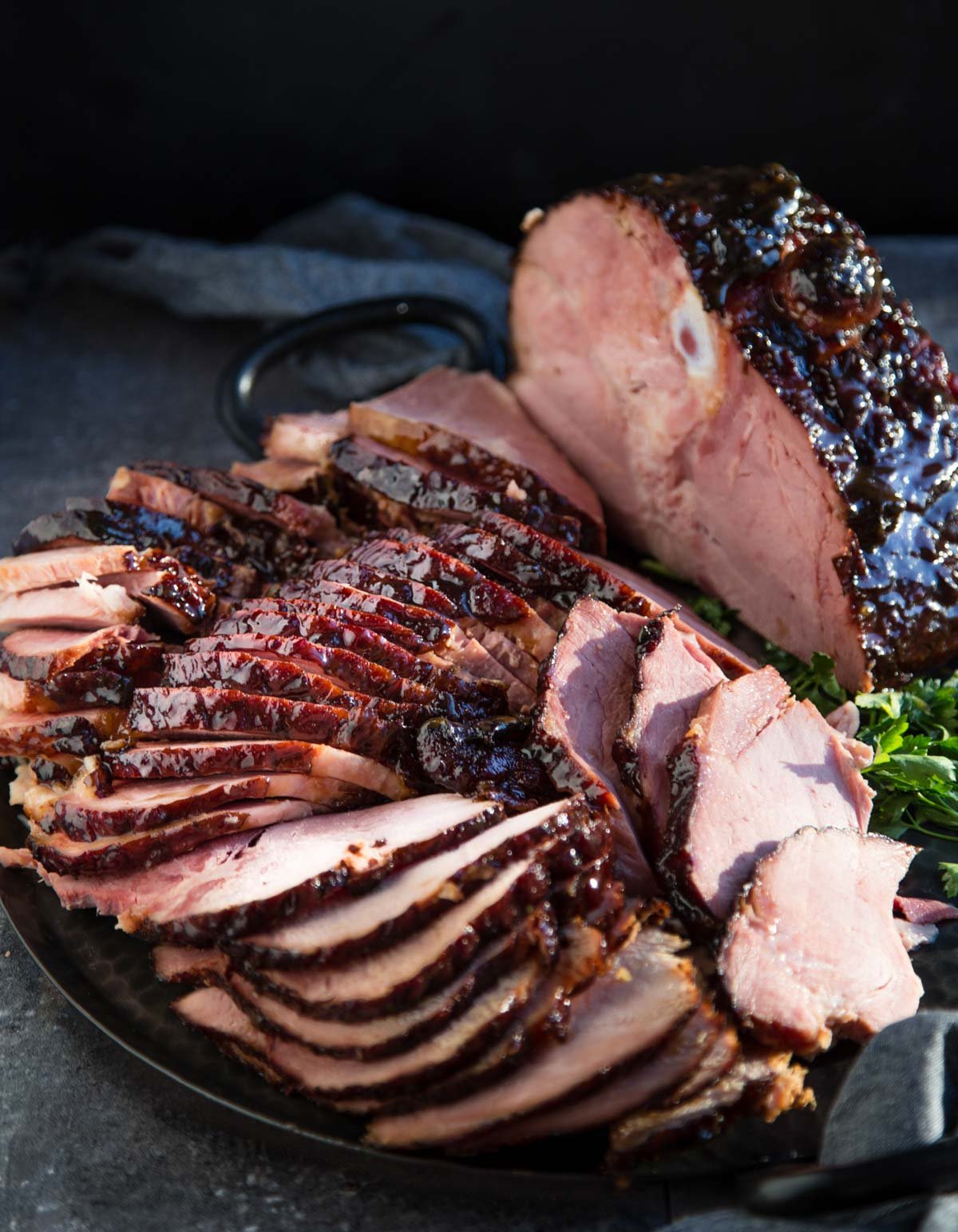 If you are looking for a brown sugar glazed smoked ham we have you covered too.
Jump to:
Vindulge Recipe Highlights
This recipe can be used for a whole ham, carver ham, spiral-cut ham, or boneless ham.
Cured ham is precooked ham usually smoked after a salt brine.
Smoking the ham over indirect heat is essentially reheating an already cured and smoked ham giving additional flavor.
The simple cherry bourbon glaze is applied at the end of the cook to add a sweet glaze with a nice citrus, jam, and Bourbon flavor.
I wasn't much of a ham person growing up. We had a generic spiral cut ham every year for Easter and often Christmas, but it just wasn't my thing. It always ended up dry and boring when cooked in the oven.
But cooking it in the smoker gives it so much added flavor, and when you ditch the packaged glaze that comes with your grocery store ham and replace it with your own it's off the charts! I'm more than happy to reintroduce ham back into my holiday lineup with this double smoked ham.
What is Double Smoked Ham?
When learning how to smoke a ham, I think it helps to first start with what type of ham this works best on. The ham comes from the rear portion of the pig versus the pork shoulder. If you simply buy a ham and smoke it, you will get a very similar characteristic to a shoulder.
In this post, we are referring to the same cut, but one that has been wet cured and smoked already. This is what you are most likely to get when you buy a ham at the store or butcher. One that is already cured and pre-cooked. Thus why it is called double smoked, or twice smoked, ham.
What is "wet cured" you may be asking?
Well there is dry cured, which is in a salt or salt and sugar combo (think prosciutto as an example). And there is a wet brine. This is what you will see often in the US, which is when the ham is injected or immersed in a liquid brine and smoked.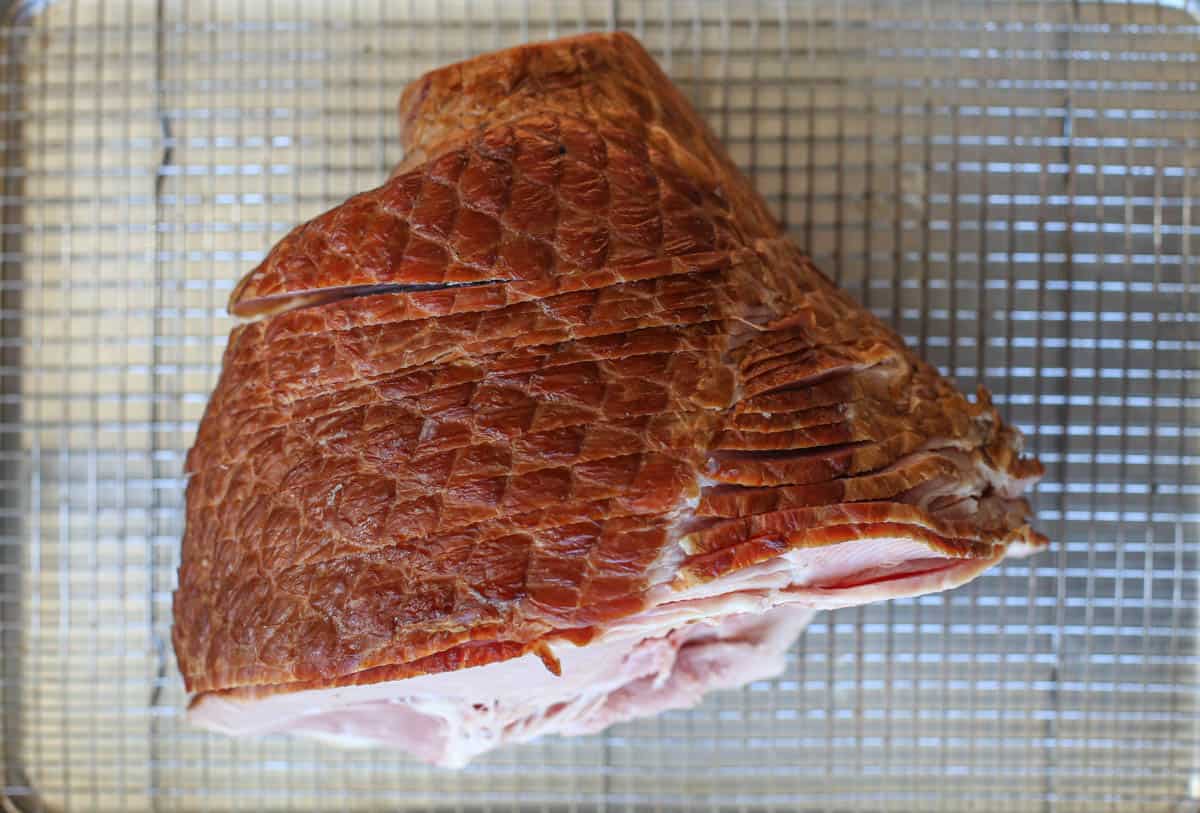 We like to buy a ham that is wet brined or cured and is a pre-cooked ham (which means it's been smoked once already). If sliced already for a spiral ham, it will allow glaze and rub to get into the meat and makes for an easy cut when done. But they don't have to be pre-sliced. You can do this with a ham that is not already sliced. One of our favorite hams is from Snake River Farms (these are not pre-sliced).
In addition to the wet brining, what you will see in the store is often smoked once and pre-cooked. So by smoking to reheat a second time, we get the double smoked ham component we want for flavor.
Double Smoked Ham and Glaze Ingredients
Pre-Cured Ham
Dijon Mustard – Helps the seasoning stick to the ham and acidity to the glaze.
Seasoning – We prefer our sweet seasoning, which is a mix of brown sugar and savory spices.
Cherry Jam – Base for the glaze. You can substitute any jam flavor you like.
Brown Sugar – Sweetens and helps jam thicken.
Bourbon or Whiskey – Adds the base flavor while still cooking out the alcohol.
Orange Juice – Adds a nice citrus note and complexity.
Apple Cider Vinegar – Adds acidity to prevent it tasting like jam and offsets the sweetness.
Kosher Salt and Allspice
Preparation
We're adding big flavors to our ham, so we start by adding Dijon mustard to the outside of the ham to provide something for the rub to stick to. We then coat with a dry rub to the top of the ham to give it some bark as we smoke it. This will also add great outside flavors and a slight crunch.
Finally we finish with our sweet and savory cherry bourbon glaze, which will slightly caramelize and give that nice added flavor to the finished ham.
How to make a Cherry Bourbon Glaze for Smoked Ham
Simply add black cherry jam, brown sugar, bourbon, apple cider vinegar, Dijon mustard, salt, and allspice into a small saucepan and bring it to a simmer, whisking often to let everything combine. The cherry jam will have small chunks of cherries in it, which will show up on the glaze. If you wish for a smoother glaze feel free to use a food processor or hand mixer to mix up the glaze so it's smooth, not chunky. The glaze can be made in advance, then warmed up before applying to the ham.
Or you can make the glaze while the ham is smoking. If you make the glaze the day before it will thicken up.
Can you use a different flavor jam? Yes you can substitute the cherry jam with any jam that you like. The additional ingredients should balance the sweet and savory.
How to Cook a Fully Cooked Ham on a Smoker
We use fruit wood (cherry wood preferred) and smoke at 250 degrees Fahrenheit. After coating the ham with your Dijon and dry rub, you can place the ham on a tray, like in the photo below, or directly on your grill grates. For ease of transferring we like to use a sheet tray.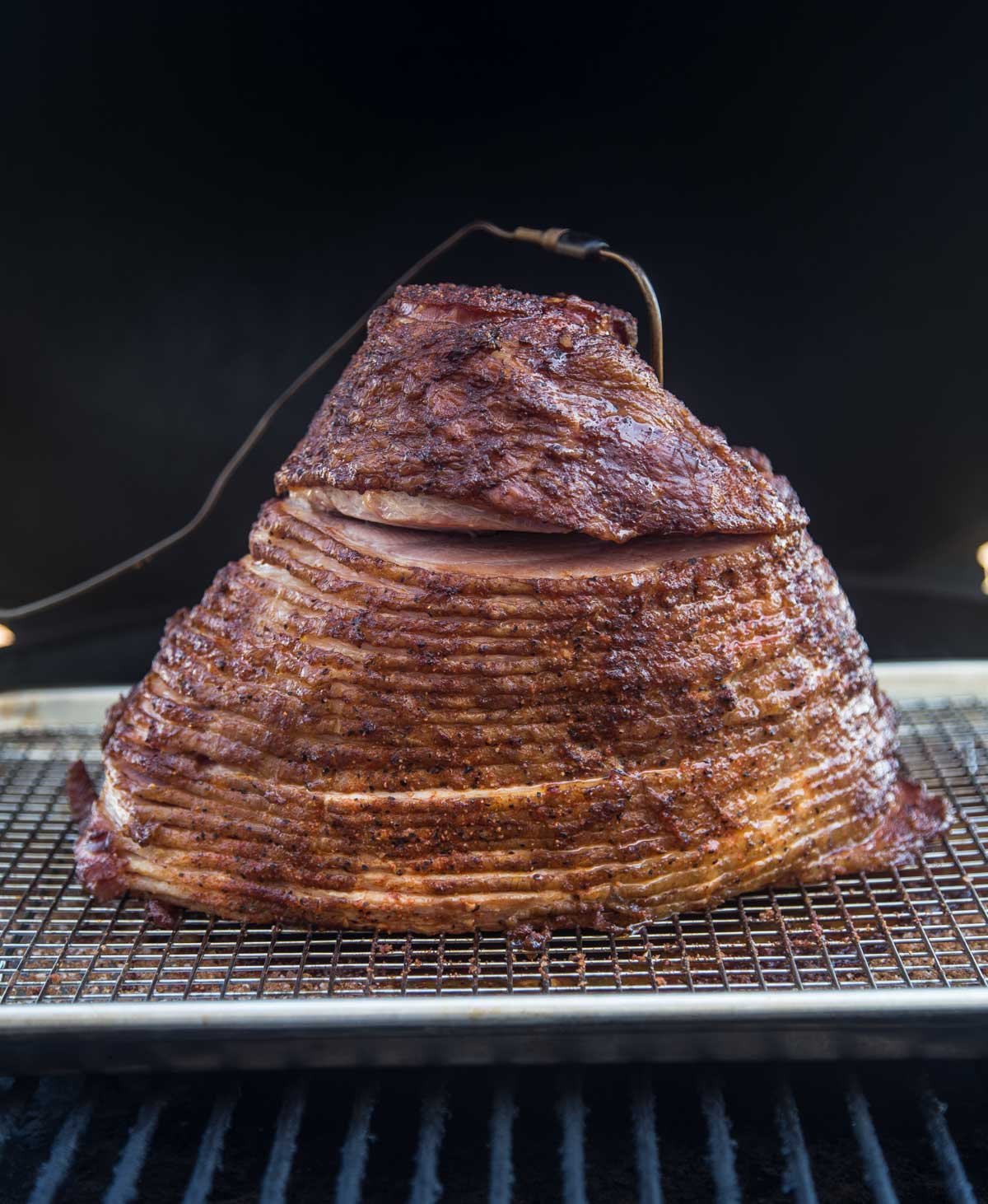 If you have one, place a temperature probe alongside the bone, but not touching to monitor the internal temperature of the ham. We like using the Smoke unit by Thermoworks for a ham this size.
What is important when cooking a smoked ham is keeping temps low and cooking it until the ham reaches an internal temperature of 130 degrees F, and then glaze it. Glaze the ham once, then close the lid and continue cooking until the ham reaches 140 degrees, and then pull the ham from the smoker. If you add the glaze too soon it runs the risk of burning.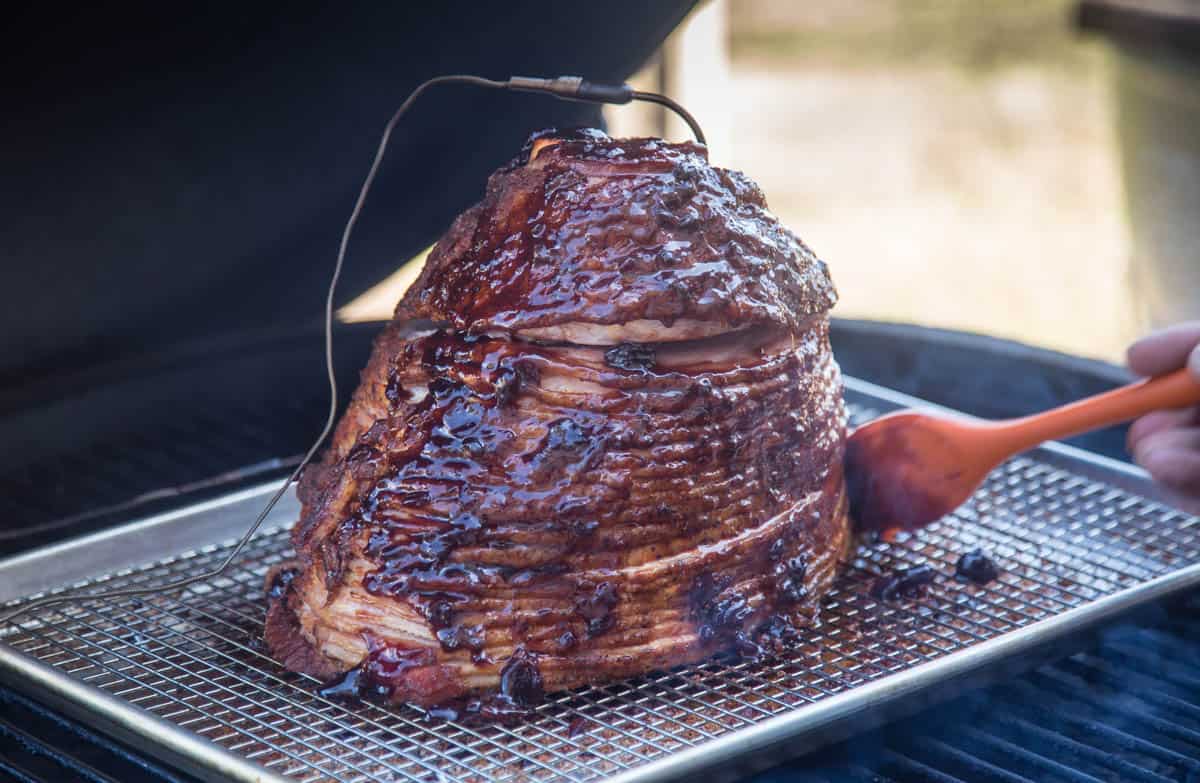 When you add it towards the end you get that nice bark from the dry rub, and then finish with that satisfying bourbon and cherry flavor. We find this is the best way to smoke a ham for ultimate flavor.
Once you remove the ham from the smoker immediately apply one more coating of the glaze and let it set for 15 – 20 minutes. Serve warm.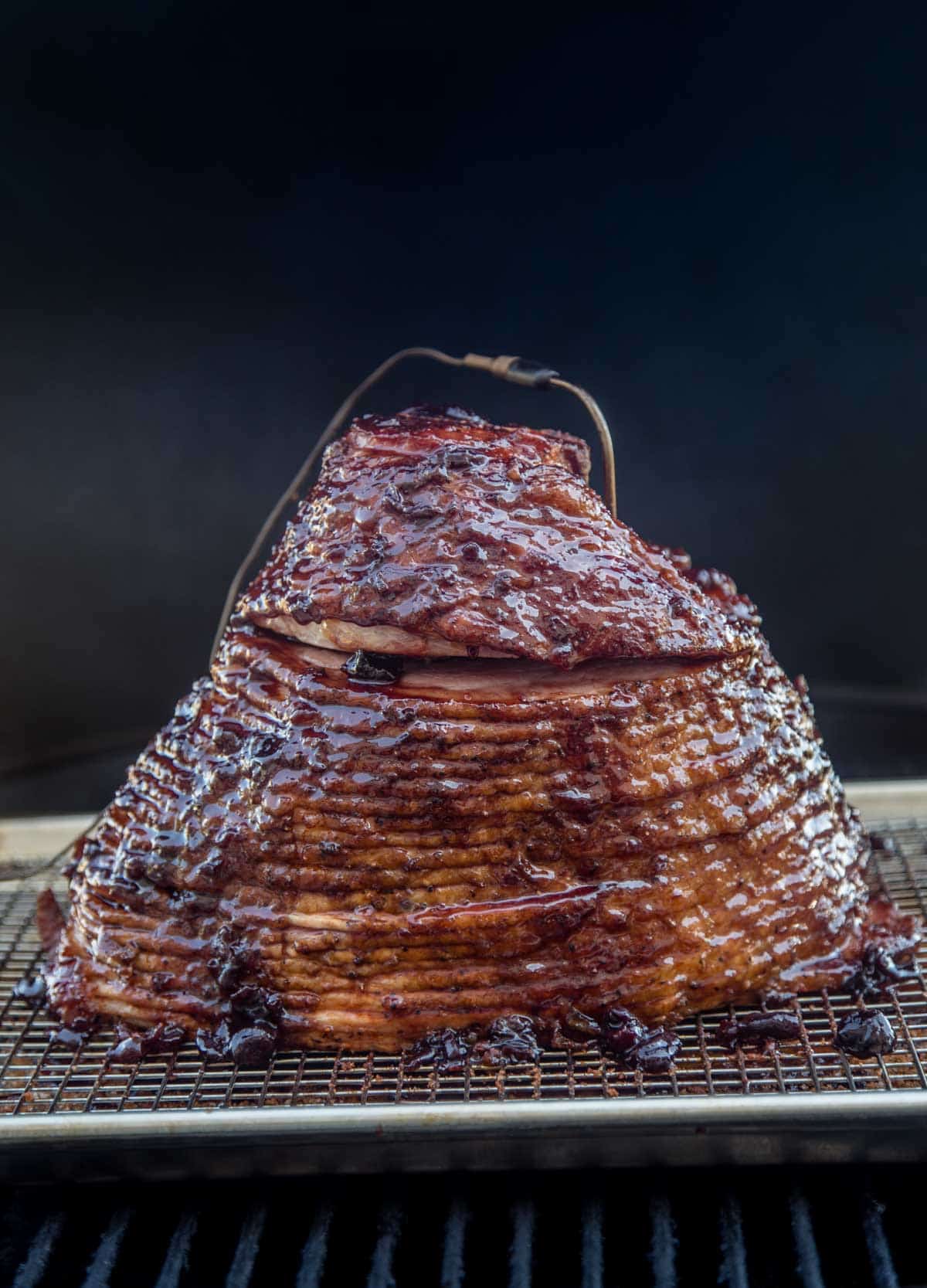 Wine Pairing for Double Smoked Ham
Most folks are usually enjoying a twice-smoked ham for a holiday meal with family and friends. There's likely going to be a lot of different flavors in the mix, much like Thanksgiving, so we don't need to freak out about something perfect for just the ham.
But when focusing just on the flavors of double smoking, we've got a lot of flavors going on here: smoky, sweet, savory. The meat itself is salty and sweet, and the glaze is bold. We're looking to wines to stand up to this. One of my go-to wines for smoked ham is a bolder style Rosé. It truly fits the bill for all categories. But if you're looking for something else, consider the following:
White wine can be great with ham, but a bit trickier with this glaze and dry rub. But those that fit the bill include a dry-ish Riesling or Chenin Blanc.
For reds shoot for something fruity, like Beaujolais or new world Pinot Noir. With the bold flavors of the glaze you can even reach for a Zinfandel. It would be great with this!
Explore holiday wine from the Vindulge Wine Marketplace.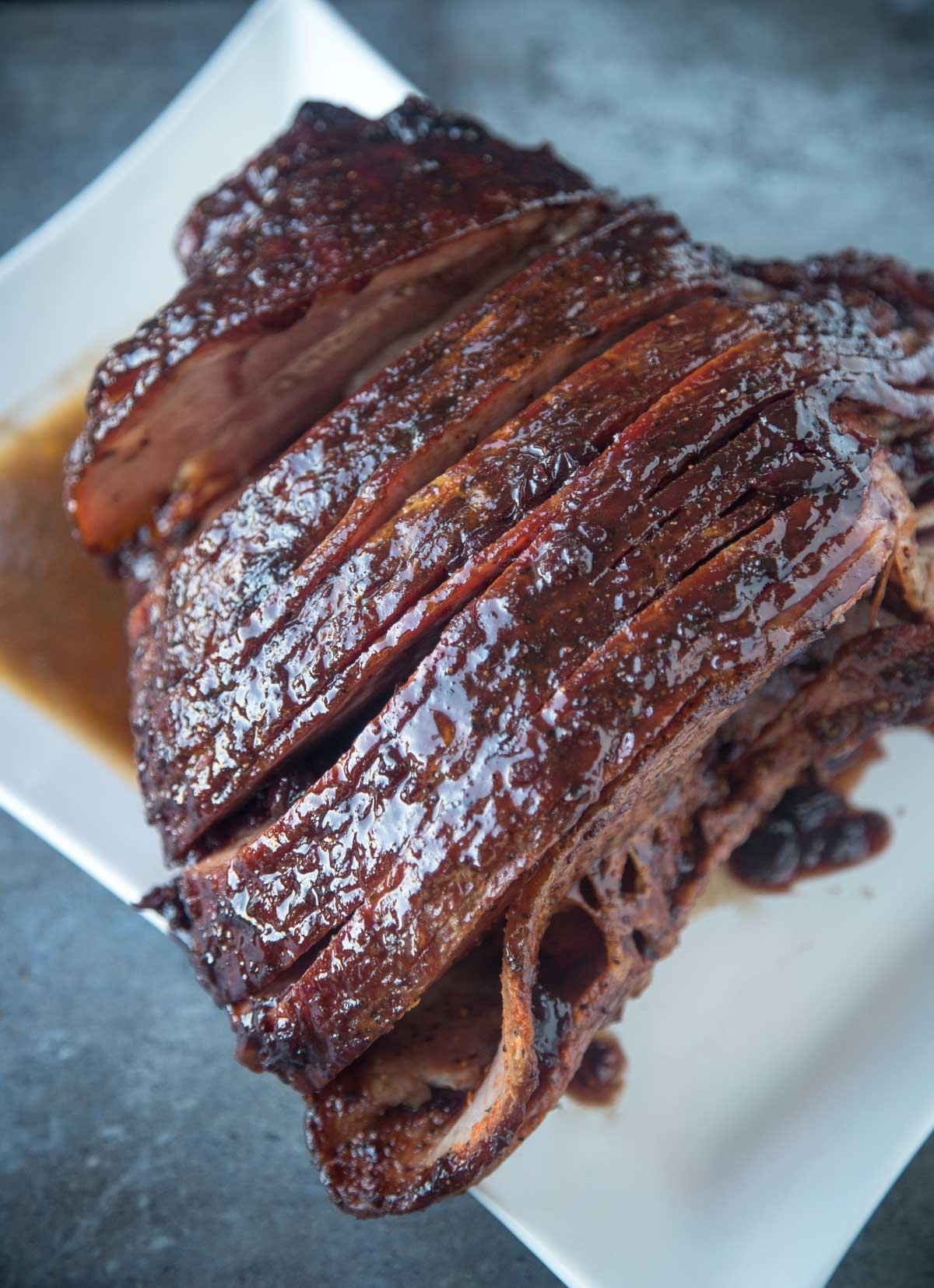 Frequently Asked Questions
Is double smoked ham safe to eat?
Yes, double smoked ham is safe to eat as long as it has been properly cooked and stored. It's important to ensure that the ham has been cooked to an internal temperature of 140°F to kill any potential bacteria.
Can I freeze double smoked ham?
Yes, double smoked ham can be frozen for later use before it's been smoked. It's best to wrap the ham tightly in plastic wrap or aluminum foil and then place it in a freezer-safe container or bag. When ready to use, allow the ham to thaw in the refrigerator before cooking or serving.
Does double smoked ham need to be cooked?
If the ham is pre cured and smoked then technically it has already reached the safe cooking temperature and you can enjoy cold. But if you want it to have that extra flavor of smoke then smoking it a second time is a great way. If you cook a second time be sure the ham reaches the appropriate internal temperature.
What is the best wood for smoked ham?
Any fruit wood like apple and cherry are perfect for the level of sweetness it adds to the ham. Oak and hickory work well too for more of a woodsmoke flavor. We do not recommend mesquite as it is the smokiest and is almost too intense.
How long will it take to smoke ham at 225 degrees F?
Plan 20 minutes a pound. So an 8 pound ham will take just under 3 hours plus resting time.
How long will it take to smoke ham at 250 degrees F?
Plan 15 minutes a pound. So an 8 pound ham will take 2 hours plus resting time.
Side dishes for Holiday Ham
Leftover Ideas
Leftover ham is also amazing as a ham hash recipe or as a base to a Cuban Sandwich. Or use the ham slices for any ham sandwich. It's also incredible if you make a ham benedict just sub the ham in our smoked salmon benedict recipe.
Useful Products for this Recipe
---
Mary (a certified sommelier and recipe developer) and Sean (backyard pitmaster) are co-authors of the critically acclaimed cookbook, Fire + Wine, and have been creating content for the IACP nominated website Vindulge since 2009. They live in Oregon on a farm just outside Portland.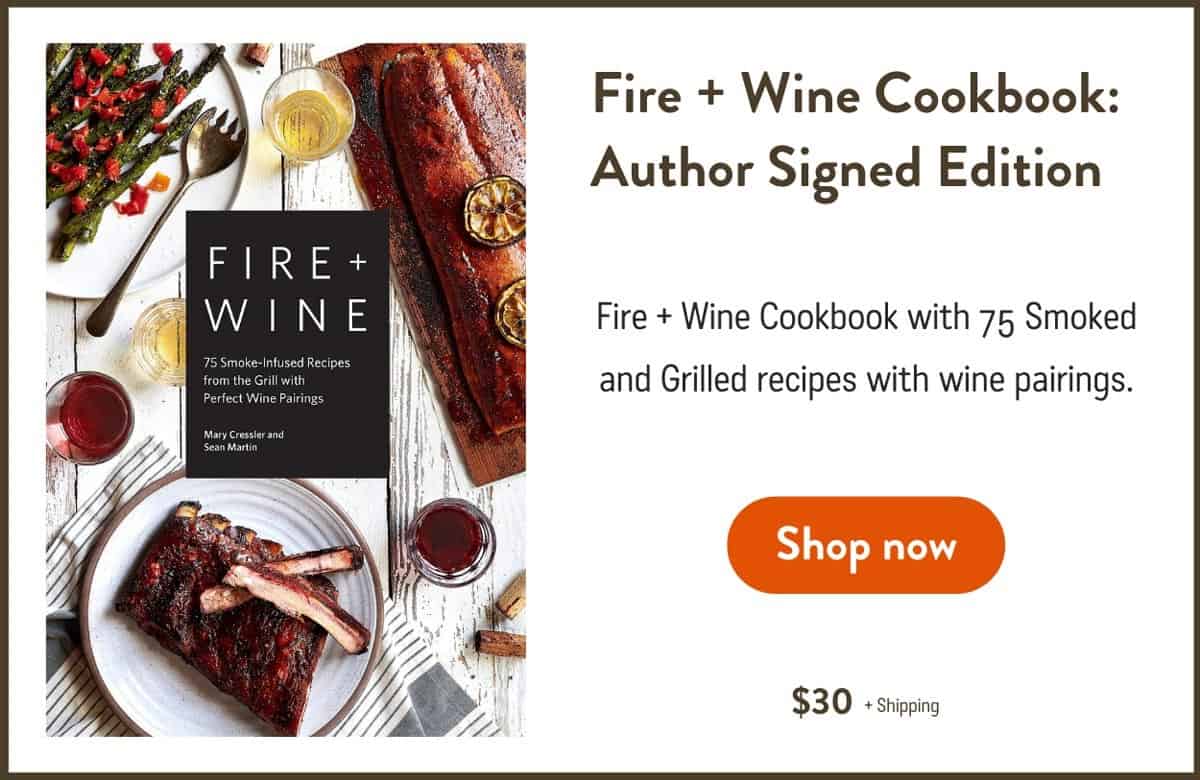 ---
*This post contains affiliate links for Amazon and the ThermoWorks Mk4 Digital Thermometer. We only recommend products we use and love! And all of the products mentioned above are those we use regularly.
This recipe was originally published in April of 2019 and updated in October 2022 with additional information and photos. The original recipe remains the same.
If you like this recipe we'd truly appreciate it if you would give this recipe a star review! And if you share any of your pics on Instagram use the hashtag #vindulge. We LOVE to see it when you cook our recipes.
---