This flaky baked Homemade Beef Empanadas Recipe uses tender smoked beef brisket, mixed with some savory vegetables, herbs, and just a hint of spice, sandwiched into puff pastry. It's baked into the most flavorful Beef Empanadas using store bought puff pastry.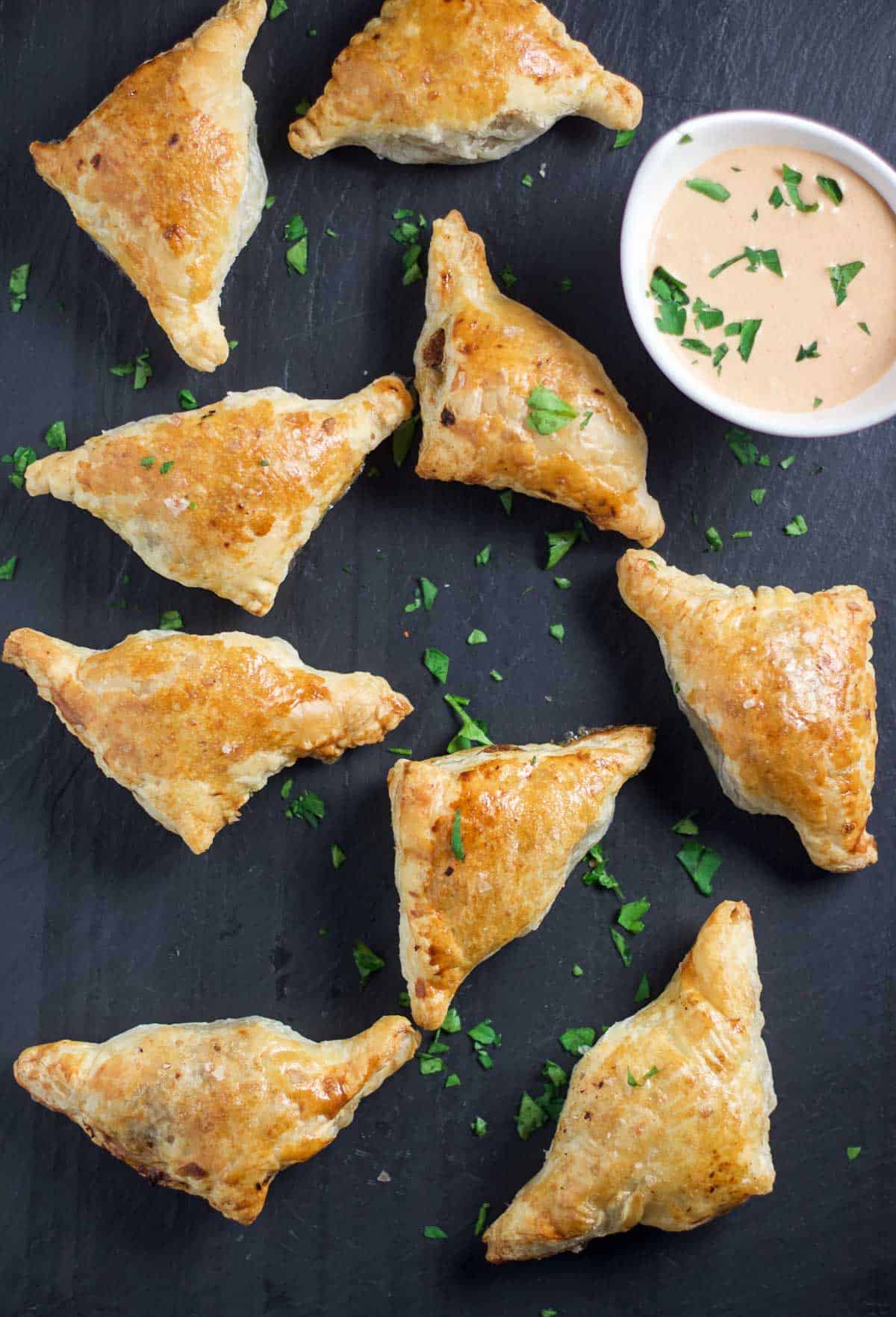 Beef Brisket Empanadas are truly the best way to use any Leftover Brisket! But you can use any beef since we mix it all up in a food processor.
There are some amazing uses for leftover brisket, from chili, to pizza, to tacos, and more. But one of my favorite, and most indulgent, is using the leftover meat as a filling for these incredible beef empanadas.
Jump to:
What Are Empanadas
Empanadas are a savory pastry that you can find in various styles throughout the world, especially in Latin American countries and Spain.
What makes them unique is the savory meat based filling and the dipping sauce that you make. When baked they take on this nice golden brown texture versus being deep fried and they are easy to make.
Beef Empanadas make the perfect appetizer and can be made ahead and then baked as people arrive. They also make the perfect dish when looking for leftover beef ideas.
Beef Empanada Ingredients
The best beef empanadas start with flavorful meat. For us that means smoked beef brisket. You can use whatever brisket you have, but we can't get enough smoked brisket around these parts.
Alternatively you can use ground beef or cooked chuck meat. Ideally the beef you chose will be shredded or ground. Leaner cuts like sirloin, flank, or tri tip are chewy and tough for this beef empanadas recipe.
After selecting the beef for your empanadas, it now comes down to making the beef filling and adding to the empanada dough. We try to use savory ingredients for a richer flavor.
Red Onion – You can use any onion that you prefer. Red onion tends to have a nice acidic flavor.
Peppers – The red pepper adds a hint of sweetness and jalapeño adds heat.
Garlic – Adds balance to the peppers and onions.
BBQ Sauce – Acts as a binder for the filling and prevents it from drying out when it's baking. We use our Kansas City Style BBQ sauce, but you can use any style of BBQ sauce.
Herbs and Spices – We use cayenne pepper for heat, and fresh parsley to brighten the flavor.
Dough – We recommend puff pastry when baking for the crispy and fluffy texture. Alternatively you can use pie dough if you want a denser empanada.
Best Dough for Beef Empanadas
We've made homemade dough for empanadas, but I find it's easier to find a quality store bought dough. After-all, this is supposed to be an easy recipe using leftover brisket. Nobody has time to make their own dough when we're looking to keep things simple. Let the baking pros do the work.
The goal when biting into a good beef empanada is to have a light and flaky texture versus a dough heavy bite. The real star for the empanadas is the filling. So using a light dough is the best option.
We've tried variations on this recipe with homemade pizza dough, homemade pastry dough, premade pie crust, store-bought frozen puff pastry, and a local bakery's puff pastry. Store bought puff pastry or a local bakery version is the best option.
Since we're baking it, the puff pastry will give you both the light and flaky texture and avoid it being too thick like a calzone. But if you do want the denser dough texture then use a pie dough.
Empanada Dipping Sauce
Because of the rich texture of the empanada filling you want to balance that with a bright flavored dipping sauce. We combine crème fraiche, which adds a soft and light flavor, with the same BBQ sauce from the filling, hot sauce, and some kosher salt. Just mix together and you have a nice savory and bright empanada dipping sauce.
If you can't find crème fraiche you can substitute with sour cream.
Note you can use any style of BBQ sauce in the dipping sauce. A Carolina vinegar sauce will have more tangy acidity and a Kansas City BBQ sauce will have more traditional sauce flavors. Or you can think outside the box and try it dipped in an Alabama white sauce on its own with mayo and vinegar.
Making Ahead or Freezing
If you elect to make these in advance of baking them, follow all the instructions except for adding the egg wash to the outside of the unbaked empanadas. Place the prepared empanadas on a parchment paper lined baking sheet and wrap tightly with plastic wrap.
Place in the refrigerator if making the next day or up to 24 hours. Or refreeze. If you freeze, allow it to thaw for 24 hours.
Then prepare the oven, add an egg wash and bake.
How To Make Beef Empanadas
Preheat the oven to 375 degrees F and use the center rack. As the oven warms up prepare the filling.
In a large skillet over medium heat add 1 tablespoon extra virgin olive oil, and add onions and peppers and cook about 5 minutes, until starting to soften. Add the brisket, garlic, and jalapeño, and 1 tablespoon BBQ sauce, and cook an additional 5 minutes.
Place the mixture in the food processor, add the cayenne powder and parsley, and pulse a few times (just enough to mix everything together, but not so much that your filling looks like a paste). Taste and adjust seasonings. If it's too dry, add an additional tablespoon of BBQ sauce and pulse again.
Then work with your dough. Roll the dough over parchment paper with a rolling pin a little bit thinner than the way the way it comes in the package. I find that it's just a little too thick direct from the package, making the final empanada more dough than filling. I want to taste that delicious filling, so I roll the dough just a little thinner to balance out the flavors.
After rolled cut it into 3" long square pieces. I see a lot of recipes that call for circles, but circles will create extra dough that you will have to either re-roll out or discard. With squares you get perfect portions, none leftover to have to re-roll.
After rolling and prepping out your dough, brush the sides with a little egg wash (you can use your finger for this), and then place a heaping tablespoon of the filling in the center. The eggwash allows the corners to stay together as it bakes.
Take one corner to the opposite corner and seal the edges together using the tips of a fork.
Place on a baking sheet lined with parchment paper. Optional, you can brush the tops with more egg wash for a more golden flavor. We've done it with the wash and without and find that the wash just gives it a nice sheen when it comes out of the oven. However if you use pie dough, definitely use the egg wash on the outside of the empanadas.
Bake the beef empanadas for around 20 minutes, or the dough is golden in color.
Serve with the dipping sauce.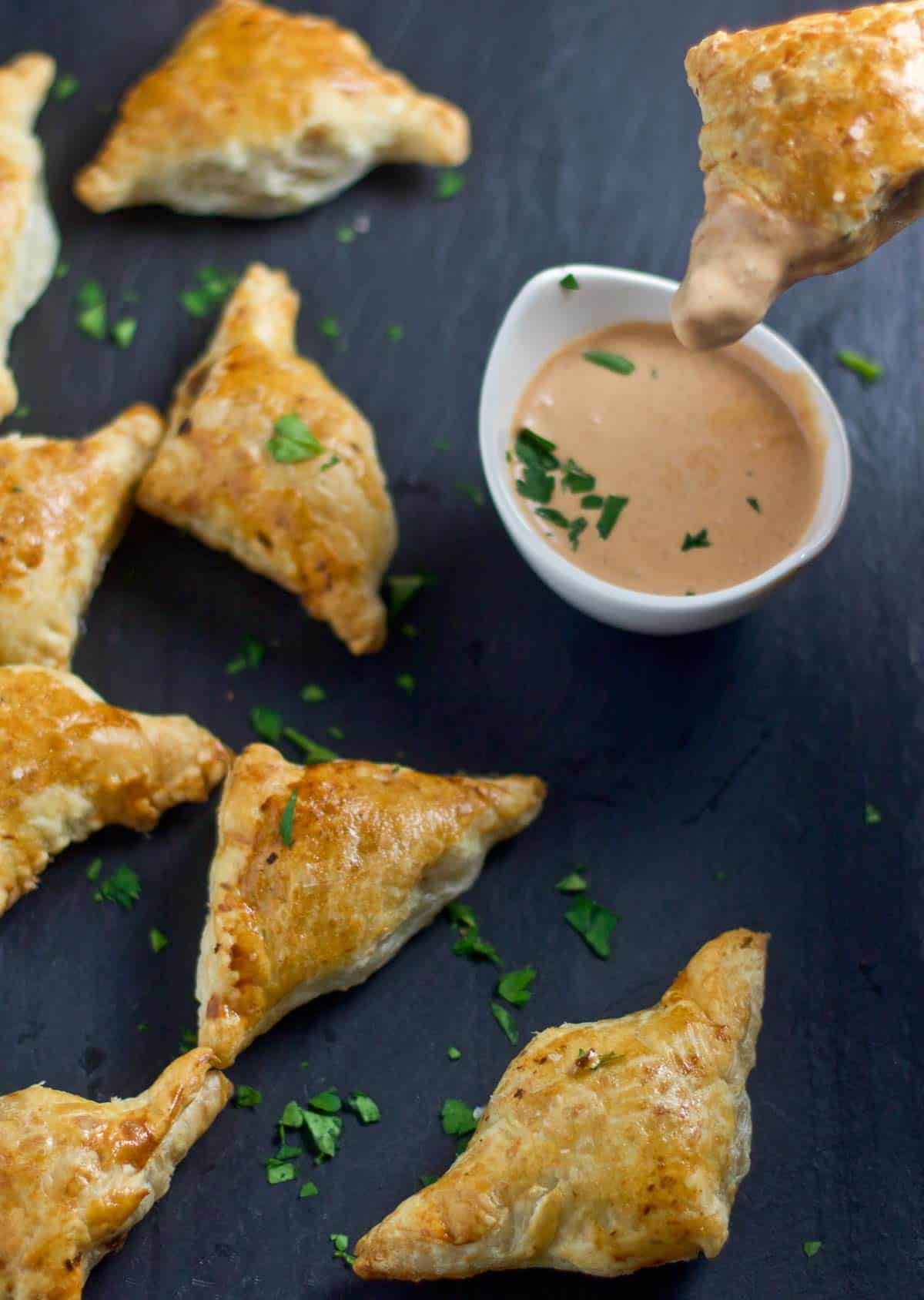 More Recipes for Leftover Beef Brisket
Start with the ultimate recipe for Smoked Brisket.
Mary (a certified sommelier and recipe developer) and Sean (backyard pitmaster) are co-authors of the critically acclaimed cookbook, Fire + Wine, and have been creating content for the IACP nominated website Vindulge since 2009. They live in Oregon on a farm just outside Portland.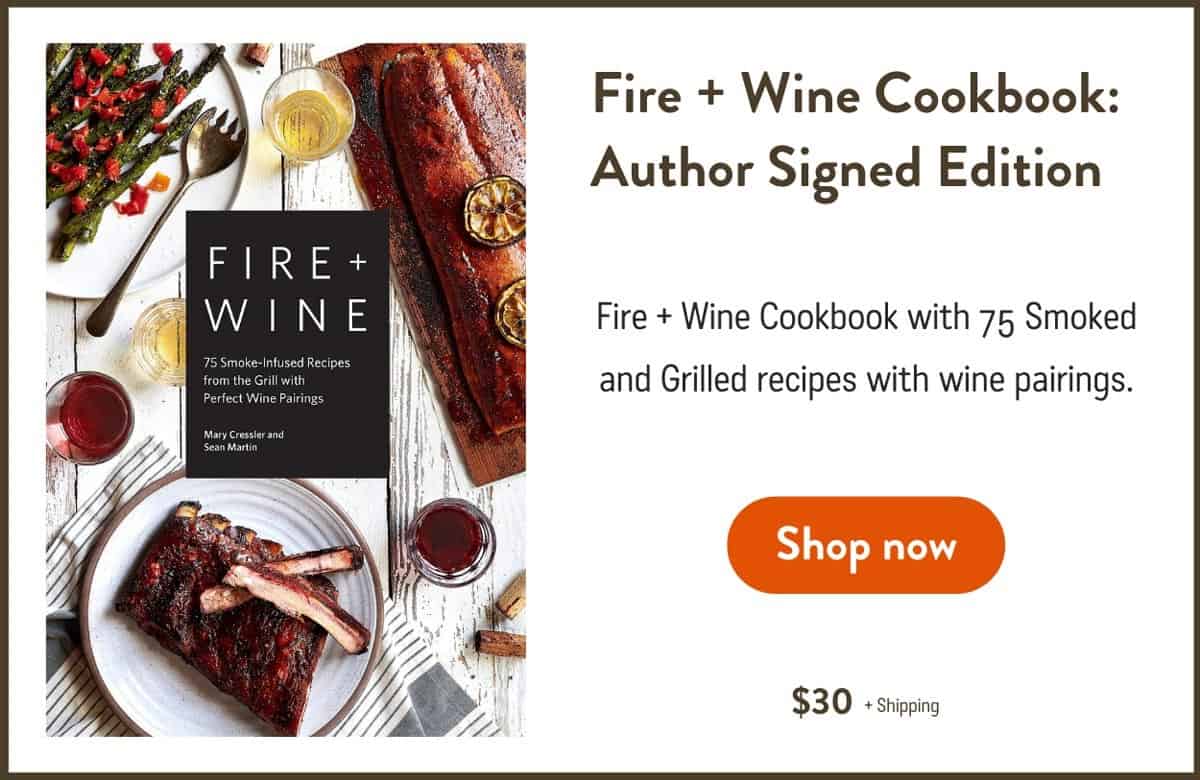 If you like this recipe we'd truly appreciate it if you would give this recipe a star review! And if you share any of your pics on Instagram use the hashtag #vindulge. We LOVE to see it when you cook our recipes.
This post may contain affiliate links. This means if you click on the link, we may receive a small commission if you purchase through the link. We partner with brands we know and love and use and it helps keep the blog going!