Brisket Bruschetta is a light and delicious use for any leftover beef brisket recipe you may have after a big BBQ or event. Shred some brisket, mix in your favorite BBQ sauce, and top onto a toasted baguette slice for a unique meaty treat!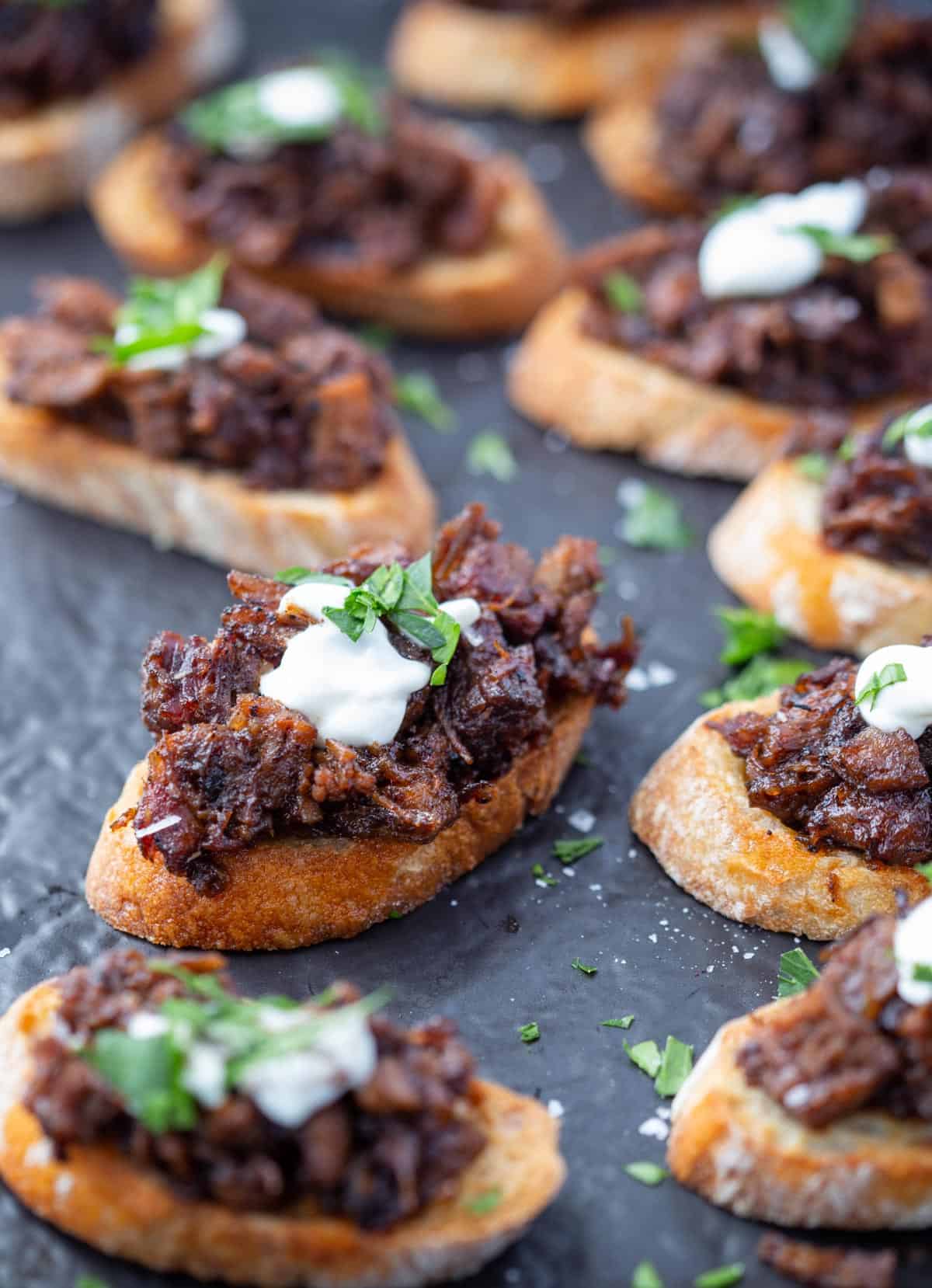 My husband's eyes are bigger than his stomach. He often has grand ideas for what he wants to make for dinner, usually leaving us with a week full of leftovers. So we came up with this simple brisket appetizer idea.
Ingredients
The most important ingredient is (obviously) leftover smoked brisket or smoked brisket flat. Chop or shred the brisket so it's easier to serve on the crostini. You also want some olive oil to make the crostini.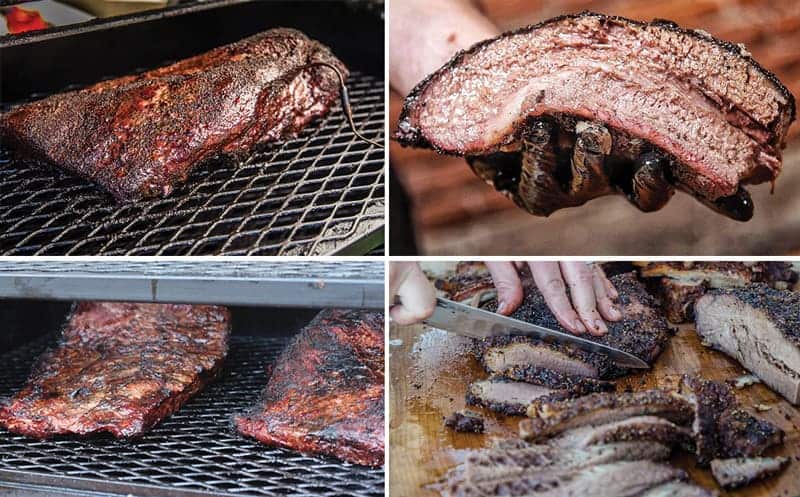 The remainder of the ingredients are simple.
A good baguette, sliced at a slight angle or bias
A thick Kansas City style BBQ sauce
Crème fraîche for a creamy flavor (sour cream or thick Greek yogurt would substitute well too)
Chopped flat leaf parsley for a garnish
Brisket Bruschetta
Brisket Bruschetta is a take on an Italian favorite. This one is a combination of meat, BBQ sauce, and crème fraîche, all placed on toasted crostini.
Start by warming up your leftover shredded brisket over medium heat. Add BBQ sauce to the meat and stir.
Place crème fraîche into a piping bag (or do what we do and put it into a sandwich baggie and cut a small hole in the tip).
Top toasted baguette slices with about 1 heaping spoonful of meat/BBQ mixture, then top with a dollop of crème fraîche. Garnish with parsley.
That's it. Such an easy and delicious way to use leftover brisket!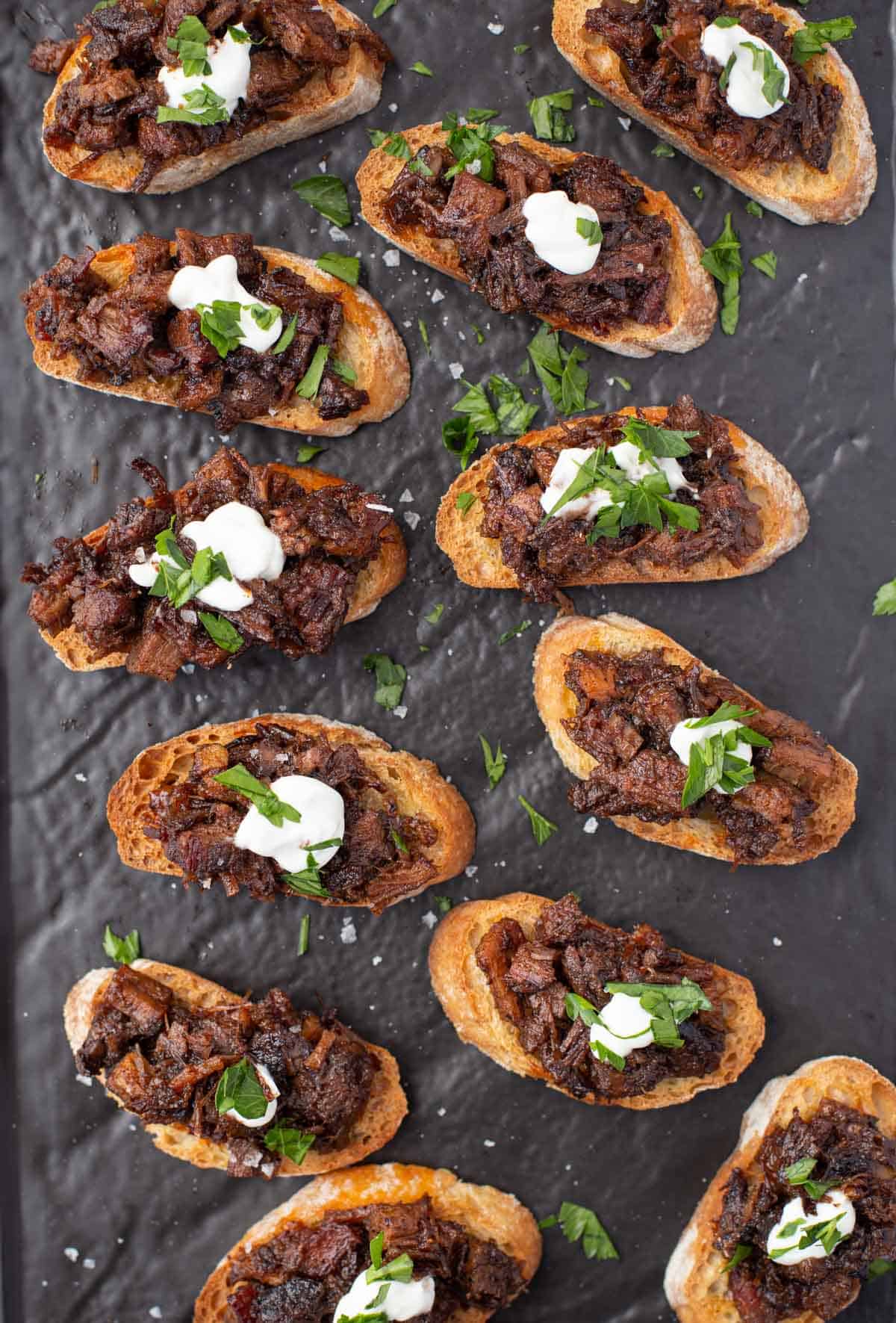 Substitions
This is also excellent with leftover smoked pulled pork instead of brisket.
Wine Pairing
We've enjoyed this meal with anything from sparkling rosé to Washington Syrah. The crunchy toast and smoked meat infused with the sweet and smoky BBQ sauce make it great with a luscious low tannic red. But if served as an appetizer for a party it is also versatile with a highly acidic white (especially bubbles), because of the way it can cut through that rich crème fraîche while still holding its own with the smoky meat and sweet sauce, while refreshing the palate with each sip.
It's elegant enough for a cocktail party and delicious enough to be served to the pickiest of barbecue fanatics!
More Leftover Brisket Ideas
You can explore our entire round up of brisket recipes. Here are just a few as a highlight.
This recipe was originally published in April of 2017 and updated with new photos, recipe details, and nutrition information in June of 2022.
---