A cast iron skillet is one of the most versatile tools in the kitchen. It easily goes from stove top to grill to campfire, and offers excellent heat distribution. Here are 25 of our favorite cast iron skillet recipes.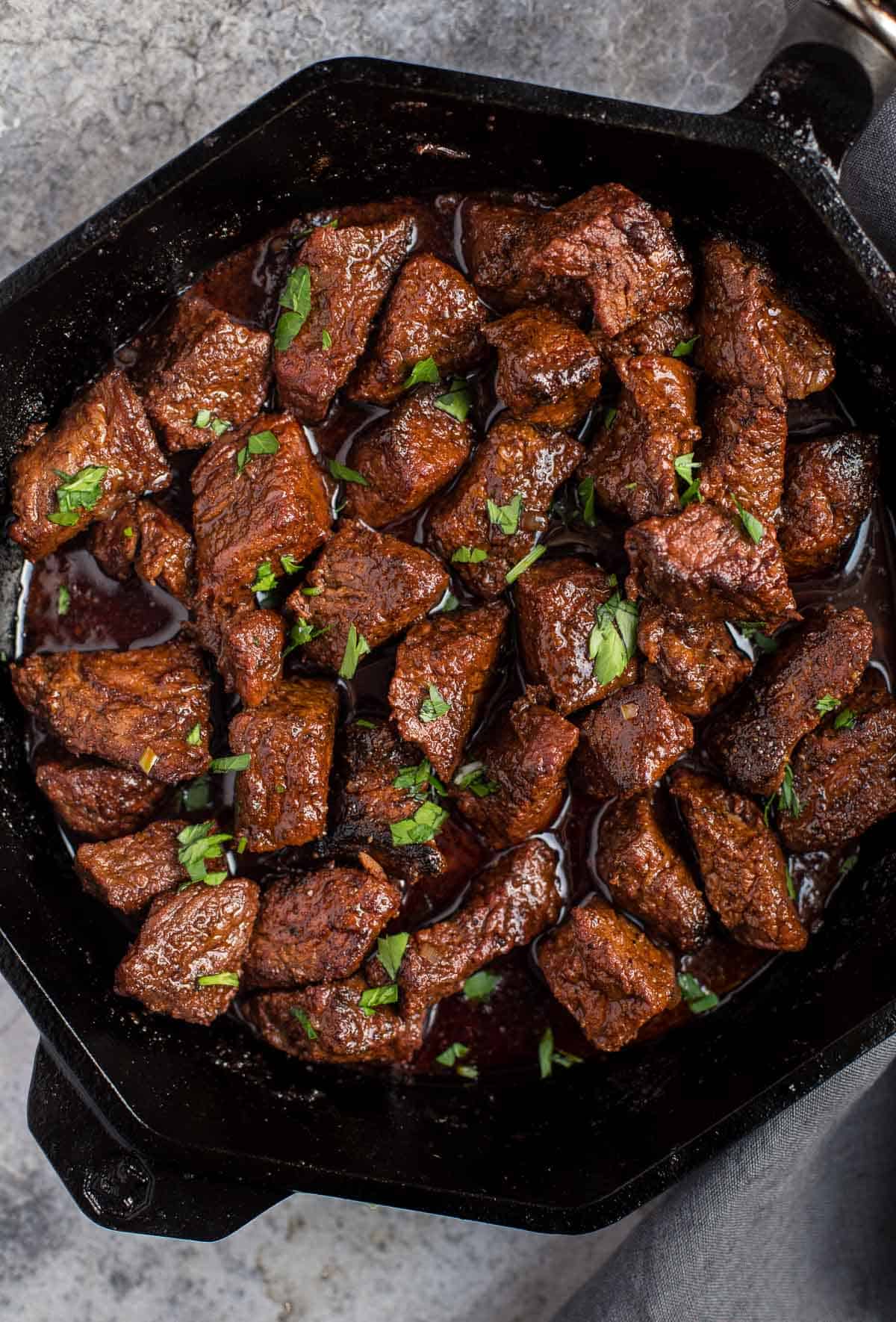 Jump to:
Benefits of Cast Iron
If you've received your Grandma's old cast iron skillet, or bought a set from an estate sale, you already know benefit #1:
Cast iron lasts forever. Unless you drop it on concrete or take a hammer to it, cast iron is not going to melt, chip or break.
Once the pan is hot, it stays hot. If you want to geek out with us, cast iron has a whopping .64 emissivity rating, which means that when you're cooking in it, you're not just cooking the surface in contact with the metal, but you're cooking a good deal of food above it as well. This is great for searing steak, or keeping soups warm at a potluck. The best way to make sure your skillet or dutch oven is heated evenly is to preheat it in the oven, or over an even fire or grill.
The more you use it, the better it becomes. What is this mysterious "seasoning" you always here about in relation to cast iron? Seasoning is when the skillet is rubbed with oil and heated repeatedly, causing the oil to polymerize. That's right, it's not just residual oil, it's chemically altered and bonded to the metal. This is what makes cast iron non-stick. So go ahead and scrub with soap, it's not going to come off. You can read this Serious Eats article for more details.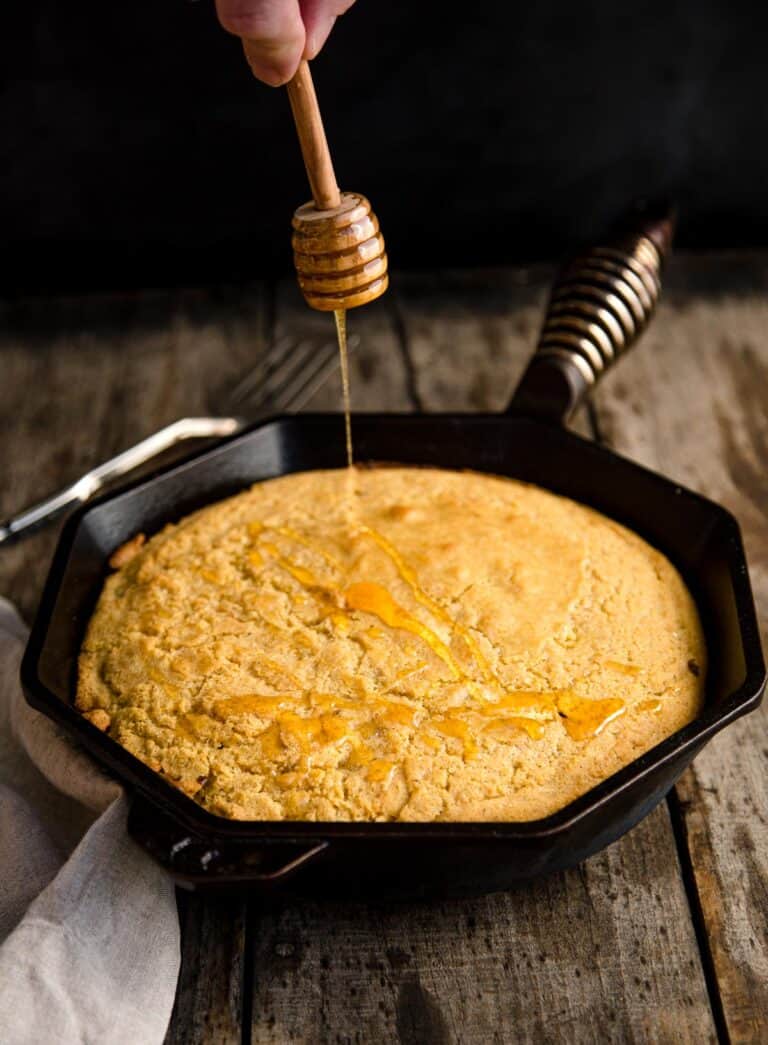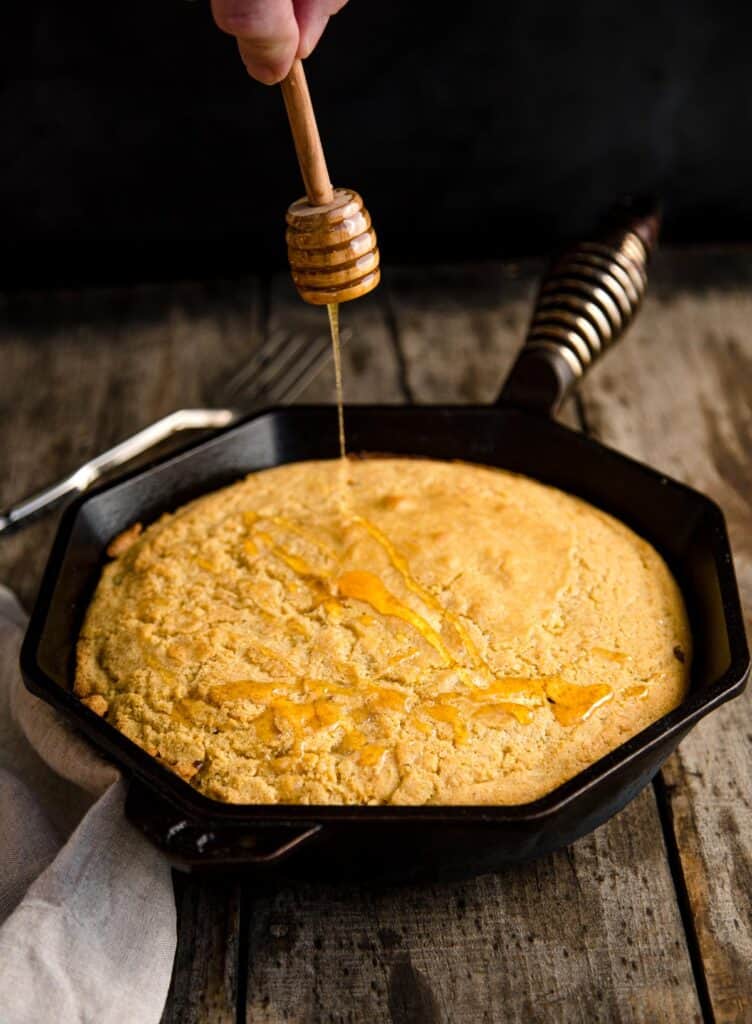 ---
What Cast Iron Pieces Should I Buy?
We fell in love with Finex Cast Iron years ago. We have a 10″ skillet, a Dutch Oven, and a sauce pan, and love them all. These are handmade in Portland, Oregon and aren't cheap, but they will be smoother than less expensive brands.
Lodge Cast Iron is our go to for a more affordable purchase for someone just starting out. They also have a great variety of grilling specific pieces as well. Either makes for an amazing heirloom gift for the food lovers in your life. Both come pre-seasoned.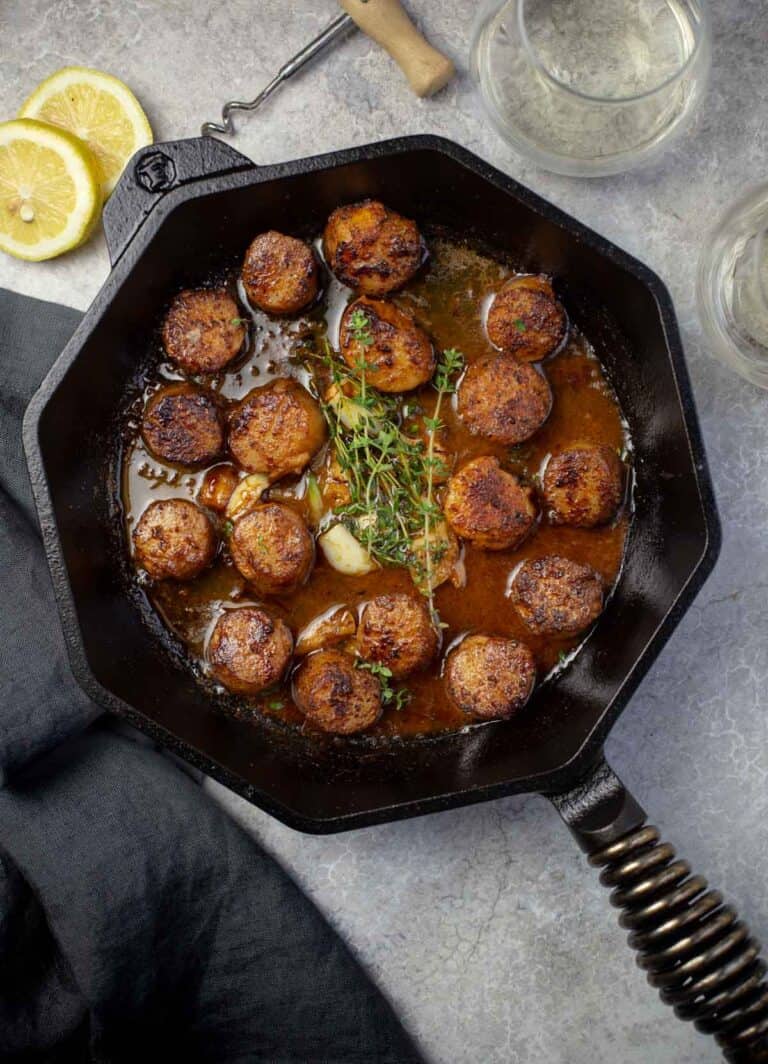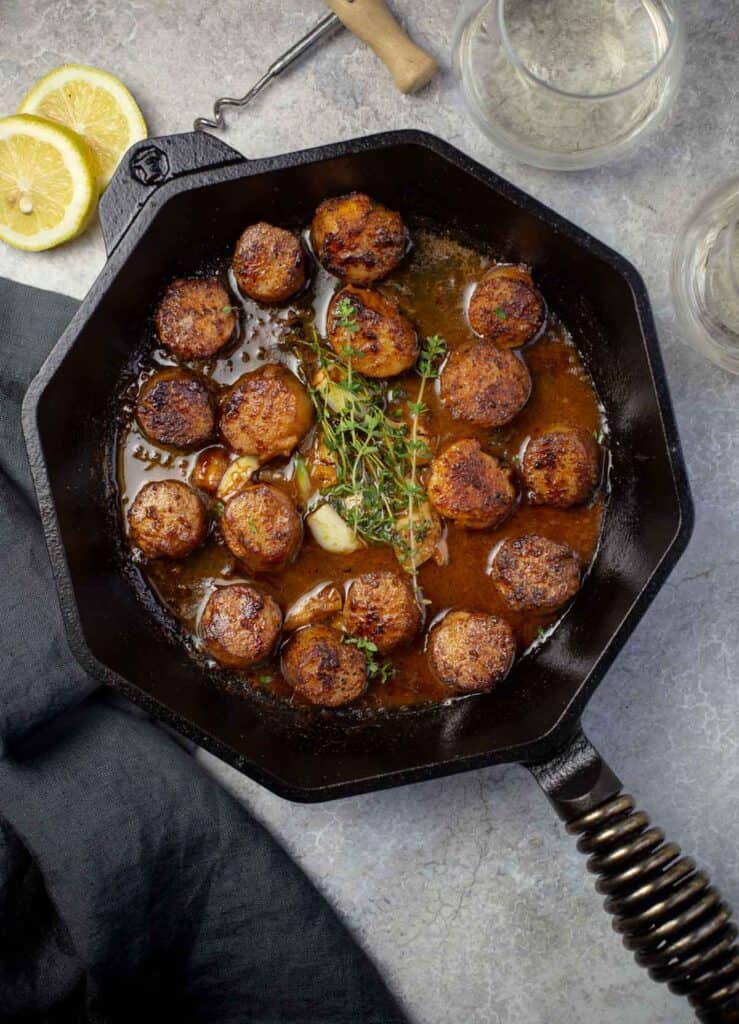 Caring for Cast Iron
There are a lot of misperceptions on cast iron care.
The number ONE thing you should never do is leave it sitting in water soaking. Ever. Over time you erode the seasoning and rust can more easily develop.
You CAN use dish soap if you want. But remember rule one – don't let it soak. And be sure to oil it again.
If you have a lot of stuff on it add water and bring to a simmer. After 5 minutes use a long stiff brush to remove all the junk in the pan.
Consider special tools like a chainmail tool that scrapes cast iron.
Whenever you have finished cooking and cleaning your cast iron add a touch of oil to the pan and scrub it with a paper towel. This keeps it looking shiny and protects that precious investment.
---
What Can You Cook in Cast Iron?
You can cook just about anything in cast iron. On the stove you can use it to sear fish or meat. On the grill you can use it like a flat top griddle to cook eggs or pancakes. Over a fire you can use a cast iron skillet to roast nuts or make a melty cheese fondue. Lastly in the oven you can bake brownies, bread, and more. Read on for our favorite Cast Iron Skillet recipes.
Appetizers on the Grill
When you're already outside grilling the main dish, add one of these appetizers to the grill for friends and family to nibble on before dinner.
---
Main Dish Recipes
Cooking on a cast iron pan is like a one pot meal! These dishes are all cooked in the cast iron pot and on the grill. These recipes couldn't be easier.
---
Side Dishes
Pair these sides with a traditional BBQ Brisket or Ribs, or pair them with your Thanksgiving turkey.
---
Campfire Cast Iron Recipes
No meal is complete without a scrumptious dessert! These cast iron skillet dessert recipes can be baked over the campfire, on the grill, or in the oven, wherever you happen to be!
---
My Favorite Cast Iron Accessory: Teeny Tiny Cast Iron Pan
Check out what to do with a tiny 4″ cast iron pan.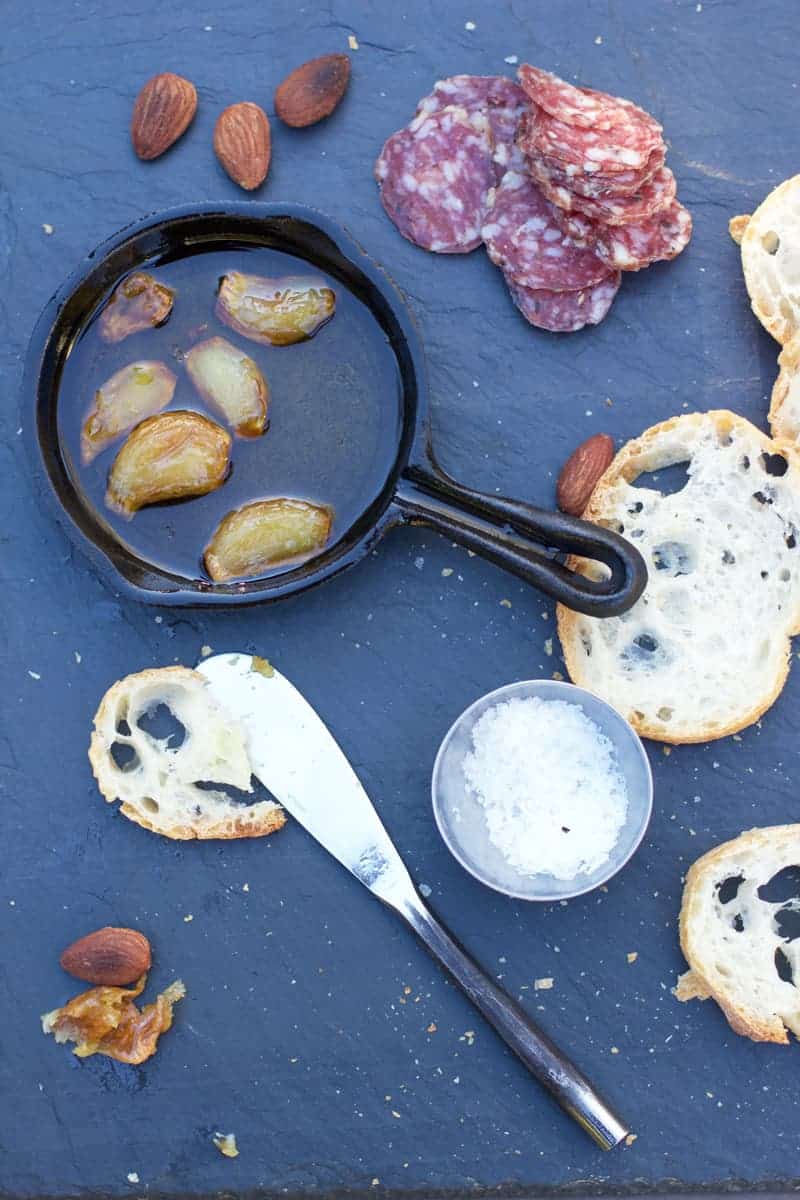 ---
Thank you for being part of our community. If you make any of our dishes we'd love to see them on social media using the hashtag #vindulge and give it a 5 star review.
This post may contain affiliate links. This means if you click on the link, we may receive a small commission if you purchase through the link. We partner with brands we know and love and use and it helps keep the blog going!
---