Grilled Rack of Lamb is tender, flavorful, and elevated with a mildly spicy and savory Jalapeño Chimichurri Sauce. Learn the best ways to source lamb for the best flavor with this grilled rack of lamb recipe.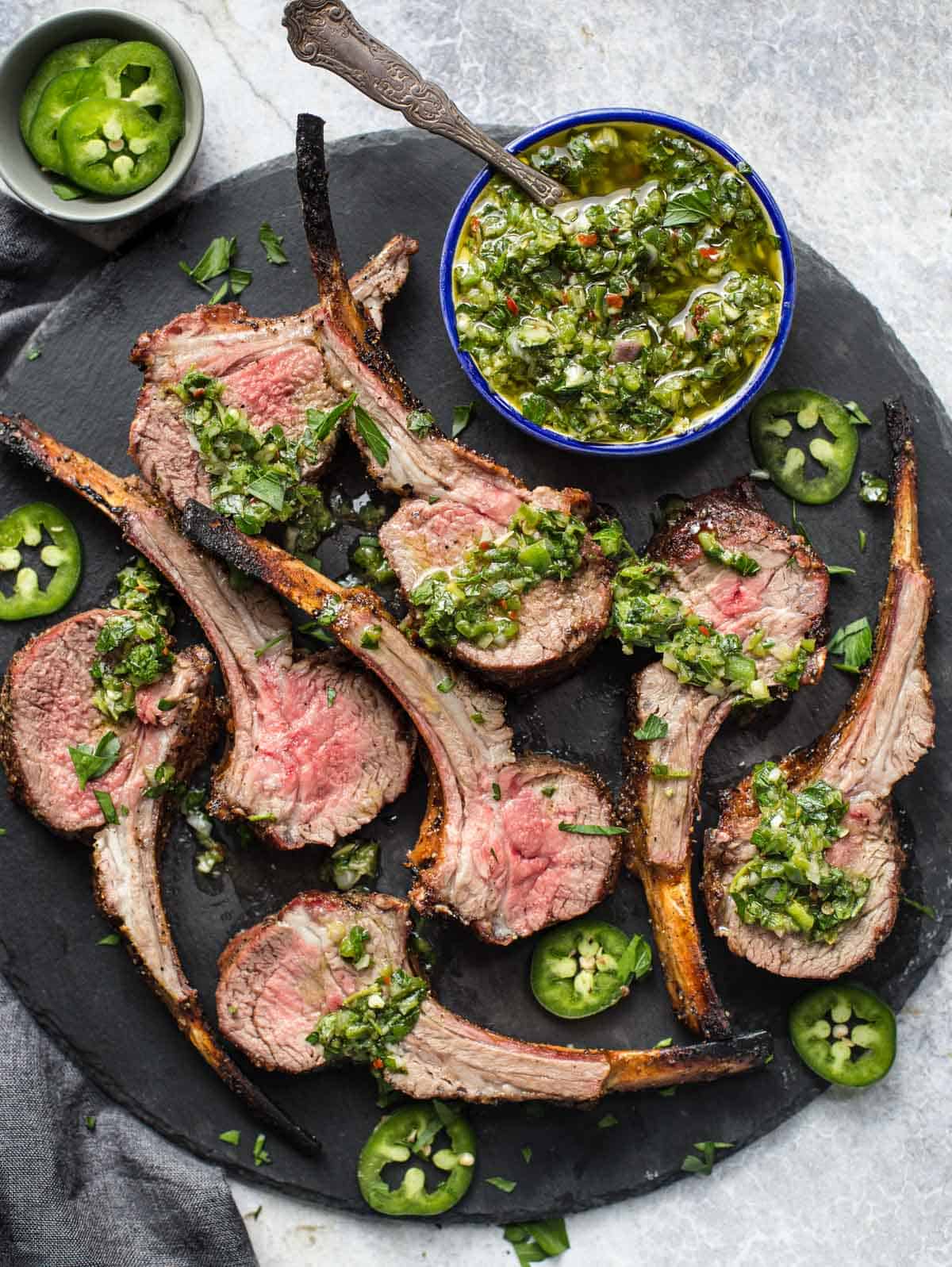 Lamb is one of our favorite proteins to serve for guests or a special occasion. When sourced well, it is tender, has a unique earthy flavor (not gamey – we'll chat more on that in a bit), and pairs incredibly well with wine. When a rack of lamb is grilled, it also adds a beautiful earthy flavor and aroma that elevates the flavor. Quite often you'll see grilled lamb served with herbs or mint sauce. We're changing this up with a delicious jalapeño chimichurri sauce instead of the classic mint (this way, we believe, is so much better – we hope you think so too!).
Jump to:
Sourcing Lamb
Lamb is sheep. Specifically, lamb is sheep that is under 12 months of age. We go into much more detail on the age and flavor of lamb in our boneless leg of lamb recipe. But like any meat, what the lamb's diet consists of, and where it comes from, will dramatically alter the flavor of the meat once cooked. Because there is little regulation on the naming convention, if you don't know where the lamb was sourced, you may be actually buying mutton (or lamb once it has exceed 12 months of age). This too, will significantly alter the flavor of the meat once cooked.
The "gamey" flavor that many associate with lamb can come from a number of factors. One is the feed, the other is how the branched-chain fatty acids (BCFAs) release aromas as the fat renders while cooking.
When buying lamb, try to find a local source that your trusted butcher recommends. This local sourcing will mean the lamb is likely the proper age for the flavor expected. And lamb doesn't have to be just from the United States, by the way. Amazing lamb is produced throughout the world, like Australia.
We source lamb both locally and also through online retailers, like D'Artagnan foods, where the small farm sourcing is an important part of their selection process (we trust where they source their lamb from).
The Cut – Rack of Lamb
A rack of lamb is an 8-bone cut that mimics the Prime Rib cut from beef. It comes from along the spine and has very little movement over the life of the lamb. It is moderately marbled, and incredibly tender.
You can also purchase the rack trimmed, or Frenched, whereby the meat from the lower portions of the bones have been removed and the bones cleaned. This is our preferred method of preparation. This is where you will find recipes for lamb chops (although a chop can be any large cut of lamb steaks) or crown roasts. Crown roasts are two racks tied together in dramatic presentation, like our exclusive recipe in our cookbook Fire + Wine.
Preparation for Grilled Rack of Lamb
In this lamb recipe, we start with a Frenched Rack of Lamb. It is much easier to buy an already pre-Frenched lamb to save time. Start by placing the lamb, bone side down on the cutting board.
Using a good boning knife, remove the cartilage or dense fatty tissue from the top of the lamb. It sits right above the meat, and in some cases, once a corner has been removed, can literally be pulled right off.
Next carefully remove the silver skin to expose the lamb meat. In some cases, you may see a small pocket of meat with another pocket of fat underneath it. This is part of the lamb tenderloin. You can leave that on, or remove it and cook separately.
Now the lamb meat is exposed, silver skin is removed, and it's ready for seasoning.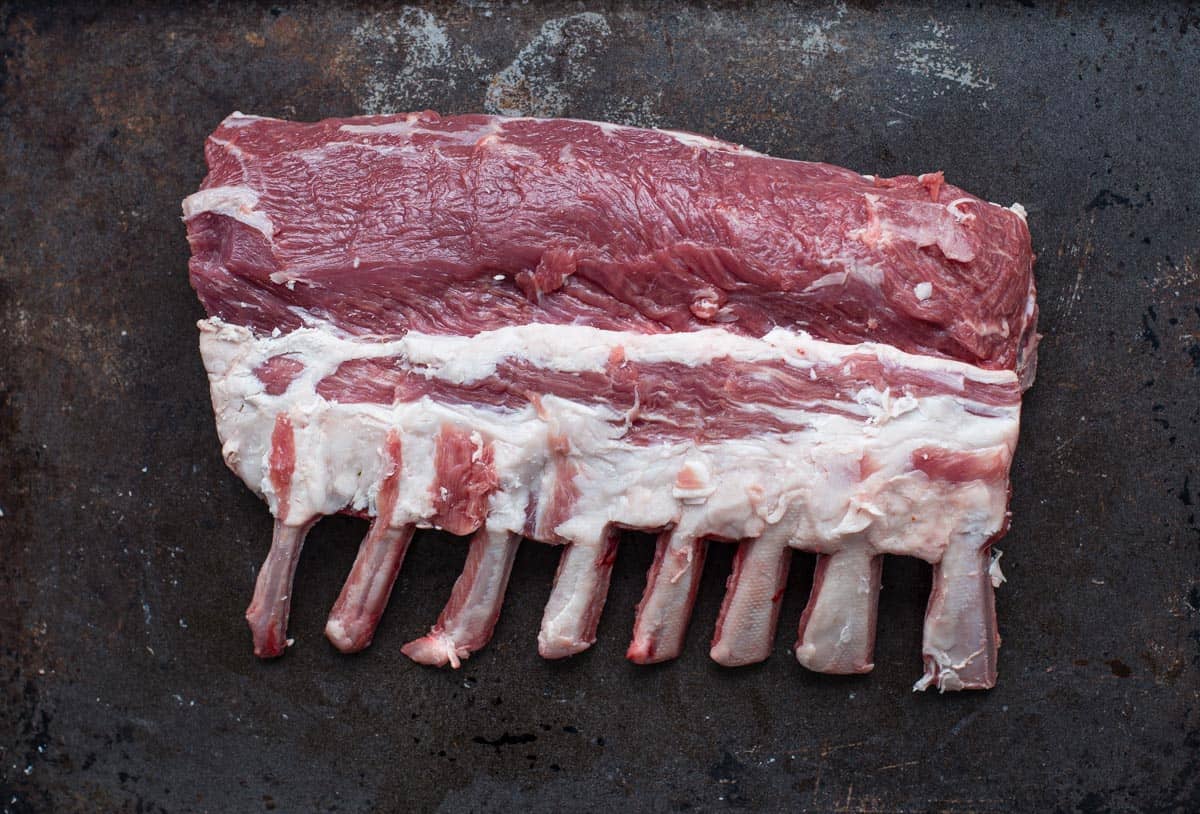 Seasoning for Grilled Lamb
Start with a coating of extra virgin olive oil. This helps the rub stick. Coat all sides of the lamb with the dry rub.
We keep the seasoning simple with equal parts kosher salt, coarse black pepper, and granulated garlic (also known as our beef seasoning). If you want something more herbal you can replicate the seasoning from our Leg of Lamb Recipe. We use 3 tablespoons of dry rub per rack for a generous amount of seasoning.
Then it's ready for the grill.
How To Grill Rack of Lamb
Use a Two-Zone method of grilling, with one side of the grill a direct heat source, and the other a cooler side. This allows a quick sear for flavor and then finishing on the cooler side to avoid burning the meat.
Prepare the grill for Two-Zone grilling targeting 450 – 500 degrees Fahrenheit (F) over the direct side of the grill.
Place the seasoned rack of lamb over direct heat. Place the rack of lamb, meat side down over direct heat. Grill with lid closed for 5 – 6 minutes or until you see a nice sear. Flip and continue grilling the bone side of the lamb for 5 – 6 minutes until you see a nice sear develop.
Finally stand the lamb up with the bones straight up to sear the third side for 3 – 4 minutes.
Move the grilled rack of lamb to indirect heat and finish grilling until the internal temperature of the lamb reaches 135 degrees F for medium rare using a good instant read thermometer.
Let rest for 10 minutes and then slice and serve with the chimichurri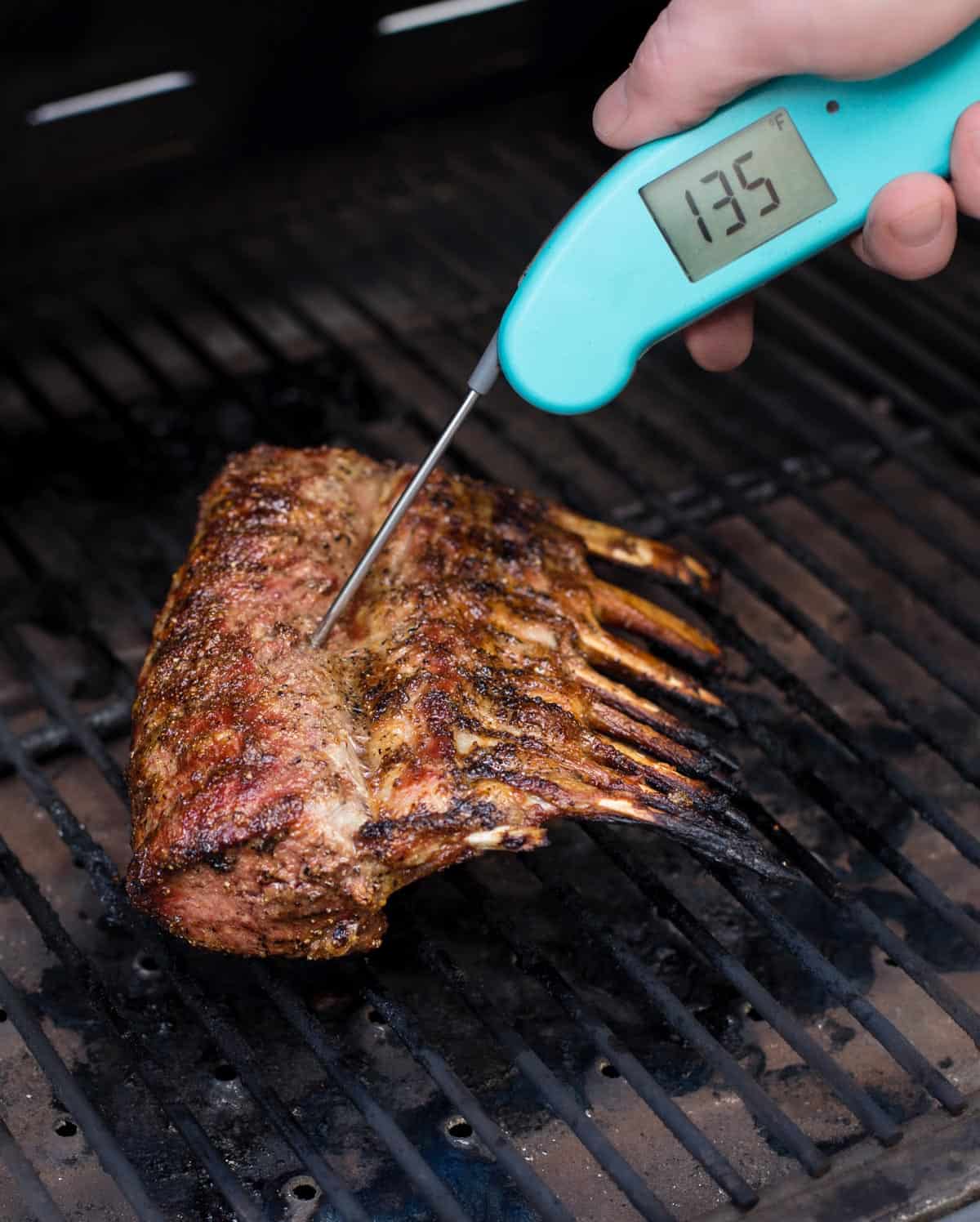 We're grilling ours on our MAK Two-Star General Grill. For the MAK, we have a large direct grilling surface area with covers we can remove called the FlameZone. To mimic two-zone grilling we remove one of the plates, and leave the other on.
You can also check out our full review of the Two-Star.
When is Lamb Done
The USDA recommends cooking a grilled rack of lamb to an internal temperature of 145 degrees F at the thickest part of the lamb. We find, much like beef, that this overcooks the lamb. Because we trust the quality of where our lamb comes from we cook our lamb to medium rare or 135 degrees F.
If you like rare, then consider cooking it to 125 degrees F. The best way to take the temperature is to use a high quality instant read thermometer like the Thermoworks MK4 Thermapen.
Grilled Rack of Lamb Sauce — Jalapeño Chimichurri
Instead of the traditional mint sauce or jelly, we highly recommend using a chimichurri. It will add a great acidity and balance in flavor. For this recipe, we use our Jalapeño Chimichurri which is slightly spice with a good balance of acid.
Simply prepare the sauce before you start grilling. The secret to this sauce is the texture. We achieve that by pulsing the dry ingredients in a blender and then adding the liquid.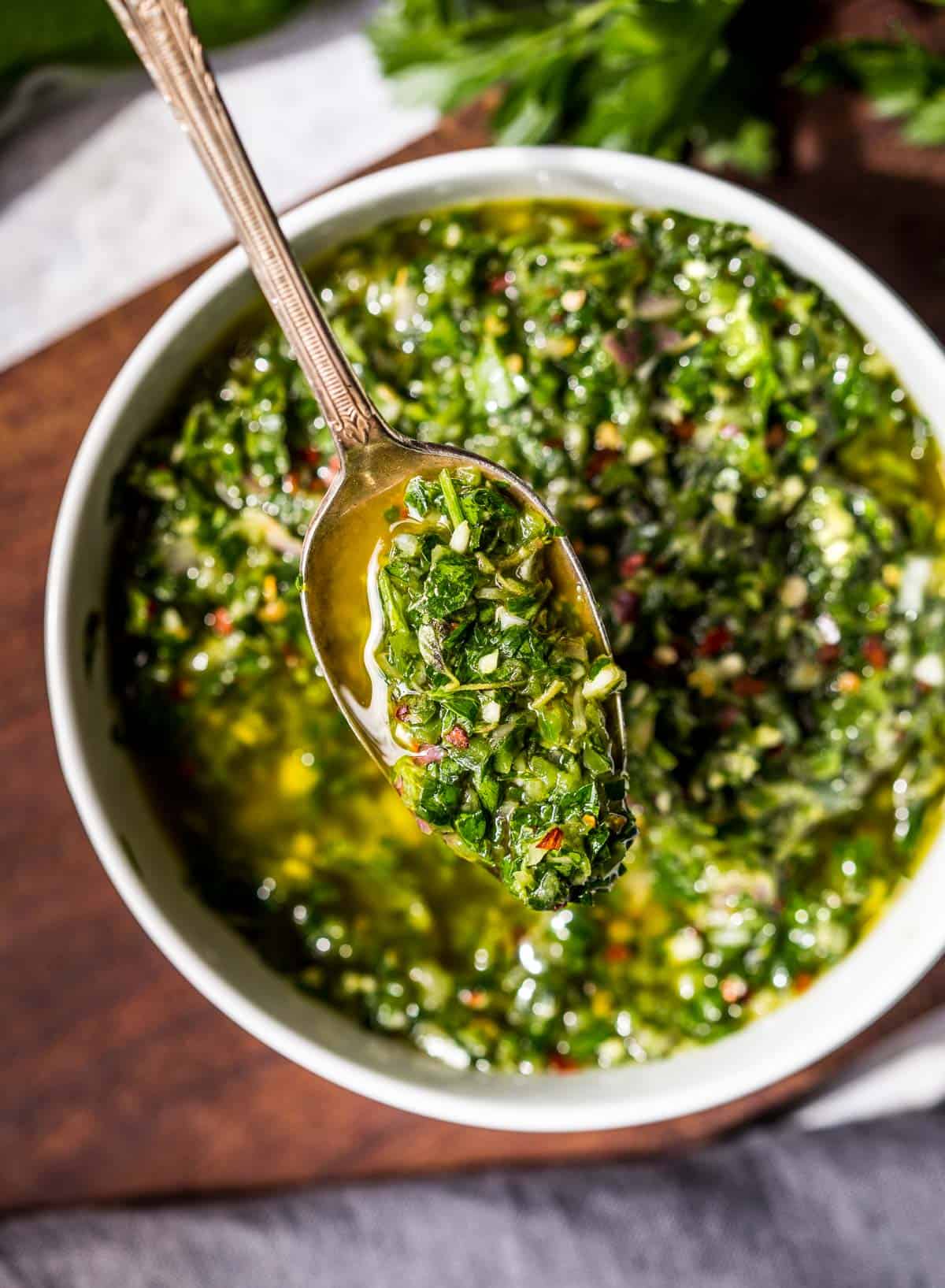 We also have an easy chimichurri with more classic flavors if you want less heat.
Pairing Lamb and Wine
Grilled Lamb is fantastic with a variety of wines. Cabernet Franc is one of my favorite pairings (and it's also a great match for the herbal chimichurri sauce too). But since I live in Oregon's Willamette Valley, I always have a few bottles of Pinot Noir around, and Pinot Noir is another excellent match for lamb (especially the bolder and darker styles) from both Oregon and the Burgundy region of France. The fruity and savory components of a good Pinot pairs perfectly with the herb combo and earthy and slightly gamey flavors of the meat. Rhône style red blends are another nice option for this.
Other Inspiring Lamb Recipes
Other Great Topping Ideas
This post may contain affiliate links. This means if you click on the link, we may receive a small commission if you purchase through the link. We partner with brands we know and love and use and it helps keep the blog going!