Grilled Filet Mignon with Mushroom Brown Butter Sauce is a fantastic steak recipe for a special occasion or holiday meal. Filet Mignon is incredibly tender with a buttery flavor, and when topped with a decadent brown butter mushroom steak sauce, your mouth will water for days.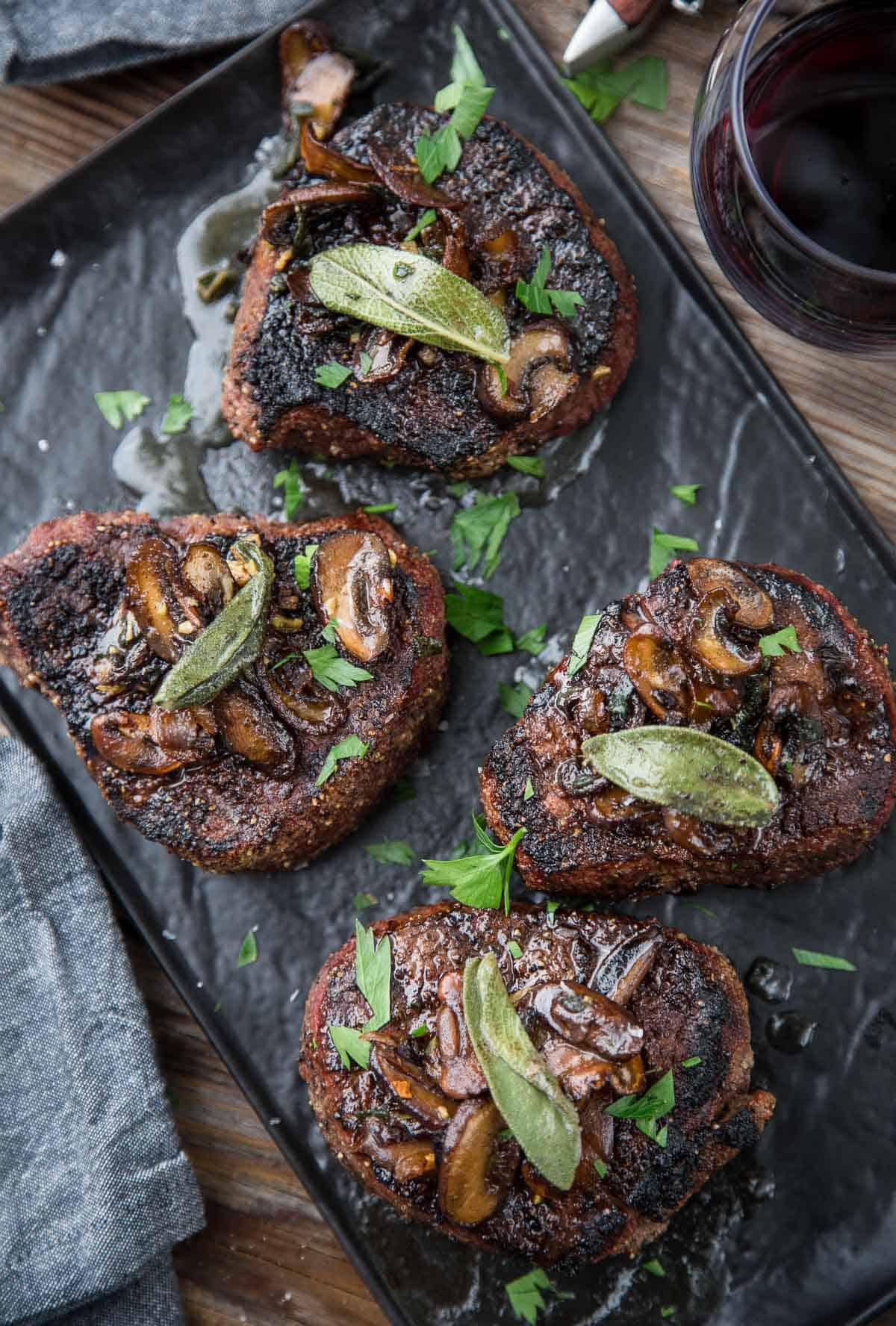 We love adding a delicious steak sauce to our steaks. Brown butter steak sauces add a nice coating of flavor and fat while still allowing the steak flavors to shine. Alternatively if looking for steak topping ideas you can also substitute the sauce with a steak compound butter.
Jump to:
Filet Mignon – The Cut
Filet Mignon comes from the center cut of beef tenderloin.
Filet Mignon is a lean piece of beef, this is because the tenderloin is surrounded by the rib cage and does not see much movement. Lean means that there is not as much intramuscular fat in the cut, and will also mean the meat cooks faster than various other cuts, like Ribeye or New York Strip.
Butcher Tip: Consider purchasing a whole Beef Tenderloin and breaking down the cut into your own Filet Mignon steaks. Buying the whole roast will typically cost more up front, but save money when comparing the cost of individual steaks at the store or butcher.
A properly cooked Filet will be tender and juicy, but will cook quickly, so the key is to monitor the internal temperature of the steak regularly.
Seasoning
For seasoning, a simple kosher salt, coarse black pepper, and granulated garlic (SPG Rub) mixture adds great flavor, but not overpowering the beefy flavor. Equal parts of each work best for our preferences and we calculate about 1 tablespoon of seasoning for each steak. So ¼ cup of seasoning is a good measurement for four steaks.
How to Cook Filet Mignon
Filet can be cooked a number of ways.
Stove Top – This method requires the pan to be super hot and the use of a high heat oil like grape or avocado. Add the steak to the pan to get a nice crust and flip the steak when it easily releases from the pan. Cast iron works best. Add butter, crushed garlic, and herbs and spoon over the steak for added flavor.
Oven – Starting with a high heat, sear the crust and then place into an oven at 400 degrees to finish to the desired internal temperature.
Reverse Sear – Start low and slow, in a smoker, then finish at a high heat for the sear.
Grilled – Our favorite of the technique for added wood smoke flavor and crust. See below or our full recipe on how to grill filet mignon.
How to Grill Filet Mignon
Grilling Filet Mignon is really easy when you understand the steps. This applies to all grill types (gas and charcoal).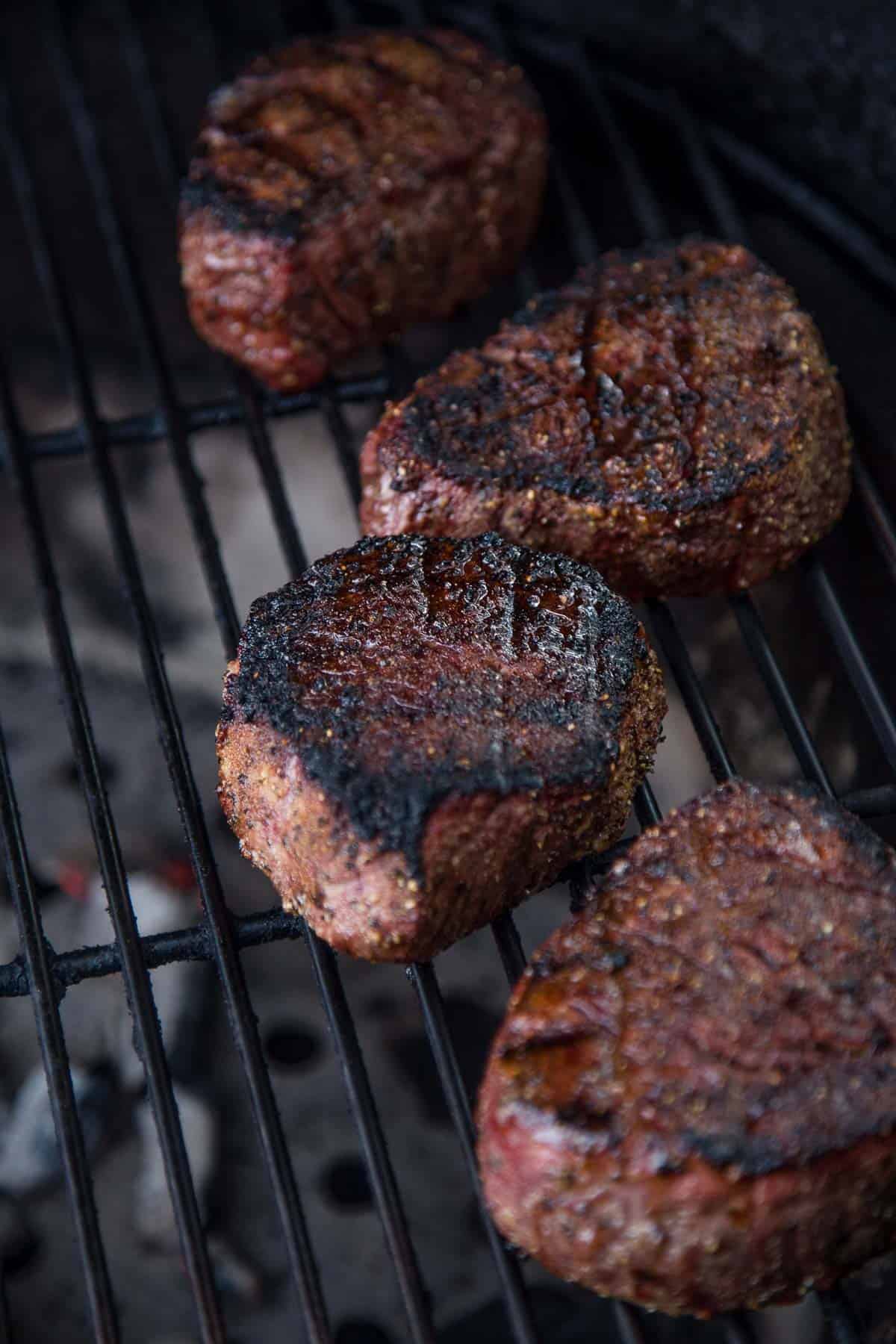 Cook using a two zone method. Start the steaks on direct heat, and when a nice crust develops, flip once and allow the crust to develop on the other side. Then move the steaks to the indirect side. Being able to move the steaks from direct (500 degrees Fahrenheit) heat over to indirect heat prevents burning or overcooking. We prefer lump charcoal for any charcoal cooking.
Allow the steaks to rest. Carry over cooking will continue cooking the steaks up to 5 or 6 degrees F, especially with how lean they are. So they will cook fast, and removing the steaks to allow them to come to your desired finishing temperature is important. This is the perfect time to make any sauce you want to add to the steak. Proper internal temperature requires a great instant read thermometer. We have used the Thermoworks Thermapen One as our go to meat thermometer.
Slice against the grain. You'll see in Filet that there are lines where the muscle runs. Be sure to slice perpendicular to those lines. This keeps the texture of the steak soft and buttery. Especially if using Prime or American Wagyu steaks like the ones we used in this post from Snake River Farms.
You can also reverse sear versus grilling Filet Mignon for a little added smoke flavor. But we find the flavor and tenderness of the Filet is perfect simply grilled.
Video
How Long to Cook Filet Mignon
With any grilled steak, especially this one, it is less about time and more about cooking to the proper internal temperature. We sear the steak for roughly 2 minutes per side, and then finish on indirect for about 8 more (depending on the exact thickness of each steak). But the key is to cook to temperature and not time.
You can see our full article on the perfect steak temperature and the importance of carry over cooking.
Recommended Temperature Ranges for Cooking Steak
Rare: 120-130 degrees F
Medium Rare: 130-140 degrees F
Medium: 140-150 degrees F
Medium Well: 150-160 degrees F
Well Done: 160 degrees F AND not recommended for a good quality steak
How to Make a Brown Butter Sauce
What is a brown butter you may ask? It's the process of cooking down butter in which the water in butter gets separated out from the solids. As the water cooks out, the butter browns and develops a nutty aroma and flavor. If you add any other element it infuses in the brown butter for extra flavor like sage, garlic, or in our case, mushrooms.
For our brown butter sauce we added mushrooms, and to get the right consistency we saute the mushrooms first in a pan to get nice and caramelized. Remove the caramelized mushrooms and then brown the butter. Finish with any other added flavor elements you want. Spoon over the Grilled Filet Mignon for just that extra wow factor.
Brown butter will harden as it cools. Store in the fridge and then reheat in a pan.
More Grilled Steak Recipes
What Wine to Pair with Filet Mignon
The best wines to pair with Grilled Filet Mignon tend to be wines with moderate tannins like Cabernet Franc and Merlot. This is because the filet has less fat than a NY Strip or Ribeye which tend to lend themselves to a Cabernet Sauvignon or big Syrah. You don't need to select a powerhouse wine for this, and instead look for something silky and smooth, but still has a full body.
Cabernet Francs from Washington State or Southern Oregon are a great choice, or red Bordeaux blends from Saint-Émilion France. We love Cabernet Franc from Walla Walla Vintners, located in Walla Walla, Washington, with this particular recipe. Also check out South American Malbecs for something fun.
About Vindulge
Mary (a certified sommelier and recipe developer) and Sean (backyard pitmaster) are co-authors of the critically acclaimed cookbook, Fire + Wine, and have been creating content for the IACP nominated website Vindulge since 2009. They live in Oregon on a farm just outside Portland.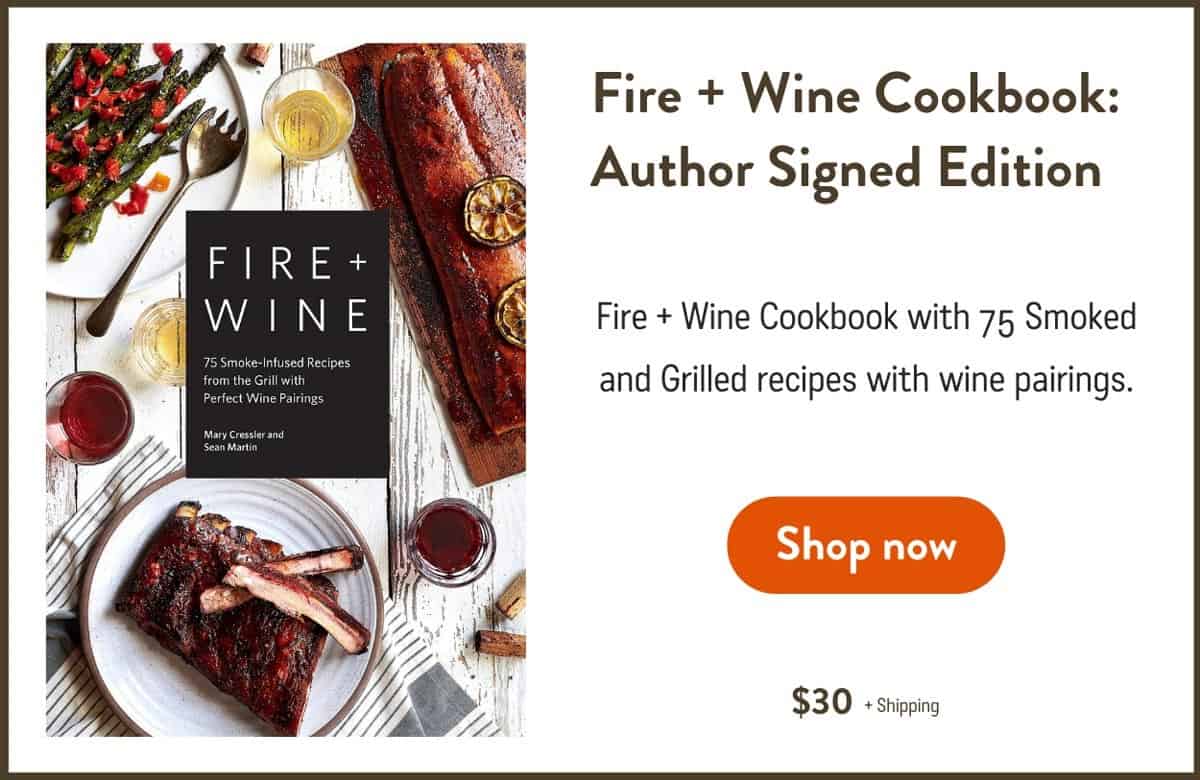 Tried this recipe? Give us a star rating and we would love to see! Mention @vindulge or use the hashtag #vindulge on all the social media handles. And consider subscribing to our newsletter where we drop all our favorite ideas and inspirations every week.
This post contains affiliate links, which means if you click on a link and purchase products, we may receive a small commission. We only partner with brands we know and love and want to share that with our readers! It also helps fund and keep the blog going!
I purchased this particular bottle of Cabernet Franc directly from the winery, but I have received samples of Walla Walla Vintners in the past. You can see my sample policy here.