Looking for the best wines to pair with your holiday beef roast this year? Look no further! We've got the ultimate guide to pairing wine with your Holiday Roast.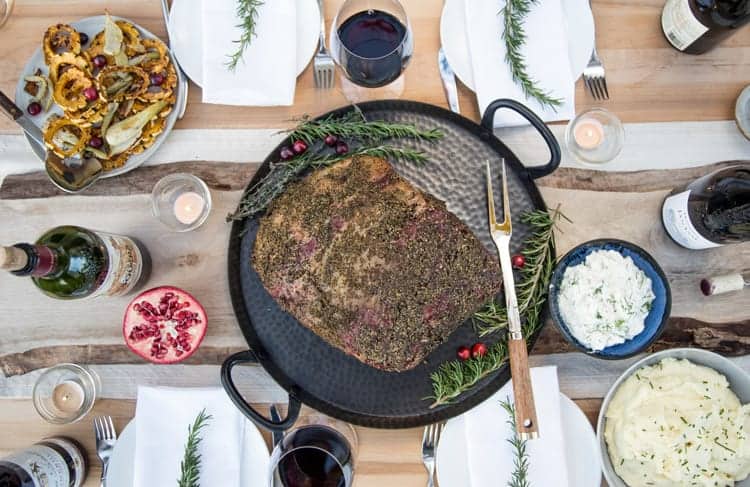 This post is a collaboration with Beef. It's What's For Dinner. on behalf of the Beef Checkoff. I received compensation, but all opinions are my own. And trust us, beef and wine are an amazing pairing, and they're kind of our thing!
Holidays are the time when we go big, whether a dinner party with friends or holiday meal with family. It's time to come together, surrounded by love, a great meal, and great wines to pair.
We know it can be stressful to find the perfect wines to pair with your holiday meal when you're also cooking the big meal, decorating your table, and looking for tips for entertaining. But we've got you completely covered! From how to find the perfect beef Rib Roast, to preparing it, tips for entertaining, and more, we've teamed up with an incredible group of experts to help you through every step of the way.
We've got your back!
And once you've picked out your perfect roast and decorated your house for the big event, you're ready for the party. So let's talk about the best wines for Prime Rib.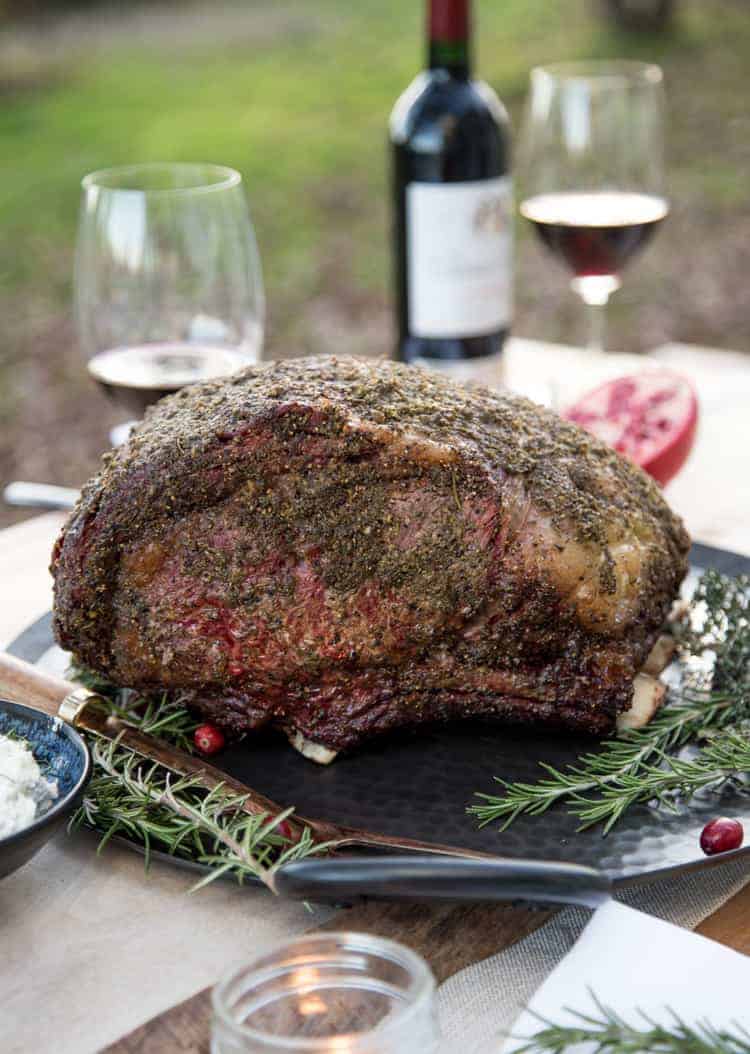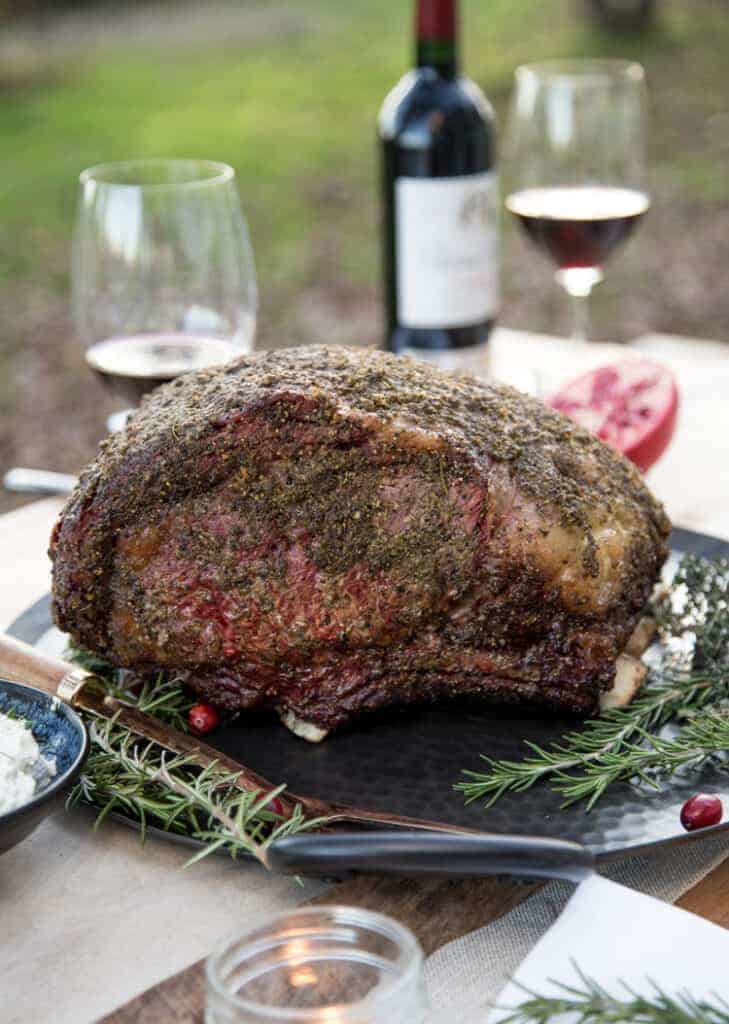 Pairing Wine With Beef
Pairing wine with beef is going to be determined by the individual cut, and how it's cooked. Lean beef, like tenderloin or filet mignon, lends itself to different wines than richer meats, like Prime Rib. Likewise, grilled steaks call for different wines than roasts cooked in the oven.
My general rule of thumb when pairing wine with beef, is pair lean beef with lighter to medium-bodied wines, and richer cuts with bolder wines.
Lean with light, and bold with bold. It's that simple. Well kinda.
One of the main considerations is the amount of fat and richness in the meat compared to the amount of tannins in a wine.
For more information on pairing beef with alcohol you can head over to Beef. It's What's For Dinner.
Tannins and Wine
The reason red wine and beef taste great together is because of the way tannins in wines interact with the intramuscular fat in the meat.
What are Tannins in Wine?
Tannins are a natural compound found in red wines, and come primarily from the grapes skin, stems, and seeds. They can also come from the oak barrels where the wines age. Tannins come across bitter and astringent, leaving your mouth feeling dry and sometimes unpleasant (think of a cup of black tea that was over steeped, and how it feels on your mouth). This is what strong tannins in wine feel like.
But when they interact with fat (or protein), the fat coats the palate, and tannins immediately soften in your mouth, and the fruit that was once hidden now shines. Since a beef Rib Roast naturally has high intramuscular fat content and marbling, it's the perfect meal for those wines high in tannin.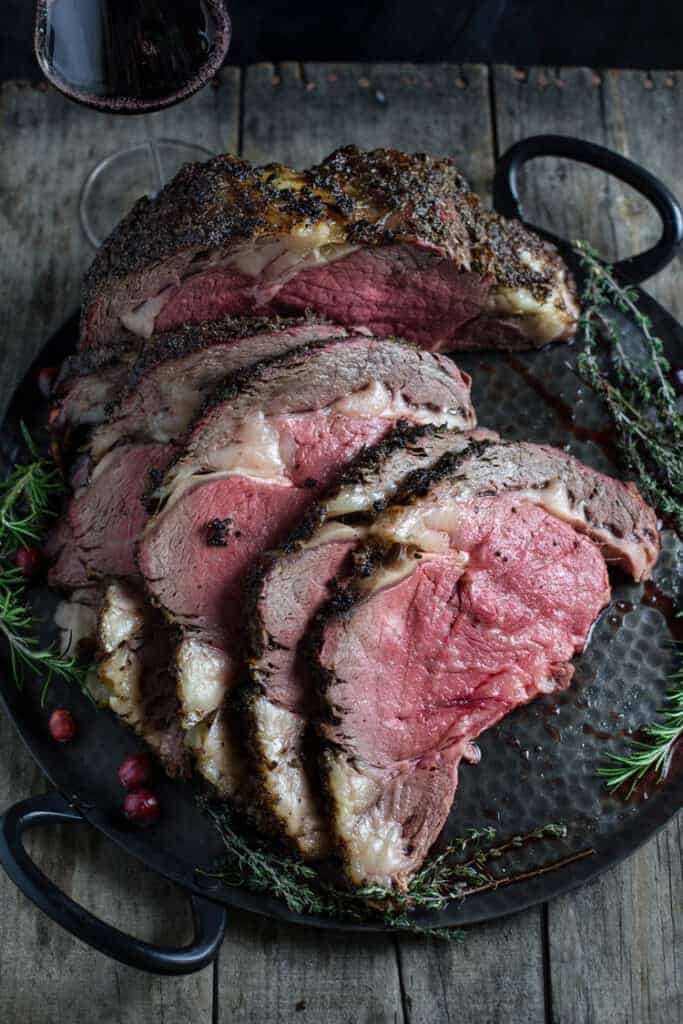 Red wines that are high in tannin include: Cabernet Sauvignon, Nebbiolo, Tannat, Petit Sirah, Mourvedre
Sommelier Tip: The longer a wine ages in the bottle, the softer its tannins naturally get while aging in the bottle. So older (aged) red wines actually can stand up to leaner beef cuts.
So younger wines, or wines less than five years from the bottling vintage, are best for cuts like a beef Rib Roast.
Aged wines can certainly stand up, but avoid adding too much horseradish sauce, and go for a center cut served medium rare if you're serving an older wine.
Pairing Wine with Prime Rib
Pairing wine with Prime Rib is quite easy. There are a few things to consider, and it will depend on the style of roast. But for a classic roasted Prime Rib with horseradish sauce, like this featured recipe from Beef, Its Whats For Dinner, consider the following.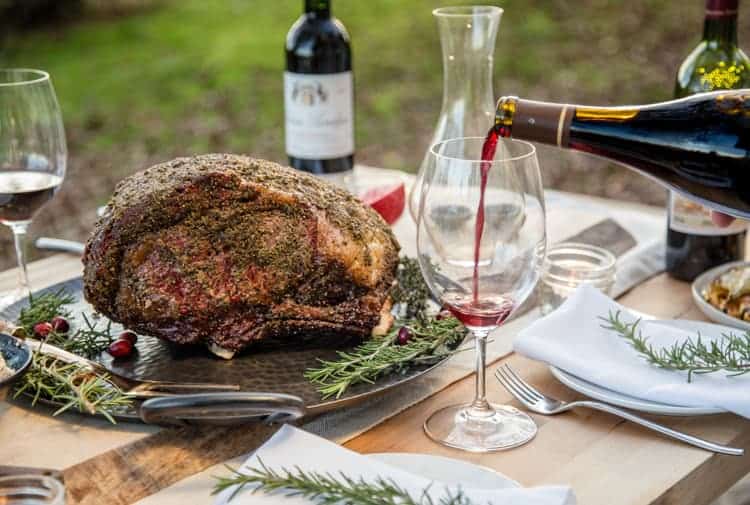 The meat is tender, savory, and rich! There's a good amount of flavorful marbling throughout the roast that translates to big flavors on the palate.
The horseradish sauce will affect the choice a bit. You're going to want a wine with a good amount of fruit to stand up to the spiciness of the horseradish.
This is where those young tannic bold wines, like Cabernet Sauvignons, really shine. Young Cabernet, without food, can be hard to drink because they tend to have mouth-drying tannins. But when you pair it with a cut like a tender and rich Prime Rib, the intramuscular fat in the meat softens those harsh tannins and you really get that pretty fruit. It's a match made in heaven! But Cabernet is certainly not the only wine that fits this bill.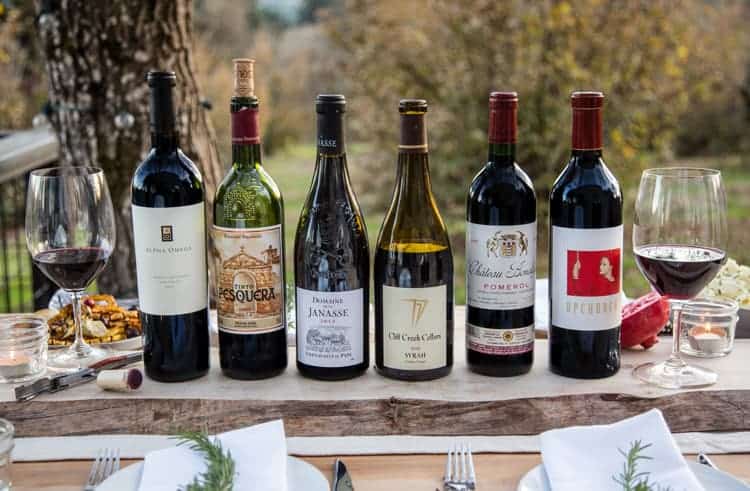 Cabernet Sauvignon: This is a classic pairing for a beef Rib Roast. Full of fruit and tannins, this will not disappoint. Look for Cabernets from Napa or Sonoma Valleys of California, or Washington State for a guaranteed match.
Syrah: Bright, peppery, and rich in fruit, this is a great choice for the meaty roast. Big and powerful and full of spice and fruity flavors to compliment that horseradish sauce.
Rhone Valley: These are wines perfect for this cut of meat with their exotic spice and dark fruit. Look for Southern Rhone Grenache and Syrah based wines for a great match. If you want to really spurge, look to Châteauneuf-du-Pape to really wow your guests with this pairing.
Rioja: Made from Tempranillo grapes, this is a delicious Spanish wine that is rich and robust. You can also find equally delicious wines from it's neighboring region, Ribera del Duero (made from the same grapes in a similar style).
Barolo: Barolo hails from Italy and is made up from highly tannic Nebbiolo grapes. These wines are meant to age, so if if you're itching to open one young, a slice of Prime Rib is a great pairing for this bold wine.
Other Great Wines for Holiday Roast
Tempranillo
Merlot
Cabernet Franc
Bordeaux Red blends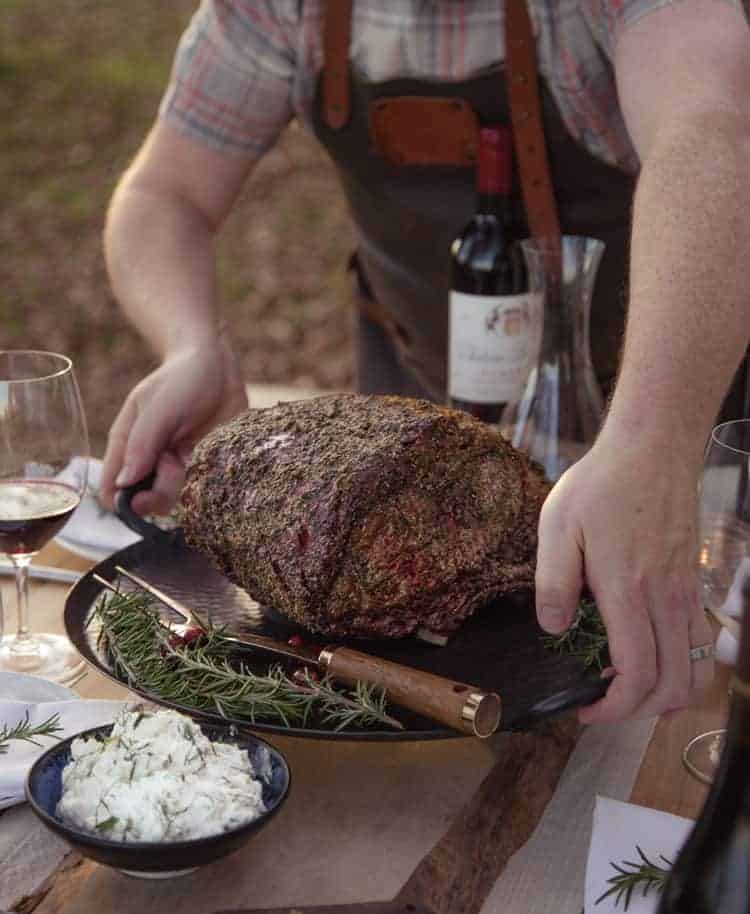 On a Budget?
Consider: Carmenere, Malbec, Nero d'Avila, Barbera, or Zinfandel. You can find some great examples for under $25.
To Decant or Not to Decant?
Do you have a wine decanter that you bring our on special occasions? And is this the right time to use it?
What is Decanting Wine?
Decanting a wine is the process of pouring your wine into a vessel (decanter, pitcher, or similar vessel) prior to serving into a glass.
The reason we decant a wine is twofold:
To remove solids (or sediment) that naturally accumulate during aging process. Decanting will separate the wine from the sediment that has settled (the gritty sediment is no fun to drink, so it's important to remove it).
The second would be to aerate a younger wine to give it some oxygen. Young wines are tight and the flavors are closed (muted) when consumed early. Decanting can help to release the flavors (allowing the wine to open up). Young wines that are high in tannins and bold in flavor can really benefit from decanting.
Not all wines need to be decanted. In fact, most wines produced these days do not necessarily *need* decanting. If you're serving an old wine that you've been storing in a wine fridge or cellar (like an aged Bordeaux or Barolo), then yes, this is the time to gently decant that wine.
If you're going for one of those young, bold, Napa Cabernet Sauvignons recommended for the prime rib, then I would definitely recommend decanting that wine too. Young bold wines certainly benefit from decanting. Decanting those younger bold full-bodied wines will also allow some of those harsh tannins to soften a bit and become less harsh.
How Long Should I Decant a Wine?
That will depend, but for red wines decant for at least 30 minutes prior to serving (ideally 1-2 hours for a bigger red, like Cabernet Sauvignon).
The Perfect Holiday Party — Putting it all together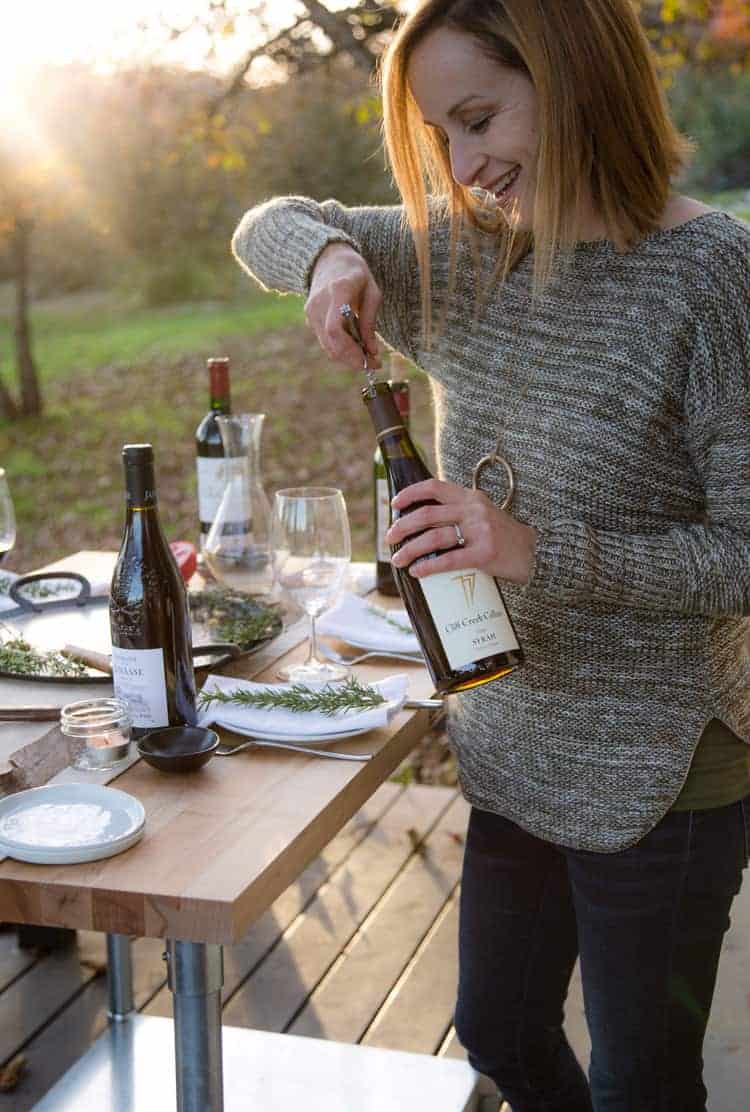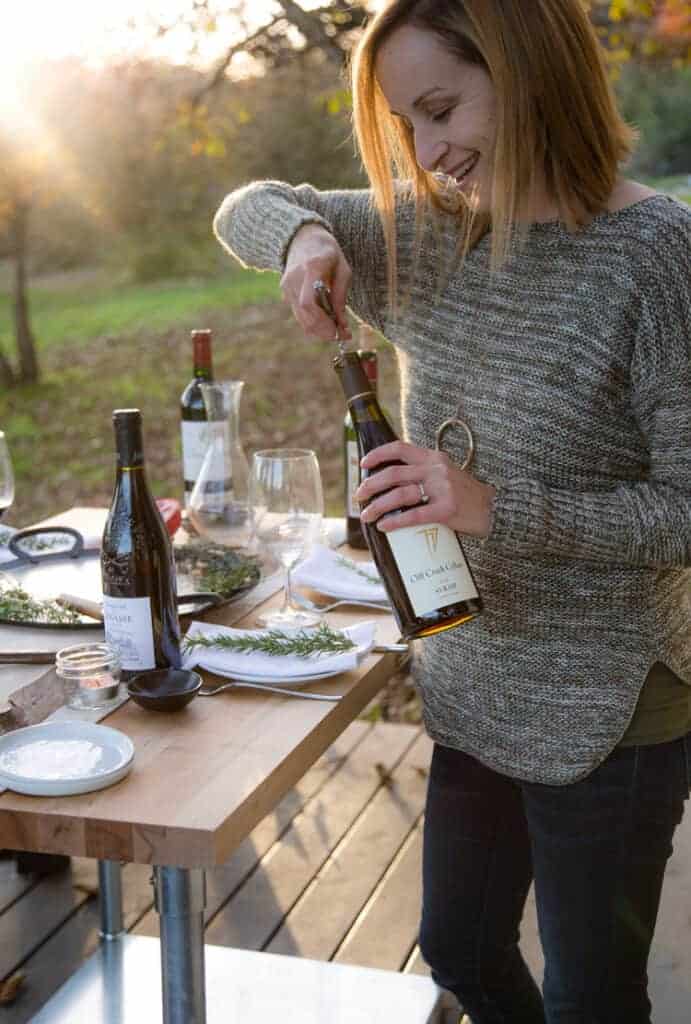 We've got you covered throughout this whole process. From selecting the perfect roast, to preparing it, to setting up your home for entertaining. Grab a few bottles of wine, open them up, and enjoy an amazing pairing with one of the best cuts to pair with tannic red wines, beef and specifically beef Rib Roasts. Check out what the Cookie Rookie has to say about making Roast Planned-overs!
---