Confused about how to pair wine with BBQ? Don't be! Here's your guide to pairing wine with barbecued and grilled foods.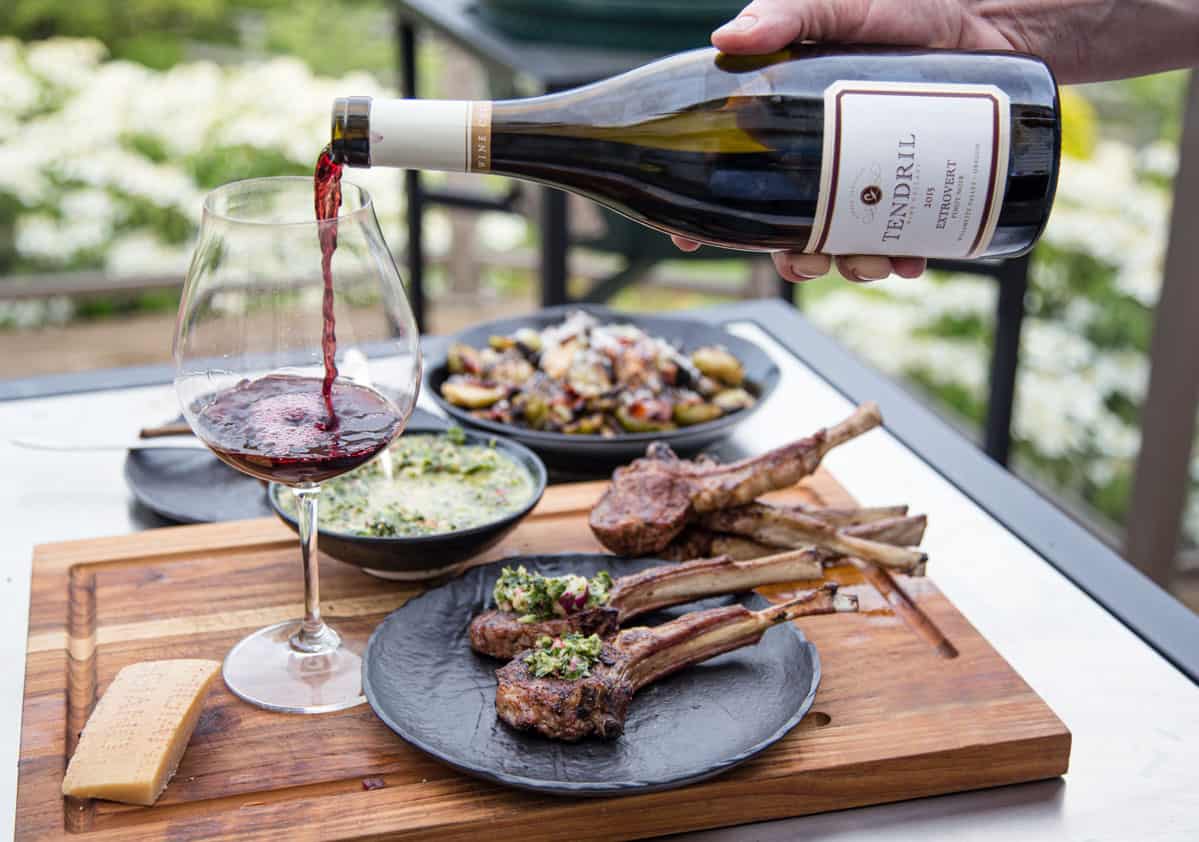 Jump to:
All year long we're spending more and more time outside, cooking on the grill, surrounded by family and friends. Those intoxicating aromas from the grill begin to fill the air and the neighborhood streets, and we're left wondering what to pair with our smoky creations.
If you're like me, and prefer a glass of wine over the traditional beer or whiskey with your BBQ and grilled foods, you're in the right place.
And if you want to go deeper into the subject, check out our cookbook, Fire + Wine for all you need to know about pairing wine and food.
But this is a great starting point and reference for your next outdoor gathering.
The Wine Pairing Guide to Barbecue and Grilling
The number one rule of pairing food and wine is always – drink what you like. BUT, I also firmly believe there are recommendations (and that's what you will find below – recommendations NOT rules) that can make the experience fun and help you get the most out of your food and wine experience.
When pairing wines with BBQ and grilled foods I really use the same principals as any kind of food and wine pairing.
It's about creating BALANCE and synergy. It's about not allowing one element to dominate the experience. And when done well, it's about enhancing both the food and the wine to something even more pleasurable than they are consumed alone.
In general I focus on two ideas when pairing wine with any kind of food:
Complimenting: matching like characteristics. Matching weight with weight, intensity to intensity of flavors, acid to acid, sweet to sweet and so forth.
Contrasting: contrasting flavors, like sweet and spicy or salty and sweet.
When it comes to grilling and barbecuing, the one thing I recommend is to not put too much focus on the specific meat you are working with. Instead, use your rubs, sauces, and glazes to dictate the wine, not the specific protein (in most cases).
First, let's discuss some important vocabulary.
Grilling vs. Barbecue: What's the Difference?
Grilling: cooking food directly over a hot fire. Often referred to as "hot and fast" cooking. In general, meat and vegetables cook quickly when grilling.
Barbecue (BBQ): the food is cooked indirectly and flavored with smoke. Referred to as "low and slow." Food is generally cooked at 250 degrees or less. When I talk about "smoking" foods here on the blog, I am referring to this method. So yes, I have now ventured into controversy, so remember, these are guidelines. In some cases you can still barbecue at 350 degrees, but to create some ease let's start somewhere.
When it comes to grilling specifically, I pair wines in the same fashion as I would cooking the same foods indoors.
Smoking (barbecue) adds different elements. In particular, smoke and sugar — flavors that are important in barbecuing — are ingredients that can ruin many wines. These are elements to pay attention to. And it is this style of cooking that I will focus on for the rest of this guide.
Another factor is that within barbecue circles there are several styles of BBQ. Those who are passionate about barbecue are equally passionate about their style (or regional) preferences. These various styles can also affect the wines we would pair.
Carolina Style BBQ
In general this method incorporates the hog, the sauce is made of vinegar, a little sugar and crushed black and red peppers. The sauce is quite thin and very, very acidic. (Yes there is Tomato based too, but this is focused on the vinegar)
Think whole hog or pork butt.
Wine Pairing for Carolina Style BBQ:
Pork is laden with flavor and fat, and the sauce is so acidic that you need a wine that has enough acid to stand up to it.
Barbera, Sangiovese (and other Italian reds), as well as Monastrell from Spain, all can work well for red wines because of their body and strong levels of acidity.
Riesling has enough acid to stand up to acidic-based sauces for pork and compliment the flavors well.
The key is wines with high acidity!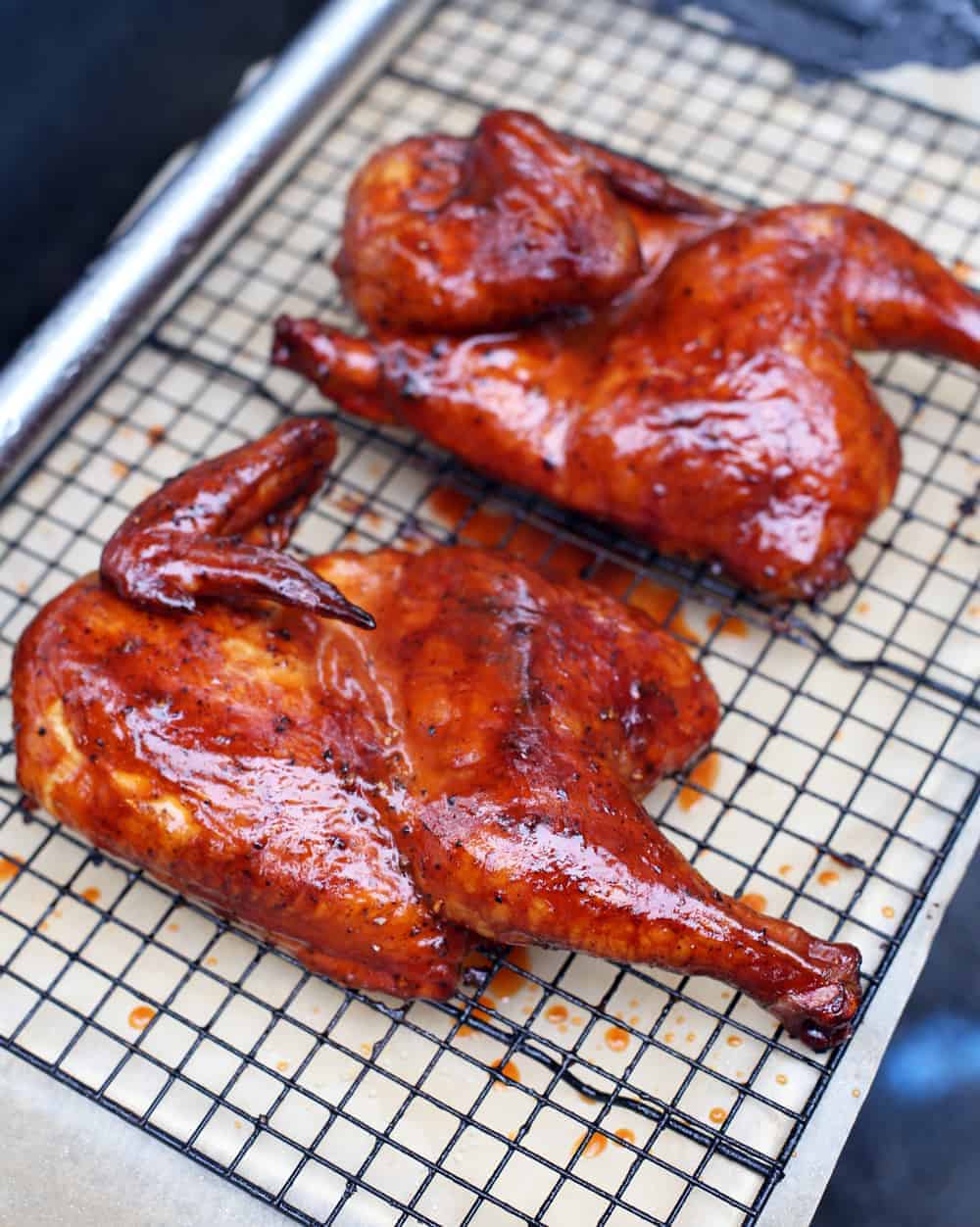 South Carolina BBQ
This would be whole hog or sometimes just the shoulders, but what makes it distinctive is its mustard-laden sauce. Though the sauce may also contain ketchup and either honey or brown sugar, we focus here on the spice from the mustard.
Wine Pairing for South Carolina BBQ:
Sugar and spice aren't always very nice (to pair with wine that is), so look for something intense and rich, but still with good acid.
Some Syrahs and Zinfandels work well here.
But don't be afraid of using white wine. Riesling, especially ones with a touch of residual sugar, but enough acidity, works well. Excellent examples can be found in Germany, Finger Lakes New York, and even Washington State. Look for those with around 1-2% residual sugar (RS).
Memphis Style BBQ
Known for pulled pork & ribs. Memphis ribs are heavily seasoned with a dry rub made of brown sugar, chili powder, pepper, and cumin, and they are slowly cooked. Though these ribs are known as "dry ribs" the meat remains juicy, tender, and full of flavor. If sauce is served here it will be a ketchup based sauce and served on the side.
In Memphis, the sauce is used more as an accent, not the main event.
Wine Pairing for Memphis Style BBQ:
Washington State Merlot works nicely here. These wines can be big, powerful, and fruity yet retain lovely acidity.
For something different try Lambrusco; it really works well with the sweet elements of the barbecue sauce.
My favorite pairing for ribs hands down is rosé. A dry rosé is refreshing, fruity, with good acidity and cools you down if your ribs happen to have even a trace of spice.
Kansas City BBQ
The stars here are generally pork and ribs, but you'll also find brisket. The key here is that everything is heavily sauces. What defines this style of barbecue is these thick sauces that are usually ketchup (or tomato) based.
Wine Pairing for Kansas City BBQ:
To me, this is the over the top, saucy, finger-licking barbecue that require a wine equally over the top, and intense, showing spicy, juicy, and ripe characteristics. Sweet sauces need something assertive.
This is where Zinfandel shines, standing up to all the elements mentioned above.
New World Syrahs work well here too.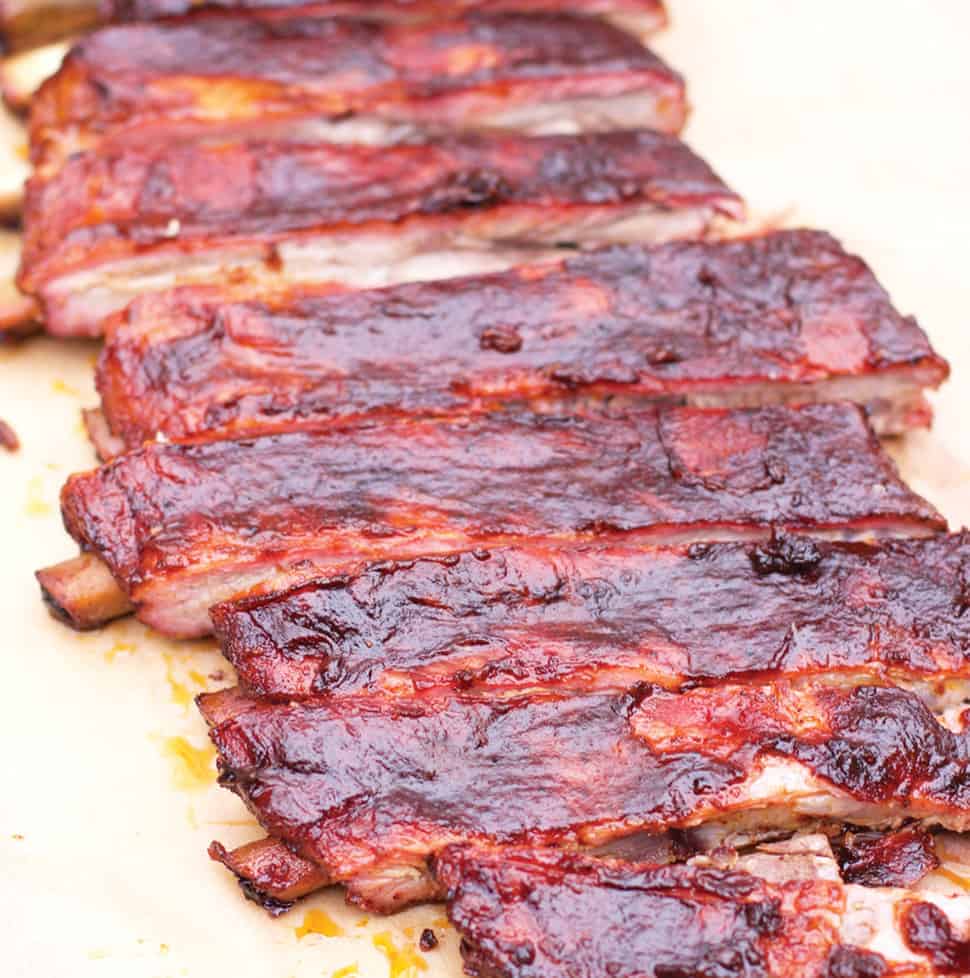 Texas BBQ
When we talk Texas we're talking beef (brisket is the key). We focus on dry rub and smoke, not sauces.
Brisket starts out fatty, but much of that is rendered out during the slow smoking process. The meat can also be slightly sugared (based on the dry rub). Brisket is usually served sauce-less. This is the one style where we do focus on just the meat – beef brisket.
Wine Pairing for Texas BBQ and Smoked Brisket:
This is where I look for a medium to full-bodied red wine with dark berry fruit and firm tannins.
I look for a wine that is less of a fruit bomb, and instead displays more earthy and complex characteristics.
Tempranillo (Rioja or domestic Tempranillo) work remarkably well, as does Rhone Valley Syrahs (because of that smoky quality), or GSM (Grenache/Syrah/Mourvedre) blends.
But I'm not gonna lie, you'll also find me drinking a full bodied rosé with my brisket half the time (especially on a hot summer day!).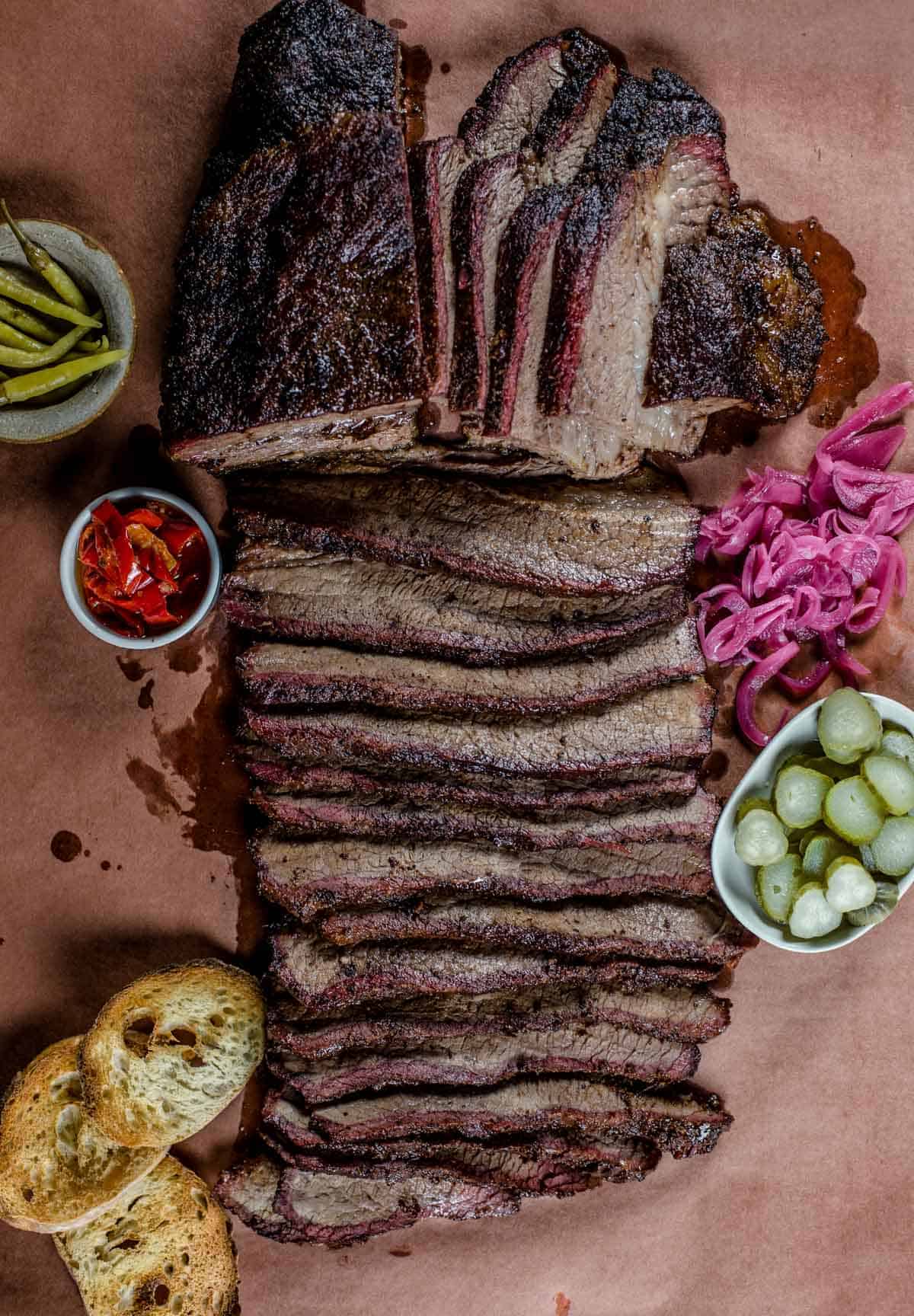 Texas style smoked brisket pairs well with a refreshing glass of rosé
Key Things to Remember when Pairing Wine with BBQ
Smoke: can be powerful, and can interfere with many wines, can overpower many wines, so think powerful wine if you're going for intense smoky flavors in your food.
That being said, barbecue, when done right, shouldn't be a smoke bomb (much like wine when done right nothing should be the dominant flavor). Remember, balance!
Avoid delicate wines when barbecuing. For grilling it's okay (depending on what's being grilled), but not smoking. It's just not fair to the wine.
Big bold flavors = big bold wines
It's not always about the meat! Quite often when you're having an outdoor cookout it's about more than just the food (i.e. socializing and otherwise enjoying a lovely day. Think refreshing white wines to sip on while you're waiting for the food to cook).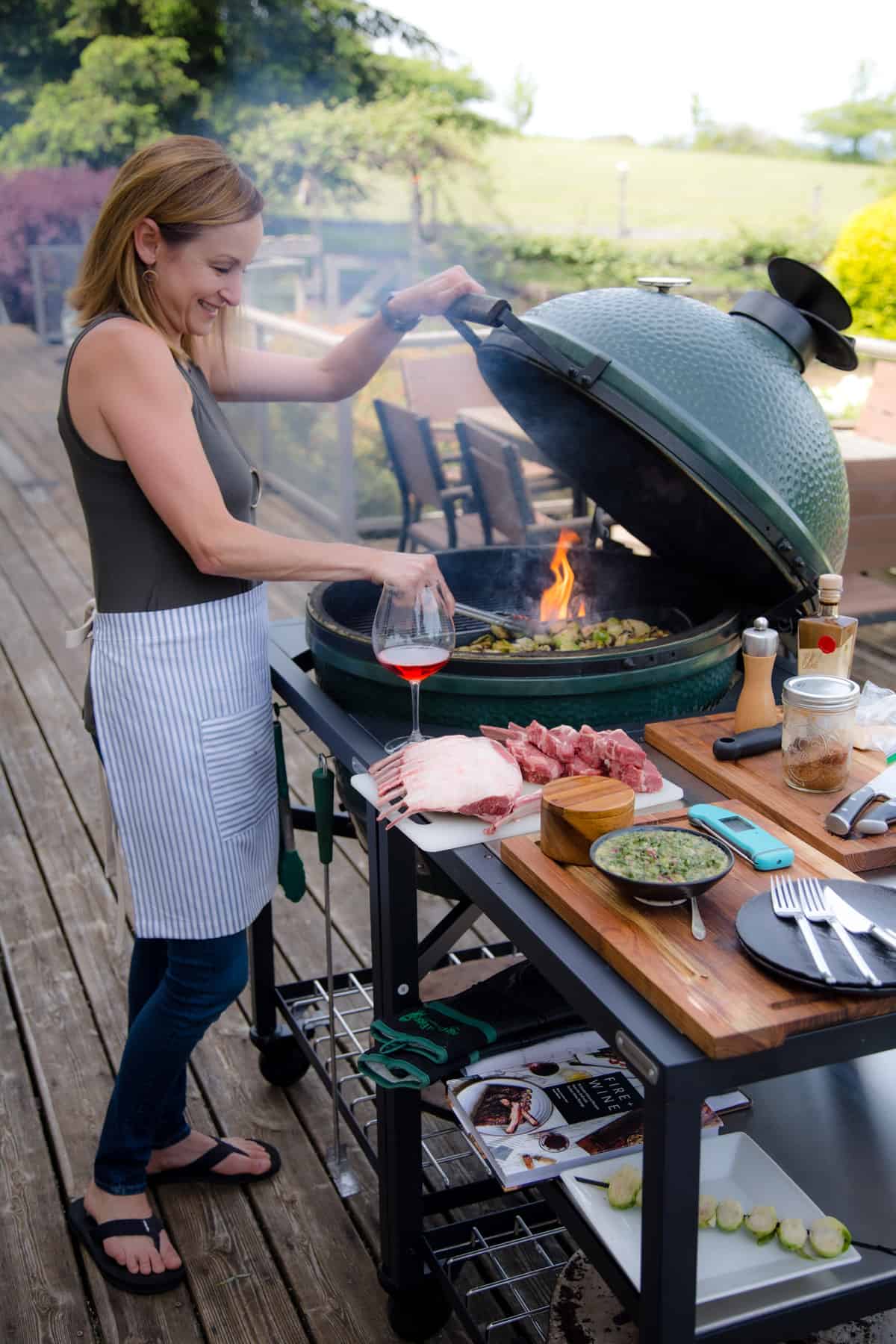 Wine Pairing with Grilled Food
Cooking food on a hot grill can run the gamut from grilled oysters, to salmon, to classic burgers. Here are a few go-to wines that can work with almost anything you throw on that grill.
Sparkling Wine
Sparkling wines are among the most versatile food pairing wines out there. Yes, even with foods cooked on the grill. They are great with seafood, vegetables, and even grilled chicken. Grab some Cava from Spain or Prosecco from Italy for everyday pairings. Or when in doubt, you can always buy Champagne.
White Wines
White wines are great with grilled seafood (especially white fish, shrimp, oysters, etc.). Chardonnay is fantastic with most chicken dishes, especially grilled chicken. But remember, Chardonnay comes in a huge variety of styles (light and crisp to full-bodied, oaked to no-oak). Riesling provides excellent acidity to pair with most grilled poultry or fish. Pinot Gris (Grigio) is great with grilled fruit, like Grilled Peach Crostini. I also love Albariño for grilled seafood.
Rosé
Like sparkling wine, rosé is incredibly versatile with grilled and barbecued foods. The acidity found in most good quality rosés can make them excellent pairings for both light dishes (like seafood and chicken) to beef and pork. And, like Chardonnay, they can be incredibly diverse in style (bold and dark, to light and crisp). For bolder styles seek out those from Spain or South America. For light, fresh, elegant styles look to Provence or Southern France. Though some of my favorite rosés come from right here in Oregon, made from Pinot Noir grapes.
Red Wines
For your standard steaks and BBQ sauce covered proteins, reds can be your best bet. Easy drinking Malbec is a standard for most grilled beef dishes, especially those with a simple dry rub and no sauce. For a great steak, like a ribeye or NY strip, you can't go wrong with Cabernet Sauvignon, Merlot, Cabernet Franc (or Bordeaux blends). For dishes like grilled chicken with a BBQ sauce glazed over the top, reach for a fruity and bold red, like Zinfandel or Syrah (something that can stand up to those bolder flavors). Pinot Noir is also incredibly versatile, and is great with grilled salmon or pork dishes, like pork tenderloin.
Above all, the number one rule of any kind of food and wine pairing is drink what you like. These recommendations are just that – recommendations. They are meant to help you get the most out of your dining experience. At the end of the day, however, drink what makes you happy. Look at me? Rosé is my go-to summer wine for most things I cook.
Rosé, especially dry rosé, is one of the most versatile food wines and can be paired with anything from summer salads, grilled chicken, to smoked pork. I feel equally passionate about sparkling wine. I drink them with everything. Yes, EVERYTHING. Because that's what I like, and incidentally bubbles pair well with even more foods than rosé. So, when all else fails, drink rosé, or bubbles, or better yet, rosé bubbles. Even with smoked beef? Yes, even with smoked beef!
Our favorite barbecue and wine pairing recipes
Click to listen to our interview on the subject of pairing wine with BBQ on Jameson Fink's Wine Without Worry podcast.
---
*This post was originally published in August of 2013, and updated in May 2020 with more content.
---