This Grilled Cauliflower will make your guests do a double take and shout, "Wow"! Steaming cauliflower first allows the grilled flavor to shine with the perfect texture. Finish with a cilantro based pistou (or French-inspired pesto) for an incredible dipping sauce. It will be your new favorite appetizer, side, or even main star.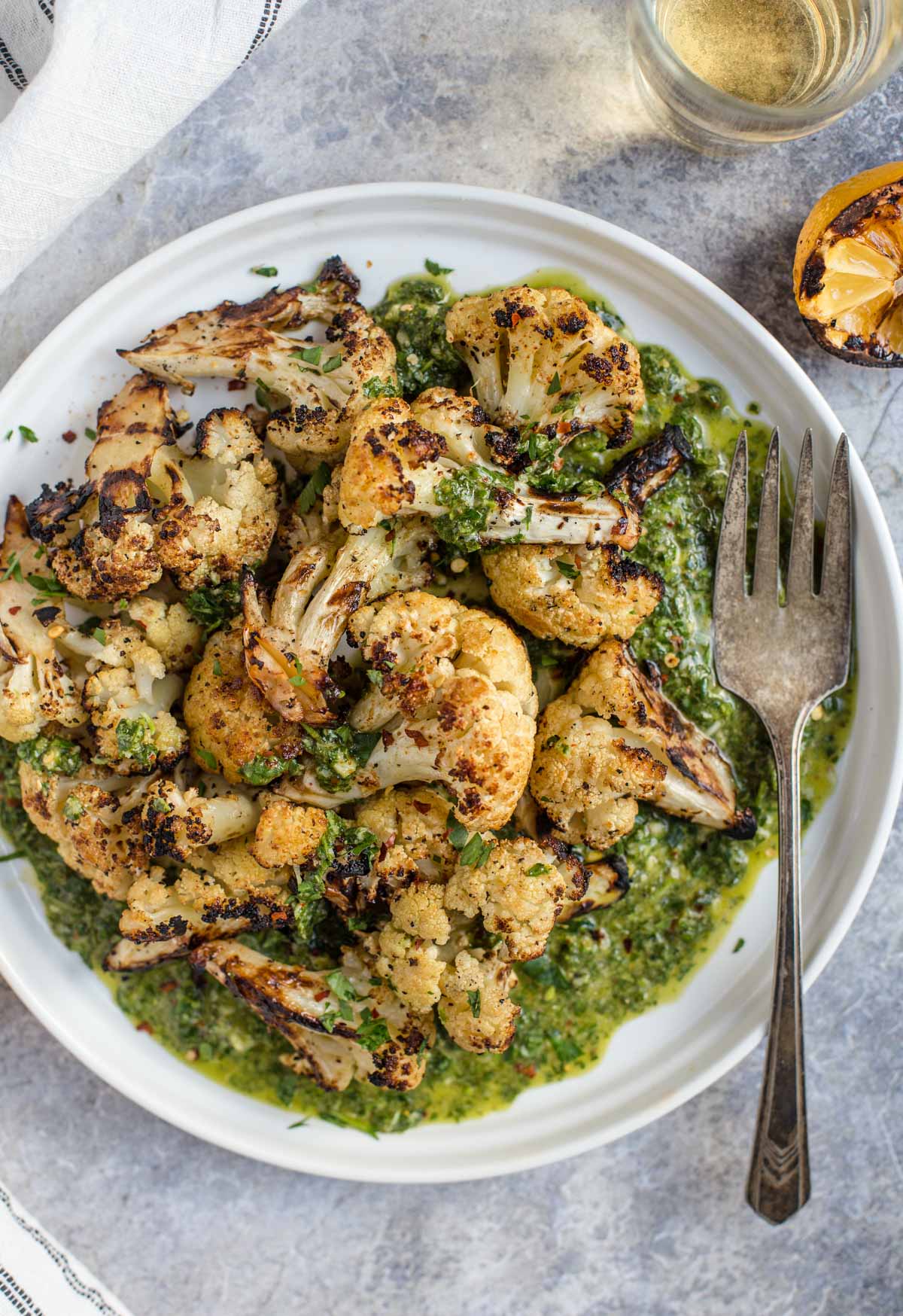 This recipe was inspired by a local restaurant we love in Hillsboro, Oregon. They have this fried cauliflower dish that they serve with what they describe as a "cilantro pistou". The dish has been haunting me, and I've been wanting to return to the restaurant for weeks, but they've been closed due to a fire. Sad on so many levels. So, since we can't go back until they're back up and running I decided to dedicate my energy into trying to figure out this recipe. I think we've come pretty close!
Why This Recipe Works
Steaming cauliflower for four minutes softens the texture so it isn't too dry or crunchy after grilling. Instead you get a soft interior and a mildly crispy grilled exterior.
A quick marinade infuses flavor with a salt and pepper seasoning.
Grilling direct gives the perfect color and earthy flavor from the charcoal (or gas grill).
The acidic and herbal flavors of the pistou make the overall flavor combination explode!
It can easily be modified for the stovetop on a grill pan.
Jump to:
Grilled Cauliflower Florets
Even if you are the heartiest of carnivores, you're going to love this dish. And while this would be just as good with evenly sliced cauliflower "steaks", we like to prepare this dish with florets. Breaking apart the cauliflower into smaller florets make it easy to grill, and also makes it a plentiful vegetarian side for a crowd.
But don't just rush to just grill the cauliflower. After testing and sharing with friends, we have found a few key steps turn this dish from good to great grilled cauliflower. To best prepare the cauliflower, start by removing the thick stem by slowly cutting your way around it with a sharp chef knife.
After removing the stem you have easy access to slowly cut apart the individual florets into small sizes that will grill faster.
Preparation – Steam Cauliflower
A key step is to quickly steam the cauliflower florets then cool them in an ice bath. This softens the texture, but also rapidly cools the cauliflower so it doesn't get mushy and fall apart on the grill. If you skip this step, the cooking time takes longer, the texture may become crunchy, and you risk burning it.
Steaming Cauliflower – Get your steamer to boiling and then add the florets. Cover and steam for four minutes. Remove from steamer and place cauliflower florets in an ice batch in a large bowl to immediately cool. Once cool, strain and prepare for the seasoning.
The ice bath rapidly cools the florets to keep a solid texture. Be sure to strain and dry off the florets before seasoning.
Alternatively you can blanch the cauliflower. If blanching, place cauliflower florets into boiling water for two minutes. Then remove and place immediately in an ice bath.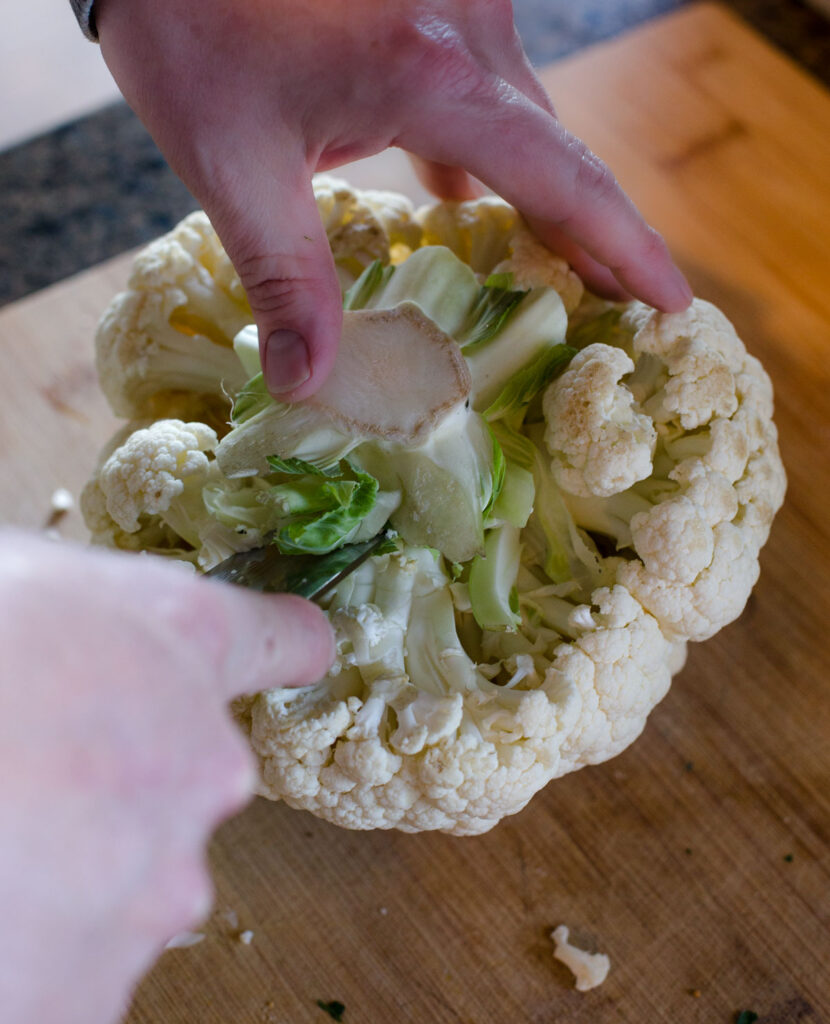 Seasoning for Grilled Cauliflower – Marinate and Season
We love to add a little extra flavor just prior to grilling, so we're adding a quick marinade. In a large bowl, add extra virgin olive oil, soy sauce, and lemon juice. Whisk to combine. Then toss in the dried florets. Stir with a large spoon (or toss if you are brave). After incorporating the marinade, liberally apply the salt and pepper and toss again. Now it's ready to grill.
Grilling Cauliflower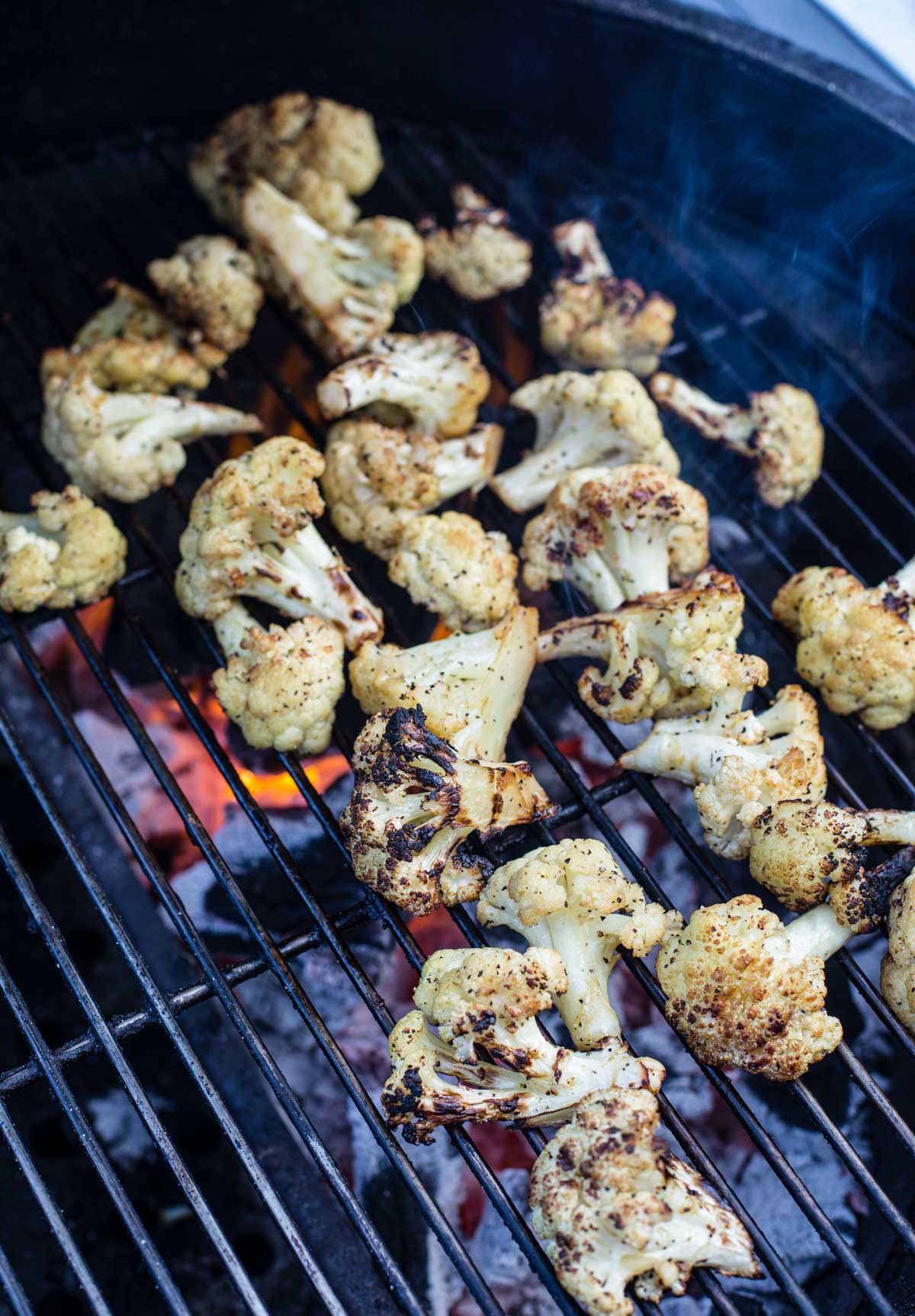 Plan to be standing by the grill, because you'll be moving the florets around a bit with good long tongs to get the perfect color.
Prepare the grill for two-zone grilling. Most of the cooking is direct, but having a cooler side helps since some of the cauliflower is going to cook faster than others. Target 400 degrees as the ambient temperature in the grill.
Place the cauliflower over the direct heat and close the grill. Grill for approximately five minutes. If the grill is running hotter, then plan to reduce the time.
After 5 minutes, continue to rotate the cauliflower so all sides have good grill marks or char. If any are done early you can move them to the indirect heat side so they stay warm.
Remove and serve warm with the cilantro pistou drizzled on top or as a dipping sauce.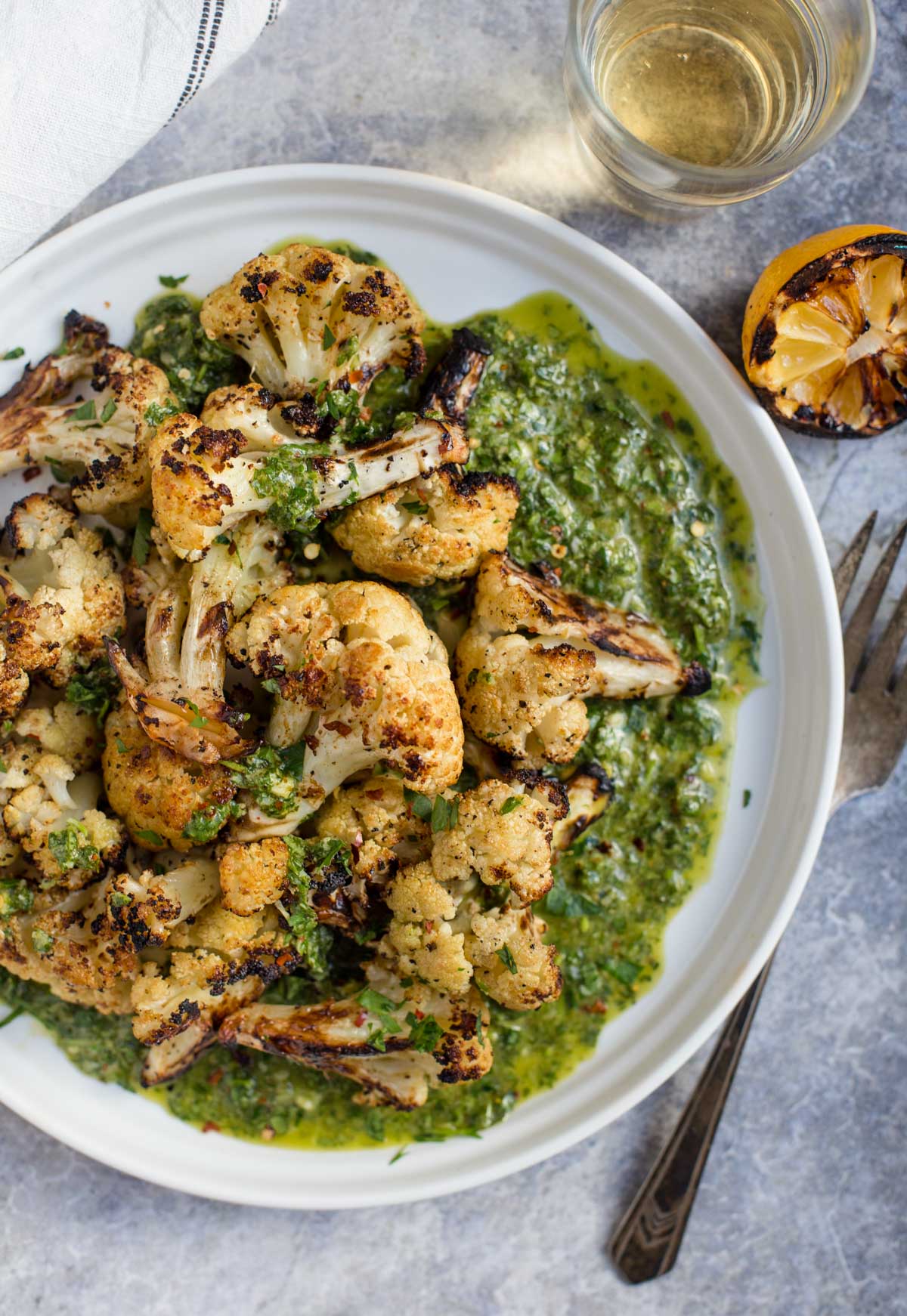 Cilantro Pistou
If you are wondering what is pistou? It's basically a French pesto (without nuts), or think of it as a French Chimichurri. The main profile addition is parsley and cheese. We're modifying to add more herbal flavors with cilantro and then citrus (and acid) with grilled lemon. If you are someone that hates cilantro, sub this recipe for our classic chimichurri sauce.
In a food processor add all the ingredients except oil. Pulse four or five times to incorporate the flavors. Then add the olive oil in one tablespoon increments. Continue pulsing a few times and then taste. Adjust flavors to give it your preferred balance of acid and herbal.
See recipe card for recipe ingredient details.
Other Grilled Vegetable Recipes
And for more cauliflower recipes try our grilled cauliflower steaks or our grilled cauliflower florets with pistou (French chimichurri).
This post may contain affiliate links. This means if you click on the link, we may receive a small commission if you purchase through the link. We partner with brands we know and love and use and it helps keep the blog going!