Grilled Cod Fillet with Chimichurri Sauce is a fantastic light and healthy meal for a weeknight or family dinner. Chimichurri sauce makes everything taste better, even fish dinners!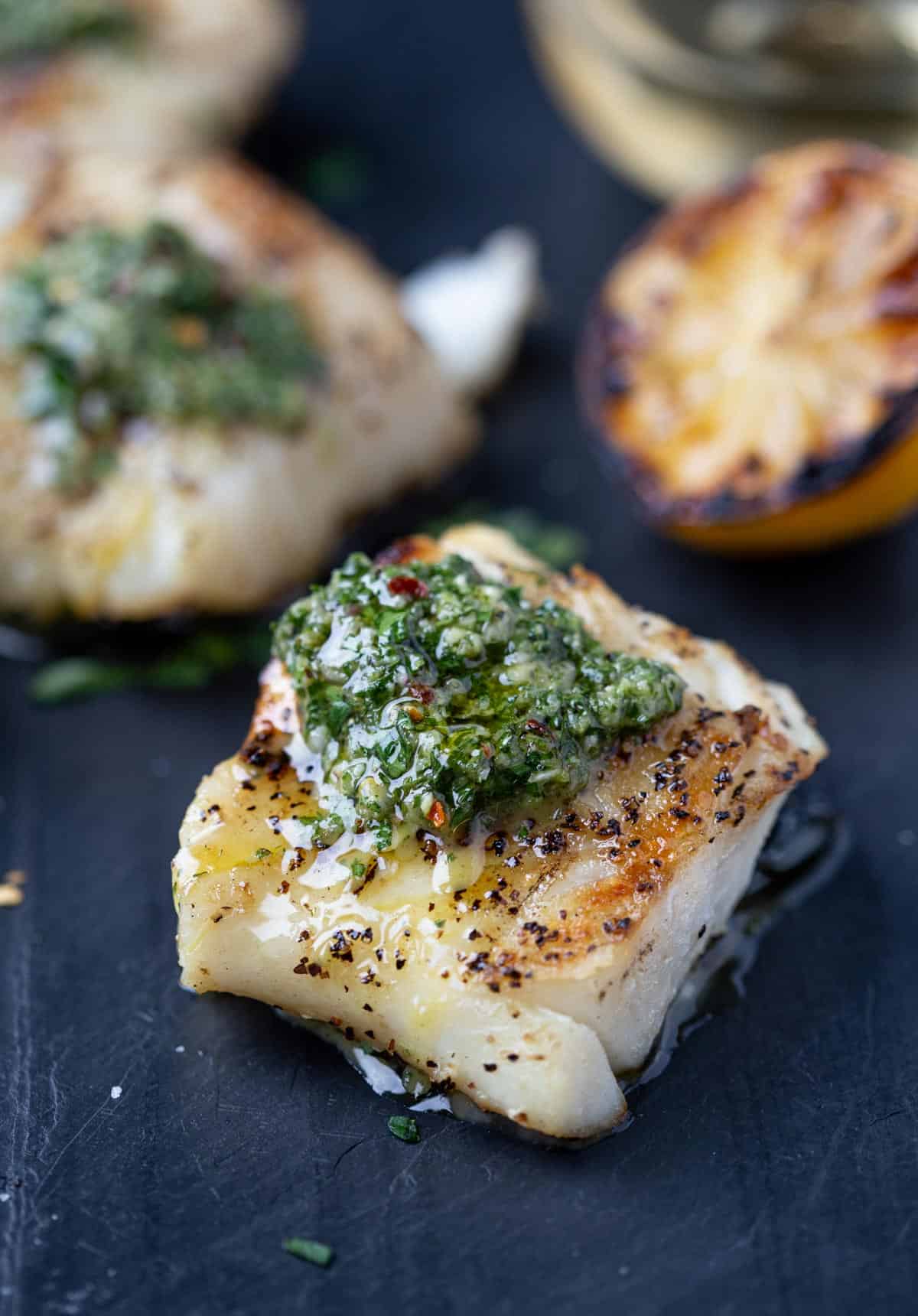 When I whip up a batch of chimichurri sauce I go big and make a large batch to last the week for use on other meals (because chimichurri sauce is good on everything, especially light grilled fish like Cod!).
Jump to:
Cod Steaks
Cod has a delicious buttery flavor and great flaky texture. It stands up well to direct heat, so it's a great one to throw on the grill for a hot and fast cook.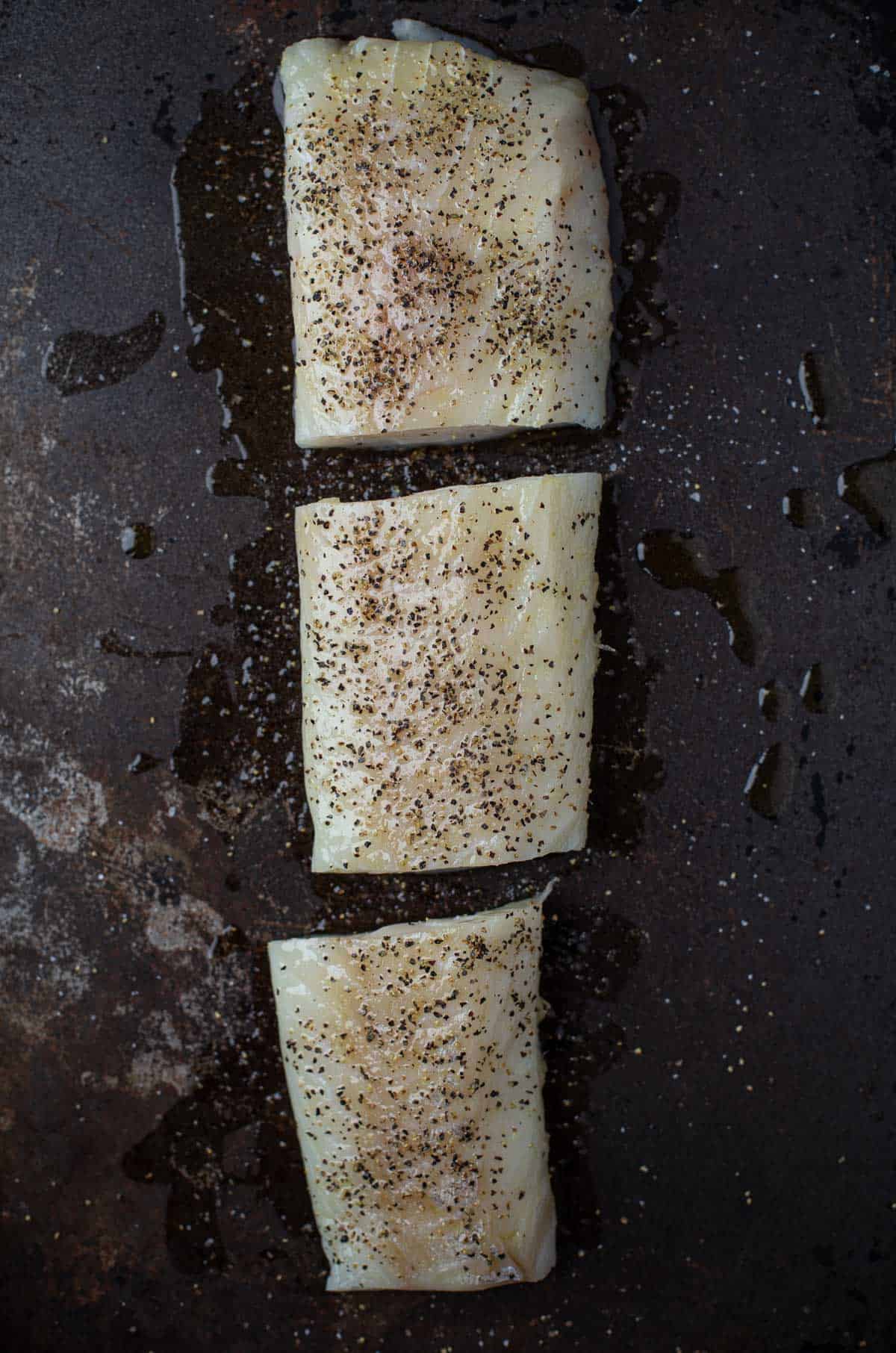 Grilled cod is light, fresh, healthy, nourishing, completely satisfying, and full of bright, herbal, and citrus flavors. This is a great meal to get you back on track if you've been indulging in too much BBQ (sorry bout that!).
*Pro Tip: when grilling with a lean protein, like fish, it's important to keep the fish (and the grill) well oiled AND CLEAN, so it doesn't stick to the grill.
Buying Cod
Now when it comes to grilling fish hot and fast over direct heat, you can opt for halibut, mahi mahi, cod, tilapia, whole fish (like sea bass), or whatever your favorite white fish is. We have cod here because it's one of the most affordable and accessible (you can find high quality, clean cod, fairly easy throughout the country). You can also find amazing wild caught cod online from purveyors like D'Artagnan shipped right to your door.
Try to buy the whole cod filet (most common way it's presented). Ask if bones are in it. Often you can trim off a small section of the cod to get the bones off before cooking or ask the butcher to do that for you. You want to pay for the cod you will actually eat (not all the excess that you would trim off anyways).
Consider two filets for four people for this grilled cod recipe and asking the fish monger to cut off the thinner end. Then you can have even sized filets. The narrow end is always smaller.
Tips for Grilling Fish
You'll want to clean your grates well before placing your fish on. If you have an oil spray, use some directly on your grill grates to help keep your fish from sticking. Otherwise place some oil on a paper towel and brush it on the grates where you intend to grill the fish.
You'll also want to brush some olive oil directly on the fish. There's not much extra fat on fish (like, say, beef), so it can easily stick to grill grates if it's not well oiled.
The other trick is to not flip the fish too early. When the crust forms it should easily pull off the grate when you flip it.
We're pretty adamant about using a thermometer for proper cooking temps around here. But that is not as necessary for fish. With fish, like cod, we cook by look and feel. We look for the color to be white through (not opaque), that's when you pull it off as it will keep cooking. And that makes for a nice moist fish. If using a thermometer, like the ThermoWorks Thermapen One, target pulling the fish when the internal temp is 135 degrees Fahrenheit. (USDA says 145, but carry over cooking will bring it to a safe temperature).
How to Grill Cod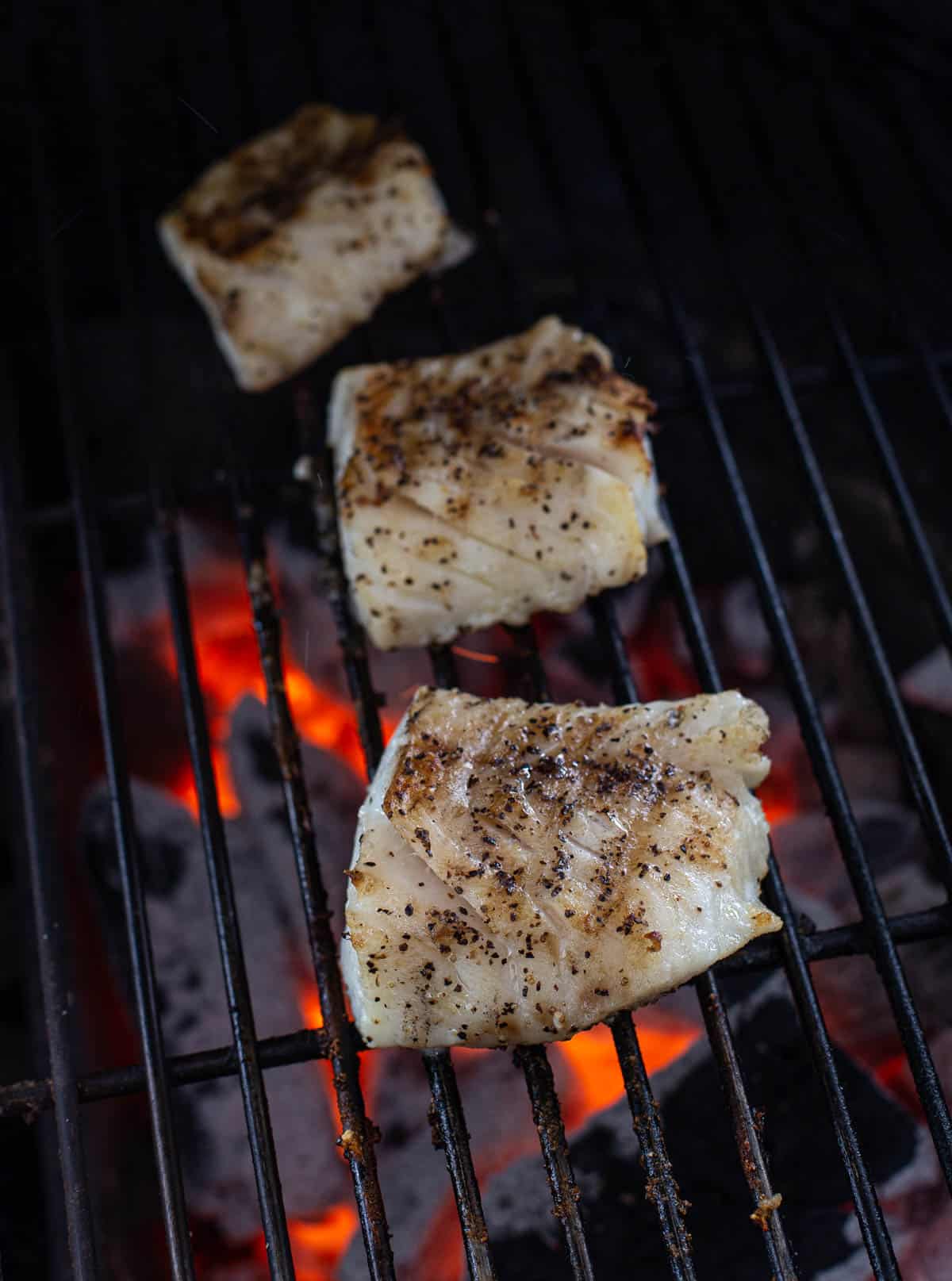 Prepare Grill: Set up grill for direct-heat cooking (or medium-high heat for gas).
Prepare Fish: Brush the cod on both sides with extra virgin olive oil and sprinkle with salt and fresh ground pepper.
Oil Grates: Use remaining olive oil on a paper towel to brush your grill grate.
Grill Fish: Place over direct heat and let sear for about 6 minutes or until the fish can easily lift off the grate with a spatula. Flip fish and cover with lid for another 4 to 5 minutes. Check the thickest part of fish by pulling back some of the flesh to see inside the meat and if you get the nice white interior. Then remove, and serve with Chimichurri Sauce.
Wine Pairing for Grilled Cod
With a light fish, like grilled Cod, I love a refreshing white wine. While the fish alone is very light and mild, the chimichurri sauce is a dominant flavor, so keep that in mind while pairing. So we're going for something that won't overpower the fish, but will stand up to the strong garlic, herbs, and citrus from the sauce. My go-to for this meal is Sauvignon Blanc. It's bright, zesty, and refreshing and holds up well to the herbal chimichurri sauce. You can also find a great match with Grüner Veltliner, Albariño, and even Pinot Gris (Grigio). Avoid red wines with a bright dish such as this.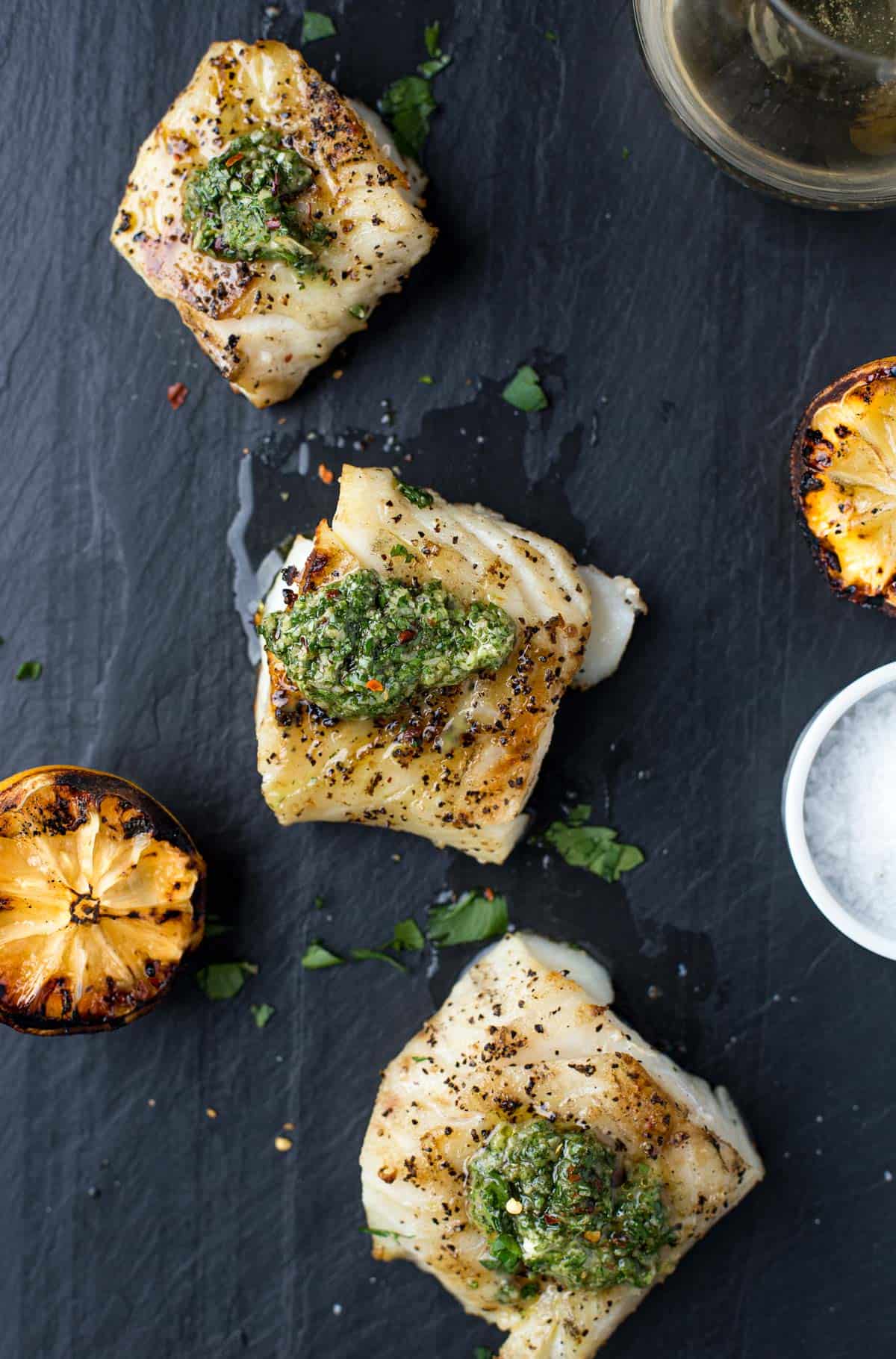 Tools We Use
For fish, especially grilled cod, we love two tools:
Fish Spatula – A sturdy fish spatula is a great tool to have. Not only is it thin, it allows you to gently lift a delicate fish or scallop and use the spring tension to remove and flip without damaging the crust you develop. Large spatulas easily break apart these fish.
Instant Read Thermometer – You can cook fish until it's opaque in the middle, or you can get precise with a good instant read thermometer. This confirms you have perfectly cooked fish every time.
What to Serve with Grilled Cod
*This recipe was originally published in April, 2016, and updated in January 2022 with new photos and more detailed instructions. The recipe remains the same.
This post may contain affiliate links. This means if you click on the link, we may receive a small commission if you purchase through the link. We partner with brands we know and love and use and it helps keep the blog going!
---