Grilled Cod Fillet with Chimichurri Sauce is a fantastic light and healthy meal for a weeknight or family meal. Chimuchurri sauce makes everything taste better, even fish dinners!
When I whip up a batch of chimichurri sauce I go big, and make a large batch to last the week for use on other meals (because chimichurri sauce is good on everything!). Especially light grilled fish (like Cod)!
Grilled Cod Steaks
Cod has a delicious buttery flavor and great flaky texture. It stands up well to direct heat, so it's a great one to throw on the grill for a hot and fast cook.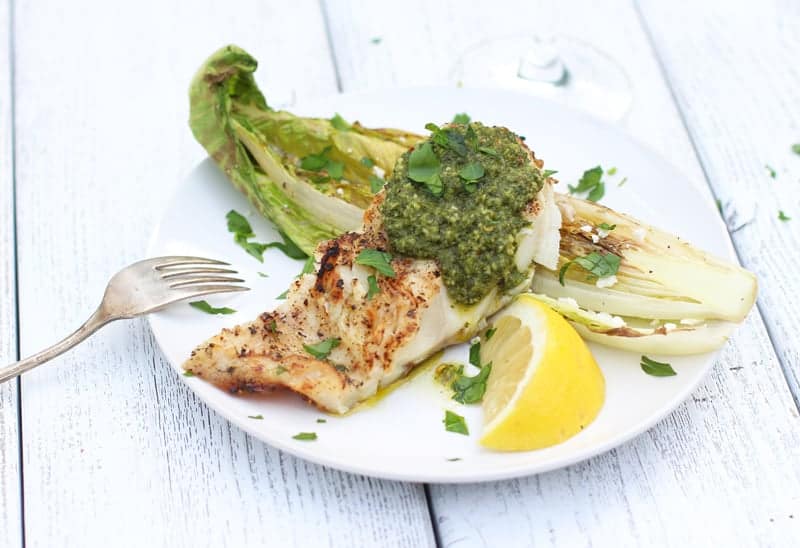 It's a great meal to get you back on track if you've been indulging in too much BBQ (sorry bout that!).
*Pro Tip: when cooking with a lean protein, like fish, it's important to keep the fish (and the grill) well oiled, so it doesn't stick to the grill.
Grilled cod is light, fresh, healthy, nourishing, completely satisfying, and full of bright, herbal, and citrus flavors.
The Best Fish for Grilling
Now when it comes to grilling fish hot and fast over direct heat, you can opt for halibut, mahi mahi, cod, tilapia, whole fish (like sea bass), or whatever your favorite white fish is. We have cod here.
Tips for Grilling Cod
You'll want to clean your grates well before placing your fish on. If you have an oil spray, use some directly on your grill grates to help keep your fish from sticking.
You'll also want to brush some olive oil directly on the fish. There's not much extra fat on fish (like, say, beef), so it can easily stick to grill grates if it's not well oiled.
See evidence #1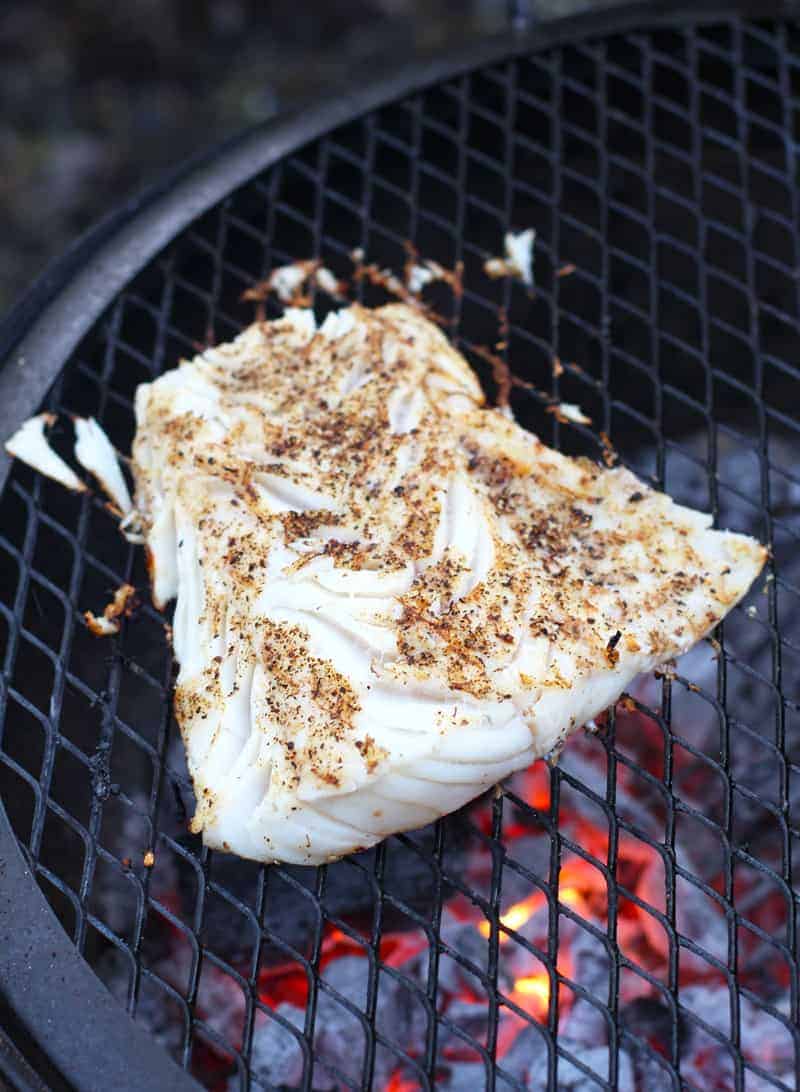 The other trick is to not flip the fish too early, when the crust forms it should easily pull off the grate when you flip it.
Now, you know us by now and that we're pretty adamant about using a thermometer for proper cooking temps around here. But that hardly ever applies to fish. With fish, like cod, we cook by look and feel. We look for the color to be white through (not opaque), that's when you pull it off as it will keep cooking. And that makes for a nice moist fish. 
How to Grill Romaine — A great light side dish.
For the grilled romaine, I took one head of romaine and cut it in half lengthwise, drizzled it with some olive oil, salt and pepper, and grilled it for about 3-5 minutes each side, until starting to wilt.
Use 1 head of romaine per 2 people. Since this recipe is set for 4, use 2 heads for 4 people.
Serve your grilled cod over the grilled romaine, and place 1-2 tablespoons of the chimichurri sauce over the top. The romaine didn't even need additional dressing; it took on the flavors of the chimichurri to act as a dressing.
Recipe for Grilled Cod Fillet with Chimichurri and Grilled Romaine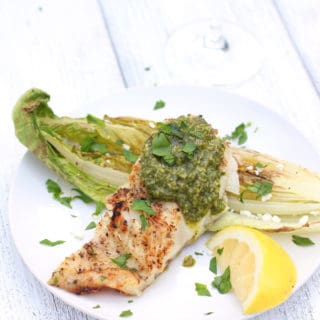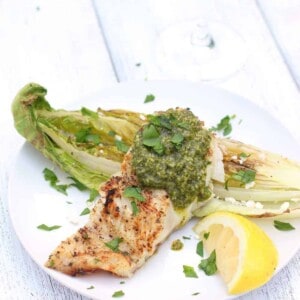 Grilled Cod Fillet with Chimichurri and Grilled Romaine
A quick and easy grilled cod filet served with chimichurri sauce and grilled romaine lettuce. Delicious and healthy meal for any night of the week.
Print
Rate
Ingredients
For the Grilled Romaine:
2

heads of romaine

rinsed and patted dry

2

tablespoon

extra virgin olive oil

to coat

Salt and pepper

approx 1 teaspoon salt and 1/2 teaspoon pepper
Instructions
For the Grilled Fish:
Prepare charcoal grill for direct-heat cooking (or medium-high heat for gas).

Brush the fish on both sides with extra virgin olive oil and sprinkle with salt and fresh ground pepper.

Using remaining olive oil on a paper towel to brush your grill grate, and place fish on grate.

Let sear for about 6 minutes or until the fish can easily lift off the grate with a spatula.

Flip fish and cover with lid for another 4 to 5 minutes. Check the thickest part of fish by pulling back some of the flesh to see inside the meat and if you get the nice white interior. Then pull off and let sit for about 8 minutes or so before cutting and serving.
For the Grilled Romaine:
Cut the romaine in half lengthwise, drizzle it with some olive oil, salt and pepper.

Place it over the same grill (set to medium heat), and leave it there for about 3-5 minutes, turning a couple times, until starting to wilt. Use 1 head of romaine per 2 people.
Wine Pairing for Grilled Cod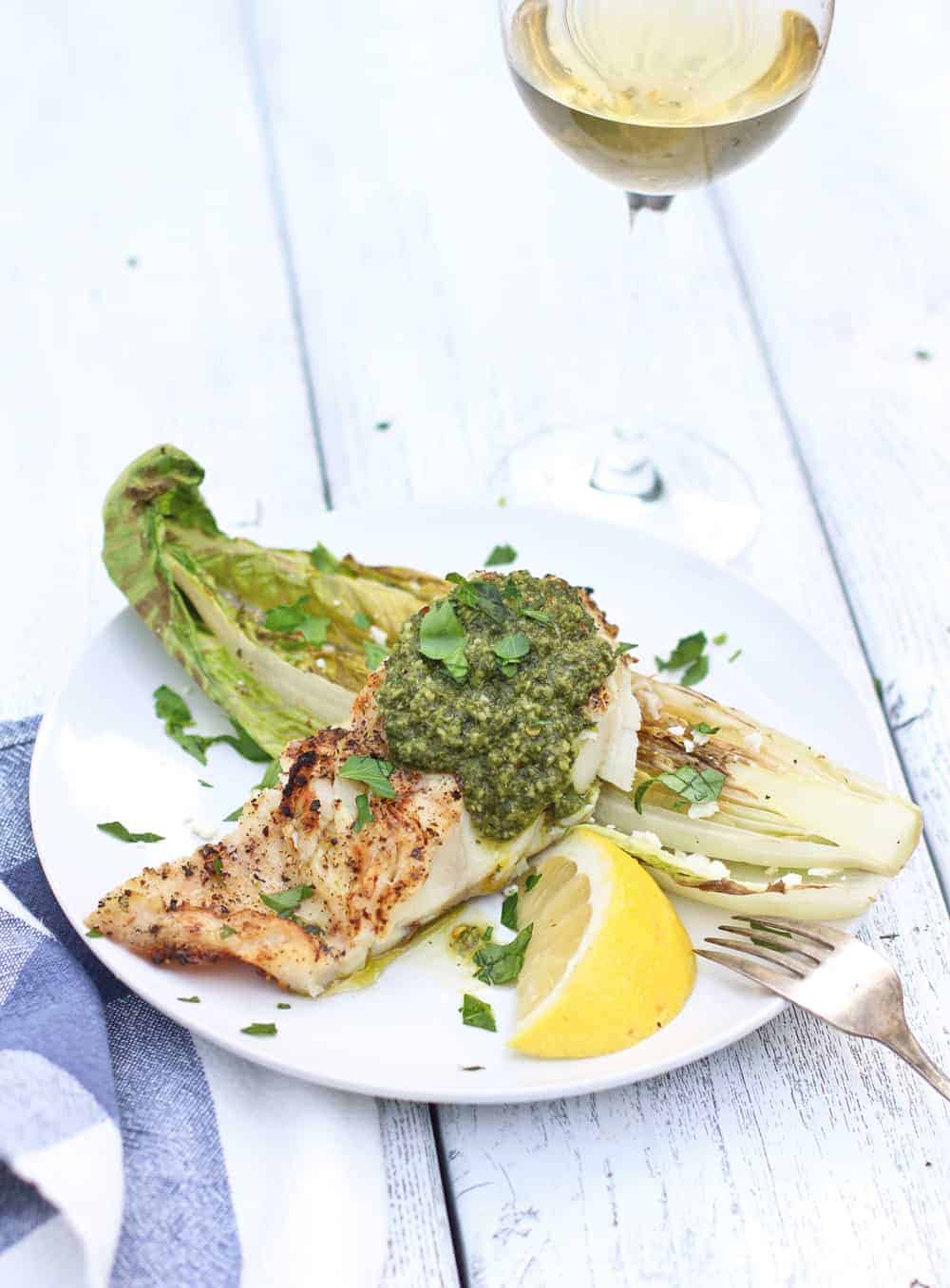 For chimichurri and grilled or smoked beef I'd go red wine (like this recipe), but with this light delicate fish, like this grilled cod, we're sticking to white. The fish is the blank canvass here, and the chimichurri is the paint. So we're going for something that won't overpower the fish, but will stand up to the strong garlic, herbs, and citrus from the sauce. You can opt for something bright and minerally like a Chablis, or other lightly oaked to unoaked Chardonnay (minerally, bright, citrusy). But if you like to use a lot of the chimichurri (like me!), then it will also bode well with something ultra citrusy like a Sauvignon Blanc.
---