Jalapeño Chimichurri is perfect as a topping for a grilled steak or a relish for lamb or chicken. Take the classic texture and flavor from traditional chimichurri, and add the spicy, fresh, and earthy taste of jalapeño for an added flavor.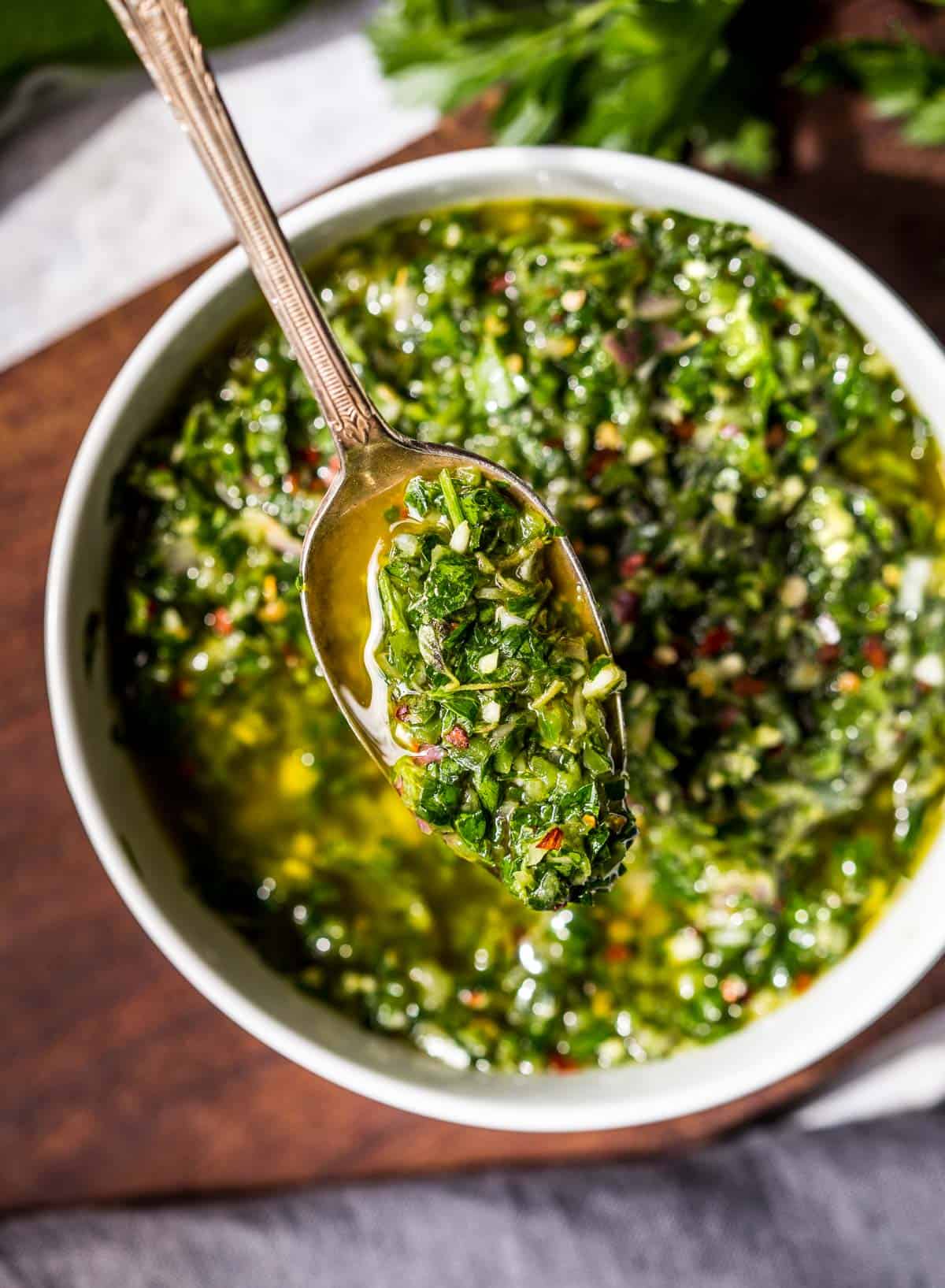 When it comes to jazzing up a steak of any type, we love to add a fun topping like a relish, or even a savory duck fat granola (you can find that recipe in our cookbook). But the king of toppings, and one we love the most, is chimichurri. It is easy to make and can be served with a number of dishes from salads, to all types of proteins. So when we cook for a crowd or want to make a flavorful impression, then we turn to Chimichurri.
We originally drummed up this idea for a simple, fresh, and flavorful topping for our beef skewers. For this recipe we added some additional flavor elements and scaled so it can be the perfect topping for your next backyard cooking experience.
Classic chimichurri hails from South America with fresh herbs and spices brought together with olive oil. The flavors can range from vegetal and sweet, to savory with a ton of acid. This jalapeño chimichurri is a combination of both (with a mild hint of spiciness).
Jalapeño Chimichurri Ingredients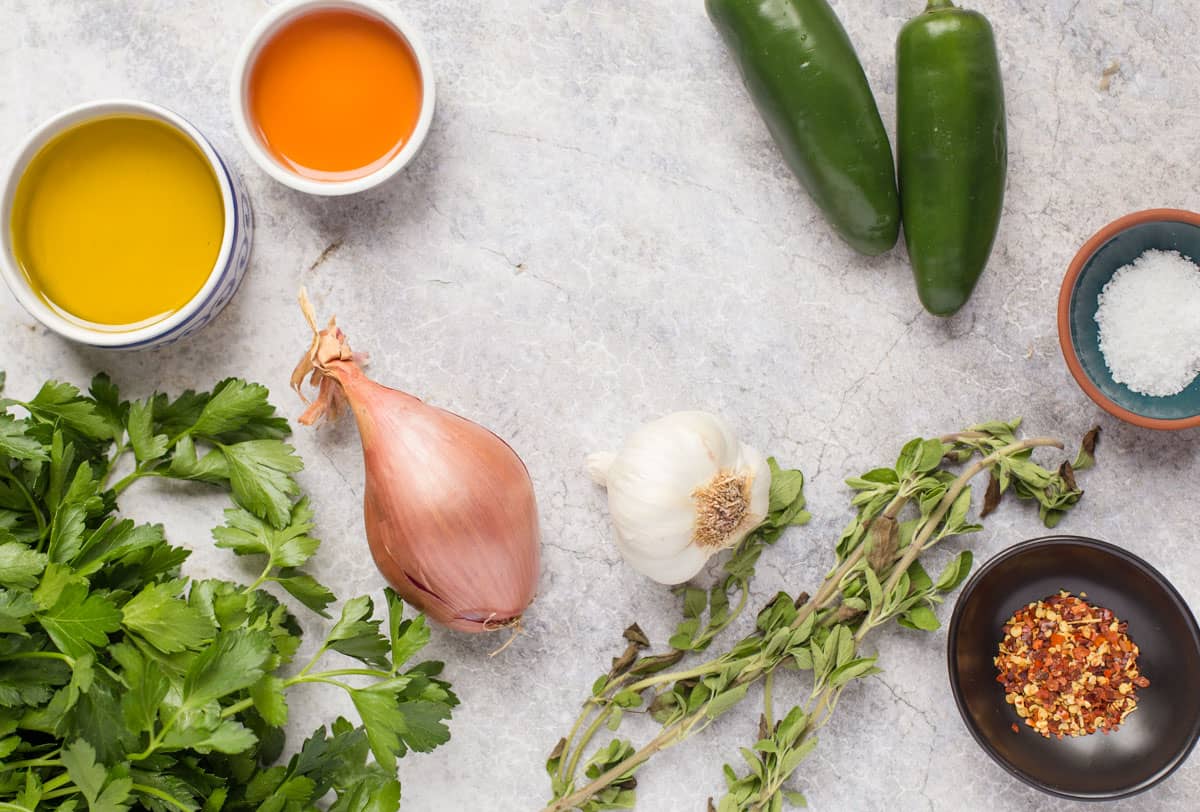 Fresh ingredients are the key to flavor.
Parsley – This provides the color and earthy flavor.
Jalapeño – Remove the seeds to minimize heat, it will also add a nice vegetal flavor making it different from your classic chimichurri.
Shallots – Gives a nice savory bite.
Garlic – We are fans of garlic flavor in our chimichurri because it brightens up the dish.
Fresh Oregano – This adds a fresh aroma and slight flavor (if using dried, only use ¼ teaspoon since it's more intense in flavor).
Red Chili Pepper Flakes – Adds a nice amount of heat and a pop of red color.
Kosher Salt – Good salt helps accentuate the flavor.
Extra Virgin Olive Oil – Seek a good one, because this flavor is what binds everything. together. Try not to use an oil older than 1 year.
Fresh Lemon Juice – Adds acidity.
Red Wine Vinegar – Also adds acidity and aromatics.
Preparation
You can pulse the dry chimichurri ingredients in the food processor, or you can do a rough cut method. It really depends on your preference. For this jalapeño chimichurri sauce, we are combining both by roughly chopping and pulsing the dry ingredients, and then adding liquid separately.
Start with all the dry ingredients. Roughly chop them to make it easier to easily pulse into your desired texture. Place the dry ingredients in a food processor.
Pulse a few times to grind down the ingredients. If you are using a smaller processor, be sure to use a fork and get any ingredients still on the top mixed toward the bottom so it's all an even texture.
Transfer the dry chopped ingredients to a large bowl. Add the liquid ingredients and stir. Adjust any flavors to your preferences (more salt? more oil? your call!).
Make Ahead
This is a great dish to make ahead and store in the refrigerator. If you do make it ahead, be sure to remove the chimichurri about an hour prior to serving to let the dish warm again. You'll find it hardens in the colder temperature of the fridge.
Storing
Because this is a dish made in fat (the olive oil), you can store in the refrigerator in a jar for a month. The olive oil and acid will help prevent rapid oxidation and discoloration. Although we find it's best eaten right away or within the first 48 hours for the best flavor.
Is Jalapeño Chimichurri Sauce Spicy?
Jalapeños can range from modest heat to very hot. It will dependon the jalapeño. In general this is not an overly spicy dish, instead a little bit of heat which is offset by the oil and acid from the vinegar.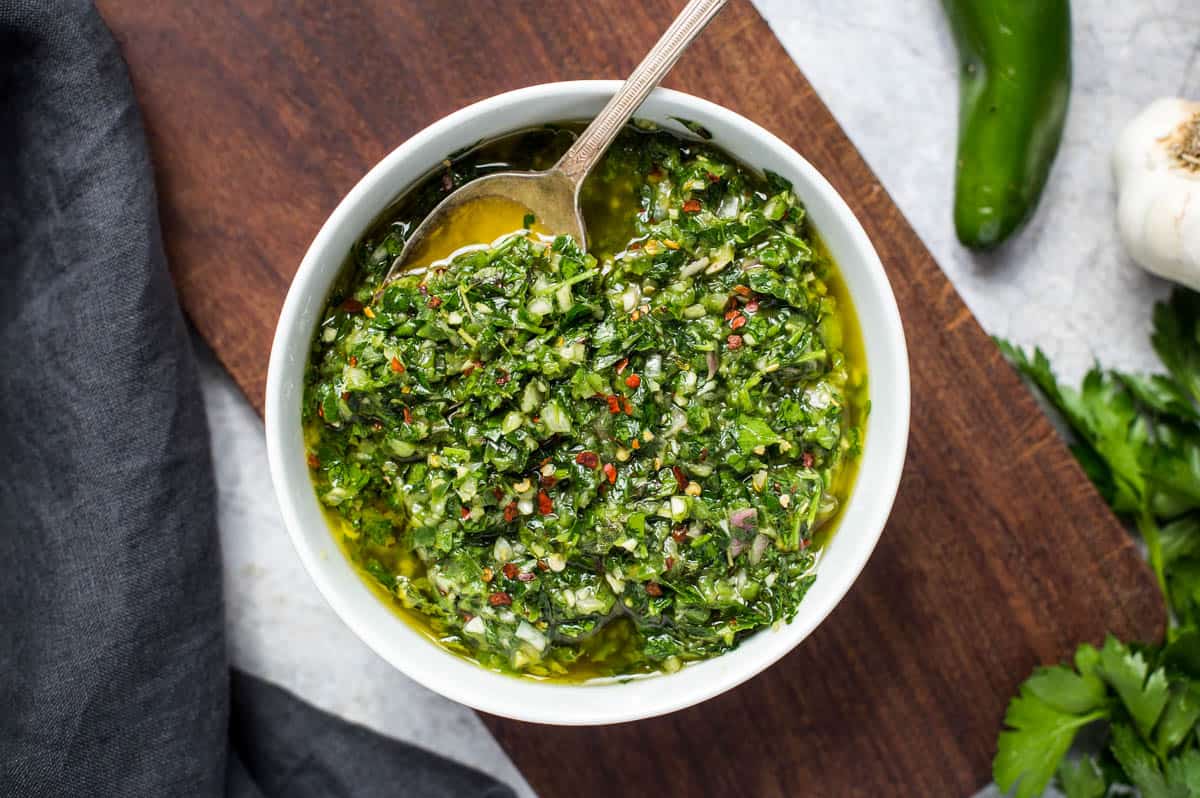 Other Great Recipe Ideas For The Sauce
This post may contain affiliate links. This means if you click on the link, we may receive a small commission if you purchase through the link. We partner with brands we know and love and use and it helps keep the blog going!