One of the easiest recipes you'll find on this site — Smoked trout fillet, made without a brine. 
When I say "easy" I seriously mean it when it comes to this recipe. This is one of the simplest and tastiest go-to dinners we've enjoyed throughout this summer.
This is NOT a cold smoked trout, and it does NOT involve a brine. We've found that brining is not necessary to achieve delicious, flavorful, and tender meat. This also allows for a much quicker meal to come to the table!
We started making it at the beginning of summer and quickly fell in love with it, for both the flavor, ease of cooking, and also how quickly you can get a delicious smoked meal to your table.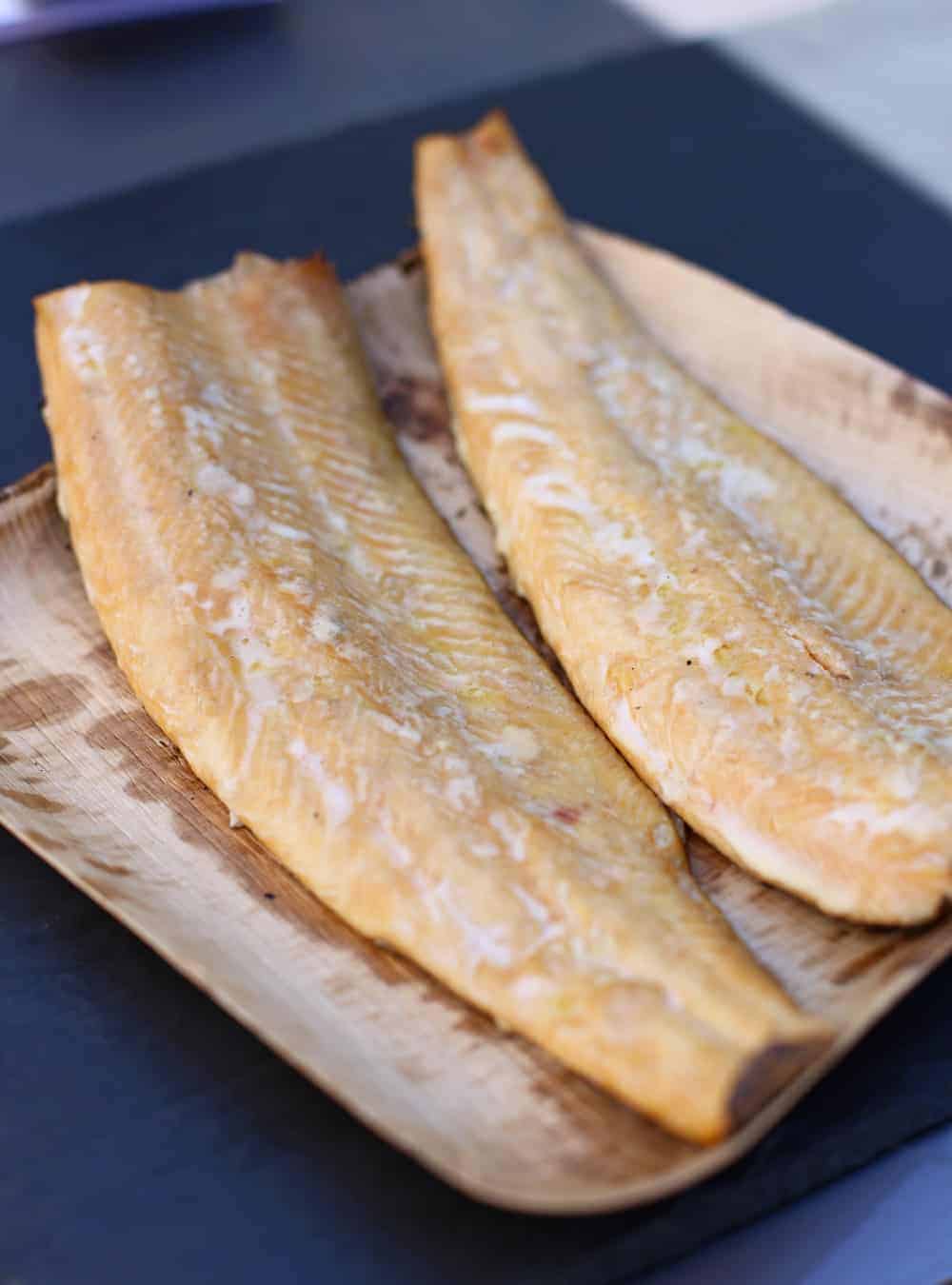 Even the kids love it! They enjoy monitoring its progress via Darth Vader. He's got mad skills that allow him to know the exact moment when the fish is done.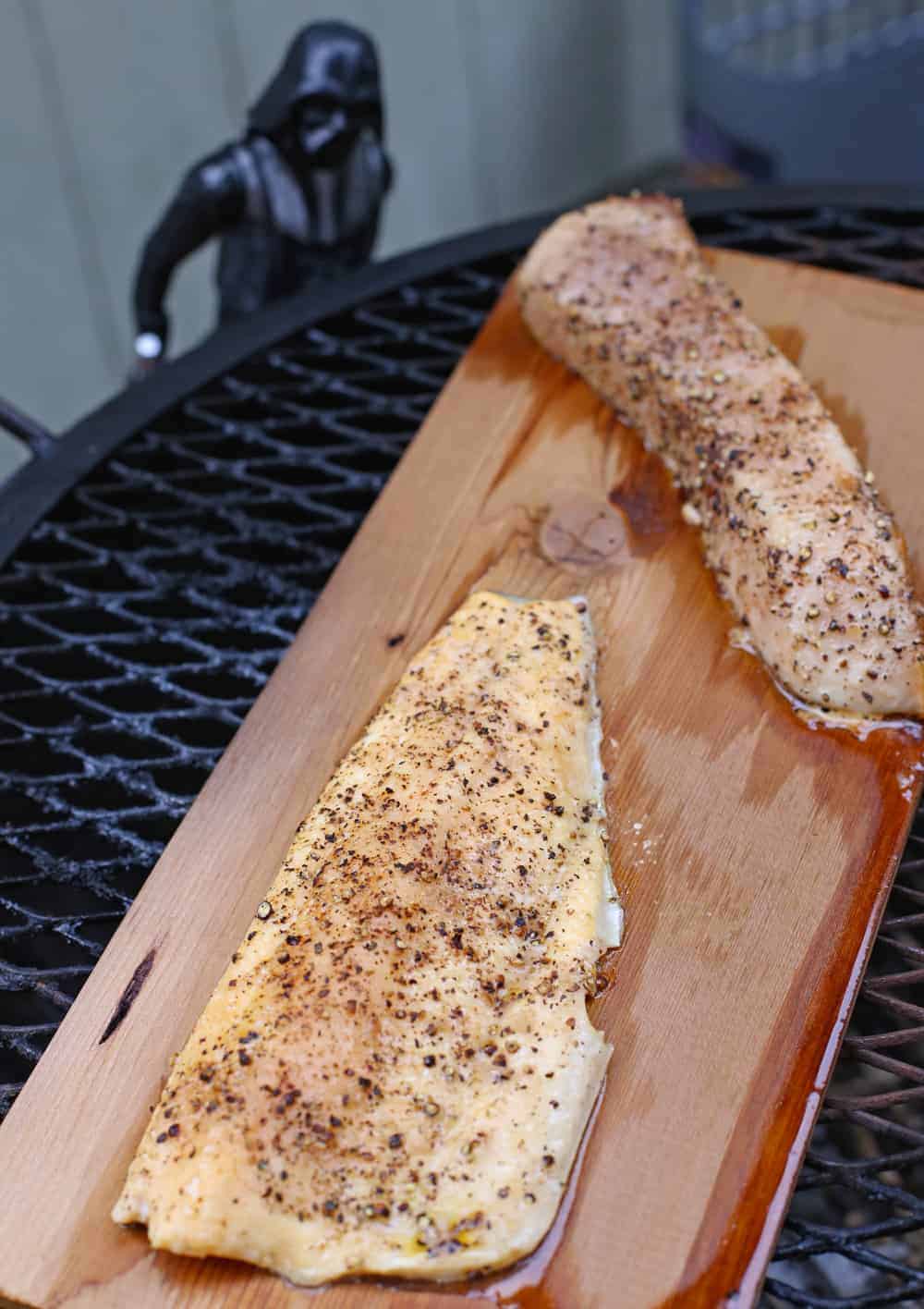 (This example was actually grilled over our Weber kettle grill. We used the wood plank to give it the smoke flavor this time. Worked like a charm.)
It's almost embarrassing to go though all the work to write up this post. But I really want you to understand how something so delicious can be so simply prepared. It's all about taking care of the fish.
The easiest way to enjoy this meal is to ask your fishmonger for pre-filleted fish. But sometimes that's not possible. Earlier this summer we weren't experts in the art of filleting a fish (I'm almost embarrassing to admit that fact). But for one afternoon party we had ten pounds of whole trout to fillet, so we quickly became pretty good at it. After a few handy YouTube videos, like this one, we we're on our way to filleting perfection. Now we're experts 😉
Just kidding.
But we are much more comfortable with the art now. Skillzzz!
The hardest part of the experience is taking out the bones. With some practice on the fillet, you can cut most of them out already.
Now you see me…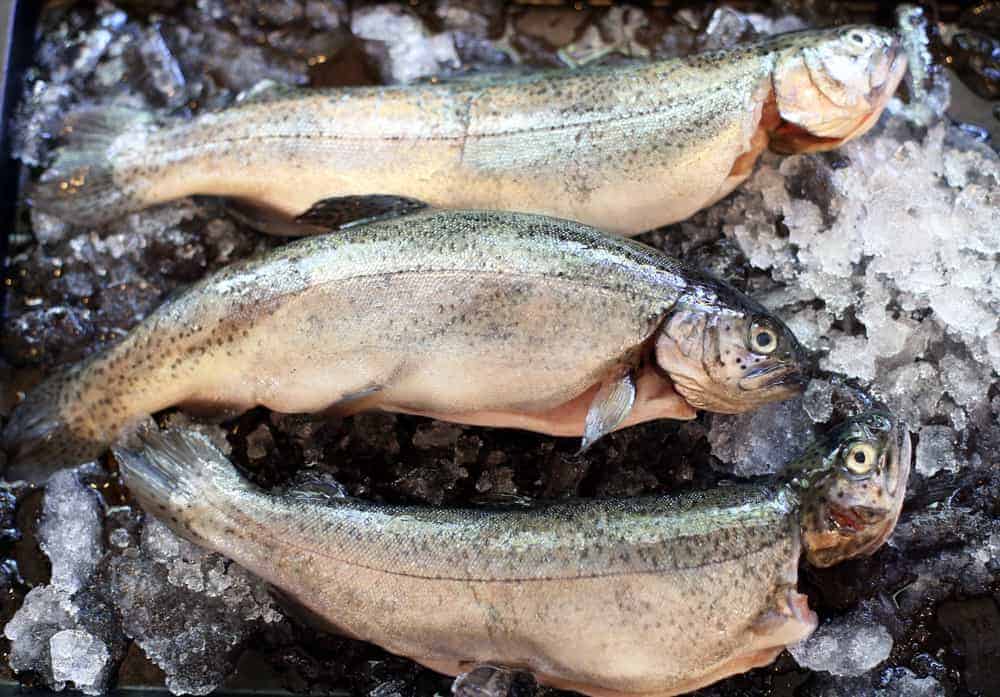 Now you don't…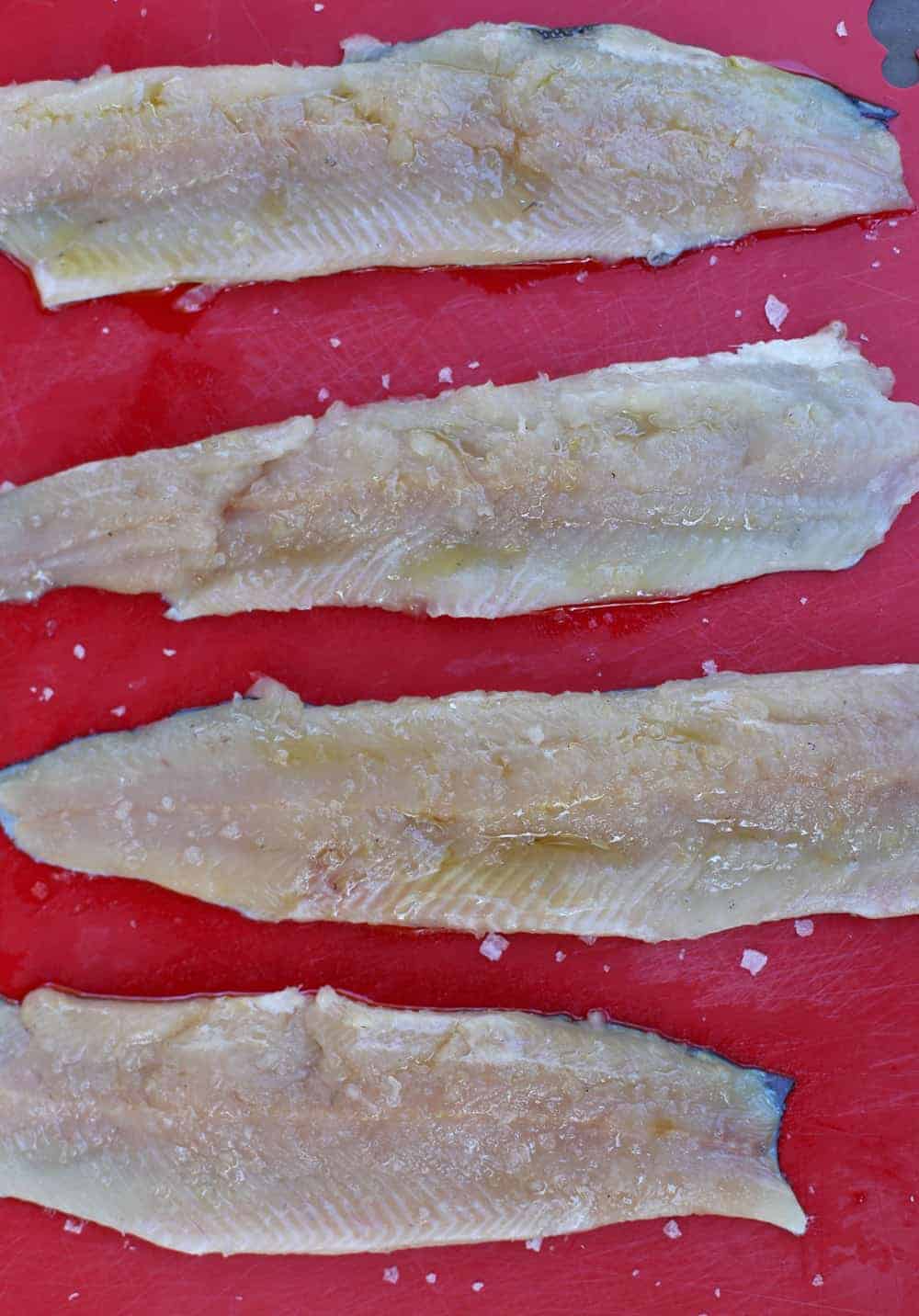 Now I'm smokin'…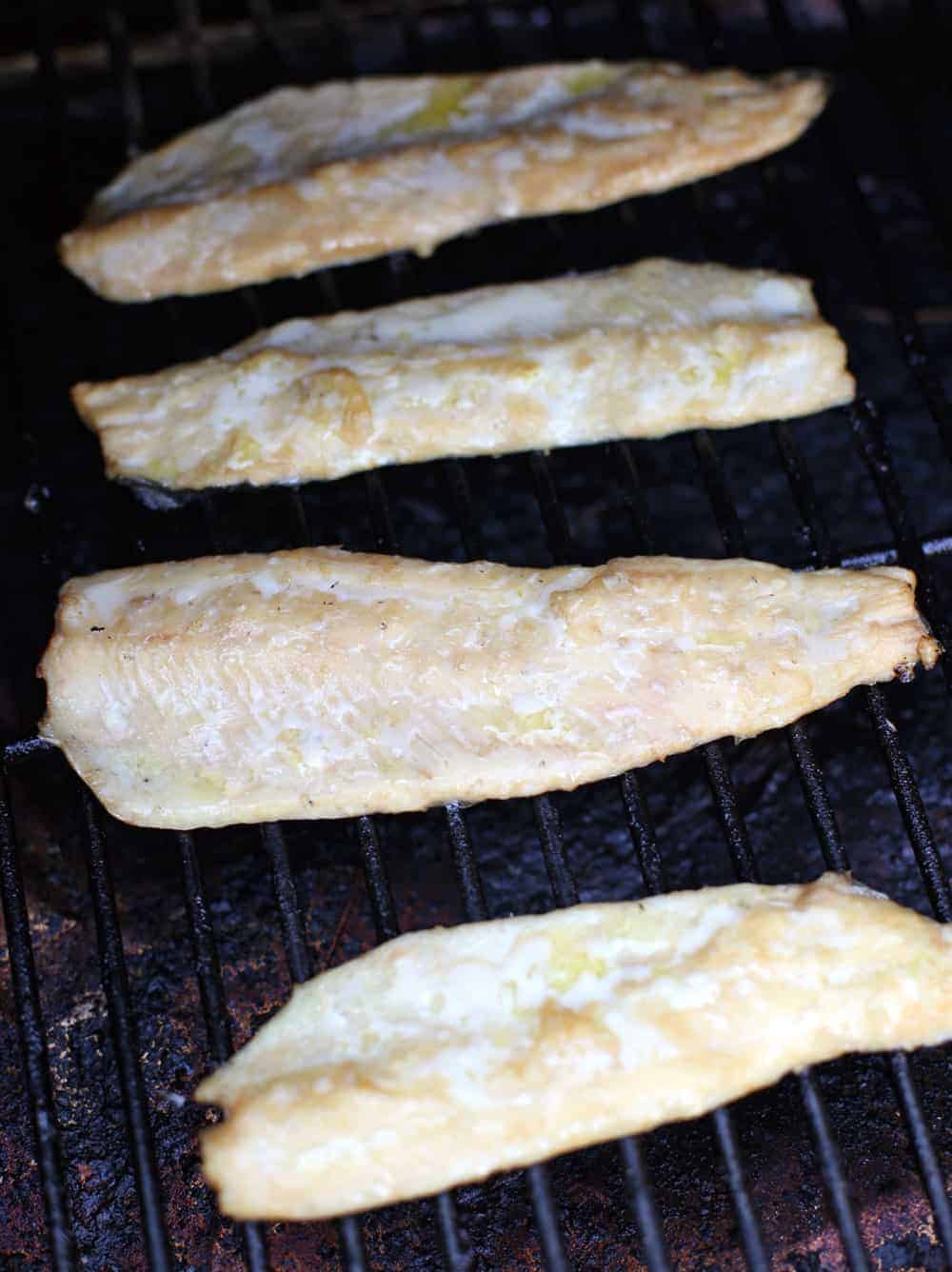 And just like that, I'm ready for dinner.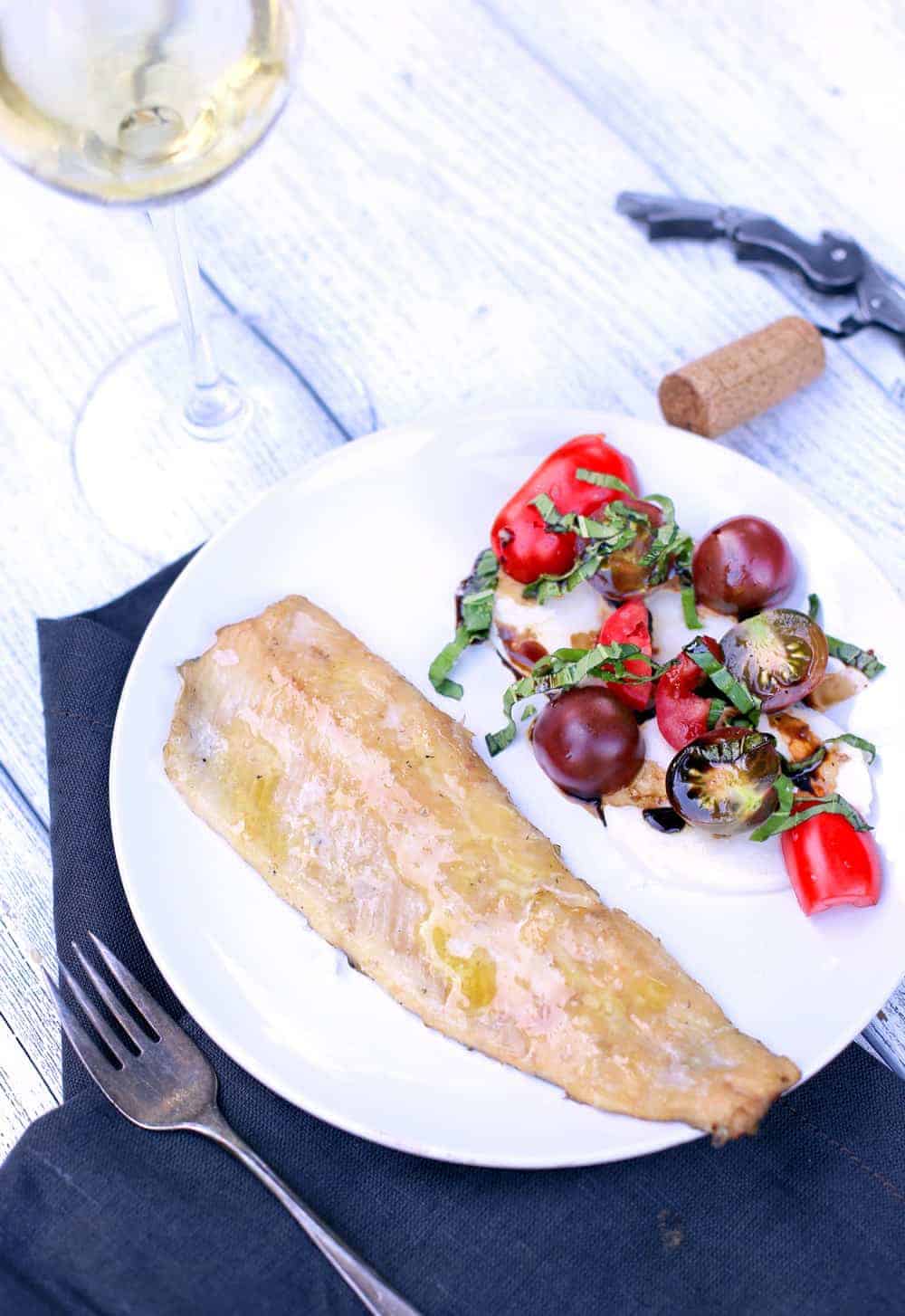 For the example above we just set our smoker to 225 degrees. Trout cooks fast, so we want to go low and slow to keep the meat tender and keep it from drying out. We seasoned simply with olive oil and salt and then smoked it for roughly 25 minutes. You can tell it's done by look, it's not opaque and still has moisture.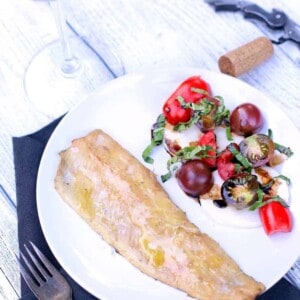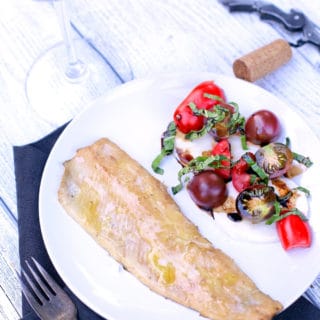 Easy Smoked Trout Fillet
Easy smoked trout fillet. How to grill or smoke a trout fillet (without a brine) for tender delicious and healthy dinner.
Print
Rate
Ingredients
4

Trout Fillets

buy pre-filleted, or fillet it yourself, check out the video in the notes section

2

Tbsp

EVOO

1

Tbsp

Kosher Salt

½

Tbsp

Maldon Salt for finishing

optional
Instructions
Preheat smoker to 225 degree, we used apple wood, a fruit wood adds a nice touch. Trout cooks fast, to maximize flavor best to use a low cooking temperature.

Remove bones from trout fillet, if not already done.

Brush all four trout fillets with EVOO and sprinkle with salt.

Place upon smoker and cook for roughly 25 minutes.

Remove and serve, sprinkle a dusting of the maldon salt prior to service.
Notes
Handy video tutorial on how to fillet a whole trout: https://www.youtube.com/watch?time_continue=22&v=4c0AZFz6rjU
Wine Pairing
We served it up with some fresh tomatoes and basil from our garden (so so so good!) and some fresh mozzarella (not from our garden) and a local Rhone-style white blend from Burnt Bridge Cellars.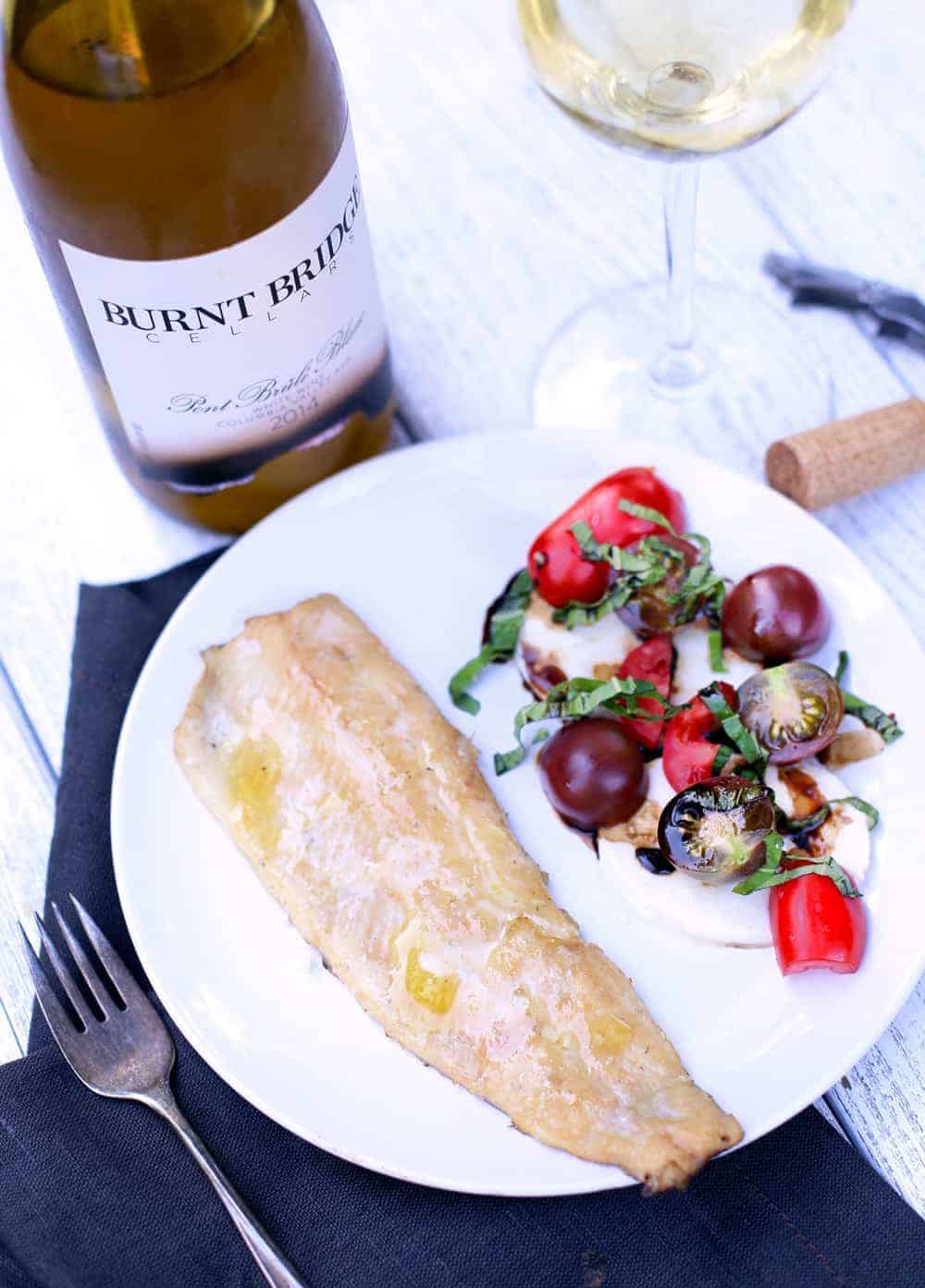 We've served this with a range of wines, almost all white wines. I did enjoy a nice unoaked Chardonnay for the freshness and fruitiness it provides to the dish. Riesling offers a similar experience. But for something to go with the mildly smoky notes I really prefer an oaked white. Ideally it would be mildly oaked so you're not dealing with a smoky oaky hot mess (there is such a thing as too much wood and smoke) but feel free to experiment.
We chose the 2014 Pont Brûlé Blanc (Columbia Valley, WA) because we served this meal at an event we did at Burnt Bridge Cellars a few weeks back and it worked really well with the wine! It's a barrel-fermented blend of 50% Viognier and 50% Marsanne that had a nice richness in the body but lightened up with fresh citrus and floral aromas. It balanced out the rich and tender meat. ($25, purchased direct from the winery)
If you can't find this wine look for a Rhone-style white wine or pop your favorite medium-full bodied oaked white, like a Chardonnay. Or try one of the other suggestions above.