A simple and delicious recipe for Grilled Flank Steak Salad, made with flank steak marinated in a savory soy and rosemary mix. Perfect for a hearty salad, or filling for a delicious sandwich.
You've gotta try this incredible and full flavored steak salad! And we got ya if your looking for a great grilled flank steak recipe on its own.
This is a recipe we created while on vacation several years ago in Hawaii with some good friends. We grilled on the beach while watching the sunset (pre-kids). Seriously, what could be better than that (besides adding a freshly made Mai Tai to the mix)? Since I won't be going to Hawaii anytime soon (except in my dreams), we decided to recreate the meal. And instead of the sandwiches we originally created it for, we're tossing the flavorful flank steak into a hearty salad perfect for summer when you want something substantial, but not too heavy.
What is Flank Steak? — The Cut
Where flank comes from is similar to the general area of hanger and skirt. This relatively lean cut comes from the side, or flank of the cow near the back side abdominal muscle. This cut is great for tacos, or slicing and having on its own. Bavette Steak is another great cut similar to the flank, but part of the sirloin and a great alternative to this cut for the salad.
How to Grill a Flank Steak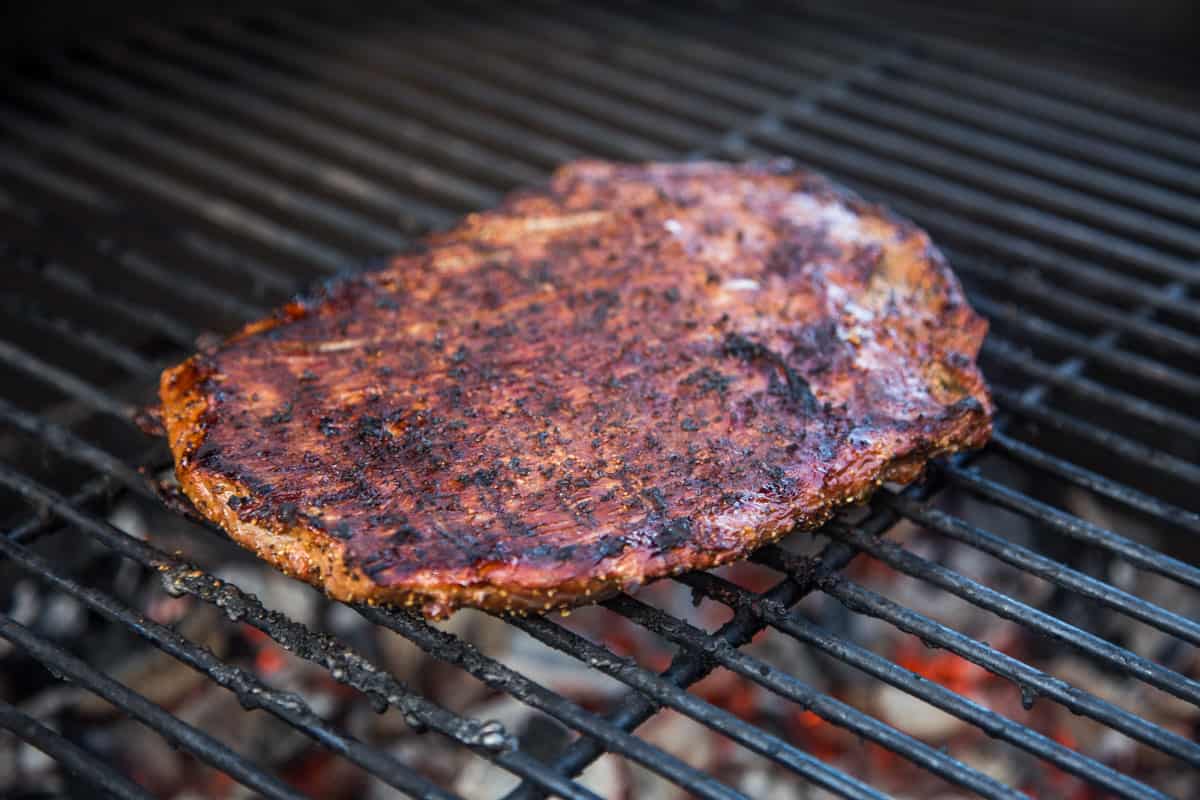 Hot and fast is the way to go over direct heat, because it has so little fat. Flank Steak is fibrous, (or has very distinct lines) in which you want to pay attention when you are done and cutting the meat. We like to add a little marinade to this cut, and then apply dry rub just before placing it on a hot grill for the sear. It is usually done in less than 8 minutes (depending on the exact size of your steak).
Best Temperature to Cook Flank Steak to
Taking temperature with an instant read thermometer is key (we use the Thermoworks MK4 Thermapen), as there will be a thick side and a thin side. We go for a medium rare (130 – 135 F) and take the temperature with our instant read thermometer in the thicker portion of the flank. That way if you have fans of medium cooked steak, they can take from the thinner side, which will be more cooked than the thickest side. Take the temp after you have flipped.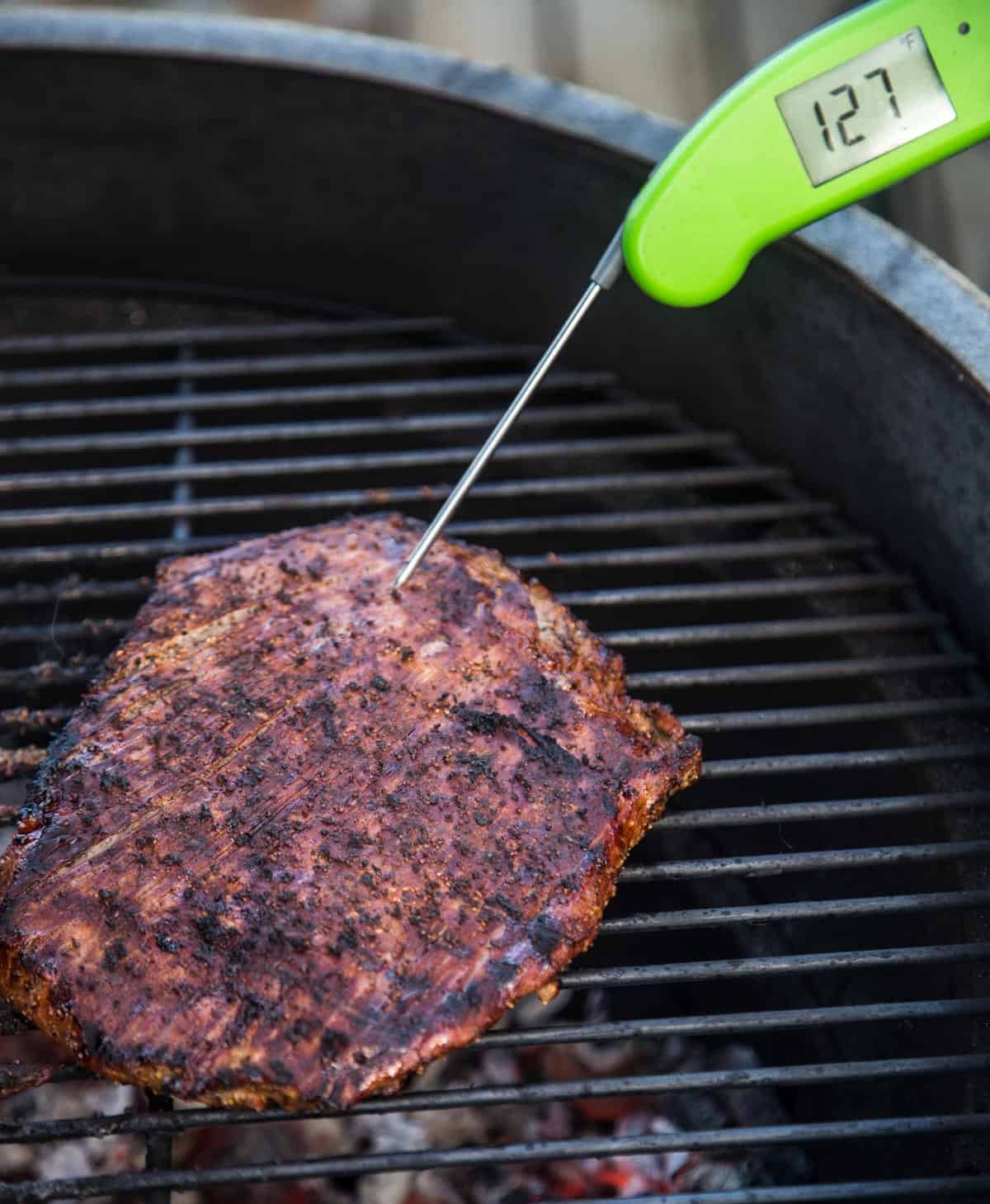 Cutting a Flank Steak
Pay attention to the lines on the steak, as you want to be sure you cut against the grains (or perpendicular to the grains), this will keep the cells intact and make for a great tender texture as you eat it. The same technique applies for hanger or skirt (or really any steak for that matter).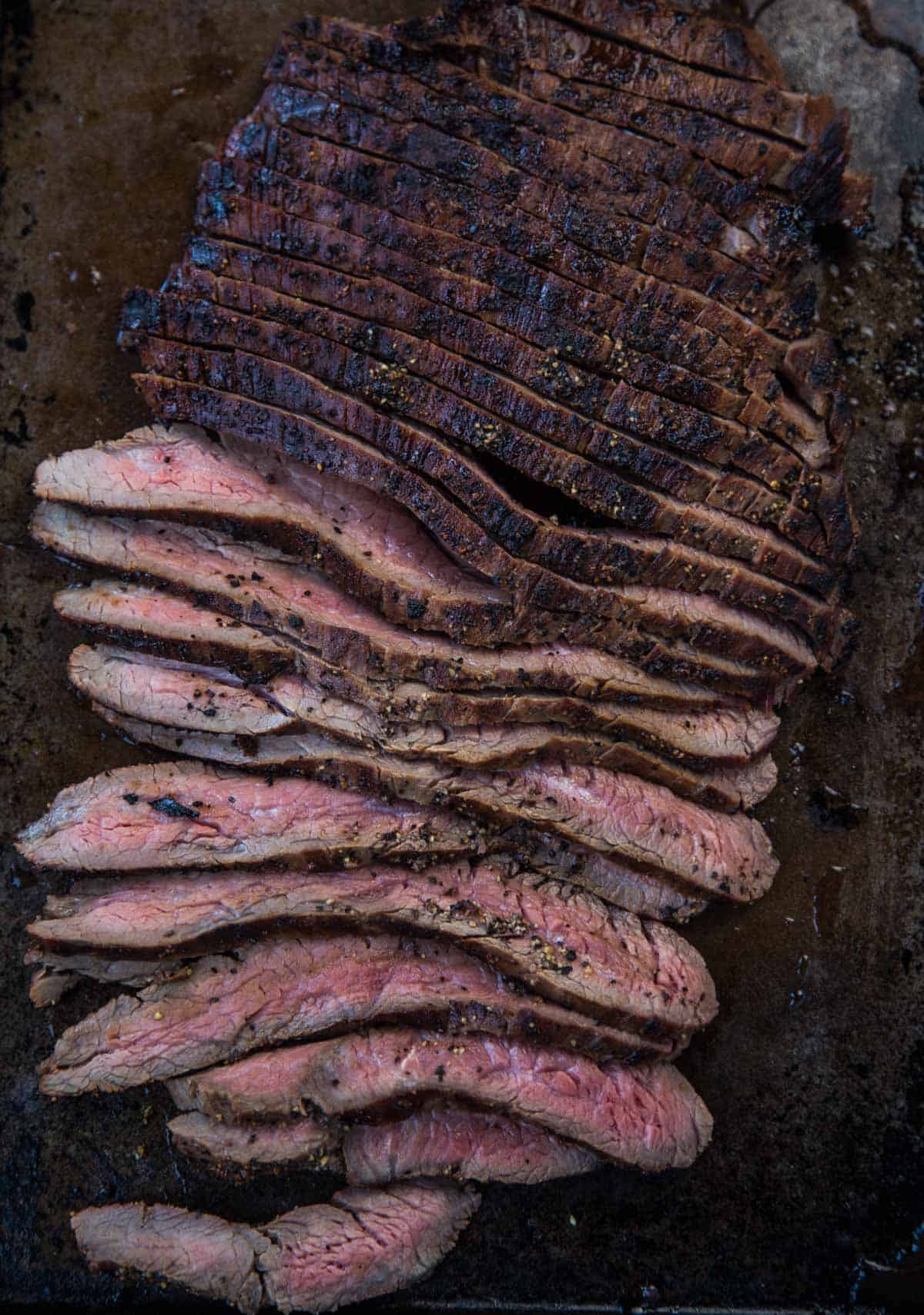 That's it!
This is a super easy marinade and steak recipe.
Ideas for Grilled Flank Steak
Make your dollar stretch by serving thin slices of the steak on small rolls or slider buns like we did when we first came up with the recipe years ago.
Or, if you're looking for a great summer salad, serve it over the top of greens with your favorite fillings. It's fantastic with some fresh onion, creamy avocado, sweet cherry tomatoes, grilled corn, and use chimichurri sauce in place of dressing.
*Chimichurri sauce is one of my favorite substitutes for dressing with grilled meat. Just a tablespoon or so of chimichurri sauce adds such incredible flavor!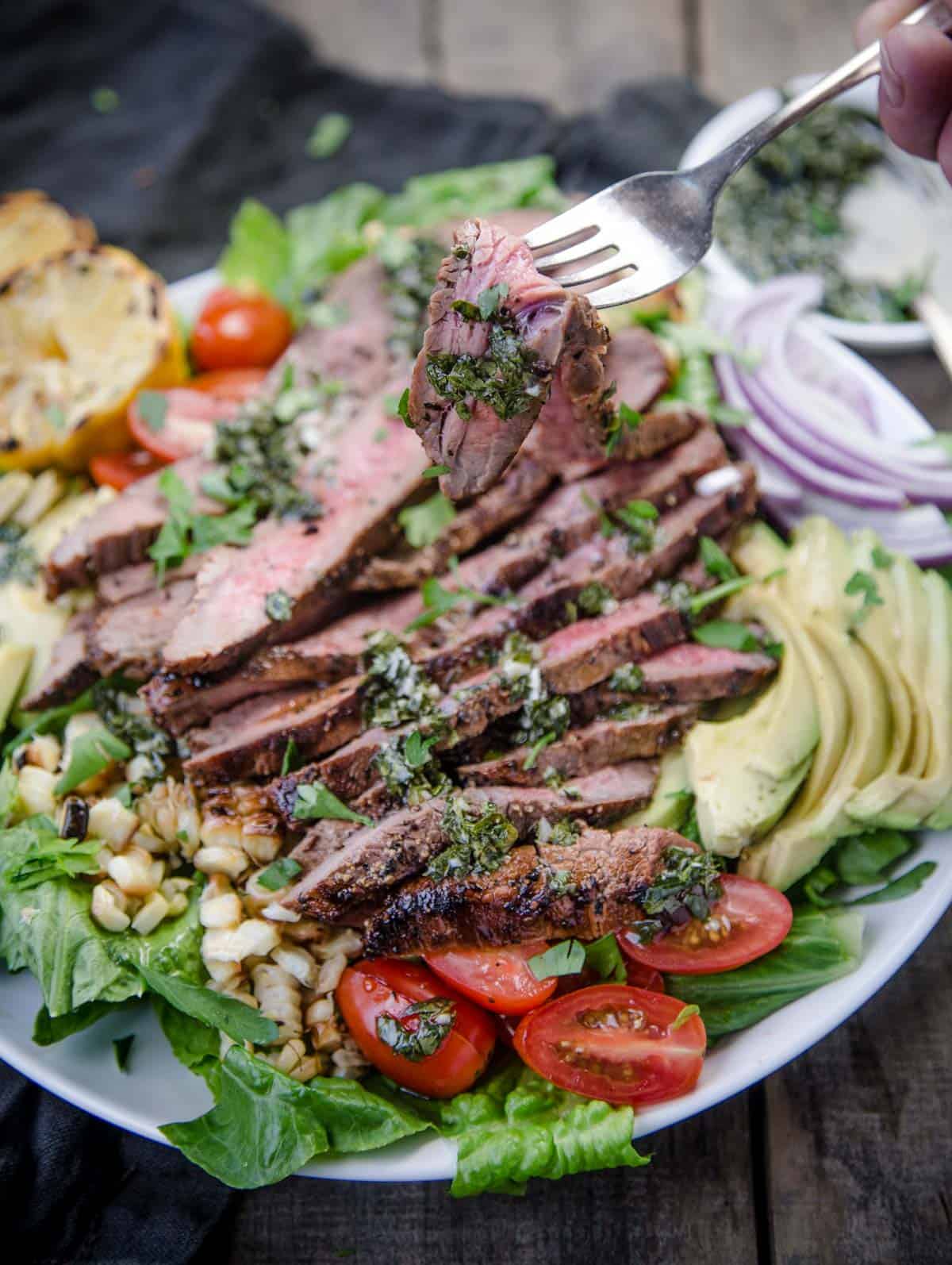 Tip: While your meat is grilling, throw on some corn to the grill as a side or to your salad. Cut a lemon in half and add that to the grill too, until you see char marks. The juice from grilled lemon is incredible and will add great depth to your salad!
Want more great summer Steak Recipes?
Wine Pairing for Grilled Flank Steak Salad
If serving this alone, or as a sandwich, I might reach for a savory red wine (Sangiovese comes to mind, or other fruity Italian red).
But with this salad, with all of the other fresh ingredients, and herbaceous and acidic chimichurri sauce, I'm reaching for a rosé.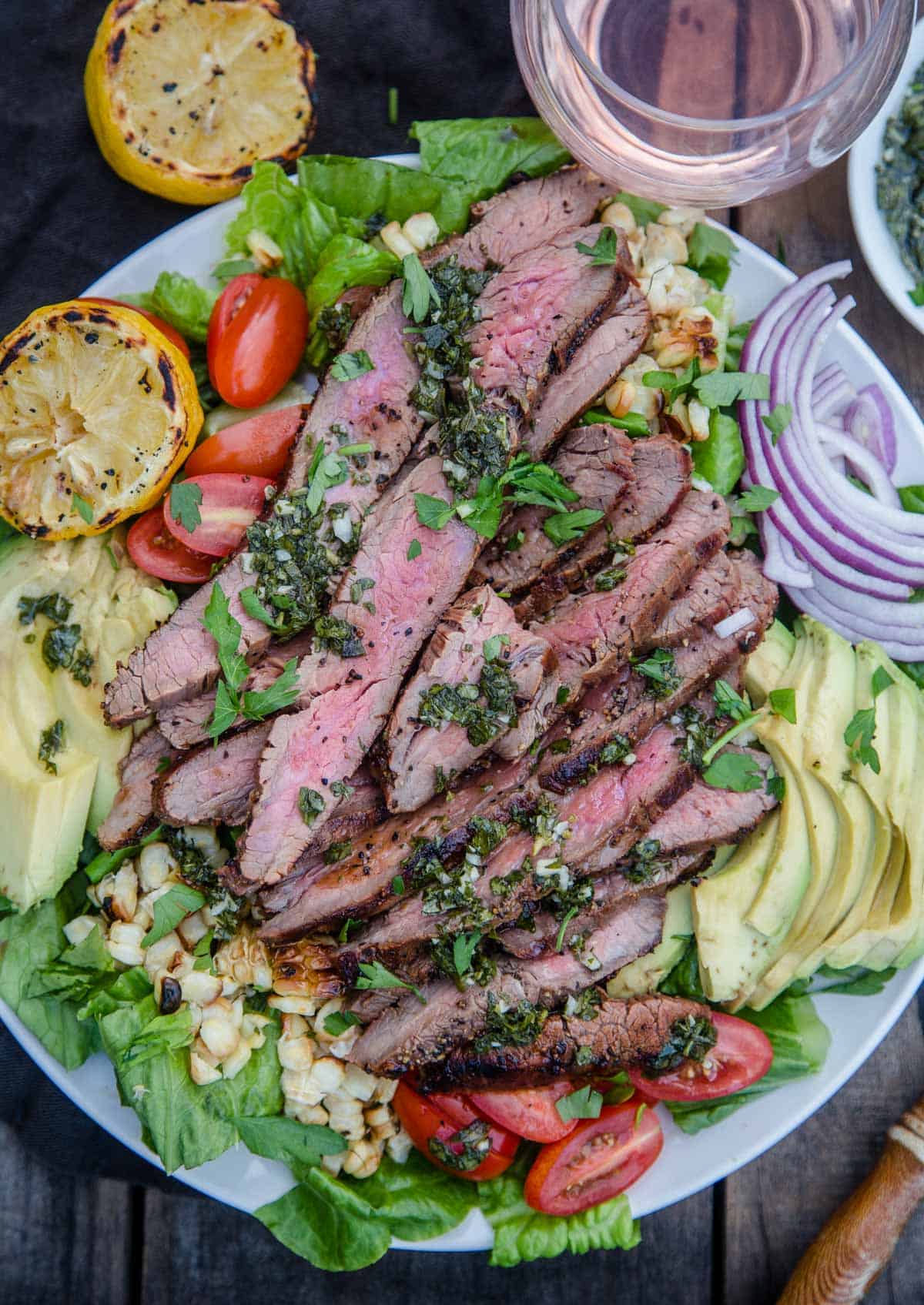 Between the savory meat, bright chimichurri sauce, sweet corn, and creamy avocado, a rosé is one of the few that will stand up to all of those flavors. We recently had it with the Rodney Strong Rosé of Pinot Noir and it totally hit the spot! It added some bright and fresh fruity notes to compliment the grilled meat and sweet corn. It's a tasty wine and perfect for summer grilling season, and bold enough to stand up to meat if I do say so myself!
Grilled Flank Steak Salad Recipe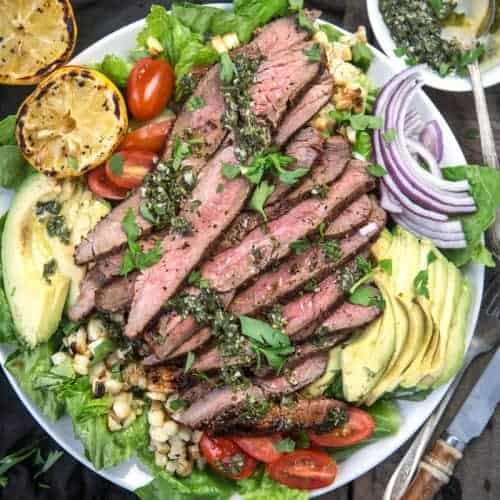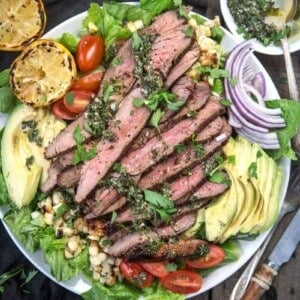 Grilled Flank Steak Salad
Grilled Flank Steak marinated in a savory soy and rosemary mix. Perfect for a hearty salad, or filling for a sandwich.
Print
Pin
Rate
Ingredients
1-2

lb Flank Steak

2

tablespoons

dry rub (equal parts salt, pepper, garlic powder)
Marinade
¼

cup

soy sauce

¼

cup

Worcestershire sauce

1

clove

of garlic, smashed and diced

½

tablespoon

fresh grated ginger

½

tablespoon

fresh rosemary, finely diced

¼

teaspoon

fresh ground pepper, a few turns of the grinder
Salad
⅓

cup

chimichurri sauce

2

hearts

Romaine lettuce, cleaned and chopped

1

whole

avocado, sliced thin

½

cup

cherry tomatoes, cut in half

¼

cup

sweet corn, canned or grilled

¼

cup

red onion, finely sliced

½

lemon

juiced (optional, grilled)
Instructions
To Marinate the Flank Steak
In a large freezer bag add all the marinade ingredients and shake, combining all together.

Add the meat to the bag, zip it, and try to avoid excess air.

Put freezer bag into the refrigerator for a couple of hours (up to six) and occasionally shake it up, making sure the marinade is being evenly distributed to the meat.
How To Grill Flank Steak
Warm up grill to medium high heat and remove meat from freezer bag.

Sprinkle the meat with dry rub on both sides.

Grill over direct heat for approximately 4-5 minutes on each side for a medium rare steak, but adjust time based on your desired doneness. Check temperature with a good digital thermometer for your desired temp. We aim for 130-135 degrees internal temperature.

Remove from grill and let sit at least 10 minutes to allow juices to settle.

Slice across the grain in thin slices and serve over a salad or as a filling for sandwiches.
For the Flank Steak Salad
Prepare Chimichurri sauce or use your favorite salad dressing.

To a large bowl add the romaine, avocado, cherry tomatoes, corn, and onions. Add freshly squeezed lemon juice and Chimichurri. Toss salad.

Add the flank steak to the salad for a family style meal, or plate the salad, and then add the flank steak for individual portions.
Notes
Tip: while your meat is grilling, throw on some corn to grill to add as a side or to your salad. Cut a lemon in half and add that to the grill too, until you see char marks. The juice from grilled lemon is incredible and will add great depth to your salad!
Find the perfect wine pairing at the Vindulge Wine Shop
This post may contain affiliate links. This means if you click on the link, we may receive a small commission if you purchase through the link. We partner with brands we know and love and use and it helps keep the blog going!
---