A simple and delicious recipe for Grilled Flank Steak Salad, made with a flavorful flank steak marinade in a savory soy and rosemary mix. Perfect for a hearty salad, or filling for a delicious sandwich.
You've gotta try this incredible and full flavored steak salad! And we got ya if your looking for a great grilled flank steak recipe on its own. You can even watch us cook it up on our local ABC TV station AM Northwest.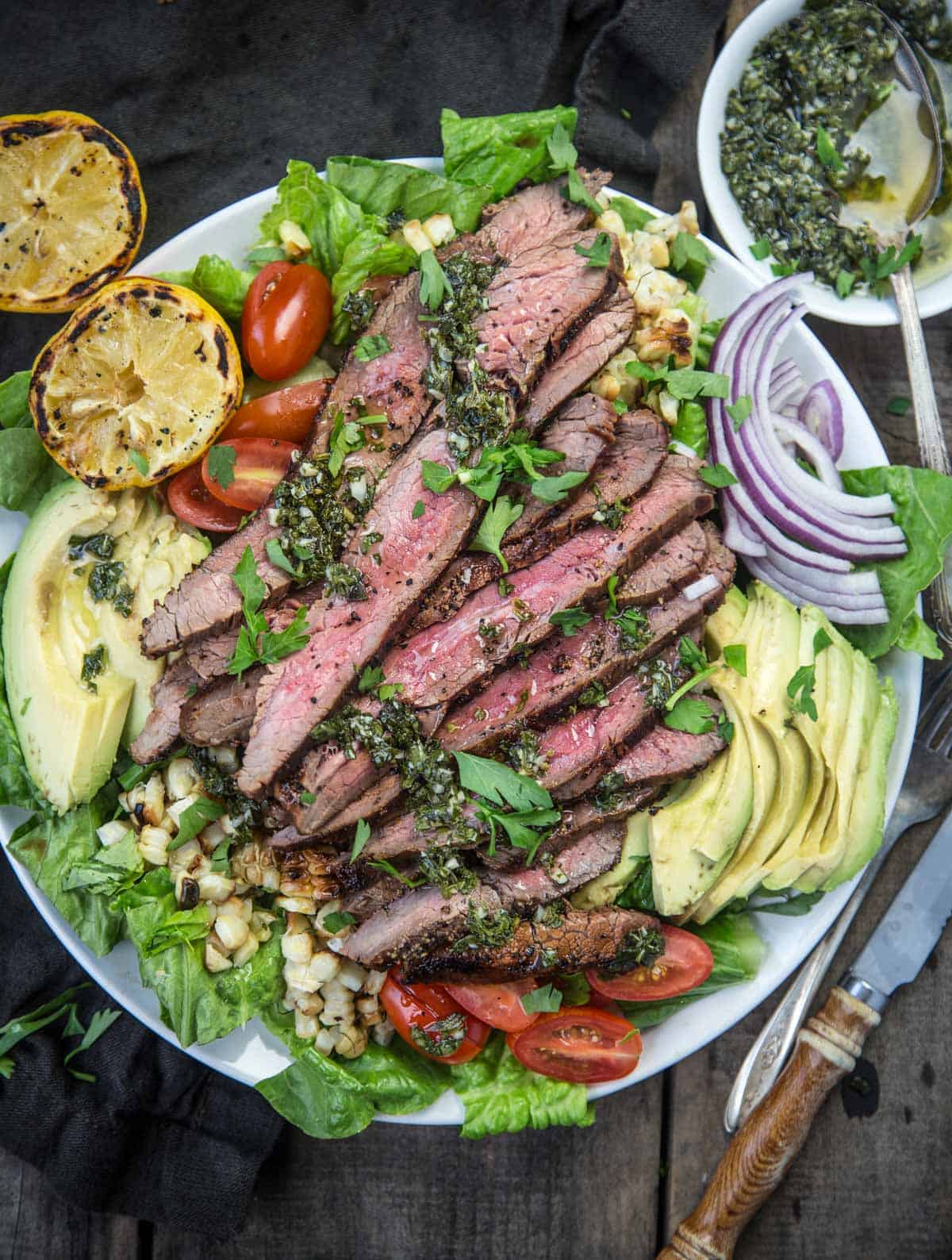 This is a recipe we created while on vacation several years ago in Hawaii with some good friends. We grilled on the beach while watching the sunset (pre-kids). And instead of the sandwiches we originally created it for, we're tossing the marinated flank steak into a hearty griled steak salad perfect for summer when you want something substantial, but not too heavy.
Jump to:
The Cut
Flank steak comes from the side, or flank of the cow near the back side abdominal muscle. That means it is lean and cooks quickly. This cut is best grilled at high heat and is great for tacos, or slicing and having on its own.
You can use the following cuts for this flank steak salad recipe as an alternative if you can't find it.
Bavette Steak is similar to the flank, but part of the sirloin and a great alternative to this cut for the salad.
Hanger Steak is a great option although a little more expensive and it will have more marbling.
Flat Iron Steak comes from the chuck primal or beef shoulder. But it's similar in size to flank and it has a lot more tenderness and intramuscular fat.
Seasoning and Preparation.
The steak salad starts with a marinade and then a beef seasoning for added flavor.
This simple steak marinade has six ingredients and is easy to modify to your flavor.
For acid we are using soy and Worcestershire Sauce.
For savory we add garlic and pepper.
We use ground ginger and fresh rosemary for aromatics.
Place a gallon plastic baggie in a small bowl and combine all the ingredients. Add the steak and partially seal. Remove as much of the air as possible and then seal tightly. Store in refrigerator for up to four hours.
Here are some other ideas to modify the marinade:
Use Tamari versus soy for a gluten free steak salad.
Add lime juice or lemon juice for more acid.
If you like sweet use honey or balsamic vinegar.
Once the flank steak is done marinading remove it from the baggie and discard the marinade. Use your favorite beef seasoning or make your own like our SPG rub or herbal beef seasoning.
Grilling the Steak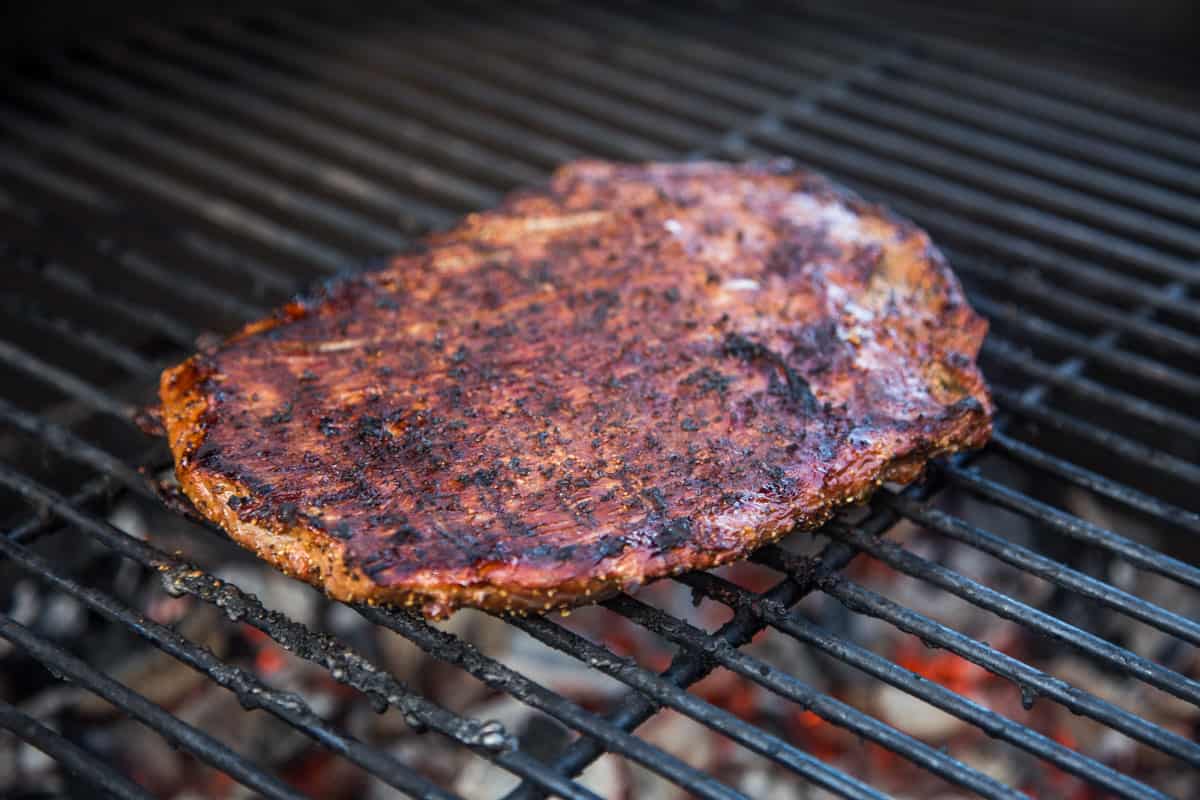 Hot and fast is the way to go over direct heat because it has so little fat. We go into full detail in our guide on how to grill flank steak. Here are the highlights.
Prepare your charcoal grill or grill pan (if cooking inside) for direct high heat targeting 500 degrees F.
Place the seasoned flank over the direct side and grill for up to six minutes. Then flip and continue grilling for another six minutes until the internal temperature reaches your desired level of doneness. We like medium rare at 130 degrees F using a meat thermometer.
Let rest for 10 minutes before slicing by placing it on a cutting board with grooved edges to capture the juices.
For a gas grill use two burners set to medium-high heat.
Chef's Note: You do not have to let your steak come to room temperature prior to grilling. There is no material difference in cooking time or texture. We just remove from the refrigerator and marinade, season, and throw on the grill after it warms up.
When is Flank Steak Done
Take the temperature with an instant read thermometer and measure the thickest part of the steak (we use the Thermoworks Thermapen One as our preferred instant read thermometer).
Rare: 120-130 degrees F
Medium Rare: 130-140 degrees F
Medium: 140-150 degrees F
Medium Well: 150-160 degrees F
Well Done: 160 degrees F (and not recommended)
The edges will be done a little more so you can give those to anyone who likes a medium steak.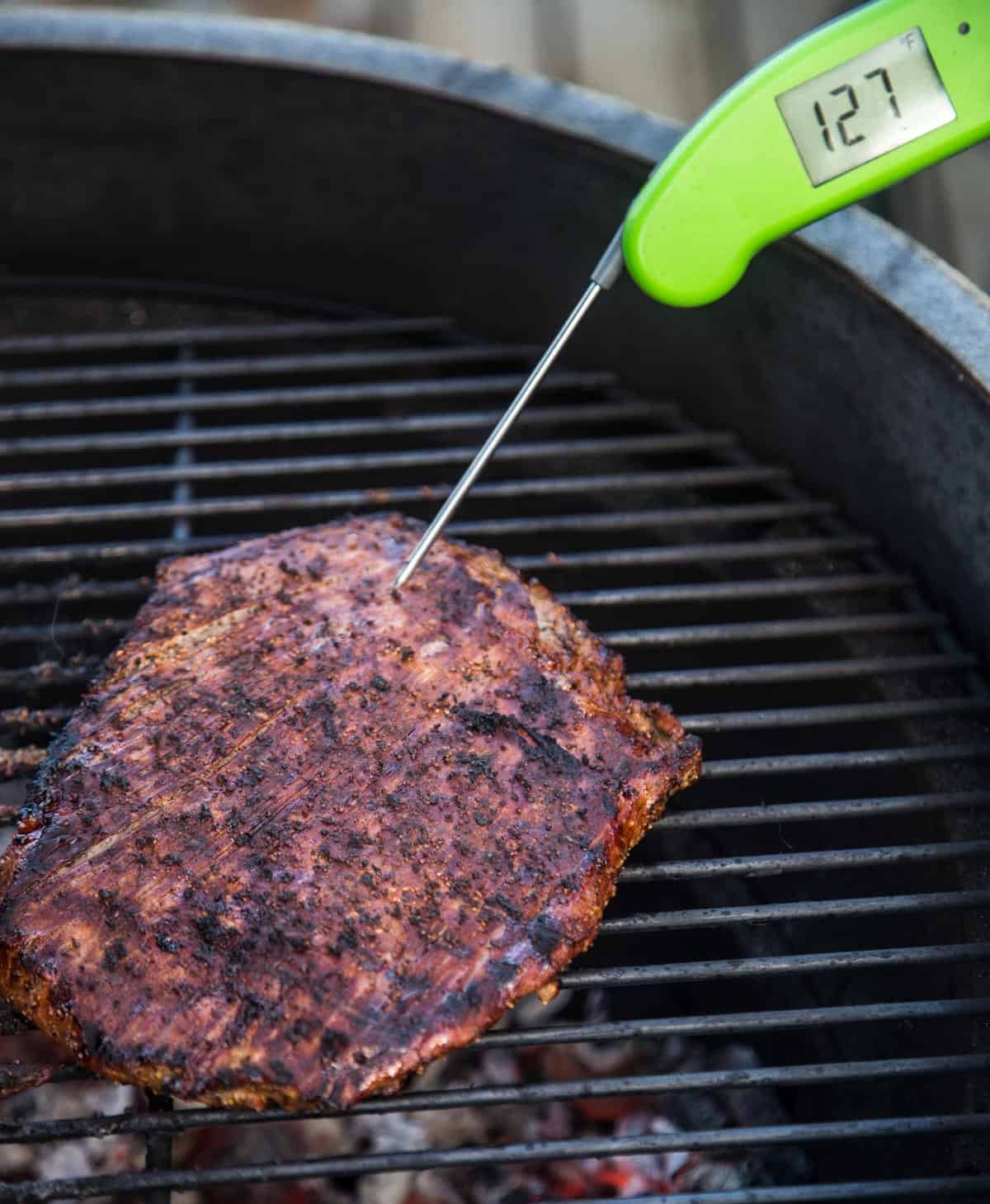 Slicing
Pay attention to the lines on the steak, as you want to be sure you cut against the grains (or perpendicular to the grains) with a good carving knife, this will keep the cells intact and make for a great tender texture as you eat it. The same technique applies for hanger or skirt (or really any steak for that matter).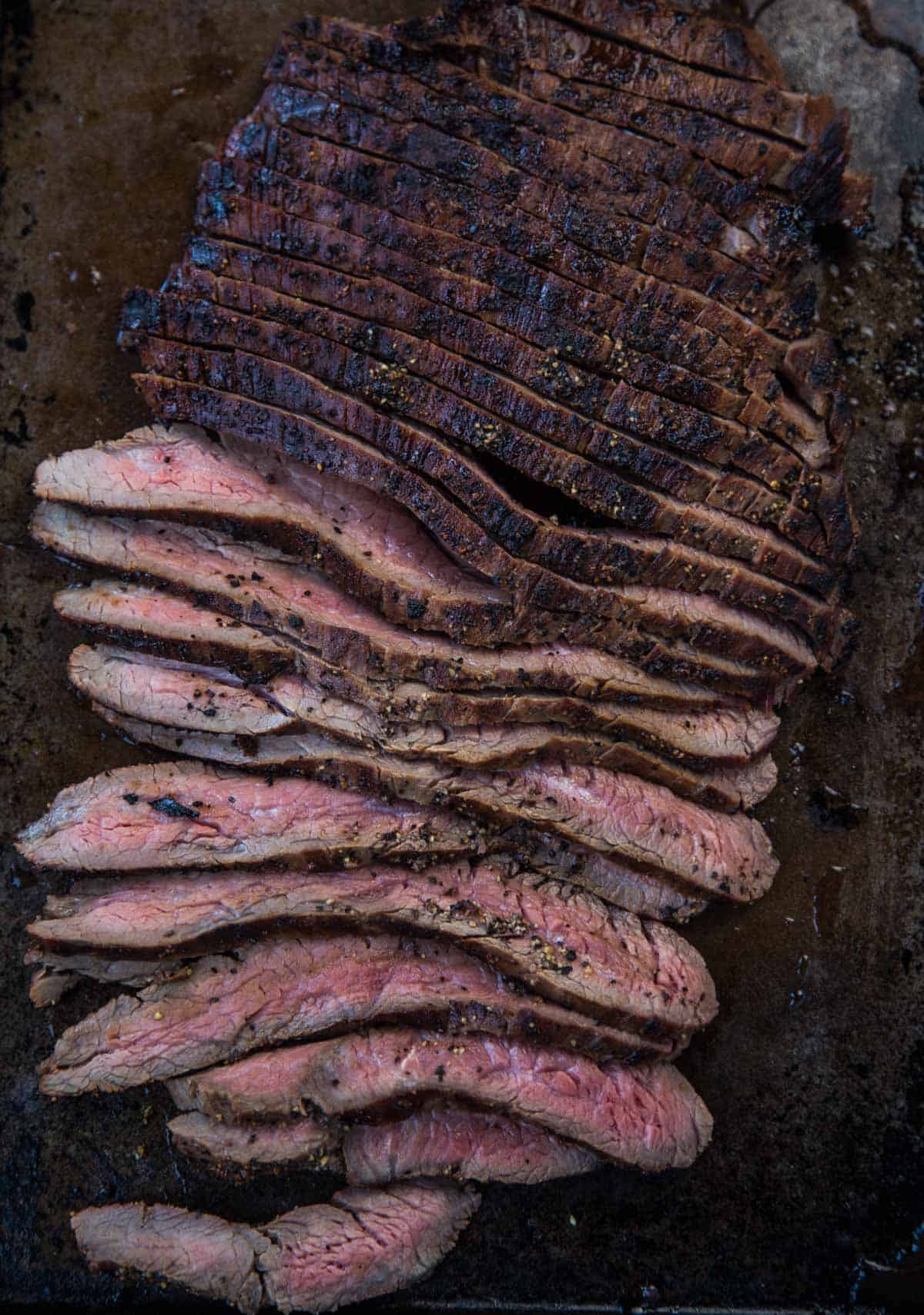 Making the Salad
We make this steak salad with romaine lettuce. Then we layer in the additional ingredients including the chimichurri sauce* salad dressing. One salad is good for four people. Layer the salad then the following ingredients. Place steak over the top and add the dressing.
Fresh Grilled Corn (or you can use canned corn)
Avocado
Slices of grape or cherry tomatoes
Thinly sliced red onions
Juice of a lemon (or grilled lemon)
Dust with a touch of kosher salt.
*Chimichurri sauce is one of my favorite substitutes for dressing with grilled meat. Just a tablespoon or so of chimichurri sauce adds such incredible flavor!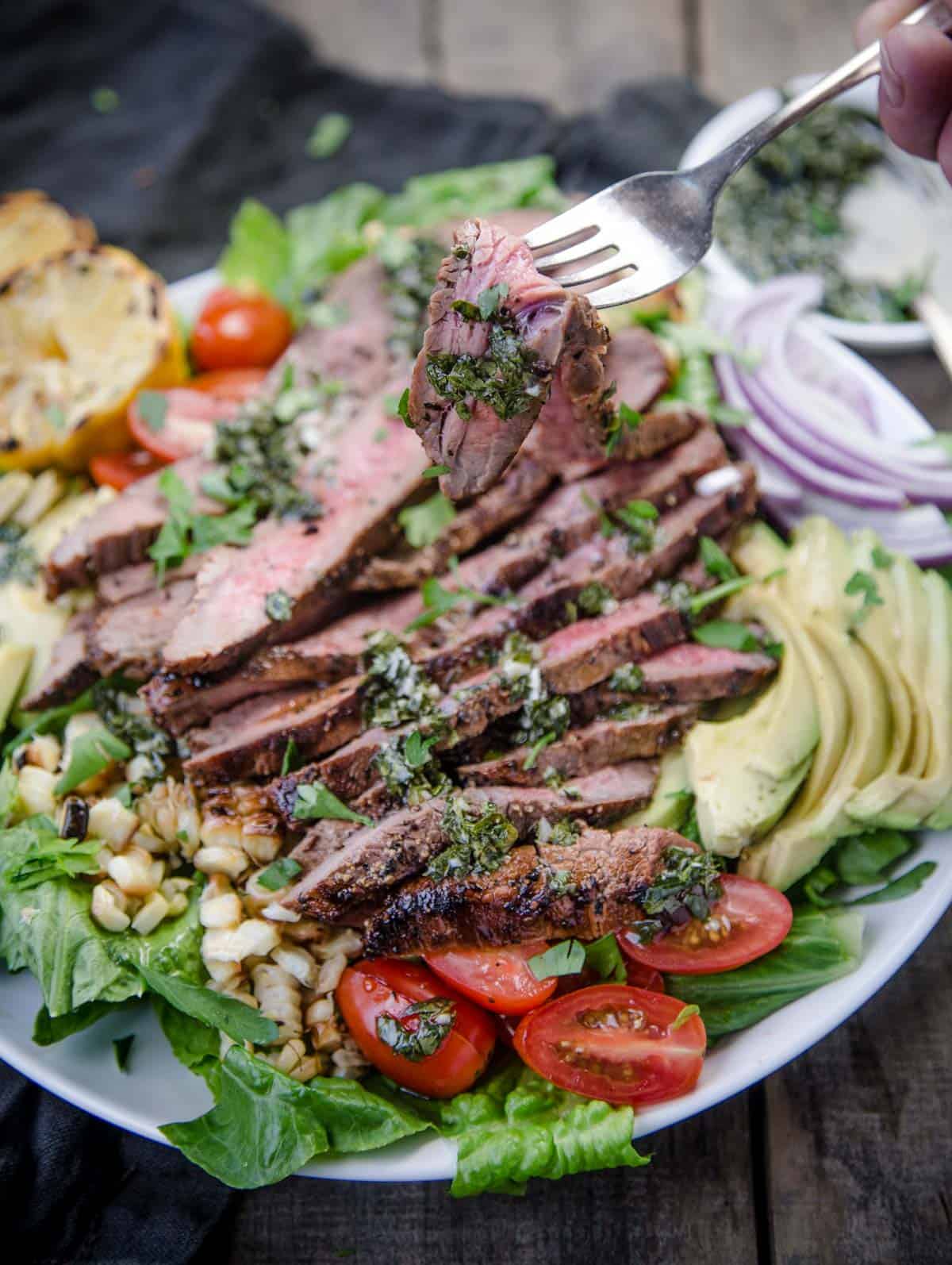 More Steak Recipes
Wine Pairing for Grilled Flank Steak Salad
With this salad, and all of the other fresh ingredients, and herbaceous and acidic chimichurri sauce, I'm reaching for a rosé.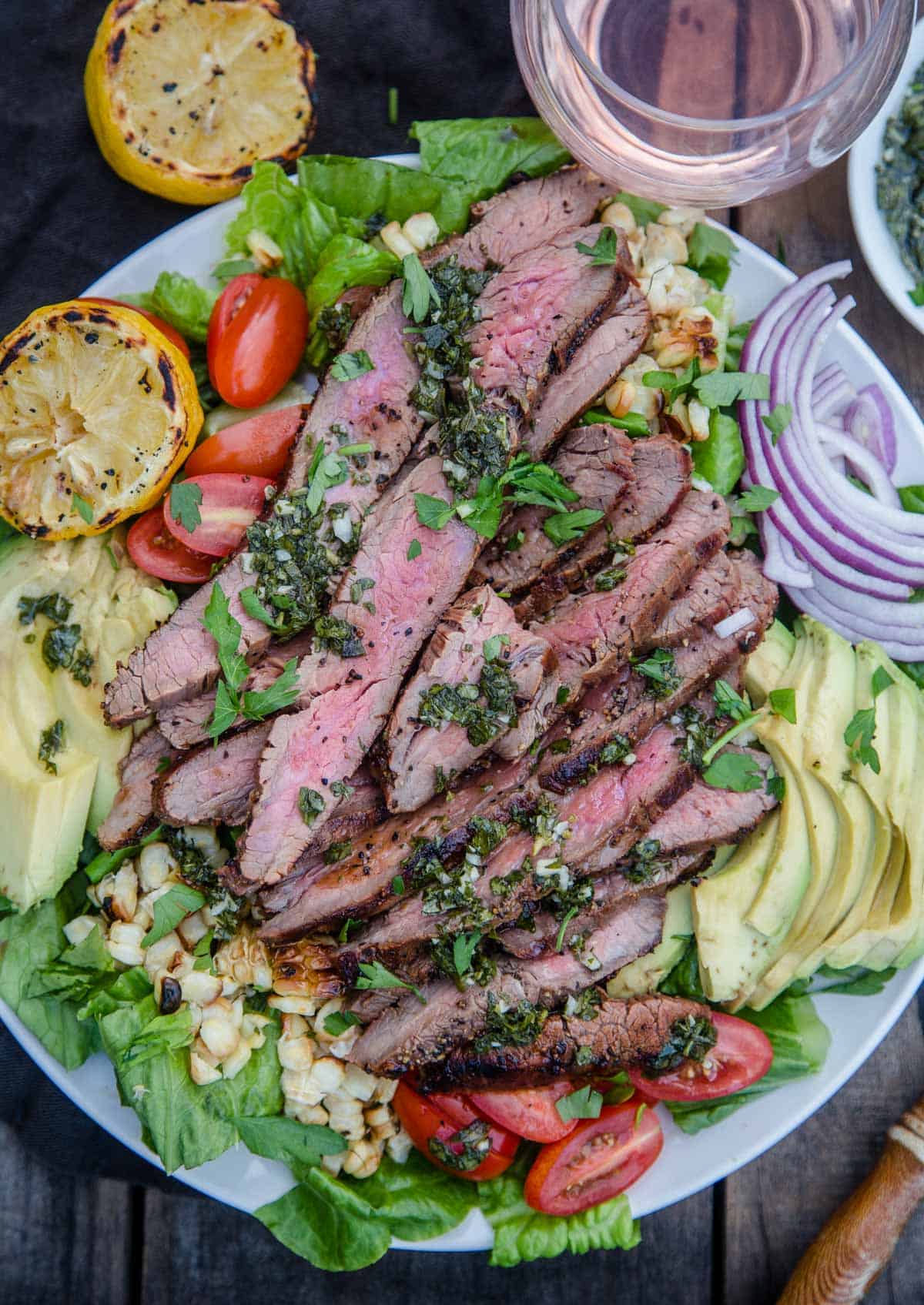 Between the savory meat, bright chimichurri sauce, sweet corn, and creamy avocado, a rosé is one of the few that will stand up to all of those flavors. You can explore some of our favorite cult rosés in our Vindulge Wine Marketplace or at your favorite wine merchant.
This recipe was originally published in November of 2019 and updated with additional steps in the recipe and TV segment video.
This post may contain affiliate links. This means if you click on the link, we may receive a small commission if you purchase through the link. We partner with brands we know and love and use and it helps keep the blog going!
---