This Cheddar and Jalapeño Gluten-Free Drop Biscuits recipe has everything you want in a gluten-free biscuit. It's light and fluffy, it's buttery, and it has all the savory flavors you want in a biscuit. And the real secret to making this turn out so perfect is using the right gluten-free flour.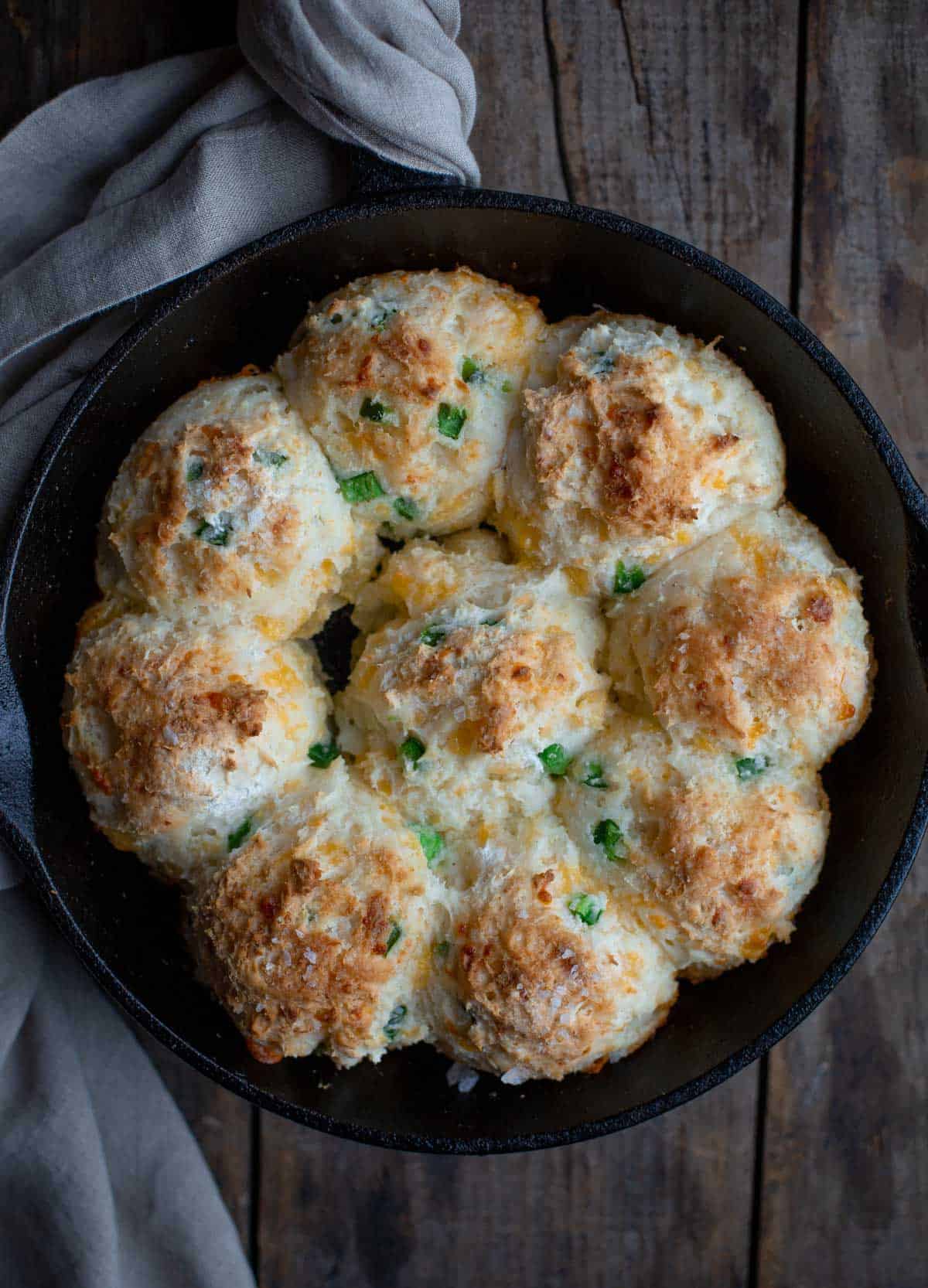 Recipe Highlights
Caputo Gluten-Free flour is, hands down, the best cup for cup flour to replicate the fluffy and airy drop biscuits using regular flour.
The cast iron pan retains heat, can be used in the oven, outside on a fire pit or grill, and gives the bottom of the biscuits that unique crisp golden crust while maintaining a fluffy and soft inside.
If you don't like the savory flavor from the jalapeños and cheddar then you can skip it using our basic 5-ingredient gluten-free buttermilk drop biscuits recipe.
While on a media trip that we were catering, at the very last minute we had to come up with a gluten-free breakfast idea for some of the trade members (while camping!). And this recipe is what we came up with, from scratch, while in the middle of the woods, using only a grill and a cast iron pan. It cooked up perfectly in our Big Green Egg mini max and can be easily adapted to make in your oven.
Jump to:
Ingredients for Cheddar and Jalapeño Gluten-Free Drop Biscuits
Gluten-Free Flour – We love the Caputo Fioreglut Gluten-Free Flour because it has such a fine texture, almost like "00" flour, and gives the biscuits that added fluffy flavor. A closed second is the Bob's Red Mill Red Cup for Cup Baking GF Flour. Avoid using any cup for cup flours heavy with almond flours. Focus on flour that uses rice instead.
Kosher Salt – Adds flavor.
Baking Powder – Adds some leavening.
Unsalted Butter – A fat element and flavor. Unlike regular biscuits, it isn't as important for the butter to be super cold.
Cheddar Cheese – It melts well and also has a good sharp flavor. You can use any sharp cheese as a substitute.
Jalapeños – Thinly sliced and chopped goes a long way. If you want less heat just remove the seeds or the center portion of the slices.
Buttermilk – Another fat element and the fermentation adds some flavor as well. You can substitute with whole milk as well. We do not recommend using 2% or skim as it won't add enough of the fat element for the biscuits to get the right texture.
Portions are in the recipe card, and can be printed for shopping.
Equipment
We strongly recommend a cast iron pan (we used the Finex 10-inch). A 10-inch width pan is perfect to fit 9 biscuits. The cast iron will retain heat really well and give the bottom of the biscuits that golden crust and crunch that parchment paper or a baking mat on a sheet pan can't replicate.
Recipe Steps
When making cheddar and jalapeño gluten free drop biscuits, we add the cheddar and peppers after we have combined the butter. Then we add the milk.
Preheat: oven to 400 degrees F. While the oven is heating up, take your stick of butter and cut it up into smaller pea-sized pieces. Place the small pieces of butter into a medium bowl and place back in the refrigerator (to stay cold) until you're ready to add them to the flour mix.
Combine: In a large mixing bowl combine the flour, salt, and baking powder. Add the cold butter pieces into the dry ingredients and begin to combine with a fork or pastry cutter. As you combine, the flour begins to incorporate with the butter, which will melt as it cooks for the fluffy texture (and buttery flavor). Then add the cheddar cheese and jalapeños. Continue to stir to combine. Then add the buttermilk. Stir with a wood spoon or sturdy spatula until combined.
Bake: Form biscuits using an ice cream scooper and place biscuits into the cast iron pan. You should get 9 biscuits. Place into the oven (center rack) and bake for 25 minutes or until the tops of the biscuits start to turn slightly golden. Then remove from the oven and serve warm.
Optional: As soon as you remove the biscuits from the oven, melt 2 tablespoons of unsalted butter (we use the microwave) in a small bowl and then brush the melted butter onto the tops of the biscuits. Then sprinkle some kosher salt or finishing flake salt onto the biscuits to finish.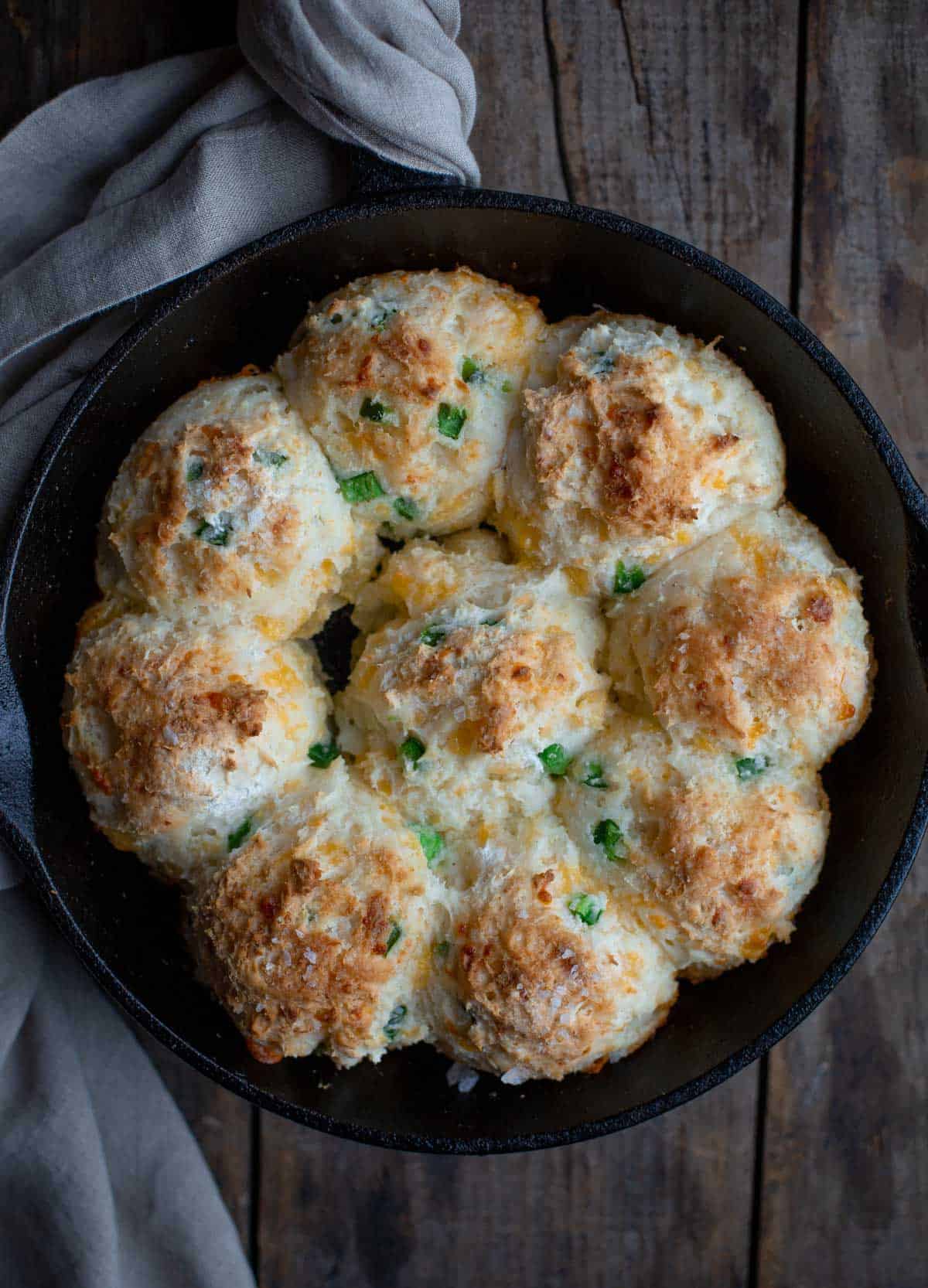 Grilling Drop Biscuits
If you want to grill cheddar and jalapeño gluten free drop biscuits this like we did, set your grill for indirect heat and target 400 degrees F in the cooking chamber. Follow directions as noted and cook in cast iron over indirect heat for 20 – 25 minutes or until the top of the biscuits are golden.
On our Big Green Egg we use the convEGGtor plate for indirect heat. You don't want the heat directly underneath the pan or it will burn the bottom of the biscuits.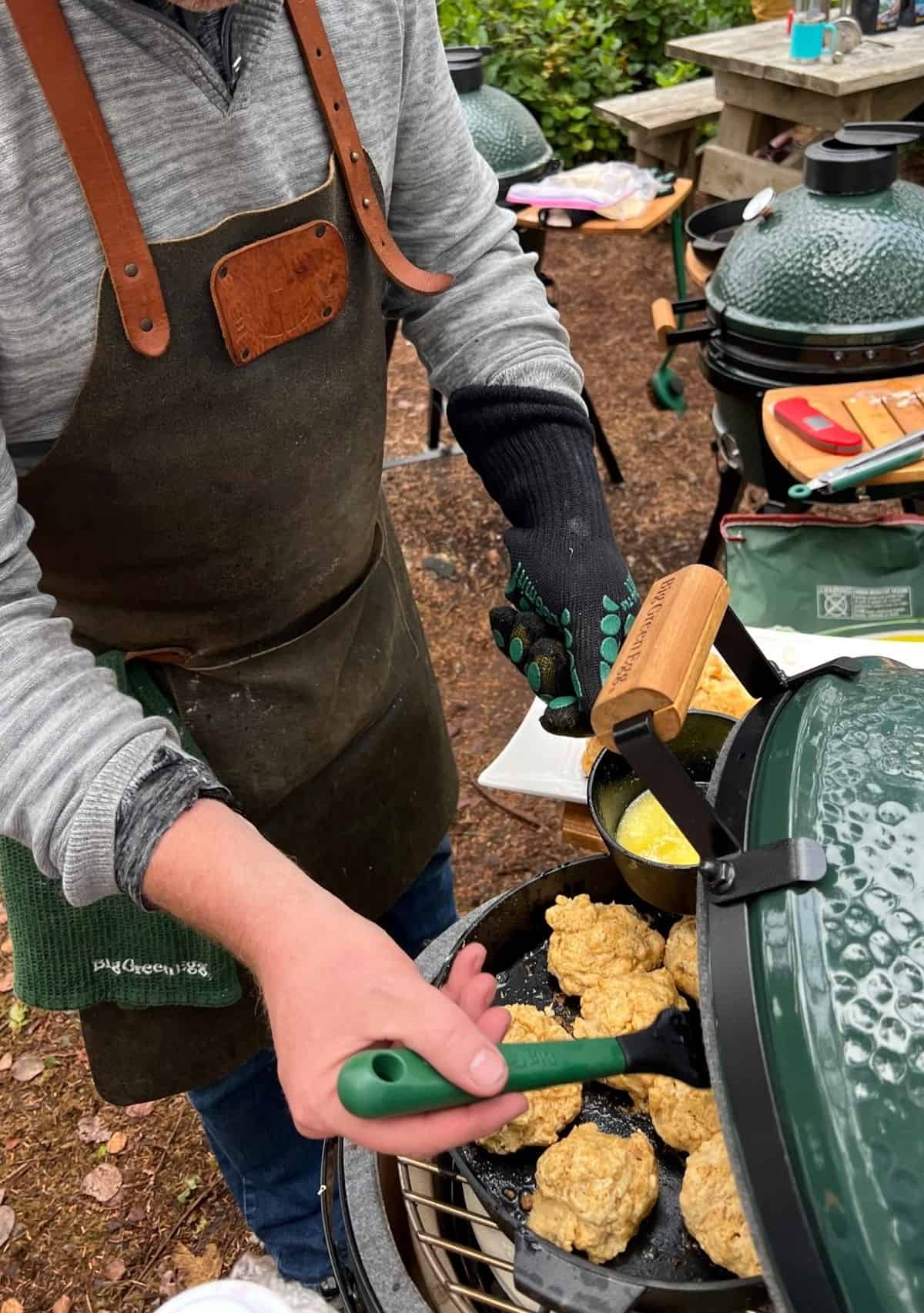 If using a pellet grill then set the grill to 400 degrees F. We recommend oak or a fruit wood. Then follow the instructions and bake for up to 25 minutes.
Other Gluten-Free Breakfast Ideas
If you are looking for other ideas to pair with this amazing drop biscuit recipe try it with our smoked sausage gravy. Just substitute the flour with a 1:1 gluten free flour mixture, like Caputo or Bob's Red Mill. Or build an amazing sausage breakfast sandwich with your own homemade breakfast sausages.
This recipe also is great with our perfectly roasted oven potatoes.
---
Tried this recipe? Give us a star rating and we would love to see! Mention @vindulge or use the hashtag #vindulge on all the social media handles. And consider subscribing to our newsletter where we drop all our favorite ideas and inspirations every week.
This post may contain affiliate links. This means if you click on the link, we may receive a small commission if you purchase through the link. We partner with brands we know and love and use and it helps keep the blog going!