Grilled Brussels Sprouts bathed in a quick balsamic marinade before cooking on a hot grill for flavor and sear. This is the perfect side dish recipe for your grill! It's also our favorite way to prepare Brussels Sprouts.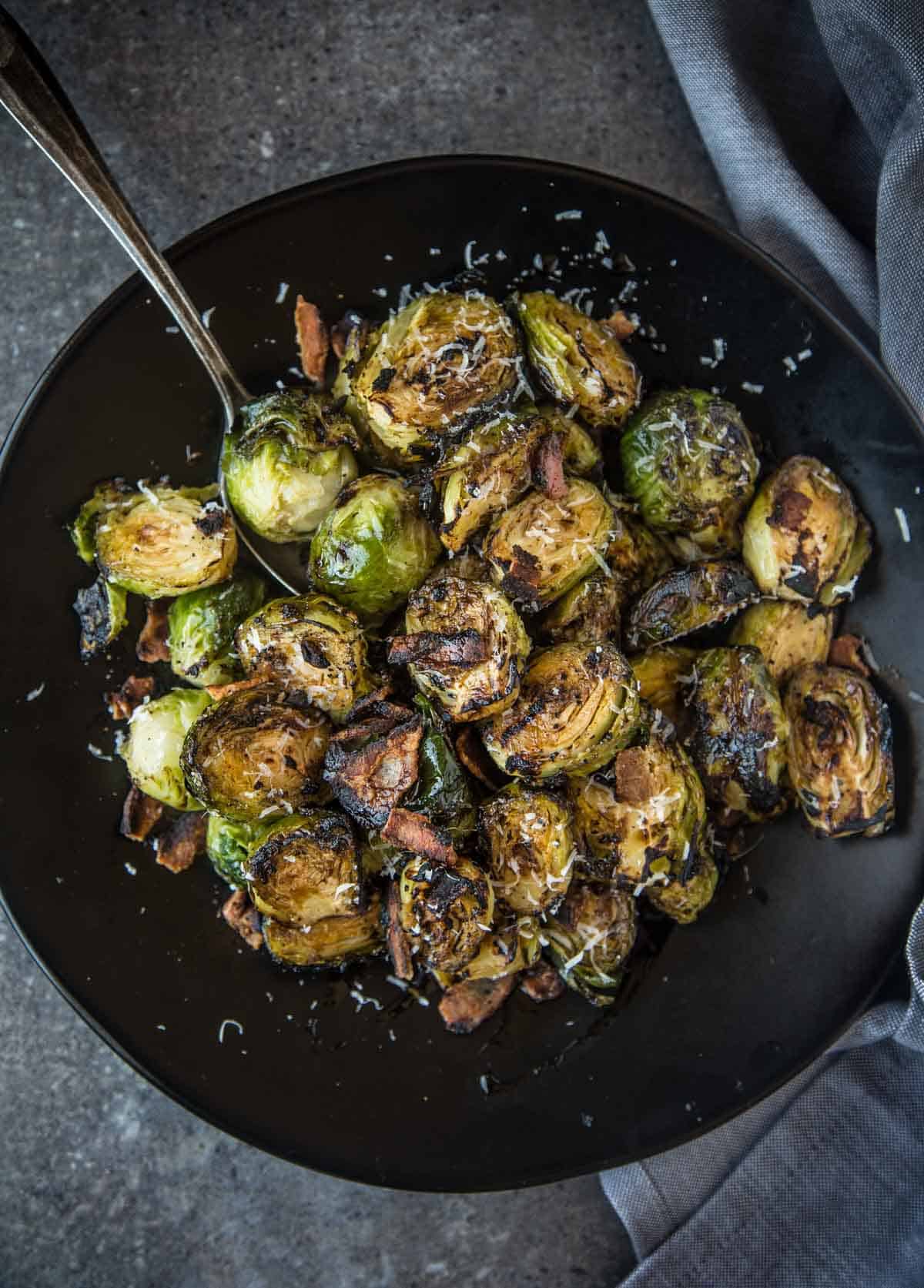 Jump to:
Recipe Highlights
Blanch or boil the brussels sprouts first to create a better texture when grilled.
Marinate after blanching to allow the flavors to meld with the sprouts.
Grill with a metal skewer or a grill basket depending on how much grill space you have.
Grilled Brussels Sprouts are are a unicorn recipe for my family — as in a family full of boys who all hate vegetables (I'm talking to you, Hubby!). The kids, ok, I'll cut them some slack (we're working on them). But the adult man in his 40's? Yeah, he should be more vegetable flexible in my book. But he's not! It's my mission to change that.
Enter Brussels Sprouts.
Ingredients
Brussels Sprouts – Buy fresh Brussels sprouts in bulk or a bag. Alternatively you can buy them as a stalk and remove each sprout (but that is more work).
Extra virgin olive oil to help emulsify the marinade.
Regular balsamic vinegar versus aged balsamic and fresh garlic for savory flavors.
Honey to add sweetness to the marinade.
Freshly squeezed lemon juice and Dijon mustard for acidity.
Good savory vegetable seasoning.
Crispy Bacon.
Freshly grated Parmesan cheese.
Optional – if you like heat add a touch of red pepper flakes at the end and a touch of kosher salt or finishing salt.
Preparation for Grilled Brussels Sprouts
Unlike some veggies, ya can't just throw raw Brussels sprouts directly on the grill because the texture of the Brussels sprouts will be too hard and the outside will burn yielding bitter flavor.
This recipe requires softening them first by blanching or steaming them. This softens the entire Brussels sprout, and gets them ready to go on the grill for a crispy texture.
Trim the rough ends, or stems, off the Brussels, steam them whole for 5 minutes, then put them in an ice bath (to stop the cooking briefly). If you don't have a steamer then blanch them by placing them in boiling water for 4 minutes and then placing in the ice bath. Remove from ice bath after 4 minutes and cut the Brussels sprouts in half.
Marinate
After the ice bath place the marinade ingredients in a medium bowl. Mix together to combine and then combine the Brussels sprout halves with marinade. Cover with plastic wrap and store in the refrigerator for 2 to 4 hours. After marinating remove Brussels and prepare the grill. Reserve the marinade. If you don't have much time you can marinate for as little as 15-20 minutes to capture some of the flavor.
Skewer versus Grill Basket?
I like to skewer Brussels sprouts because we have a lot of grill space. While it may seem like a lot of work up front, it's easier once they're on the grill to get the perfect sear on them if they're skewered. This is also why I like to cut them in half first too. Grill one side, get a nice sear, turn again, get a nice sear. Boom, you're done! Time to eat those delicious morsels of vegetable deliciousness.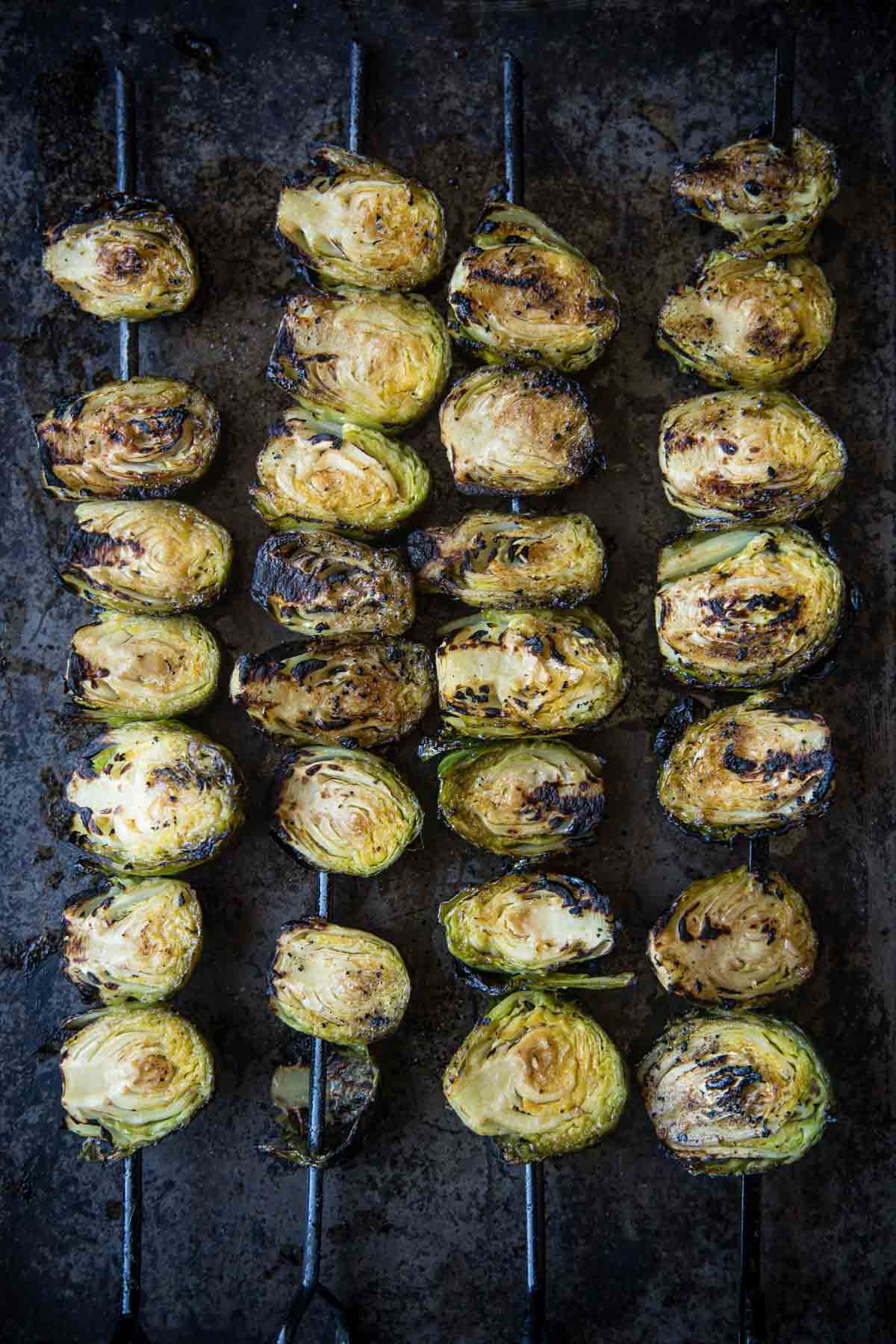 A note on wooden or bamboo skewers – We prefer to buy sturdy metal skewers and reuse them. If you only have wooden be sure they are soaked in water for at least 30 minutes before skewering and grilling with them to prevent them from going up in flame.
Alternatively if you have smaller grill space or trying to cook other things at the same time use a good grill basket and long tongs.
After the Brussels sprouts have been skewered – cover them with the seasoning.
How to Grill Brussels Sprouts
Prepare grill for two zone cooking method or medium-high heat. Target 450 degrees in the cooking chamber.
Place bacon on indirect side in a single layer on the grill grate. Bacon has lots of fat, and it will potentially cause flare ups if cooked over direct heat. Cook the bacon on indirect for up to 12 minutes or until crispy. Remove from grill and dice.
As bacon grills, place Brussels sprout skewers over direct heat. Rotate sprouts over direct heat every few minutes until nicely charred on all sides with grill marks (about 4-5 minutes minutes total time). Exact time will vary based upon size of flame.
Remove sprouts from the skewers, place in a large bowl, and drizzle one more time with remaining balsamic marinade. Top with bacon and the parmesan and serve.
If you don't have a grill simply prepare them using a cast iron or grill pan over a medium high heat until they are crispy. Use a lot of olive oil to encourage crisping.
Grilled Bacon
I'm not a huge fan of wrapping bacon around the Brussels because it doesn't get as crispy as I like it (and I prefer crispy bacon).
Instead, I cook the bacon on its own, over indirect heat, until it's crispy to my liking. Once it's crispy, remove it, let it cool enough to handle, and then crumble it up to top over the Brussels sprouts when it's time to serve them.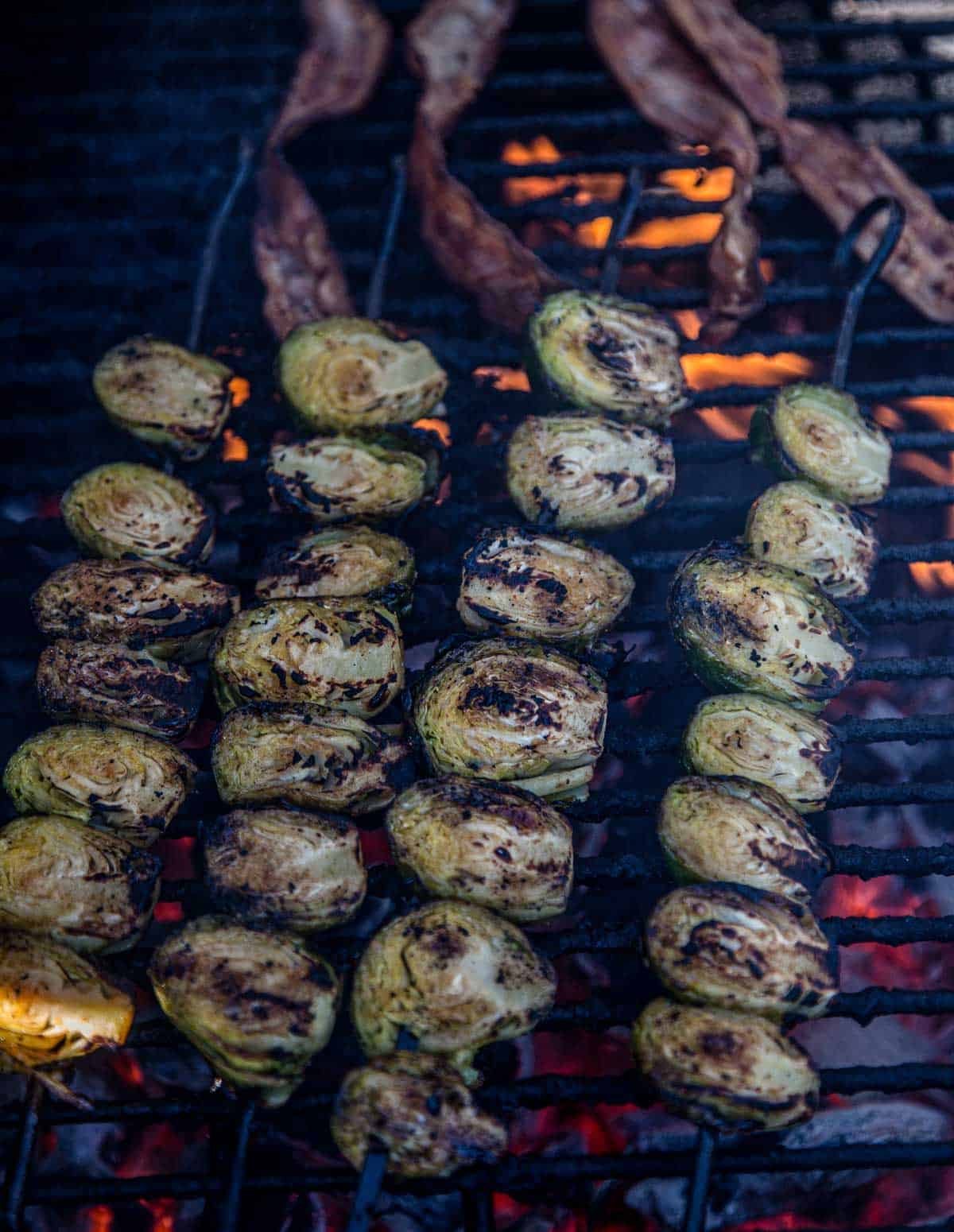 How to Serve Grilled Brussels Sprouts
You can serve them direct from the skewer, but I prefer to remove them from the skewers and place into a serving bowl. Then, toss in the crispy bacon, some shaved parmesan, add some of the marinade (about two tablespoons) toss. Add a touch of finishing salt and then serve with your favorite main dish like smoked turkey or a smoked prime rib.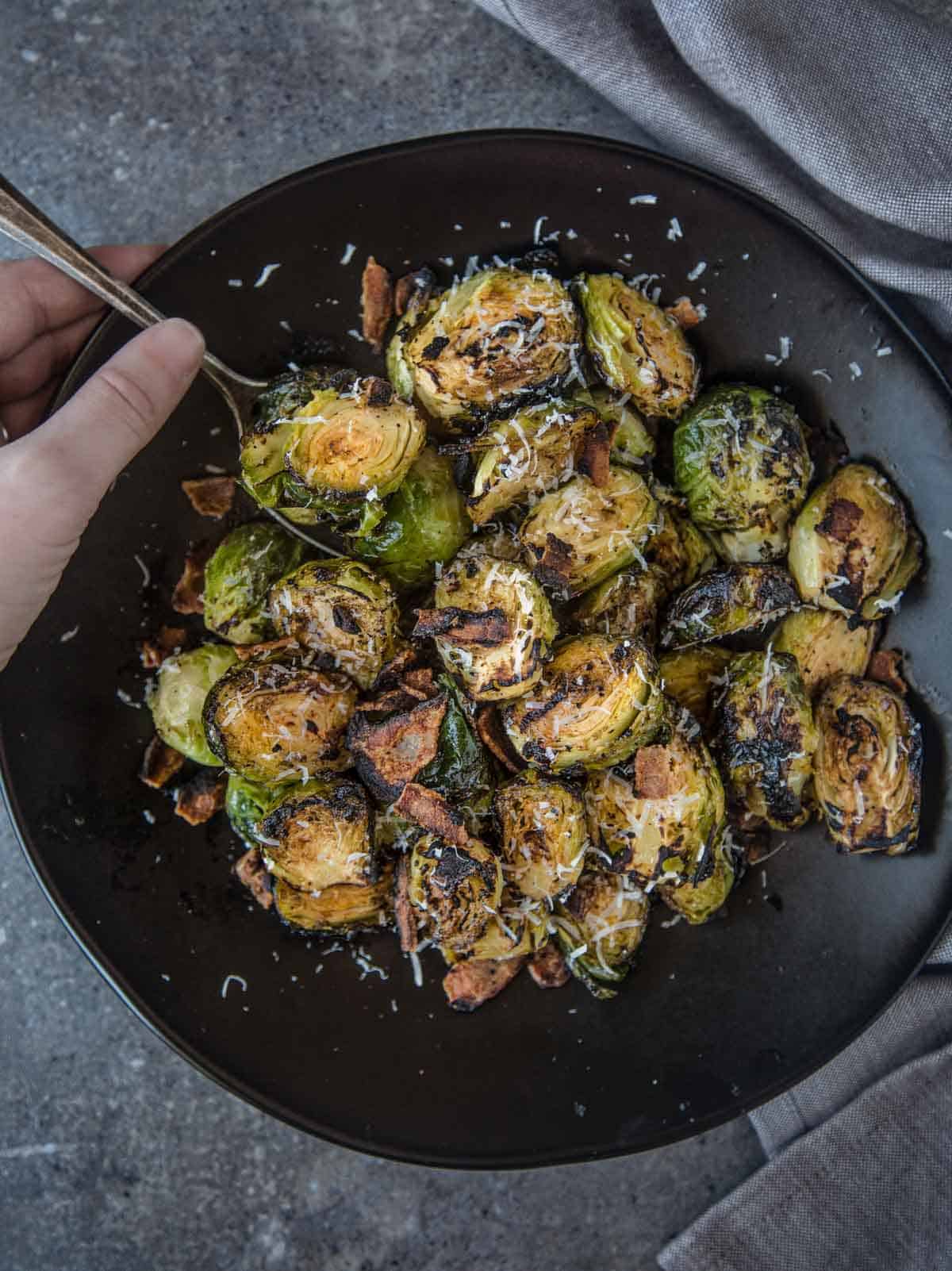 More Grilled Vegetable Dishes
---
This post may contain affiliate links. This means if you click on the link, we may receive a small commission if you purchase through the link. We partner with brands we know and love and use and it helps keep the blog going!
This recipe was originally published in April of 2019, and updated in October 2022 with more recipe details and instructions. The original recipe remains the same.
If you like this recipe we'd truly appreciate it if you would give this recipe a star review! And if you share any of your pics on Instagram use the hashtag #vindulge. We LOVE to see it when you cook our recipes.
---