Grilled Cod with White Wine Garlic Butter sauce is a super easy (and absolutely delicious) grilled cod recipe that will have your guests begging for more. The secret is a hot grill, well oiled fish, and the right tools. Add a touch of white wine garlic butter for a flavorful grilled fish recipe.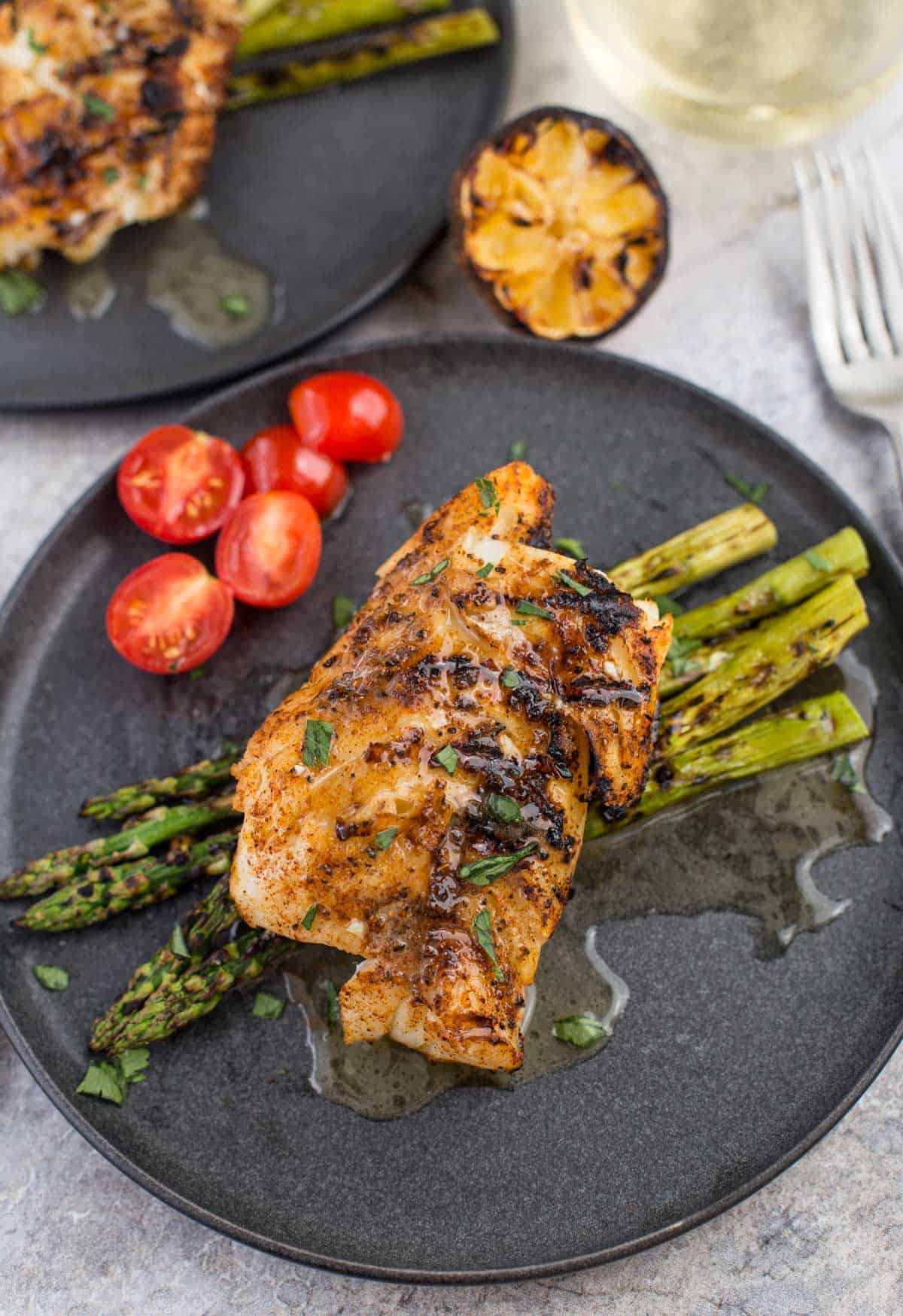 Grilled fish is on the menu regularly at our house, especially during the summer months when we're looking for something fresh and light for a weeknight dinner. Grilled cod (or other white fish like tilapia or halibut) is simple to prepare, quick to grill, and great paired with some grilled veggies or used for tacos.
Jump to:
This post may contain affiliate links. This means if you click on the link, we may receive a small commission if you purchase through the link. We partner with brands we know and love and use and it helps keep the blog going!
Ingredient List
This recipe is based on two parts; grilling the fish and finishing it with the white wine garlic butter sauce. Don't let the simplicity fool you, the fish is the main star.
Garlic
White Wine
Butter
Kosher Salt
Sourcing Cod
Cod can be used in so much more than fish and chips. Cod can be simply defined as a flaky and rich white fish. As you cook cod, the fish turns white and the flavor is buttery and rich.
Cod most commonly comes as long cuts with the skin off, otherwise known as the filet. Some fish mongers will also cut them down into smaller filets. When grilling, we like larger filets (around 1 pound each). This allows you to cook it as one long filet for even cooking, or to cut into smaller pieces depending on how many people you are serving.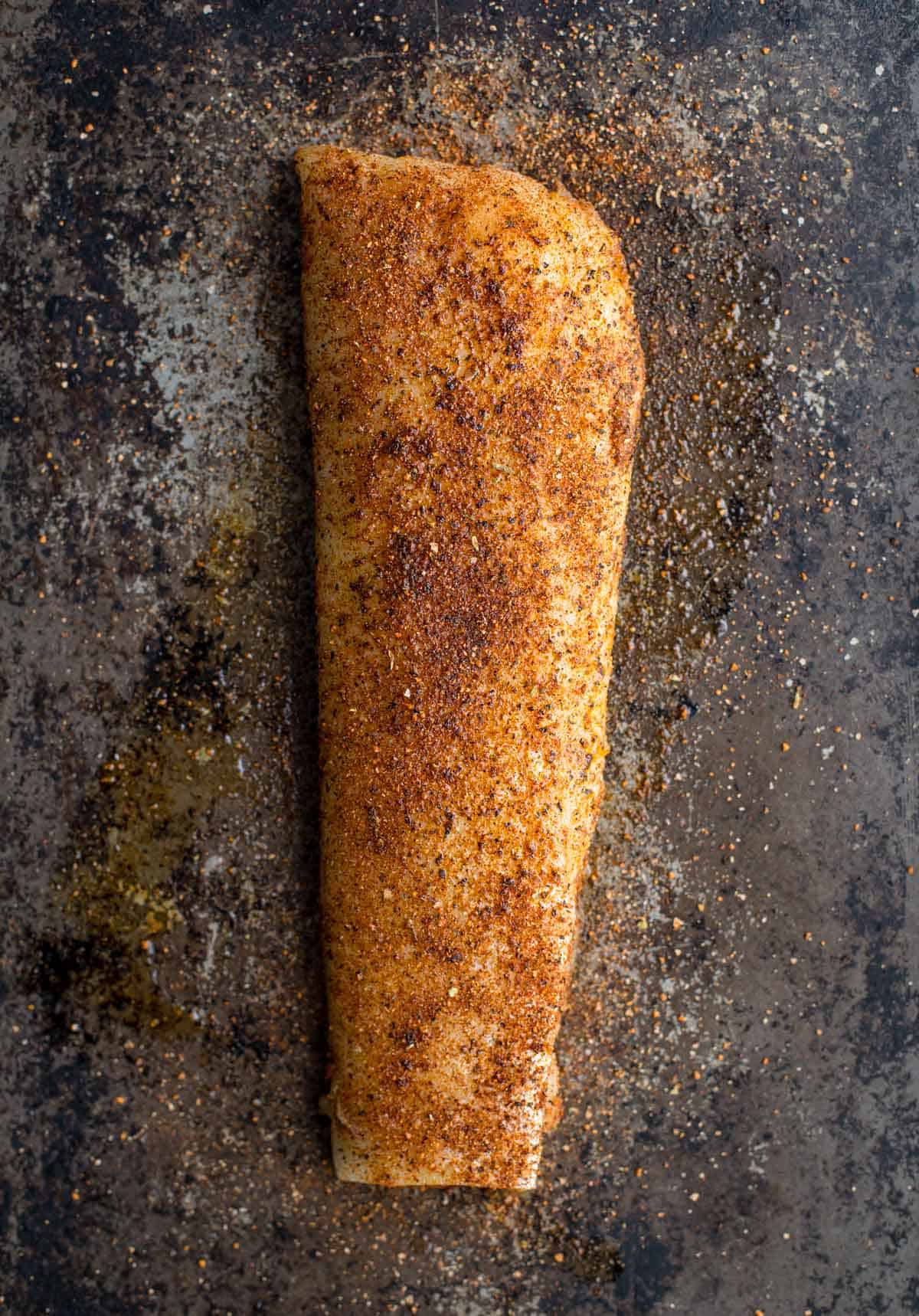 Fish Monger Tip – If you buy a large filet, ask if the pin bones are still in the cod. Have the fish monger remove them before you take it home. Otherwise, you'll want to remove them yourself.
We strongly encourage cod that is wild caught. Consider seeking it out at your fish monger or consider specialists who can mail order fish right to you for amazing and rich buttery flavor. D'Artagnan is a great example with amazing food quality and sourcing.
Portions per Person: Plan 1 pound of cod for two people, or 8-ounces of cod per person.
Tools
Fish Spatula – A fish spatula is a very helpful tool when grilling. The design allows the spatula to flex which in turn makes it easy to flip and not break the delicate fish.
Long Tongs – If you have a larger filet (like the photo above), large sturdy tongs are good to use to slowly and gently flip the fish. Even better if you use both the tongs and the spatula.
Instant Read Thermometer – The key to perfectly grilled cod is knowing when the cod is done. A good quality instant read thermometer is important to monitor the internal temperature. We strongly recommend the Thermoworks Thermapen One, the best and most accurate digital thermometer in the market.
Preparing Grilled Cod
If the cod has any pin bones, be sure to remove them using firm tweezers or pliers.
Start with extra virgin olive oil and generously oil the fish. From there apply our seafood seasoning liberally to the fish.
If you plan to cut a larger filet into smaller cuts, this is the time to do it using a sharp filet or boning knife. If you try to cut AFTER grilling, you risk breaking apart the flaky fish.
Note about seafood seasoning: For high heat grilling, avoid any seasoning with sugar as the first ingredient. It can easily burn when grilling cod.
White Wine Garlic Butter Sauce
This simple sauce is best to make right before grilling the fish so you can give all your attention to the fish.
In a medium sized skillet over medium heat, melt two tablespoons of the butter and add garlic. Stir garlic until soft, about 2 minutes.
Add the wine and increase heat to bring to a simmer. Let wine simmer for 2 to 3 minutes to slightly reduce.
Add remaining butter and salt, turn off heat, and stir to incorporate butter. The sauce will have a thin consistency.
You can add additional flavor like fresh thyme, or a squeeze of grilled lemon for extra flavor.
How to Grill Cod
The secret to perfectly grilled fish is a clean and HOT grill grate and well oiled fish. if the grill grate is dirty or has residual food on it, the delicate fish will stick to the grill when you attempt to flip. Having a hot grill also quickly sears the fish for a good crust making it easy to flip. It's also helpful to oil the grill grates where you plan to cook the fish. I like to place some oil on a paper towel, then rub on the grates to oil them.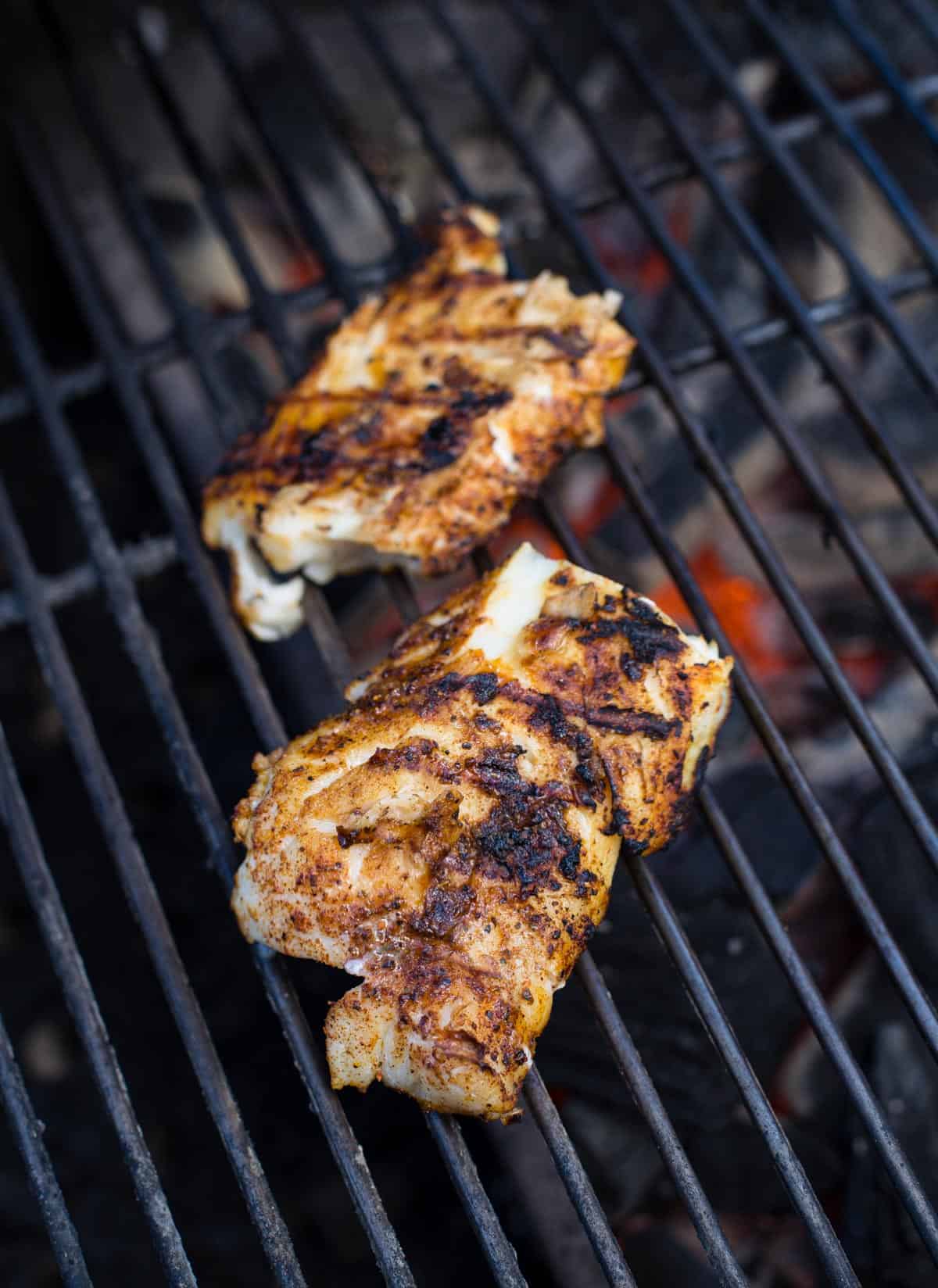 Prepare your grill for two-zone grilling targeting 600 degrees over the direct heat. Be sure to make sure the grill grate is clean and lightly oiled. It's best to scrape the grill when it's warm.
Place seasoned and oiled fish over the direct heat. Grill for 3 minutes and then flip with either a good fish spatula or sturdy long tongs. (Long tongs are great if you have one long filet versus smaller cuts.)
Continue to grill for additional 2 or 3 minutes until the fish is no longer opaque in the middle or an instant read thermometer reads 135 degrees Fahrenheit. Remove and serve. Top each piece with some butter sauce over the top of the fish.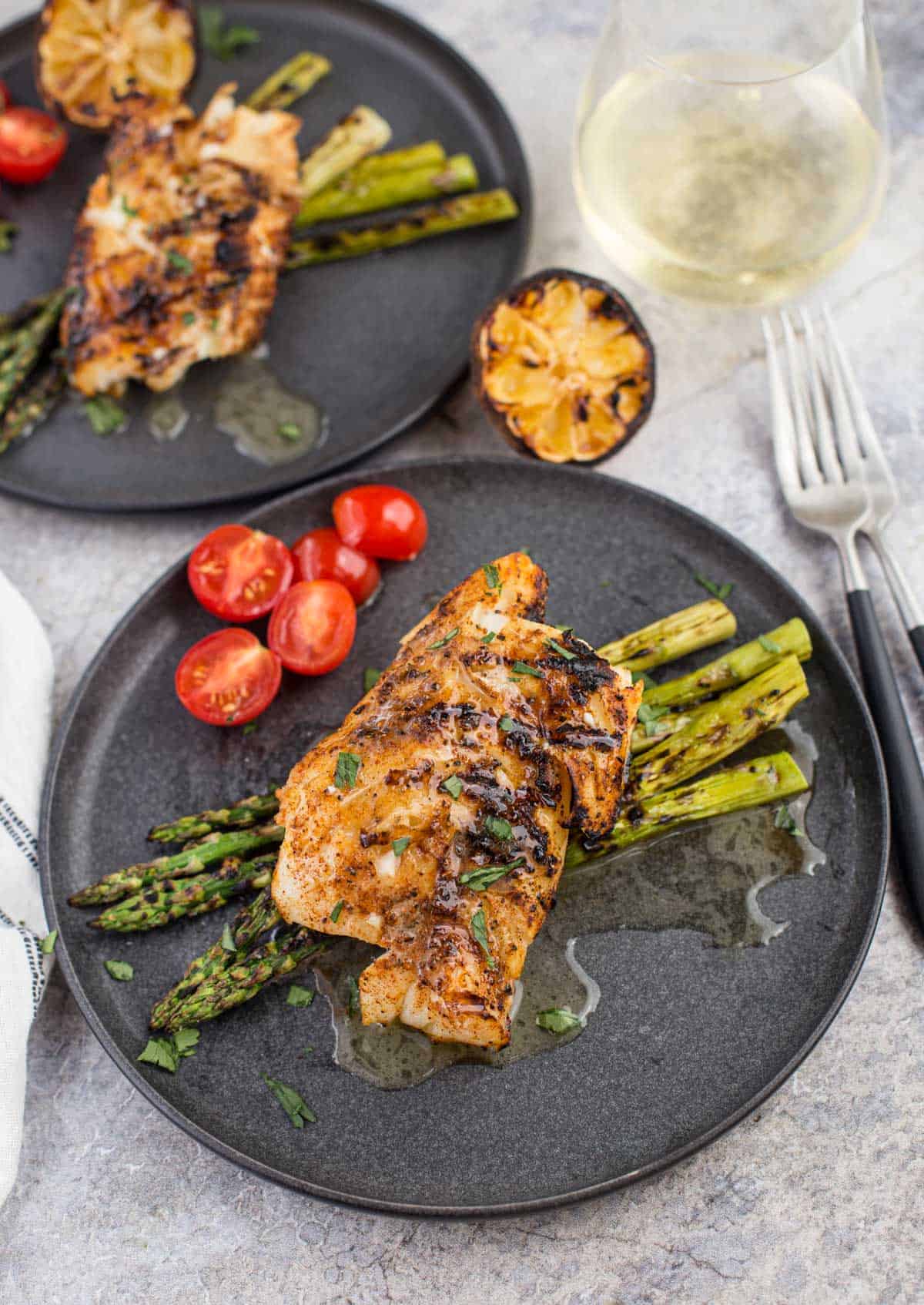 When is Cod Done
When sourcing good quality fish we recommend cooking cod to an internal temperature of 135 degrees Fahrenheit, or otherwise known as chef's temperature. After removing the fish, carry over cooking will occur and the internal temperature will continue to rise another 5 degrees to 140 degrees F while it rests.
The USDA recommends cooking all fish to an internal temperature of 145 degrees Fahrenheit if you are not sure where the fish came from. Always grill meats to internal temperature and not based upon a specific time. Size of the cuts and the temperature of your fire will vary the grilling times.
Pairing Wine with Grilled Cod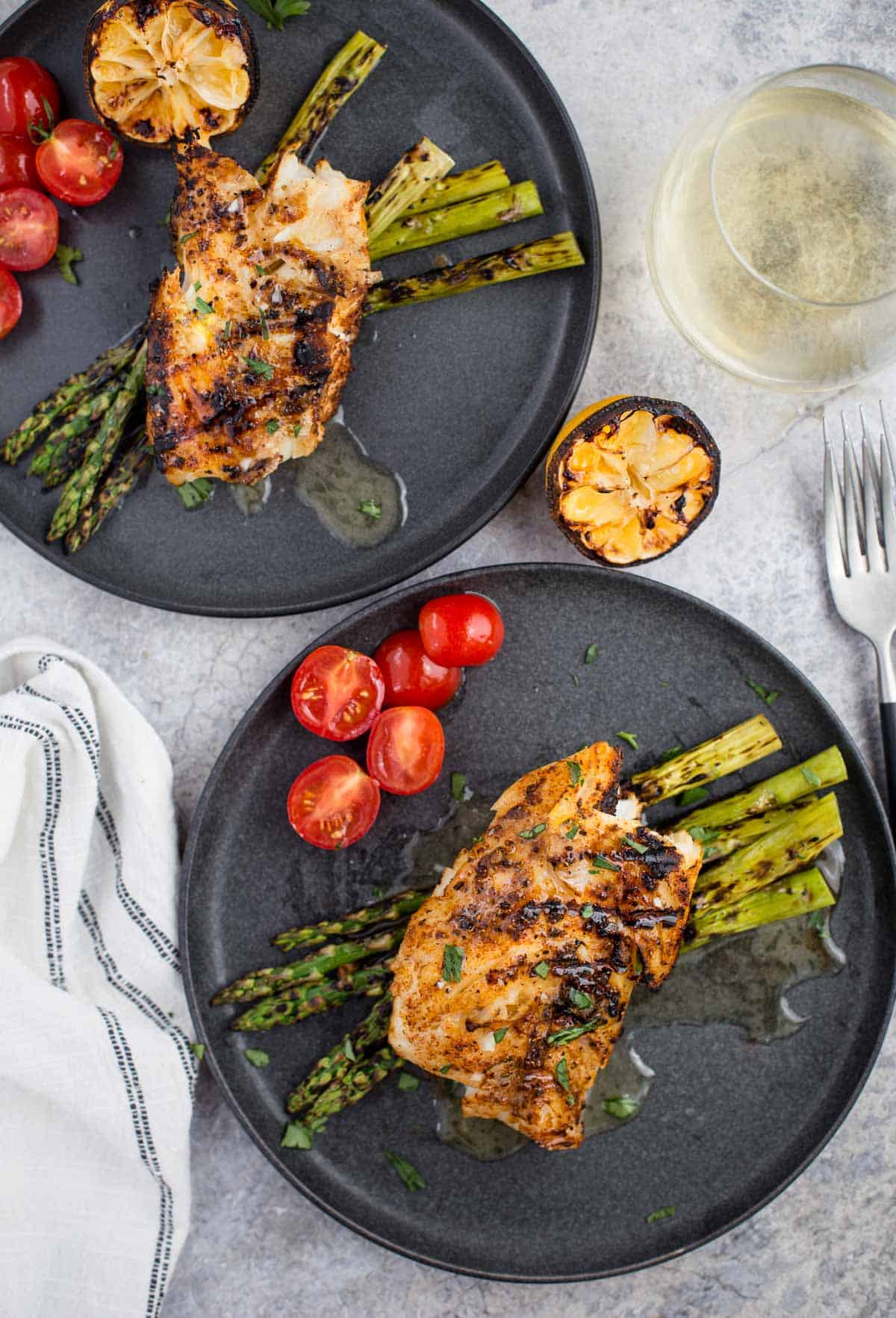 Be sure that any wine used for the garlic butter is one you will drink. We recommend a medium bodied Chardonnay or fruity Albariño to compliment the flavor of the fish. Other options that work well include, Pinot Gris (Grigio), Sauvignon Blanc, Vermentino, or even sparkling wine. Shop our favorite wines to pair with this dish at the Vindulge Wine Shop.
Other Grilled Fish Ideas
Mix and match flavors with some of our favorite grilled fish recipes.
---