Check out how to make an absolutely stunning "Semi-Grilled" Crudité Platter with a few raw veggies and some that are par-grilled, giving them great flavor and that extra wow factor. This is a beautiful centerpiece for any party or gathering. Full of color, great flavors, and textures, this is one fantastic appetizer!
Inspired by our grilled vegetables recipe and guide, a grilled crudités platter is a great way to infuse flavor into a raw vegetable platter while you are cooking other food outside on the grill.
Of course we all love the cheese and meat platters, indulgent dips and chips, and bread to munch on at any social gathering. But believe me, your health-conscious friends will thank you for adding some veggies to the mix. And in all honesty, even those die hard junk food fans will devour this platter of heavenly goodness!
This one is full of a combination of fresh and grilled veggies along with my favorite creamy tarragon sauce for dipping.
Jump to:
What Is a Crudité Platter
Crudités, pronounced (crew-di-tay), is French appetizer consisting of raw vegetables that are sliced or served whole, and usually served with a dip. Examples of different crudité include raw cucumbers, carrots, celery, asparagus, broccoli, cauliflower, baby tomatoes, etc. This platter is usually served as an appetizer or snack.
"Grilled" Crudités???
We're a family that believes everything can (and should) be grilled for added flavor and fun, so we're naturally going to grill some of our vegetables. Now, we're not grilling everything, hence "semi-grilled". We just think grilling adds great flavor to some of those thicker vegetables, like carrots, and gives great flavor to otherwise boring veggies, like broccoli (or broccolini) and bell peppers. Believe me, it works and is totally worth the extra effort! But if you want to keep everything raw, go ahead, I won't judge. But going the distance to grill a few of them will definitely amp up your veggie platter and earn you a gold star for effort.
Either way, grilled or raw, everything tastes amazing once dipped into that flavorful Tarragon Dipping Sauce.
Ingredients and Preparation for Semi-Grilled Crudité Platter
Start by taking inventory of all of your vegetables. This is also a good opportunity to clear our some vegetables in your fridge and add in small quantities to an empty spot in your crudite platter, or add some special touches (like a handful of almonds or some pickled veggies).
Make sure to wash and dry all ingredients and chop any that require it (like bell peppers to remove any seeds).
The best vegetables and ingredients for a fun and colorful crudité platter include:
For Semi-Grilling: large carrots, broccoli/broccolini, cauliflower, bell peppers, green beans, asparagus
Raw Fresh Vegetables: cherry tomatoes, snap peas, cucumbers, celery, radishes
Nuts and Dried Fruit: almonds, hazelnuts, dried cherries, dried cranberries,
Other: pickled things (like pickled asparagus, green beans, cucumbers) also add a nice touch
You can also serve some crackers or baguette slices with your veggies as well. See recipe card for quantities.
Top Tip – Blanching
While you can easily throw all the raw veggies on the grill, blanching the denser vegetables makes for a better texture after grilling. We're simply going to do a quick blanch to soften the veggies up, and then grill them for just a couple minutes for flavor and texture.
For Blanching: Drop the veggies into boiling water for a couple minutes (seriously just 2 minutes for thin veggies, like green beans and asparagus, and 5 minutes for thick ones like carrots), then place them in an ice bath to stop the cooking. This softens the veggies but not cooking them so you still have a nice texture when eating.
The vegetables we recommend blanching: carrots, green beans, asparagus
Then we're going to sear them on the grill to get grill marks and flavor.
Grilling Vegetables For Your Crudité Platter
A crudite platter is essentially a vegetable tray. This is an easy way to serve a lot if you're searching for an alternative approach to a springtime picnic snack or as a side dish.
After the vegetables are blanched, we're going to grill them for a couple of minutes per side to get grill marks and flavor. Depending on how big the grill is, you may need to do this in batches.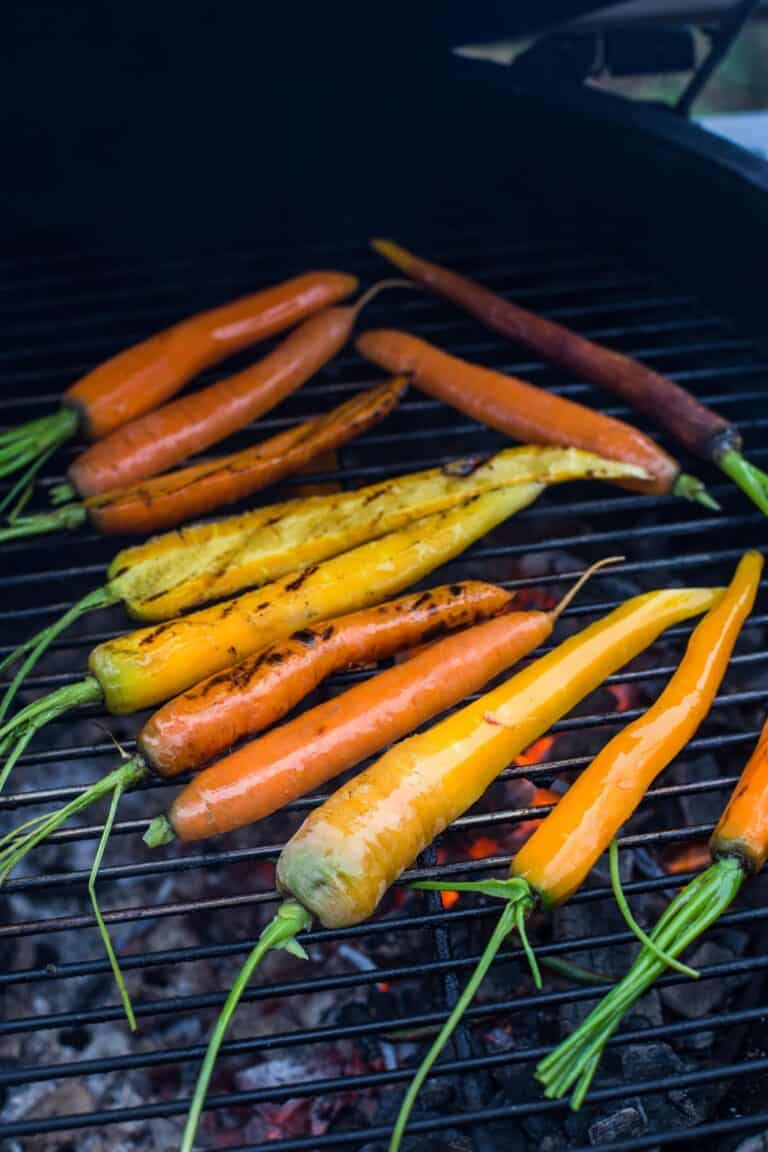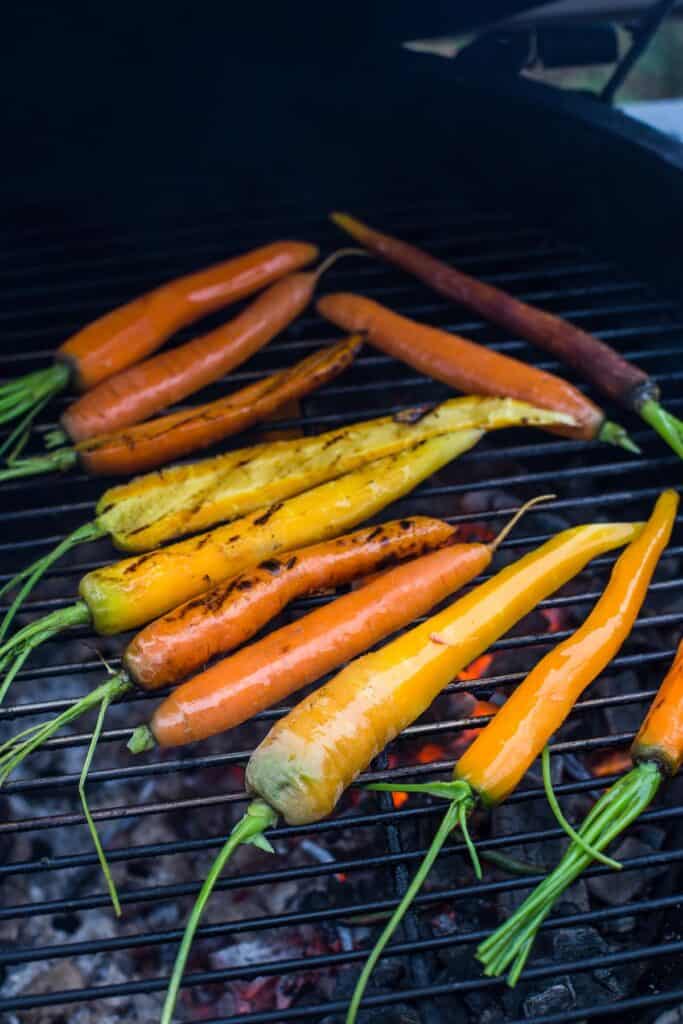 *Note: we do not blanch the broccolini. we simply coat the broccolini with some olive oil then place on the grill.
Prep Grill: Start with a hot grill setting up for direct heat. We target 500 degrees over the direct heat or in the cooking chamber.
For the blanched carrots: Grill the carrots over direct heat, closing the lid while they grill (this avoid the flames to rise up or to scorch them). Grill the carrots for 5 minutes, rotating halfway through, or until you see nice sear marks. Remove.
For the broccolini: Grill each side over direct heat for 3 minutes per side or until you see nice char marks.
For the green beans: Place on the grill grates, perpendicular to the direction of the grates (so they don't fall through. See photo.). Grill over direct heat for 2 minutes per side. For easier grilling you can use a vegetable basket, but you won't get as much of a sear. So as annoying is it is, placing them over the grill grates is easier.
Hint: Grilled lemon squeezed over the final platter makes for amazing flavor, and presentation.
We have a full guide on grilling vegetables for reference if you feel other veggies are an inspiration.
Preparing the Crudités Platter
Start with a large platter, place the dipping sauce in a bowl and place in the middle of the platter, and then arrange the vegetables surrounding the dip. Fill in any blank spaces with smaller items (like nuts or dried fruit or cherry tomatoes).
You can also serve with crackers or baguette slices.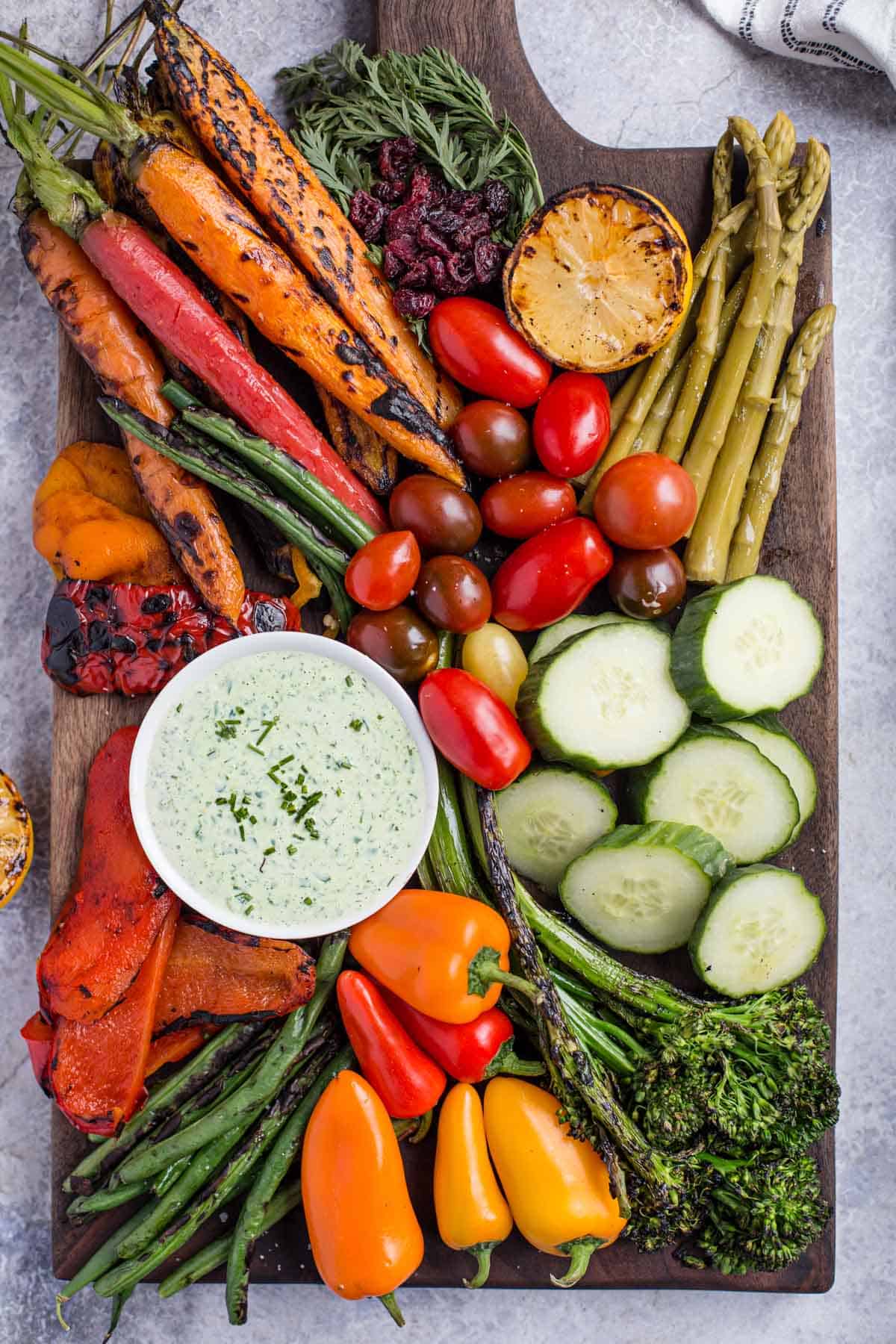 The Tarragon Dipping Sauce
This creamy sauce is inspired by a classic green goddess sauce, which has lots of fresh herbs, a touch of anchovies, and a mayo base. The flavor of the anchovy is very subtle and made easier for you by using anchovy paste (which can keep well in the fridge for several weeks, and also used for our caesar dressing).
I'm not a huge fan of mayo, so I use a minimal amount of mayo and add some sour cream and whole fat Greek yogurt to balance out the creamy texture. It may seem like a strange blend, but I love the balance of all three together. You can use all sour cream or all Greek yogurt, or even all mayo if that's your thing. But I recommend this combination.
Simply mix all of the dry ingredients and the lemon juice in a small food processor and then whisk in the mayo, sour cream, and/or Greek yogurt, until you have a creamy texture.
This is an incredible dip to serve your crudité with! I promise you. I use it on everything these days, including smashed potatoes and a garnish for tacos you can see more details in our tarragon dip recipe.
Making in Advance
Can be served cold, can make everything in advance and serve the next day.
Other Grilled Vegetable Appetizer Ideas
This post may contain affiliate links. This means if you click on the link, we may receive a small commission if you purchase through the link. We partner with brands we know and love and use and it helps keep the blog going!
---