Grab your griddle and make these smash burgers right outside on your grill. Learning how to make Smash Burgers is easy, simply follow this restaurant method to get that classic fast food flavor and texture.
If you're craving a delicious fast food style burger, welcome! We're smashing this burger on our MAK Two-Star General Grill adding a little smoky element as well. You can check out our pellet grill round up here and why the MAK is our favorite pellet grill.
When we think smash burger, it evokes memories of the classic diner, with a burger cooked on a flat top grill. The smells of grease and fries in the air, and a messy plate at the end of the meal. Yes please!
Jump to:
If you are new to the smash burger movement, it's all about replicating that diner or classic fast food burger experience with the following technique right at home. And there is no better way to do it then using a good griddle attachment on your home grill. In our case we're using our MAK Grill with the griddle accessory that sets right over the direct heat making for the ultimate smash burger.
What is a Smash Burger?
Technically the smash burger is when the ground beef is pressed thinly onto a griddle on a high heat. The pressing flattens and speeds up the cooking process. After flipping once, cheese is placed on the burger, the burger is then covered to steam the smash burger and melt the cheese. It is then served on a bun with your favorite toppings.
The origin of the smash burger seems to tie back to Kentucky. But you can see this style of burger all over the US. Regardless of the restaurant chain, the method is very similar.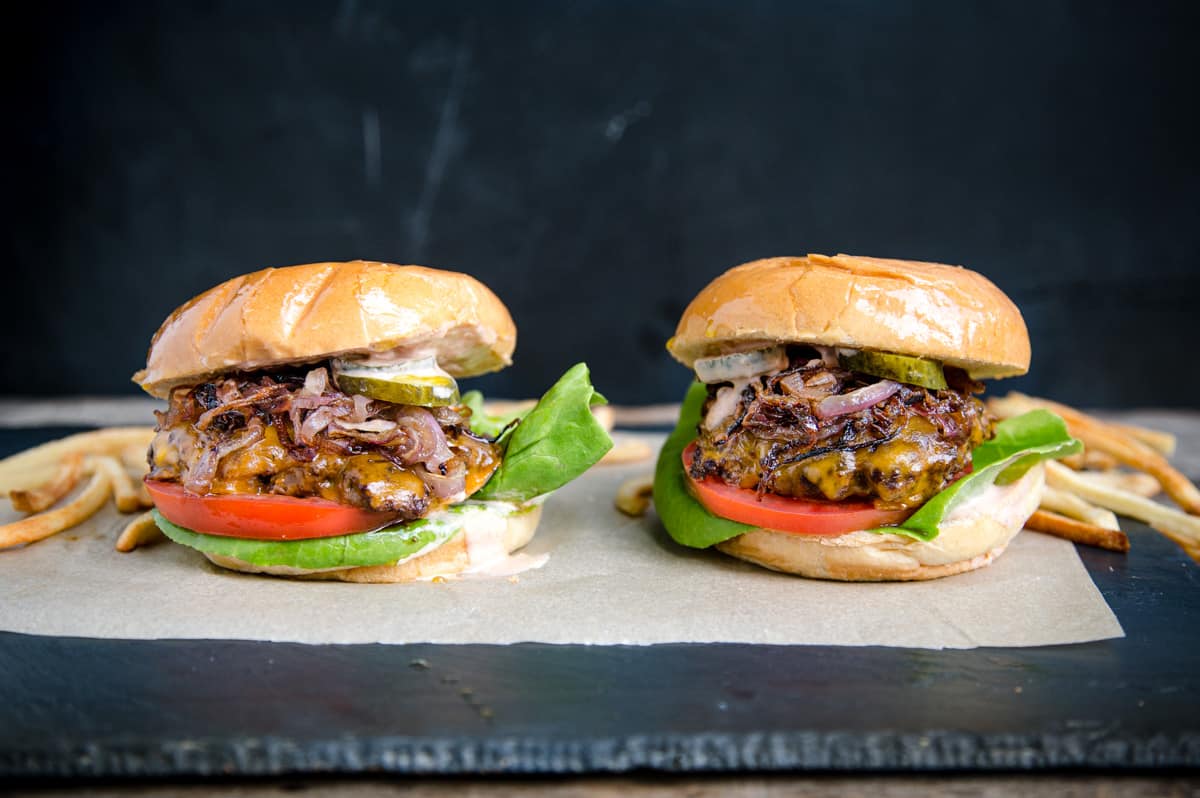 So what makes the perfect burger?
First it starts with quality meat. Buying great ground beef and specifically 80/20 (lean/fat) ground beef is important. Having the right fat ratio helps keep that juicy flavor as it cooks. Yes you can use lean meat, but to get the classic juicy flavor, the 80/20 is our recommendation.
To Smash or not to Smash
You hear from many that when grilling a burger, NOT to press down on the burger while it grills! That is fair when you are doing a thick burger over direct heat and looking for a more medium-rare to medium finish. Pressing down on the burger causes the fat to fall into the heat source, to flame up and potentially burn the meat.
But for this smash burger recipe, we are grilling it on a flat griddle and don't run into that issue. And this is really to replicate that diner or fast food burger joint experience.
There's certainly room in the world for both styles of tasty burgers!
Tools
It is important when grilling smash burgers, like we are doing on our MAK Two-Star General Grill, that you have a griddle, plancha, or a cast iron pan (i.e. something flat with no grates). Smashing the burger on grates will destroy the burger and all that delicious fatty juice will just fall into the deep depths of the grill.
The smoky flavor will also still permeate through the meat when cooking on a griddle, so we prefer using a grill rather than just cooking it on a flat top or indoors.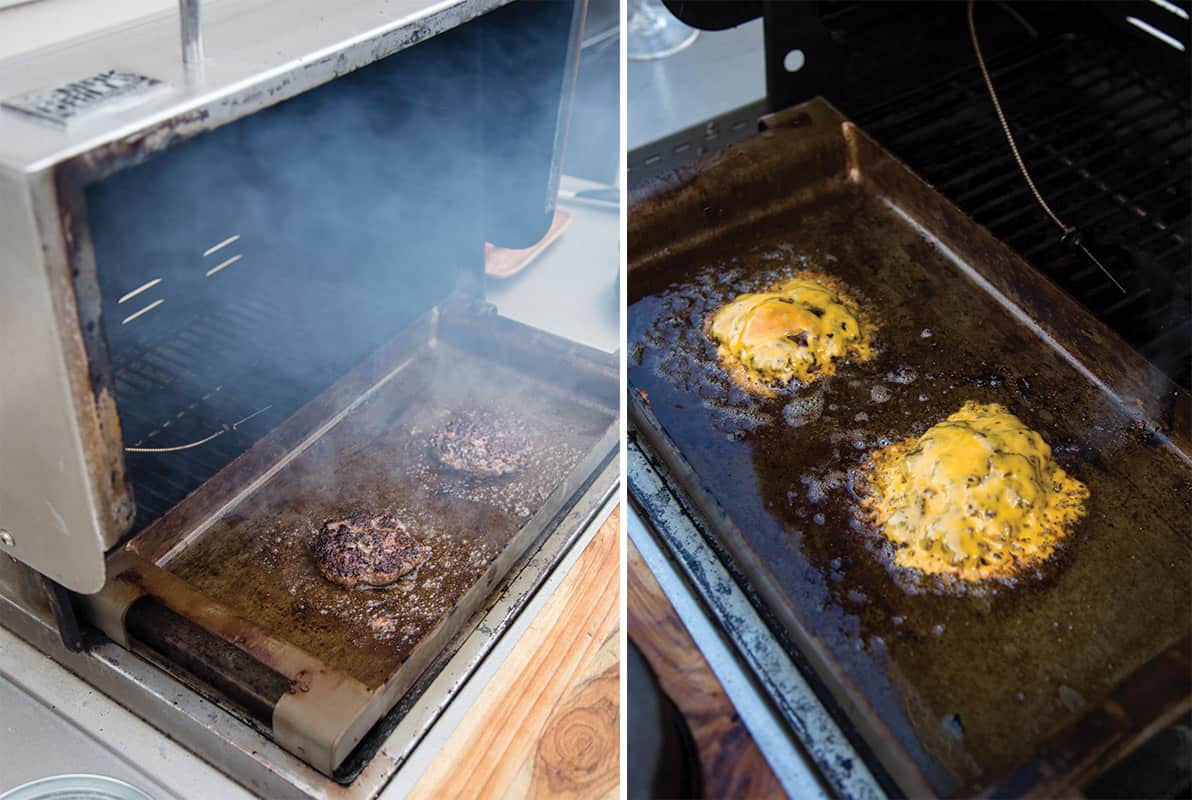 You also need a smashing tool. The original smash burger was smashed with a large can of beans. So don't get concerned about buying a specialty tool or anything fancy for these. But if you don't have a good metal spatula, it may be worth investing in one. And getting one with no holes or small holes is helpful.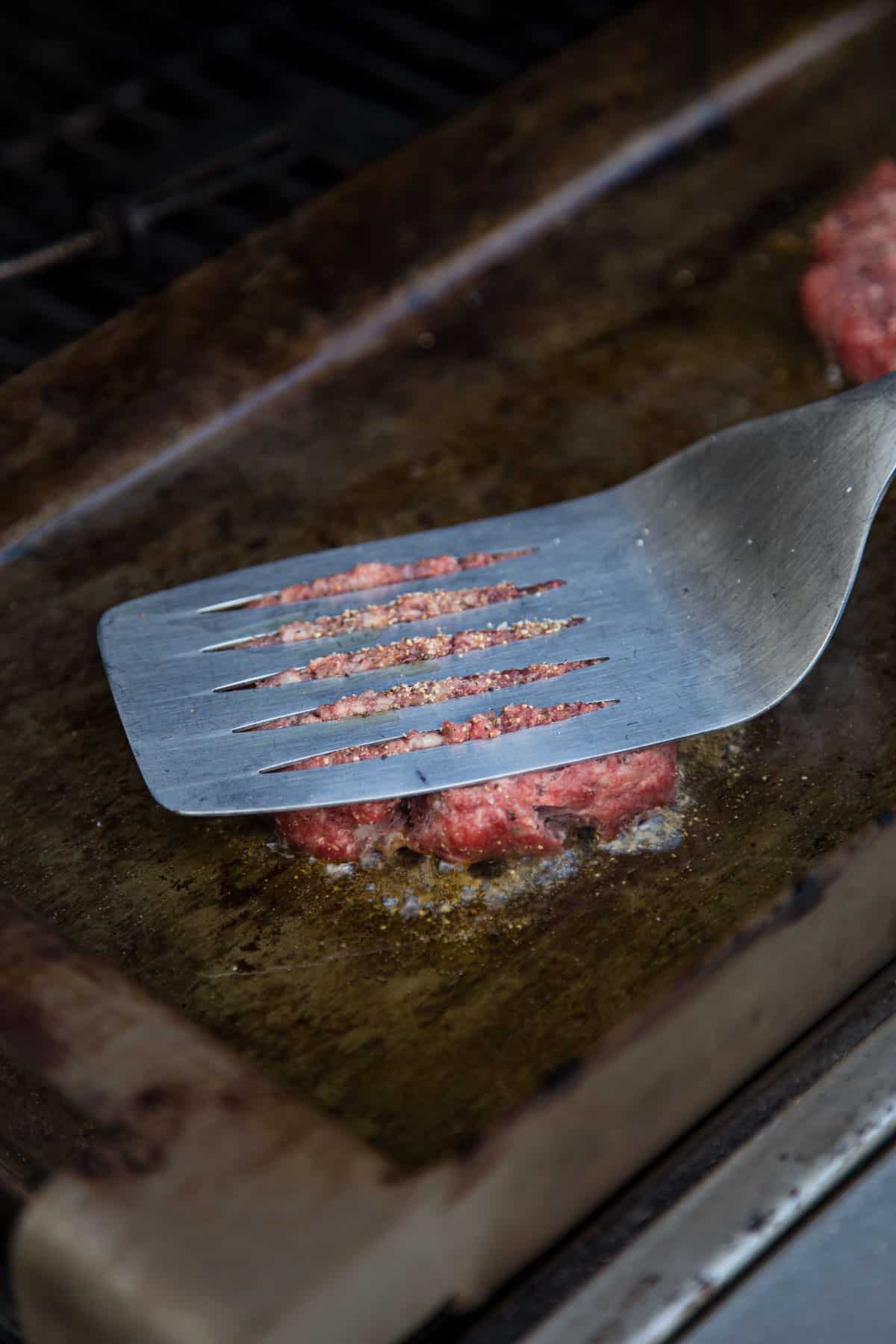 Lastly grab a tool to cover the meat after it has been flipped and the cheese is resting on top. This will help steam finish the burger and help melt the cheese quickly. We use a small pan cover, seen below. Just be sure it can handle the high heat so it doesn't shatter when you use it.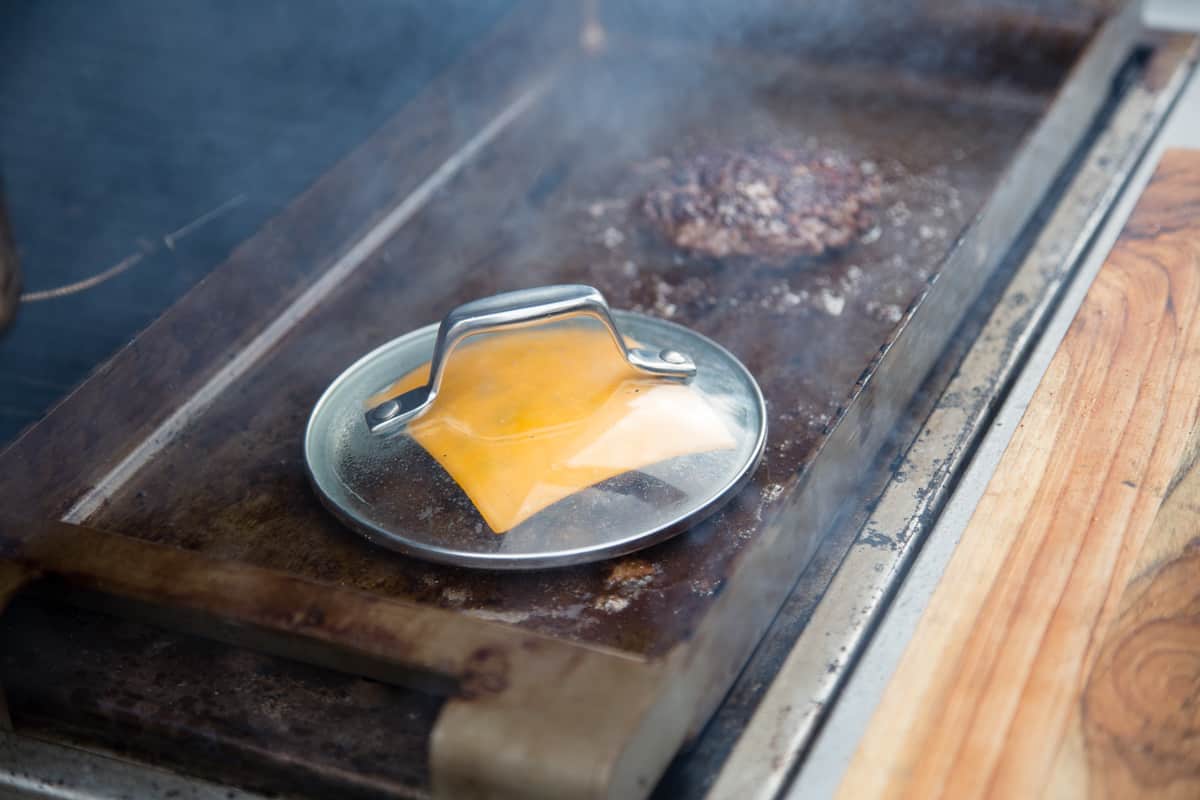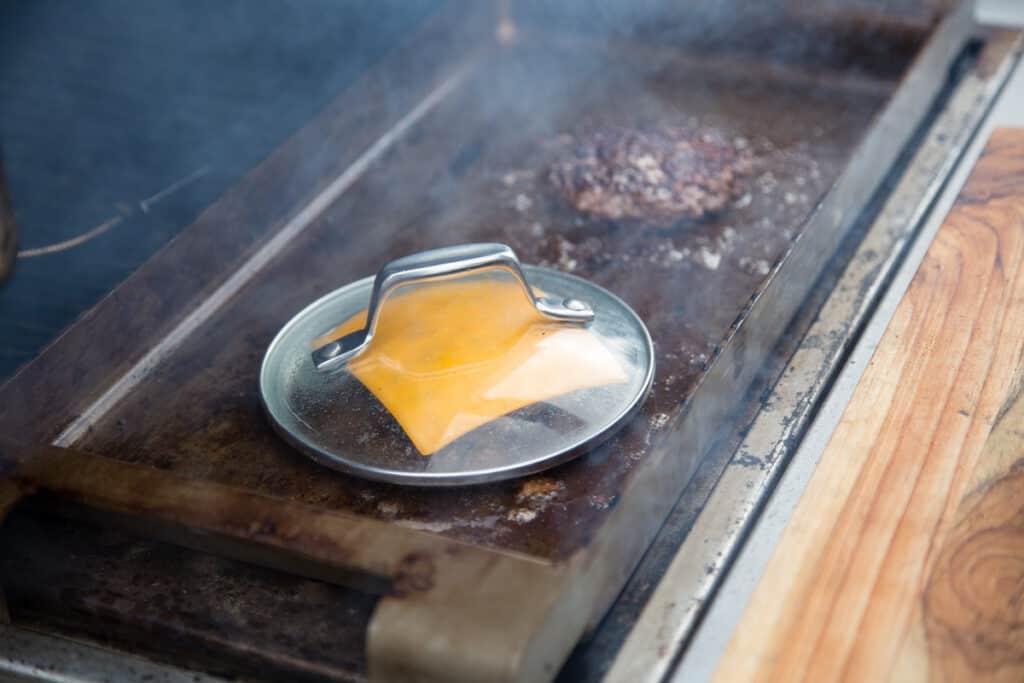 Preparation
Before making the burgers on the grill, we caramelize onions and prepare the fresh ingredients. Caramelized onions (when done well) can take up to 40-45 minutes to get the right texture. So start by caramelizing onions while preheating your grill and prepping the burgers. We love red onions for this dish and slowly caramelize them with a butter and oil mix in a cast iron pan.
How to Make a Smash Burger
Homemade smash burgers are easy and fast once the grill is hot. But there are two critical techniques that makes the perfect burger once you starting grilling them. Smash it once and get it flat and ONLY flip the burger once.
Prepare Grill: Target the grill at 400 degrees Fahrenheit. And be sure the griddle (or pan) is over the direct heat. This allows the browning to happen. We have found at 450 degrees and higher, then browning actually burns before the burger is done.
Prepare the Burgers: We like to use a ¼ pound of meat per burger and it smashes down to a good fit for the standard bun. After we roll up a ¼ pound of beef, we drop some seasoning on top of the meat.
Smashing – When you first place the burger on the grill, place the seasoned side down onto the griddle and then season the other side. Then smash it using your strong spatula, can, or a pressing tool, we love seasoning, so we drop a little more on there too. As the burger cooks, it will shrink. This will take roughly 6 – 8 minutes to happen.
Flip – As the sides show signs of turning brown, or when peeking at the underside of the burger and seeing the browning, it's time to flip. Remember, only do this one. No need to smash again if you smashed it thin enough. Then add the cheese on top and cover with your covering tool. This will steam finish the beef and quickly melt the cheese. After 2 minutes the burger is likely done and cheese melted. Remove the burger and get ready to add your toppings.
When taking the temperature of the burger, you can use a thermometer like the Thermoworks MK4 Thermapen. Targeting at least 160 degrees Fahrenheit is ideal for ground beef. Even if cooked to medium, the fat still provides a great juicy burger which is why we love 80/20 beef.
Constructing the Burger
For us it is a simple set of ingredients.
Brioche or Sesame Bun
Special Sauce – in our case a mix of mayonnaise, ketchup, and horseradish
Pickles – That added acididity and bite are perfect
Lettuce – Butter lettuce is our go to, or a leafy lettuce like red or green
Tomato Slices – Fresher the better
Caramelized Onions – we just love the sweet flavor these bring.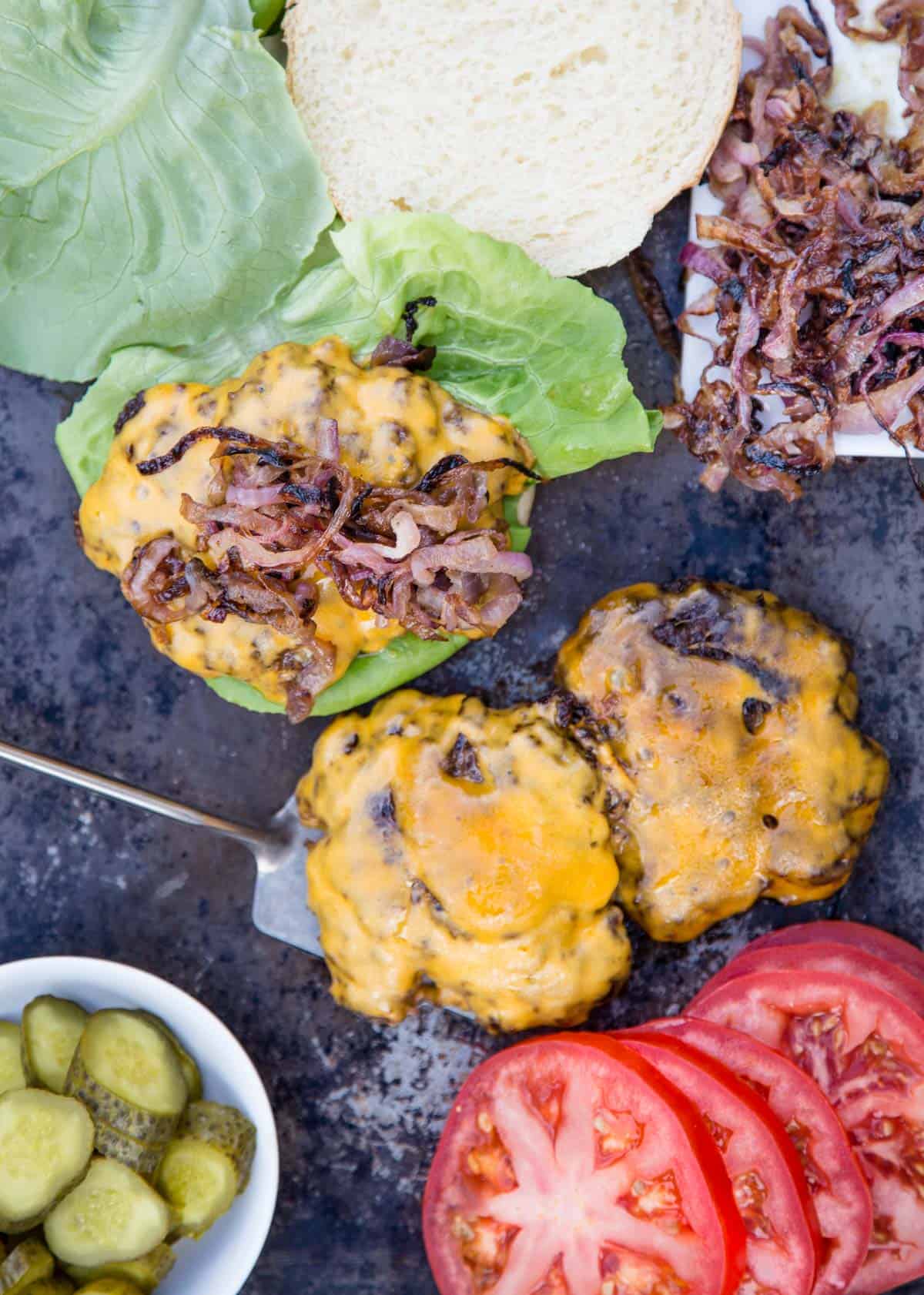 You can modify away. Like adding hot pickled peppers, crispy bacon, or your own special sauce. These are also fantastic as sliders for game day or summer cookouts!
More Awesome Burger Recipes
This post may contain affiliate links. This means if you click on the link, we may receive a small commission if you purchase through the link. We partner with brands we know and love and use and it helps keep the blog going!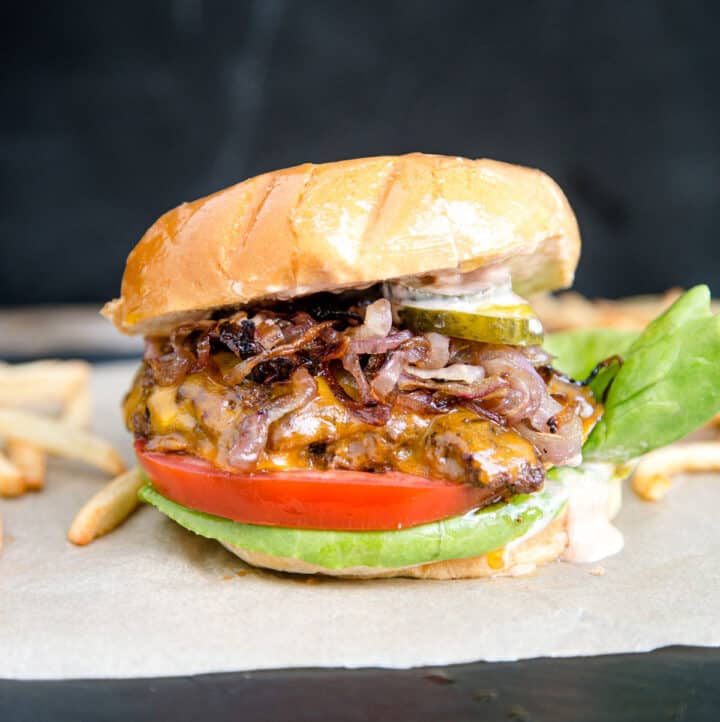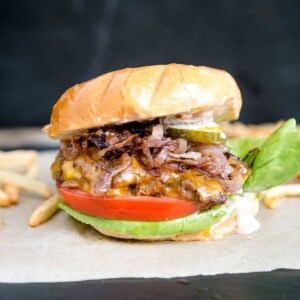 Grilled Smash Burger Recipe with Caramelized Onions and Horseradish Sauce
Classic take on the fast food smash burger grilled outside on a griddle and finished with cheese, caramelized onions, and special sauce.
Print
Pin
Rate
Equipment
Griddle

Strong Spatula

Pan Cover
Ingredients
1

pound

ground beef

2

tablespoons

beef rub

3

tablespoons

extra virgin olive oil

4

slices

sharp cheddar cheese

4

brioche

buns

4

slices

butter lettuce

4

slices

tomato

12

slices

dill pickles
Caramelized Onions
1

tablespoon

extra virgin olive oil

1

tablespoon

unsalted butter

2

cups

thinly diced onions
Special Sauce
¼

cup

mayonnaise

3

tablespoons

ketchup

2

tablespoons

horseradish
Instructions
Caramelize Onions: In a large cast iron pan over medium-low heat add butter and olive oil. When butter melts, add the onions and slowly stir. Continue stirring for 30 to 40 minutes or until the red onions have reduced and turned brown in color. Adjust heat as needed.

Pre-heat Grill: Prepare grill for direct grilling, with griddle over the direct heat, targeting 400 degrees Fahrenheit.

Prepare ¼ pound balls of beef. Season one side with dry rub. Be sure to reserve half the rub for after they are on the grill.

Add olive oil to the griddle. After 1 minute place the seasoned side of the beef onto the griddle and smash the burger with a spatula. Then add the remaining seasoning to the top of the burgers. Close the grill.

After 6-8 minutes open the grill and check to see if browning occured. Once you see it, flip the burger, add the slice of cheese and cover the burgers with your covering tool. Close the grill lid and continue cooking for an additional 2 minutes.

After 2 minutes the burgers should be at least 160 degrees F with the cheese melted. Remove burgers from the grill.

Assemble Burgers: Add the burger to your bun and add your favorite toppings. We recommend lettuce, pickles, tomatoes, special sauce, and the caramelized onions from above.
Special Sauce
In a small bowl combine all ingredients and stir. Adjust for taste. Spoon the sauce onto your burger and use as a dip for fries.
Notes
Consider more flavor with "The Blend". Add 8 ounces (yes, we weighed it with a scale!) of precooked crimini mushrooms to 1 pound of beef. After finely dicing the crimini mushrooms, we sautéed them for 10 minutes with olive oil and a touch of salt. After they browned, we added to our ground beef and followed the rest of the recipe. We loved the slightly browned mushroom flavor. Want a hack to speed up the chopping process? Use a food processor. Pulse it until it looks like ground beef consistency.
Find the perfect wine pairing at the Vindulge Wine Shop
Nutrition
Calories:
762
kcal
|
Carbohydrates:
27
g
|
Protein:
31
g
|
Fat:
60
g
|
Saturated Fat:
20
g
|
Trans Fat:
2
g
|
Cholesterol:
123
mg
|
Sodium:
4551
mg
|
Potassium:
1016
mg
|
Fiber:
7
g
|
Sugar:
14
g
|
Vitamin A:
1598
IU
|
Vitamin C:
16
mg
|
Calcium:
467
mg
|
Iron:
5
mg
---