This grilled turkey burger is juicy, savory, and packed with flavor. The secret is to add ingredients into the ground turkey that complement the lack of fat and to not overcook it.
Using grated onions helps to provide much needed moisture to the burger while adding a savory element. Looking for other grilled turkey burger ideas? Check out our turkey burger with bacon paste.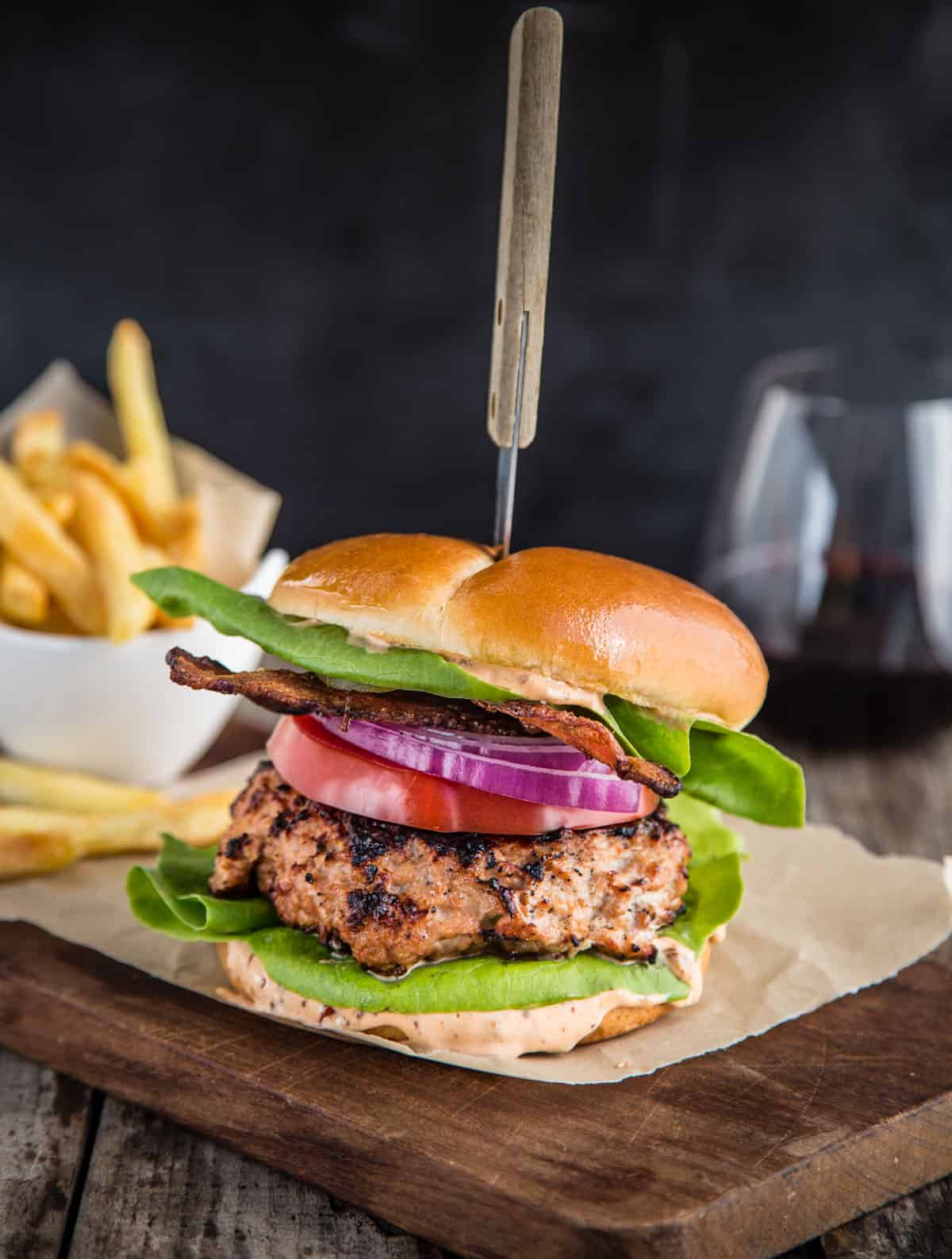 Jump to:
When we first tested this recipe with some friends and neighbors, the inevitable quote prior to tasting was, "Why use ground turkey when you can just use beef?" And while the chuckles were genuine, there is a population of people that prefer a lean and non beef-based burger. True story!
Ps, they loved the turkey burgers!
Turkey Burger Challenge
Unlike the beef counterpart, which has a fair amount of natural fat to lean ratio, turkey is generally all lean. There is very little fat that helps in binding the burgers together (which is important when grilling a burger or any ground protein). This results in:
Sticky grilled burgers that fall apart and won't form, or fall through grates.
Little flavor.
Turkey burgers that are overcooked and are dry due to being so lean.
When buying ground turkey commonly the lean to fat ratio will be 95/5 or 97/3 (lean/fat). This means you have to add fat or some similar properties to offset the lack of it in the ground meat.
When buying ground turkey, look inside through the plastic wrap and make sure there isn't a ton of liquid in the actual container. This can be a sign the meat will be overly wet and sticky.
Adding Flavor to Turkey Burgers
The single biggest step that will give the right flavor and consistency will be adding a fat or fat substitute that will give the balance of texture and flavor. You can add a bacon paste, you can add a fat from another protein, or in the case of this burger, adding grated onions inspired by a recipe from The New York Times to add moisture.
The grated onions are just that, an onion, and in this case a yellow onion, that has been run through a box grater so it is a fine texture. Onions have a lot of water in them, so in addition to the grating, be sure the water is separated from the onions. You can strain them with a fine mesh strainer, or simply place the onions on a paper towel to soak up the liquid. Not straining the liquid will add water to the ground turkey which will make it very difficult to maintain the shape as a burger.
Next, add some basic ingredients to continue to provide the flavor and texture that is best when grilling (see smoking). Adding a barbecue and Worcestershire sauce do the same as the shaved onions (add moisture and flavor). Our last step is adding our chicken seasoning to give the savory and herbal flavor we love.
Combine all those ingredients in a large bowl and mix with your hands. Be careful not to over combine, that could lead to a dough-like texture. The texture may be sticky (depending on where you sourced your ground meat), and that's okay. If you happen to follow the above steps and your mix is still feeling too wet, then add ¼ cup of panko bread crumbs to the mix. Those will soak up some of the liquid.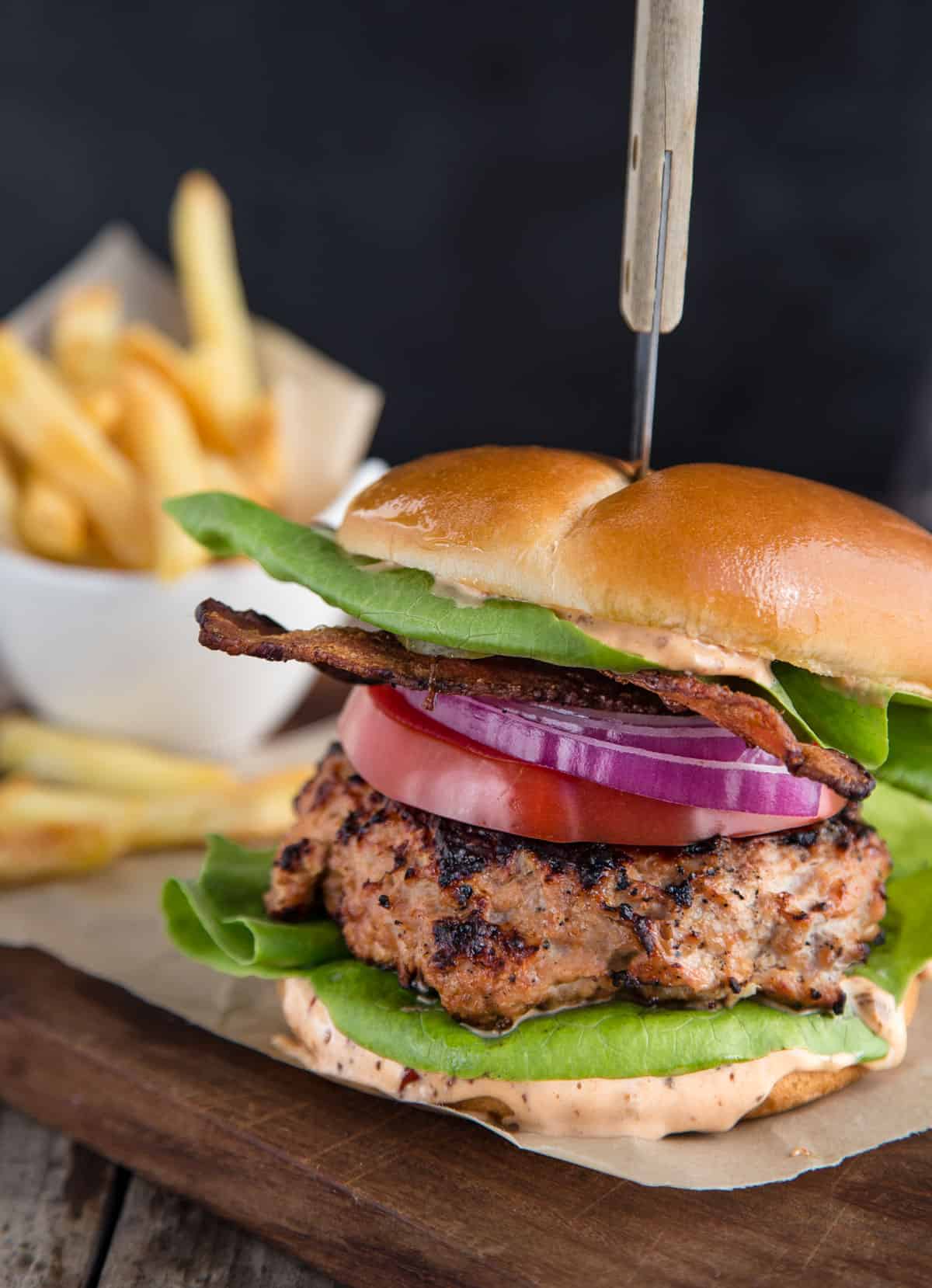 How to Make Turkey Burgers
Form patties: In a large bowl combine all ingredients and gently mix together (don't overwork).
Place a piece of parchment paper on a large plate or small sheet pan. Use your finger to divide the ground meat into four sections (while in the bowl) to make the most even burgers possible. Or weigh them with a kitchen scale.
Form the burger patties gently into a round puck shape, about ½ inch thick. Place the patties onto the plate or sheet tray and place uncovered into the refrigerator for 30 minutes. This cold air will help firm up the burgers and is a good time to start the grill.
Grilling Turkey Burgers
Prepare the grill to a two-zone cooking method targeting the heat over direct heat at 450 degrees Fahrenheit. This will take about 20 – 30 minutes while the burgers are in the fridge.
When the grill reaches your desired temperature, remove the turkey patties from the fridge and place them onto the grill grates over direct heat.
Bonus Ingredient: Add grilled bacon to the grill on the indirect side of the grill while the grill warms up. By the time the burgers are done, you'll have crispy bacon to top the burgers with. Bonus!!!
How Long to Grill Turkey Burgers
Turkey burgers should take roughly 6 minutes per side to to reach 165 degrees Fahrenheit, which is the safety zone target per the USDA. That said, so many variables may alter this time and why, no matter how long you cook the burgers, the key is cooking to the correct temperature.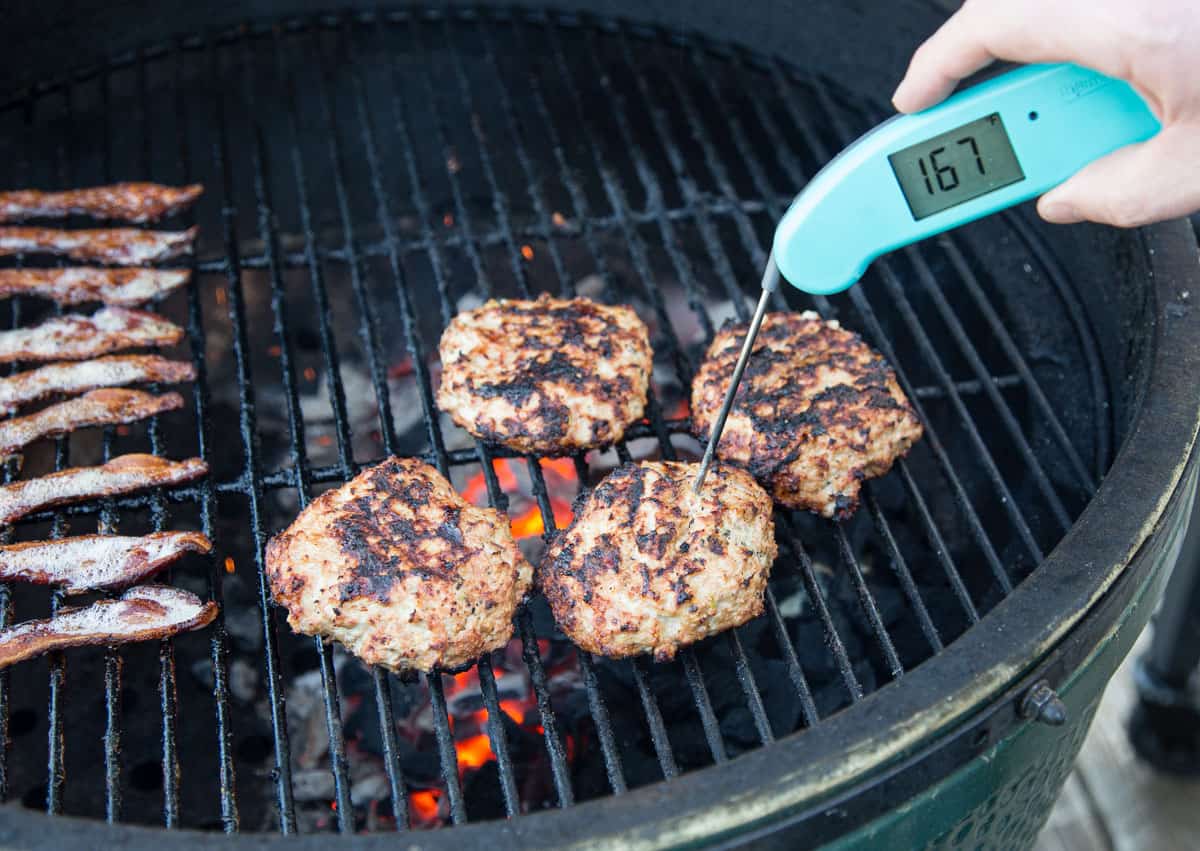 For example, if your charcoal is too close to your grates, you may get more flare ups causing the turkey to burn. If that is the case, then get the right sear and color to the burger on both sides and then move the burgers to the indirect side. This will allow the grilled turkey burgers to continue to cook to the proper internal temperature but not burn.
Use a high quality instant read thermometer like the Thermoworks MK4 Thermapen, which will take the temperature of the burgers instantly. This is the second most important step other than adding the grated onions and the key to avoiding an overcooked or dry turkey burger. Don't overcook your burgers!
Chipotle Mayo
We whipped up an easy mayo for the burgers. Using regular mayo, we added the liquid from Chipotle's with Adobo to the mayo. Squeeze a little lime and you have an easy condiment for the burger.
Additional Toppings
Add any of your favorites. Ideas include:
Bacon!
Butter lettuce
Fresh tomato
Avocado slices
Onion slices
Sliced dill pickles
Hot peppers
We skipped the cheese for this turkey burger because we wanted to taste the turkey, and use the mayo as the flavor enhancer.
Other Grilled Burger Recipes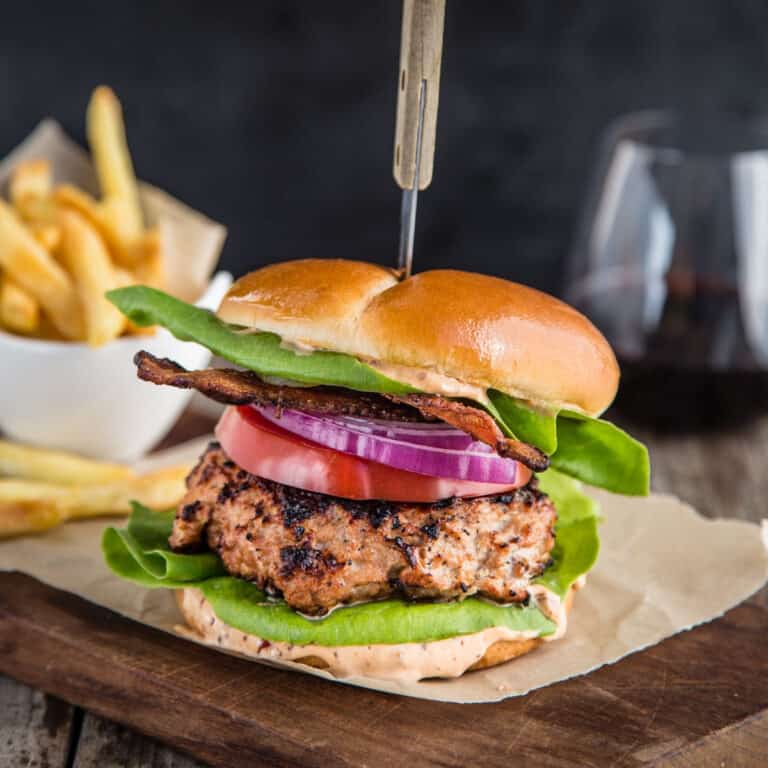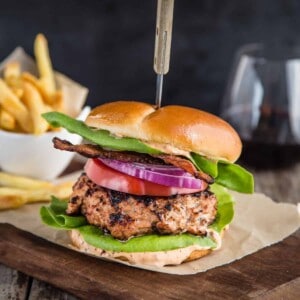 Grilled Turkey Burgers with Chipotle Mayo
A flavorful and delicious grilled turkey burger that doesn't suck! This delicious burger is topped with a chipotle mayo.
Print
Pin
Rate
Ingredients
1 ¼

pounds

ground turkey

¼

cup

shaved onion

1

tablespoon

BBQ sauce

(alternatively you can sub ketchup)

1

tablespoon

Worcestershire sauce

1

tablespoon

poultry rub
Turkey Burger Toppings
1

medium

red onion, thickly sliced

1

package

butter lettuce, rinsed and dried

⅓

cup

hot peppers, diced

2

whole

dill pickles, thickly sliced

8

slices

grilled bacon
Chipotle Mayo
2

tablespoons

Adobo from Chipotle in Adobo sauce

⅓

cup

mayonnaise

1

teaspoon

freshly juiced lime
Instructions
Preparing Turkey Patties
Using a box grater, grate ½ an onion using the largest holes. Strain to remove excess water.

In a large bowl add ground turkey, grated onion, barbecue sauce, Worcestershire, and poultry seasoning. Mix gently with hands.

Section off the ground turkey into four even sections and using hands, gently form the ground turkey into patties. Place each burger onto a large plate or small backing sheet lined with parchment paper about ½ inch thick. Place into the refrigerator for 30 minutes.
For the Grilled Turkey Burger
Prepare grill for two zone cooking and target 450 Fahrenheit degrees over direct heat while the patties sit in the fridge to set.

When the grill is temperature, remove the burgers from the fridge and place over the direct heat. Grill over direct heat for six minutes with lid closed and then flip. Grill for an additional 6 minutes with lid closed or until the internal temperature of the burger is 165 degrees F using an instant read thermometer.
Chipotle Mayo
Combine all ingredients together and stir. Adjust flavors to personal taste. Can be made in advance. If too spicy for your taste feel free to add a touch of honey.
Making the Burgers
Make your burger with your favorite toppings and put a dollop of the chipotle mayo on top of the trimmings before capping with the bun.
Notes
Optional: Grill the bun over direct heat for 1 minute, brioche buns grill fast Optional Grilled Bacon: If wanting bacon – then place bacon on the indirect side of the grill while you start it up. As the grill comes up to temperature and as you grill the burgers, the bacon should be done and crispy. Avoid bacon over direct heat as that will cause major flare ups. Cool those raw burgers. The burger mix will be pasty. By placing them in the fridge for 30 minutes, they will set enough to grill easily and not fall through or stick to the grates.
Find the perfect wine pairing at the Vindulge Wine Shop
Nutrition
Calories:
338
kcal
|
Carbohydrates:
8
g
|
Protein:
34
g
|
Fat:
19
g
|
Saturated Fat:
4
g
|
Trans Fat:
1
g
|
Cholesterol:
88
mg
|
Sodium:
382
mg
|
Potassium:
530
mg
|
Fiber:
2
g
|
Sugar:
4
g
|
Vitamin A:
473
IU
|
Vitamin C:
4
mg
|
Calcium:
31
mg
|
Iron:
2
mg
This post may contain affiliate links. This means if you click on the link, we may receive a small commission if you purchase through the link. We partner with brands we know and love and use and it helps keep the blog going!