This Western Burger is packed with beef, bacon, barbecue sauce, and beer battered onion rings. These burgers are huge and worth every bite. They are simply seasoned, and the mix of toppings is what makes this dish really shine.
This post and recipe is sponsored by Wunderman Thompson, and it's one heck of a western burger recipe. All opinions and content are my own.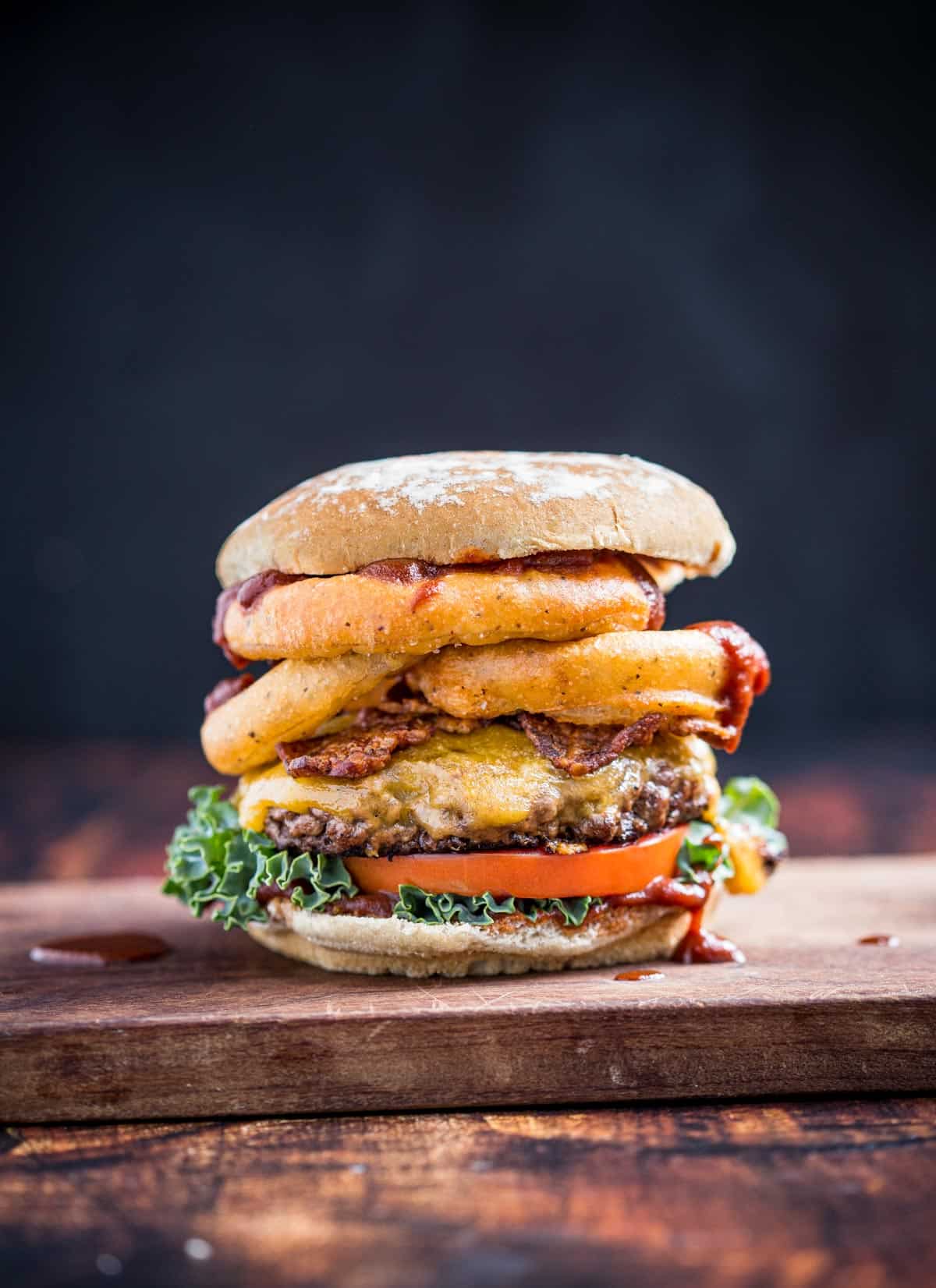 Jump to:
Western Style Burger
A Western Style Burger is all about big bold flavors. When we think of the west, big comes to mind — big sky, big mountains, big flavors. While there are many variations on a Western Burger, our burger is comprised of these must have ingredients:
Beef – And not just any beef. We use high quality ground beef that is 80% lean and 20% fat. We don't use any binding agent because they hold together due to the fat content.
Simple Seasoning – We add our beef rub to the ground meat to layer in flavor.
Bacon – Yes, thick cut bacon that is grilled and added as a topping. That crunch and savory bite is essential.
Barbecue Sauce – We use our Kansas City inspired sauce for the rich and thick flavor.
Onion – In our case, we deep fry white onions in a beer batter for the extra crunch, texture, and flavor. Sweet onions work great too.
Veggies – Thick cut fresh tomatoes balance the rich flavors as does a crispy butter lettuce. And if you have room, by all means add some avocado!
Cheese – We go all in on sharp cheddar cheese.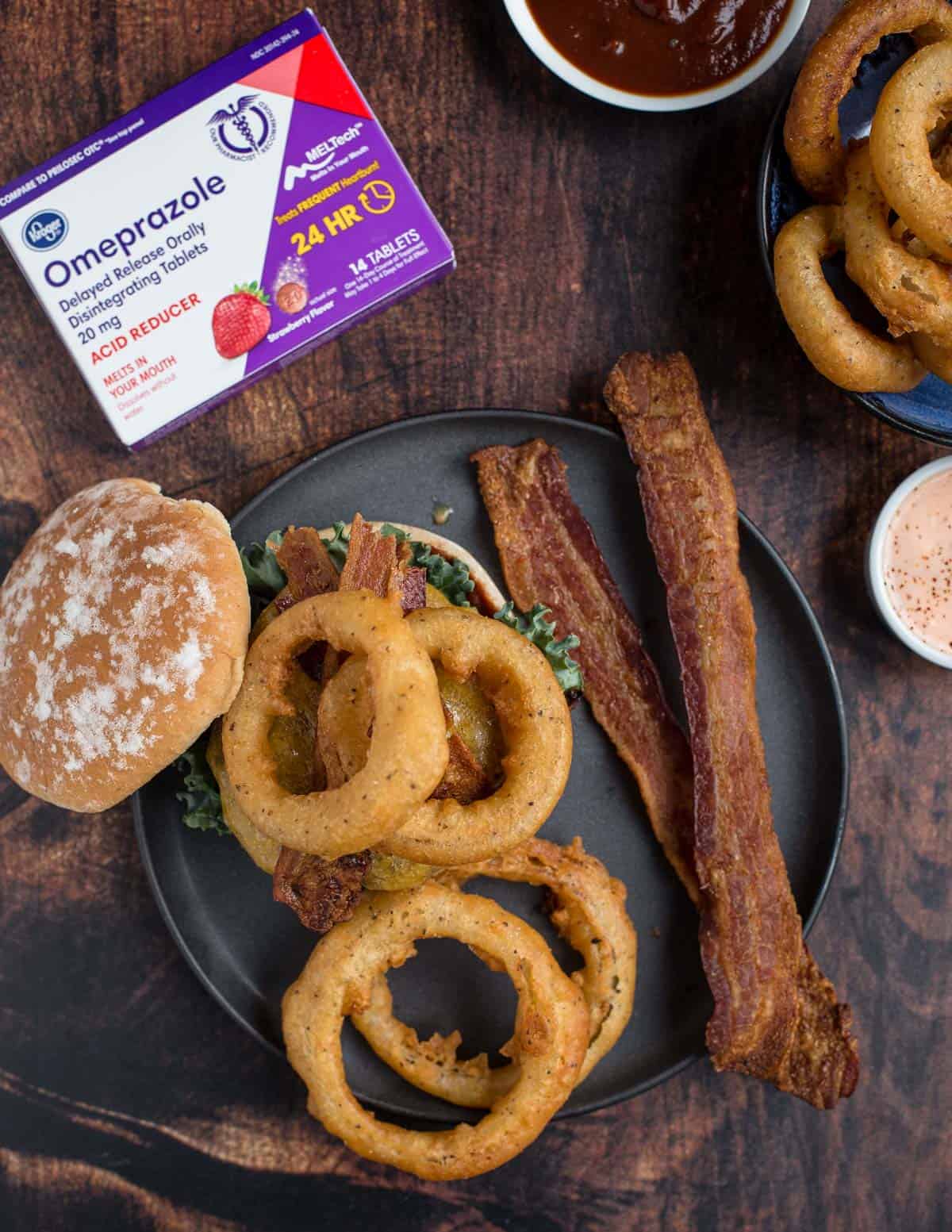 Reducing Heartburn Symptoms When Eating Rich Foods
Before getting into our detailed western burger recipe, I wanted to talk heartburn. If you're combatting frequent heartburn (2 or more days per week), a 14-day course of Kroger's Omeprazole Orally Disintegrating Tablets (ODT) can really aid in treating those symptoms.
Omeprazole ODT from Kroger is affordable compared to national brands and easy to consume. You simply take a tablet that disintegrates right on your tongue every morning for 14 days. No need for water. And when we're grilling western burgers and enjoying delicious foods, it's a game-changer.
Use Omeprazole ODT as directed for 14 days to treat frequent heartburn (occurring 2 or more days a week). Omeprazole ODT is not intended for immediate relief and may take 1-4 days to feel the full effect. You can find it online at Kroger.com or at your local Kroger store.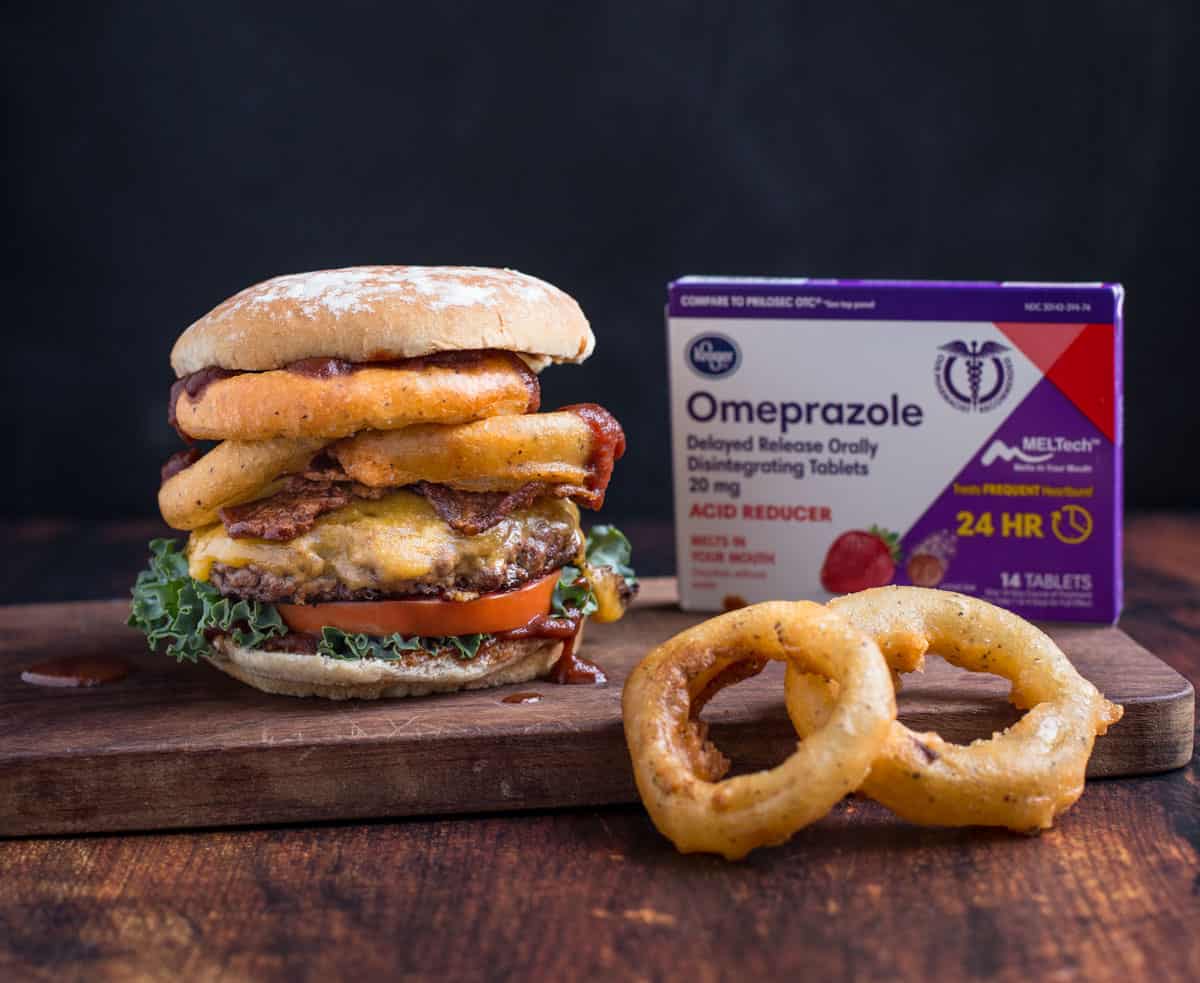 Western Burger Recipe: Preparation
This western burger recipe may seem complicated, but it's easiest if done in stages.
Prep Grill: Start the grill and make the bacon. This is also a good time to get the heat on for the frying oil, targeting 375 degrees measured in the center of the oil using a good instant-read thermometer.
Season: Season beef and make the batter.
Make Onion Rings: While bacon is cooking and the grill comes to temperature, make the onion rings.
Grill Burgers: When onion rings are done, grill the burgers and finish prepping the remainder of the ingredients.
Assemble Western Burgers: When the burgers are done, remove them from the grill and then serve.
Beer Battered Onion Rings
The secret to good onion rings is making sure the batter is the consistency of a thick pancake batter, using some type of carbonated beverage (we are using beer). Also, be sure the temperature of the oil stays at 375 degrees F throughout the process. Our favorite oil for frying is avocado or grapeseed oil (peanut is another good choice). We add a touch of corn starch to the batter for a light flaky texture, and we keep a separate bowl of just flour to dip the onion rings in. The flour will help the batter stick to the rings as they are dunked in the hot oil.
Start by adding enough oil into a Dutch oven or other large pan so you have 1 ½ to 2 inches of oil covering the pan. Turn on the heat and get the oil hot, again, targeting the oil at 375 degrees Fahrenheit. Now it's time to fry the rings.
Place three onion rings in the flour bowl. Coat with your hands.
Next (using tongs, because this part is messy), place the onion rings in the batter. Move them around so they are completely coated.
Drop the onion rings into the hot oil, they should immediately start to fry. If they don't then the oil is too cool. If the oil is too hot, they will burn quickly. So adjust heat.
Let the onions fry for 2 minutes and then, using tongs, flip them for another 2-4 minutes. This will allow both sides to crisp up and turn a golden brown color. Pull them when you like the color.
Lay them aside to drain on a cookie sheet over paper towel (to catch the excess oil).
Repeat this for 12 onion rings (or 3 per burger). You can do less if you want (but believe me when I say cook more than you think you'll need, because you will snack on them). As they onion rings come out of the frying oil, immediately dust them with some kosher salt. It's best to do this while they are hot so the salt sticks to the onion rings.
As you finish the last batch, it's time to start on the Western Burger.
Warning – When using hot oil, be sure NOT to do this on the grill. Open flame can ignite from the oil. Also be sure your deep frying oil is in a pot that has high edges to avoid splatter or spilling over into the flame. It's best to do this step on a stovetop or portable burner (not directly on the grill).
If using a deep fryer or air fryer, follow the device instructions for use and adjust recipe as needed.
Best Beer For Onion Rings
We tested our western burger recipe with dark and light beer. A darker beer like a stout adds a rich flavor and dark color. Lighter beers made for very flaky batter. We prefer Pilsner or Lager for the most balanced flavor.
Grilling Western Burgers
When grilling western burgers we focus on a two-zone grill set up so we can also grill the bacon.
Start the grill and target 400 degrees ambient temperature in the grilling chamber. That means it will be closer to 500 – 550 over the direct heat. While the grill warms up, add the bacon to the indirect side and rotate every 5 minutes until they are crispy. Then remove. We do this before we put the burgers on.
Place the burgers on the direct side and grill for four minutes with lid closed. This will give a nice sear mark.
Flip the burgers and then sear another 4 minutes until you get nice sear marks.
Move the burgers to indirect heat and top with cheese. Remove the burgers when the internal temperature of the burgers is 160 – 165 degrees F.
Then it's time to construct the burgers.
Toppings for Western Style Burgers
It's now time to make the actual western burger. We do this in layers starting with the bottom of the bun. Then we add a dollop of barbecue sauce. Next the lettuce (optional) and tomato. Follow this with the burger, then then bacon, and then the onion rings. Top with another generous dollop of barbecue sauce and then place the bun on top. Press down on the burger and get ready for a flavor explosion.
Yes, this is going to be messy. But that's the point. Enjoy!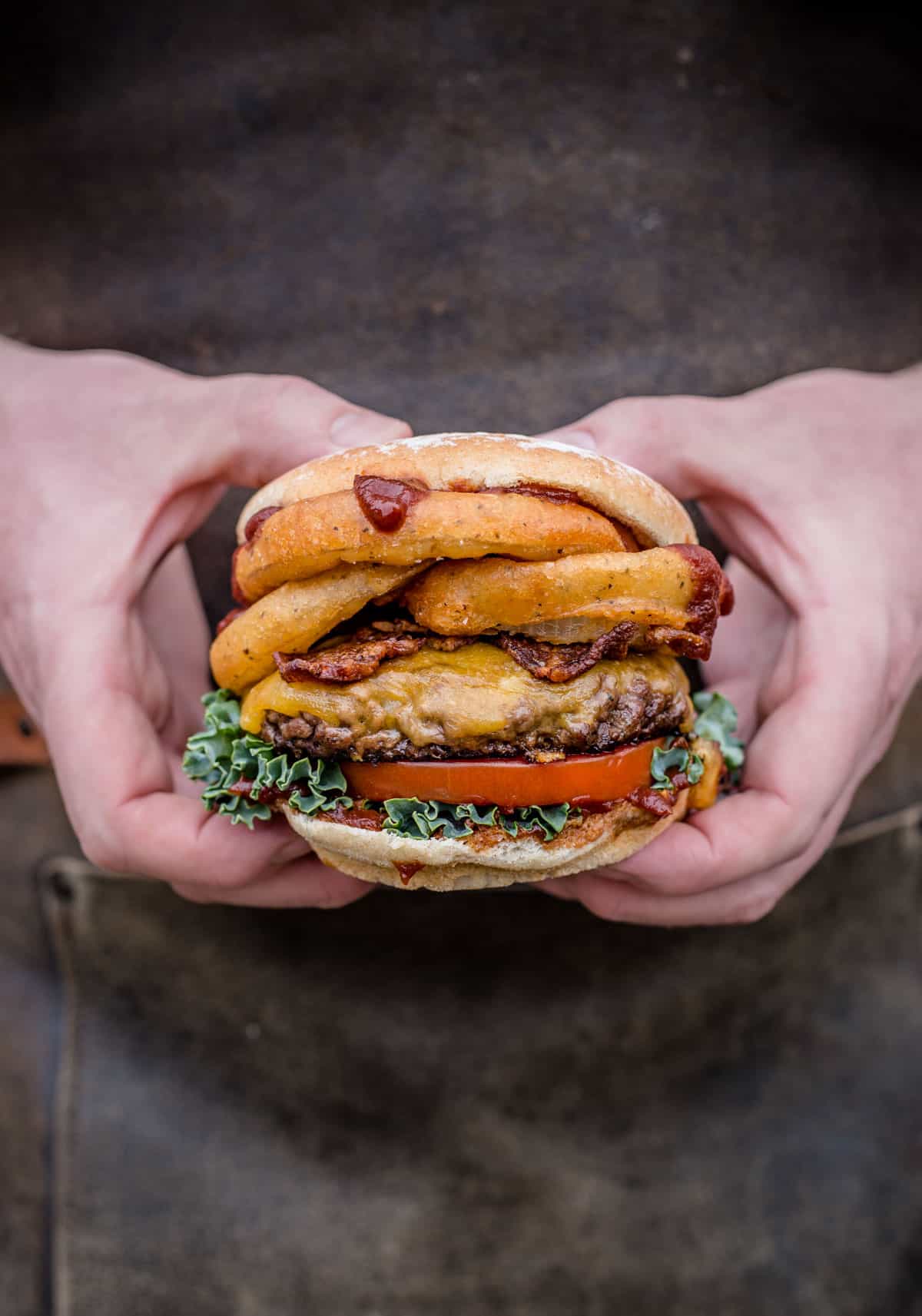 Other Inspiring Burgers