Smoked Mortadella is one of the most heavenly bites of meat that you will taste. Smoke flavors integrate very well with the flavorful and rich Mortadella. We smoke the Mortadella then finish it with a red wine BBQ sauce glaze, and slice thin for any charcuterie plate or incredible sandwiches. You can also follow this same recipe for smoked bologna.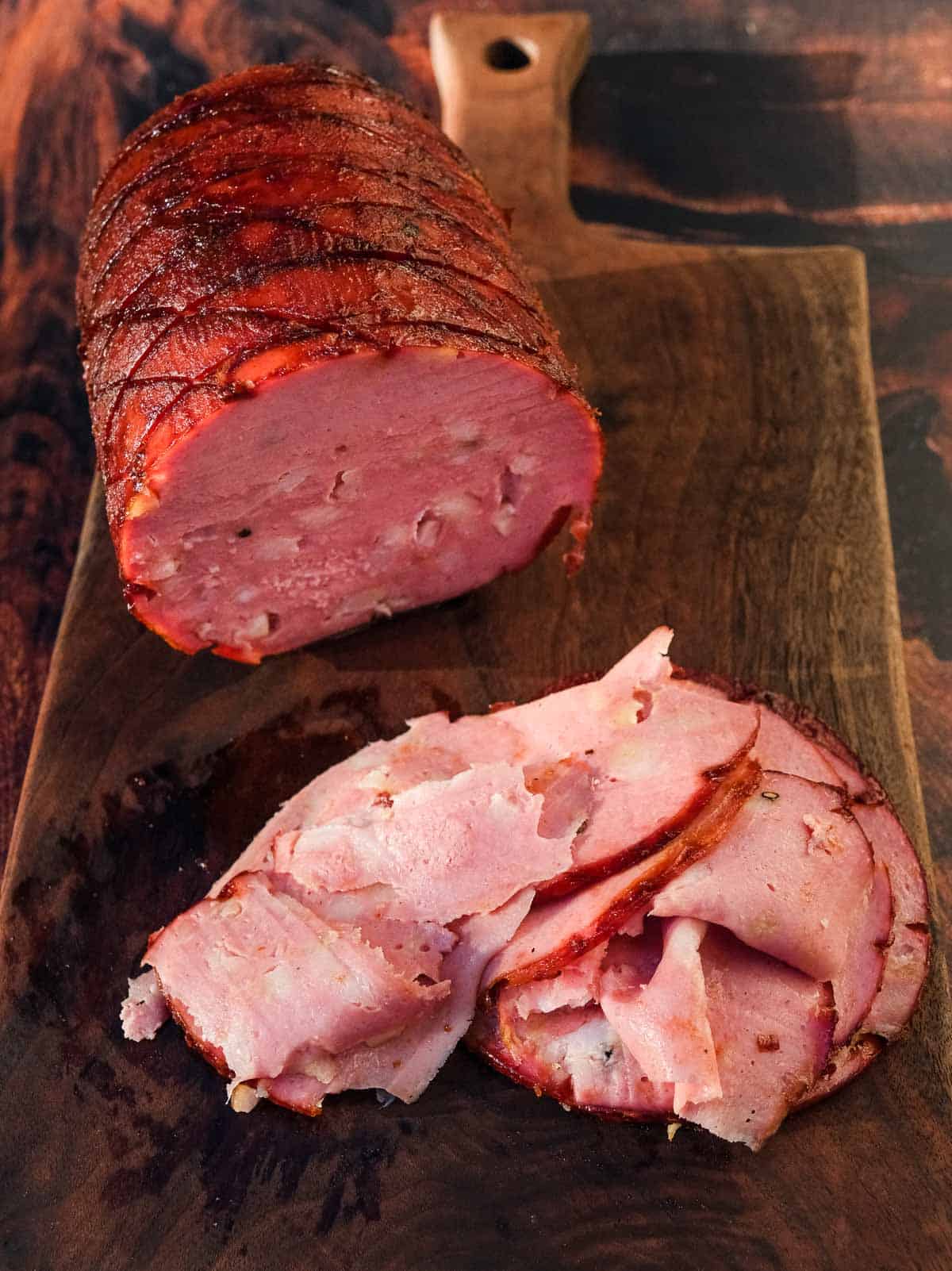 Inspired by a smoked bologna video we saw on Instagram, we just knew we had to share a similar method, but using good quality Mortadella vs bologna. This method uses the superior flavor of Mortadella for an incredible mortadella recipe.
Jump to:
Ingredients
A whole Mortadella is cooked and ready to eat out of the package. But we are giving it a BBQ twist by seasoning and smoking it for added flavor.
You can find a whole Mortadella loaf at finer grocery stores, specialty markets, and some public restaurant ingredient supply stores. We recommend you call first to make sure they have the entire loaf versus already cut up into slices. It's also available at online retailers for delivery.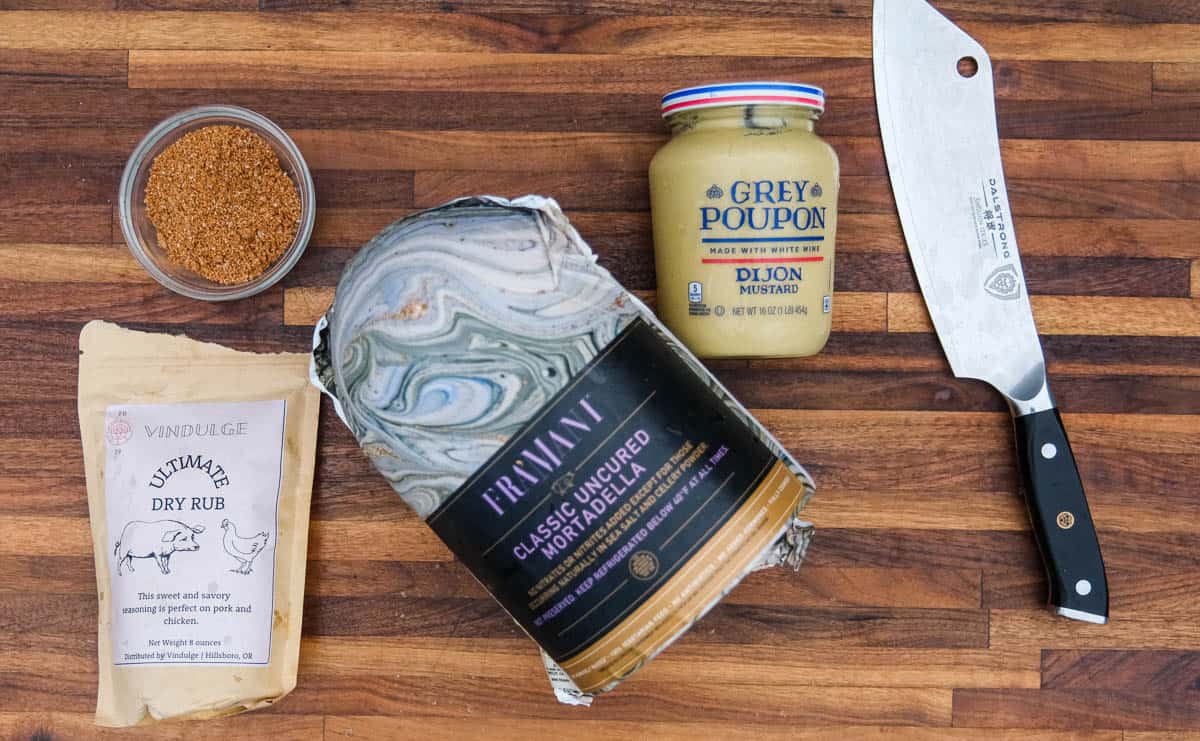 Mortadella Loaf – Specifically use a half cut loaf, which are typically 5 – 7 pounds.
Binder and Seasoning – We use Dijon mustard for the binder, which helps our sweet and savory seasoning adhere to the meat.
BBQ Sauce – We use our Red Wine Barbecue Sauce to glaze the Mortadella when it's almost done in the smoker. You can also purchase the sauce and have shipped to your doorstep.
What is Mortadella?
Mortadella is a large Italian sausage or luncheon meat made of finely hashed or ground heat-cured pork, which incorporates at least 15% small cubes of pork fat (primarily the hard fat from the neck of the pig).
It is traditionally flavored with spices, including whole or ground black pepper, myrtle berries, and pistachios. Originating from Bologna, Italy, Mortadella has a smooth and slightly pinkish appearance, with a rich, savory taste and a delicate, velvety texture.
Over time, mortadella has become a popular delicatessen item worldwide, with a protected geographic indication (IGP) of Mortadella Bologna in 1998. While Mortadella Bologna is only found in Bologna, Italy, you can find high quality versions domestically at finer salumerias.
Mortadella Versus Bologna
Mortadella is an Italian pork sausage with distinct cubes of fat, spices, and often pistachios, known for its rich, savory taste. "Bologna", an American adaptation, is a simpler meat blend without the characteristic fat cubes or pistachios, presenting a milder flavor. While both are processed pork products, they differ in origin, ingredients, and taste profiles.
Video Tutorial
Preparation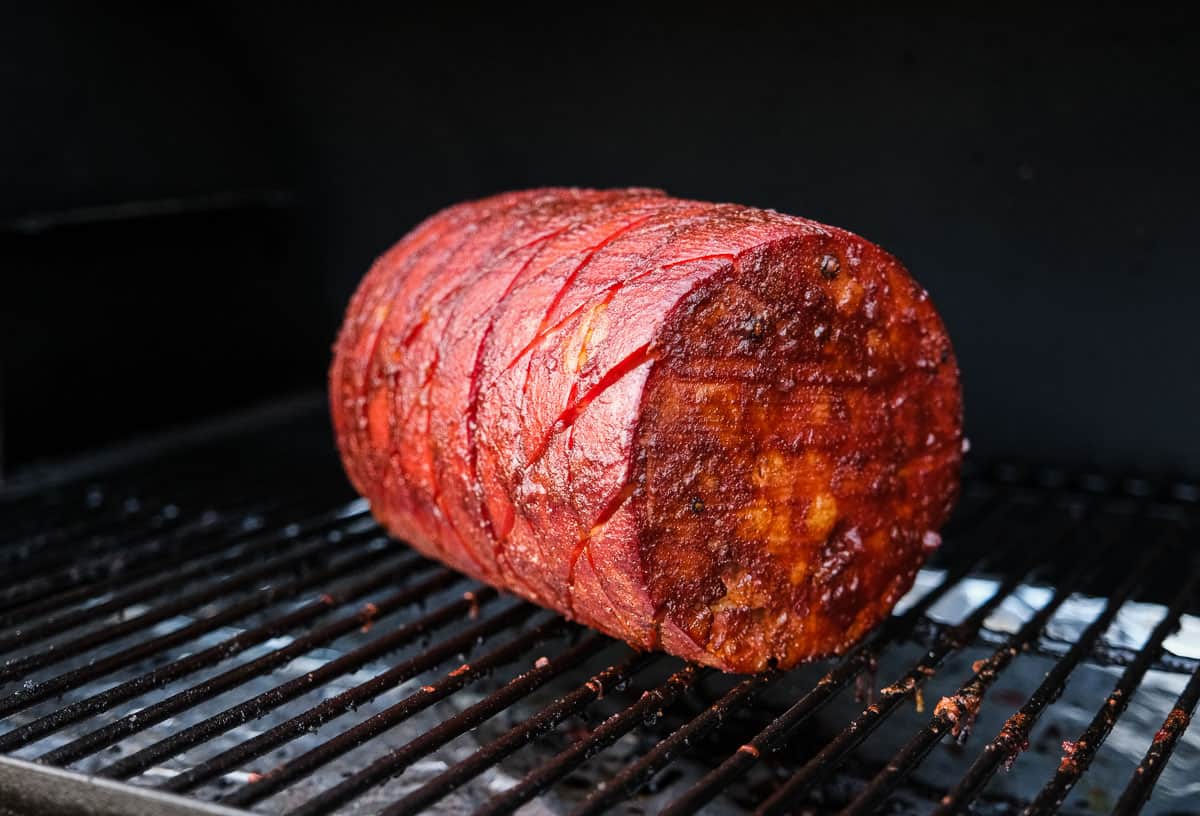 Get your smoker ready. Use indirect cooking and target 275 degrees Fahrenheit in the cooking chamber. We use fruit wood like cherry. Alternatively for a more pronounced smoke flavor you can use hickory or oak.
Remove any packaging from the Mortadella and discard. There may be two layers, be sure all packaging is removed prior to cooking.
Score the loaf with a sharp knife along the length and width of the loaf. As the mortadella smokes the scored areas will bloom outward and create more surface area for smoke flavor. It also allows the fat to render out.
Season
Liberally apply the mustard and the seasoning to the entire loaf. Be sure you get the end side as well.
How to Smoke Mortadella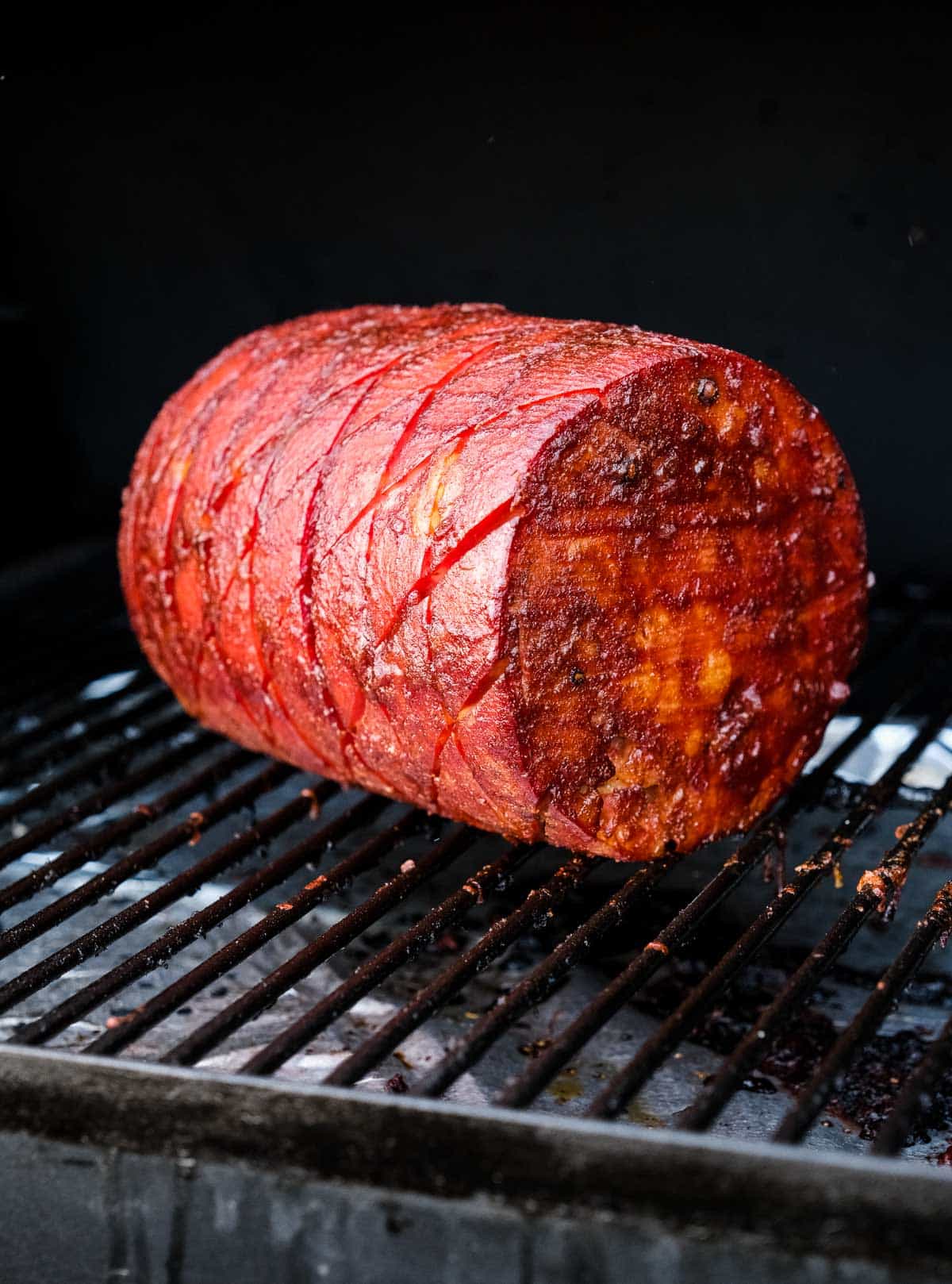 Place the seasoned Mortadella on the smoker. Allow to smoke for 2 hours and 45 minutes. At this point glaze the loaf.
Place your BBQ sauce in a small dish and liberally apply the sauce to the entire mortadella using a silicone brush (or something similar). Allow to smoke for an additional 15 minutes. Remove and let rest for 15 minutes.
Serve
Slice very thinly and serve warm as part of a charcuterie platter or add to a mortadella sandwich. It also makes for a great pizza topping.
If you have a meat slicer at home we recommend using it for this smoked mortadella.
Wine Pairing with Smoked Mortadella
If serving the smoked Mortadella as a part of a charcuterie platter you can't go wrong with a glass of rosé, or Lambrusco if you wanted to honor the Italian origins. The acidity of the wine will cut through the richness of the tender meat without overpowering the delicate flavors. If serving as a sandwich and you're craving a red, a nice Sangiovese makes for a great pair.
Modifications
You can use this recipe for smoked bologna as well. However we strongly recommend you seek out a good quality Mortadella for the added flavor and texture.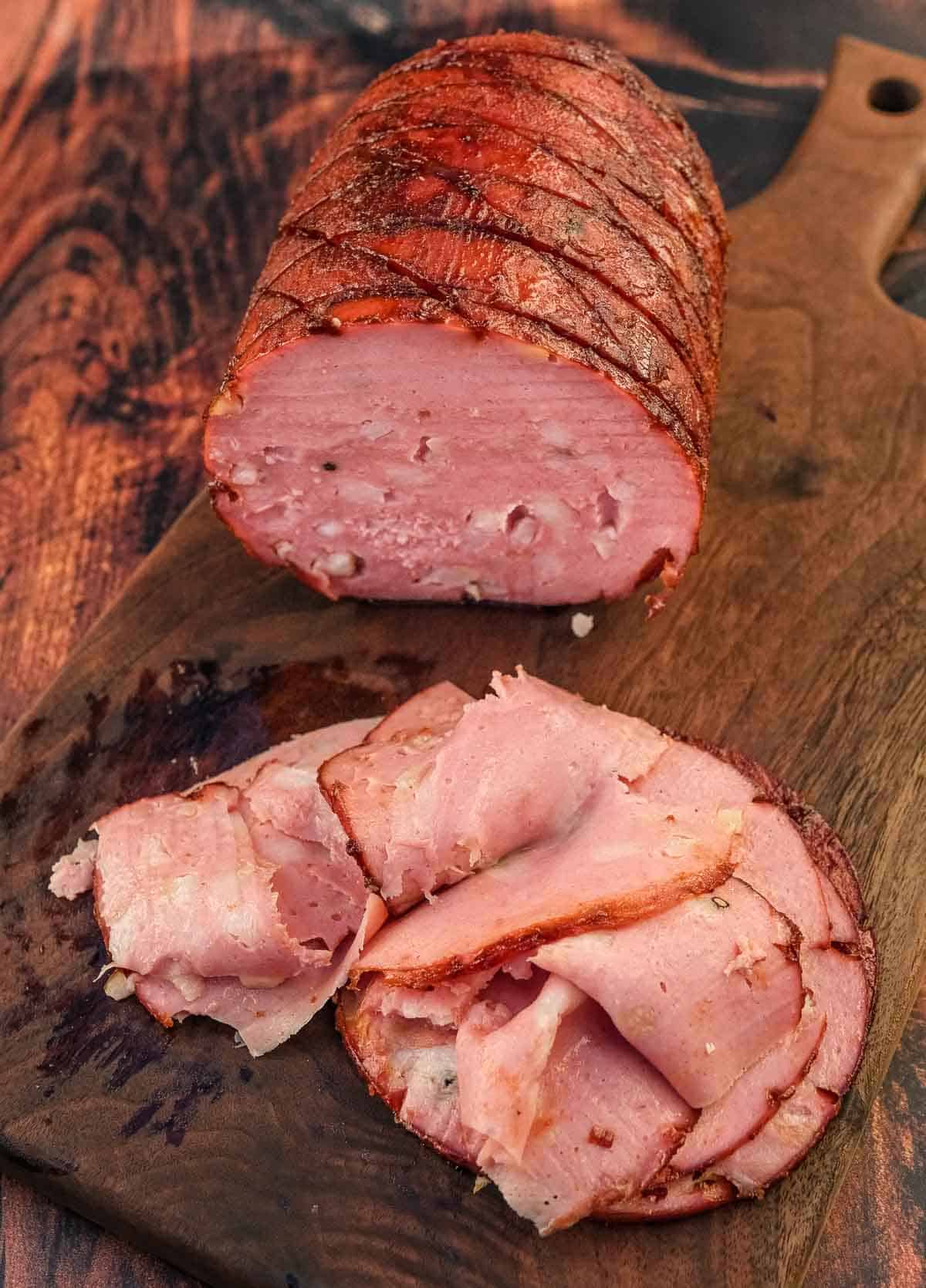 Leftovers
This is perfect for a smoked Mortadella Sandwich with brioche bun and melted cheese. All you need is a hot griddle. Add as the meat in a classic eggs benedict. Or you can serve as a typical cold cut sandwich.
---
Shop Products
Mary (a certified sommelier and recipe developer) and Sean (backyard pitmaster) are co-authors of the critically acclaimed cookbook, Fire + Wine, and have been creating content for the IACP nominated website Vindulge since 2009. They live in Oregon on a farm just outside Portland.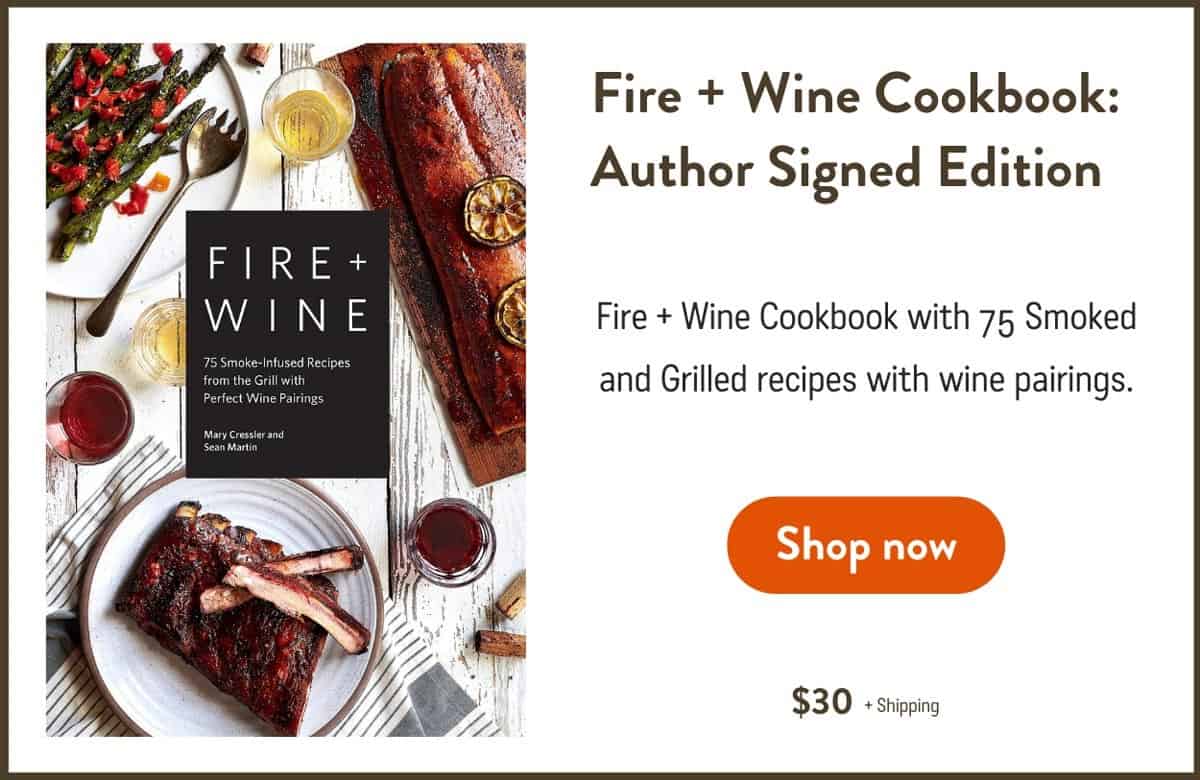 Tried this recipe? Give us a star rating and we would love to see! Mention @vindulge or use the hashtag #vindulge on all the social media handles. And consider subscribing to our newsletter where we drop all our favorite ideas and inspirations every week.
This post may contain affiliate links. This means if you click on the link, we may receive a small commission if you purchase through the link. We partner with brands we know and love and use and it helps keep the blog going!