Learn the best way to make Horseradish Prime Rib. This Smoked Prime Rib is slow-smoked, finished with high heat, and then topped with a homemade Horseradish Butter Sauce. This is truly one amazing holiday roast recipe that your guests will never forget.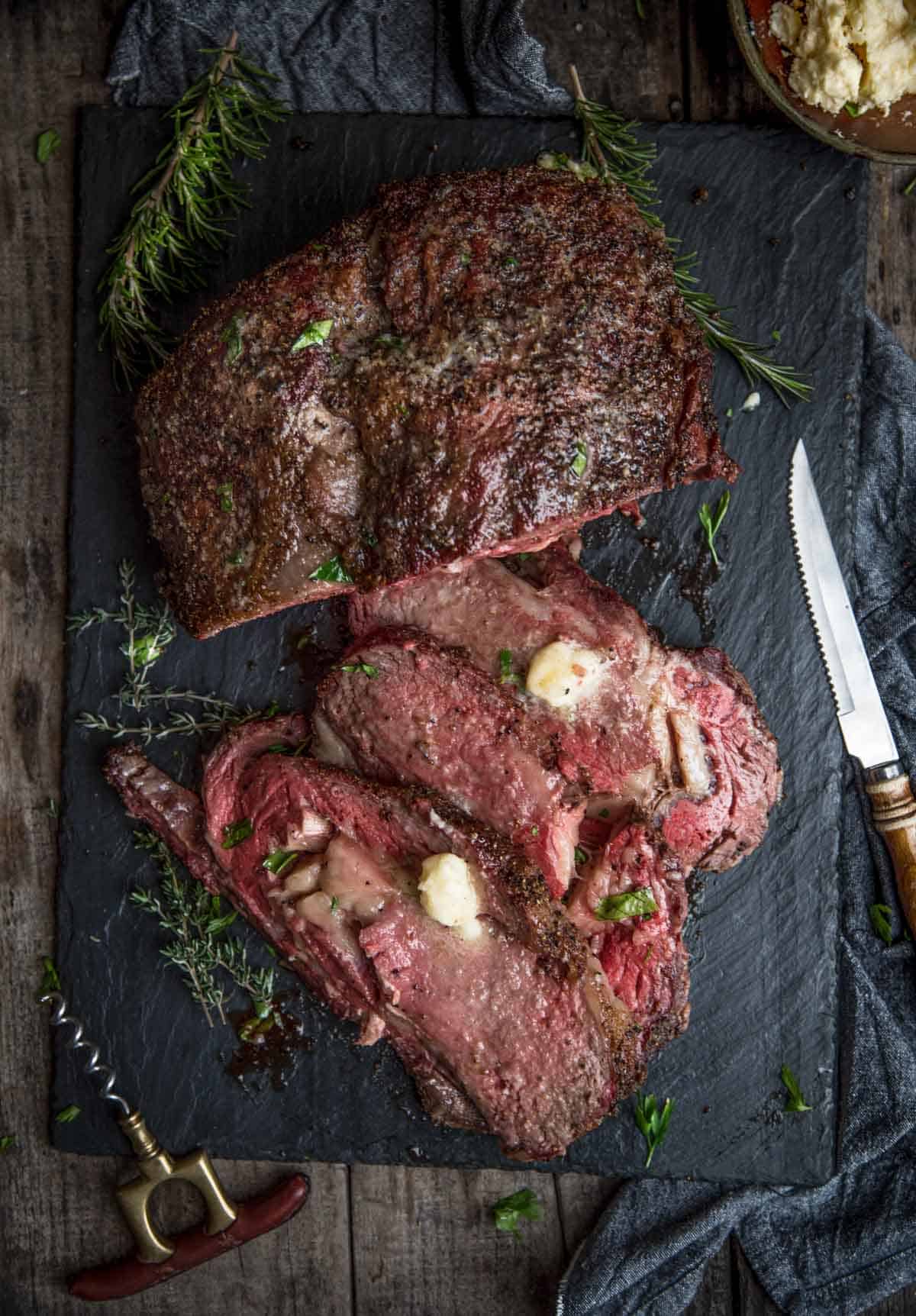 The best part is that it is super easy to prepare and make! I promise you.
Jump to:
What is Prime Rib?
Prime Rib is one of the primal cuts of meat from a cow that comes from the ribs. What is a primal cut? It's some of the first cuts to be butchered off a cow, thus the term "primal" cut. The Prime Rib can also be called a standing rib roast, or rib roast.
A Prime Rib can be bone-in or boneless, and either are great for smoking. Prime does not necessarily refer to the USDA quality rating of Select, Choice, or Prime. We go into a lot more detail on our other Smoked Prime Rib recipe.

We use an incredibly marbled boneless Snake River Farms American Wagyu roast for this particular recipe. But you can see a bone-in version here.
Whether you buy a boneless or bone-in, this recipe is going to work great for you.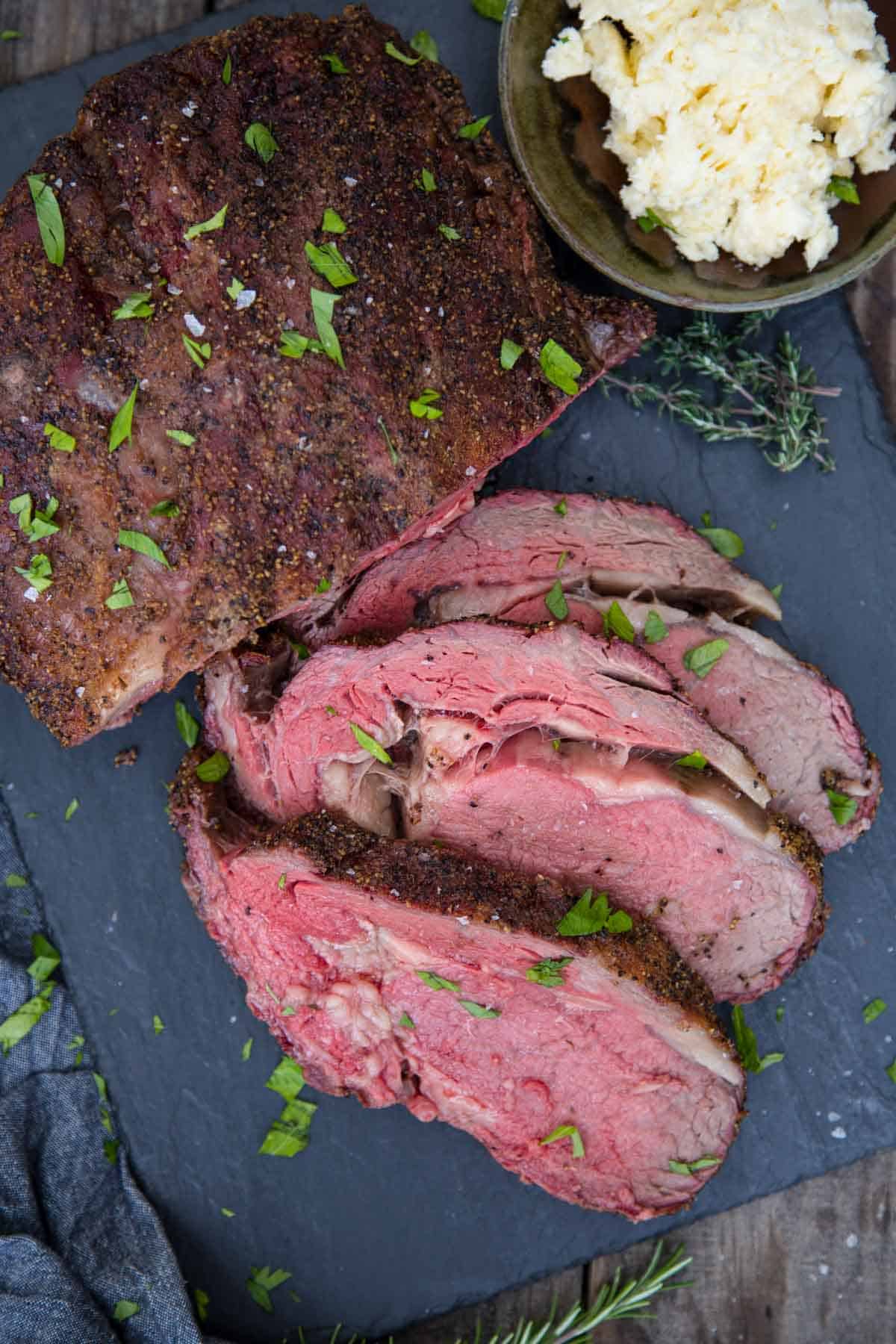 How To Prepare a Prime Rib Roast?
One of the first tasks is to trim off excess fat from the rib roast using a sharp knife. When ordering a bone-in version, ask the butcher for how many bones you want. A three bone rib roast can weigh roughly 4 – 6 pounds.
Preparing Bone-In Prime Rib – Using a long sharp knife cut along the bone to completely remove it from the roast. Remove excess fat, and then tie the bone back on using butcher's twine. The butcher may have already done this for you.
Preparing Boneless Prime Rib – Simply trim off excess fat from the exterior of the meat.
Season the beef roast with your favorite dry rub after using a binder agent, like Worcestershire Sauce, to allow the rub to stick to the meat. This is not necessary but also adds a nice flavor profile to the exterior of the meat and is the way we recommend you prepare it.
What is the Best Dry Rub for Smoked Prime Rib
For a beef rub, stay very simple with equal parts kosher salt, coarse ground pepper, and granulated garlic (be sure it is granulated versus powder). This allows the meat flavor to shine through. Use a ¼ cup of dry rub for 4 pounds of meat, or one tablespoon of rub per pound.
How Much Prime Rib Will I Need?
Typically plan ¾ pounds – 1 pound of meat per person. That takes into consideration the bone (if you use bone-in) and any loss from trimming and cooking.
How To Cook a Prime Rib Roast?
There are many ways to cook a prime rib roast if you want to make this and you don't have a smoker.
Oven – When roasting in the oven, using a temperature of 375 degrees Fahrenheit allows the roast to cook evenly and get a nice browning exterior.
Grill – Using two zone cooking, a Prime Rib can be grilled. The important component to grilling, is using indirect heat, keeping the temperature less than 400 degrees inside the grill, and rotating the roast so one side doesn't burn.
Smoking or Reverse Sear – Smoking at a low heat, like 250 degrees F with wood adding a smoke flavor. Add high heat at the end to get that roast (or char) component to the exterior.
Resting – No matter how you cook it, it's important to let the rib roast rest for 30 minutes covered in foil. The resting allows the cells to cool down and as they do, they pull back in the moisture from the cooking. Keeping the cut tender and juicy.
How Long to Smoke a Prime Rib Per Pound
Rare: Internal Temperature 115 – 130 degrees F (30 minutes per pound)
Medium Rare: Internal Temperature 130 – 145 degrees F (40 minutes per pound)
Med: Internal Temperature 145 – 155 degrees F (50 minutes per pound)
Medium Well: Internal Temperature 155 – 165 degrees F (60 minutes per pound and not recommended for Prime Rib)
Well: We don't even go there for this particular cut 😉
The rule for cooking any meat, it is done when the internal temperature tells you it is done. Every cut of meat is going to be different as they all come from a unique animal with various levels of fat content. We prefer our Smoked Prime Rib cooked to 125 degrees F or rare.
Use instant read thermometers to assist in the cook. Consider the Thermoworks Smoke unit for a two zone cooker, or the Thermapen for instant read. They are both great investments as is the money spent on a rib roast.
Horseradish Compound Butter
While the smoked prime rib roast is resting, prepare the Horseradish Compound Butter. This is also something to prepare days in advance. A compound butter is simply a butter with added ingredients mixed together to form a new butter with flavor.
Using room temperature butter add extra hot horseradish sauce, kosher salt, and garlic, and mix. For specific measurements on the horseradish recipe, look down below at our recipe card. Roll out in a log to prepare for serving over the top of the warm Horseradish Prime Rib.
How to Smoke a Prime Rib?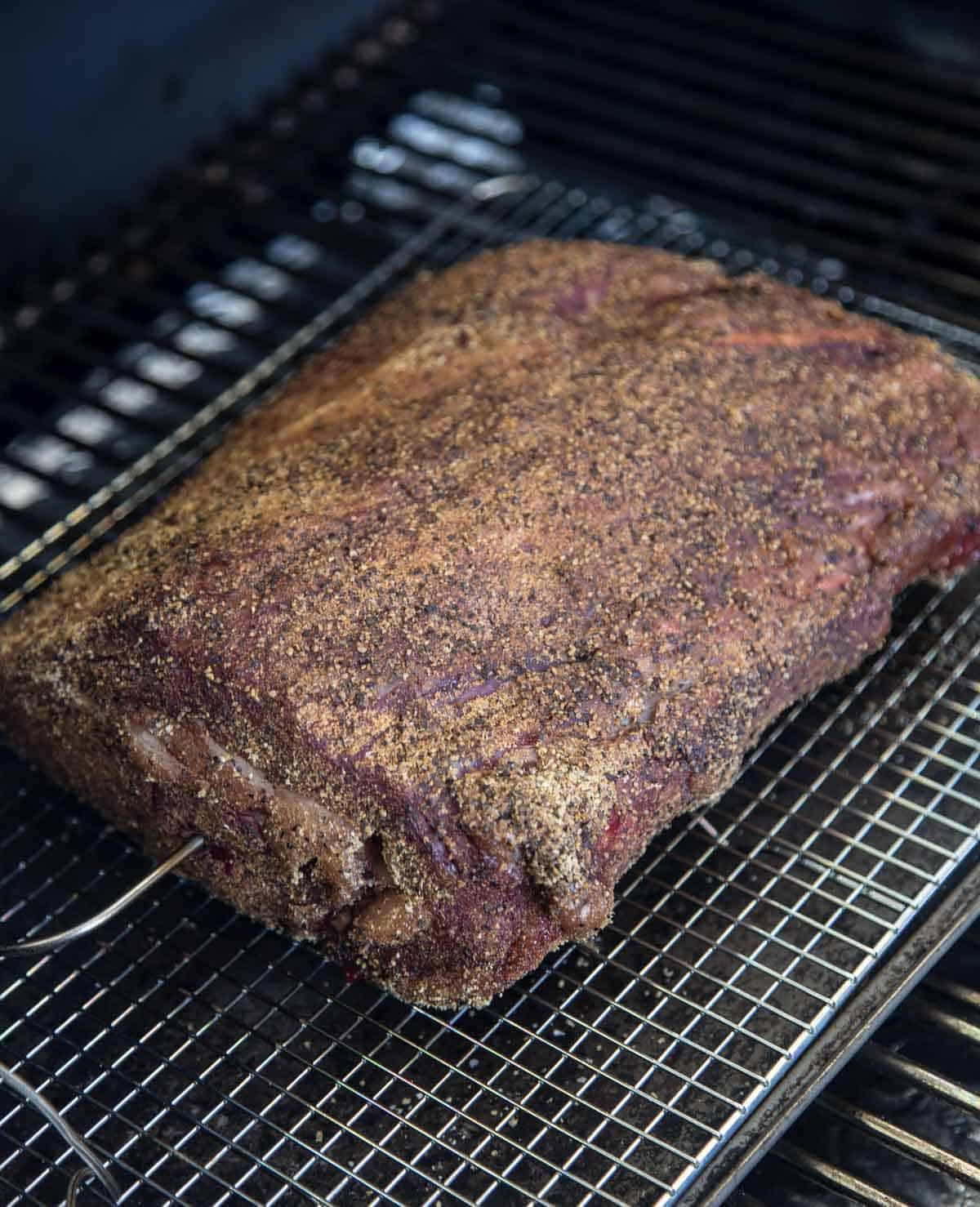 Target the ambient cooking temperature at 250 degrees F, and use a fruit wood or oak. Mesquite and Hickory are fine too, it just adds a lot more distinct smokiness to the meat, and for smoked Prime Rib, we really want the smoke as an ingredient, not the predominant flavor.
If using a pellet grill or offset, consider using a water pan. We find they tend to need additional humidity in the cooker.
For Kamado Grills, like a Big Green Egg, we do not use a water pan as they are very efficient and tend to retain moisture very well.
If adding high heat at the end, or a reverse sear, increase the heat when the internal temperature is 10 degrees lower than your desired finishing temperature. That is when to raise the heat level on your grill to 400 – 450 degrees and direct heat. This is the way we like to do it, and the way you'll see in this recipe and on the video below.
Chef Note: Let the roast rest 30 minutes tented in foil. This helps with the cells reabsorbing the moisture from cooking.
When ready to serve, slice the meat and serve with a dollop of the horseradish butter sauce.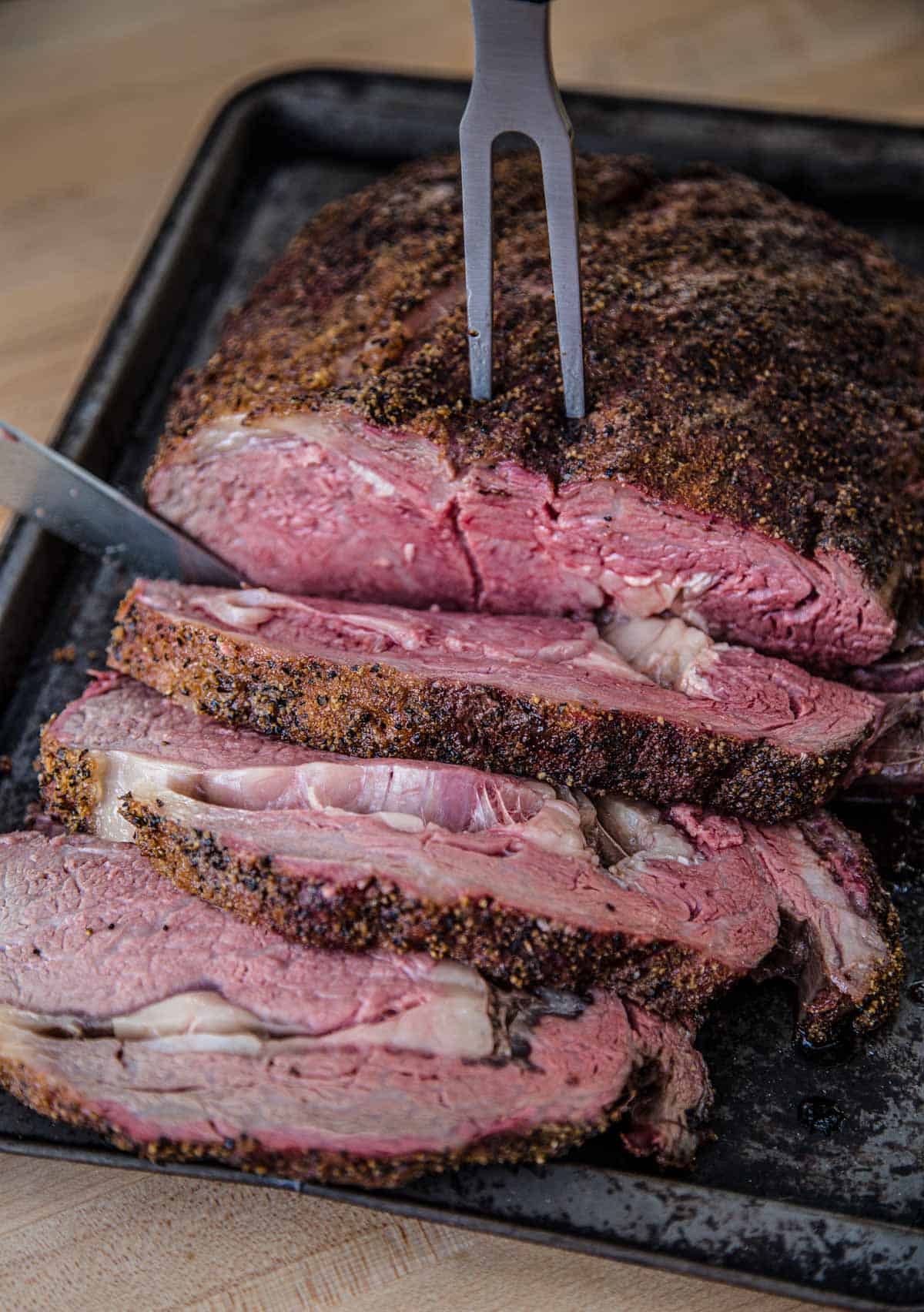 Leftover Ideas
Wine Pairing for Prime Rib
This is where I like to go big with my wine pairing. A Horseradish Prime Rib is rich in flavor and texture, with a good amount of fat throughout. This is where those young tannic Cabernet Sauvignons really shine. Young Cabernet, without food, can be hard to drink because they tend to have mouth-drying tannins. But when you pair it with fat, like Prime Rib, the fat in the meat softens those harsh tannins and you really get that pretty fruit. You can see more details in our wine pairing guide for beef holiday rib roasts.
This recipe also has that slightly spicy horseradish sauce. So I recommend something with a good amount of fruity characteristics. So I stick with New World reds with this (Washington State red wines, California, etc.). One of my favorite pairings for this dish is Washington Cabernet Sauvignon. You can also go California County Cab as well. Merlot, Syrah, even Grenache can be excellent bets with this holiday roast as well. For something old world, you can't go wrong with a Rhône Valley red.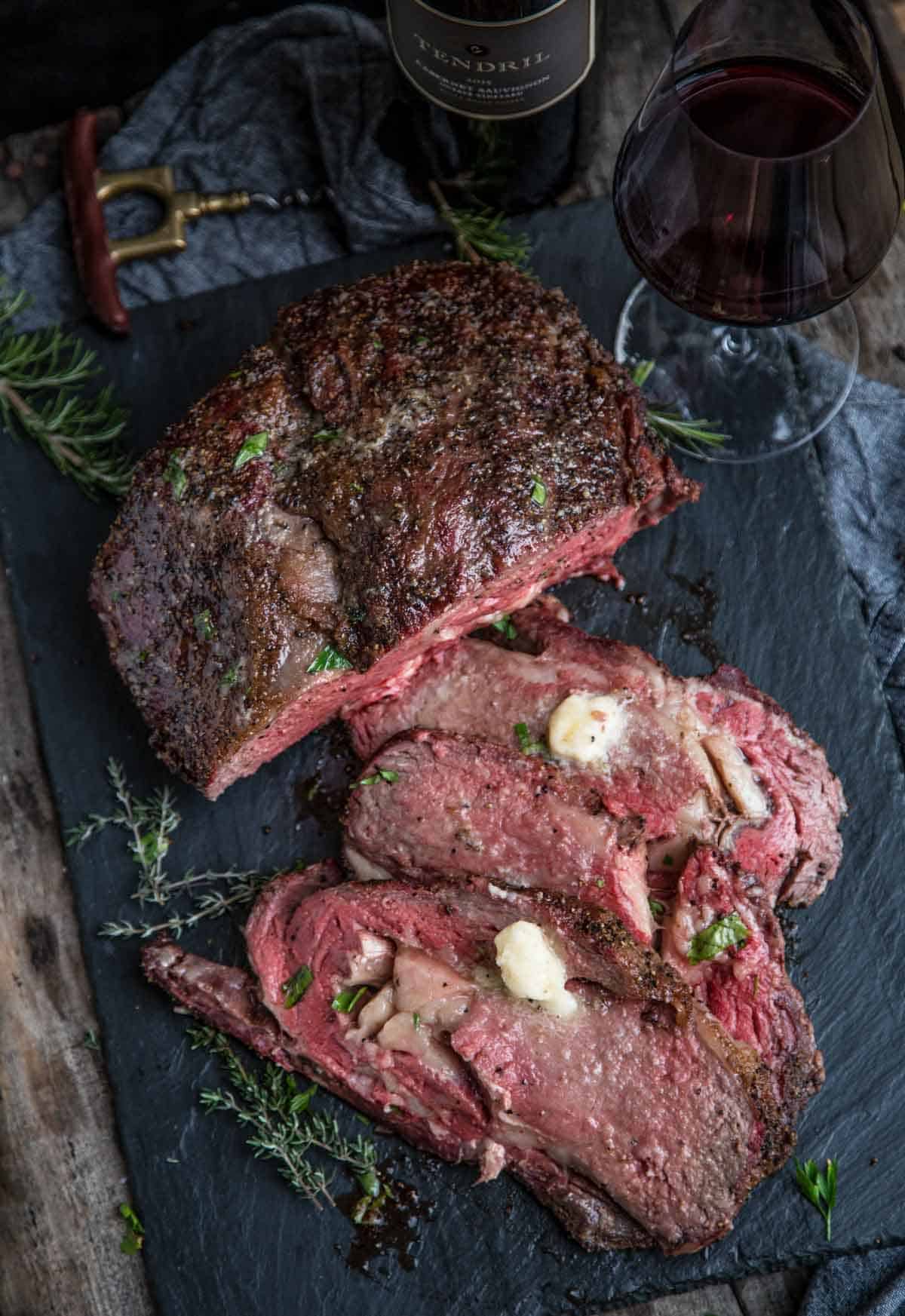 Holiday Side Dishes
More Holiday Roast Recipes
This post contains affiliate links, which means if you click on those links we may receive a small commission. We only partner with products we know and love, and it helps keep the blog going!
---