Chicken Tortilla Soup Recipe made with smoked chicken is a great comfort food with a smoky twist. You can smoke a whole chicken in advance and then the soup can be made later in the week.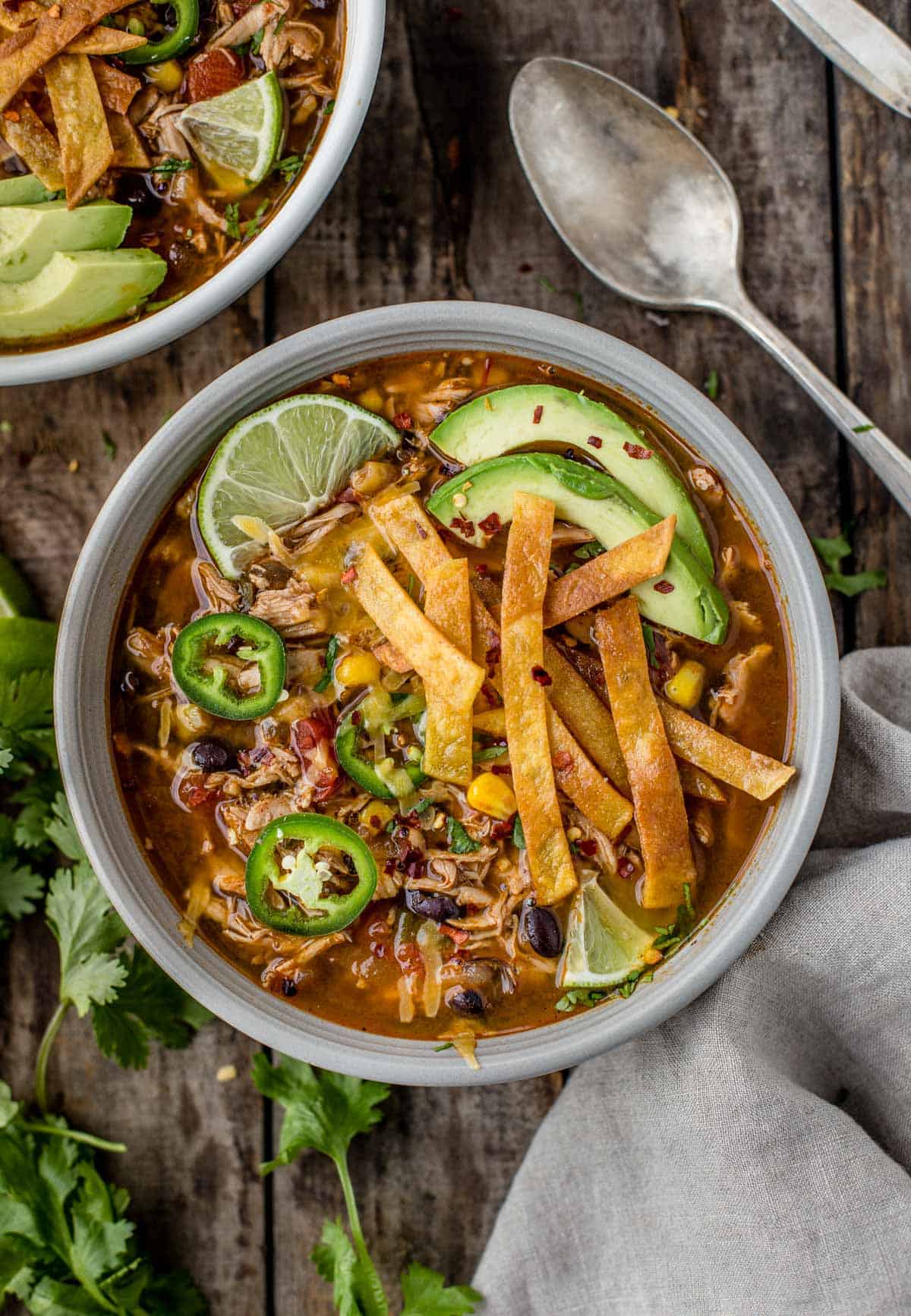 Chicken tortilla soup screams comfort with its warm broth, fresh herbs and spices, and a little heat. It's one of my favorite things to try at a Mexican restaurant (especially during colder months), to see all the variations from restaurant to restaurant. And we have learned some of the little things can make a big difference when it comes to adding great depth of flavor, like using smoked pulled chicken as the base.
Origins of Chicken Tortilla Soup
Tortilla soup may go back as far as the Aztecs, and is considered a comfort food in Mexico City. The flavor is not necessarily about how many specific ingredients go into it, but more about the quality of the ingredients. There are two main ingredients that make this particular chicken tortilla soup stand out.
Great Chicken Stock – Preferably home made, but if not, seek out a good quality flavorful broth. Smoked Chicken Stock is even better. And Bonus – we have a smoked chicken stock in our cookbook Fire + Wine that adds incredible flavor to any soup.
Flavorful Shredded Chicken – That's where the smoked chicken comes in.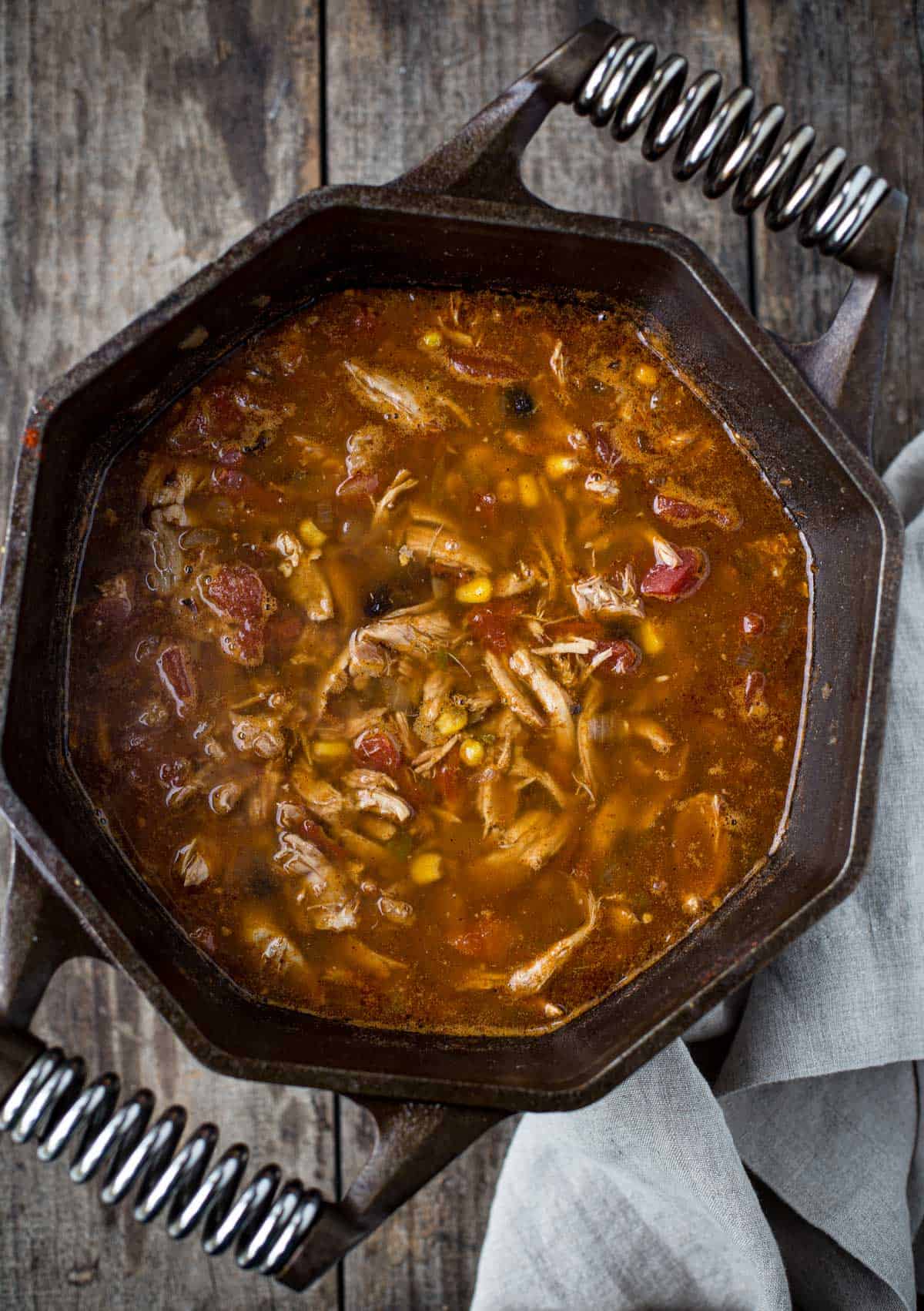 From there it's like most other versions of chicken tortilla soup. Combine the ingredients and then let it simmer to incorporate, then top your soup with all the things!
How To Make Smoked Chicken Tortilla Soup
Start by Smoking a Whole Chicken, and then shred the meat in prep for making the soup. This can be done in advance. Need to make this in a hurry? Grab a roaster chicken from the store (it just won't result in that smoked flavor we're going for here).
In a large soup pot, sauté onions, jalapeño peppers, and garlic.
Add dry spices, and incorporate to give a slight char.
Combine remaining liquids and ingredients and simmer.
Serve and top with fried tortilla strips, shredded cheese, avocado slices, and whatever else your heart desires.
If you like broth heavy soups, then feel free to add two more cups of broth. This soup isn't going to reduce much like say, a chili. But we try to balance the right amount of broth and the other ingredients so we get a healthy spoonful of all the ingredients.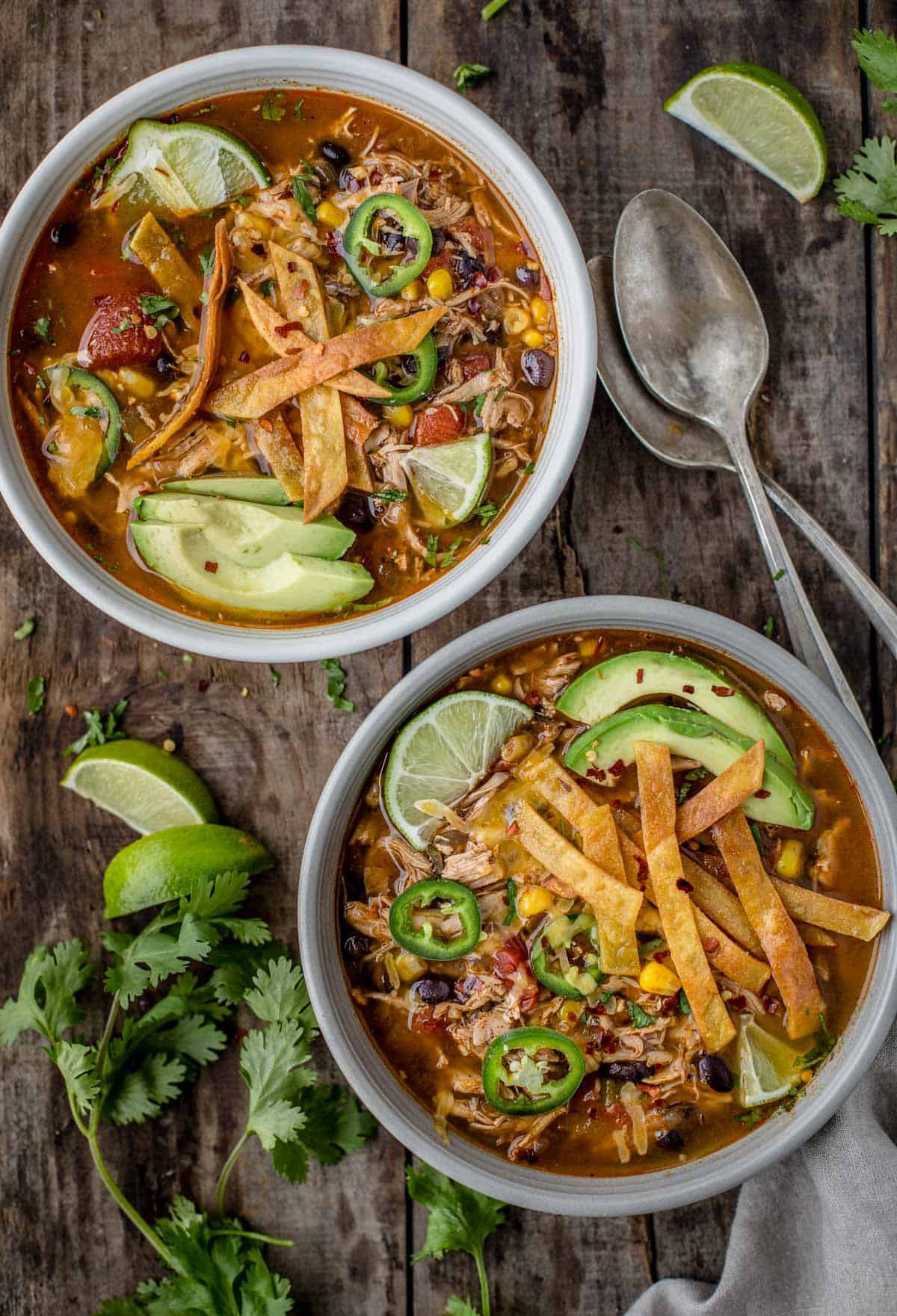 How to Make Fried Tortilla Strips
In a small cast iron pan, heat up extra virgin olive oil over medium heat. About ½ cup worth. You want some depth to the oil, but not filling the pan.
Slice corn tortillas in small thin strips (¼ to ½ inch thick).
Drop a small handful of tortilla strips into the hot oil and move them around to be sure coated and fried.
Remove after 1 minute, or when the color browns slightly.
Place on a tray lined with paper towel to absorb excess oil.
Salt lightly while warm.
For added flavor, juice ½ a lime and toss the strips in lime after they have been fried and salted.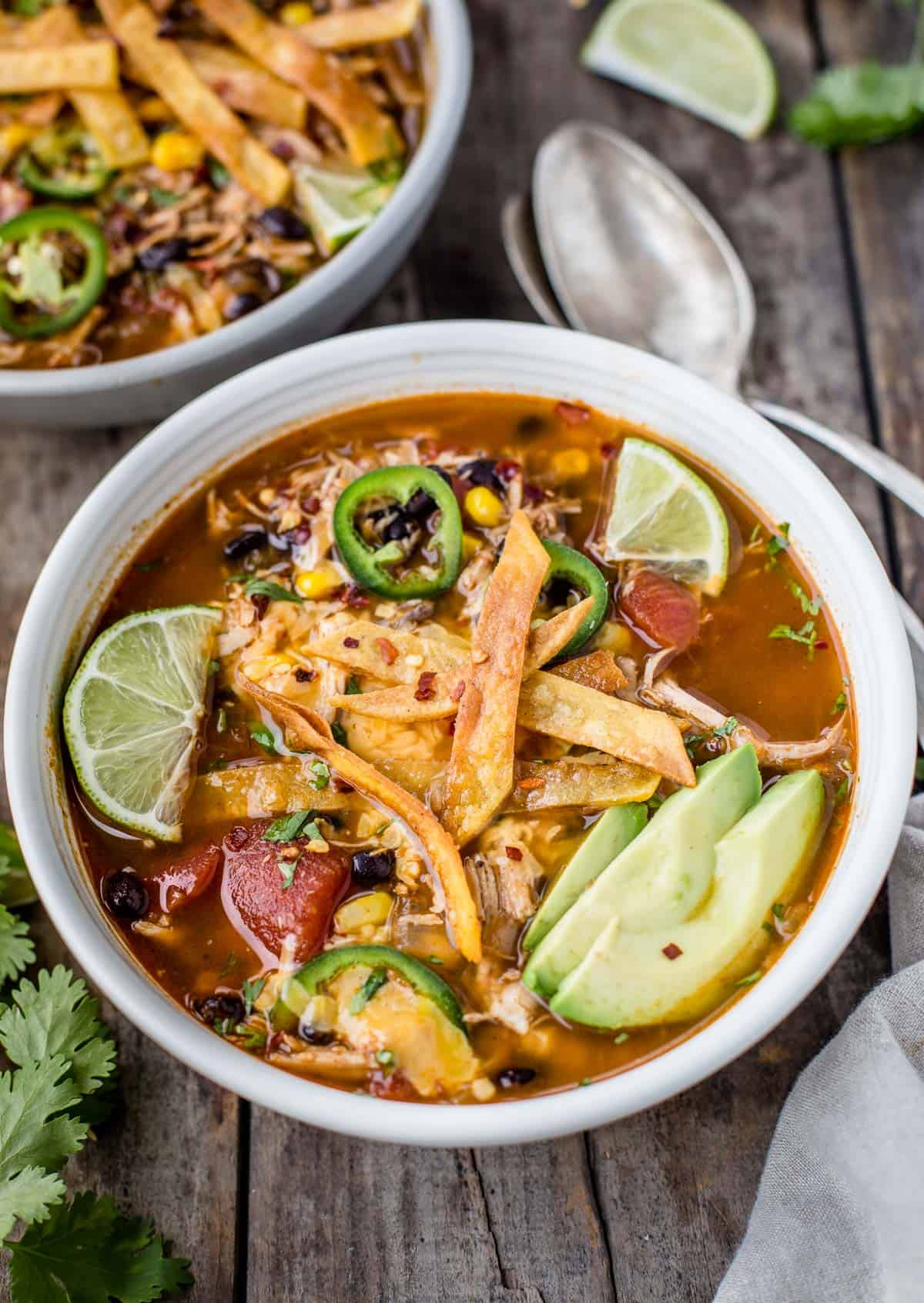 Modifications
It may be more work but for even more flavor to your smoked chicken tortilla soup, consider some of the following.
Grill, smoke, or roast the corn. The little extra step (and char) will add great flavor.
Fire roast the tomatoes. Just throw them over a high heat or right into the charcoal. Then peel, slice and throw into the soup.
Other Great Soup Recipes
This post may contain affiliate links. This means if you click on the link, we may receive a small commission if you purchase through the link. We partner with brands we know, use, and love.