An award-winning recipe for Marinated Smoked Tri Tip from our very first BBQ competition, made with a wine marinated Tri Tip and smoked slowly to perfection. Serve alone or with a delicious chimichurri sauce.
Scroll to the bottom for the the video. 
We have learned a lot about smoking tri tip over the years. It has evolved from a rather obscure cut of meat for us, to one of the most common meats we cook for crowds. It's lean, incredibly flavorful, and, when cooked properly, this cut is something we hope everyone can ask his or her butcher for countrywide so they can taste for themselves how awesome it is!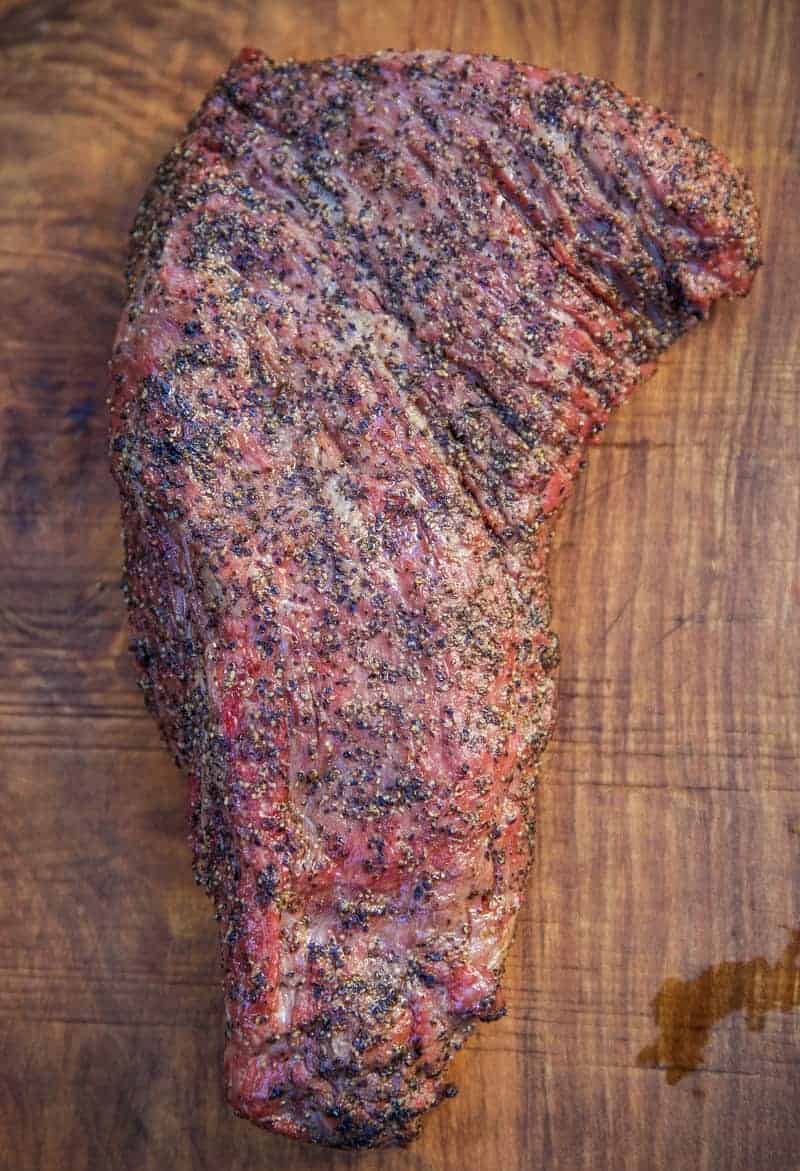 What is Tri Tip? The Cut
Tri Tip is beef, and comes from the backside of the cow. It is where separate areas of muscle meat come together and thus you have three points to the cut, thus "tri tip". When you buy it, it should typically be trimmed and almost ready for grilling or smoking.
They are typically small, less than 2 or 3 pounds, so for a crowd you need to consider buying a bunch. Finally, buy high quality tri-tip. Marbling is key so you get the most flavor, so look for a good marble. We rarely use anything less than choice or its local farming equivalent. If you cut in half a select tri tip you quickly realize why you want to maximize the marbling in an otherwise lean cut of meat.
How to Prepare Tri Tip
When trimming up tri tip, I like to mention that you have two major sides. One will have a relatively lean side and the other will have some excess fat and areas you want to trim off. The key for tri tip is trimming off all the excess fat and silver skin. Simply put, you want to expose that meat and have little to no fat that gets in the way. Tri tip, unlike its cousin, brisket, cooks fast and since it is relatively lean, it won't render out a ton of fat, so it is key to pull off and trim any excess layers.
How to Marinate Tri Tip
While I love the simplicity and flavor of salt and pepper — and you can see our signature salt and pepper tri tip here — we have won awards for this marinated tri-tip. In fact, in our very first ever BBQ competition we placed for this very tri tip!
After trimming, we marinate with red wine, Worcestershire, and some additional spices and seasonings. Place in a gallon size bag and add the meat and refrigerate from 1 hour, up to 6 hours.
How to Smoked Tri Tip
We like to use cherry wood and prep the smoker to 250 degrees. Once at temp, and your meat has marinated, remove from marinade, pat dry, season with salt and pepper.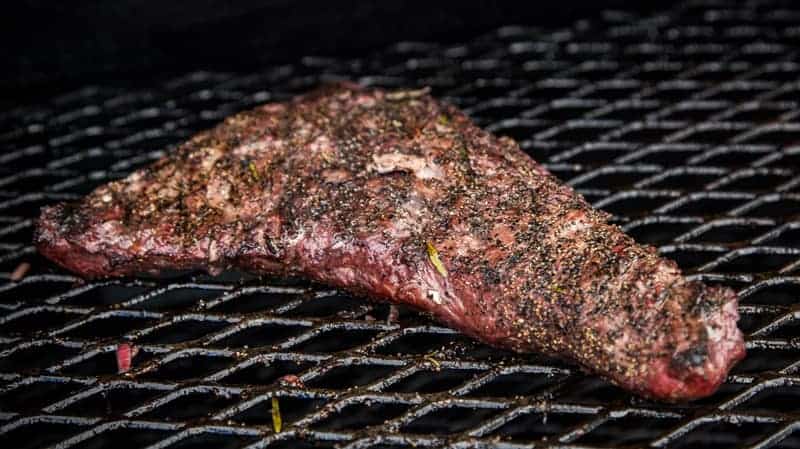 Then place on the smoker until it is done (roughly an hour or until the internal temperature reaches between 125-130 degrees).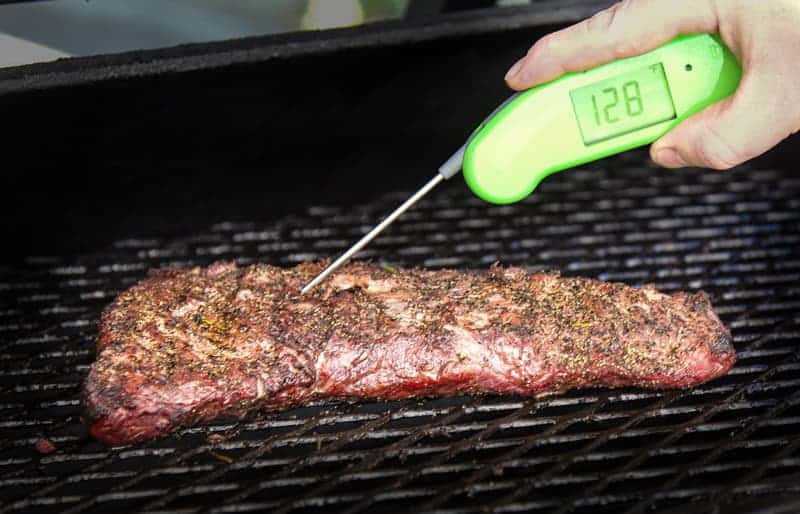 (We always recommend using a good digital thermometer to check your temp, like this one in the pic. In fact this exact one is on sale right now!!!)
The Wait!
Next, and one of the most important parts, is the wait!!!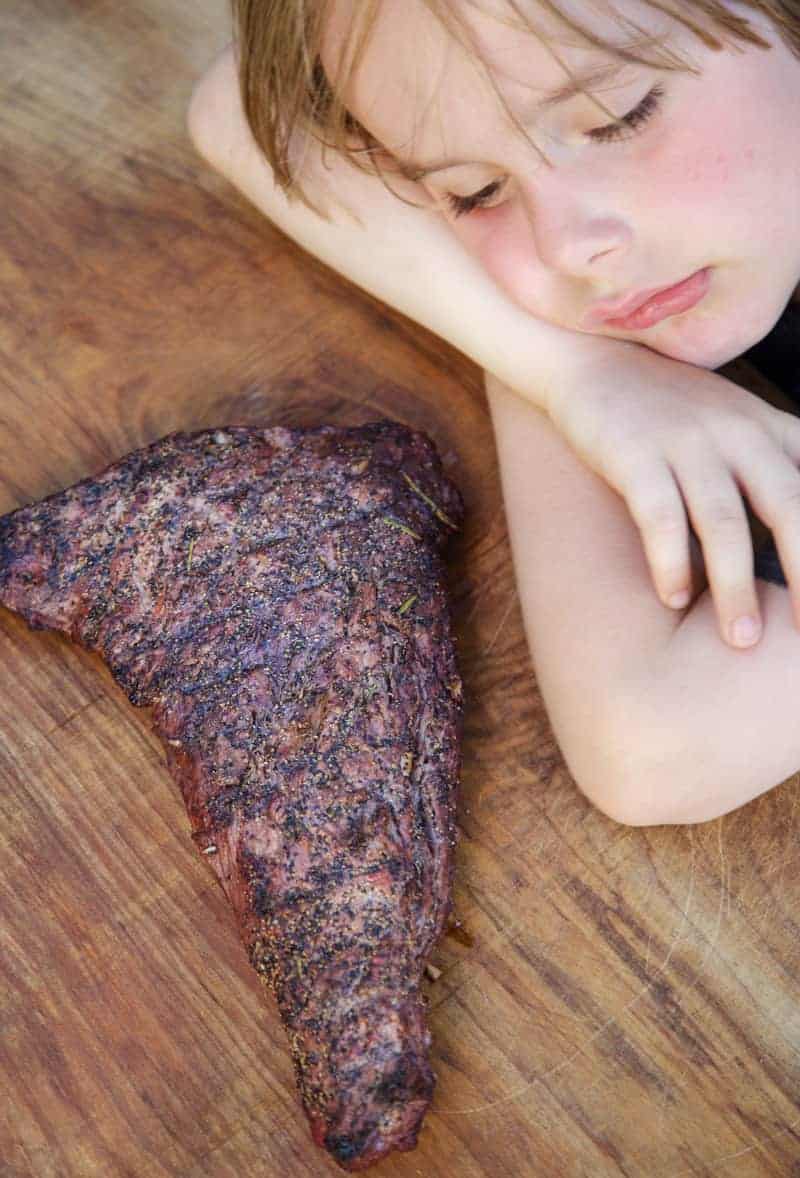 Let those juices slowly redistribute for 15 minutes, then cut in. This part is hard when you're hungry and all you want to do is reward yourself with those sweet morsels of beefy goodness. But you must wait. It's worth it! 15 minutes is all you need before you can cut into this delicious cut of beef.
How to Slice Tri Tip
Make sure to cut AGAINST those grains. Check out the video below if you're unsure what that means! We show you exactly how to cut a Tri Tip Steak.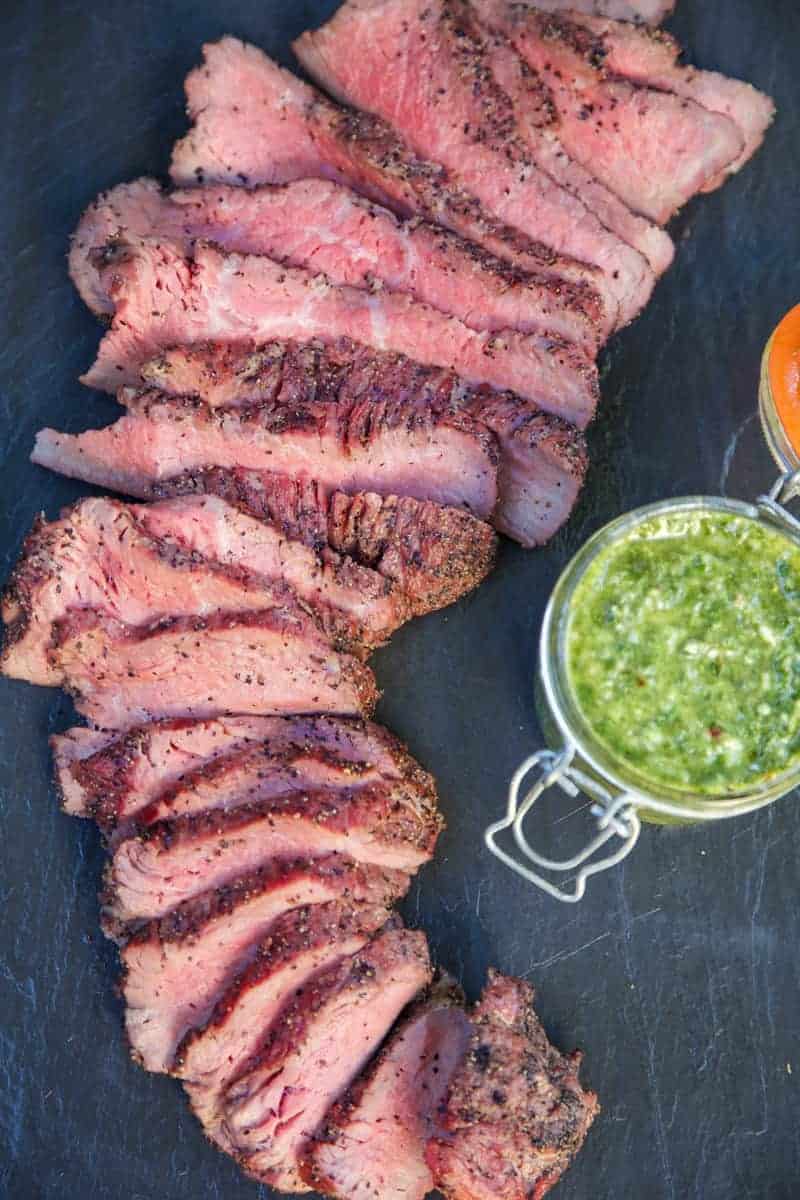 Serve alone or with your favorite side. We love to serve this with Chimichurri sauce (find our recipe here). It's so darn good!
Feel free to reward yourself before sharing with your friends. You've earned it.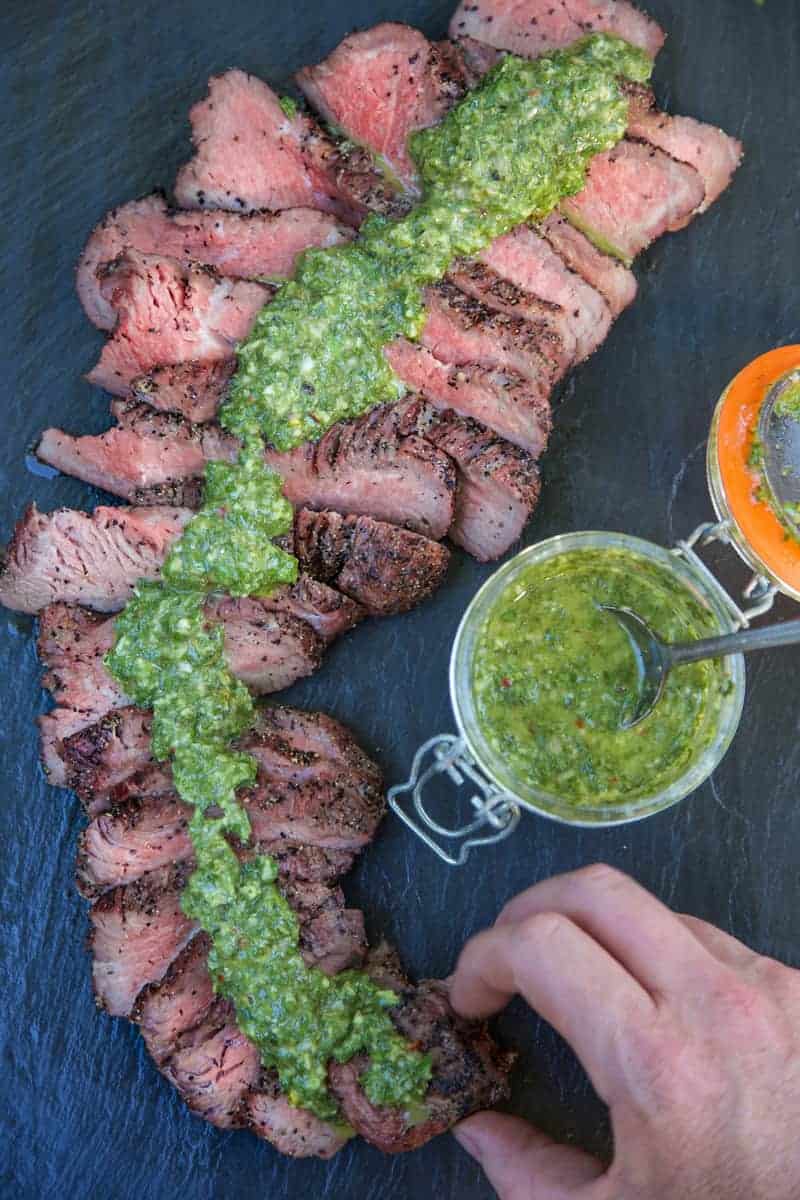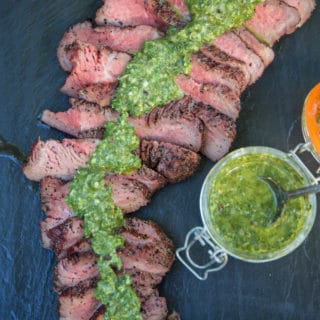 Red Wine Marinated Smoked Tri Tip
An award-winning recipe for Smoked Tri Tip, made with a wine marinated smoked tri tip and smoked slowly to perfection.
Print
Rate
Total Time:
1
hour
10
minutes
Ingredients
For the Tri Tip
2-3

pound

Tri Tip,

at least USDA Choice or Higher
For the Marinade
1

cup

red wine

1/3

cup

Worcestershire

¼

cup

shallot

2

garlic cloves, diced

1

tablespoons

rosemary, diced
For the Rub
2

tablespoons

salt and pepper rub,

equal parts salt and coarse ground pepper
Instructions
Trim excess fat off tri tip (see video for visual).

In a large zip lock bag add marinade ingredients and the trimmed tri tip. Seal tight and shake well to mix. Marinade for anywhere from one hour, up to 6 in a dish in the fridge, remembering to flip the marinade and bag halfway through your marinade.

Remove meat from marinade and then pat dry, remove excess rosemary and chunks.

Pre heat the smoker to 250 degrees F.

Add the tri tip. Cook for about one hour, until it reaches an internal temperature (IT) of 127 degrees.

Pull from smoker and wrap tightly in foil (or wrapped and stored in a small cooler with NO ice), to let juices have the time to settle (about 15 minutes). Then remove from wrap/cooler.

Slice against to grain, this is key for tri tip due to the way the striations change over the course of the meat.
Notes
Wood Choice: We like cherry wood for this
Wine Pairing for Tri Tip
One of my favorite things about Tri-Tip is its versatility with wine! One of the reasons I think it's so popular at our events is that it's fan-friggin-tastic with a full-bodied style Pinot Noir (and we do most of our events in Oregon wine country, aka Pinot country). Most folks just associate Pinot with pork or salmon, but it can totally work with beef, especially this cut. Again, this is because it's lean, and therefore doesn't need some big tannic wine that will work better with a fatty cut. It also takes on some great savory characteristics from the marinade and smoke, which are to die for with the savoriness of Pinot. Juicy, lean, tender, and delicious. You can totally pair this with something bigger, like Syrah, Merlot, Malbec, Tempranillo, but don't be afraid to try it with Pinot Noir (especially a bigger style Pinot).
The Video
---
*This post contains affiliate links for the ThermoWorks Mk4 Digital Thermometer. We only recommend products we use and love! And all of the products mentioned above are those we use regularly.
---
If you like this recipe we'd truly appreciate it if you would give this recipe a star review! And if you share any of your pics on Instagram use the hashtag #vindulge. We LOVE to see it when you cook our recipes.
---