This smoked Tri-Tip sandwich recipe makes for a meaty sandwich, sliders for a crowd, or a great leftovers idea. Cook up the roast, slice, and add a tangy and herbal chimichurri sauce. Finish with some greens and onions and you have a flavorful toasty bread steak sandwich.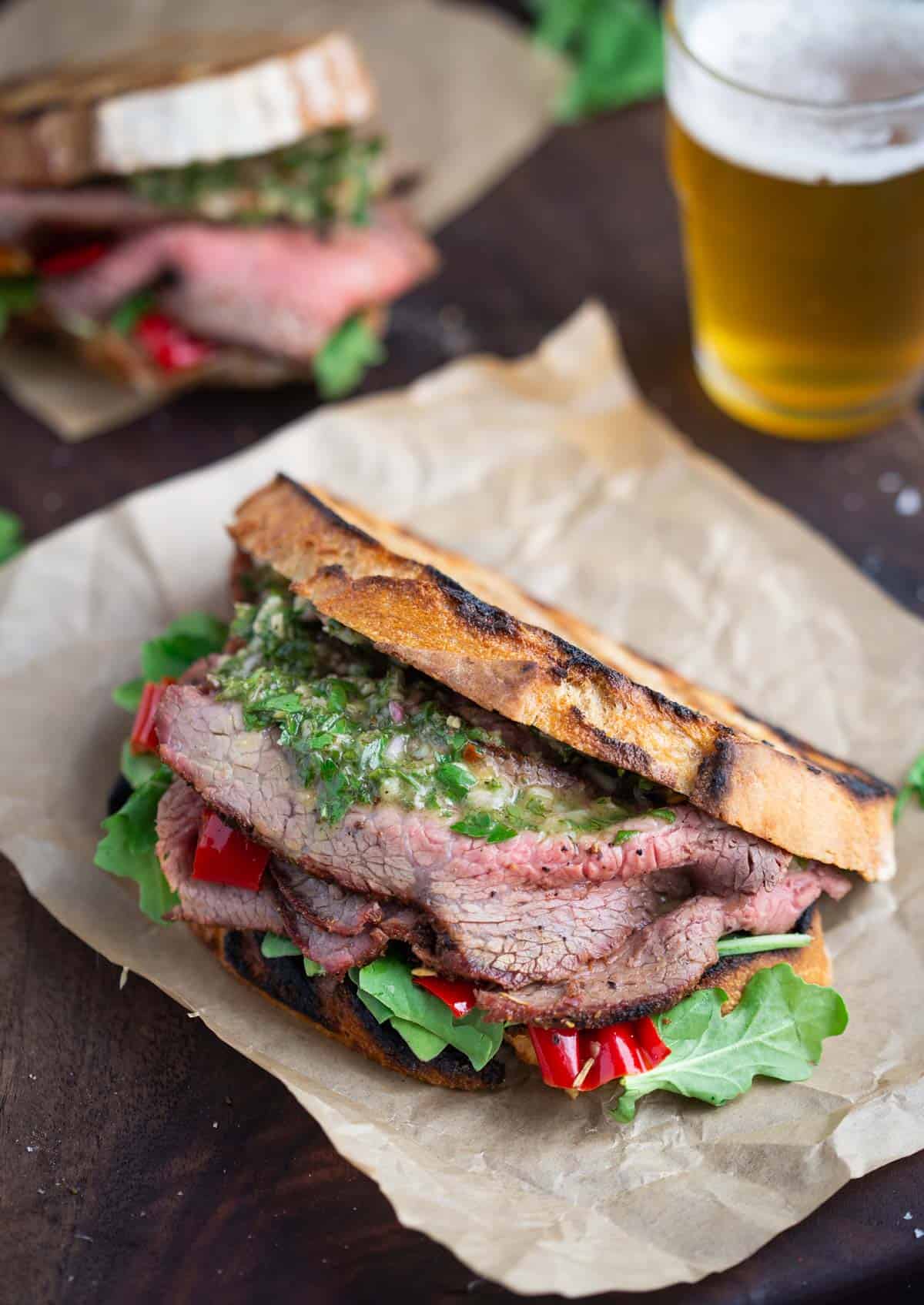 Recipe Highlights
Easy to substitute any cut of tender beef but tri tip is our favorite.
Modify with raw red onions, caramelized onions, or your favorite pickled peppers. It's so simple to customize.
Serve this Tri Tip Sandwich with slider buns for a crowd-pleasing appetizer.
Jump to:
Tri-Tip is a Great Option for a Steak Sandwich
It is a fulfilling and satisfying lunch to eat a tri-tip sandwich. The tri-tip will provide you with enough beef for a mile-high pile of beef strips. Take a bun and stuff it full of the ingredients.
A tri-tip sandwich is an exclusive treat we have in store for you today. In the Western United States, tri-tip is extremely well-liked and is catching on like wildfire. With a tasty, creamy sauce, this is a fantastic cut of beef to smoke and serve on a sandwich. Get prepared because you'll want to include this tri-tip sandwiches recipe in your typical BBQ menu. Let's start now.
Ingredients
This recipe starts with good quality tri tip and good quality bread. And when it comes to picking a bread you want it to be easy to bite into.
Focus on softer breads like brioche, hoagie rolls, ciabatta rolls, or a rustic sliced loaf (our preference).
Baguettes or French bread can be rough to bite into and hard to toast up on a stove top.
For the filling of the sandwich use a fresh chimichurri sauce, layer of red onion, arugula, and pickled red peppers.
It's an easy recipe to make because the main star is the beef and the sauce. For seasoning you can use a simple rub like our salt, pepper, and garlic (or SBG) rub or you can use our beef seasoning with herbal notes and a little heat. Coat the roast in olive oil and then liberally apply the seasoning which would be roughly 3 tablespoons.
Chimichurri Sauce
A chimichurri sauce is like a South American Pesto or French Pistou. It's primary ingredient are fresh parsley, garlic, and shallots, and then olive oil. You can do like the traditionalists and chop everything by hand. Or you can do like us and toss all of your ingredients into a food processor and pulse a few times, saving your hands the job of chopping. Ours is a nod to Argentina (which means no cilantro) with some of the following ingredients:
Parsley
Shallots
Garlic
Lemon
Red Chili Pepper
Oregano
Red Wine Vinegar
Extra Virgin Olive Oil
A little bit of the sauce goes a long way for lots of sandwiches so plan on one cup of chimichurri sauce for four sandwiches. About the same if you do a tray of tri-tip sliders. If you love heat then tri our jalapeño chimichurri for even more goodness.
Roast
Tri-Tip is a lean cut of meat that is located toward the base of the sirloin. When butchered from the surrounding tissue, the cut has a distinct triangle shape, thus the "tri" in the name. A tri tip roast flavor profile is typically tender (versus tough) with marbling throughout the cut. This makes it a great option when selecting a beef cut for a sandwich.
Alternatively a top sirloin, strip steak, or flat iron are great options for this recipe.
Cooking
For this sandwich we like smoked tri tip for a little extra flavor.
Prepare the grill for smoking targeting 250 degrees Fahrenheit. We recommend using oak or a fruit wood.
Place the seasoned tri tip on In the smoker and smoke for 45 minutes to one hour. We like rare to medium rare and target 125 to 130 degrees Fahrenheit using a good instant read thermometer.
Let the tri-tip roast rest for 10 minutes before slicing.
Recommended Thermometer: Thermapen One
Alternative Ways To Cook
Slicing
Tri-Tip has two different directions in which it needs to be sliced because of the way the grains lay. It's important to slice against (or perpendicular to) the grain to avoid breaking the cells and drying out the sandwich.
On a cutting board start at the thin end and make pencil thin slices against the grain. As the cuts get closer to the center of the roast, rotate the roast to cut against the grains on the opposite end and finish the slicing.
Cutting against the grains for this sandwich is important as it helps keep the delicious texture when biting into the steak when it's in a roll and avoids it being chewy, or pulling the entire slice out as you bite into the sandwich.
Building the Sandwich
Start by toasting the sliced bread. Preheat flat griddle or large skillet to medium heat. Apply one side of the bread with olive oil or butter and place that side on the hot pan. Move around the pan gently for 2 minutes or until it is lightly toasted.
Coat the non toasted side with a layer of the chimichurri, then add the sliced tri-tip. Top with onions, arugula, and hot pickled peppers and add the top of the sandwich bread. Cut and serve.
If using buns or sliders you can warm them in an oven at 200 degrees for 10 minutes so they are soft. Then cut them in half and layer the sandwiches which is great when making these for a crowd.
Wine Pairing Ideas
First, this goes great with beer but if looking for wine most folks will recommend red wine with smoked steak. But doused in this bright sauce with all its herbaceous and acidic flavors opens it up to white wine.
White wine with steak? You betcha! Look for something with strong herbal and lemony characteristics that mimic the sauce, like crisp acidic Sauvignon Blanc or herbal Grüner Veltliner. Since the meat is sandwiched between lots of this sauce and two thick pieces of bread, it won't be the main focus here nor get in the way of enjoying a crisp white wine.
But since the Argentineans are credited with inventing this heavenly sauce you can honor them by serving it with the traditional pairing for this dish — an Argentinean Malbec or Cabernet Sauvignon.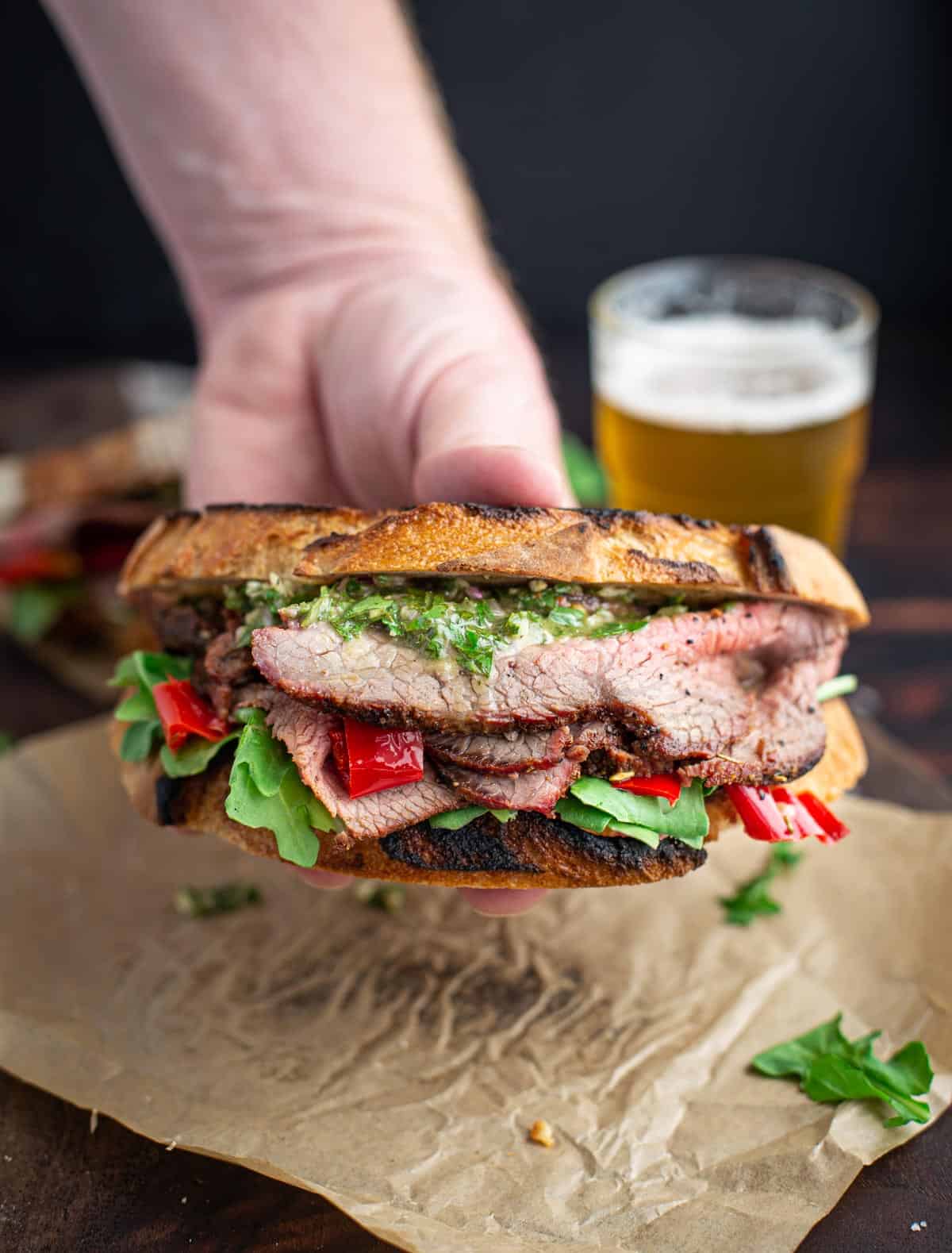 Other Sandwich Recipes
This post was originally published in October of 2014 and updated in July 2022 with new photos, reader feedback, recipe steps, and details for seasoning.
This post may contain affiliate links. This means if you click on the link, we may receive a small commission if you purchase through the link. We partner with brands we know and love and use and it helps keep the blog going!
---