An easy smoked tri-tip sandwich recipe topped with our awesome Chimichurri Sauce, onions, and a ciabatta roll. Don't have a smoker? That's fine, you can grill or roast it in the oven.
Tri-tip, where have you been all my life. We serve this cut at catering events and in our house. And when we have leftover tri-tip or want to do a focused lunch, we always go to Tri-Tip Sandwiches. Adding a chimichurri sauce is the perfect addition for flavor.
Chimichurri Sauce
It's so easy! You can do like the traditionalists and chop everything by hand. Or you can do like us and toss all of your ingredients into the trusty food processor and pulse a few times, saving your hands the job of chopping. Our awesome recipe can be found here! Ours is a nod to Argentina with some of the following ingredients:
Parsley
Shallots
Garlic
Lemon
Red Chili Pepper
Oregano
Red Wine Vinegar
Extra Virgin Olive Oil
What is Tri-Tip
Tri-Tip is a lean cut of meat that is located toward the base of the sirloin. When butchered from the surrounding tissue, the cut has a distinct triangle look, thus the "tri" in the name. This lean cut has some marbling and is incredibly tender.
Tri-Tip is great:
Roasted in the Oven
Grilled Hot and Fast
Smoked (like we do in this recipe)
Reverse Seared
How to Smoke Tri-Tip
Smoking Tri-Tip is very easy.
Trim off excess silver skin and fat then season.
Smoke at 250 degrees F, using a fruit wood.
Use a Bluetooth Thermometer like the Smoke Unit from Thermoworks to watch the temp remotely, and pull it at your desired finishing temperature.
Let roast rest for 15 minutes before slicing.
We like 125 degrees F for a rare Tri-Tip for these sandwiches.

Slicing Tri-Tip
Tri-Tip has two different directions in which it needs to be sliced because the grains you need to slice against (or perpendicular to) alter direction. When slicing start at the thin end and make pencil thin slices. As the cuts get closer to the center of the roast, rotate the knife to cut against the grains on the opposite end and finish the slicing.
Cutting against the grains for this sandwich is important as it helps keep the delicious texture when biting into the steak when it's in a roll and avoids it being chewy, or pulling the entire slice out as you bite into the sandwich.
Tri-Tip Sandwich Recipe with Chimichurri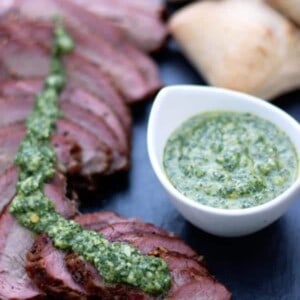 Smoked Tri Tip Sandwiches
Smoky tri-tip thinly sliced and topped with amazing chimichurri sauce on a ciabatta role.
Print
Pin
Rate
Ingredients
1

(2 pound)

Tri-Tip Beef Roast

(We use Snake River Farms)

1

tablespoon

extra virgin olive oil

1

tablespoon

Kosher Salt

1

tablespoon

Coarse Ground Black Pepper

1

tablespoon

Granulated Garlic

(Not Garlic Powder)

6

ciabatta rolls

1

cup

Chimichurri Sauce

1/2

red onion, thinly sliced
Instructions
Smoked Tri Tip
Preheat smoker to 250 degrees Fahrenheit using fruit wood like apple or cherry.

Trim the Tri-Tip of any excess silver skin and fat. Coat in olive oil. Combine the salt, peper, and garlic in a small bowl and liberally apply to the Tri-Tip.

Place the roast on the smoker with an instant read bluetooth thermometer and cook for an hour or until the internal temperature reads 125 degrees for rare. Remove and let sit for 15 minutes. After 15 minutes slice the Tri-Tip against the grains and use for the sandwiches.
Tri Tip Sandwiches
While the roast is resting, cut the ciabatta rolls in half. Add 2 tablespoons of chimichurri to the roll, then add a few slices of red onion. Top with the sliced steak. Serve immediately.
Notes
Note: The chimichurri adds a lot of flavor, the red onion adds an additional texture and heat. 
Another optional topping is hot red peppers.
Or simply serve them with the roll, chimichurri, and the Tri-Tip.
Nutrition
Calories:
163
kcal
|
Carbohydrates:
29
g
|
Protein:
6
g
|
Fat:
3
g
|
Saturated Fat:
1
g
|
Polyunsaturated Fat:
1
g
|
Monounsaturated Fat:
2
g
|
Cholesterol:
1
mg
|
Sodium:
1444
mg
|
Potassium:
99
mg
|
Fiber:
1
g
|
Sugar:
1
g
|
Vitamin A:
848
IU
|
Vitamin C:
14
mg
|
Calcium:
22
mg
|
Iron:
1
mg
Wine Pairing Ideas
Now most folks will recommend red wine with smoked steak. But doused in this sauce with all its herbaceous and acidic flavors opens it up to white wine. White wine with steak? You betcha! Look for something with strong herbal and lemony characteristics that mimic the sauce, like crisp acidic Sauvignon Blanc or herbal Grüner Veltliner. Since the meat is sandwiched between lots of this sauce and two thick pieces of ciabatta bread, it won't be the main focus here nor get in the way of enjoying a crisp white wine.
But since the Argentineans are credited with inventing this heavenly sauce you can honor them by serving it with the traditional pairing for this dish — an Argentinean Malbec or Cabernet Sauvignon. Look for good examples from Kaiken.
Other Sandwich Recipes
This post may contain affiliate links. This means if you click on the link, we may receive a small commission if you purchase through the link. We partner with brands we know and love and use and it helps keep the blog going!