Mexican Shredded Beef can be made in so many ways, from a slow cooker to an oven roast. But there is nothing more flavorful than Smoked Mexican Shredded Beef Tacos. This recipe starts with slowly smoked chuck roast that is finished in a beef broth braise and then shredded for the most amazing and tender filling for your next taco night.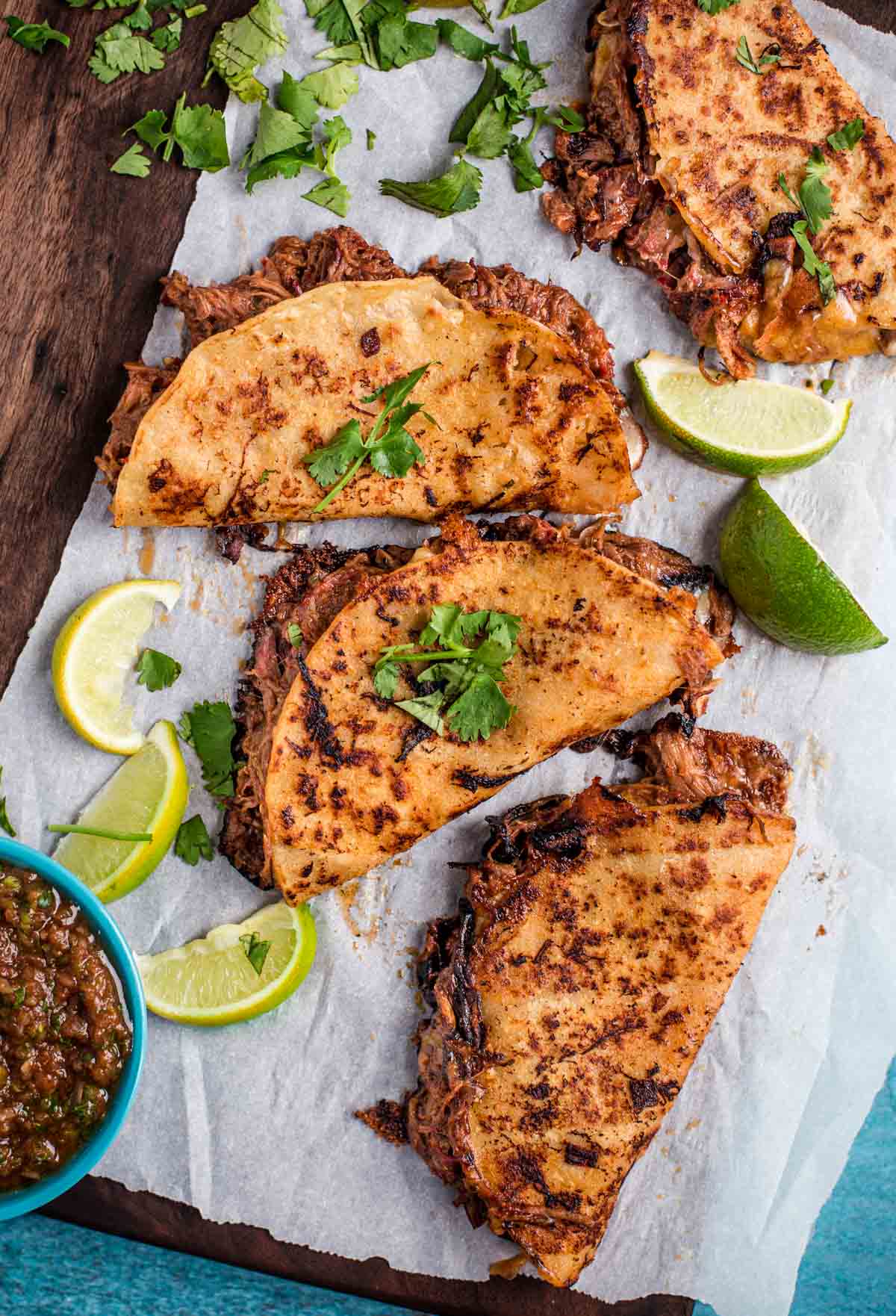 Shredded Mexican Beef Recipe Highlights
Smoking the beef first adds incredible flavor to the meat.
Chuck roast is the ideal cut so it can slowly cook and will easily shred after the intramuscular fat renders down. It's also more affordable than alternative cuts.
Finish the dish in a slow braise of rich broth to make it extra tender and flavorful.
The secret to the tacos is then soaking the corn tortillas in the broth, loading the tortillas up with the tender meat, and then searing them in a pan for crunch.
No liquid smoke needed (ever!). And this makes for an amazing shredded beef quesadilla recipe with leftovers.
If you head to your favorite Mexican restaurant you'll often see various versions of Mexican shredded beef, from barbacoa to birria. This recipe uses simple ingredients to mirror more of the barbacoa style shredded beef versus the more dense and broth focused birria.
While we are making tacos with this meat, it's easy to substitute this dish into shredded beef burritos, burrito bowls, or even shredded beef quesadillas.
Ingredient List
Taco inspired beef seasoning – Ours combines kosher salt, chili powder, chipotle powder, granulated garlic (or garlic powder), black pepper, cumin, cinnamon and clove.
Boneless beef chuck roast (can also be labeled pot roast or beef stew meat) – Plan a 3-pound roast for up to 8 people. Cut the roast into smaller chunks for more smoke flavor.
Beef stock or beef broth
Canned diced tomatoes
Fresh garlic – Finely dice the garlic cloves.
Small onion
Orange juice
Lime juice
Preparation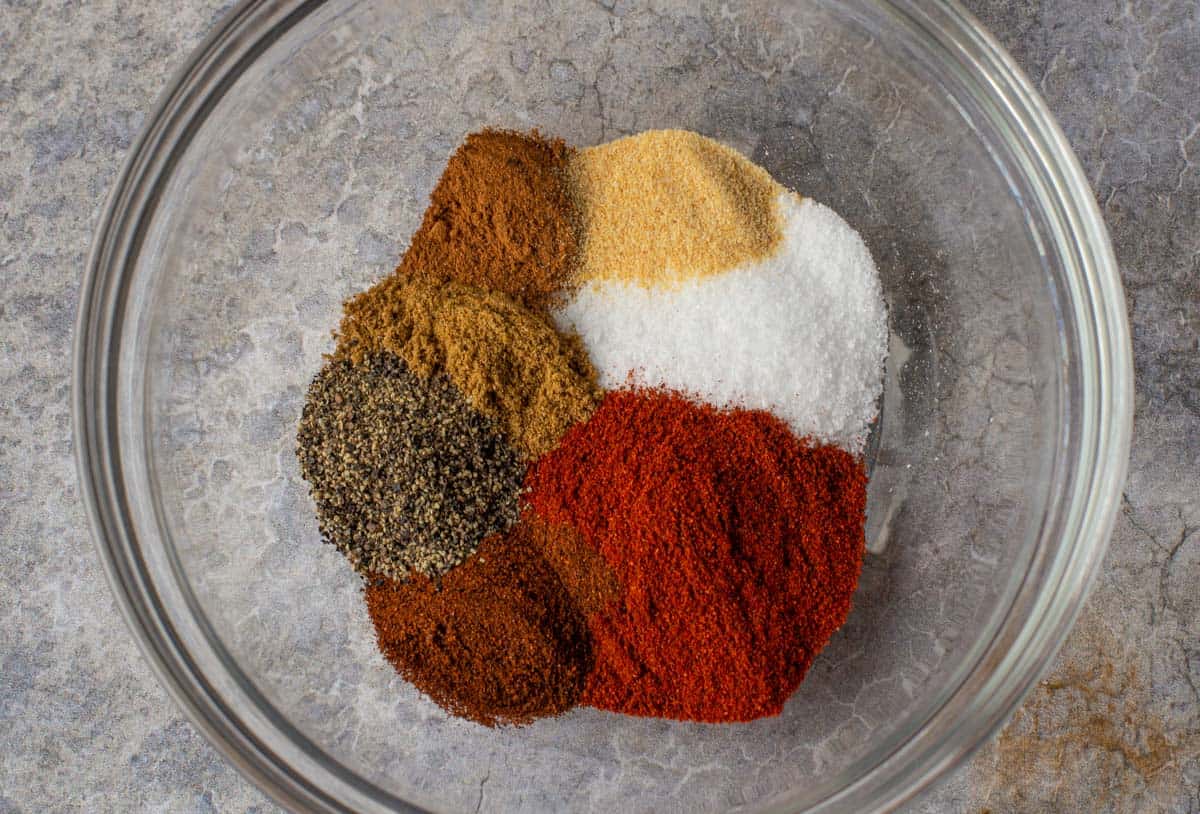 In a small bowl combine the dried spices for the Mexican shredded beef seasoning.
Trim the excess fat and silver skin from the outer edges of the chuck roast. Next, coat the chuck roast with olive oil as a binder, and then liberally season with the shredded beef seasoning.
How to Make Mexican Shredded Beef on the Smoker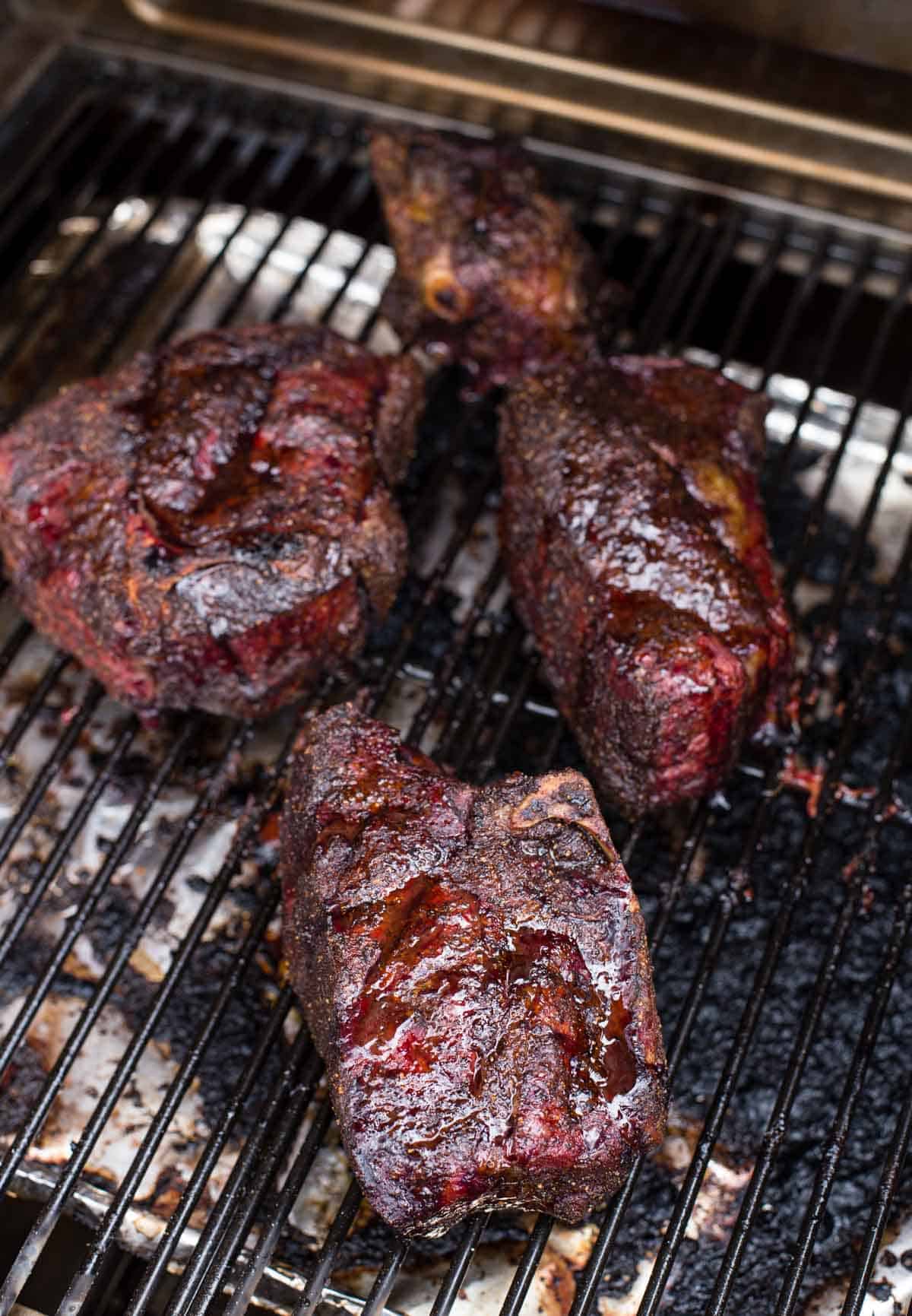 Smoking the chuck beef roast will add smoke flavor and start the process of breaking down the connective tissue. We then transfer it to a liquid braise to finish and become fork tender. The entire cooking process takes about 6 hours from beginning to end.
Preheat Smoker: Preheat your smoker to 275 degrees Fahrenheit. We like using fruit wood or oak for this recipe.
Smoke Chuck Roast: Place the chuck roast on the smoker and smoke for 3 hours. A nice bark will develop and the smoke flavor will have infused with the beef roast.
Braise Chuck Roast: After three hours it's time to transfer into the braising liquid, which we typically start about 30 minutes before pulling the meat off the smoker. In a 3-quart Dutch oven over medium heat add olive oil and diced onions. Sauté the onions until soft (about 6-8 minutes). Add the garlic and stir for 1 additional minute. Then add the broth, canned tomatoes, orange juice, and lemon juice and bring to a simmer. Once at a simmer you can add the smoked beef roast.
Continue Cooking, Covered: Place the beef roast into the braising liquid and then you can finish it on the smoker covered, or you can finish on the stove top keeping the braising liquid to a simmer until the beef is fork tender (about 2-3 additional hours). Rotate the meat halfway through the cooking process to keep it submerged in liquid.
Shred Meat: Once a fork can easily shred the beef it's time to shred it all up in the braising liquid using two forks or a shredding tool and then it's ready for your tacos.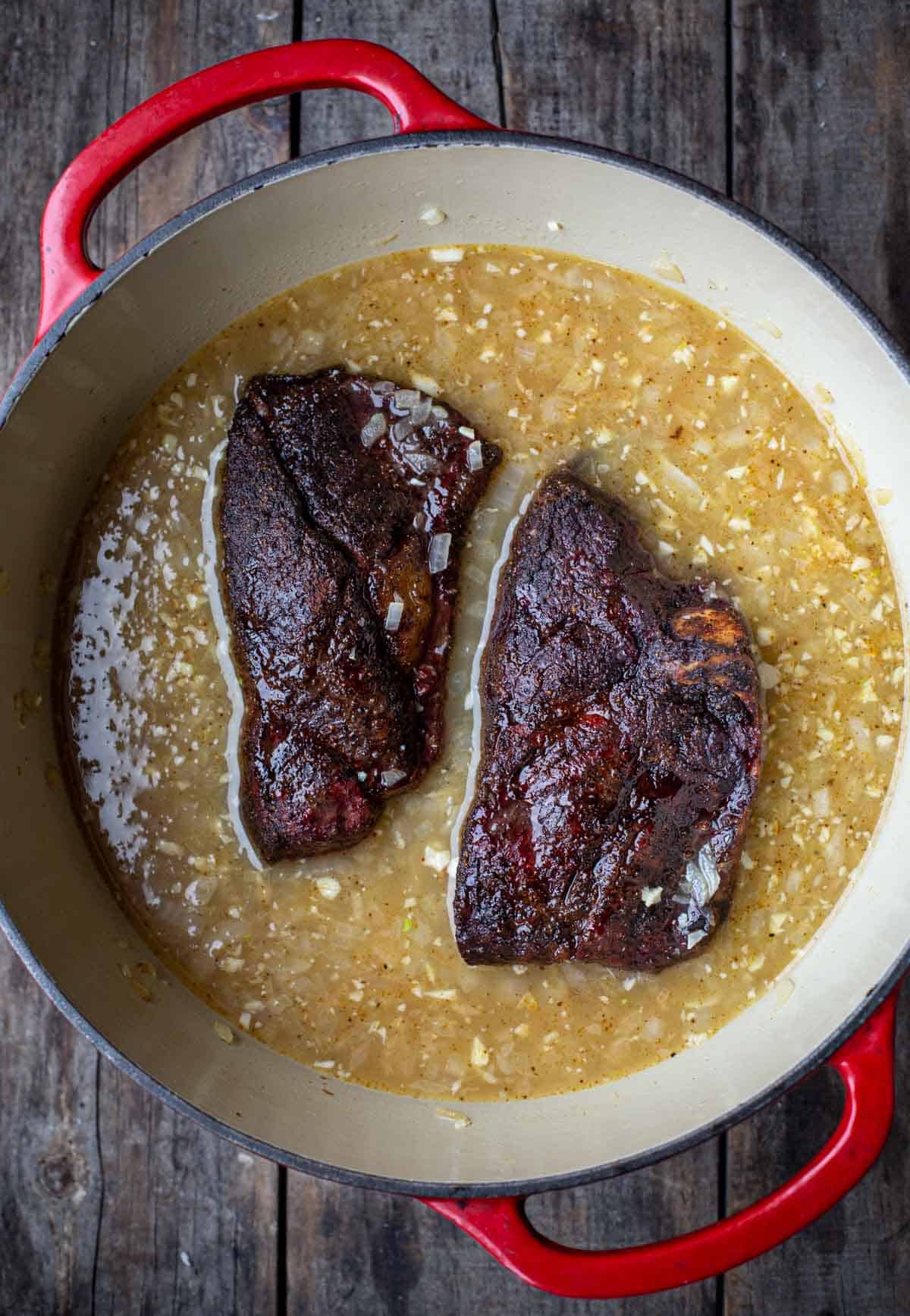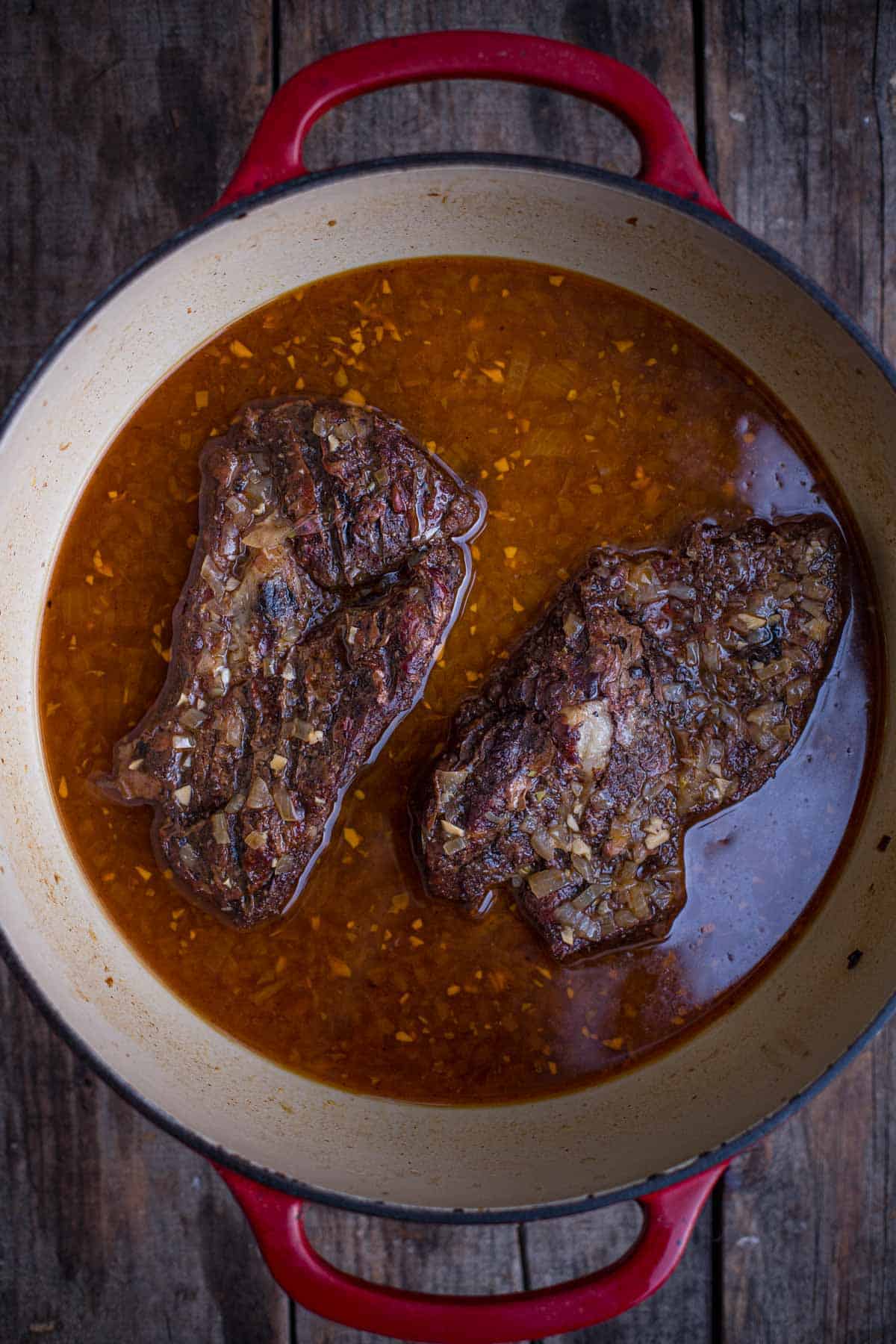 To Assemble the Shredded Beef Tacos
Preheat a large skillet (we love cast iron) over medium heat with olive oil.
Take a corn tortilla and quickly dip it in the braising liquid briefly to coat with the braising flavor. Then stuff the tortilla with the shredded beef mixture and a little bit of shredded cheese.
Place on the hot cast iron pan for 2 minutes to crisp up. Flip and repeat for 2 additional minutes.
Serve with your favorite toppings and sides.
Chef's Note: We recommend using a large cast iron skillet (at least 10-inches) so you can cook multiple tacos at a time. Alternatively you can use a flattop or plancha.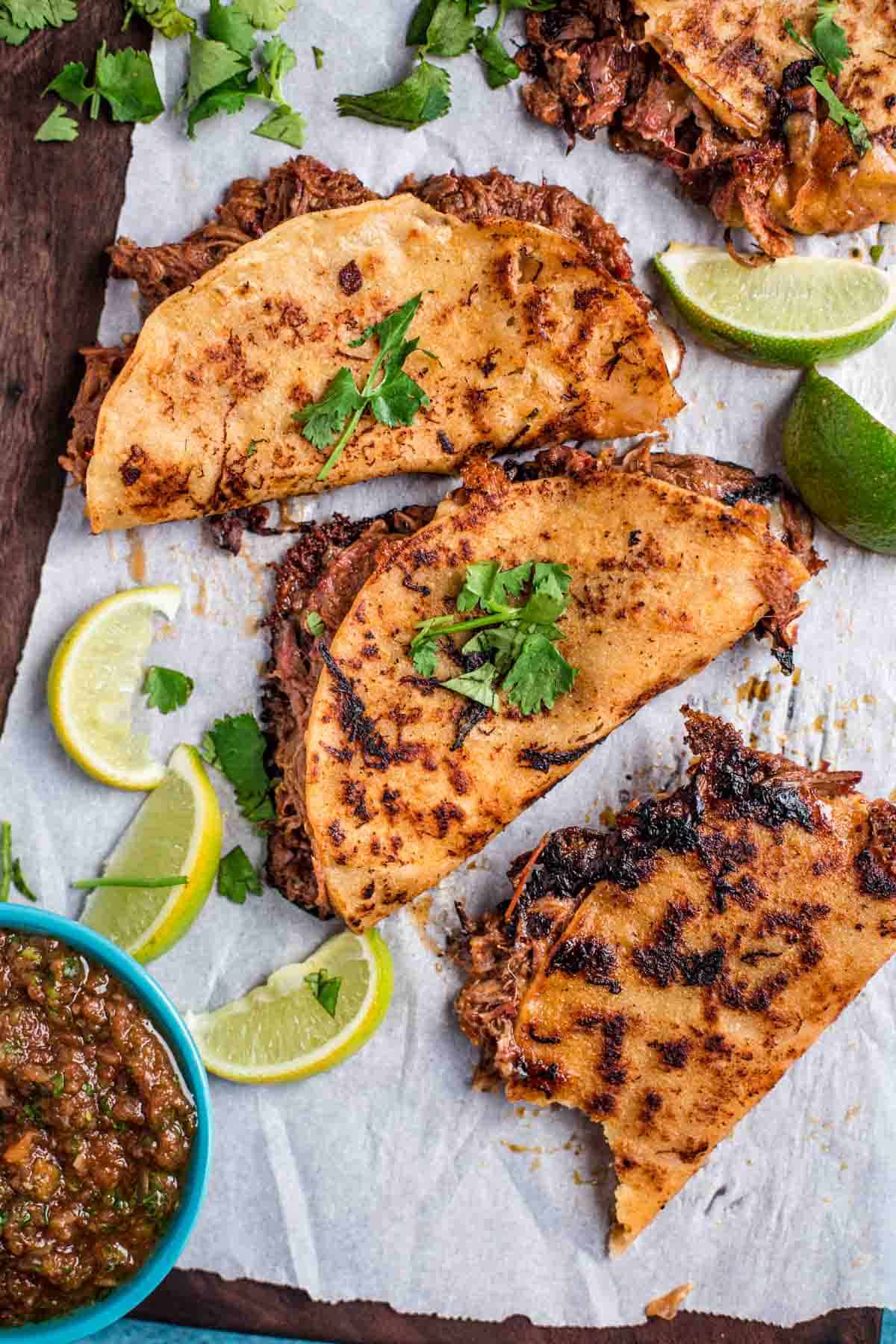 Advanced Preparation and Leftovers
If you have time to make this Mexican Shredded Beef recipe over the weekend, it is great to have on hand to use throughout the week when you may not have as much time. It will last up to seven days in the refrigerator and this portion makes a big batch.
The liquid will thicken up from the rendered fat, so all you need to do is warm up the portions you want and then it will liquify and soften up again.
Note: Be sure you shred the beef before it cools.
Topping Ideas
The following are our favorite toppings for shredded beef tacos.
Fresh pico de gallo
Sour cream
Diced red onions
Freshly sliced jalapeños
Squeeze of fresh lime juice
Fresh cilantro
Other Mexican Food Inspiration
Use leftovers for our awesome pulled beef quesadillas.
This post may contain affiliate links. This means if you click on the link, we may receive a small commission if you purchase through the link. We partner with brands we know and love and use and it helps keep the blog going!
Tried this recipe? Give us a star rating and we would love to see! Mention @vindulge or use the hashtag #vindulge on all the social media handles. And consider subscribing to our newsletter where we drop all our favorite ideas and inspirations every week.