If you have leftover shredded beef and are looking for a great recipe idea, then you're going to love these pulled beef quesadillas! It's going to be your new go to recipe for leftover beef. The most important part of making the best beef quesadilla is to start with amazingly flavored pulled beef. We've got you covered there!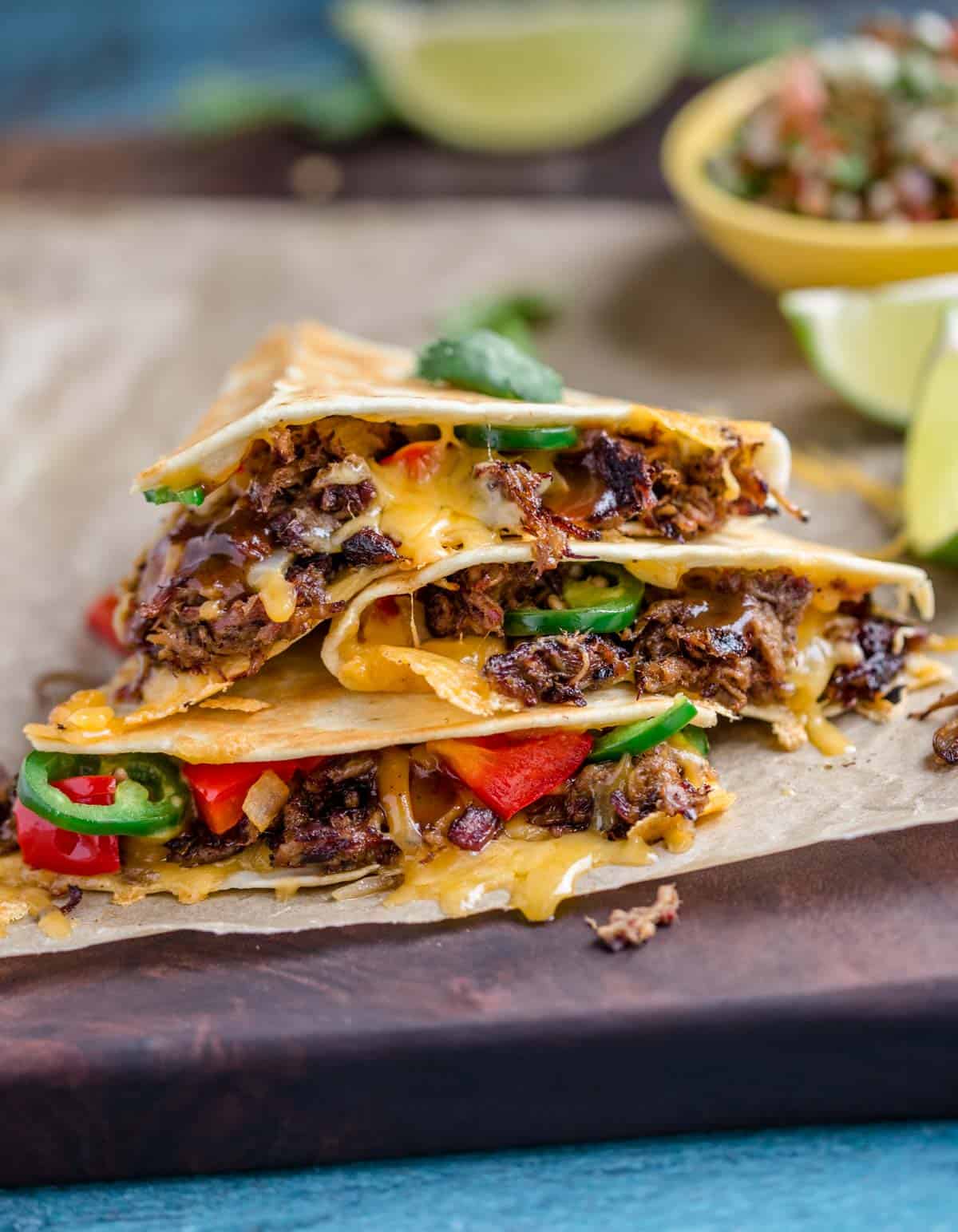 Beef Chuck Roast is hands down the best cut of beef to make shredded or pulled beef with. The intramuscular connective tissues, when cooked low and slow, become easy to pull into tender shredded juicy morsels. Any time we smoke chuck roast we plan to use it for this beef quesadilla recipe.
Jump to:
Ingredients for Pulled Beef Quesadillas
The ingredients are pretty simple. Feel free to adjust and add your favorite quesadilla ingredients to jazz it up to your liking.
Shredded Beef – We use the shredded beef from our shredded beef taco recipe. It's moist, tender, and frankly outstanding!
Large Flour Tortillas – You can substitute with corn as well, but we like how the flour tortillas crisp up and yet remain a little soft on the interior.
Red Bell Pepper – We thinly slice the bell peppers to add a little sweet and some crunch with the pulled beef. Also, veggies!
Onion – Use whatever you have on hand. We lean towards red onions for this.
Cheddar Cheese – It melts easy and has a nice tangy flavor. You can sub with any cheese, but we prefer a mild sharp cheddar.
Jalapeños – The touch of spice is a nice addition, this is optional if you like spicy.
Then after it's done go crazy with your favorite toppings. I like a little sour cream, blender salsa, and some guacamole on my quesadillas.
See recipe card for quantities.
Equipment and Preparation
A griddle or plancha is the best for an even sear on the flour tortilla. If you have cast iron big enough to fit the tortilla in that works well too. Also a sturdy spatula similiar to one you may use for smash burgers is ideal as well.
Pre-slice the peppers, onions, and jalapeños before starting to make them.
How to Make Beef Quesadillas
This recipe is for one quesadilla, multiply the recipe if making more.
Soften the vegetables before assembling the quesadillas. Just heat them all up together in in a skillet for about 5 minutes to soften.
Preheat your grill pan or plancha to medium heat (around 350 degrees if you used an IR thermometer to measure the temp).
Take the flour tortilla and place shredded beef on one half of the tortilla (like a half moon). On top of the shredded beef add the sliced pepper, onion, and jalapeño evenly. Then add the shredded cheese. Fold the tortilla in half.
Place a small amount of butter on the hot pan and move it around to coat the pan as it melts. Then add the quesadilla and cook one side for about 5 minutes and then flip and cook other side for approximately 5 minutes, or until the cheese is melted and the outer edges of the tortilla are browned and crispy.
Remove, slice into wedges and serve with your favorite toppings. Repeat if making more than one taking note to add fresh butter or oil between each beef quesadilla.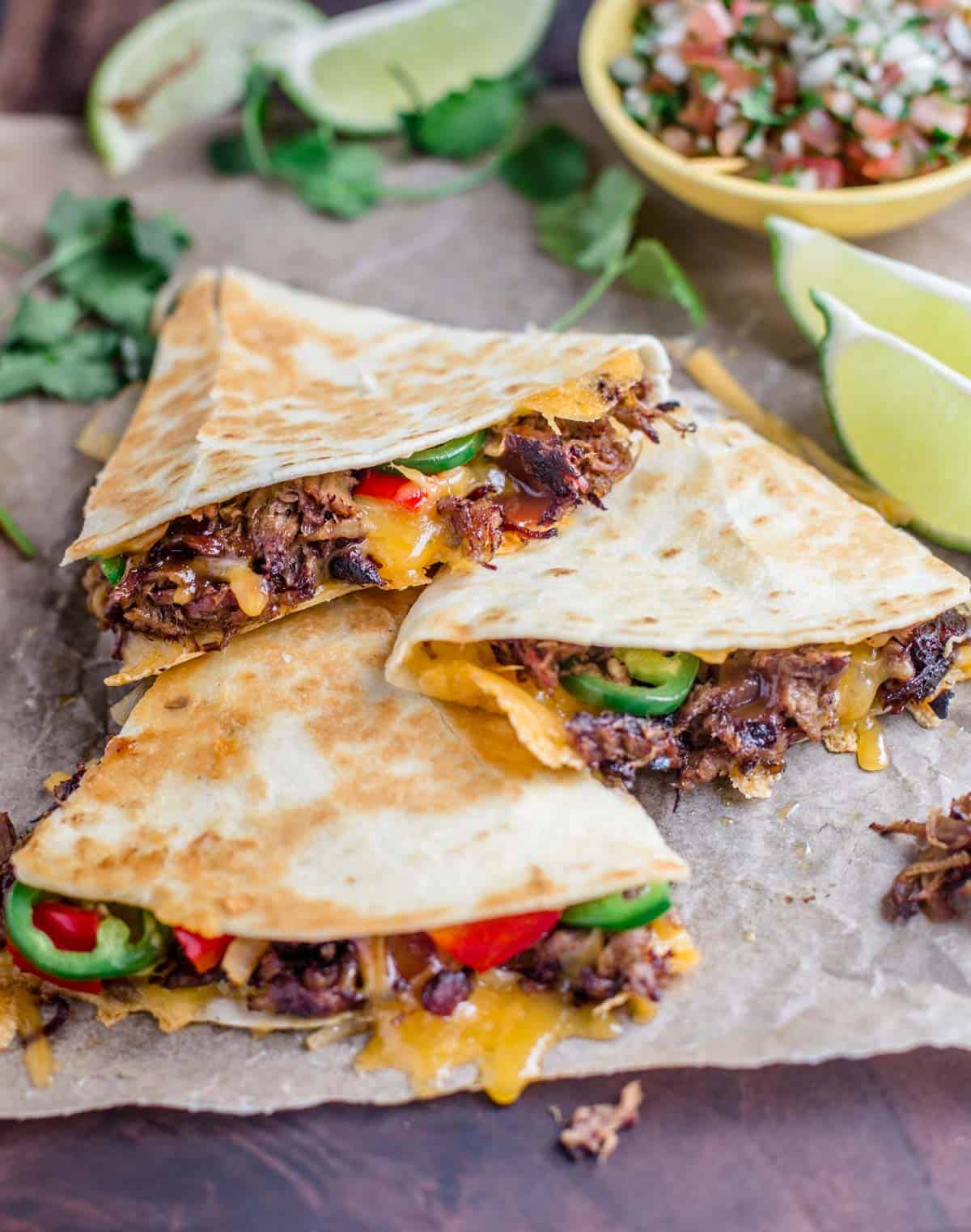 Top tip
This is a great easy and quick weekday dinner idea after smoking up shredded beef on the weekend. Save a portion of the pulled beef for these shredded beef quesadillas.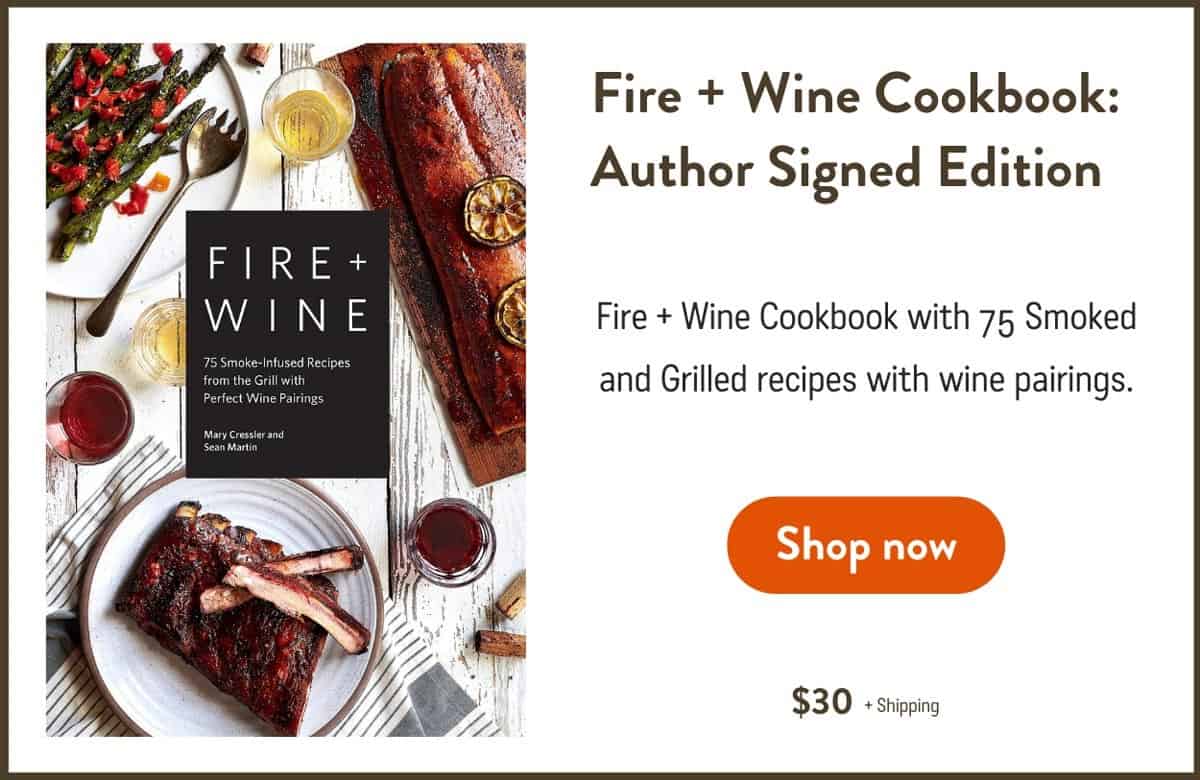 Related Recipes
In addition to beef quesadillas you can also make the following:
Mary (a certified sommelier and recipe developer) and Sean (backyard pitmaster) are co-authors of the critically acclaimed cookbook, Fire + Wine, and have been creating content for the IACP nominated website Vindulge since 2009. They live in Oregon on a farm just outside Portland.
Tried this recipe? Give us a star rating and we would love to see! Mention @vindulge or use the hashtag #vindulge on all the social media handles. And consider subscribing to our newsletter where we drop all our favorite ideas and inspirations every week.
This post may contain affiliate links. This means if you click on the link, we may receive a small commission if you purchase through the link. We partner with brands we know and love and use and it helps keep the blog going!