If desserts on the grill is your thing, then Grilled Skillet Brownies will not disappoint. Made to be dense and rich in chocolate, these brownies are topped with a chocolate drizzle and vanilla bean ice cream.
We cook mostly gluten free in our house, but this recipe is very easy to sub the gluten free flour with regular all purpose flour (equal proportions).
Take it up a notch further with a crumble of our sweet candied nuts with bourbon and brown sugar.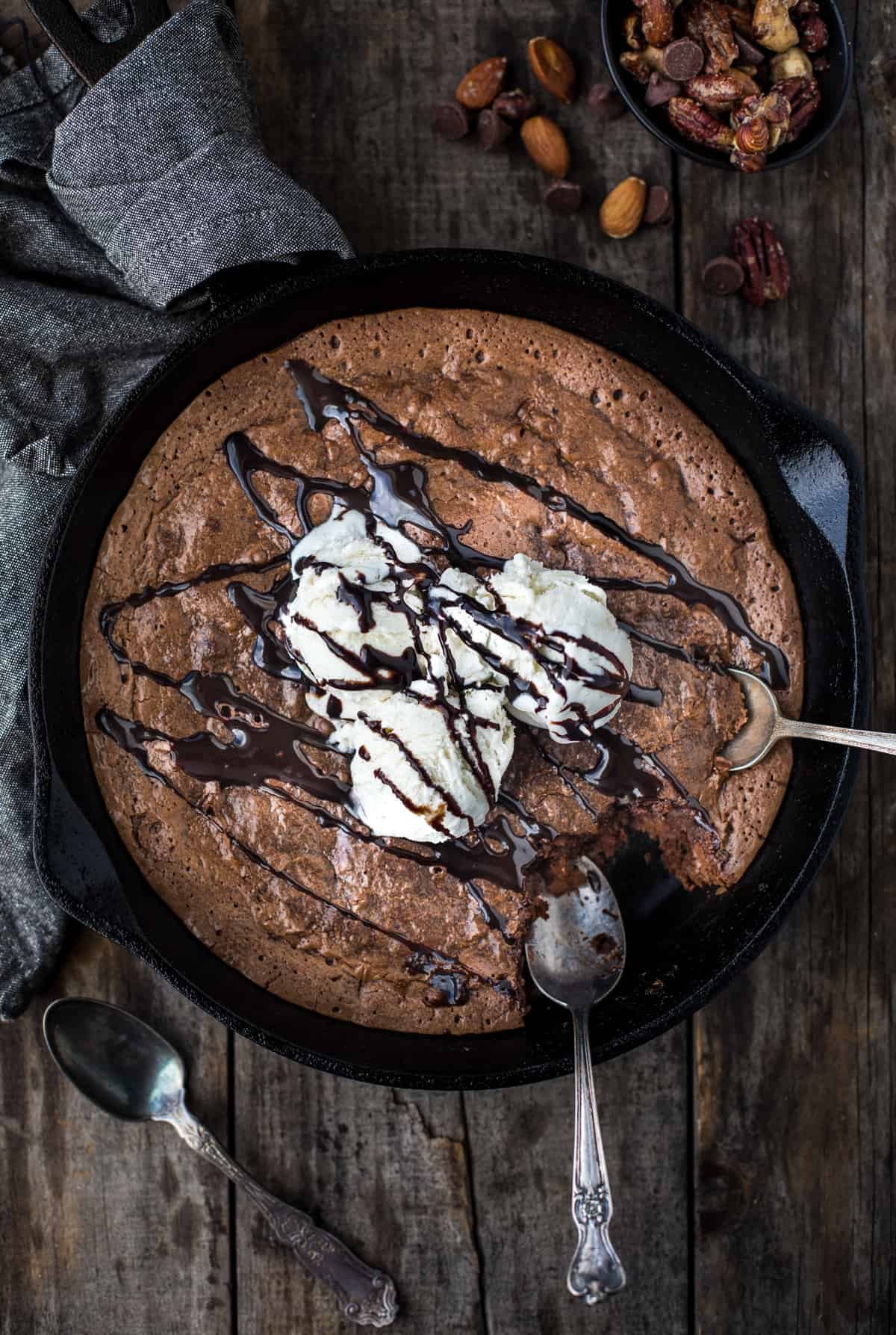 If the grill is already going for your main dish, why not finish your dessert on the grill too. Anything you would normally cook in the oven, you can also cook on the smoker (and it's so much more fun!). The added mild smoke flavor is a great addition to the brownies (plus they just look cooler in a cast iron pan!). Skillet brownies just need a few simple steps to be ready to cook directly on your grill.
Brownie Texture
There are a few ways you can make scratch brownies. Either the fluffy and cake-like texture, or the more dense and almost fudge-like texture and flavor. We prefer the latter. We do this with our ratio of flour to liquids to keep a rich and dense texture. Want a fluffier recipe? Add more flour. More flour will yield fluffier and lighter brownies, less flour you'll get more dense and rich brownies. Ours were inspired by Ina Garten's rich dense brownie recipe, which she serves in adorable individual sized tiny cast iron pans.
Why a Cast Iron Skillet?
The cast iron skillet can handle heat, and the skillet won't potentially shatter on a grill (like with glass). It also conducts heat really well, so for skillet brownies we use a 10-inch cast iron pan that has been greased liberally with butter.
The Brownie Batter
For our batter we use the classic baking technique of combining all the dry ingredients in one dish, and the wet ingredients in another. Then we gently combine.
Combine butter and some of the chocolate chips and melt together. Let cool a few minutes before adding to the egg mix. You don't want to add the melted chocolate/butter while still hot otherwise you run the risk of scrambling the eggs.
Combine eggs, vanilla, and sugar together and then add the chocolate mixture and stir.
In a separate bowl, combine dry ingredients and then slowly pour into the chocolate mixture and stir to combine.
Toss the remaining chocolate chips in 1 tablespoon of flour and then add the chocolate chips into the batter for the chunky texture. Adding the flour helps keep the shape of the chips versus letting the melt into the batter while baking on the grill.
Add the mix to the greased skillet and then bake it on the grill over indirect heat. You may see that the batter seems shallow in the pan. It will rise.
How to Grill Skillet Brownies
Before mixing the batter, prepare the grill for indirect cooking aiming for 350 degrees Fahrenheit using lump charcoal. On a charcoal grill, it may range between 340 and 360 which is fine. Just monitor to keep it in that range.
Place the prepared skillet (with the brownie mix) on the heated grill, and close the lid. Grill for 25 minutes before testing for doneness.
After 25 minutes, check to see if done. Insert a knife or toothpick into the center of the brownie to see if any batter sticks. If it does, keep grilling another 5 minutes and check again in a similar area. This should take 30-35 minutes total if you keep the grill around 350 degrees.
The skillet brownie cooks from the outside edge toward the center. So checking the center is the best area to determine when it's done.
When done, remove from the grill with proper gloves or a hand towel and let cool.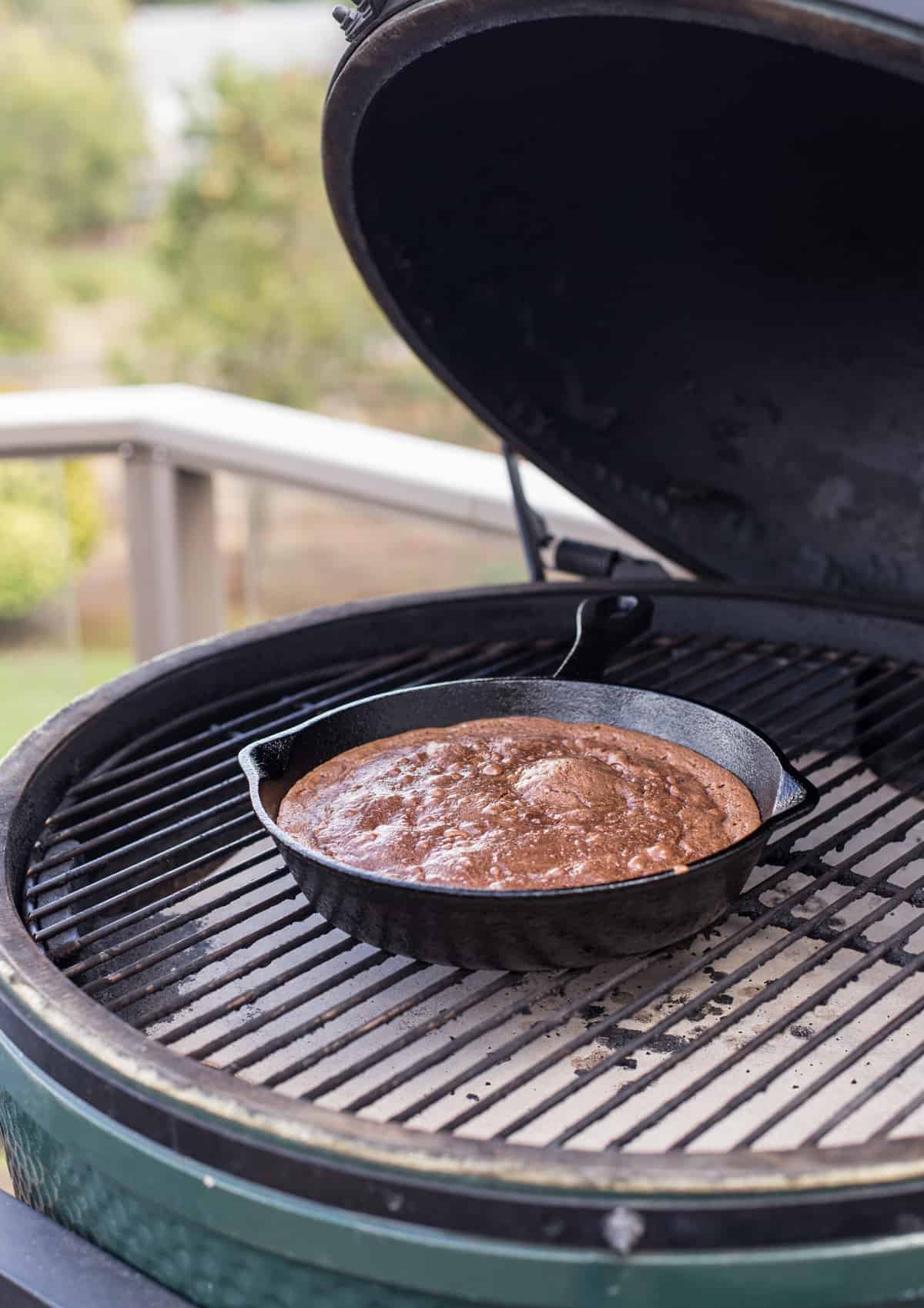 Toppings for Skillet Brownies
We love a little extra chocolate drizzle on our skillet brownies. Simply melt some chocolate chips and then drizzle over the top of the brownie and ice cream. Want to get fancy? Shave some milk chocolate over the top. And a scoop of ice cream, of course, is mandatory 😉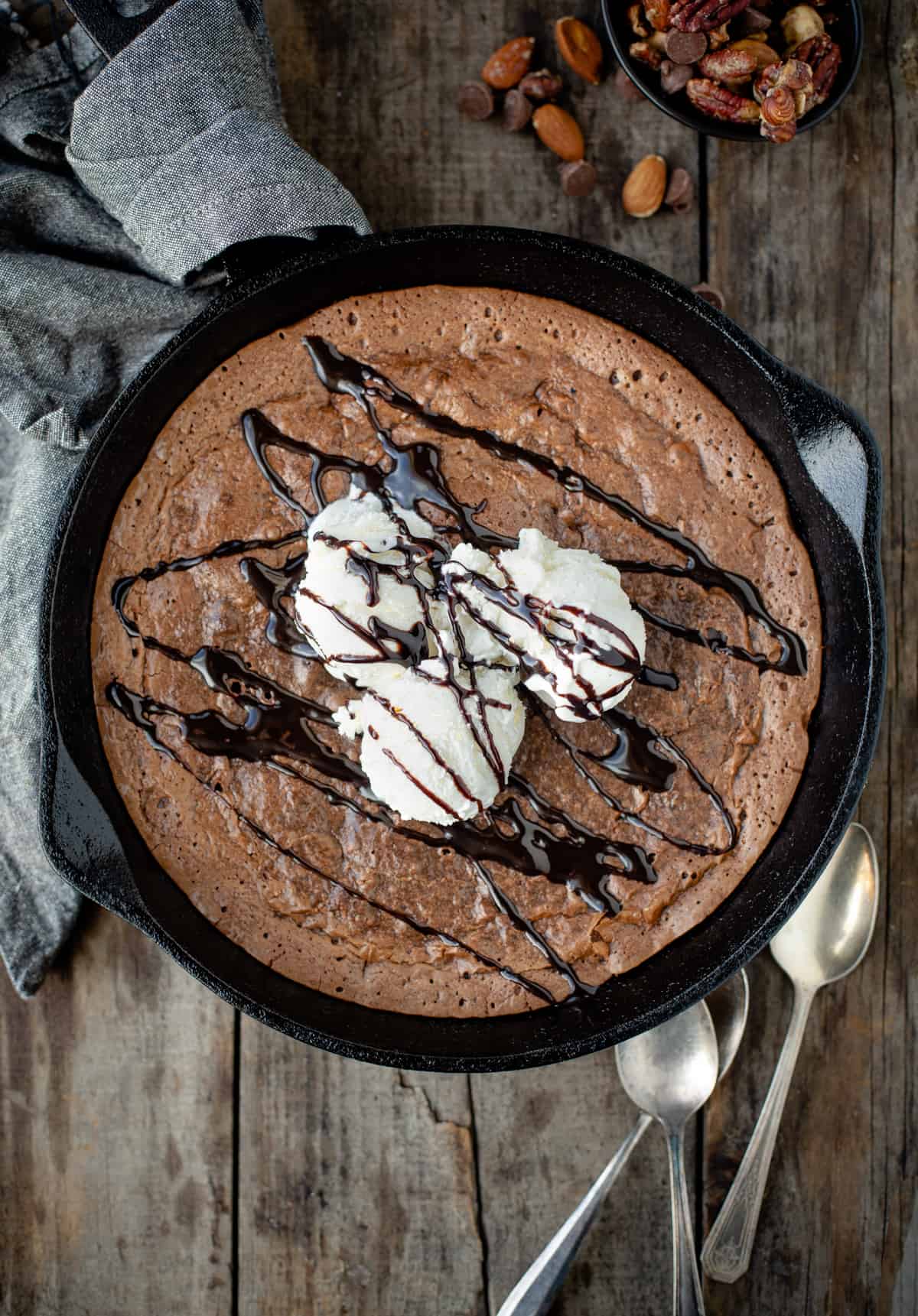 More Great Desserts on the Grill
Skillet Brownie Recipe on the Grill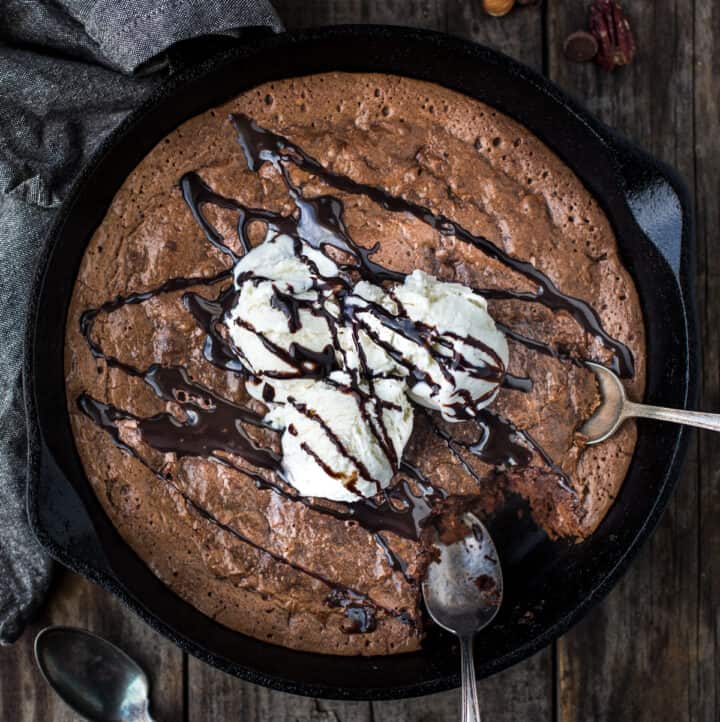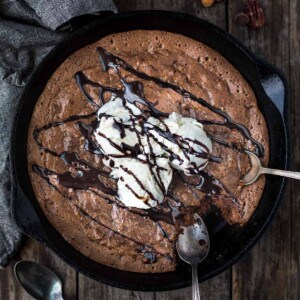 Skillet Brownies on the Grill
Made to be dense and rich in chocolate, these Skillet Brownies are cooked on the grill and then topped with a chocolate drizzle and vanilla bean ice cream. Gluten free.
Print
Rate
Ingredients
1

stick

unsalted butter (½ cup)

4

oz

semi sweet chocolate chips (a heaping ½ cup)

2

large eggs

1 ½

teaspoons

pure vanilla extract

¾

cup

granulated cane sugar

½

cup

+ 1 tablespoon, Gluten Free 1-to-1 Baking Flour (or regular all-purpose flour), divided

(we use Bob's Red Mill)

2

tablespoons

unsweetened cocoa powder

¼

teaspoon

kosher salt

¾

cup

chocolate chips (we like milk chocolate)

Optional: ice cream, chocolate sauce, for serving
Instructions
Preheat grill to 350°F, and prepare for indirect cooking.

In a small saucepan, melt butter and 4 oz (½ cup) chocolate chips, stirring constantly, for about 3-4 minutes. Remove from heat and let rest 10 minutes to come down in temperature.

In a large bowl, whisk together eggs, vanilla, and sugar. When the melted chocolate butter mixture is cool, gently stir it into the egg mixture.

In a separate bowl whisk together ½ cup of flour, cocoa powder, and salt, then add to the chocolate mixture.

Toss the remaining ¾ cup of chocolate chips in a small bowl with 1 tablespoon of flour, then gently fold the chocolate chips into the liquid chocolate mixture.

Pour batter into an oiled 10" cast iron pan, then place it in the center of the grill over indirect heat. Bake on the grill for 30-35 minutes, until a toothpick inserted into the center comes out clean (this will depend on the exact temperature of your grill). Allow to cool, then serve with ice cream, or favorite toppings.
Notes
Note on Flour: We use Gluten Free 1-to-1 flour in our cooking (for our kid's sake), but you can easily substitute regular all-purpose flour if you are not gluten-free. Store Bought Mix: We've also done skillet brownies with store-bought packaged brownie mixes. Just follow the package directions and place the mix into a cast iron skillet, and cook until a toothpick comes out clean. 
Find the perfect wine pairing at the Vindulge Wine Shop
This post may contain affiliate links. This means if you click on the link, we may receive a small commission if you purchase through the link. We partner with brands we know and love and use and it helps keep the blog going!