Smoked Tomato Bisque is a creamy, comforting, vegetarian, silky sooth, and smoky tomato soup. It's the perfect use for the late summer tomatoes, or a crisp fall evening. Don't have a smoker? That's OK, just roast them instead.
*UPDATE* — We cooked this recipe for Smoked Tomato Bisque and Smoked Brisket Grilled Cheese Sandwiches live over on KATU Portland News show AM Northwest.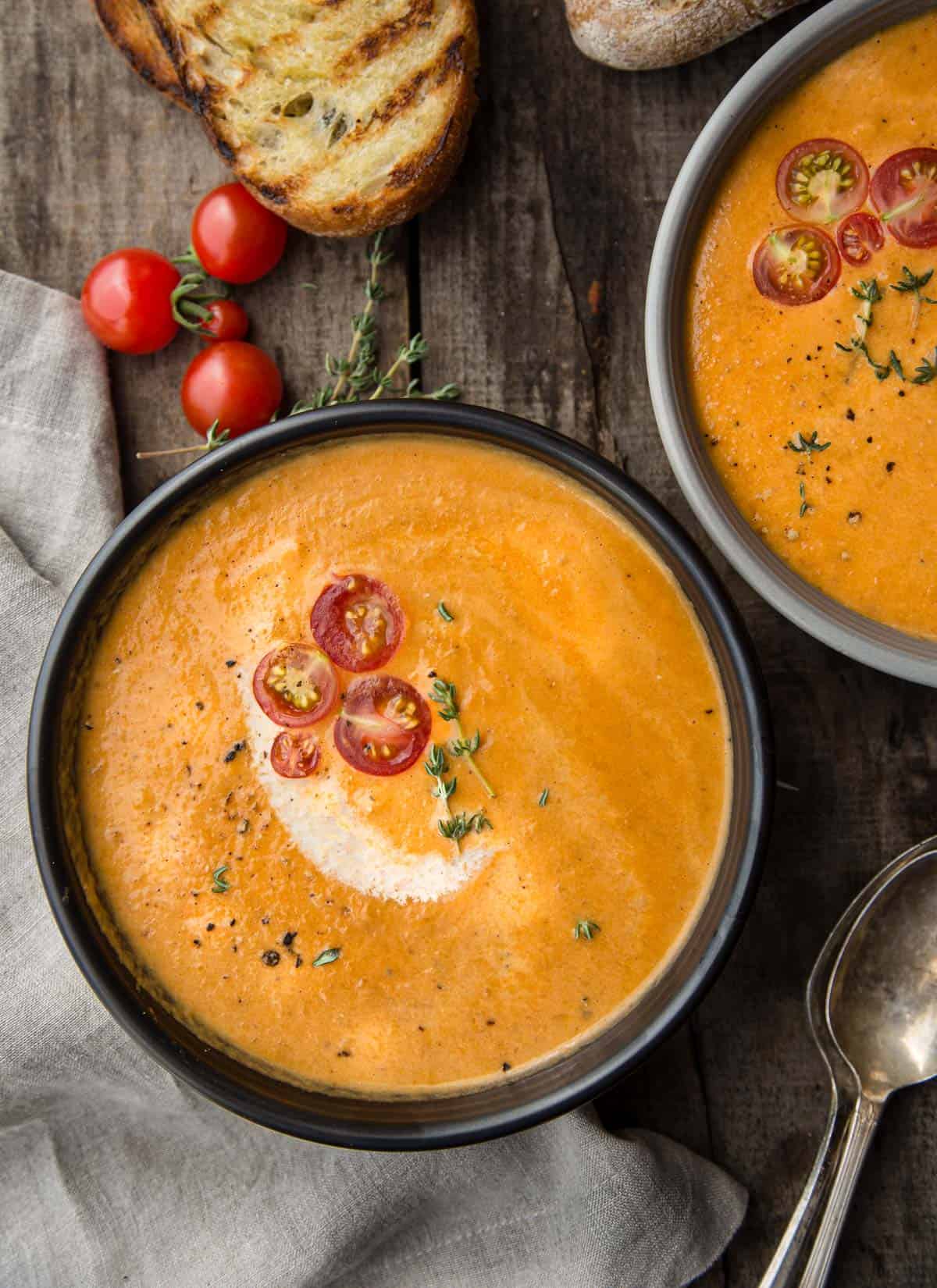 Smoke roasting tomatoes are one of my all time favorite things to do with fresh tomatoes. They take to smoke well and can be used in any number of traditional tomato-based recipes.
Smoked Tomato Bisque is a delicious and vegetarian friendly meal (though you can easily break the rules by adding some crispy smoked bacon to the top. I won't tell!). The soup is made similar to a traditional tomato bisque, using smoked fresh tomatoes that are smoke roasted on the grill for added flavor.
This is an excellent way to eat something with that smoky delicious flavor, but is entirely vegetarian.
The base of this bisque starts with smoked tomatoes, then use the smoked tomatoes as the base for the flavorful creamy soup.
How to Smoke Tomatoes
You can smoke tomatoes on any kind of smoker; offset stick burner, pellet smoker, ceramic grill, or even gas. Follow the same method no matter the type of cooker you use.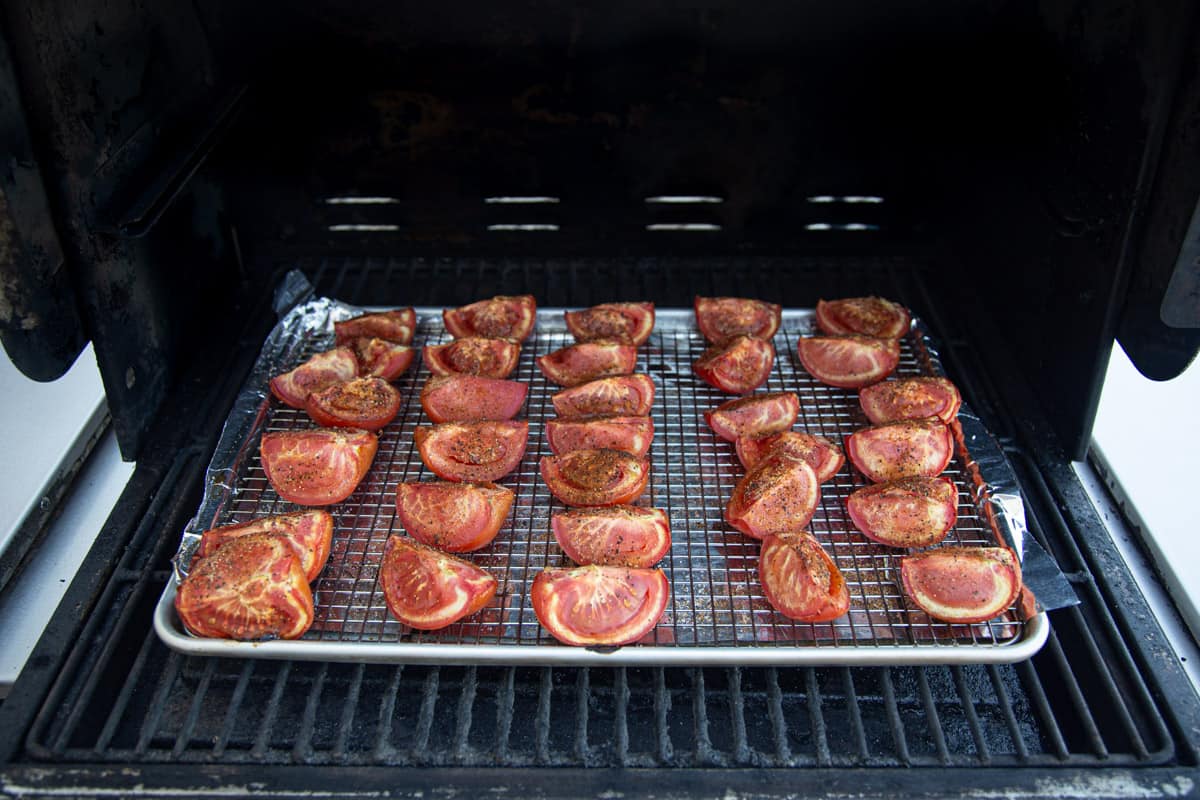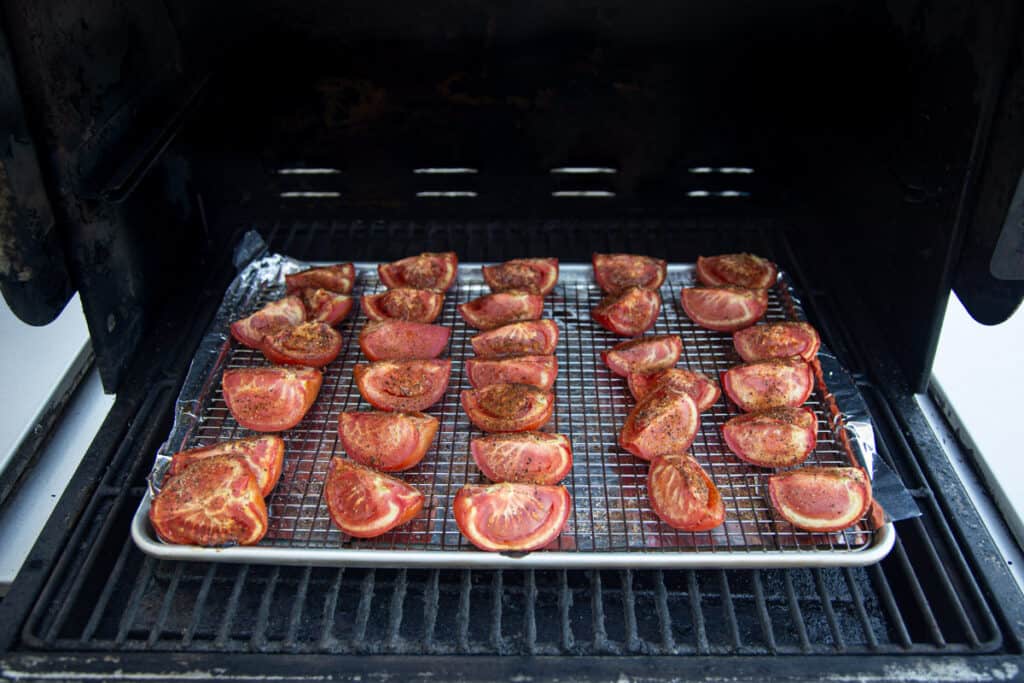 Quarter tomatoes: I like big beefsteak tomatoes for this.
Season tomatoes: Toss them in olive oil, salt, pepper, and old bay seasoning, then lay them on a foil lined sheet pan. You'll want to collect all the juices that will run from the tomatoes as they cook, so the sheet pan is important (vs. cooking the tomatoes directly on the grill grates).
Smoke tomatoes: Place tomatoes in the smoker set to 250 degrees for up to 2 hours. Remove and set aside until cool enough to handle.
Peel Tomatoes: Peel tomatoes to remove the outer skin. Peel them while they are still warm, it will be easier to get the skins off.
Once the tomatoes are smoked and peeled, you're ready to make your soup. Don't have a smoker? You can easily roast them in the oven at 375 degrees Fahrenheit for about 30 minutes or until you start to see the color on the edges of the tomatoes.
How to Make Smoked Tomato Bisque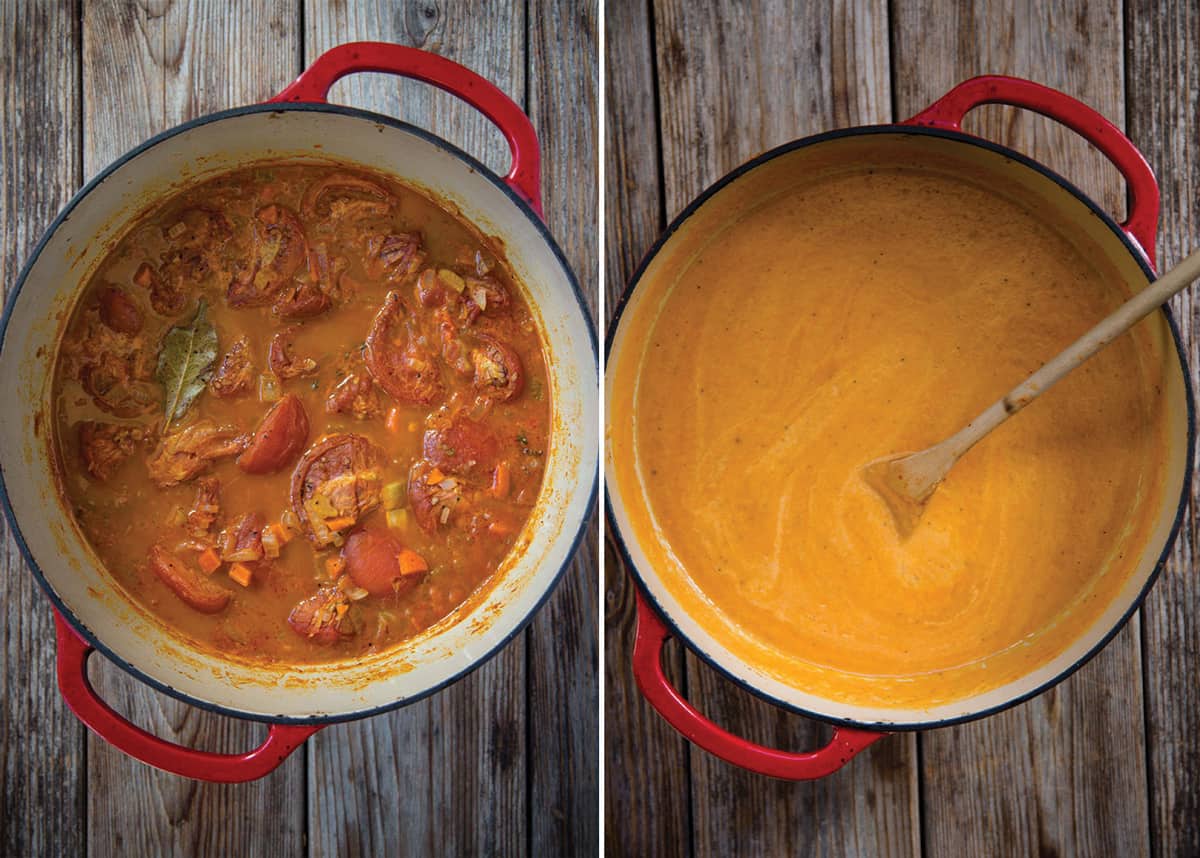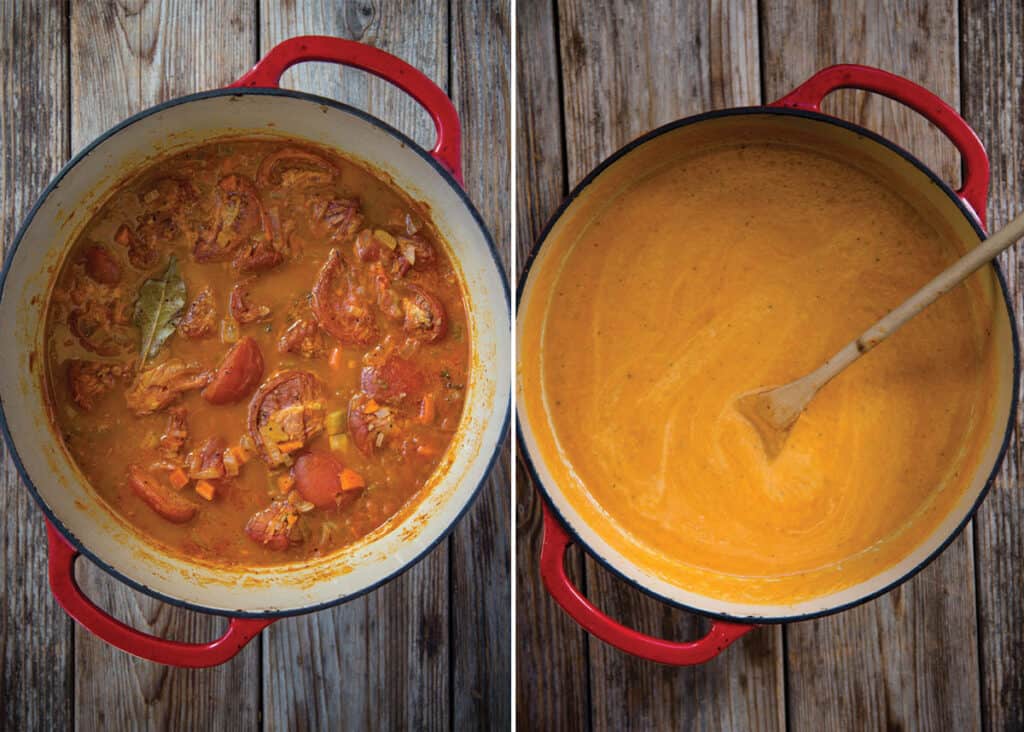 Soften vegetables: In a large pot, heat butter and cook onion, carrot, and celery, until soft. Add the garlic and cook for 1 additional minute.
Add liquids, tomatoes, and aromatics: Add remaining ingredients and bring to a simmer.
Cover and simmer: For 20-25 minutes. Then remove thyme sprigs and bay leaf.
Blend: Using a hand immersion blender (or counter top blender), blend the soup until smooth.
Add cream: Whisk in the cream, and season with salt and pepper. Serve with crusty bread.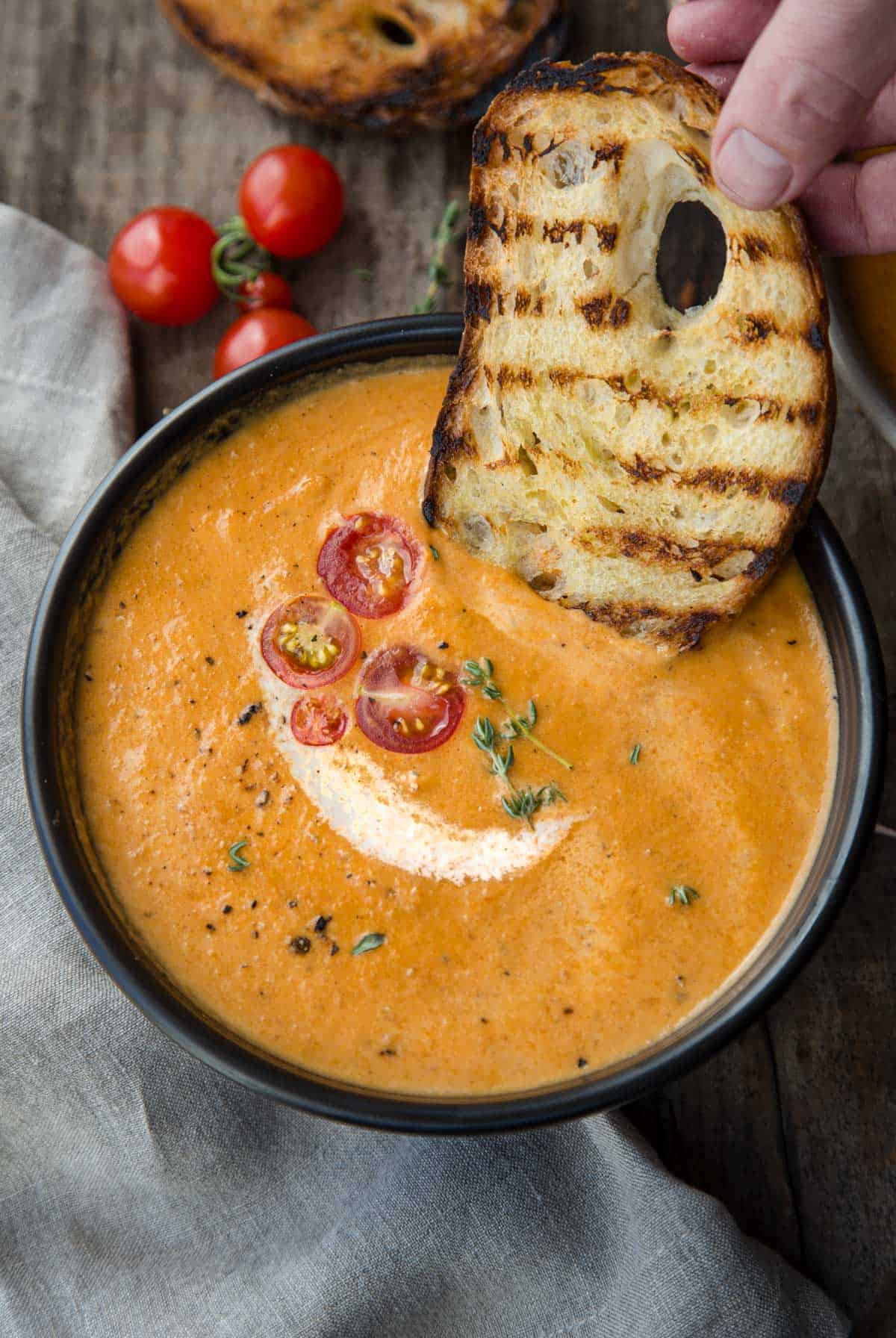 Wine Pairing
Don't be afraid of the word "smoke" when looking for a wine to pair with smoked tomato bisque. This is not a heavily smoked flavored soup, nor is it ultra creamy or acidic. It has a great balance of all three components.
Look for a light-medium bodied red wine with good acidity. Garnacha from Spain, Rhone-style wines, and Italian reds, like Barbera, work very well.
More Tomato Recipes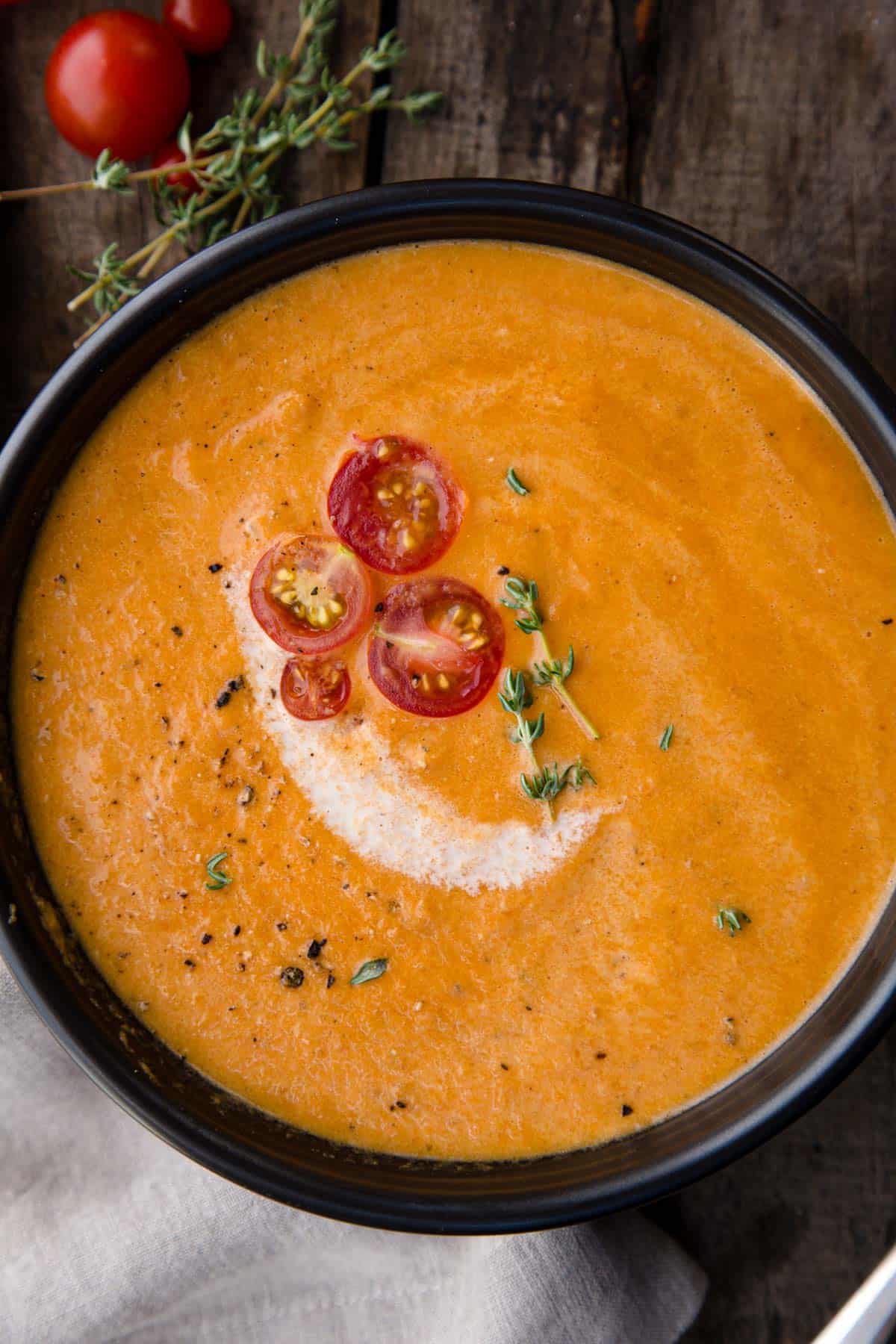 Smoked Tomato Bisque Recipe
*This post was originally published in October, 2014, and updated in August 2020 with new photos and more detailed instructions. The recipe remains exactly the same.
If you like this recipe we'd truly appreciate it if you would give this recipe a star review! And if you share any of your pics on Instagram use the hashtag #vindulge. We LOVE to see it when you cook our recipes.
---