If you've found yourself some Flanken Ribs, this recipe is calling your name. Slowly marinated with Port wine, and then finished over a hot grill, these Beef Flanken Short Ribs will melt in your mouth and taste tender and delicious.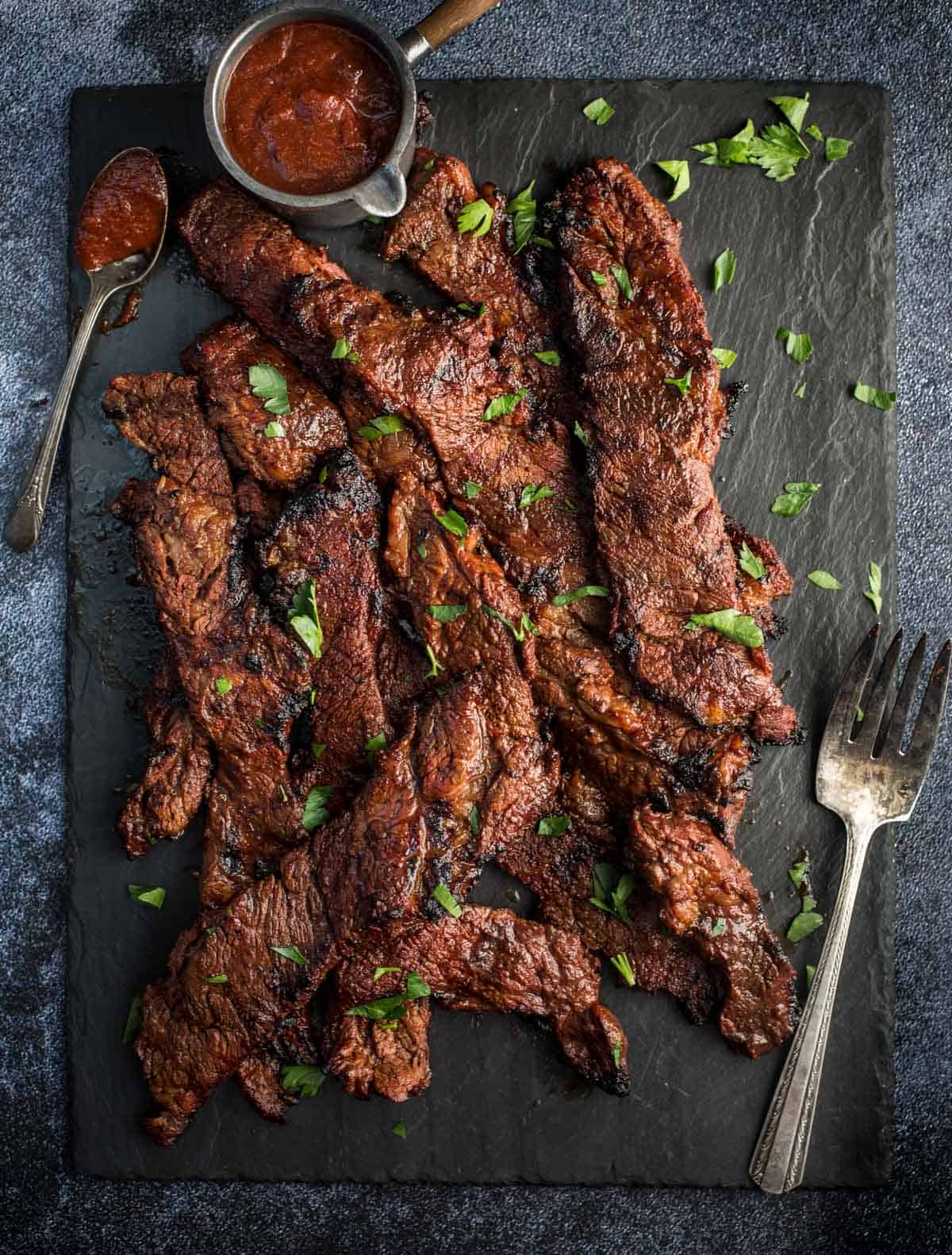 Sometimes, when we are checking out the local butcher counter, we'll see these beautiful thin slices of meat sitting in a marinade. And often we'll overhear someone ask, "How do we cook these?" Well, here is the answer, but first let's talk about the cut.
Jump to:
The Cut – Flanken Ribs
Beef Ribs predominantly come from three various cuts.
Flanken Ribs can be cut from any of those mentioned above, but most commonly are plate or chuck ribs, often labeled as short ribs. They are sliced against the bone, rendering thin slices of meat. It is common to see this cut in recipes for Kalbi or Korean style short ribs.
The name Flanken (German for flank) references the short ribs section of a cow that have been cut up into smaller slices, not to be confused with an actual flank steak. Normally, the larger cut needs to be slowly cooked or braised for hours in order to get tender. However, when sliced thin and marinated with some acid, they tenderize as well as infuse flavor that makes them perfect for hot and fast grilling.
These ribs were from the Chuck Primal and sourced from D'artagnan Foods, from 100% pasture raised cattle. Amazing sourcing from small farms and the flavor is outstanding.
Buying Flanken Ribs
You will either see them bone-in or boneless. Both are equally as good and don't alter the flavor or time for this recipe. If they are bone-in, they are typically already sliced into ½-inch thick slices and there is little need to prepare or trim them.
You can also buy boneless ribs as a large cut (as seen in the photos below) and slice them yourself.
Preparation and Seasoning
If the ribs are already sliced, just jump to the marinade. But if you are buying an entire boneless short rib, remove any excess pockets of fat, and trim off any silver skin with a good boning knife.
Next, orient the ribs so you can cut them into thin slices. To do this, it's important to make sure you look at the short ribs and the lines that run through it. You need to cut perpendicular or "against the grain" for the best texture in ½ inch thick slices. Or just slightly thinner than a pencil.

Cutting against the grain helps keep the cells intact which makes for a tender flavor. The thinner slices are also important to allow for the marinade to infuse. But don't cut too thin or they can overcook quickly.
For seasoning we are using a marinade and then placing them right onto a hot grill. No dry rub needed.
Rib Marinade
Our rib marinade ingredients combine a Kansas City Style BBQ Sauce, Port Wine, garlic, and honey, to give a savory and sweet flavor combination.
Add BBQ Sauce, Port Wine (we use a ruby or fruity style), crushed garlic, and honey in a medium size bowl and stir to incorporate.
In a large plastic bag, add the marinade and then add the rib slices. Gently remove the air from the bag and then seal it tight and mix the marinade with the beef, coating all the pieces well.
Marinate for at least 8 hours or up to 24 in the refrigerator. It's great to start this in the morning and then just grill them in the evening for dinner.
Substitutes for Port Wine – If you don't have Port Wine you can substitute a Zinfandel, Syrah, or other full bodied red wine like Malbec.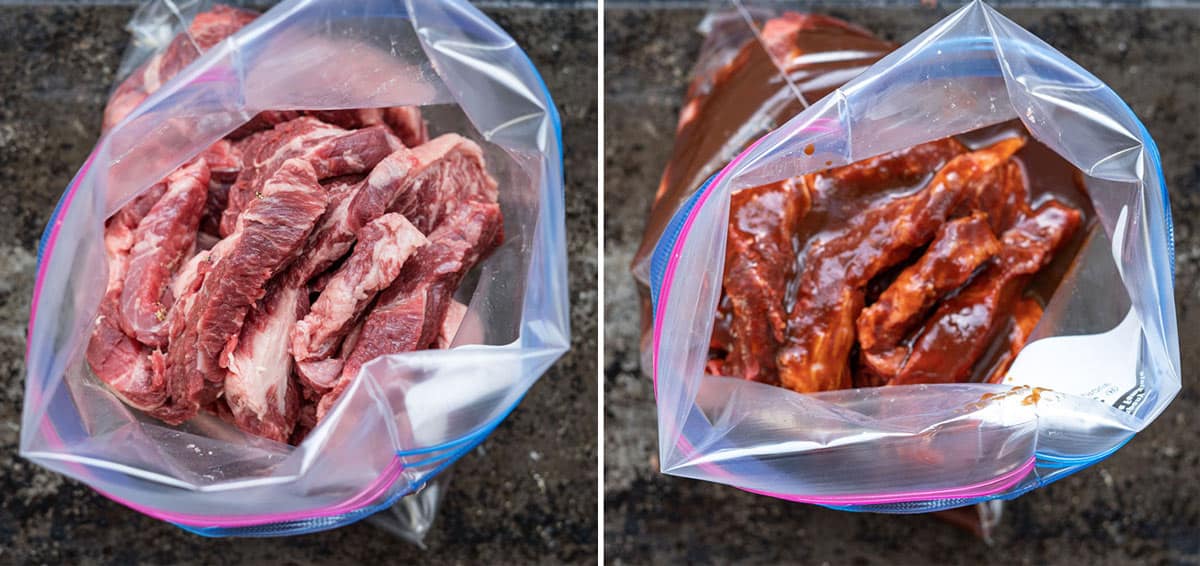 Grilled Flanken Ribs
Now that the marinade has had time to work its magic, it's time to prepare the grill and get cooking.
Prepare grill for direct grilling, targeting 500 – 550 degrees Fahrenheit over the direct heat or in the cooking chamber.
Remove the short ribs from the marinade (do not pat dry or remove excess marinade) and place them directly on the grill. If you have a lot of slices, grill them in batches.
Grill direct for 3 minutes per side, closing the lid in between flipping. This minimizes flare ups. They should be medium rare.
Remove and serve relatively quickly (these will cool down quickly, so best to eat them while still hot).
You can take the internal temperature of the ribs using a good instant read thermometer like a Thermoworks MK4 Thermapen, but at this heat, they will cook through quickly anyway and be tender.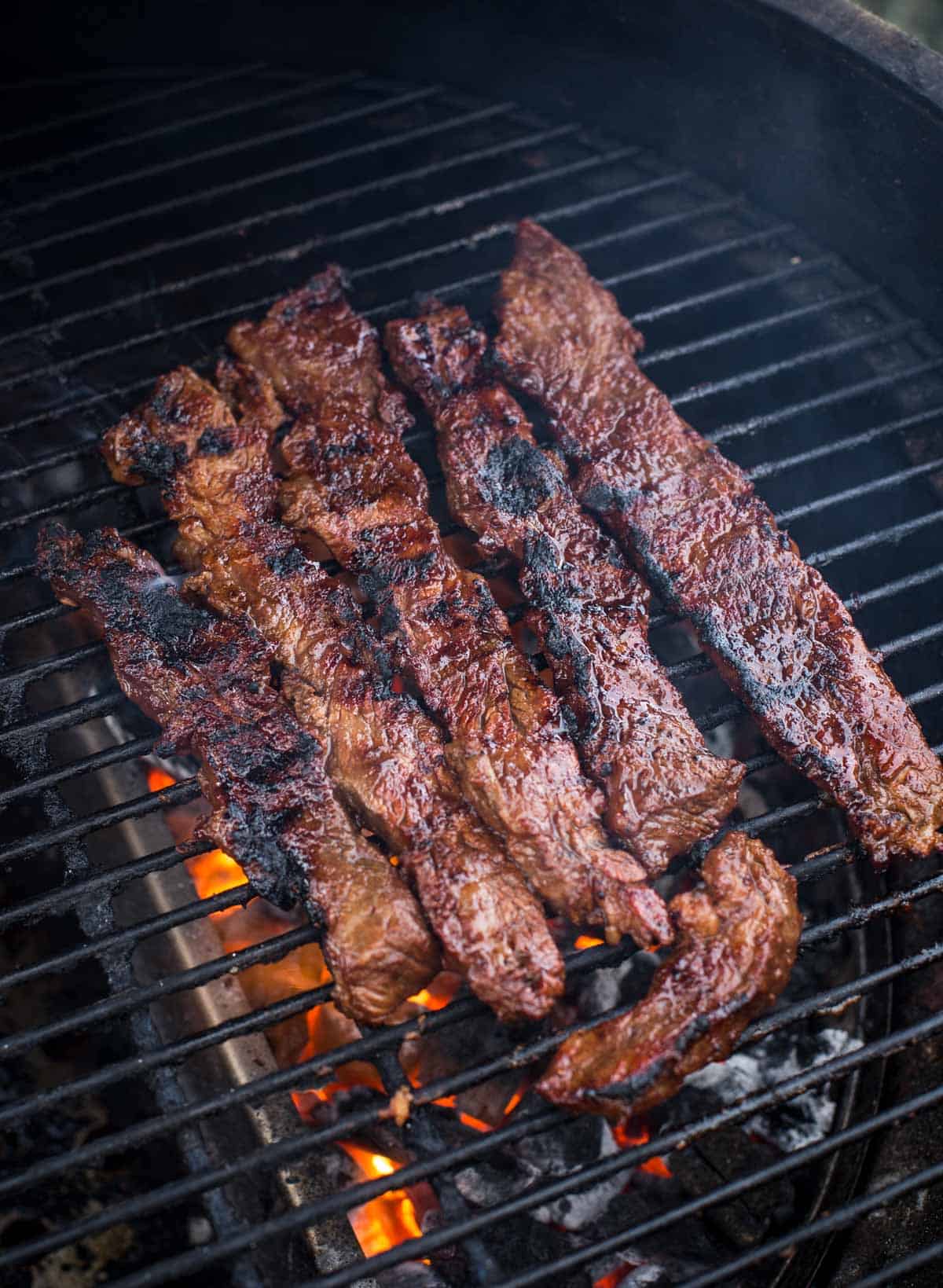 Pellet Grills – If you are using your pellet grill, make sure it can get at least 500 degrees F. If it doesn't, consider a charcoal, gas grill, or cast iron pan. Most pellet grills do not go above 450 degrees, which won't properly sear the Flanken Ribs.
If all you have is a pellet grill (specifically one that does not get hot enough), then use a cast iron pan or aluminum grill grates to amplify the heat at the highest heat setting it will go, and only grill a few at a time to achieve a sear. The more meat you put onto the pan, the faster the heat will reduce in the pan.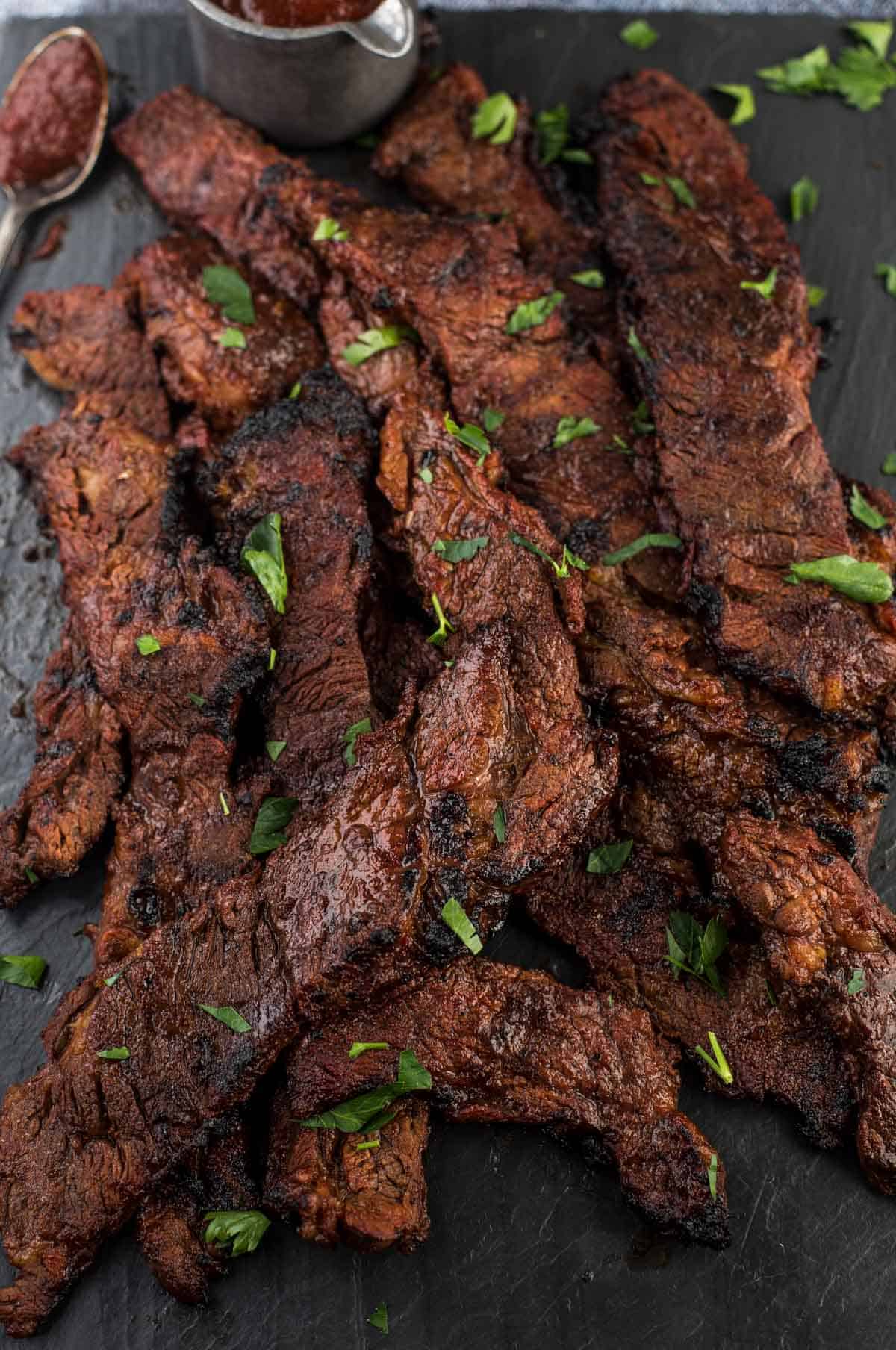 Suggestions for Serving Flanken Ribs
Makes for a great appetizer for a crowd
Consider building a sandwich from them (remove the bones or use boneless)
Add to a salad for an amazing short rib steak salad
Serve with rice or roasted potatoes
Other Rib Inspired Recipes
Tried this recipe? Give us a star rating and we would love to see! Mention @vindulge or use the hashtag #vindulge on all the social media handles. And consider subscribing to our newsletter where we drop all our favorite ideas and inspirations every week.
This post may contain affiliate links. This means if you click on the link, we may receive a small commission if you purchase through the link. We partner with brands we know and love and use and it helps keep the blog going!
---