Smoked Corned Beef is a great way to take the classic St. Patrick's Day dish and give it a smoky twist. This recipe is for a pre-corned beef round cut. Follow this link if you are looking for a corned beef brisket flat. We share how to make your own corning brine and how to smoke it. Great for pastrami too.
This is a classic comfort dish that's great for a family dinner or to be enjoyed for your St. Patrick's Day celebrations.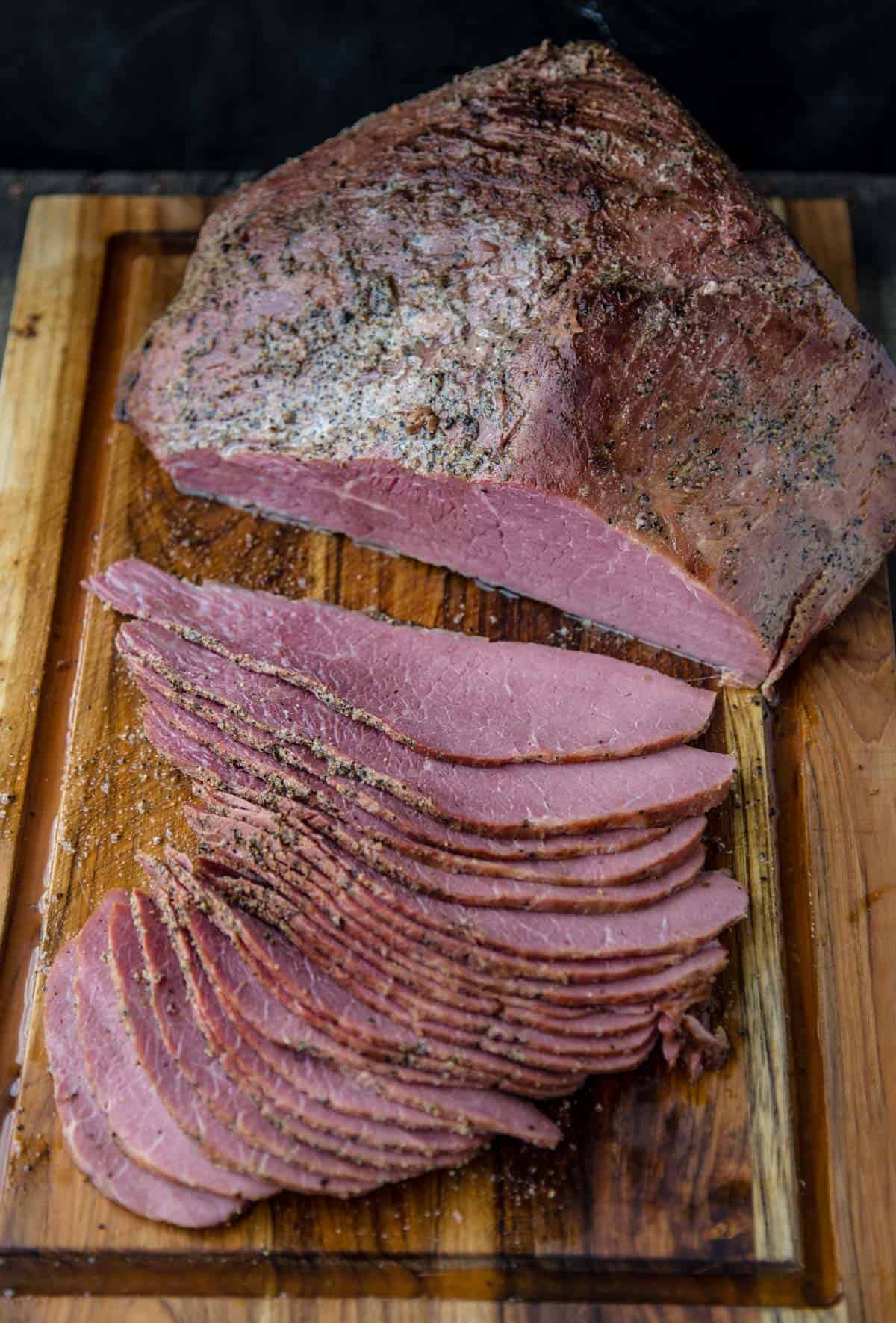 Growing up in my husband's Irish household, his family would often buy a pre-corned brisket flat, boil it in water with some spices and cabbage, and then simply serve it with potatoes. While a great nod to tradition, let's just say that there are a lot of ways to add more flavor to this traditional dish — like smoking.
Jump to:
Corning Beef Versus A Brine
Smoked corned beef starts with a brine. Corning is simply a brining process with specific spices that allow the meat to cure. The brine is a salt solution that the meat sits in, and through osmosis the salt and spices are absorbed into the meat. The salt is typically a curing salt (Prague Powder 1), which is what gives the meat its signature reddish color.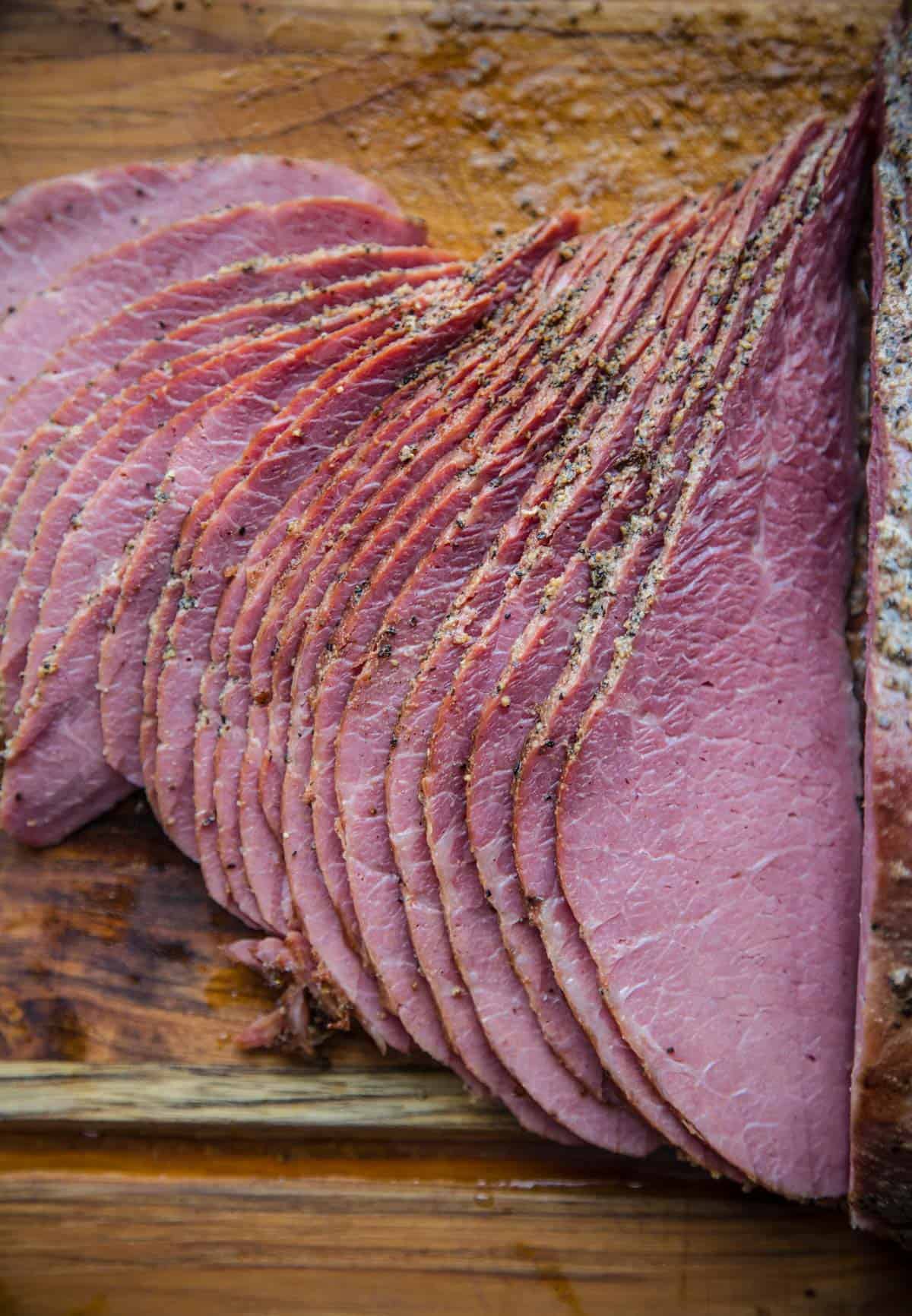 If you go to the store and purchase a "corned beef" you will see that the meat is typically still packaged in some of that solution. Other ingredients you may see include; peppercorns, mustard seed, allspice, and other ingredients you would see in classic pickling brines.
Cuts of Beef
Typically the brisket flat is the common cut used for corned beef. You may also see beef round as we highlighted above. Either cut is going to be delicious. To make the process for this particular recipe easy grab a cut that has already been corned like these great corned cuts from Snake River Farms. Both of those cuts are best with a slow cooking process. Smoking corned beef (on a smoker or grill) is the perfect way to prepare these cuts versus braising (or boiling). You're going to get so much more flavor out if it this way!
Why do we highlight two cooking styles? It's because both cuts of meat are best served when they are cooked to two different internal temperatures. Round is like any roast (Prime Rib as an example) and is great and tender medium rare. Brisket flat is best when taking to a much higher finishing temperature to allow the tough intramuscular tissue break down.
Corned Beef Round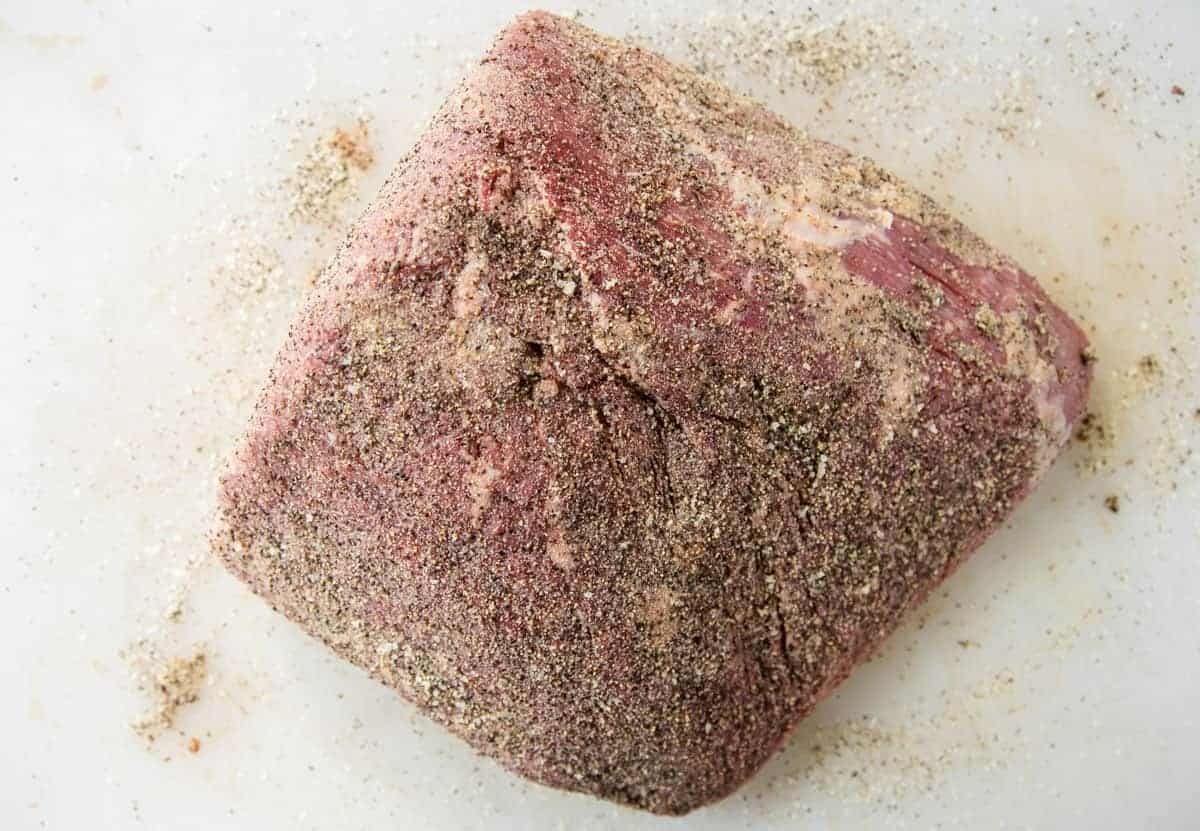 When we are smoking beef round, the roast is typically 8 – 10 pounds (like this round from Snake River Farms). We recommend you cook to medium rare in this case, then slice thick for a classic dinner presentation, or thin slices for sandwiches. Add a simple rub that is light on salt (because the corned beef is going to be inherently salty from the brine) and then smoke at 250 degrees Fahrenheit using fruit wood. It should take about 4 hours to cook to medium rare (or 135 degrees F).
Corned Brisket Flat
You can check out this smoked brisket post on the various parts of a brisket. The most common pre-corned cut you will find is a small 2 – 4 pound brisket flat, which is perfect portions for 4 – 6 people. When smoking a brisket flat, it's slightly different than a whole packer.
Start at a temperature of 250 degrees Fahrenheit, using fruit wood or oak. Smoke for five to six hours until the internal temperature ranges from 190 to 210 degrees F. This is just like any brisket cook, however the flat being smaller will cook much faster. If you just want to slice it for sandwiches you can also target 180. It will still be tender, but the texture won't quite be as tender as going to the higher temp.
The meat probe should insert like butter into the flat similar to smoking a normal brisket. The best way to measure the temperature is using a remote temperature probe like the Thermoworks Smoke Unit. We go into much more detail on our article about making your own brine and smoking a brisket flat.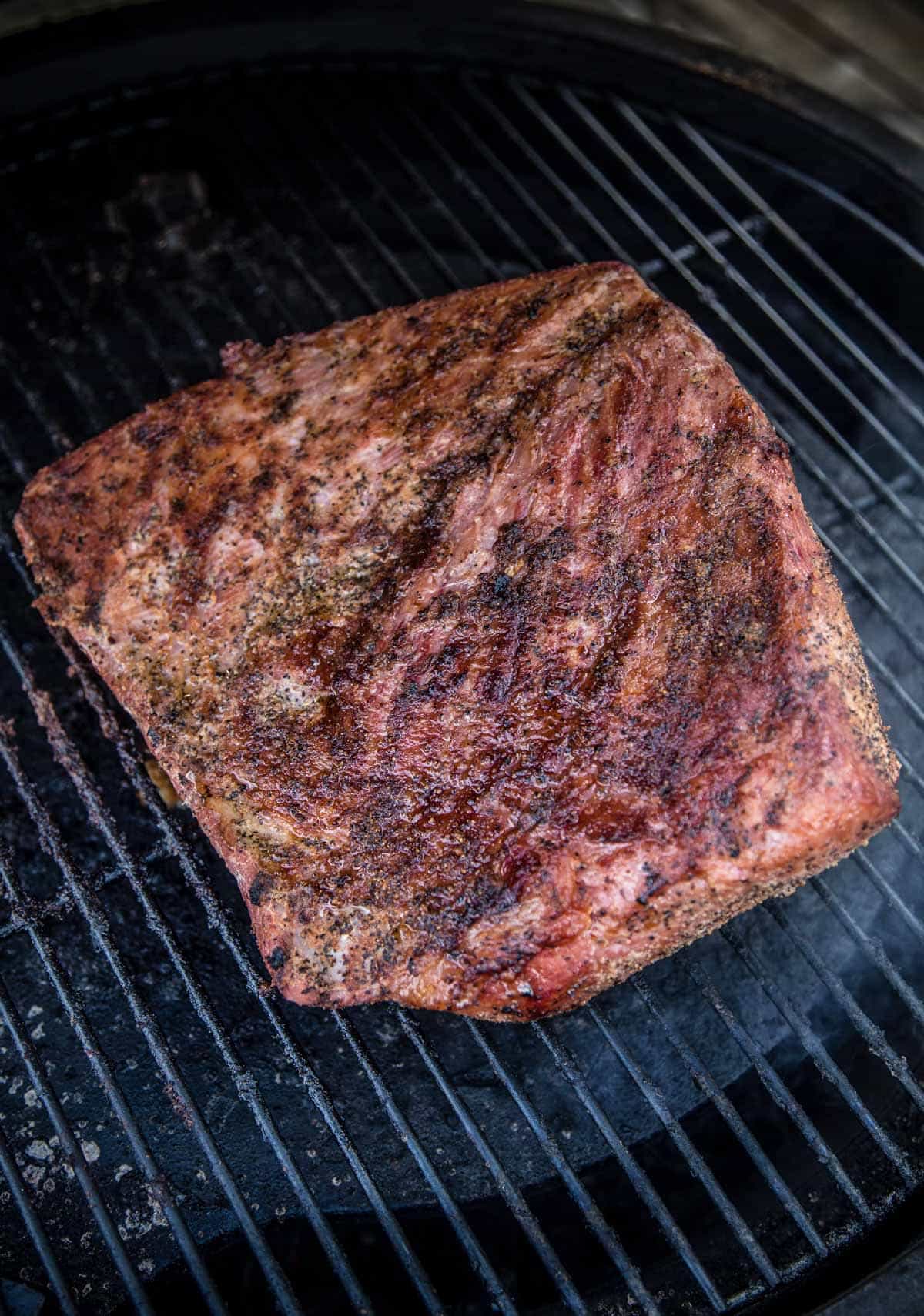 Soaking The Meat
One of our readers asked about whether a pre-soak of the corned beef is needed to extract some of the salty flavor. This is going to be optional based upon your taste preference.
No Soak – If you elect not to soak, then the concentration of all the brine remains in the meat and the flavors and salt component stand out. We love salt, and so we do not soak, nor recommend it for this recipe.
Soak – Soaking the meat in cold water will allow the water to pull some of the salt out of the meat. Almost like a reverse brine. Simply place the meat into a large container and completely cover with cold water. Keep in the fridge. After 2 hours, discard the water. For smaller cuts under 4 pounds, that should be enough time to tame the salty flavor and its time to season. If you have a large cut like an 8 pound round roast, then do this 2 times at 3 hours. And it's best to do this the day before the cook.
Be sure if you soak to discard the water as it's now contaminated from the raw meat.
How To Smoke Corned Beef Round
Preheat smoker targeting 250 degrees F in the cooking chamber. Fruit wood gives a nice sweet flavor. Oak is also a great option.
Start by rinsing the roast with cold water and patting dry. This removes any excess brine and brine ingredients.
Lightly season the meat. Warning: If you have a rub that is salty, it will really stand out. Consider using a homemade rub that is lighter on salt and heavier on other flavors.
Place the roast on the smoker and insert a remote probe thermometer like the Thermoworks Smoke Unit to watch the internal temperature.
Continue to smoke until the internal temperature reaches 135 degrees F for medium rare.
Remove the roast from the smoker and let rest for 30 minutes. This allows carry over cooking to occur and will let the cells cool and reabsorb some of that moisture and flavor.
Slice and serve with your favorite sides.
Pastrami versus Corned Beef
Smoked Corned Beef can be considered pastrami. However your classic pastrami has specific spice blends in the rub consisting of herbs and paprika. After the smoking process, pastrami is then steamed. So for an authentic pastrami, there is that extra seasoning and steaming that gives it that flavor and texture.
Leftover Ideas for Corned Beef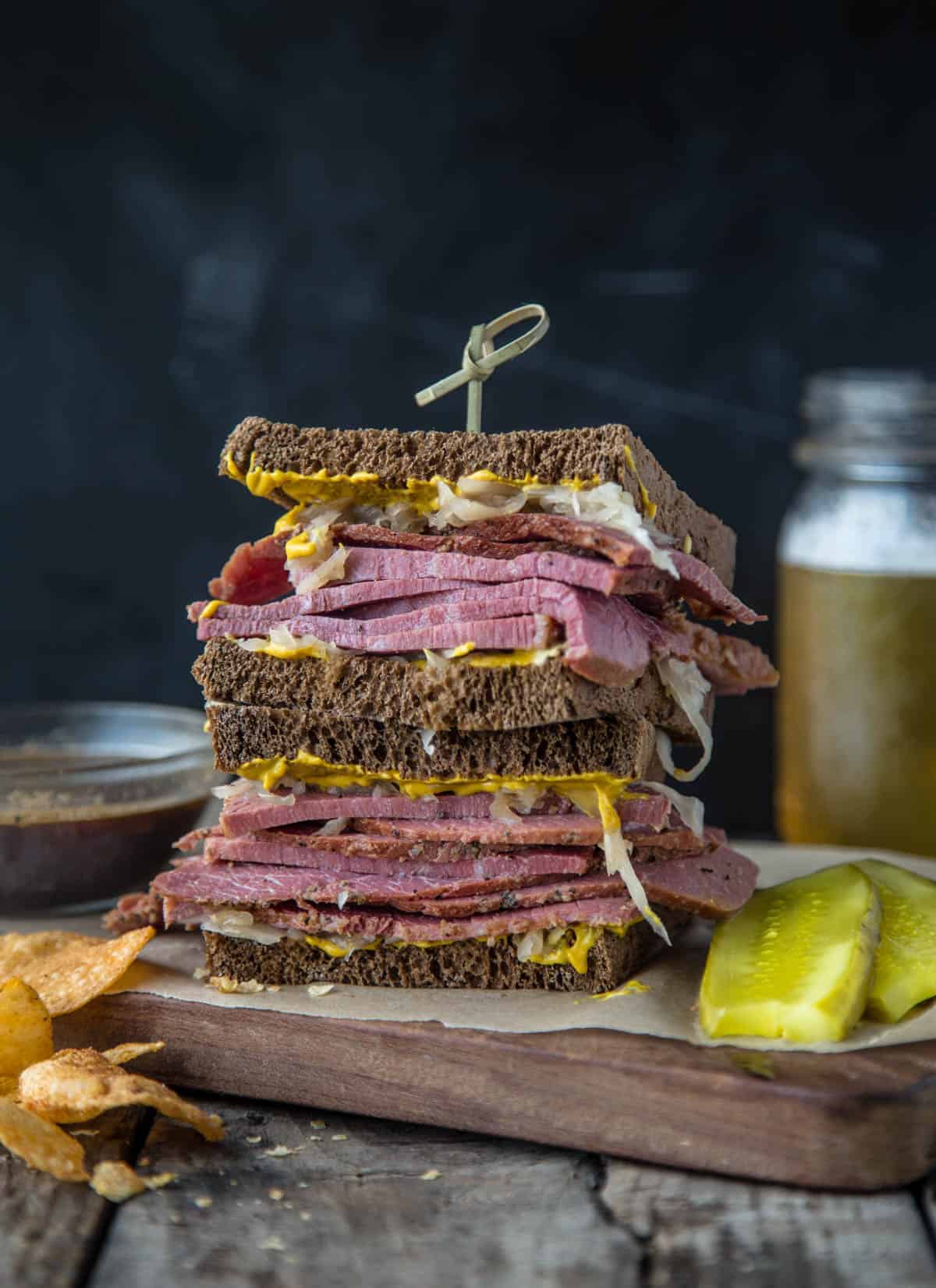 This post may contain affiliate links. This means if you click on the link, we may receive a small commission if you purchase through the link. We partner with brands we know and love and use and it helps keep the blog going!