This Corned Beef Sandwich is is a great meal if you are looking for leftover corned beef recipes or ideas. Simply prepared with some sauerkraut and mustard, with a flavorful Au Jus made from corning spices and Guinness.
Check out our smoked corned beef recipe if you want a creative way to make corned beef just for the sandwich. Or you can check out our step-by-step guide on how to corn your own beef.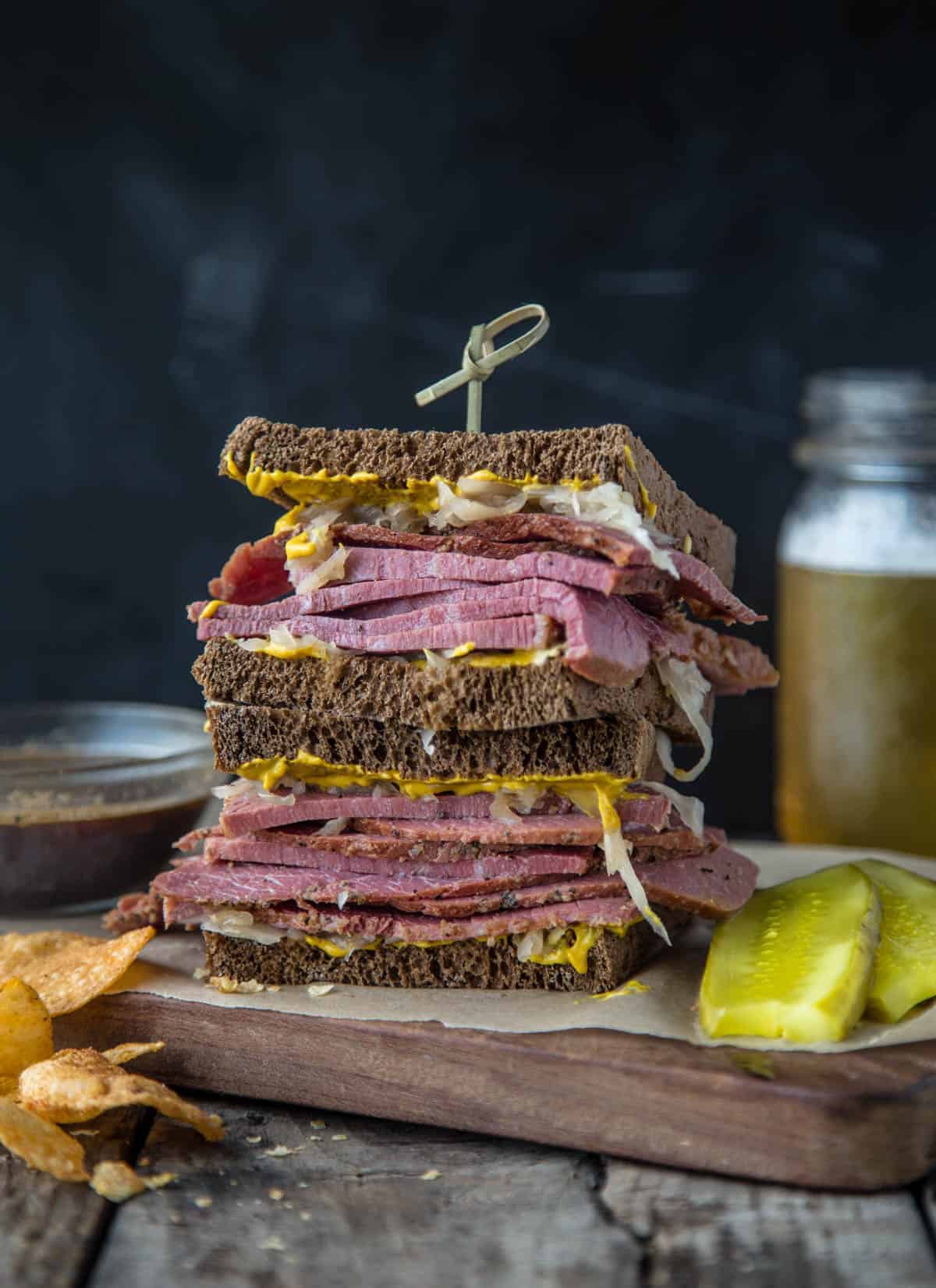 Reuben versus Pastrami Sandwich
A Reuben is typically a grilled sandwich that is made of rye bread, Swiss cheese, Russian dressing, corned beef and a few other key ingredients. Corned beef is typically made by boiling the beef in some spices until done.
A Pastrami sandwich is made from pastrami, which is smoked corned beef that has been rubbed with spices and topped with similar ingredients (commonly mustard, sauerkraut, and others).
This particular corned beef sandwich is focused on taking leftover corned beef (whether smoked like Pastrami or boiled), and enhancing it with a fantastic Guinness Au Jus dipping sauce made from Guinness, Worcestershire, and corning or pickling spices. So it's a hybrid of the two styles.
Preparing the Meat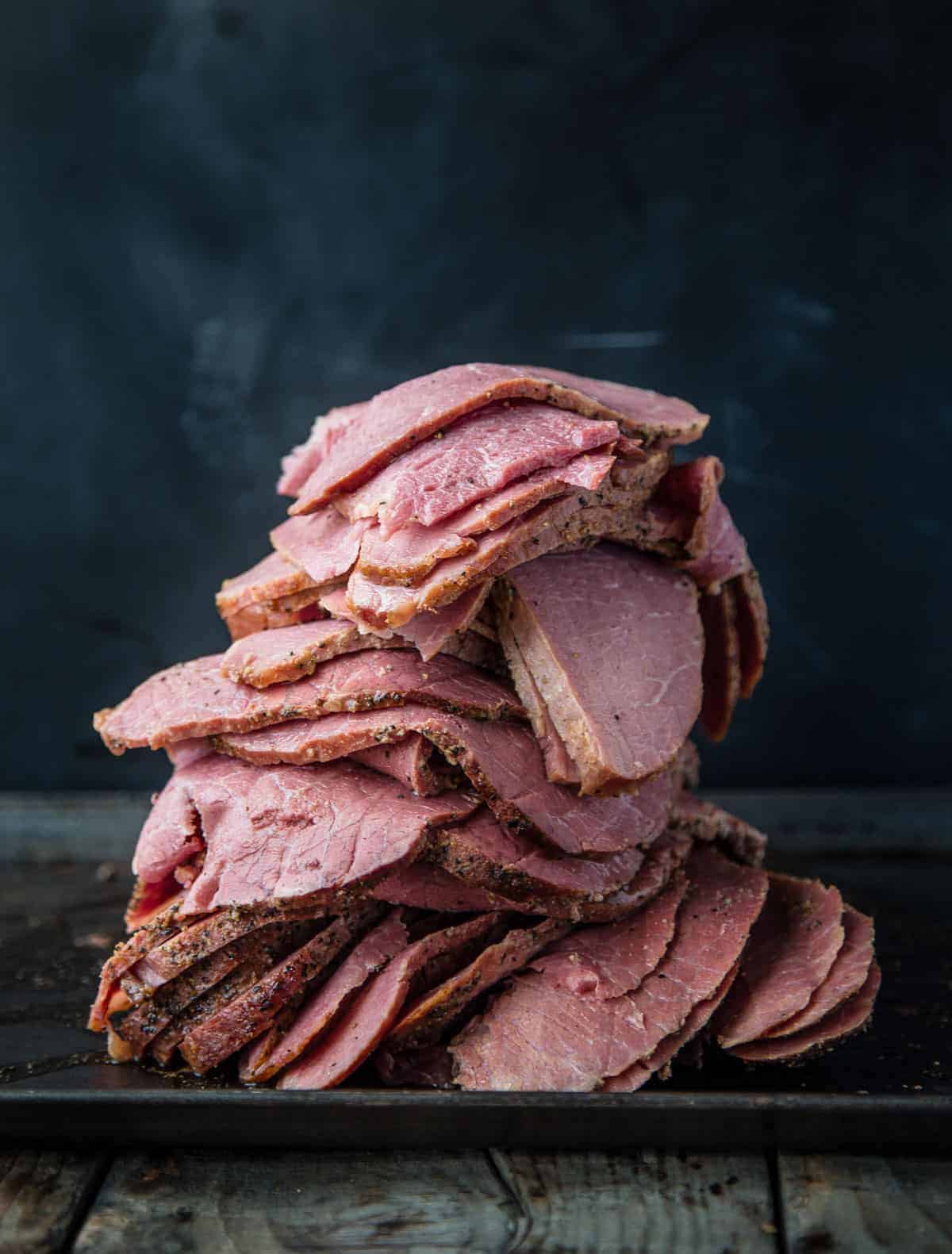 Start by smoking a pre-corned beef cut like brisket or round. We use our smoked Snake River Farms Corned Beef as the starting flavor. Because the predominant flavor of the corned beef sandwich is the meat, this is an important flavor to have and a great use for corned beef leftovers.
Type of Bread For Corned Beef Sandwich
Rye is the best option IMO. Its unique somewhat savory flavor is great and it holds up well to being grilled. Since we're dunking into a dip, having sturdy bread helps.
Making the Corned Beef Sandwich
Slice up the corned beef leftovers into thin slices, but not too thin. Be sure to slice the corned beef against the grain.
Warm up a grill pan.
Butter the bread on one side.
Construct the sandwich in layers starting with the Sauerkraut, then corned beef, then mustard, then a pickle.
Grill each side of the sandwich, butter side out, for about 4 – 5 minutes so it's crunchy.
Serve with the Guinness Au Jus.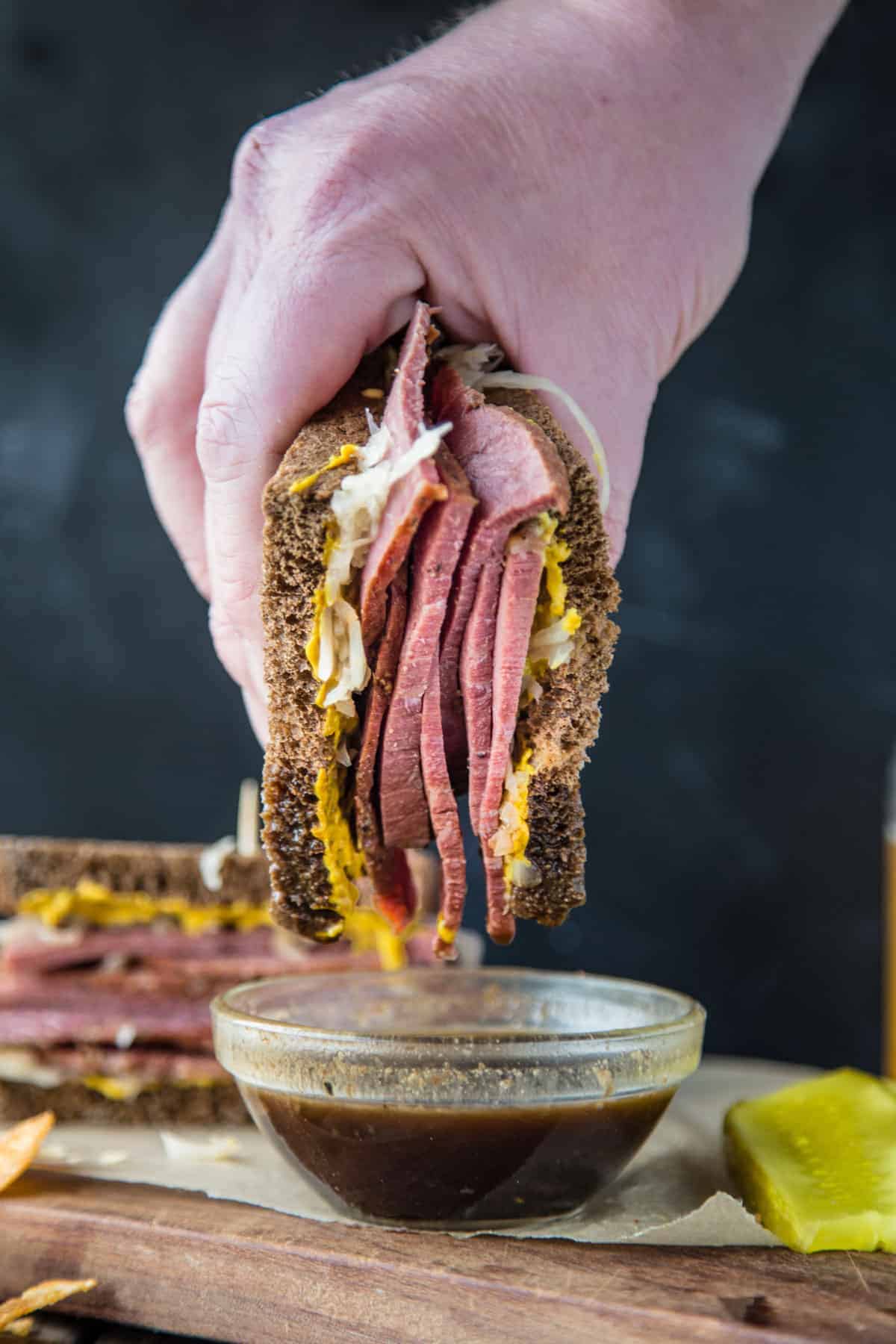 Making Guinness Au Jus
We love dipping sandwiches in Au Jus. In our French Dip recipe we walk through how to make Au Jus (which is so easy to do). For this recipe we're making a Guinness Au Jus that is ready in 20 minutes perfect for this corned beef sandwich. Ingredients include:
Shallots
Garlic
Beef Stock
Worcestershire sauce
Corning or Pickling Spices
Over a medium heat add a little extra virgin olive oil and shallots. Saute for a few minutes until soft and then add garlic. Stir for an additional minute and then add the Guinness, Worcestershire, Beef Stock, and pickling spices. Bring to a simmer and then simmer at the lowest heat for 20 minutes.
You can do this in advance, it's great cold, or serve the Au Jus warm.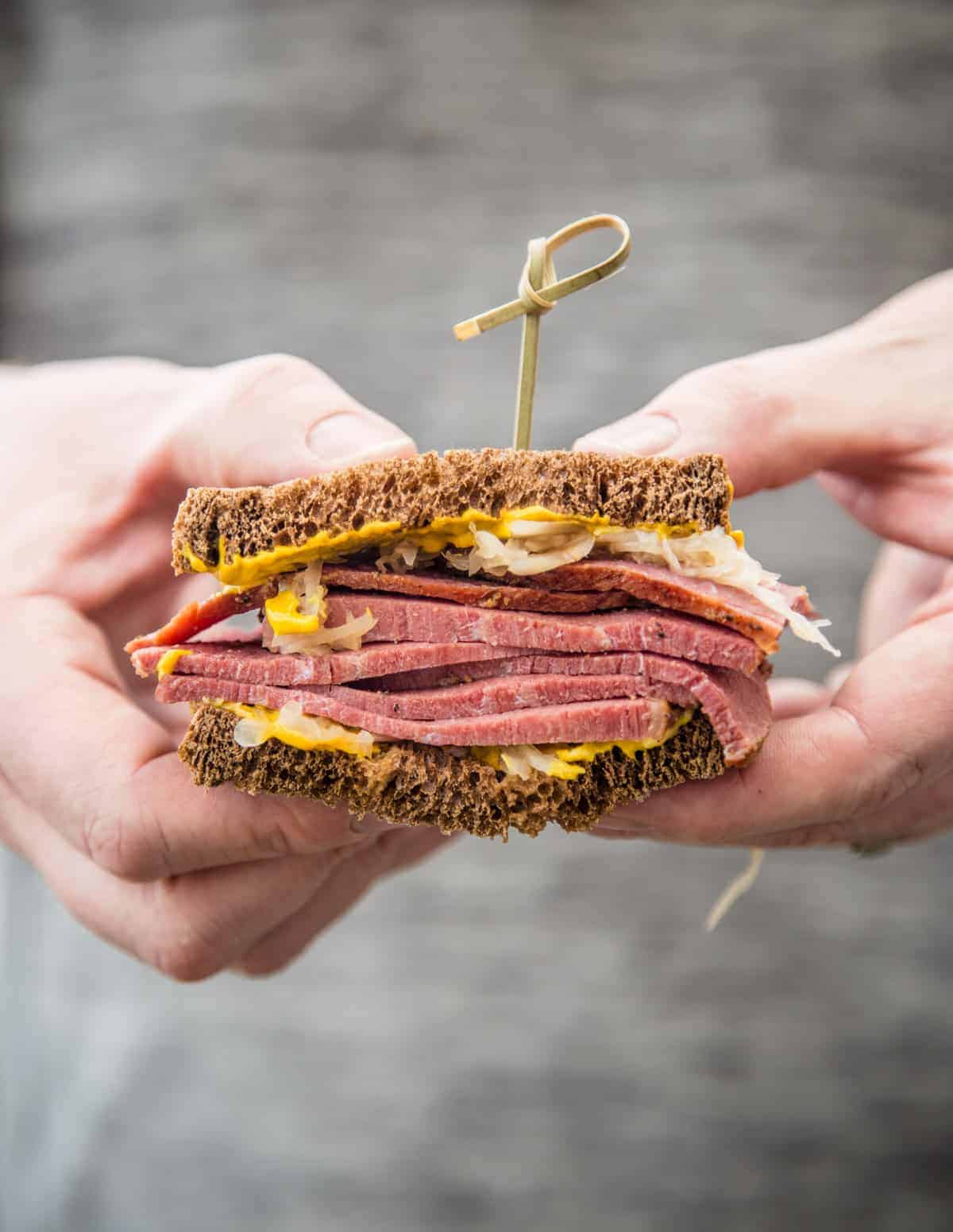 Other Great Sandwich Ideas
This post may contain affiliate links. This means if you click on the link, we may receive a small commission if you purchase through the link. We partner with brands we know and love and use and it helps keep the blog going!