Smoked Kale Chips have amazing flavor and are perfectly crispy and crunchy with that same texture of classic oven roasted Kale Chips. Smoke roasting kale chips not only give kale a great mild smoky flavor, but great texture too!
Vegan – Vegetarian – Gluten Free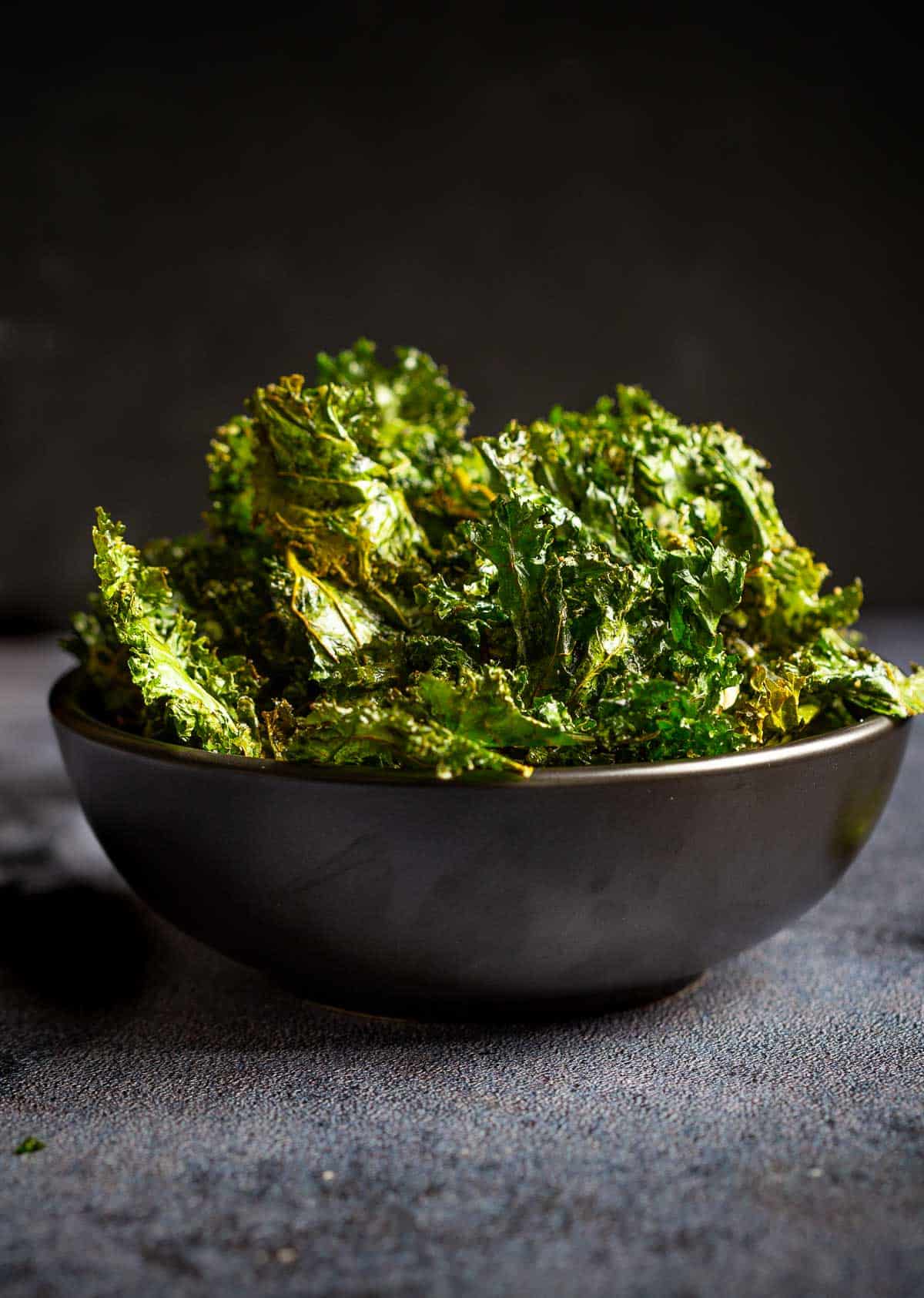 Jump to:
You are here for one of two reasons – you saw this on social media or you were actually searching the internet for smoked kale. Either way – welcome! This is going to be your new favorite way to prepare kale chips. I kid you not when I tell you our 12 year olds DEVOUR the heck out of these! Healthy + delicious = win win!
It's as easy as season and smoke and enjoy.
Ingredients for Smoked Kale Chips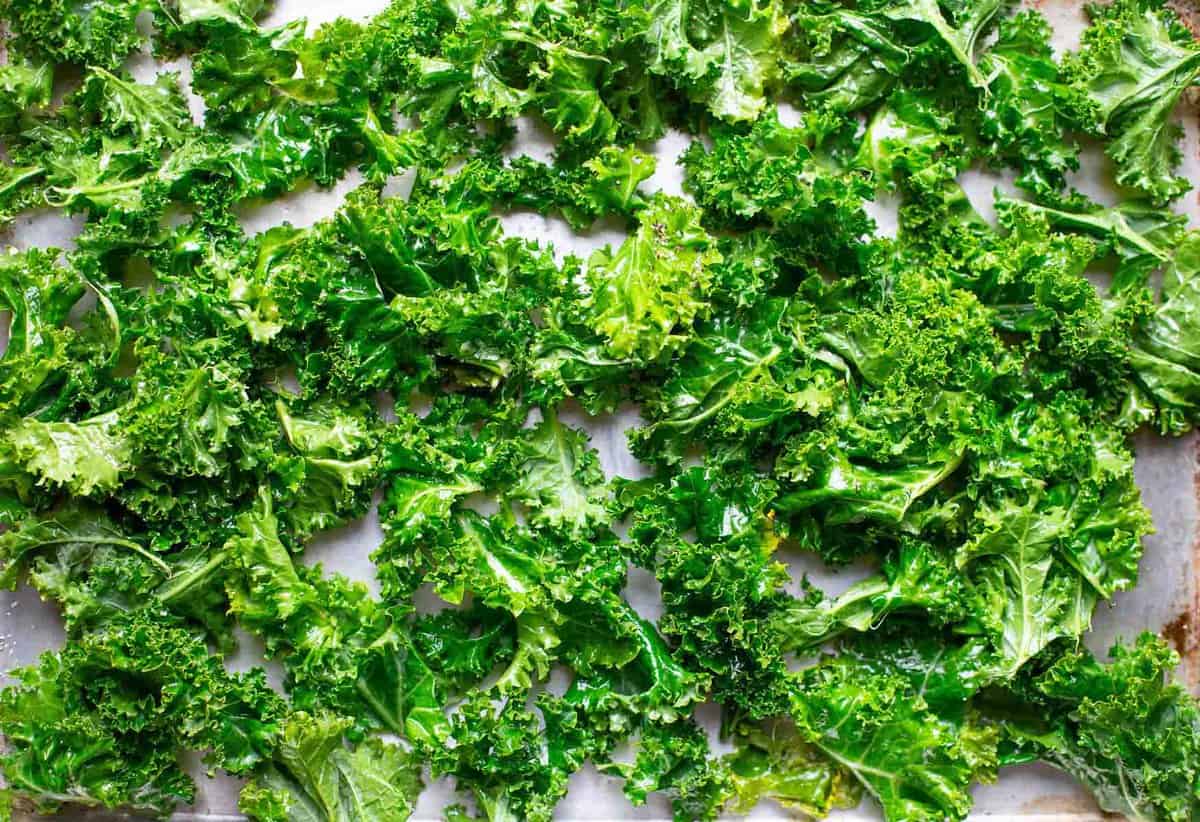 Kale – The standard curly green kale is best.
Good Olive Oil – The flavor of the olive oil stands out with the kale so be sure it's good quality.
Seasoning: Kosher salt and coarse black pepper.
You can also enhance the flavor by using other dry seasonings. Our ultimate beef seasoning or chicken seasoning are great options. Just make sure to select seasoning that doesn't contain sugar.
Preparation
For smoked kale to be crispy it needs to be rinsed AND completely dry before you start cooking it (otherwise it will steam).
Kale – Start by removing the kale leaves from the stems. Discard or compost the stems. Rinse the kale using a salad spinner and then lay out on paper towel. The kale needs to be completely dry prior to seasoning.
Smoker – Prepare the smoker with fruit wood for a sweeter flavor profile. Smoke no higher than 275 degrees F or you run the risk of scorching, or burning, the kale.
How to Smoke Kale for Crispy Results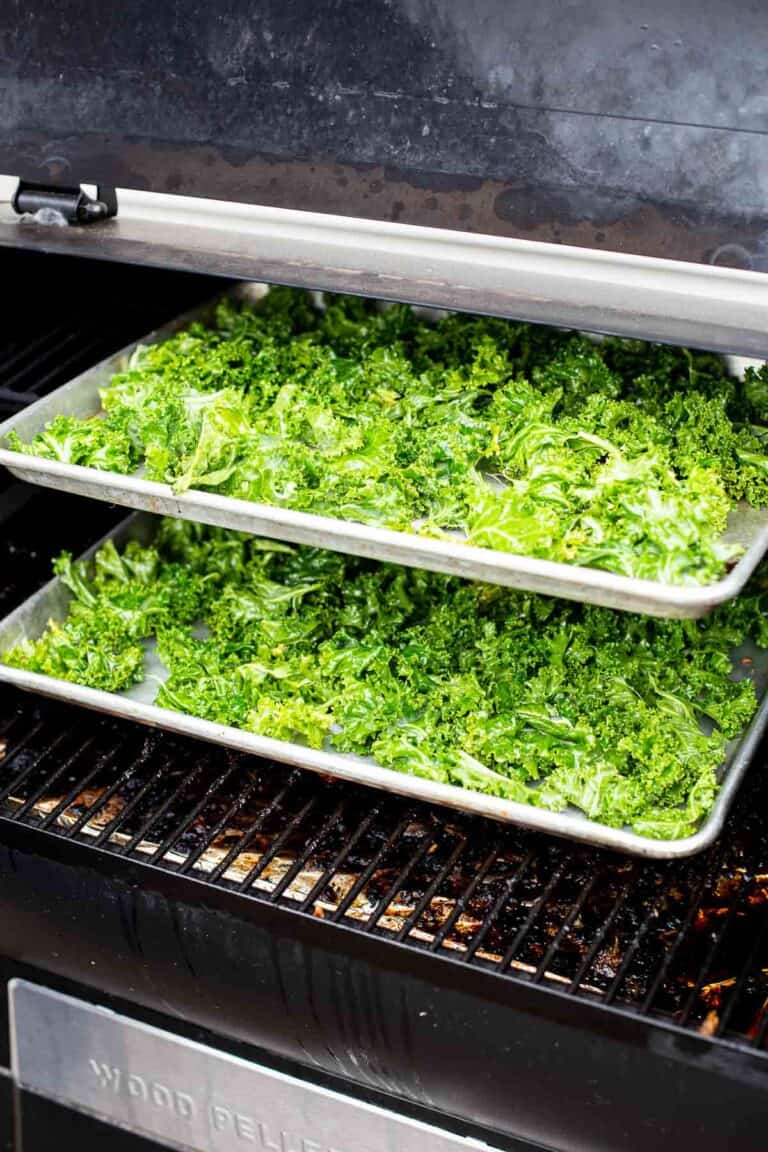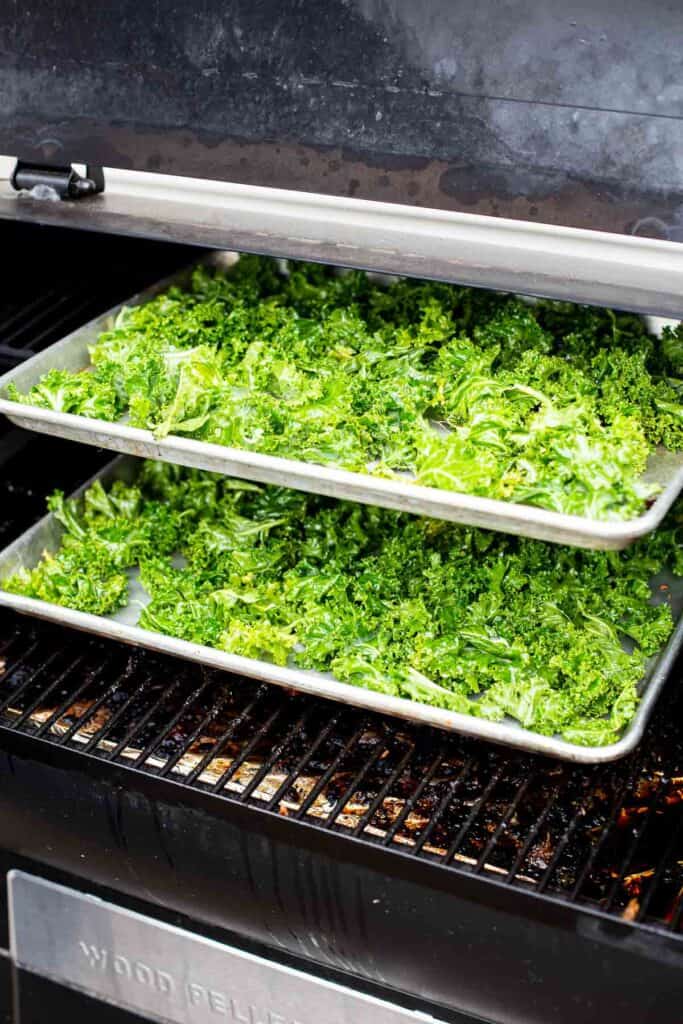 Prep and Season: Set smoker to 275 degrees Fahrenheit using fruit wood like apple or cherry. Place the kale in a sheet tray (one bunch of kale per sheet tray). Coat with olive oil, salt, and pepper. Using your hands, gently massage and incorporate the olive oil and seasoning with the kale.
Smoke: Place the sheet trays on the smoker (ideally you have shelves that can fit the two trays). Smoke for 20 minutes. Then stir up the kale using a spatula as the kale toward the outer edge will crisp up faster. Continue smoking another 10 minutes at which point the chips should all be crispy.
Serve: Remove and serve immediately. The best part is that these will last 24 hours and still be crispy if you don't enclose them.
If using a gas grill: Avoid the kale chips from being cooked over direct heat. Light one burner and then cook the smoked kale chips on the indirect side. Use a smoke box with wood chips over the direct flame to impart smoky flavor. You can read more in our article on how to smoke using a gas grill.
Making Ahead and Storage
You can make these smoked kale chips the day prior to eating them, so long as you don't enclose them in a bag they will stay crunchy for up to 24 hours.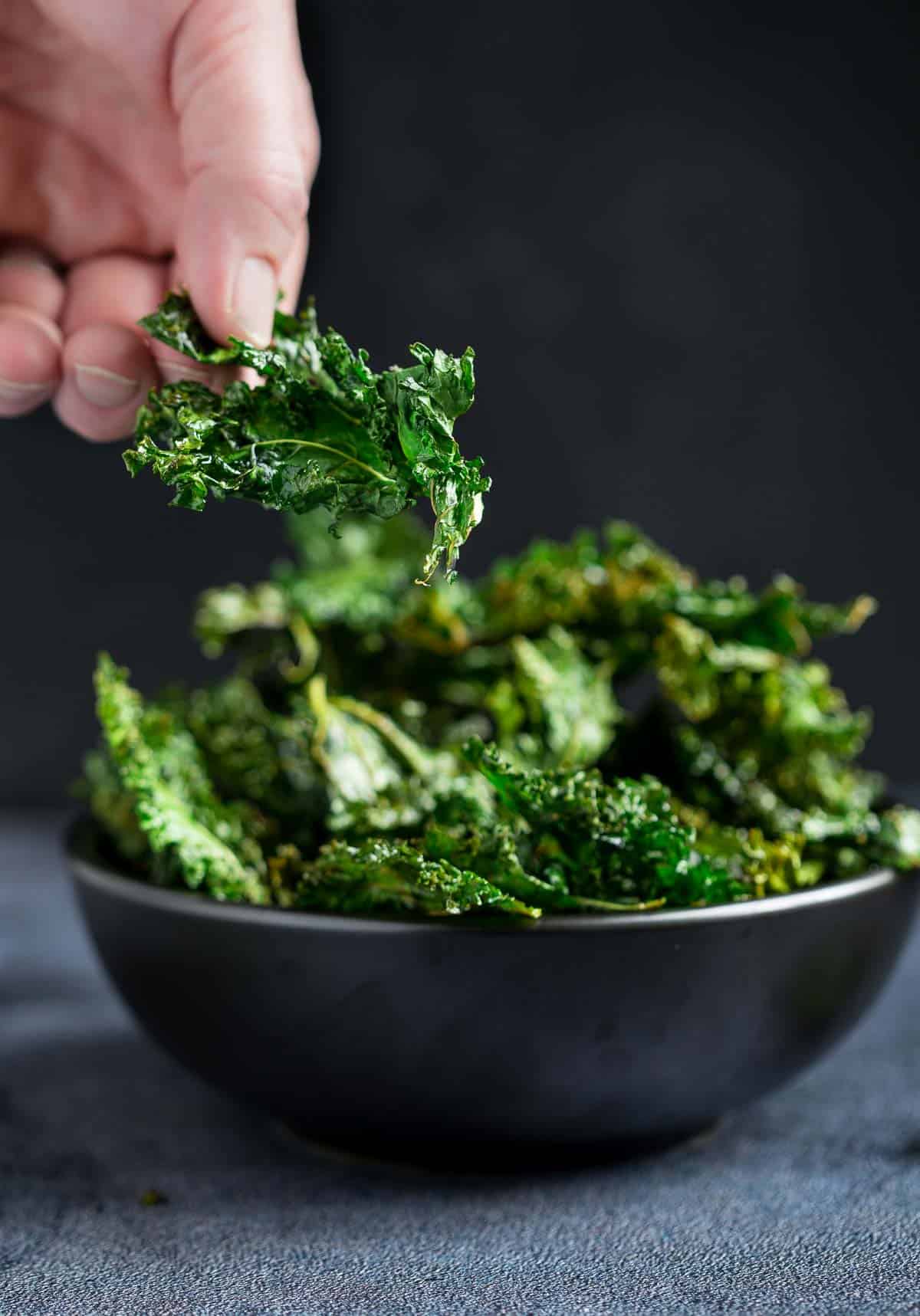 Other Snack Recipes for the Grill or Smoker
---
Mary (a certified sommelier and recipe developer) and Sean (backyard pitmaster) are co-authors of the critically acclaimed cookbook, Fire + Wine, and have been creating content for the IACP nominated website Vindulge since 2009. They live in Oregon on a farm just outside Portland.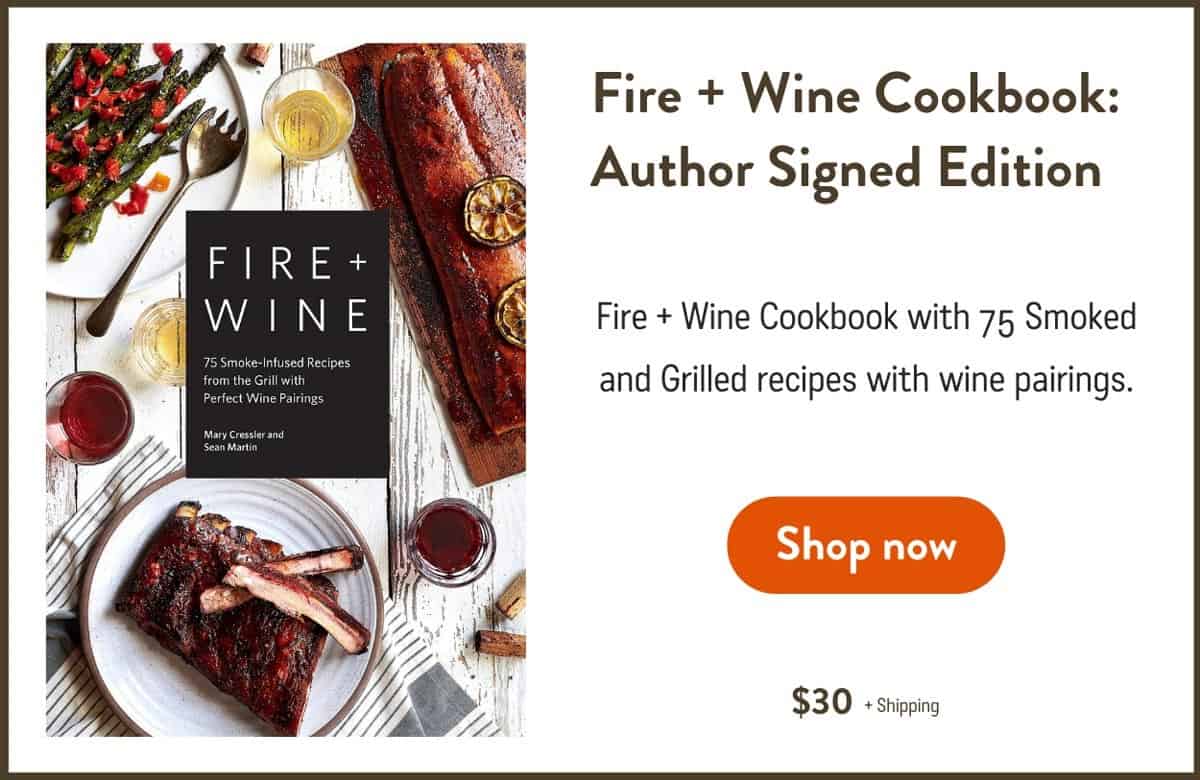 Tried this recipe? Give us a star rating and we would love to see! Mention @vindulge or use the hashtag #vindulge on all the social media handles. And consider subscribing to our newsletter where we drop all our favorite ideas and inspirations every week.
This post may contain affiliate links. This means if you click on the link, we may receive a small commission if you purchase through the link. We partner with brands we know and love and use and it helps keep the blog going!