This smoked cheese ball is destined to be your next favorite party appetizer. Not only will it be a conversation starter, it will elevate the smoked cream cheese craze. It's also easy to customize with your favorite ingredients.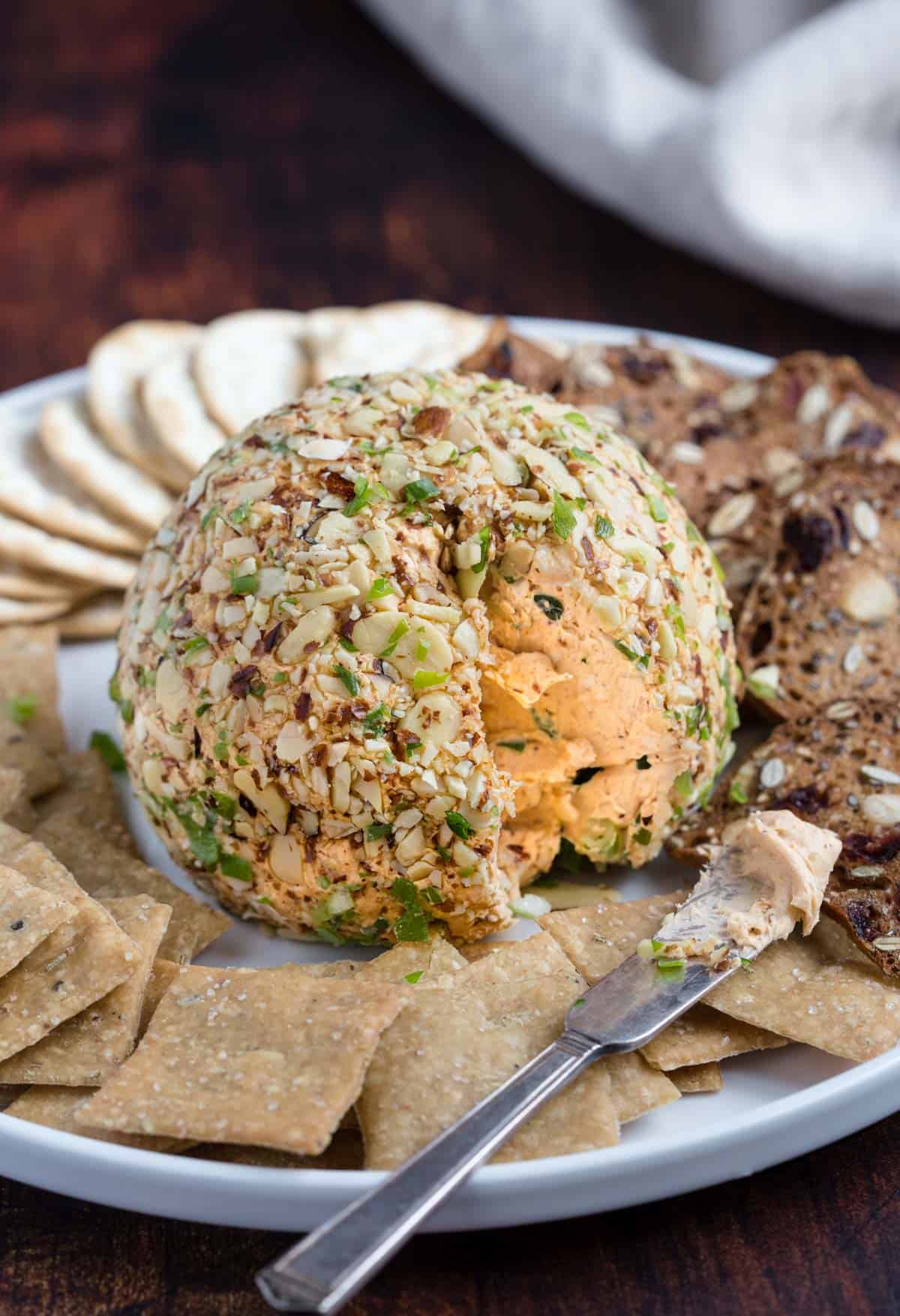 When we host a party, large or small, we always have some snacks for people to munch on when they arrive. This allows us time to hang out with our guests while finishing prep for the main meal. This is the perfect recipe to welcome your guests with. Well, this and sparkling wine.
For this cheese ball recipe, we start by smoking some seasoned cream cheese and then build the cheese ball after it has absorbed that great smoky flavor. Once you shape it into ball you then coat with your favorite toppings, like smoked almonds.
Jump to:
Smoked Cheese Ball Recipe Highlights
This can be made a day in advance to make it easier for food prep.
You can add any fillings you want to the cheese.
The toppings coating the outside of the cheese ball can be as easy or complex as you like it.
Ingredients
The main ingredient that drives the flavor of any cheese ball is, of course, the cheese. We combine cream cheese with sharp yellow cheddar cheese. The cream cheese not only smokes well because of how dense it is, it also adds both a tangy element as well as a richness. The cheddar adds a little more flavor as well. Some additional ingredients added:
Seasoning – We use our all-purpose seasoning with blends of sugar and spices to enhance the flavor.
Dijon mustard – Adds acid and some flavor depth.
Green Onion – Mild onion flavor, and when diced finely, adds some great texture too.
Coating – We coat the cheese ball with ground smoked almonds, green onions, salt, and pepper. You can also substitute pecans, walnuts, or another favorite nut.
From there you can get as creative as you want. You like like crispy bacon bits? Add them to the ball mix or the outside (or both!). How about spicy pickled peppers? Yes please! Maybe swap the cheddar for some fontina? Go crazy!! The customization is endless for flavor but the key is to use cream cheese for the base as it smokes easily and helps to create that ball shape.
How to Make a Smoked Cheese Ball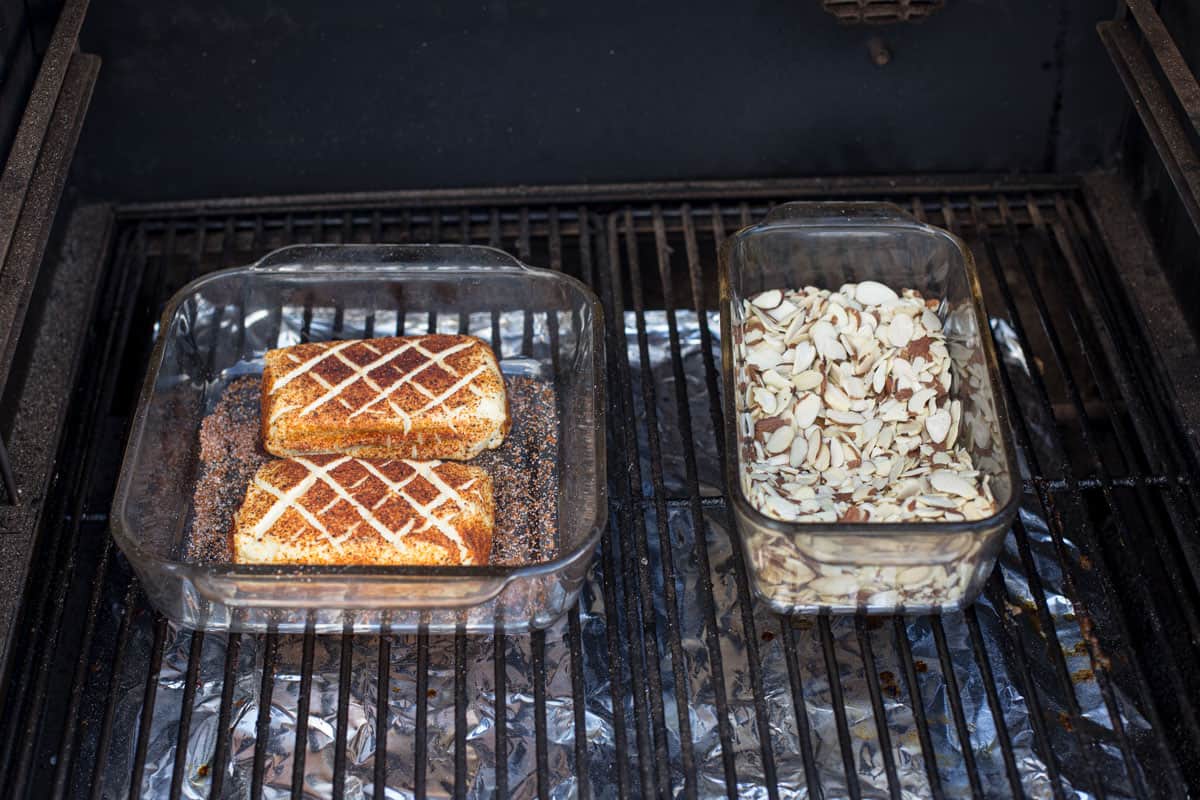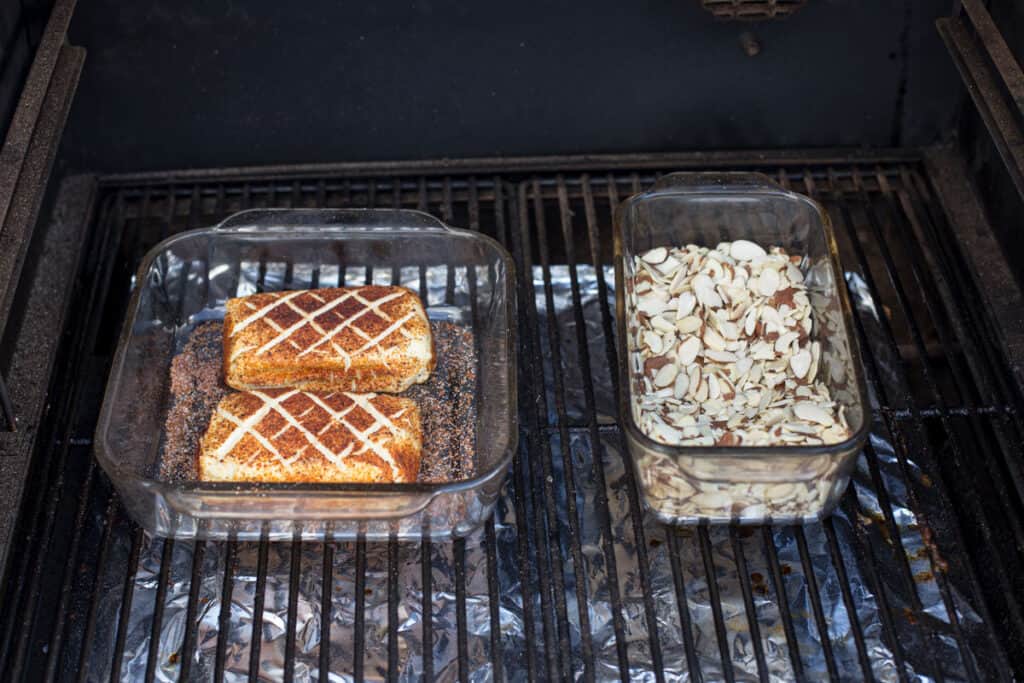 Preheat Grill: Start with a smoker set at 225 degrees Fahrenheit using fruit wood, like apple or cherry. The cream cheese will not melt as long as you keep the heat under 225. Oak and mesquite will impart a very strong smoke element if that is what you prefer over the sweeter fruit woods.
Smoke Cream Cheese: Place the cream cheese in a smoker safe dish. Score the top of the cream cheese with X like patterns and then liberally apply half of the seasoning (reserving the rest for later). Place on the smoker for 2 hours. The color will deepen to a red hue and the cheese will contract and open up the cuts. This gets more smoke infused with the cream cheese.
Mix the Ball and Cool: After 2 hours, remove the cream cheese and place in a large bowl. Add the cheddar, green onion, remaining dry rub, and Dijon mustard. Stir to combine while warm. The cheddar will melt slightly. Place in the refrigerator for up to 2 hours to firm up.
Form Cheese Ball: After it has firmed up enough to work with, place the contents of the cheeseball on plastic wrap and form into the shape of a ball.
Coat Cheese Ball: Combine the crushed smoked almonds and green onions in a large bowl. Roll the cheese ball in the almond mixture, using your hands to press in the coating, making sure the almond coating covers the entire ball. At this point you can serve it, or re-wrap and store in the refrigerator until ready to serve.
You can make the cheese ball up to two days prior to serving for the freshest taste.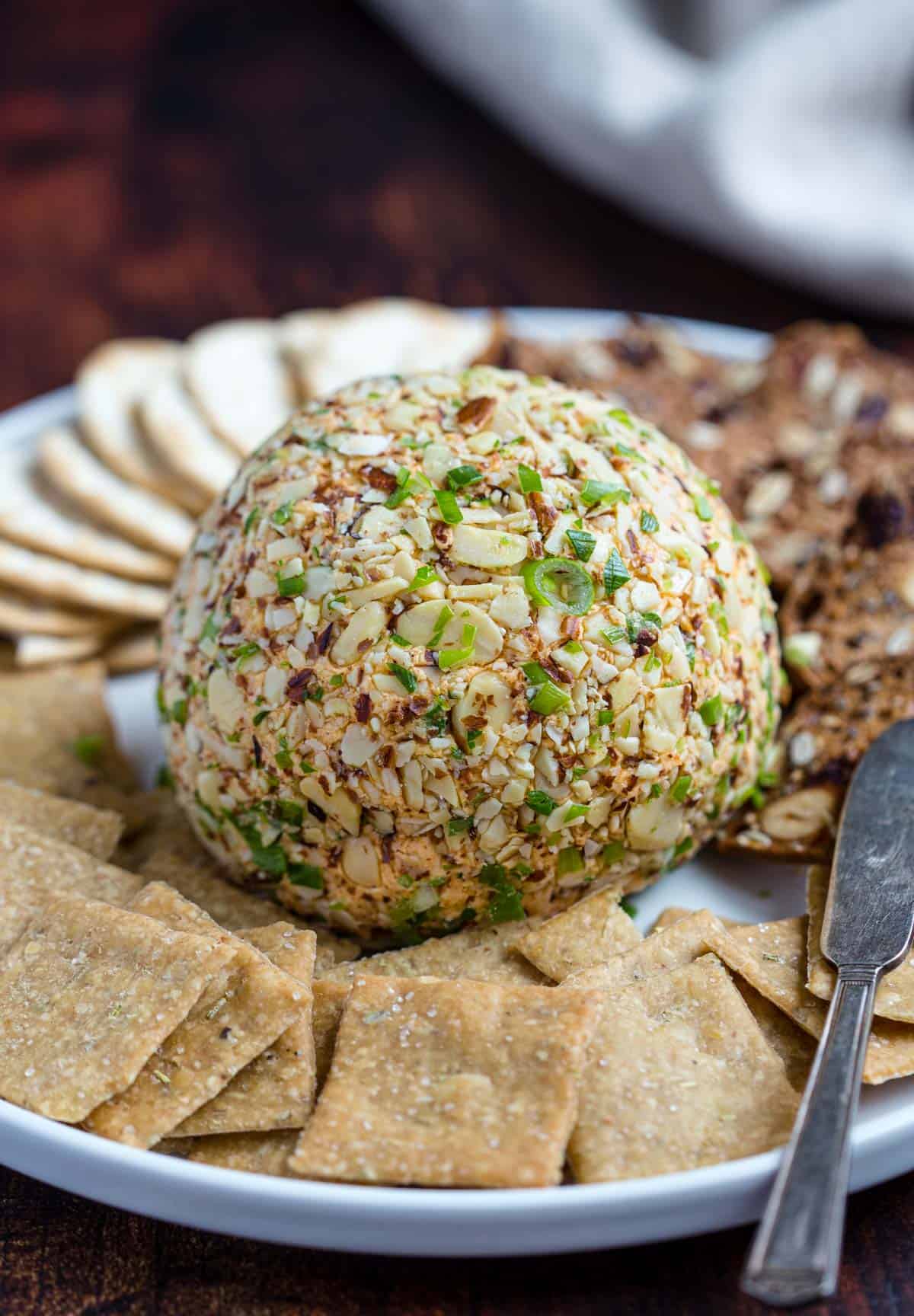 What to serve with a Smoked Cheese Ball?
Your favorite crackers
Baguette slices
Chips
As a topping for bagels or toasted bread
Raw vegetables like carrots, celery, cucumbers
On a tortilla with deli meat as a lunch wrap
Other Cheese Appetizer Ideas
We also have some great smoked snack ideas like our smoked almonds and smoked crispy kale chips.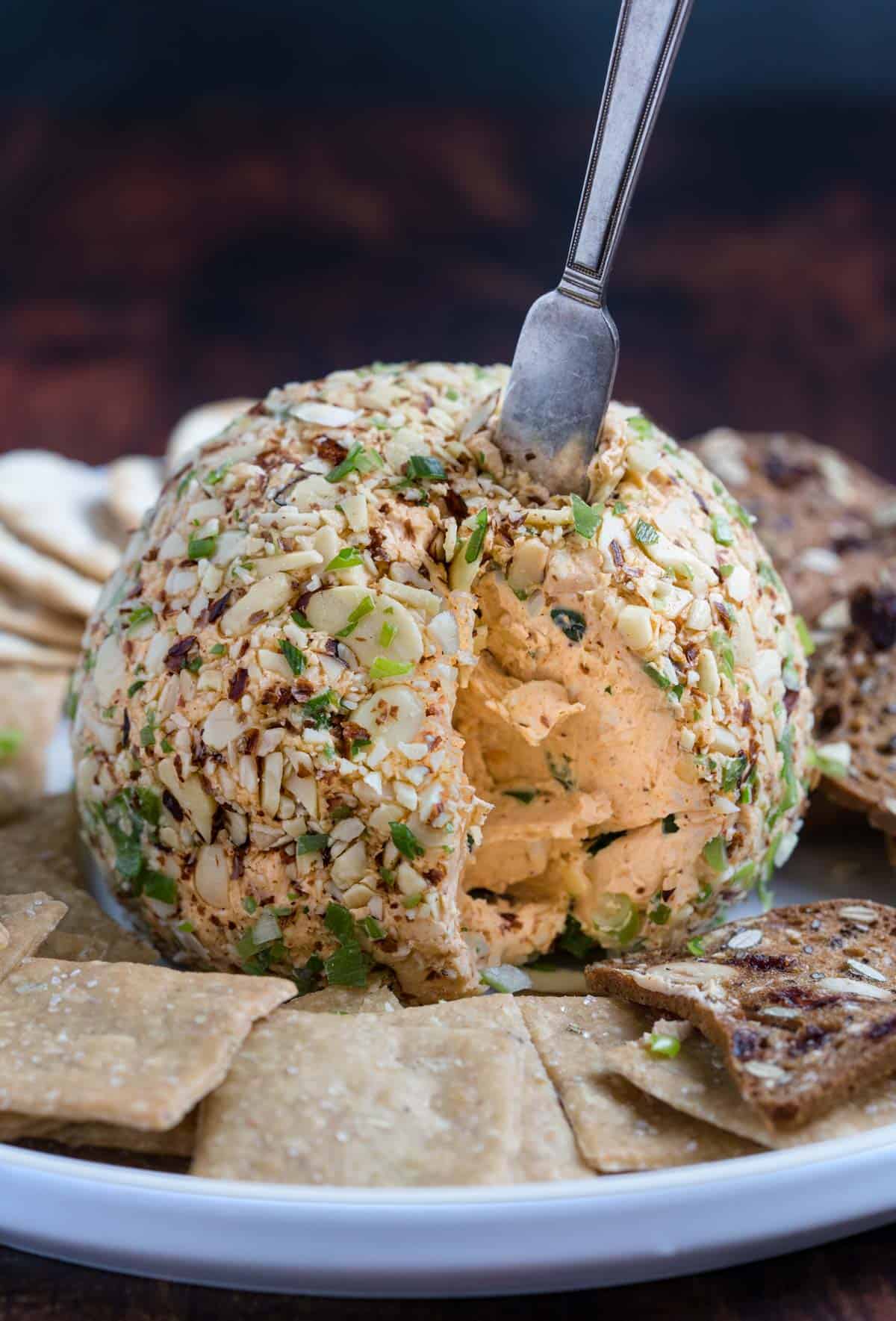 ---